Weekly round-up: 01 - 07 Jul 2015
The week at a glance
Cracking male "Turkestan" Isabelline Shrikemakes a rare summer appearance on Scilly
Northumberland snags a fairly brief Terek Sandpiper on a soggy Saturday
The Hudsonian Whimbrel continues the summer sojourn in Sussex
…while Hampshire's semi-resident Greater Yellowlegs also sticks it out for a few more days
Crivens!
…and Heavens to Betsy…
Assuming your assorted keyboards, tablets and apps (and other such modern stuff) haven't melted in to a sorry puddle of drippy, gooey plastic, replete with shards of microchips on the side, its that time of the week by which we take a leisurely ramble through the summertime selection of rares that have managed to avoid being sizzled in the sunshine that beat a sometimes fearsome, relentless trail across the land over the past seven days.
Calling out, on a blisteringly hot July 1st, were the spirits of my eternally long-favoured (vaguely cultural) reference points which always rear their heads when the mercury revs up and rises beyond 25 degrees C - as I trundled south towards the sizzling capital, the inevitable, marvellous Martha & the Vandellas "…Heatwave" was the constant refrain in my head, closely followed by Paula Fisch's word-perfect summation of the facts "scorchio!"
Too right Paula- scorchio it was alright - Heathrow lobbing in a hottest-ever July temperature of 36.7? (that's something like 98 in Fahrenheit…) as skies almost everywhere couldn't find a single puffy white cloud to cool things down. Coupled with a reasonably fresh southerly breeze (in the southeast at least), the general effect was akin to standing under a very bright, very hot lamp whilst someone held a hair dryer in your face for good measure. Not quite the melodramatic "blow torch" hot that some Met Office bod was burbling about (dear oh dear) but pretty warm for all that.
Still, no worries, as Mother Earth soon brought the first part of the bonkersness to a spectacular halt - angry, brutish thunderstorms the inevitable night-time climax with ginormo-hailstones and glorious, crackling bolts of lightning dancing across the purple-black skies like some Superhero's vapour trail - Mother Earth actually being the only Superhero here (despite our collective, persistent, daily efforts to rape and pillage her very being…).
Warm and muggy conditions followed as July's second day rolled in to town - temperatures down by 10 degrees but still coming in at some 25? C and as the weekend approached another pulse of hotter air was due in - knocking on the door of the 30's once again.
A delicious fresh feel could be had on many North Sea coasts on 3rd, courtesy of a cooling waft of ENE'ly winds (which brought low cloud and then more storms in the early hours of 4th (100,000+ lightning bolts registered across the country apparently) and the first day of the weekend was hot once more, Norwich the warmest place in the country, with an intense 29? C. Fresher weather was on the way though and it was business as usual…some showers accompanying sunny spells and rather more tolerable numbers in the low 20's as the high pressure departed and rather more Atlantic-based conditions forced a way through.
"Turkestan" Isabelline Shrike
Hot weather excitement then - what would the blazing warmth bring us? Thoughts turned, once again, longingly to woozy dreams of flocks of Griffon Vultures heading across the North Sea and tracking across Essex, Suffolk, Norfolk and Lincolnshire - but such sun-enduced delirium all came to nothing…still, there was at least one turn-up for the book…
…and so it is, that the first port of call this week is to the sun-baked Isles of Scilly where news of a Lesser Grey Shrike on St. Martin's during the afternoon of 2nd came as nothing of a surprise what-so-ever (I was almost surprised to see that my Maragarita-chugging deputy up north hadn't lobbed that one in the prediction mix for this week) - but the startling change in identity to actually being an Isabelline Shrike was all the more startling.
It seems as though the bird was seen very briefly during the afternoon between Middle Town and Higher Town, in an area known as The Plains, and was thought to have been, most likely, a Lesser Grey Shrike. An hour or so after the first news, post the second sighting, came the change - but the bird appeared to be on the tricky side of elusive to see and was only seen by a couple of locals later the same evening.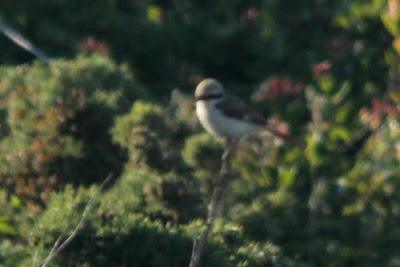 Fortunately, Kris Webb managed a crucial record shot and the bird was then able to be popped in to the Turkestan Shrike (L. i. phoenicuroides) box with some confidence. Being an adult male it was not only a somewhat dashing bird but also a first record of the form for the islands.
Summer records of either of the forms (species?) of Isabelline Shrike (phoenicuroides and (isabellinus) are rare indeed…only three until this week.
Of the 102 acceptances (until the end of 2013) - June has managed just two; a first-summer male in 2002 at Porthgwarra on 26th with a male the following year, at Porlock, on 3rd of the month. Rarer still (as you'd guess) are July records - just one until this week which was, coincidentally, also discovered on the 2nd of the month, seen at Cemlyn Bay through until the end of the first week of August in 1998.
(There are also two late August records, but they have the feel of rather more autumn-y arrivals; an adult female on Fair Isle on August 23rd-24th 1994 and a male on Lundy on August 28th 2001).
All four of the June and July records have been attributed to Turkestan Shrike (as was the Fair Isle female) and, not with standing BBRC's decision on the St. Martin's bird, all have been/will be accepted as such. Followers of taxonomic matters in Britain will also know already that, to date, it is only phoenicuroides that has a place on the British List (courtesy of some of the adults mentioned above), whilst the nominate "Daurian" Isabelline Shrike (isabellinus) resides only at Committee level, adult males of the form from Kent (at Cliffe) in October 2011, in Dorset (on Portland) in October 2012 and in Cornwall (at Pendeen) in October 2013 being the trail-blazers that will see the form finally make an appearance on the British List.
While taxonomy is on the agenda, it is worth stating (once again) that any mooted split still seems to be a long, long way away here - despite bodies such as IOC and the CDNA treating the two forms as separate species - Isabelline Shrike (Lanius isabellinus) and Turkestan or Red-tailed Shrike ( Lanius phoenicuiroides ), there's no hint of movement from the BOURC-TSC, thereby meaning that all the accepted records of Turkestan Shrike remain as a sub-species of Isabelline Shrike.
Hope you're not nodding off at the back…these things do matter people!
Terek Sandpiper
The march of the once desperately rare and always somewhat enigmatic Terek Sandpiper towards the 100 mark continues with some haste these days and less than two weeks after the appearance of the first record of the year (in West Sussex) along comes the second of 2015 - this one spending a short time on the pools at Low Newton-by-the-sea in Northumberland on the locally ropey morning of 4th.
This particular Terek was lost after it flew towards the beach and subsequent searches were fruitless (in poor weather in the area) - and, once accepted, it will become the 6th county record and the first since one was noted at Hauxley on May 30th 2011.
Hauxley was also the site that hosted Northumberland's first record of this eternally popular species, seen for three days from June 29th in 1986. Further records followed at North Blyth, late in November 1989, with the same bird reappearing in the same area on January 11th 1990 where it remained until May. It was then noted at three further sites through May, before reappearing in August at Cresswell Pond. Then, as September rolled around, the Terek Sandpiper was back at Blyth, where it remained until January 5th 1991.
Ten years would elapse until the county's next record, seen at Long Nanny Burn for a couple of days in late June 2001 and two years later came a one day bird at East Chevington, on June 12th 2003.
With perhaps as many as four birds were seen during 2014 (though it is highly likely that the Cornish bird relocated cross-country to Lincolnshire in mid-May - and that the East Yorkshire and Lincolnshire birds of August were one in the same too) and this year's duo, the overall total of Terek Sandpipers recorded here is now (give or take) on 94 in all, almost a third of which have occurred in the last 15 years.
Hudsonian Whimbrel & Greater Yellowlegs
On the south coast of England, the two very rare summering Nearctic shorebirds both made it to Independence Day and beyond - both birds still proving popular, both birds seemingly settled and in no hurry to head off anywhere right now.
Rarest of the two, the Church Norton Hudsonian Whimbrel has clocked up just shy of a whole month in West Sussex and was present throughout the week. It now looks increasingly likely that this particular specimen, which appeared on June 9th, will emulate the summering stay of the first-summer bird in Cumbria in 2007, present around Walney Island from June 14th to August 19th, 67 days in all.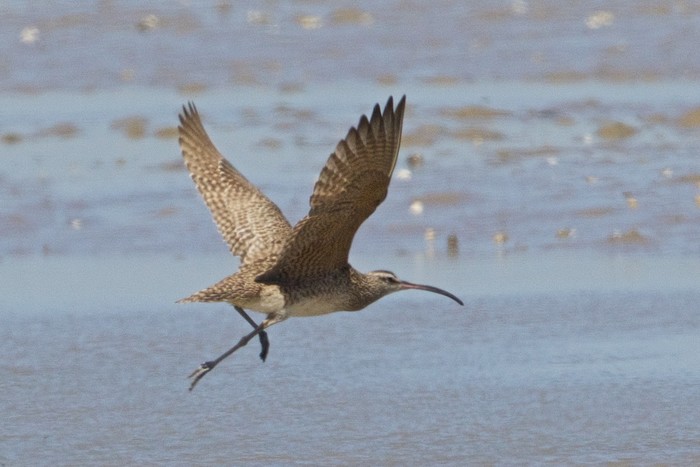 Some 30 miles to the west, at Titchfield Haven, the Greater Yellowlegs too was also sitting pretty again throughout the week, after a mini-departure a week or so ago. Such behaviour is nothing unusual for this particular bird - after the brief visit to the site in the second week of January, it appeared again in the second week of April with a second visit of equal brevity. A week or so after sighting #2 came sighting #3 (on April 19th) and this striking individual has been present (give or take those occasional trips away) for 80-odd days since then.
Long stays are becoming de rigueur for Greater Yellowlegs nowadays. Along with the current Hampshire bird, another of our most recent accepted records clocked up a stay that was a month or so short of a whole calendar year - found initially in November 2011, in Northumberland, the bird relocated to Highland in December the same year where it lingered (with gaps in sightings) to at least February 20th. It then moved to Aberdeenshire in early March, staying in the county until May 27th 2012, moving back to Highland on May 28th! Further Highland sightings followed in July and very early August, then it was back in Aberdeenshire in late September of that year.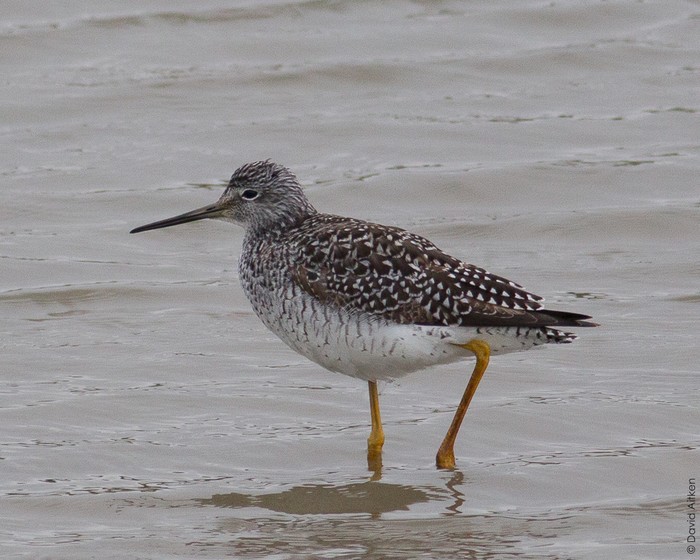 There's some way to go for the Titchfield bird to beat it, but you never know…
There's always a mini-frisson of excitement around these parts when the first Great Shearwaters get a mention during the summer months and this week saw the (slightly early?) appearance of two birds off Cork's Galley Head on 6th, while off Scilly, two Cory's Shearwaters were noted on a pelagic out of St. Mary's on 2nd - the Wilson's records will start soon, hopefully.
A tiny trickle of Balearic Shearwaters was also noted this week, a miserly ten birds across the lasts even days, with seven of those noted off Portland Bill on the first of the month.
Pomarine Skuas managed to register a weekly total of a dozen birds; six of them passing Galley Head on 6th, with four more (two two's) recorded from the same site on two different dates earlier in the week. A singleton was noted off Carnsore Point (Co. Wexford) on 3rd while in Scilly waters a further lone bird was noted from the M.V. Scillonian III on 6th.
Slim pickings, as expected, but keep those peepers peeled people - whilst the assorted Boobies dotted around the Western Palearctic at present may, at first glance, seem to be unlikely candidates for transit to the coasts of Britain and Ireland (we'll get one sort or another at some point…), there's more interest in the startling record from Iceland this week, where a Yellow-nosed Albatross was photographed on 1st.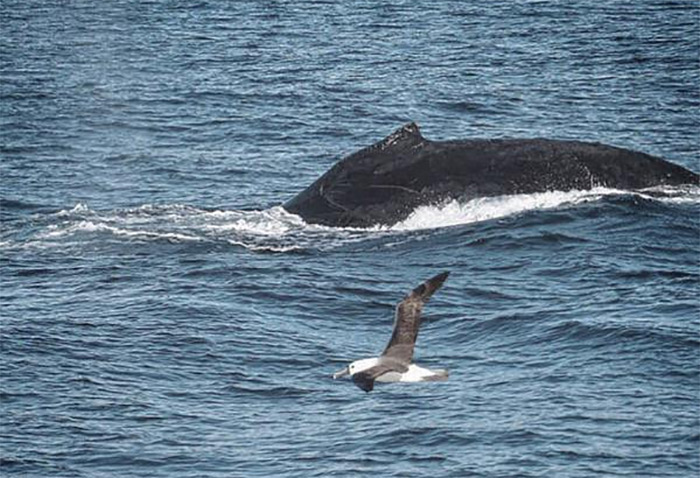 That bird could end up anywhere, west coast or east coast, at some point this autumn…
After at least two Squacco Herons were noted at three different locations last week, this classic midsummer vagrant couldn't help but pop in another record this week courtesy of a fine-looking one day adult that was found along the river at Southease (East Sussex) on 3rd.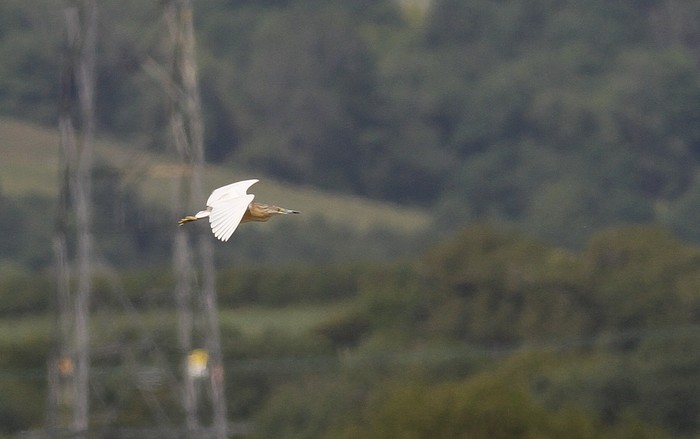 This latest Squacco of 2015 will become the fourth record for East Sussex, putting it on level pegging with neighbouring West Sussex. The three previous records for the East have occurred since 1997 - the first was noted at Bodle Street from June 18th 1997; the second was a one day bird at Pett Level on June 10th 2000 with another one dayer, another adult, being seen at Seaford on June 21st 2012.
All of West Sussex's records have fallen prior to 1997 - the most recent of their four records was at Pagham Harbour on June 19th 1995.
The male Little Bittern that dropped in to the Old Moor RSPB in South Yorkshire last week appears to have been typically tricky to catch up with for much of the past week - although he was seen daily throughout.
Yorkshire as a whole has 22 accepted records of Little Bittern on the books but the most recent of them was a whopping 30 years ago, when a returning male and female spent upwards of a week at Potteric Carr (also in South Yorkshire) in May 1985 - they famously bred at the same site the previous year, raising three youngsters in to the bargain.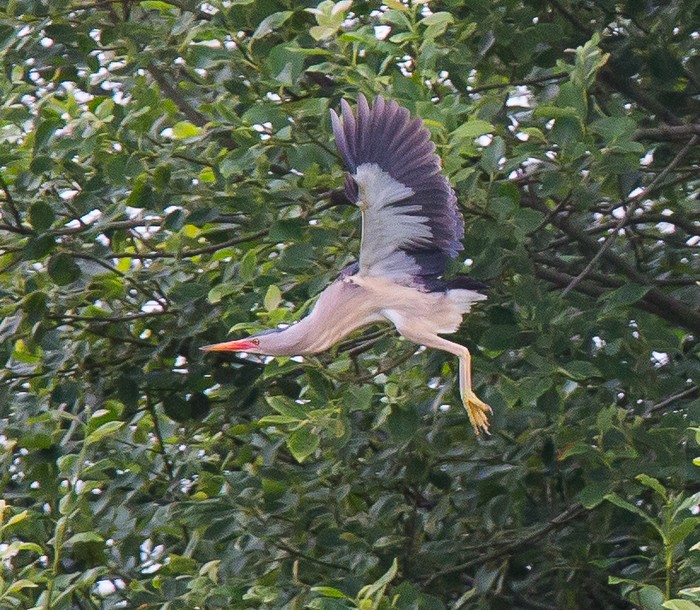 There was still all sorts of action on Somerset's Avalon Marshes this week - the first-summer Purple Heron was again at the Ham Wall RSPB on 4th while at least one (perhaps two) Night Herons were seen around the same reserve off-and-on through the week (to 5th at least).
As if that wasn't enough, there were also (inevitably) a few Great White Egrets at Ham Wall too, five this week's high count from there. That wasn't the "peak of the week" though - Gloucestershire winning out with nine birds noted at dusk around Frampton's Splatt Bridge on 2nd, four of which may well have been the juveniles seen earlier in the day at Slimbridge WWT (post-breeding dispersal from Somerset or closer to home perhaps). Also in the south Midlands county this week was a lone Squacco at Coombe Hill Meadows NR on 5th, while Somerset singles were at Portbury Wharf on 3rd, Cheddar Yeo on 4th and over Glastonbury on 5th.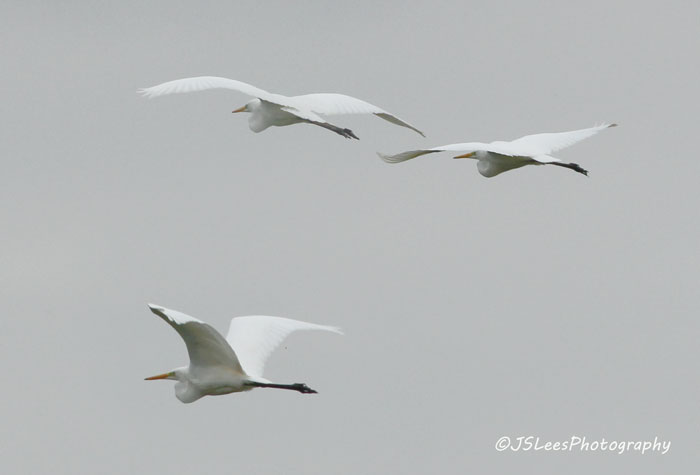 Upwards of 17 or 18 birds in two counties then and that total was boosted further by 20 spread widely around nine English and two Irish counties. Two singles were noted in northwestern England - still in Lancashire, at Leighton Moss RSPB from 1st-7th and also at Burton Mere Wetlands RSPB (Cheshire) on 4th-5th. The northeast could managed one bird, at its most southerly location, Lincolnshire's Gibraltar Point on 4th while in East Anglia, a lone bird was reported from Cley NWT on 2nd and two were at Hickling Broad NWT on 3rd.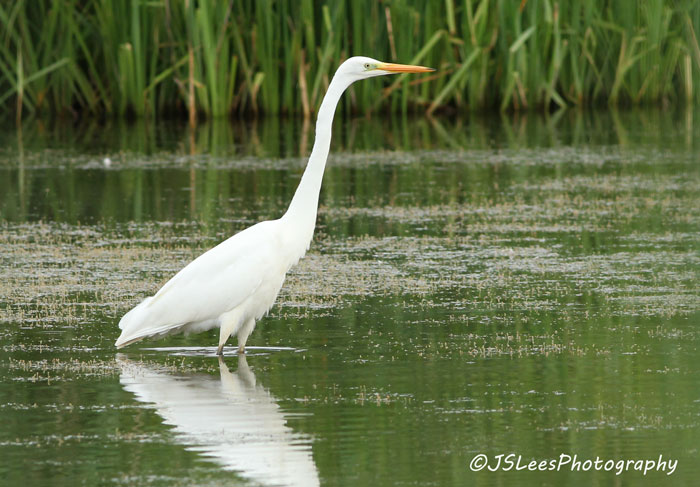 Keeping the East Sussex Squacco company at Southease on 3rd was a further single Great White Egret while in the Midlands, Leicestershire and Northamptonshire managed a couple of birds each; the former saw one appear again at Rutland Water from 3rd with one over Cossington Meadows LRWT on 5th; the latter hosted on at Titchmarsh from 1st-4th with one at Summer Leys on 4th. The final Midlands individual was at Attenborough NR (Nottinghamshire) on 2nd.
Up to six birds were also noted in South Wales - three juveniles were seen at Newport Wetlands NR (Gwent) on 3rd (perhaps dispersing further north from Slimbridge?) with one there again on 5th with another Gwent bird at Llandegfedd Reservoir on 6th-7th. Glamorgan hosted two more, one over Lamby Lake, Cardiff on 5th, with another at Kenfig Pools from 3rd-7th.
Last reported on June 19th, the Waterford Glossy Ibis was seen again at Tramore Backstrand on 3rd - presumably this is the bird that was first noted there on September 20th last year…
Further post-breeding dispersal accounted for the two double figure tallies of north Norfolk Spoonbills this week, Titchwell scoring 12 on 1st with Cley managing 14 on 6th. Five sites in Kent welcomed birds through the week; two were at Oare Marshes on 3rd, with two the next day again at Scotney GPs. Also on 4th were three birds at Elmley, which may then have moved to Sandwich Bay while a further two were at Cliffe Pools RSPB on 6th.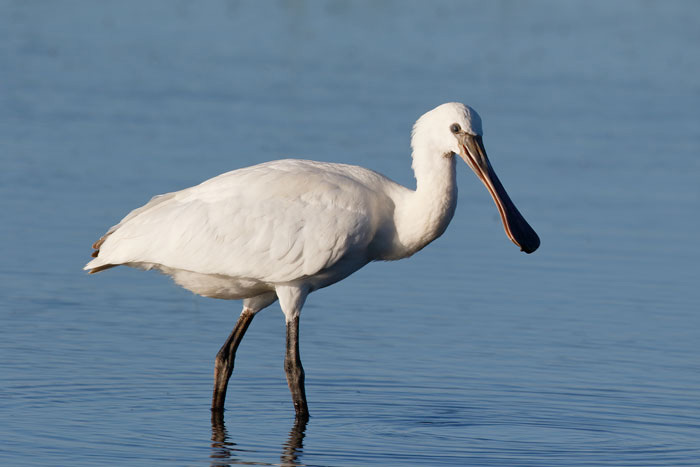 More mini-multiples included two for Ham Wall RSPB (well, why not!) on 3rd; two at Arne RSPB (Dorset) the same day; two at Trimley Marshes SWT from the start of the week, ditto the double in Findhorn Bay (Moray) while another duo moved from Freiston to Frampton on the Lincolnshire coast, on 3rd-4th. Singles were also noted at Gibraltar Point NNR, Bowers Gifford RSPB and Pennington Marshes throughout the week.
Scilly's summering sub-adult Common Crane has been present for a solid two months now and this week took in Samson (on 1st) and Annet (on 4th). The only others noted this week were in North Yorkshire, in an area with no general access at Potter Brompton, near Scarborough.
Keeping Little Bittern waiters and watchers (and reedbed stompers…) occupied this week was a drake American Wigeon that appeared on the Wath Ings section of the Old Moor RSPB reserve on 4th, where it remained until 7th.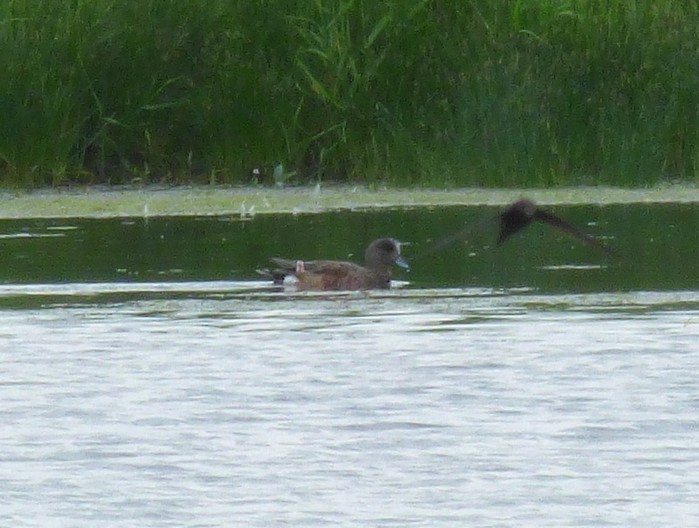 Late news from last week concerned a female Ring-necked Duck at Portmore Lough RSPB (Co. Antrim) on June 30th - the first record in the county since May 2010.
…and that, dear duck lovers, is all that's been on offer…so we'll move swiftly on to Shorebird Central.
The fully summer-attired American Golden Plover on Tresco's Castle Down on 3rd must have been a mighty fine sight - it becomes the first summer record since a second calendar year bird was noted on Samson in June 2004 and this week's adult was the first on the islands for 18 months or so too.
Also new this week, a White-rumped Sanpiper at Beacon Ponds, Spurn (East Yorkshire) - the ninth for the recording area and the first at Spurn for almost three years (one was preswent at the same site in August 2012).
On the borders of Northumberland and County Durham, the Temminck's Stint found last week remained to 3rd while new was the second of the week, found at Vane Farm RSPB (Perth & Kinross) on 7th.
Derry's first Franklin's Gull, in full adult glory was seen in the bays of Lough Beg on 2nd and 4th - clocking up a three week stay in to the bargain.

The returning adutl summer Bonaparte's Gull at Oare Marshes has been around for almost as long -it was seen almost daily through until 7th. This is the bird's third summer in this particualr corner of north Kent; it was noted between May 22nd and August 19th in 2013 and from July 17th to August 25th in 2014 (reappearing briefly in September) while the return to Oare this summer was on June 20th.
Last week's (last month's) two first-summer Ring-billed Gulls were this week's (this month's) two first-summer Ring-billed Gulls - still in situ at the Tralee Bay Wetlands (Co. Kerry) to 4th and along the Hayle Estuary (Cornwall) all week.
With the height of summer being within reach, the paucity of Glaucous Gulls was no surprise at all - a youngster was on the beach at Vatersay Bay, Barra (Outer Hebrides) on 1st and Terek dippers found one at Low Newton-by-the-sea in Northumberland on 4th, remaining there through 'til 7th.
Iceland Gulls could go just one better - all three birds reported this week being on the Scottish west coast. In Argyll & Bute, on Tiree, one remained at Loch a' Phuill to 4th at least, a youngster was reported from the Balranald RSPB reserve on North Uist around 4th-5th and in Ayrshire, another "juvenile" was at Troon from 4th-6th.
Making a trip over a (presumably) very busy Norwich Showground on 2nd (staging the Royal Norfolk Show at the time) was a Caspian Tern, possibly the first in the county since July 2013. Almost as surprising as the location for this week's sighting was the fact that it doesn't appeared to have located anywhere else in the county, be it along the verdant Yare Valley, the expansive mudflats of Breydon Water or the oft-favoured location of the Norfolk Broads.
There were three reports of Gull-billed Tern during the week which could well involve the same bird. The first report came from the Hayle Estuary RSPB (Cornwall) on 1st, then on 2nd from Ynys-hir RSPB (Ceredigion) on 2nd and then on 3rd from Burton Mere Wetlands RSPB (Cheshire) on 3rd.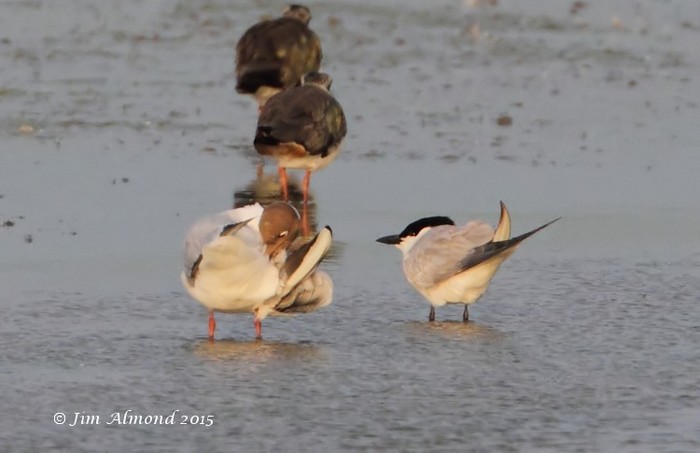 All the more dainty compared to the bulk and brawn of the giant blood-red billed bird above, the almost diminuitive White-winged Black Tern managed to clock up two different birds during the course of the week.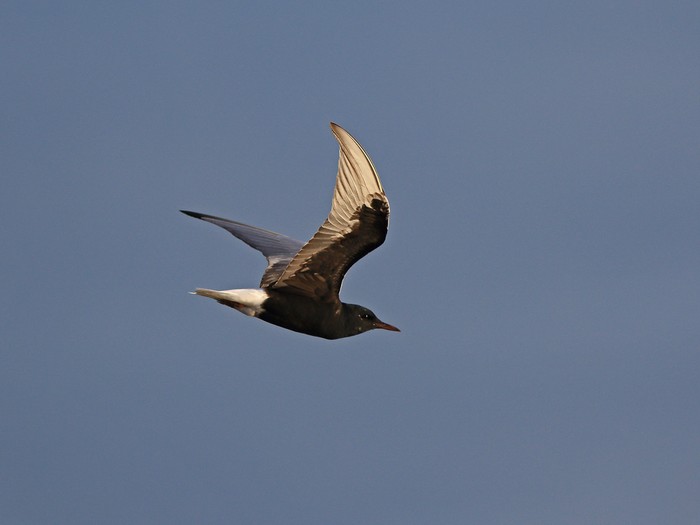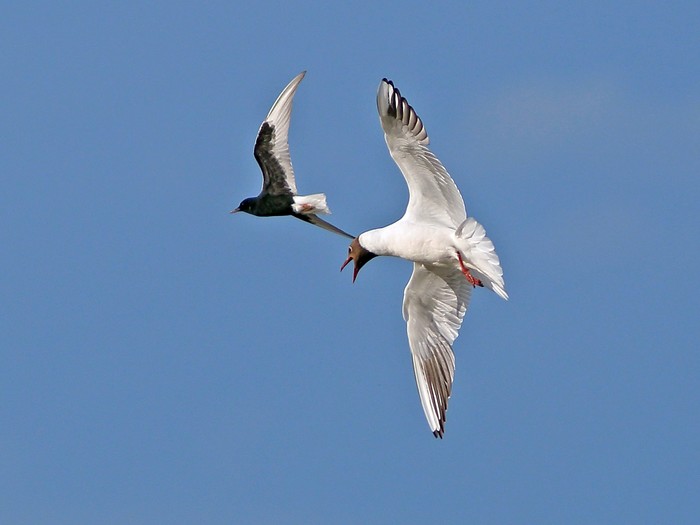 Bird #1 was found at Middleton Lakes RSPB (Warwickshire) on 3rd - the first in the inland county since one was reported at Draycote Water in May 2009 - and this distinctive second-summer bird then tracked further northwest, to arriving at Leighton Moss RSPB (Lancashire) on the morning of 4th, where it remained to the following day.
The final bird of the triumvirate made it to Frampton Marsh RSPB (Lincolnshire) on 5th and it proceed to spent the next couple of days there too.
Before departing on to the diminishing world of raptors, there was some heartening news this week from Northumberland where Coquet Island wardens reported a marvellous total of 100 pairs of Roseate Terns on the afternoon of 3rd - the highest number of breeding birds there for 40 years (up from 24 pairs there in 1999).
In these desparate times, times which sees (for instance) our birds of prey being brutalised, butchered and annialated by the moneyed gentry's paid employees - with no sign of any forceful legal changes from this disgraceful moneyed, gentrified, elitist Government - news such as this week's Coquet tern news is a small yet significant boon to flagging conservation spirits.
Perhaps the biggest news concerning raptors and listers this week was wholly based on an important snippet from across the Atlantic. Why? Well, because of one important pronouncment from the American Ornithologist's Union's Committee on Classification and Nomenclature of North and Middle American Birds (NACC).
The 2015 AOU Check-List Supplement brings news of (amongst other things) a handful of seabird splits (including Herald Petrel, Townsend's Shearwater and Great Skua) and other items relevant only to the Americas.
However, the biggest headline where British and Irish listers are concerned is the rejection of the propsal to split Northern Harrier from Hen Harrier.
This is a hammer blow to everyone hoping for a very handy armchair tick - and it always felt more like "when" and not "if" the two forms were split. The huge leap in the knowledge base of safe andf solid in-field identification of vagrants in the Western Palearctic has been based almost entirely on birds noted in Britain and Ireland across the last decade.
It will be fascinating to see the reasoning behind the proposal's rejection and also whether the BOURC-TSC go off and do their own thing and forge ahead with a split all of their own (a split that is almost universally accepted as right and proper). If the BOURC-TSC do sail off on their own and do the right thing, it wouldn't be the first time they've flown solo - but given the overall conservatism of the TSC and the AOU's rejection of the split, it seems as though Northern Harrier will remain as a sub-species or form for many years to come.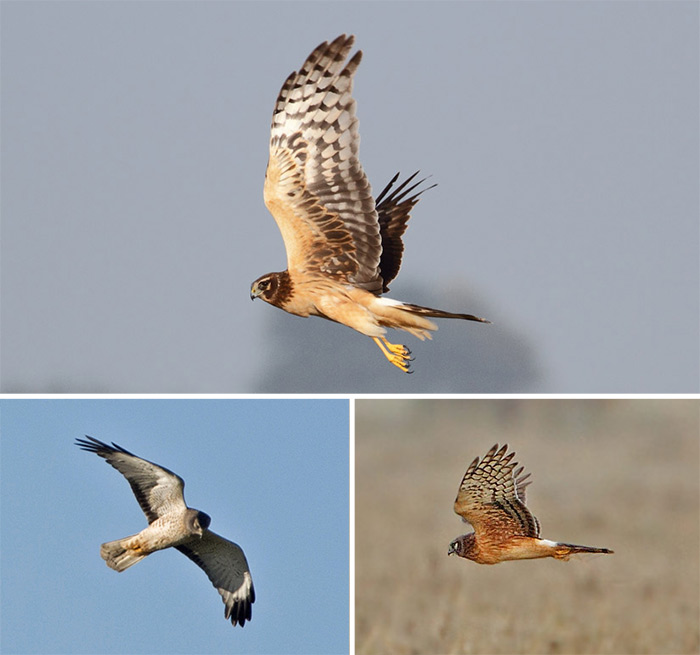 All of the above is a pertinent way by which to flesh things out here too - there's really not a lot to report where BoPs are concerned this week. A female Red-footed Falcon was reported from Colaton Raleigh (Devon) on 4th; new lone Montagu's Harriers were seen in Lincolnshire, at Gibraltar Point on 4th and Donna Nook on 6th; in Cambridgeshire at both Orwell and Wimpole Hall on 4th; and also at Wallington, near Baldock (Hertfordshire) from 4th (tho' it had been present for several days prior to that)- this popular bird lingered to 7th (with a young male Hen Harrier there on the final day of the review week).
Also still proving to be a draw, the pair of breeding Monties at Blacktoft Sand RSPB (East Yorkshire) - they continued to show throughout the week.
Away from the two summering Honey Buzzards at the Wykeham Forest viewpoint (North Yorkshire), seven roaming singles were reported through the week. The 1st saw one head over Gillingham (Dorset) while the 4th managed four records; west over Barham (Kent), north over Redgrave Fen (Suffolk/Norfolk border), north-northeast over Lancaster (Lancashire) and heading across the road at Wigmore Rols (Hertfordshire). The 6th saw a report from the former breeding site at Swanton Noevrs (Norfolk) and the 7th saw another Honey B make it to East Anglia, drifting over Minsmere RSPB with local breeding raptors.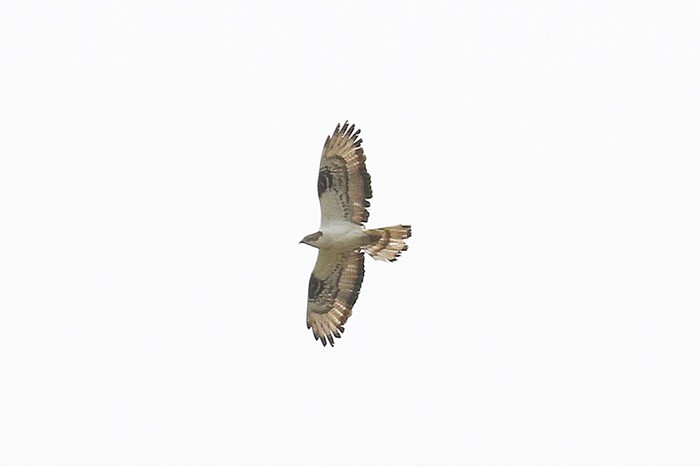 Continuing to come on strong this week, Bee-eaters - 10 of which graced the wires of Leiston (Suffolk) on an otherwise dreary 5th. Thanks to the promptness of the news being delivered and the subsequent four hour+ stay, this particularly colourful collective were a popular draw for a summer Sunday. Three days later, but just a couple of miles to the northwest of Leiston, the same bunch of Bee-eaters were seen close to Theberton, on the evening of 7th.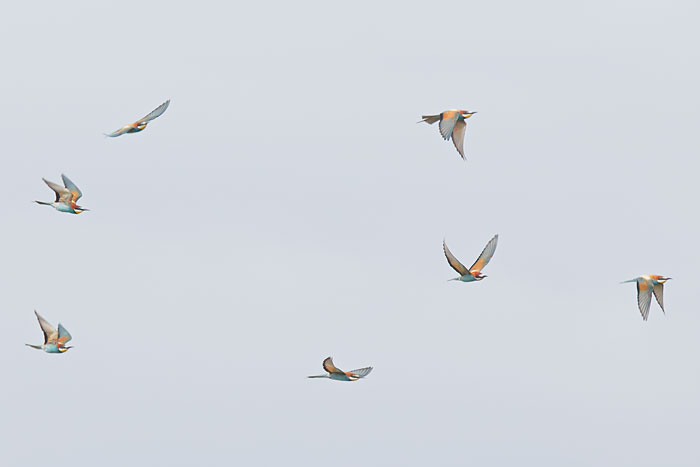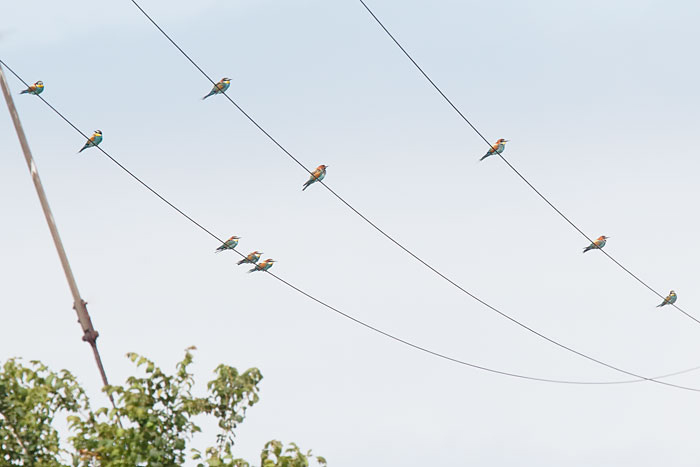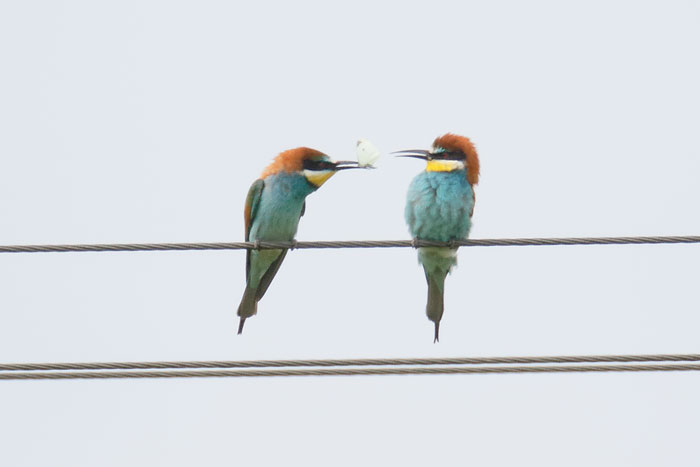 The new month began with a flock of four Bee-eaters at the south end of The Oa, on Islay (Argyll & Bute) on 1st and two more Scottish birds were seen at Bavelaw Mill Farm (Lothian) on 3rd. Much further to the south, in Hampshire, two birds were noted heading over Pamber Forest, near Basingstoke, on 5th and three were seen at Brixham (Devon) on 7th (after a heard-only report the previous day). Other "heard-only records came from County Durham (on 2nd), Suffolk (on 4th) and Dorset (on 6th).
Off to Warblersville now - here's what's what for this week…
Fair Isle's first-summer male Western Subalpine Warbler was still on the island until 3rd. The singing Melodious Warbler remained on territory throughout the week at Marsh Lane NR (West Midlands) whilst the singing male Icterine Warbler at Bishopstone Glen, Reculver gave up the ghost post-July 1st. More surprising was the discovery of a singing Marsh Warbler at Carlton Marshes NR (Suffolk) on 3rd - but he seems to have been a one-day wonder.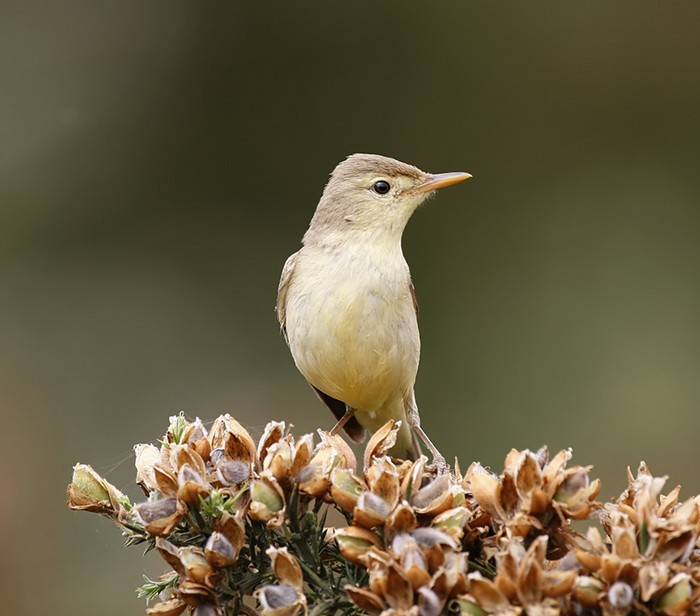 Also in Suffolk, a midsummer Hoopoe at Hollesley on 5th while on the Outer Hebrides, a first-summer male Golden Oriole was seen at South Glendale, South Uist on 1st. The first of the month saw an Alpine Swift cruise low across Beachy Head (East Sussex) while late too, was the Red-rumped Swallow seen in Lerwick, Mainland (Shetland) on 2nd - time and location immediately invoking mini-panic just in case it went all Asian on everyone…
Back across from the Shetland Mainland to Fair Isle where an adult Rose-coloured Starling was seen briefly by the Obs., garden on 2nd (and another was seen on Lewis, at Garrabost, on 5th) while the Obs., garden at Portland held our final bird for this week - a singing Common Rosefinch making a brief visit on the morning of 7th.
There we are then, another week over and Month 7 of 2015 is firmly on the calendar.
Dizzying thoughts of finally nailing Blue-cheeked Bee-eater have slammed in to my brain once more, primarily as the sickening Cowden dip (and follow-up goofball happenings in Lincolnshire a couple of days later…) comes around this week. A full 26 years and the hurt lingers on.
And on. And on.
And on.
(…and you can expect more Merops-enduced listing self-pity and self-loathing in a couple of weeks too as the 6th Anniversary of the most recent Kent bird swings in to view too…).
What else? Well, this time last year (on July 9th) the Fair Isle petrel ringers controlled one of the Class of 2013 Swinhoe's Storm-petrels. Will Mr Parnaby and his team score an unlikely hat-trick? (Unlikely as, given his penchant for AFC Sunderland, hat-tricks aren't a common phenomenon on Wearside, not in home team colours at least)…
I mentioned to my Shetland compadre how we're on for a Mongolian Sand Plover any day - so I'll stick to my guns for unlikely repeat performance of this species-in-waiting (the delightful Aberlady bird was seen on July 8th-9th 2004) - this month also boats two further records of this distinctive looking beastie, so if we're going to get a 5th record, now's as good as time as any to go searching.
(Aberlady also nobbled Caspian Plover - on July 11th-12th 1988 - so if you, y'know, wanna find a BIG Charadrius this week, take a trip to Lothian…).
Away from some cracking gross rares, a couple of the easier-to-predict options include Lesser Grey Shrike, a couple of those on offer over the years, Roller - July 12th managing four on its own.
If shorebirds are more your bag, we're in to strong dates for Stilt Sandpiper (at least five noted historically in the days ahead) and Marsh Sandpiper too (remember them?).
But for the most outside of outside of bets, keep your eyes open for Sooty Tern.
Two have been found on 9th - off Berry Head in 1979 and at both Dungeness and Rye Harbour in 1984, while the commuting summering bird of 2005 was also on the go slap-bang in the middle of where we are now. Add in the Isle of May bird from July 14th 1989 (and, stretching it a bit, the summering bird in north Norfolk in 1966), well, there's a bit of a track-record developing.
We'll see what gives in the next seven days…
Mark Golley
8 Jul 2015

Many thanks to all this week's contributors for their photos and videos.
Terry Laws, David Aitken Jared Mein, Mike King, Jake Gearty, Peter Garrity, James Lees, Steve Gantlett, Gaz Robinson, Ronald Surgenor, Jim Almond, David Carr, Paul Kelly, Bob Sharples, Gary Thoburn, Brett Spencer, David Hutton, Martin Cade / Portland Bird Observatory