Weekly round-up: 22 - 28 Apr 2015
At a glance
First twitchable Hudsonian Godwit for 32 years in Somerset
Great Blue Heron still on Scilly
Pied-billed Grebe in Gloucestershire, and then in Lancashire
Spanish Wagtail in Yorkshire
Harlequins still in Aberdeenshire and Highland
Anticyclonic conditions persisted into the early part of the review period, bringing respectable temperatures for those 'down south' and inland. However, for anyone near a North Sea coast the weather felt anything but balmy, with the onshore wind and associated cloud ensuring that full winter gear was still required. Fortunately, however, a warm south-westerly flow kicked in on 24th which persisted into 25th. A further change in the weather then took place overnight as a cold front edged slowly south across the whole country to bring a return to a cold, crisp northerly airflow from 26th.
Hudsonian Godwit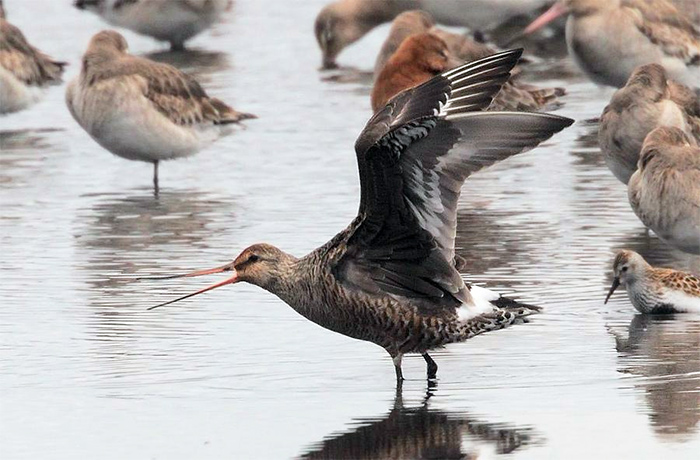 The obvious highlight of the week was the astonishing news early on 25th that a Hudsonian Godwit was in residence at Meare Heath, Somerset. First seen the evening before, its early confirmation ensured that this was a quick and easy twitch for anyone within a few hours' drive. And it was a very welcome one too, a final 'unblocking' of a rarity that had slowly acquired mythical status over the 32 years since it was last twitchable in Britain.

It's all systems go; texts, tweet, calls, many of which don't work until I get back to the carpark, and I'm late for work!! But strangely, I'm buzzing and nothing in the world is going to worry me. Not for a day, at any rate.
Read Tom Raven's Hudsonian Godwit finders' account here
Those quick off the mark enjoyed good views and a stress-free twitch but unfortunately the bird suddenly flew off west with a few Black-tailed Godwits at 4.15pm and was not relocated by dark. Against expectations, it was not back the next morning so it seems genuinely to have moved on. The chances of a relocation must be high, however. Many of the places frequented by Black-tailed Godwits are well-watched nature reserves and this is something of a 'standout' bird. The striking black underwing is of course the thing to look for but the photographs of the bird in Somerset also show quite well its relatively narrow upper wing-bar compared with that of Black-tailed Godwit.
Only two Hudsonian Godwits have ever made it to Britain. The first was at Blacktoft Sands, Yorkshire on 10th September to 3rd October 1981 before it was relocated that same autumn at Countess Wear, Devon. Here it remained from 22nd November to 14th January 1982 and was then presumed to have gone until, amazingly, it reappeared at Blacktoft Sands from 26th April to 6th May 1983.
After the final Blacktoft appearance the trail really did go cold but the species remained just about on the radar thanks to a one-day bird at Slains Pools, Collieston, Aberdeenshire on 26th September 1988. Since then, however, there has not been a sniff of one in Britain.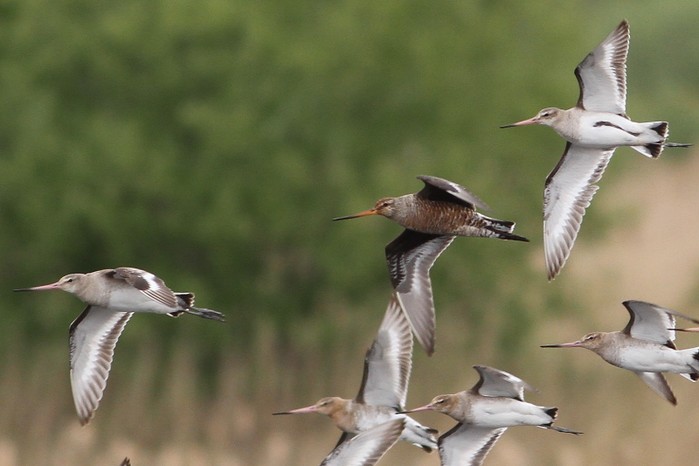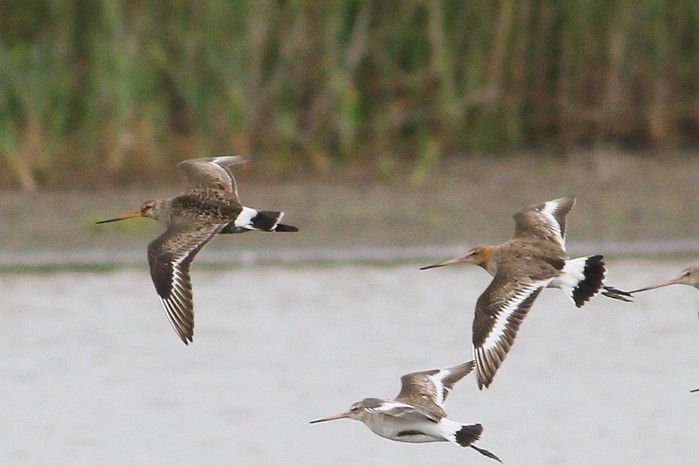 What makes this species a particularly special find here is that it is not always an easy bird to see in its home range of North America. It breeds very locally across Alaska, the northwest Canadian Arctic and around the western fringe of Hudson Bay but then undertakes a direct oversea migration to northern South America, largely missing out the 'lower forty-eight' states. From here it continues south to its winter quarters in the southern half of South America, some reaching the very southernmost tip of the continent.
For those who were twitching in the early 1980s this was one of the highlights of a real 'golden era' which also yielded such delights as Little Whimbrel, White-crowned Black Wheatear, Green Warbler, American Redstart and Varied Thrush. A repeat of any of these other 'early 1980s blockers' would now also generate something of a stampede.
Great Blue Heron
Though knocked into second place this week, the Scilly Great Blue Heron remained a prime draw, still attracting a steady stream of would-be admirers. Though still prone to sudden disappearances to Tresco, the bird was again most often to be found on Bryher's Big Pool where many enjoyed exceptional views until 26th. There was, however, no sign of it at its favoured Bryher and Tresco locations on 27th but then, when all seemed lost, it reappeared at Lower Moors, St. Mary's in the late afternoon. Next day it was still on St. Mary's, at first in Old Town Bay and then on Lower Moors again. It will be interesting to see how long this bird now lingers. Talk of it still being there in the autumn may be a little premature but it's still there… Seeing it will not get any easier though. An island-wandering (and now less frequently reported) bird on Scilly is truly the stuff of twitching nightmares!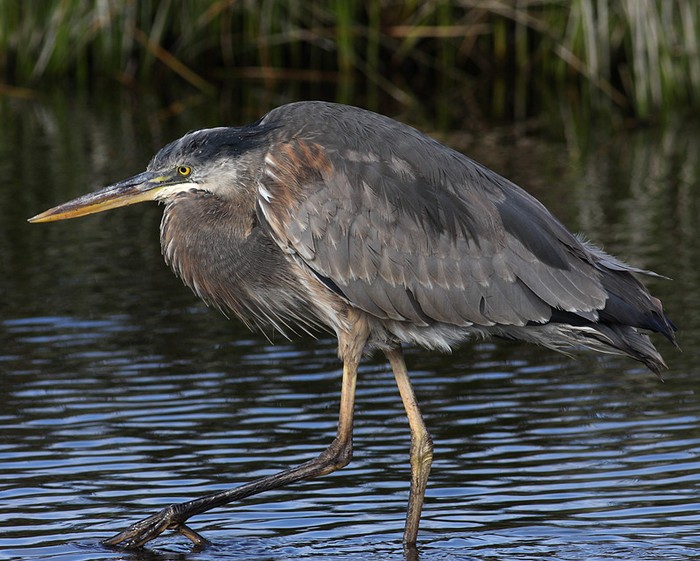 Pied-billed Grebe
Another great discovery this week (and continuing the transatlantic theme) was Gloucestershire's first ever Pied-billed Grebe on the Severn Estuary at Berkeley on 24th and then, somewhat miraculously, refound at Leighton Moss, Lancashire on 25th where it remained until 28th. These things can be skulking, and in non-breeding plumage a little dull, but this stunning band-billed, black-throated and white-spectacled creature was, judging by the photographs, not only gorgeous but 'showing well'.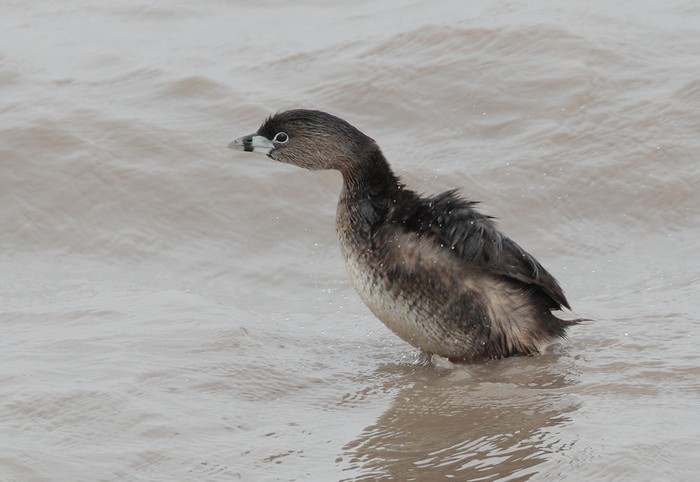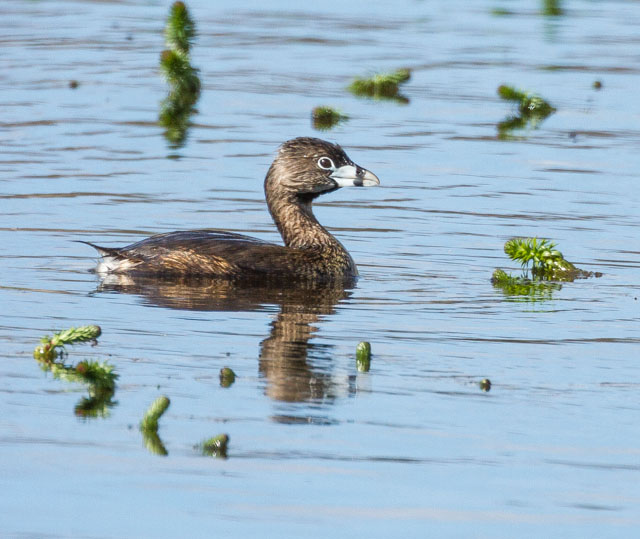 This was only the forty-third British record and only another eleven have reached Ireland. Records are not spread evenly across the years, however. After a good run from the early nineties to the early noughties, this species disappeared from the scene entirely for six years until the arrival of four birds in 2010 restored its fortunes.
Apparent Spanish Wagtail
The most intriguing (and perhaps even the rarest) bird of the week was a Spanish Wagtail candidate seen briefly at Filey Dams, Yorkshire on 22nd. The precise status of Spanish Wagtail in Britain is somewhat obscure. It is not on the British List but it is a highly likely vagrant and several have been suspected over the years. However, there are potential confusion risks with white-throated first-summer male Blue-headed Wagtail, with Spanish x Blue-headed Wagtail intergrades and with Spanish x Ashy-headed Wagtail intergrades. Spanish x Blue-headed Wagtails are frequent in coastal western France whilst Spanish x Ashy-headed Wagtails are the norm along the French Mediterranean coast. Indeed so common are the latter that some authorities treat these two subspecies together (and also Egyptian Wagtail) as 'Southern Wagtail' or 'White-throated Wagtail', some even granting it species status. In recognition of these difficulties (and as either would be a national rarity) some birds in Britain have been accepted as 'Spanish/Ashy-headed'.
The Filey bird was well photographed and with its dark grey head, narrow white supercilium and wholly white, sharply demarcated throat it looks 'just the job'. It was also apparently heard to give an 'un flava-like' call (Spanish and Ashy-headed Wagtails typically give a 'rolling' or 'stuttering' call with a pronounced 'r' sound although, just to confuse, some also give calls identical to our own Yellow Wagtail). Could this Filey bird therefore be the first acceptable British record of Spanish Wagtail? In this respect it is worth noting that a number of the currently accepted 'southern' wagtails (i.e. Ashy-headed or Spanish/Ashy-headed) have occurred in April and that this is therefore perhaps the best time to look for one in Britain.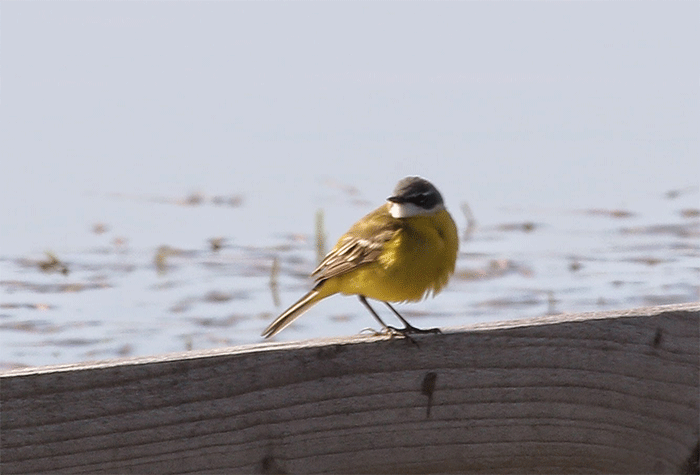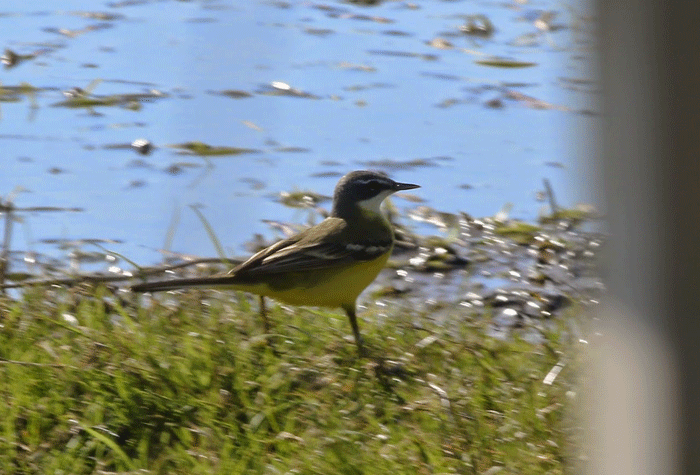 Harlequins
Finally, both Scottish Harlequins remained until the end of another review week, the first-winter drake still in Aberdeen and the female still at Brora, Highland to 28th.
Continuing the now expected spring White-billed Diver bonanza in the waters off Portsoy, Aberdeenshire, at least eight were counted from a boat on 22nd and five on 27th. Others were between South Ronaldsay and Burray, Orkney to 28th and off Cullen, Moray on 27th.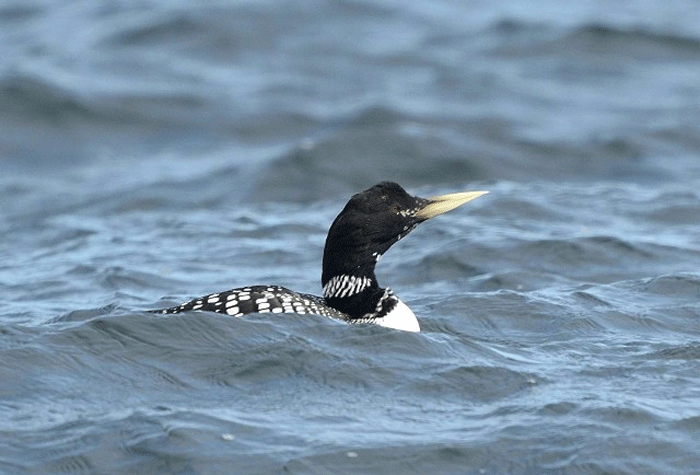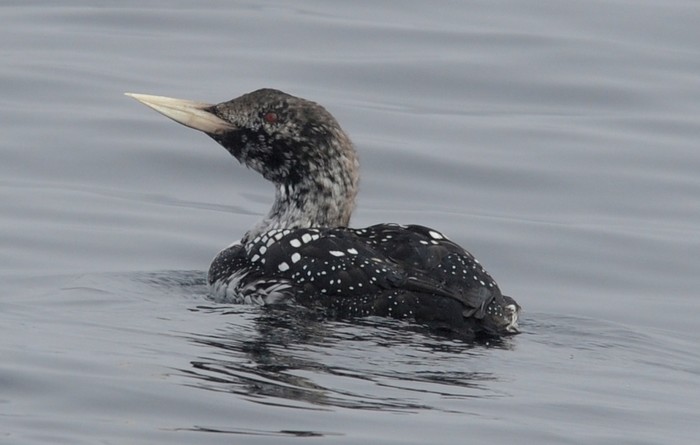 Otherwise, seabird action was limited though the merest hints of the forthcoming Pomarine Skua passage were evident, with a single past St. Catherine's Point, Isle of Wight on 25th and one from a boat off Mine Head, Waterford on 26th.
Great White Egrets continued to be obvious with over twenty scattered around southern England, most notably up to six at Shapwick Heath, Somerset. Hopefully we will hear the 'pitter patter' of tiny egret feet before too long… Further afield, singles were at Tacumshin, Wexford on 26th and, most remarkably, one graced Benbecula, Outer Hebrides on 23rd to 26th.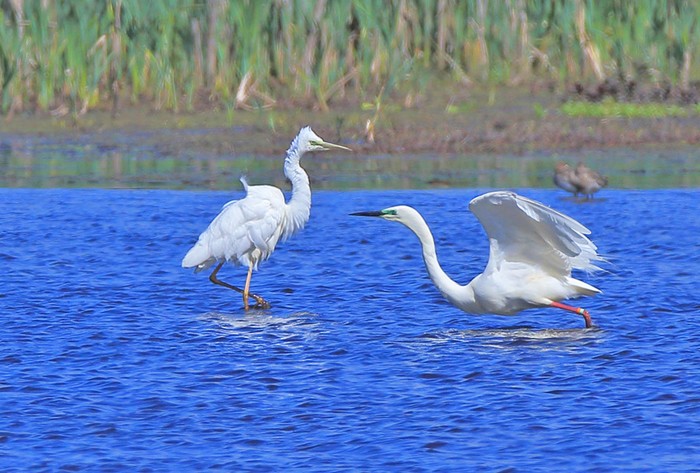 Now relatively rare again, two Cattle Egrets were still at Dungeness, Kent to 2nd at least whilst up to three Night Herons continued to fly around St. Mary's, Scilly until at least 26th. Two more flew over Kinsley, West Yorkshire on 24th with another lingering at Attenborough Gravel Pits, Notts on 26th to 27th. To complete the rare heron line-up, a Purple Heron was at Drift Reservoir, Cornwall on 28th.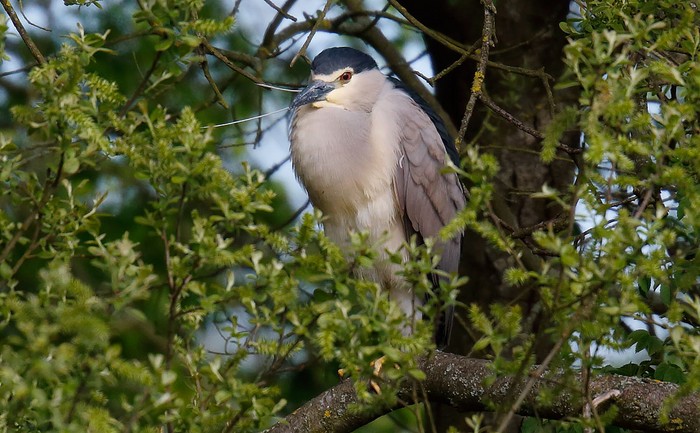 Other long-legged birds included single Glossy Ibises at Fen Drayton, Cambridgeshire to 28th and at Gonalston, Nottinghamshire on 25th to 28th and potentially wild White Storks at Solva Pembrokeshire on 22nd and 23rd and at Beckenham, London on 25th.
Late lingering geese included two Tundra Bean Geese at Dungeness, Kent to 25th with others at Chichester Gravel Pits, West Sussex on 26th and on Yell, Shetland on 27th. A Taiga Bean Goose was at Haverton Hole, Cleveland on 24th and two unspecified 'Bean Geese' were on the Ythan Estuary, Aberdeenshire on 25th. A Black Brant remained on the Lincolnshire shore of the Wash until at least 27th.
There was relatively little action in the duck department this week, mainly just a few late birds hanging on. At sea, a King Eider was still on the Ythan Estuary, Aberdeenshire to 28th and a Surf Scoter off Hoylake, Wirral on 23rd and 24th. As for freshwater diving ducks, Lesser Scaups were at Martnaham Loch, Ayrshire and at Cardiff Bay, Glamorgan to 28th, Ring-necked Ducks on Lough Swilly, Donegal on 22nd, at Standlake Common, Oxfordshire (three) to 27th and at Knockaderry Reservoir, Waterford on 27th. A few 'dabblers' were also noted. The drake Blue-winged Teal at Donna Nook, Lincolnshire remained to 28th whilst drake American Wigeons were at Tacumshin, Wexford to 28th and Birsay, Orkney to at least 26th and Holywell Pond, Northumberland to 28th. Drake Green-winged Teals were at Radford Meadows, Staffordshire on 23rd and 24th, at Alkborough Flats, Lincolnshire on 24th to 27th, at Greylake, Somerset on 25th and on Tresco, Scilly on 27th.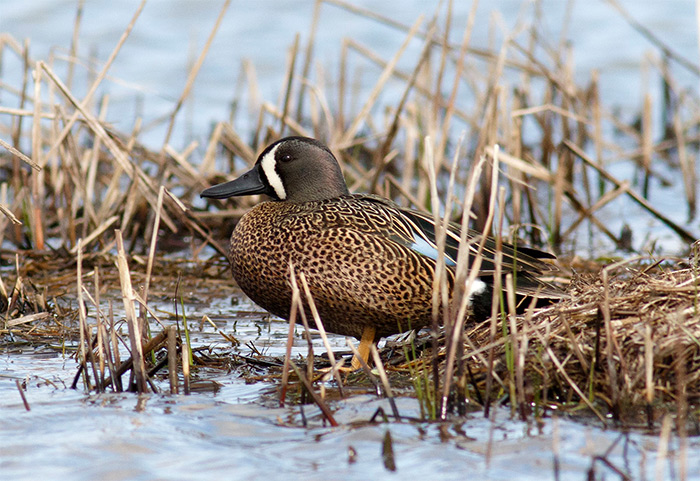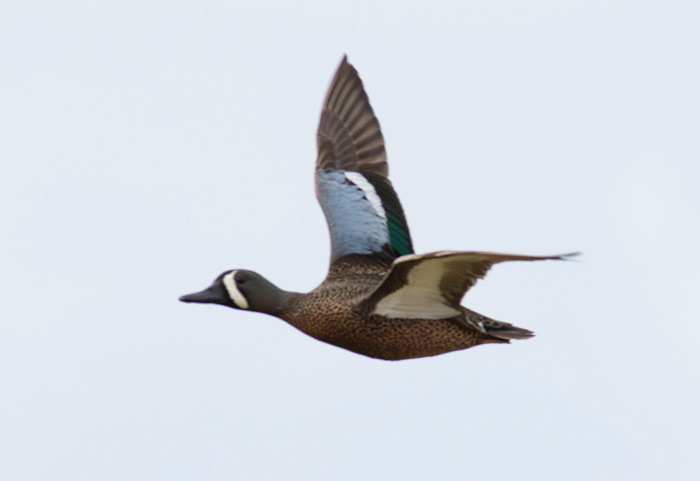 Given the date and the sudden blast of warm French air it was no surprise to see the odd Black Kite making the headlines. The first was at Spurn, Yorkshire on 22nd with presumably the same bird at Grassington, North Yorkshire on 23rd. Next came a bird at Minsmere, Suffolk on 24th with Norfolk reports from West Beckham and West Somerton on 25th both perhaps referring to this bird. Finally, one reached about as far north as it is possible to get, being seen first over Sumburgh, mainland Shetland on 25th and then at Exnaboe on 26th and Tingwall on 27th. Another was then at Penberth, Cornwall on 27th. Right on cue also, the year's first Montagu's Harriers started to arrive. Singles were at Weston-super-Mare, Somerset and Sunk Island, Yorkshire on 25th, at Wallasea Island, Essex on 27th and at Willingdon, East Sussex on 28th. The best news, however, concerned the arrival of a displaying pair at Blacktoft Sands, Yorkshire.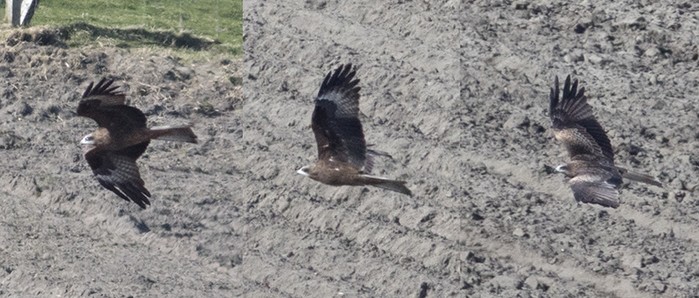 Last week's adult White-tailed Eagle also found the warm winds to its liking, continuing its grand tour of East Anglia. It was at Repps-with-Bastwick, Norfolk on 23rd and then reappeared over Salthouse in the late morning of 25th before being tracked westward past Cley, Blakeney Point, Holkham, Burnham Overy Dunes and Holme before crossing the Wash to Gibraltar Point, Lincolnshire in mid-afternoon.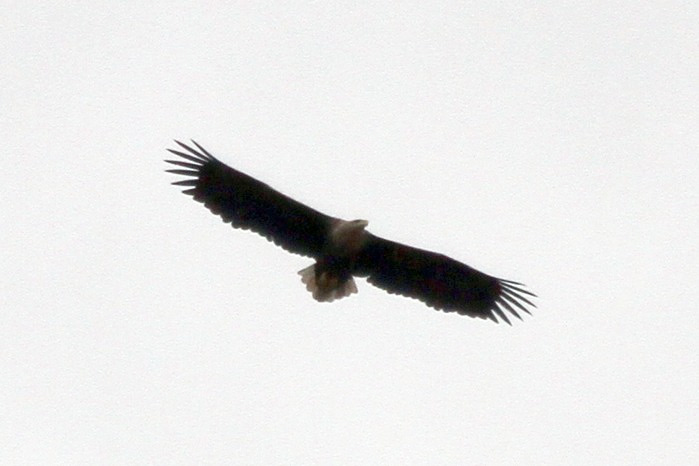 Finally, a few late Rough-legged Buzzards were still on offer, including birds at Berney Marshes/Breydon Water, Norfolk on 22nd, Brantingham, Yorkshire on 23rd and, in the same county, Flamborough on 24th and two at Spurn on 25th. Elsewhere, one was at Gibraltar Point, Lincolnshire on 25th with another still at Lochindorb, Highland on 27th and one at Burniston, Yorkshire on 28th.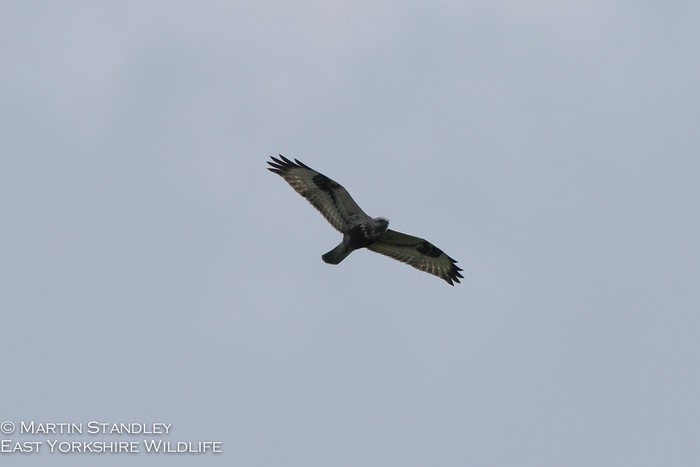 <! Section Title -->
A Spotted Crake heard singing at Leighton Moss, Lancashire from 25th made a suitable accompaniment to the Pied-billed Grebe present at the same location.
<! Section Title -->
Dotterel dominated the wader news during the week though numbers remained low. Up to five frequented the traditional fields at Choseley, Norfolk all week with another over Red Rocks, Wirral on 23rd. Elsewhere in England, up to four were on Pendle Hill, Lancashire on 26th to 27th, three on Wallasea Island, Essex on 26th and seven at Todmorden, Yorkshire on 28th. Further afield, up to eight were on Slyne Head, Galway between 23rd and 28th and on 27th two were at Loch na Muilne, Lewis, Outer Hebrides and four near New Galloway, Dumfries and Galloway.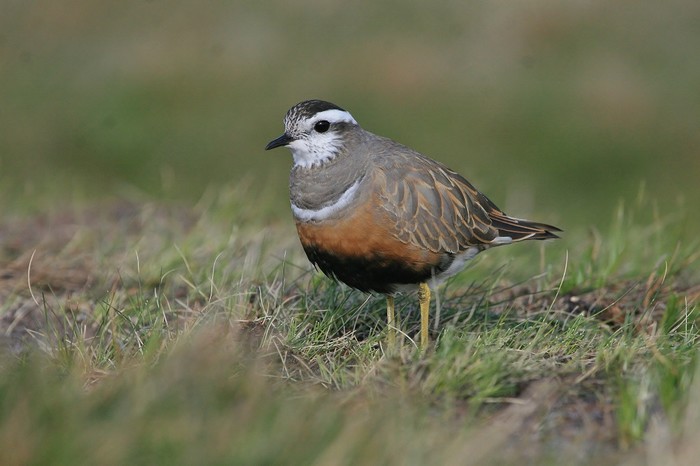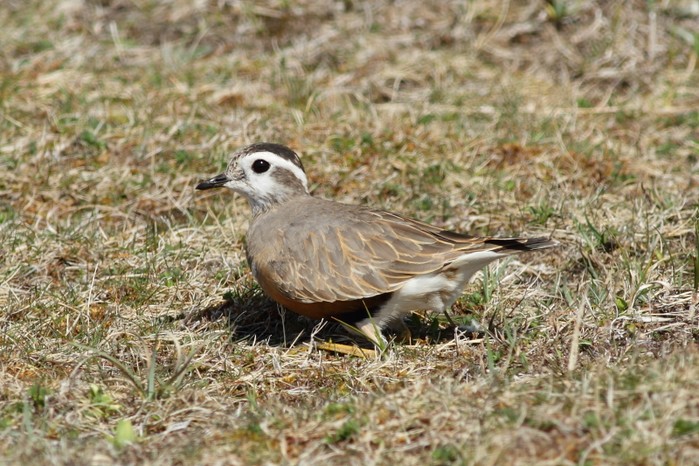 The week's rarest waders were two Black-winged Stilts at Trimley Marshes, Suffolk on 26th and a White-rumped Sandpiper on Papa Westray, Orkney on 25th to 28th. Otherwise, wader news comprised single Kentish Plovers at Cley, Norfolk on 25th and Pegwell Bay, Kent on 27th and a Red-necked Phalarope at Blacktoft Sands, Yorkshire on 26th.
Three Ring-billed Gulls were recorded during the week – on the Hayle Estuary, Cornwall still to 28th, at Daventry Reservoir, Northamptonshire on 22nd to 23rd and at Gwithian, Cornwall on the same dates. In Ireland the second-winter Laughing Gull was still at Ballycotton, Cork to at least 26th.
Otherwise the news was of lingering white-winged gulls, with at least 30 Iceland Gulls and at least a dozen Glaucous Gulls . Records were scattered far and wide and mostly involved singles but a count of nine Iceland Gulls in Stornoway harbour, Lewis, Outer Hebrides on 24th was a high count for the end of April. A Kumlien's Gull was on South Uist, Outer Hebrides on 23rd.
The only notable tern was a White-winged Black Tern at Broom Gravel Pits, Bedfordshire on 24th.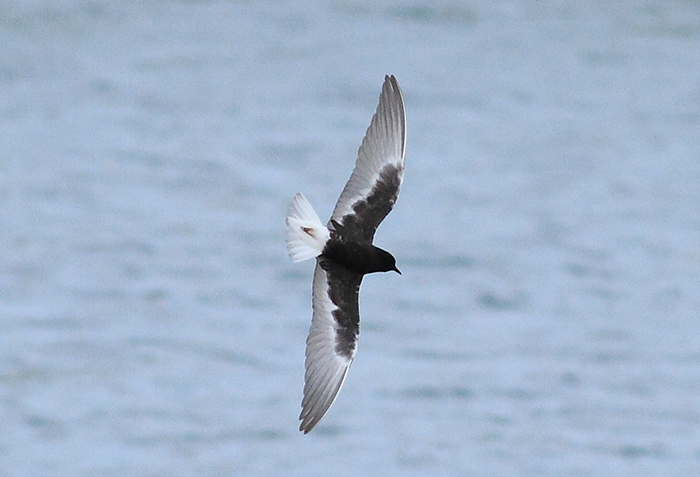 The only owl of note was a super male Snowy Owl on The Mullet, Mayo on 26th.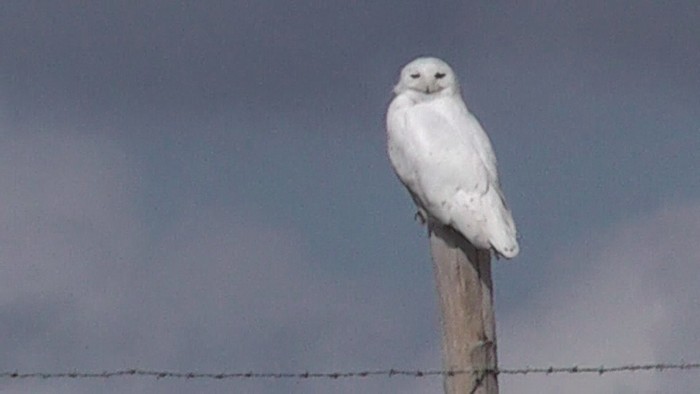 Alpine Swifts failed to respond to the continental flow of air and only one was seen - at Meols, Wirral on 22nd.
By contrast, Red-rumped Swallows put on a better showing. Singles were at Birling Gap, East Sussex and Radipole Lake, Dorset on 22nd, Exminster Marshes, Devon on 23rd, Reculver, Kent on 25th, St. Agnes, Scilly on 25th to 27th and Cliffe Pools, Kent and Easington, Yorkshire on 26th.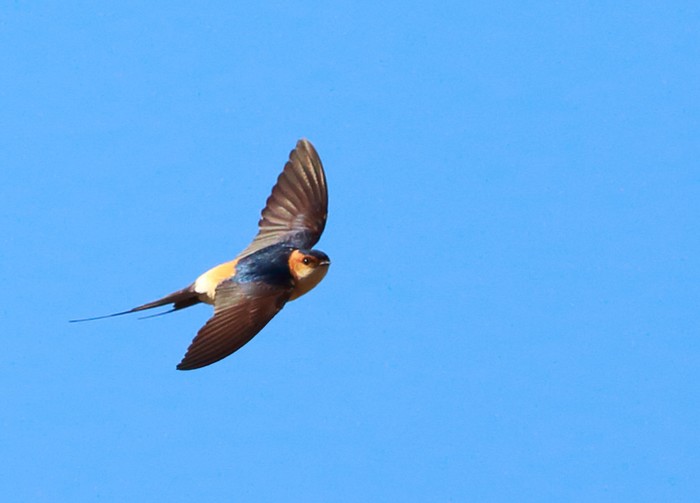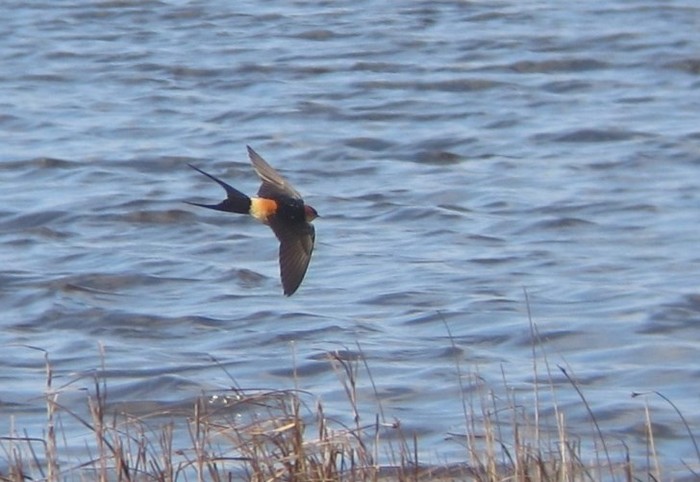 The other top passerines of the week were a male Subalpine Warbler at Land's End, Cornwall on 22nd and a female at nearby Kenidjack Valley on 26th, a Red-throated Pipit over Hengistbury Head, Dorset on 24th, a Short-toed Lark on St. Agnes, Scilly from 22nd to 24th and Woodchat Shrikes at Ramsey Island, Pembrokeshire on 22nd and Porthgwarra, Cornwall on 27th. Away from the Southwest, however, pickings were slim, the best being a lingering but elusive Little Bunting at Snettisham, Norfolk to 26th, another at Flamborough on 27th and 28th and a Richard's Pipit at Gibraltar Point, Lincolnshire on 25th.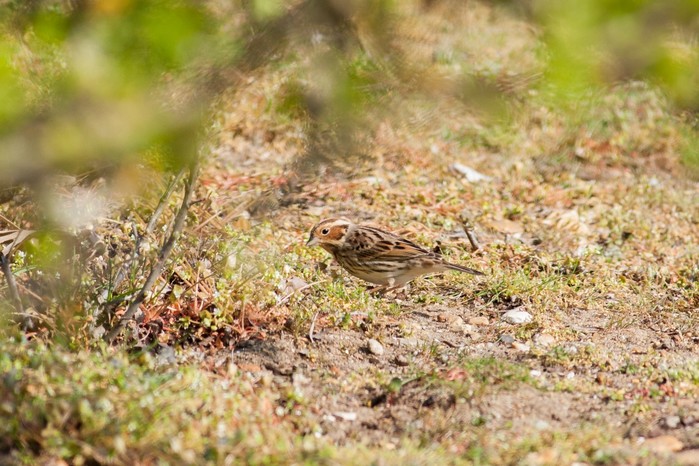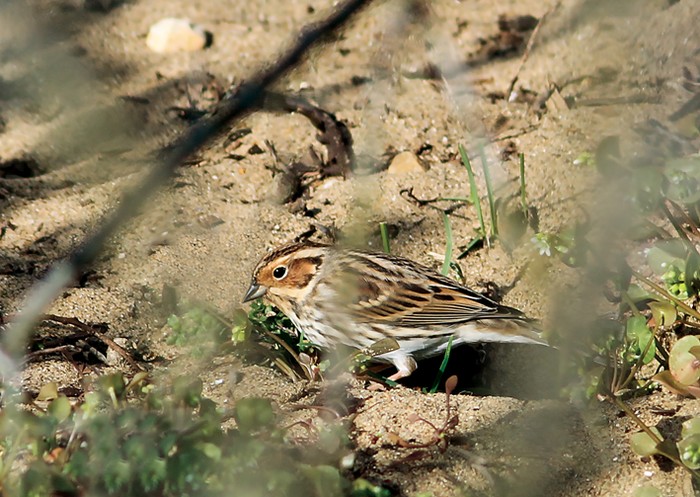 The main news concerned Hoopoes , however, with this spring's exceptional influx continuing. Twenty-two were logged during the week, most, as expected being in the Southwest though Merseyside, Derbyshire, Greater Manchester, Yorkshire and Norfolk all scored one apiece. The most atmospheric by far was one seen from 'The Scillonian' on 22nd.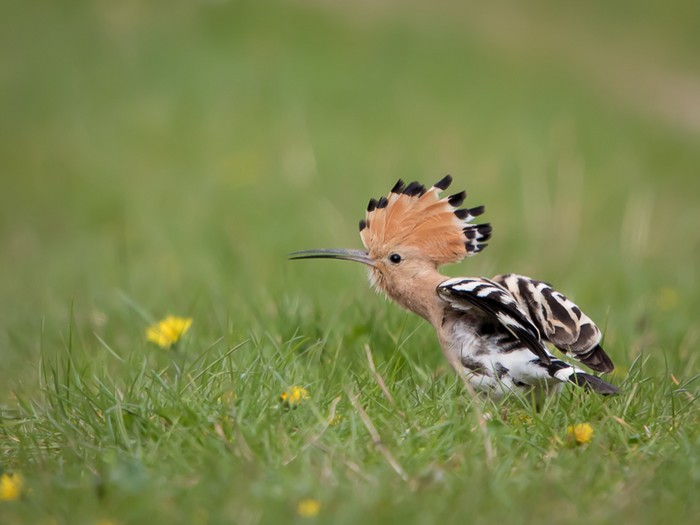 Wrynecks were also prominent, with fourteen recorded. All were in the Southwest but one got as far up the Channel as East Sussex and a lonely bird reached Unst, Shetland on 26th.
Also featuring in the Southwest were Golden Orioles with at least four around Scilly during the week, singles at Penlee Point and Stithians Reservoir, both Cornwall, on 26th and at Tacumshin, Wexford on 24th to 25th. Also on Scilly was a Bluethroat , trapped on St. Mary's on 25th.
The best that could be managed on the east coast was up to three Serins at Landguard, Suffolk and five Shorelarks still on Blakeney Point, Norfolk, with a single at Redcar, Cleveland.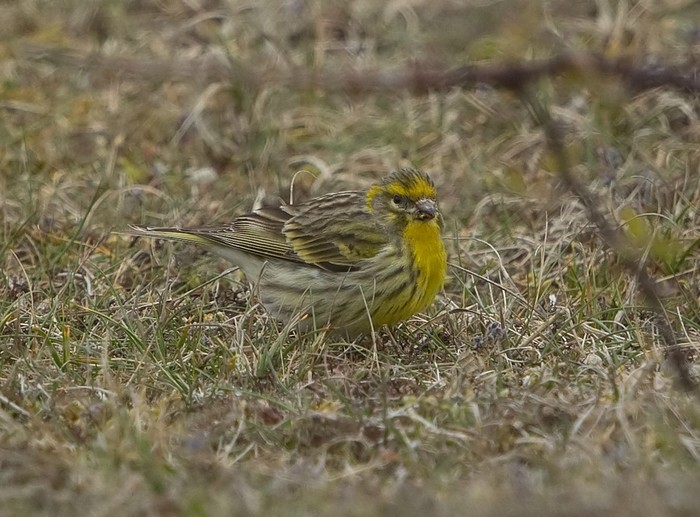 The next review week takes us into the magic month of May so the list of potential excitements is as long as you like. As ever, the clue will be in the weather. In the short term, prospects don't look great as the northerly flow continues for a couple of days yet. After that, however, the wind swings into the southeast before going round to the south and then the southwest. Although its 'reach' into the continent isn't that great, it doesn't take too much imagination to think along the lines of Pallid Harrier, Citrine Wagtail, Collared Flycatcher…….
Andy Stoddart
29 Apr 2015


Thanks to this week's contributors for their photos, videos and sound files.
James Packer, Peter Moore, Steve Evans, Ashley Fisher, Allan Chard, Jon Worthington, Pete Hines, Mark Pearson and Filey Bird Observatory, Chris Morgan, Michael Trew, Tony Davison. Alan Shaw, Greham Catley, Alex H Jones, Baz Scampion, Roger Riddington. Paul Bishop, Martin Standley, Zac Hinchcliffe, Dermot Breen, Jim P, Steve Blain, Dave Suddaby, Robin Mawer, Oliver Reville, Penny Clarke, James Fisher, Nicholas Brown.
Please check out our contributor's websites for more superb birding photos, videos and more.