Weekly round-up: 15 - 21 Apr 2015
At a glance
The Scilly Great Blue Heron gives itself up, eventually - taking in St. Mary's, Bryher and Tresco during the week
Glamorgan lands a Great Spotted Cuckoo early in the new week
The elusive Greater Yellowlegs pops back in to Hampshire for a day or two
In Aberdeenshire, the drake Harlequin still in the county at the start of the roundup period but no news since…
…and in Highland, the female Harlequin also remains in to another week, still at Brora
A fine sunny week for most of us saw lots of sunshine across much of the country though the drift from rather warm to rather cool temperatures was quite pronounced as the weekend came in to view.
Summer-type numbers were registered in some places "down south" at the start of the week, nudging towards 25 degrees though northern area in particular were somewhat cooler.
Along with the arrival of the weekend came a pronounced shift from warm southerly airflow to the distinctly chillier feel of a sizeable high pressure (especially if you were on the east coast) that kept the skies clear and the sun shining but the fresh northeasterly breeze made sure that it was scarves and hats from time to time along North Sea coasts, despite the dry, spring-like weather.
The weekend was generally, really rather beautiful despite the chills on the east coast and conditions were set in stone right the way through until almost the end of the review period.
Great Blue Heron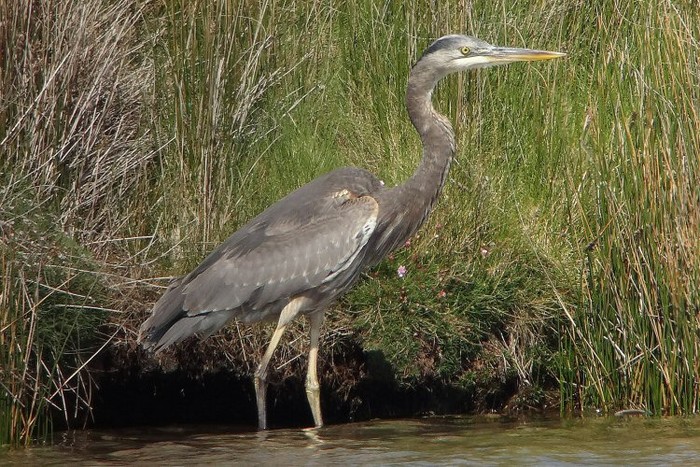 There was, of course, much excitement as last week's near-dusk discovery of Britain and Scilly's second-ever Great Blue Heron made itself known as the sun set on 14th. The bird appeared to be in place in and around Old Town Bay, after the initial discovery on the pools at Lower Moors - for those venturing to the extremities of southwest England - things seemed set fair.
T'was ever thus…
Sure, the bird was still present early the next morning, on islands still shrouded in a cloak of plane-stopping fog but early morning dog-walkers flushed the bird from Old Town Bay. It wasn't long before it appeared again, back in the same place and it seemed that, for the jolly jack tars onboard the M.V.Scillonian III chugging away merrily across the 25+ miles of sea from Penzance to St. Mary's, all would be well.
As we know, the Great Blue Heron had other ideas…lifting off from Old Town Bay around 11am on 15th. Minutes ticked by with "no further sign". More minutes ticked by. And some more. It wasn't in the bay and it wasn't on Lower Moors either. The bird had popped in its very own bit of listing GBH - it was, it seemed, nowhere to be seen.

...No, no, no... it couldn't be... could it? I started to feel giddy! - the improbability and enormity of the situation already starting to register. Right, calm down and go through it again....
Read Ashley Fisher's account of finding his, and Britain's, second Great Blue Heron here
The boat shed its load of anxious twitchers and it wasn't until nearly 3pm when the bird was relocated - and even then the "solid" sighting wasn't had for long - watched (and photographed) for a few minutes alongside a Grey Heron in a field near Holy Vale. Many of the three figure travelling band failed to connect and then it was decision time.
Should I Stay or Should I Go?
With indecision bugging some, and the "if I go there could be trouble" thought looming large, those who did linger on St. Mary's through to 16th also drew a blank and many of those who stuck it out on a fruitless second day departed on the late afternoon sailing of the Scillonian with not a whiff of the Great Blue Heron.
The tales of woe onboard that particular vessel are the stuff of legend - birders have been ill on the decks, in the lounges and in the loos of the flat-bottomed ferry for decades. Generally the "mal de mer" and greening around the gills would stem entirely from the rockin' and a'swayin' and a'pitchin' and a'rollin' of a ship - who's non de plumes include the Chunderbucket and Sickonian (to name but two) - as it ploughed a way through the swell and waves of the Atlantic but come 6.50pm on 16th the nauseous feeling was entirely pager-enduced.
"Possible Great Blue Heron 1w on Big Pool, Bryher" was how it read and there must have been a knowing sense of dread that that would be the bird. It didn't take long for the confirmation to come through - yep, as many suspected, the bird was still on Scilly and it was available once more.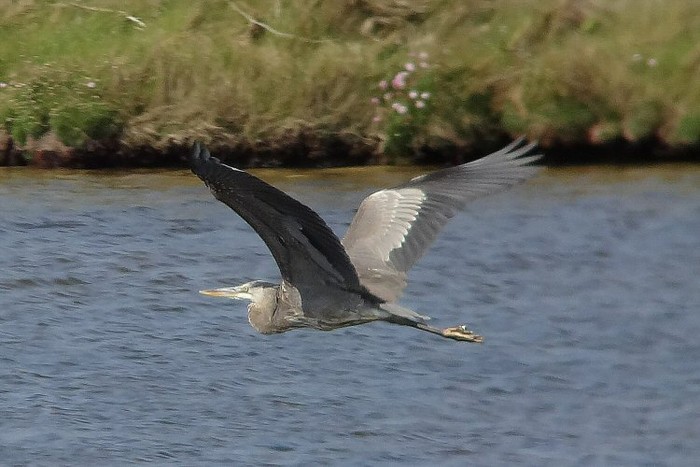 The show-stopping heron remained on view for a further 30 minutes or so, heading off north towards Popplestones. Nerves must have been at breaking point for those on the boat as the realisation of having to bed down in Penzance and do it all over again the next day was the only option on hand.
Fortunately, the Heron behaved itself on Bryher throughout 17th, 18th, 19th and 20th - and for all those making their second visit in almost as many days, all was well. Britain's second (and Scilly's second) Great Blue Heron had finally become Britain's first "available" Great Blue Heron.
During the afternoon of 20th, the bird decided that it had had enough of Bryher and popped across the channel to Tresco where it remained, around the Great Pool, through to 21st before a little bit of inter-island hopscotch ensued with commutes to Bryher and back following through the rest of the afternoon. By the early evening, this second for Britain was back on St. Mary's - roaming between its old stomping ground from last Tuesday - Lower Moors and Old Town Bay.
The next question is how long will it remain around the islands? It is completely plausible that it will take its leave after a period of Scilly R'n'R soon but there'd also be no real surprise if it was still there in autumn - for all we know the spring migration is now done and dusted for this particular vagrant and a summer on Scilly may be what lies ahead.
Great Spotted Cuckoo
Pretty much anything after a twitchable Great Blue Heron will be in full-on "playing second fiddle" status but that shouldn't take anything away from the tremendous find in Glamorgan on 15th - a Great Spotted Cuckoo seen around the nature reserve near Cwm Cadlan.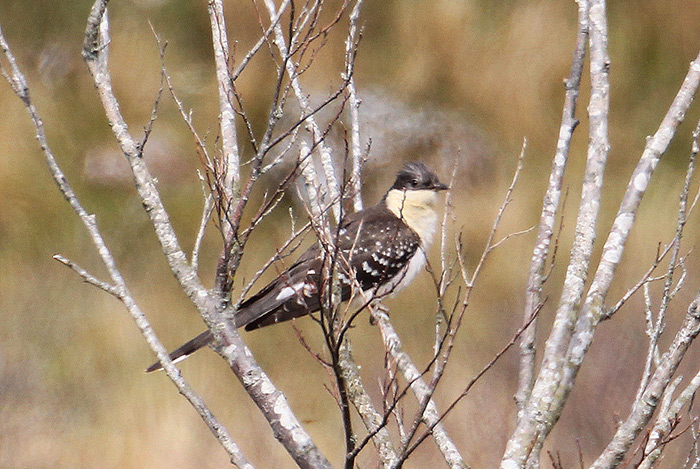 Before last year, there were 56 accepted records on the books and 2014 added a further four birds (not all accepted yet but three came with accompanying evidence) - seen in Pembrokeshire, Devon, Cornwall and Galway between mid-March to mid-May last year. This week's bird is a little more extra special for birders in the south Wales county - it becomes the first record for Glamorgan - and it remained in place until the morning of 17th.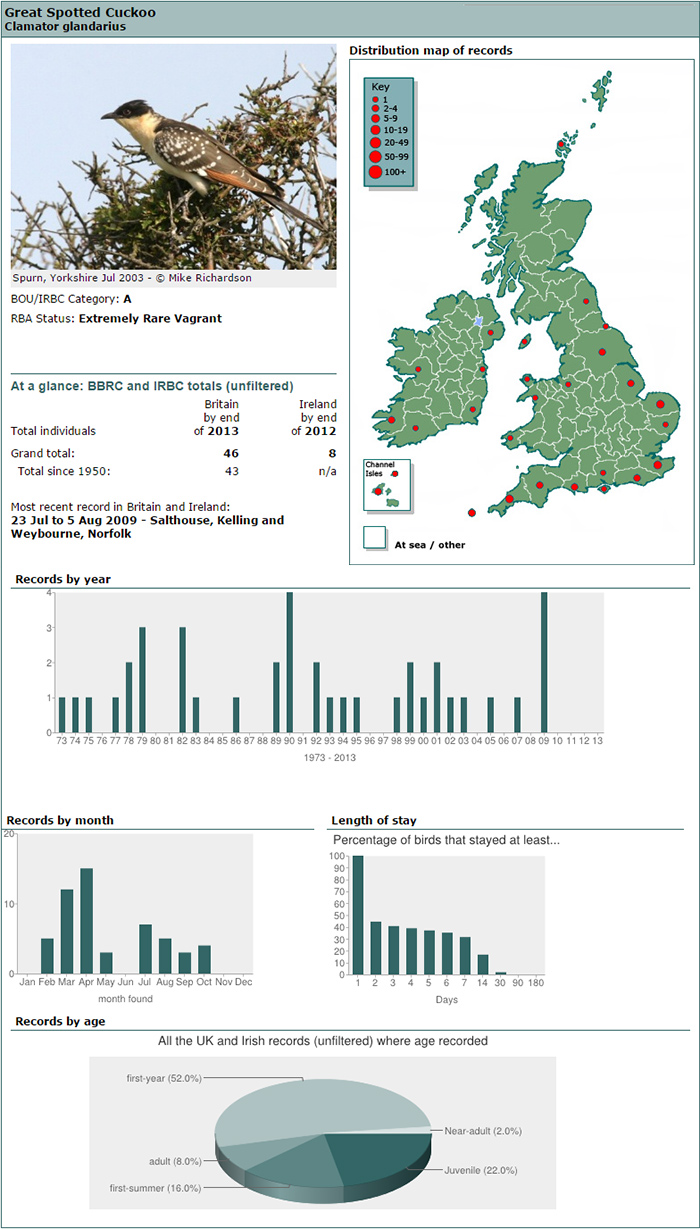 Harlequins
Funnily enough, aside from the Great and the good, there's really not too much to go at in terms of true headliners this week.
After cracking the century mark last week, the first-summer drake Harlequin was noted on the River Don, in Aberdeen through to 15th. There's been no news since, so its either finally run out of admirers or it has taken leave of Scotland for more northerly climes.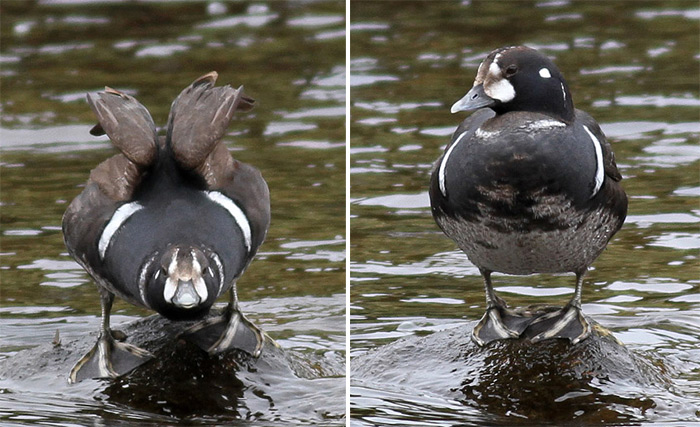 Meanwhile, further along the northeastern corner of Scotland, the female Harlequin managed to tag on an extra day in front of the Don drake - she remained off the coast near Brora, at Sputie Burn, through until 21st.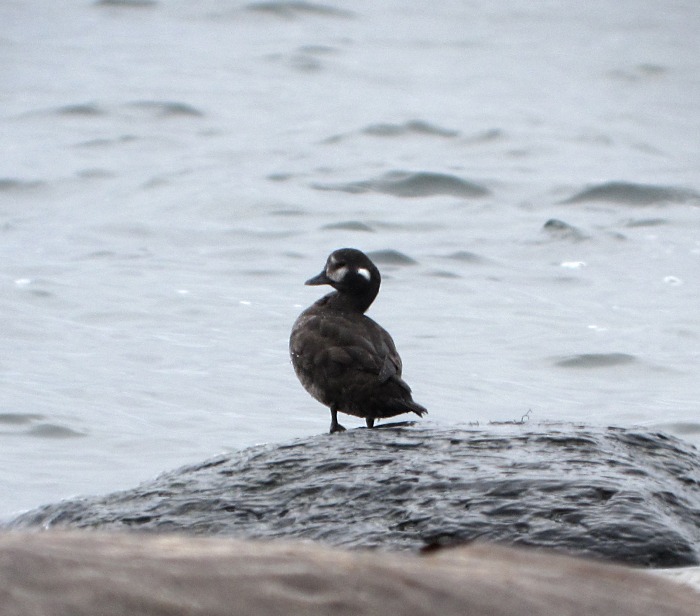 Greater Yellowlegs
The above two named quackers have been, for months now, proved pretty easy to connect with for those who wanted to travel. The same couldn't be said for the lemon-waxed appendages of the Greater Yellowlegs that has made a couple of less-than-day-long visits to the Hampshire coast this winter and this week seemed to be no different.
After first being noted for a few hours on January 11th, the bird popped in again at Titchfield Haven last week, also on 11th, departing towards the Solent after a handful of hours on site. This week saw the bird reported once again, this time on 19th and it behaved itself for a little bit longer this time around, spending most of the afternoon on the scrapes at Titchfield before heading towards the river. The following day, 20th, and the bird was back on the reserve with another day clocked up on 21st too.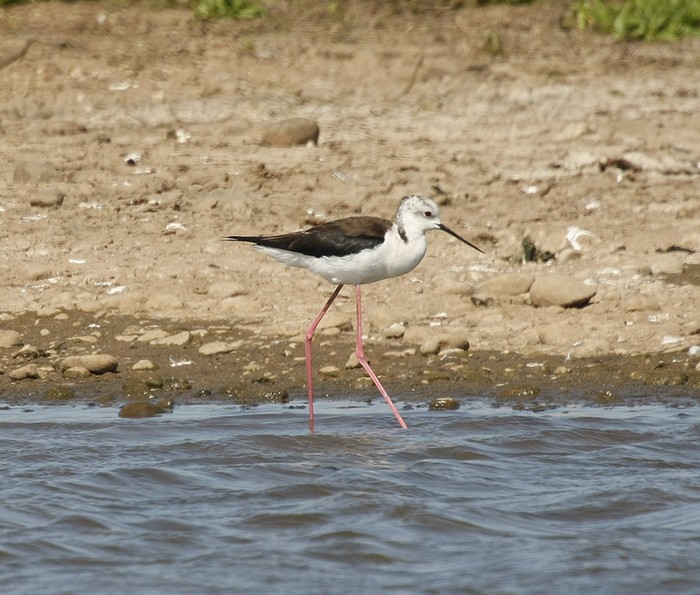 Where does it go, where has it been and where will it end up next?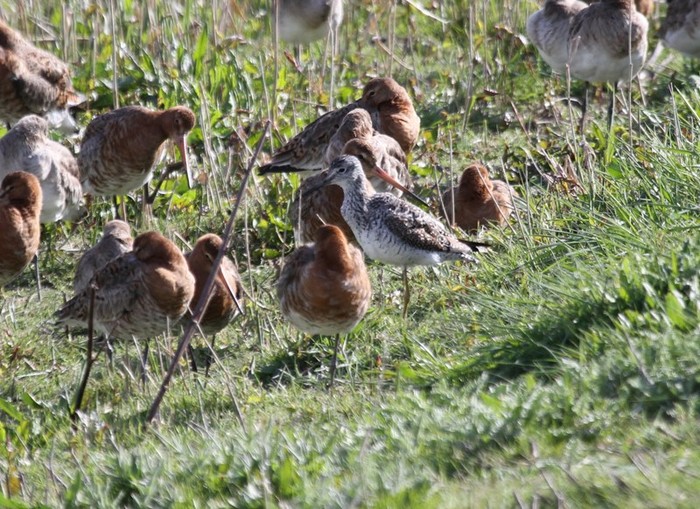 A boat trip out of Portsoy aboard the M.V. Gemini Explorer on 18th produced another pleasing double figure haul of 10 adult White-billed Divers while on the Outer Hebrides, at Skigersta, near Port Nis on Lewis, three birds were seen on 16th (with the added Brucey Bonus of three Orcas too. Another familiar Banana-billed beauty within the electronic scrawl that comes your way each week was the adult that lingered in Water Sound, at Cara, South Ronaldsay (Orkney) through until 17th at least.
White-billed Divers seen elsewhere this week included a new first-winter bird in Highland on 15th, seen to the west of Ullapool in Gruinard Bay and, "rarest" of all, the bird discovered off Thorntonloch (Lothian) on 18th, which remained to 19th before reappearing on 21st - potentially the first confirmed record in the county since the summer of 1991.
Less expected out-at-sea was the cracking record of a Wilson's Storm-petrel seen from the R.V. Celtic Explorer some 70 miles to the WSW of Slyne Head (Co. Galway) on the morning of 21st. Whilst they may be seen as regular features of the late summer and autumn, this looks likely to be the very first April record anywhere close to the Irish (or British) mainland.
Oddments elsewhere this week included a brief Grey Phalarope on the sea off the foghorn at Flamborough Head (East Yorkshire) on 18th, a couple of late Little Auks that headed north from Tynemouth (Northumberland) on 18th with another at Hillswick, Mainland (Shetland) on 20th, whilst two Pomarine Skuas made it past Great Yarmouth (Norfolk) on 19th with one on the final day of the week, seen in Dorset's Chesil Cove.
The first day of the new roundup week saw three separate sightings of single Night Herons come from St. Mary's (Scilly) - seen at Lower Moors, Porth Hellick and also on the rocks at Penninis Head - with two birds also noted heading towards Porthloo at dusk.
As the islands suddenly became a focal point for many dozens of pairs of eyes, sightings of these nocturnal wanderers continued unabated - three were logged heading to Porthloo on the evening of 16th, while the adult remained around the rugged base of Penninis for another day too. Up to four birds were seen on St. Mary's on 17th, with an afternoon flight across Lower Moors following on 18th. Further sightings followed to the end of the week (when one was on Tresco) and a definite four were again on St. Mary's on 20th.
Scilly didn't have exclusivity though where Night Heron was concerned - last week's late arrival at Marazion Marsh RSPB (Cornwall) was noted again on 15th and in Dorset, at Hurn, near Bournemouth, an adult was seen flying up the Moors River on the evening of 18th.
Back in west Cornwall, an adult Purple Heron was found at Drift Reservoir on 20th before moving to Penzance the following day. The 21st also saw the arrival of what must surely be a kosher White Stork, heading southwest across New Passage (Gloucestershire) before touring over Cam later the same day. Presumed/known escaped Storks were seen in Suffolk and Norfolk with unconfirmed reports elsewhere in Essex (three mentioned for Braintree on 20th) and Oxfordshire (one over Chinnor on the same date).
It almost goes without saying that the two Cattle Egrets remained at Dungeness through to 17th at least (one remained there to 20th) with the same site offering up just one Great White Egret, one of up to seven noted in southeast England this week. The 16th saw one appear at Keyhaven Lagoon (Hampshire) and was followed on 17th by a loner over Weir Wood Reservoir (East Sussex). The next day saw a Great White head east across Bough Beech Reservoir (Kent) with a second Kentish bird seen at Chambers Wall, near Reculver the same day. Also on 18th, singletons were seen at Rainham Marshes RSPB (London) and Rye Harbour NR (East Sussex).
Countrywide, the remaining Great White Egrets were spread far and wide. The 17th saw the arrival of one in Argyll & Bute, at Loch Gruinart RSPB on Islay - the first site record since May 2004 and the first county record since May 2001. Also on far-flung bits of another Scottish island was the bird at Loch Bee, South Uist (Outer Hebrides) on 18th-20th, moving to Benbecula on 21st becoming the first Hebridean records since a wintering individual in 2007/'08.
In the northwest of England, Burton Mere Wetlands RSPB hosted a GWE through to 18th; Midlands singles were Northamptonshire, at Stanwick, Ditchford and Summer Leys NR on 15th, 19th and 21st with one also in Gloucestershire, at Slimbridge WWT and then Frampton on 17th; in East Anglia, one remained to 16th at Lakenheath Fen RSPB (Suffolk/Norfolk border) to 16th; in the southwest, one roamed around the Exe Estuary, at assorted sites on 16th-17th, with two together on Exminster Marshes RSPB on 18th, one made it to Cornwall's Marazion Marsh on the same day, when a further four were noted on the Somerset Levels at Ham Wall RSPB. The last birds for the region were found at Radipole Lake RSPB (Dorset) and Marazion Marsh RSPB (Cornwall) on 19th.
Welsh Great White Egrets were on Anglesey, at Malltraeth on 19th and again at Llanrhidian Marsh (Glamorgan) on 20th whilst Ireland saw birds found in Derry, at Lough Beg on 18th and at Kinsale Marsh (Co. Cork) on 20th, bringing the total to 26 for the last seven days in all.
Up until the end of the weekend, it seems as though there was just one Glossy Ibis to report - still being seen at Fen Drayton Lakes RSPB (Cambridgeshire) to 18th. By the end of the review period, one of the other recent trio of winterers was reported again, at Gonalston (Nottinghamshire) on 20th.
West Sussex was at the heart of all things Spoonbill this week - three and then five were around the Bracklesham Bay area to 19th, four were at Thorney Island on 15th-17th and two were at Church Norton on the latter date too. In neighbouring East Sussex, three young birds headed past Splash Point on 16th while Kent and Hampshire managed a couple of birds each. Dorset registered a maximum five at Middlebere on 15th.
Norfolk and Suffolk shared seven Spoonbills (4:3), with a further trio of loners noted in Lincolnshire, one of which, at Alkborough (and then Frampton), had moved down and across the Humber from Blacktoft Sands RSPB in East Yorkshire. The final birds this week were again on Samson (Scilly) on 17th and in County Down, at Strangford Lough (Co. Down) on 19th.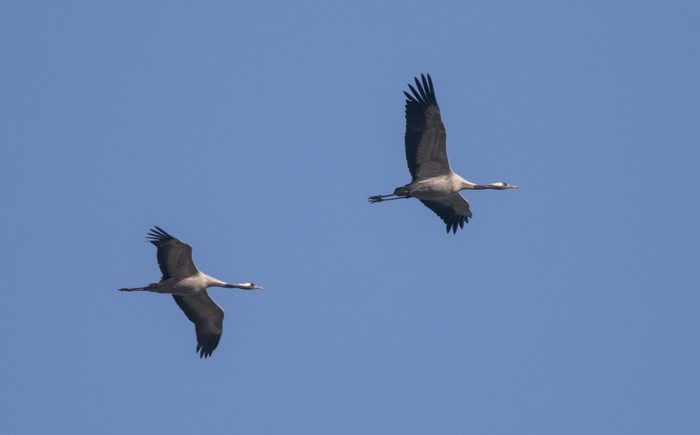 A group of 13 Common Cranes around the Winterton area of east Norfolk was the largest Grus gathering this week - a further five were seen at Strumpshaw Fen RSPB, with a quartet still around Cambridgeshire's Ouse Washes RSPB reserve on 18th and a duo were at Reydon (Suffolk) on 17th.
Duos were very much "on message" for Crane - two were seen over Gloucester on 16th; two were then seen in Worcestershire, at Grimley on 18th and two alighted at Otmoor RSPB (Oxfordshire) the same day (birds that remained to 21st); two made it over Kenfig (Glamorgan) on 17th (remaining to 18th) and presumably then heading to Gwent, at the Newport Wetlands on 21st; two were also logged at Lyth Valley and Foulshaw Moss (Cumbria) on 19th-20th; the final two - how much repetition is there amongst this lot? - were seen over Abbotsbury and Portland Bill (Dorset) on 20th.
Last but not least, single birds noted at Leighton Moss RSPB (Lancashire), Ashleworth (Gloucestershire) and Cley (Norfolk) all on 19th - the Lancashire individual is presumably the one seen last week in the same county, over Seaforth.
After an early April Spotted Crake in Derbyshire, the second of the year was seen this week, this one in northwest England, at the Martin Mere WWT reserve (Lancashire) on 20th.
Surf Scoters have been ever-present this week off of the Wirral, seen at Hoylake on most days - with four (two drakes, two ducks) reported on 18th and four (three drakes, one duck) seen there on 21st.
In Scotland, two drake Surfies were noted from Rerwick Head, Mainland (Orkney) on 17th and, dropping down to the Scottish mainland itself, single drakes were seen at Ruddon's Point (Fife) and Mussleburgh (Lothian), both on 18th (with the former present to 21st).
The only King Eider of the past seven days was the recently returned adult drake on the Ythan Estuary (Aberdeenshire), logged from 17th-20th.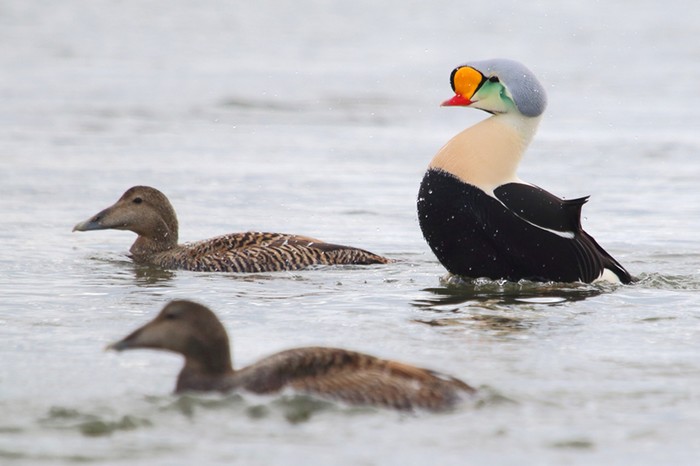 East Yorkshire's first Lesser Scaup since April 2009 was at Tophill Low NR on 17th - with the identification made only on 20th when photos were viewed. At the start of the week, the first-winter drake was still on Martnaham Loch (Ayrshire) and the 17th saw the continuing presence of the female on Loch Ardvule, South Uist (Outer Hebrides).
Oxfordshire's funky quartet of Ring-necked Ducks were still all present and correct on the pits at Standlake to 16th with two drakes there through until 18th at least. Two single drakes were noted in Ireland as well - at Ballyherly Lough (Co. Down) on 18th and Blanket Nook (Co. Donegal) on 19th.
After going missing for much of the week, the drake Blue-winged Teal found last week in Lincolnshire was back on the waterways of Donna Nook on 20th-21st - just the seventh county record in all, but coming along less than two years after the remarkable flockette of three birds spent a couple of months at Boultham Mere in the autumn of 2013.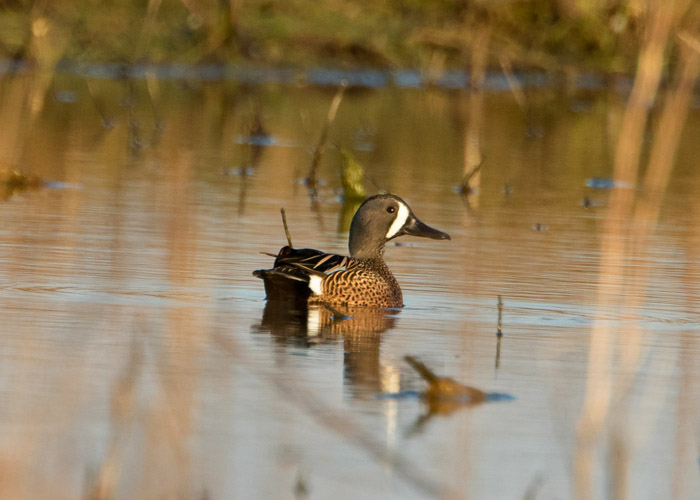 The new week began with a drake Green-winged Teal still in place at Greylake RSPB (Somerset) where he remained until 20th at least. That was one of half a dozen birds in all - others remaining on Loch of Spiggie, Mainland (Shetland), Loch of Tankerness, Mainland (Orkney) and the Great Pool, Tresco (Scilly) through to 19th with one still on Loch a'Roe, North Uist (Outer Hebrides) to 20th. New was one in Staffordshire, seen at Radford Meadows SWT on 19th-21st, the first in the county since April 2012.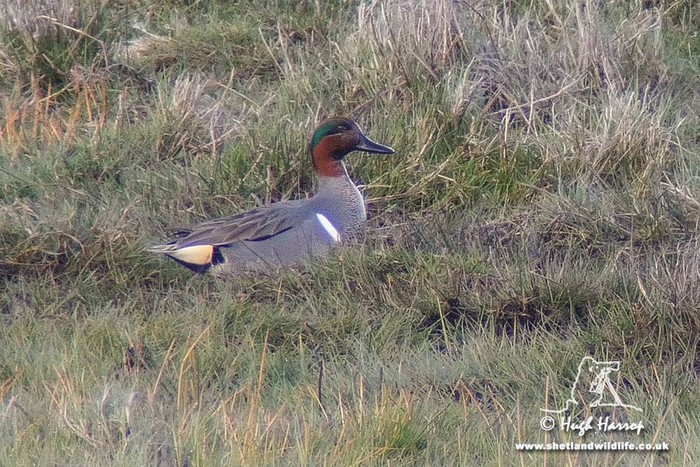 Back to Scilly briefly with news of the padder-supreme, the drakeBlack Duck that was on Tresco's Great Pool throughout the week. Late news too of the drake Black Duck being seen again in Highland, still at Strontian on 19th - he was last reported there in March 2013.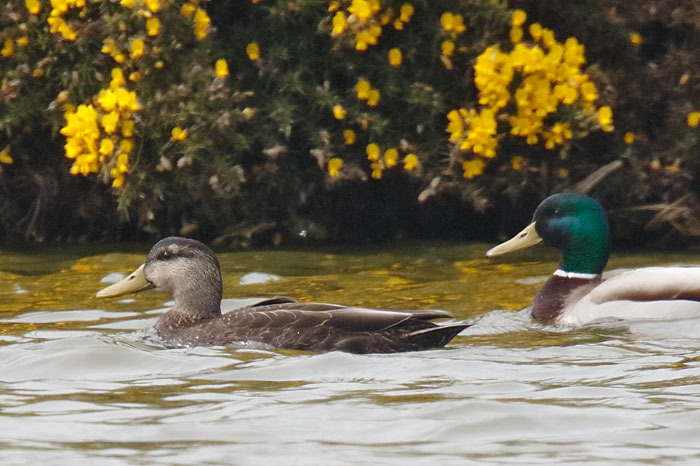 Three drake American Wigeons stuck it out for a wee while longer at Papil Water, Burra (Shetland) to 16th, Tacumshin (Co. Wexford) to 19th and on Mainland Orkney, at Birsay's The Loons RSPB reserve on the same date (presumably this was the bird seen recently at Loch of Harray.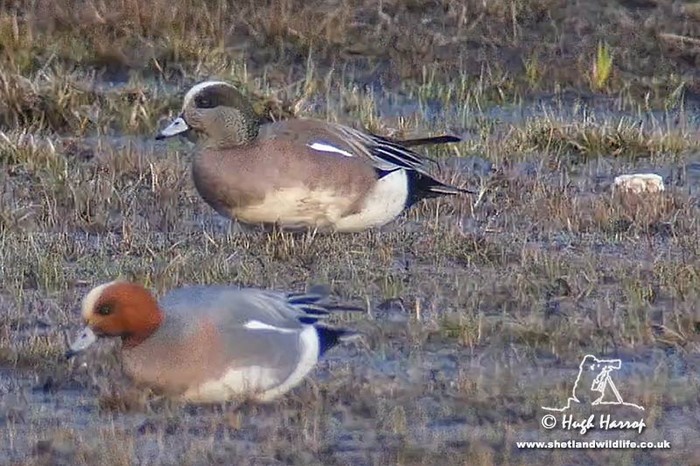 The one and only Black Brant noted this week rounds things off for this section, still around the wet grassland at Frampton Marsh RSPB (Lincolnshire) on 16th.
<! Section Title -->
With so many Black-winged Stilts around already this spring, we're calling it early - there's another breeding attempt or two on the cards and there's everything to suggest they could be somewhere in the southeast once again…
Kent's record flock of six Stilts at Higham Marshes, near Cliffe last week was topped with a count of eight at the same site on 15th. By the following day, numbers had fallen to three and then two remained through to 18th (with two of them moving to Cliffe Pools itself on 18th-19th). Elsewhere in the Garden of England, there were two a piece for Northward Hill RSPB on 16th and on Denge Marsh, Dungeness RSPB on 17th, possibly the same two birds maybe?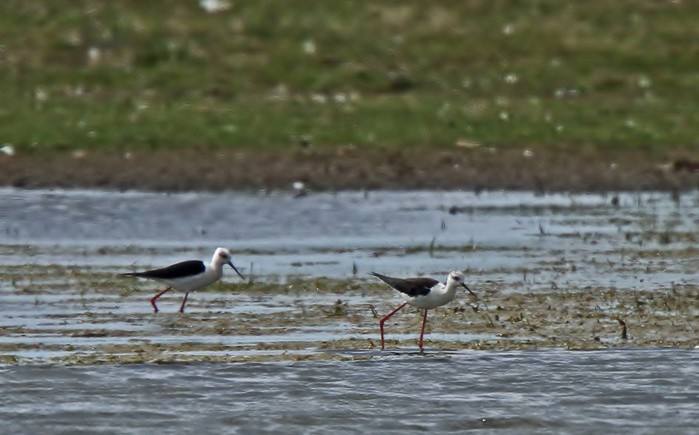 Elswehere on the south coast, single birds were in West Sussex, at Sidlesham Ferry from 15th-19th and back at the breeding site of Bracklesham Bay's Medmerry RSPB reserve on 16th-17th. Around the corner in Essex, two Stilts remained at Bowers Marsh RSPB (Essex) to 21st while in East Anglia, a brief trio made landfall at the Nene Washes RSPB before heading north - the species has been noted annually in the county since 2011.
One final duo was noted through the week - seen on the Warwickshire/Staffordshire border on the Middleton Lakes RSPB reserve on 18th (shifting to the Drayton Bassett end of the complex later the same day, becoming firmly ensconsed in the Staffordshire end) - a county first for the former county and the first in the latter since two adults spent a day at Blithfield in May 1995 (becoming the fifth record in all).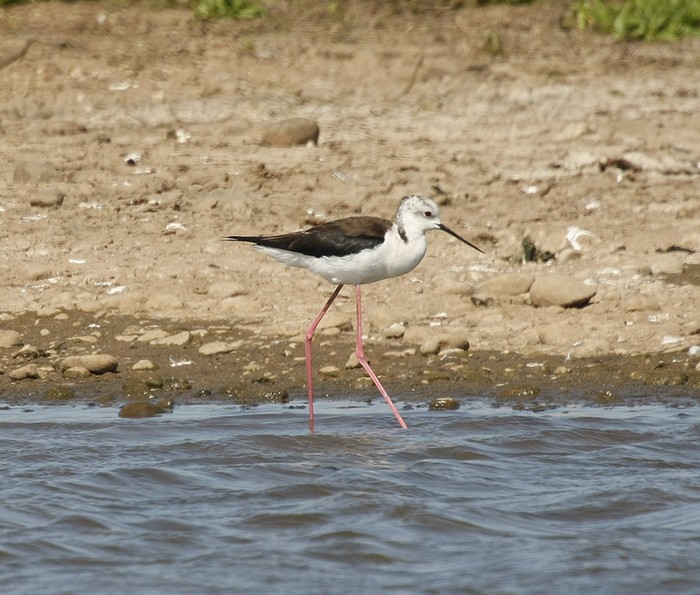 The same twosome then made their way to Ashton Flash, near Northwich (Cheshire) the following day - the very same site playing host to the last pair in the county after they failed to fledge any young on nearby Neumann's Flash in the summer of 2008.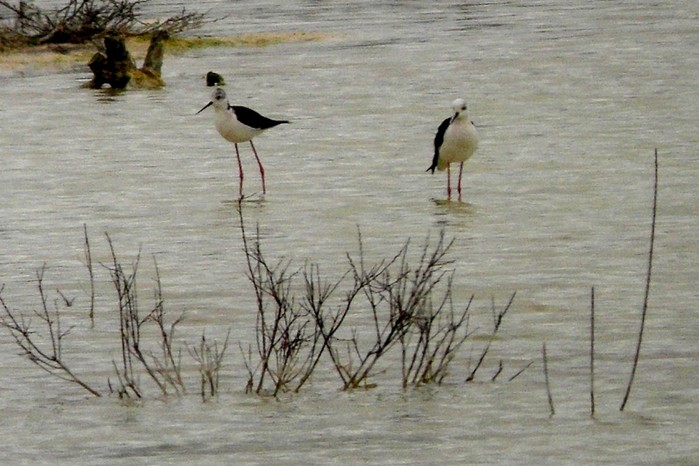 Norfolk's nine Dotterel remained at Choseley for some of 15th, seven remaining there to the evening of the same day. Three further singles were also located around the county - at Happisburgh on 16th, near kelling between 17th-19th with a female at Snettisham on the latter date too.
A trip of five birds was seen in Wales, at Garreg Lwyd (Carmarthenshire) on 16th-17th with another loner at Plynlimon (Ceredigion) on 19th-20th. Four further single Dotterels were logged countrywide - on Salisbury Plain (Wiltshire) on 15th, Pendle Hill (Lancashire) on 16th and Ingleborough (North Yorkshire) on 20th with one also reported from the Pentland Hills (Lothian) on 16th.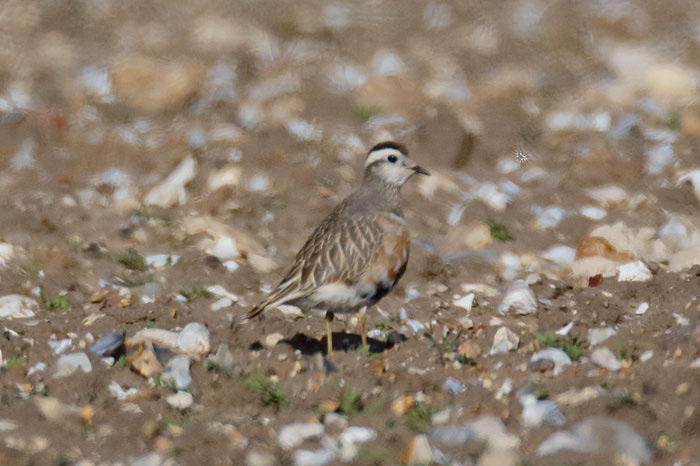 North Yorkshire hosted the first county Lesser Yellowlegs in almost five years this week, courtesy of the evening arrival of one at Wheldrake Ings YWT on 15th - the last record was from the same site in July 2009.
After the evening showing only from the adult Gull-billed Tern in west Cornwall last week, this week saw what was presumably the same bird make a second brief 35 minute cameo appearance in the county, this time popping up on the north coast, at Walmsley Sanctuary on the morning of 19th.
We seem to have lost all of our Bonaparte's Gulls now but there's still a Laughing Gull to play with - seen at Seaforth LWT on 15th-16th before being noted again back on the old stomping ground of New Brighton on 17th.
In southwest Ireland, the first-winter American Herring Gull seen initially around mid-March was noted again at the Cahermore end of the West Beara peninsula on 19th while in west Cornwall, the still-elusive second-winter Smickers was locatwed near Sancreed on 20th, but was only on station for some 15 minutes before departing.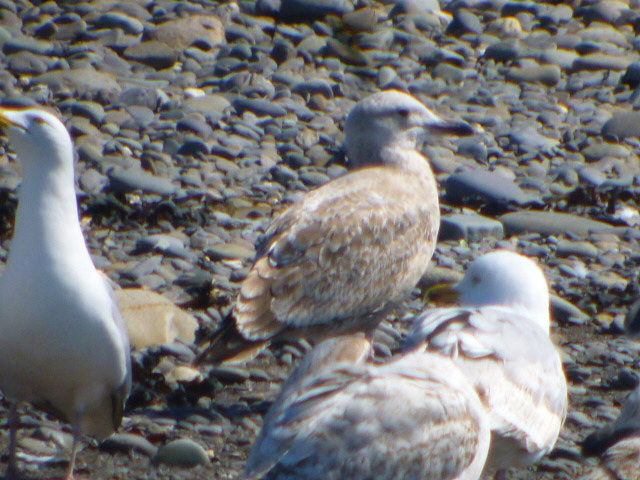 No real surprises in the low numbers of Ring-billed Gulls up for garns this week - we're down to two single first-winters now - seen on the machair at Tigharry, North Uist to 16th and present around Cornwall's Hayle Estuary to 20th at least.
Glaucous Gulls weren't too far removed from last week's figures - 37 birds logged in 17 counties across Britain and Ireland (as opposed to 35:18 seven days ago). Nine of Scotland's 19 in all were seen around the Outer Hebrides, including four at Rubh' Arnal, North Uist on 17th. Three of Orkney's five birds were on North Ronaldsay on 15th while Shetland held three and Moray two.
Seven birds were seen around northeastern England with low single figures elsewhere, with two at Bowers Marsh RSPB (Essex) on 18th and the colour-ringed adult at Stanwick GPs (Northamptonshire) for the whole week being the other main hyperboreus highlights.
Numbers of Iceland Gulls did dip a little this week though - a grand total of 75 birds in 27 B&I counties recorded. Of those, at least 43 were seen in Scotland, with 19 of those on the Outer Hebrides, including eight still in Stornoway Harbour, Lewis on 15th with six at Rubh' Arnal on 17th. Up to 11 birds were logged around Shetland with ones, twos and threes in eight other Scottish counties.
Ireland held on to 18 birds in all, including four on the Mullet (Co. Mayo) on 17th, with four birds recorded around Cork and Clare as well. Three birds were seen in Wales with a dozen or so in England.
Amongst the white-wingers at Rubh' Arnal was one of the week's two Kumlien's Gulls - a juvenile present there on 17th with the day previous to that seeing an adult noted on Loch of Hillwell, Mainland (Shetland).
Three migrant Black Kites were reported through the week; one headed north over Wyke Regis (Dorset) on 16th and was followed by another the following day in neighbouring Hampshire, at ther Lower Test Marshes with the third of the last seven days making an early morning flight across the Hayle Estuary (Cornwall) on 18th before resurfacing at Pendeen the following day.
In Norfolk, an adult White-tailed Eagle drifiting across the RSPB reserve at Titchwell on the morning of 18th must have cut a mighty fine sight. Quite where it went between then and the morning of 21st is anyone's guess but it had somehow managed to wriggle undected through the county, seen early doors at Hickling them departing southwards over Horsey before appearing over Boyton Marshes RSPB (Suffolk) 90 minutes later (doing almost precisely what the second-winter bird did this last time last month - folks, there was only the one on the East Anglian coast then...).
The first Montagu's Harrier of 2015 was a male that appeared at Napton on the Hill (Warwickshire) on 16th, with another the same day in Nottinghamshire, seen over Kilvington Lakes. Two furtehr males were also noted this week, both in Norfolk - one at Holme on 18th and at Kelling Water Meadows on 19th.
Norfolk also held on to a couple of late-leaving Rough-legged Buzzards this week - still present at Halvergate and Breydon Water to 15th. Further lingering birds remained at Lochindorb (Highland) to 16th and again around the fields near Bempton Cliffs RSPB (East Yorkshire) to 21st. Aberdeenshire saw birds logged from two sites, at Fettercairn on 16th and Rattray on 19th-20th while the fine BOP weather on the east coast of 21st enduced flights from birds at Snape Warren (Suffolk) and Saltfleetby and Gibraltar Point NNR (Lincolnshire).
Finally, in County Clare, just behind the beautiful village of Ballyvaughan, the Snowy Owl seen previously in the Gleninagh Mountains was watched on at Capapanwalla Hill on 16th.
Where passerines are concerned, this week is a tough one to know just where to start...but with a toss of the coin and because the "group" remain taxonomically current, its the fine singing male Eastern Subalpine Warbler (albistriata) that leads things off, seen in the valley at Nanjizal (Cornwall) on 19th-20th. Way off across Mount's Bay, on the Lizard Peninsula, one of last week's male Western Subalpine Warbler (cantillans) remained just north of Caerthillian, near Kynance Cove to 16th and in Ireland at Brownstown Head (Waterford) the Subalpine Warbler was still present on 17th.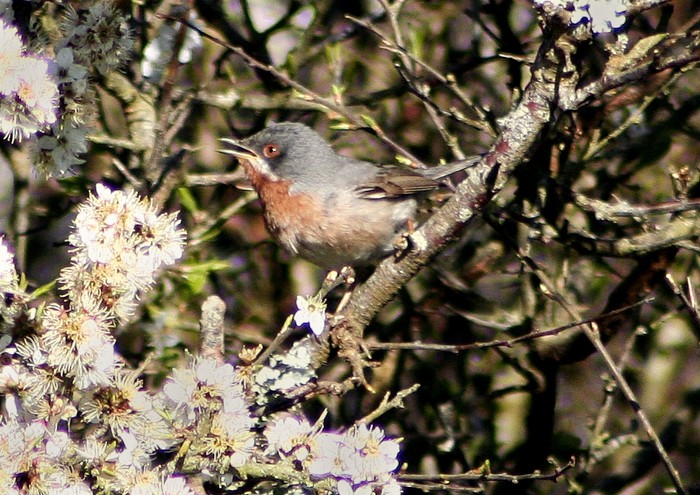 Well, they used to be in possession of those particular scientific names - now the BBRC has laid out new taxonmic guidelines following the splitting of Moltoni's Subalpine Warbler (Sylvia subalpina).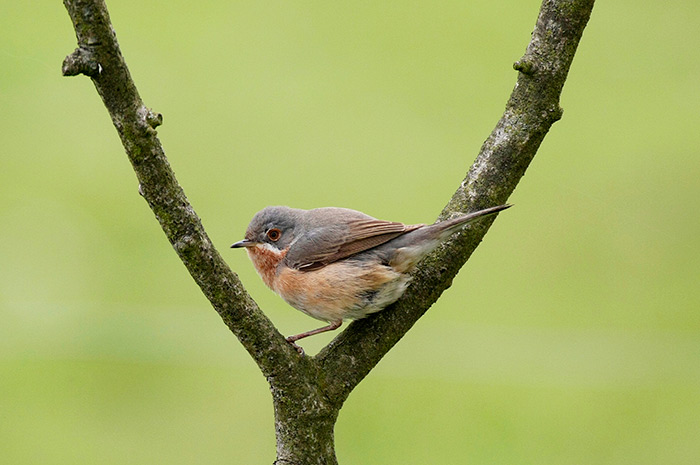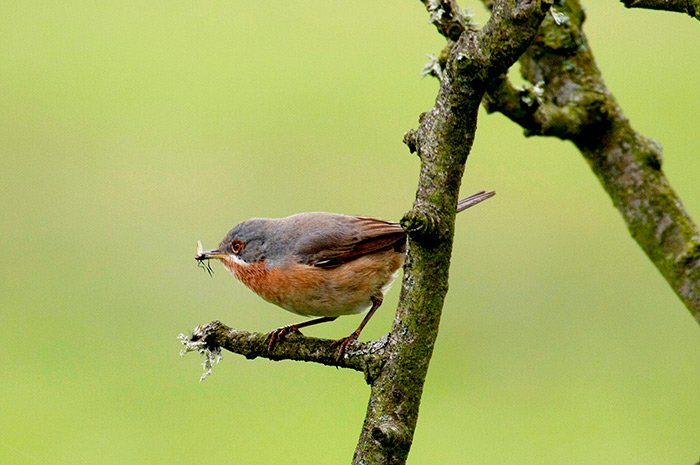 The hoped for three-way multi-split of these beautiful little warblers never happened and what was once Western Subalpine Warbler (cantillans) has now become Western Subalpine Warbler (iberiae & inornata), while cantillans is now within the Eastern group alongside the regular albistriata.
Good luck with unravelling all that then (was the recent Cornish bird an "eastern" after all?) and with seeing all those lovely T5's...
Rather less taxonomically taxing are Bee-eaters and the psychedelic splendour of this eternally popular vagrant remains undiminished. This week a flock of five dropped in along the Kent coast, at Dover on 19th, spending just under a couple of hours on site before departing SW - appearing later the same day near Hailsham (East Sussex). They couldn't be heading to the Isle of Wight could they?
Also this week, single Bee-eaters were seen in Cornwall at Gurnard's Head and St. Buryan on 20th and over Tresco then Samson (Scilly) on 21st. Another nice padder for GBH'ers there then…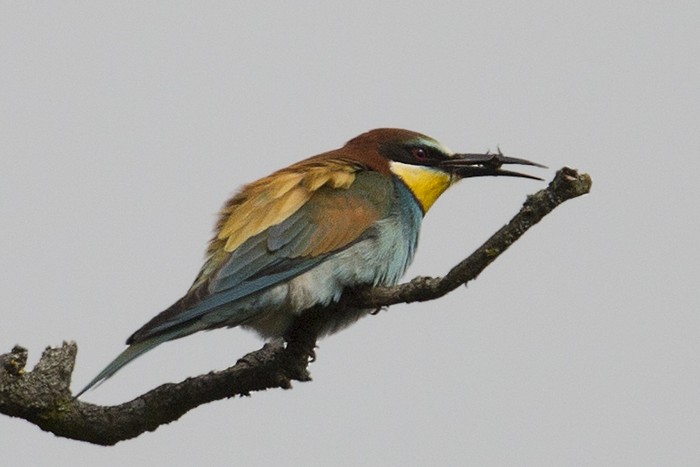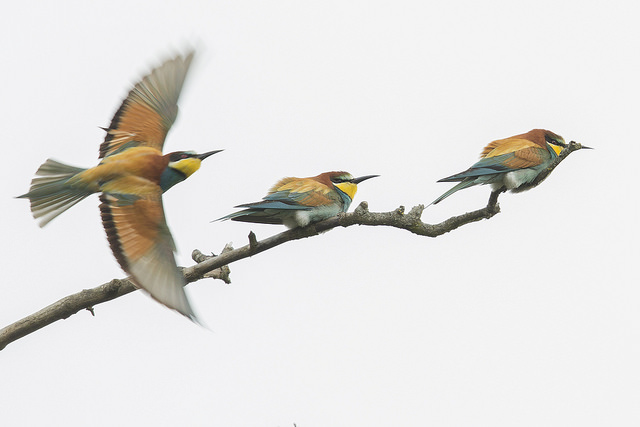 The year's first Golden Oriole made landfall on Scilly, along Penninis Head, on 15th, where it remained to the following day. Two further birds followed; one was seen on Kerry's Blasket Islands on 19th (the first in the county since4 2004) with the third of the week dropping in to the Nanquidno Valley (Cornwall) on 20th.
Further tastes of the Mediterranean came in the form of Woodchat Shrikes including a super triple bill in Pembrokeshire; first was one on Ramsey Island RSPB on 15th-19th, next was one at Whitesands Bay on 16th-20th with the third also rocking up on 16th, seen at the Aber Forrest, near Newport.
The week's Woodchat total rose to five courtesy of one on Great Saltee Island (Co. Wexford) on 18th-19th and in Cornwall, near Camborne on 20th-21st.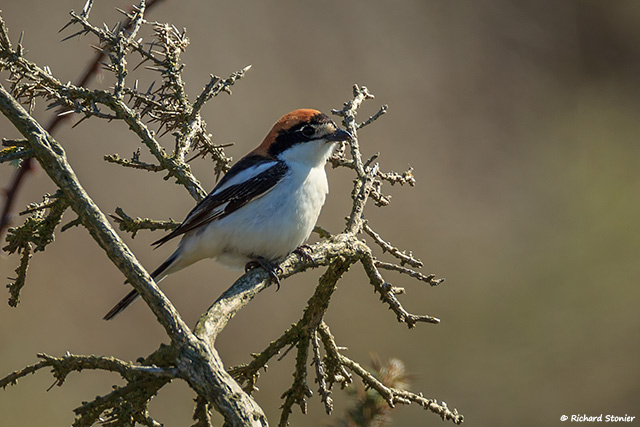 On to the three R's now - Red-rumped Swallow, Red-breasted Flycatcher and Richard's Pipit.
Let's crack in to those 'rumpers first - up to nine of which were recorded through the last seven days. The first one was seen heading over Minsmere RSPB (Suffolk) on 15th and was followed by two over Heaton Park (Greater Manchester) for a while on 17th and one at Weir Wood Reservoir (East Sussex) on 18th.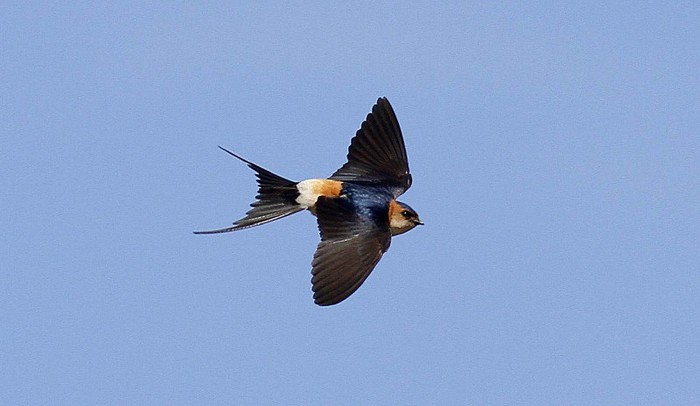 A busy 19th saw upwards of five singles seen - in Dorset one was seen over Portland with maybe the same bird relocating to Radipole Lake RSPB later in the day. On the coast of north Devon, a Red-rumped Swallow flew over Bull Point, near Ilfracombe, with one also seen on Tresco the same day. The last of the 19th's offering was seen over the pools at Holland Haven (Essex) while the week concluded with another in East Sussex, present at Wilmington on 21st.
2015's first Red-breasted Flycatcher was reported on Skokholm (Pembrokeshire) on 18th - although Taiga Flycatcher couldn't be eliminated on the brief views and - despite prolonged searching, the bird was gone. Also somewhat tough to connect with where the two Richard's Pipits seen on private land on the water meadows at Fleetwood (Lancashire) on 19th.
After the comedown post all those Hoopoes last week (late news of assorted birds pushed the tally ever-closer to the 100 mark) the past seven days have seen the species push further inland and through north, with a total of some 54 in all being on the decent side of respectable.
Southwest England was still the hub of the action, half a dozen remained on Scilly (on four islands, with two together still on St. Agnes), Devond and Dorset recorded five each, with two in Cornwall and two together at Otterhampton (Somerset) from 18th-20th.
Hoopoes in southeast England headed to double figures, a minimum of ten recorded, including three in both Kent and West Sussex, with singles in Hampshire, on the Isle of Wight, in London (at Waterworks NR on 16th) and also in Oxfordshire (at Cholsey on 19th). Gloucestershire recorded three of the Midlands four birds, the other was noted at Grimley (Worcestershire) on 15th while further in to the northwest, one of last week's invaders remained at Dent (Cumbria) to 15th.
The east coast hosted single Hoopoes at Lawshall (Suffolk) on 15th, South Gare (Cleveland) on 16th and Hornsea Mere (East Yorkshire) on 18th while half a dozen birds flopped around the Welsh countryside - still on Bardsey Island (Gwynedd) and Tregaron (Ceredigion) to 15th and at South Stack RSPB (Anglesey) through to 17th. New were individuals at Felinwynt (Ceredigion) on 18th, near Newport (Pembrokeshire) on 19th and in Glamorgan, at Rhoose on 20th.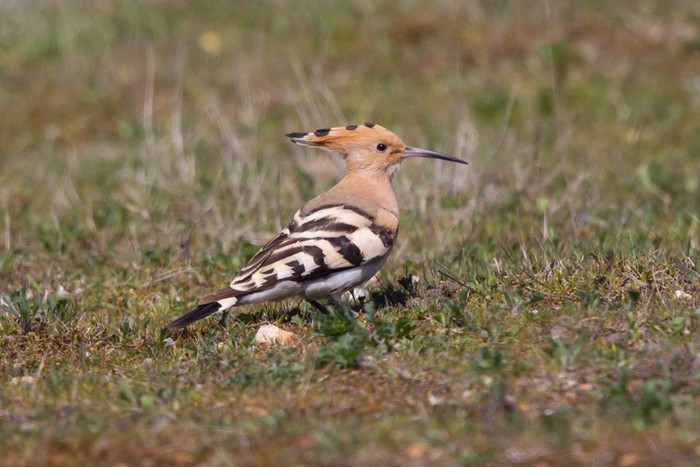 The final 10 were all in Ireland - Cork, Wexford and Waterford all hosting two (the latter county seeing both birds noted at Ballyvoyle) with one each for Clare, Galway, Kerry and Wicklow.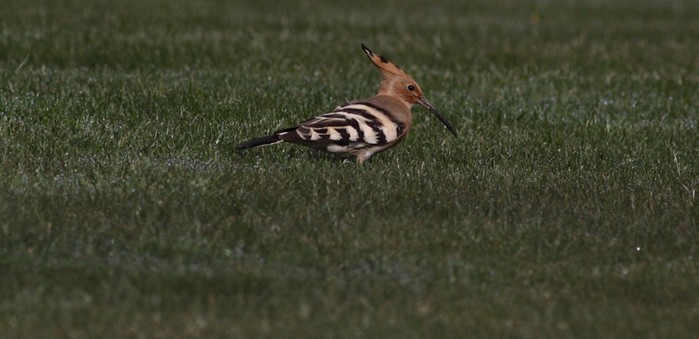 Wrynecks came in a substantial distance behind the ole Upupa last week but the past seven days has seen another tidy showing - around 21 logged countrywide.
Two of the seven birds on 15th were on the adjacent islands of Skomer and Skokholm in Pembrokeshire, with singles noted on St. Mary's (Scilly), Cornwood (Devon), Portland (Dorset), Badshot Lea (Surrey) and Thorpeness (Suffolk). Three new arrivals were reported on 16th - at Porthgwarra, Poole Harbour and in Norfolk, at Aylmerton, with 17th seeing another inland single make it to Hughenden Valley (Buckinghamshire) with another on Great Saltee Island (Co. Wexford).
Norfolk's second of the week was found at Winterton on 18th, along with south coast birds at Dungeness and Beachy Head, while Scilly claimed two of the three seen on 19th (on Bryher and St. Martin's), with the third of the day being located in the valley at Kenidjack (Cornwall). The southwest laid claim to the new arrivals on 20th and 21st too - on Tresco and in Sennen Cove on 20th with a presumed new bird on Bryher on 21st.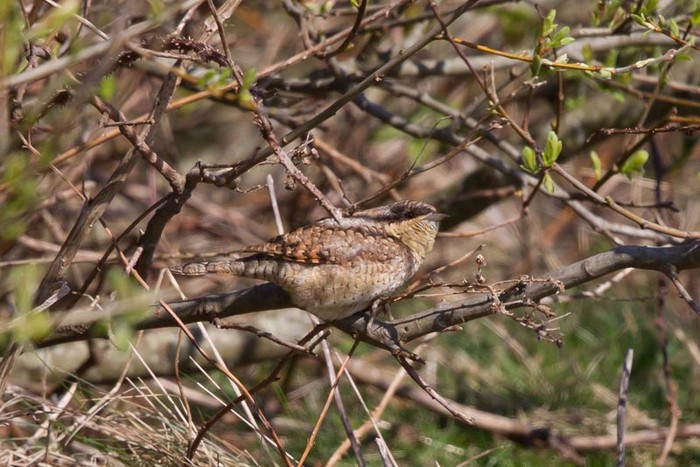 After a very impressive winter for Great Grey Shrikes (and a strong last couple of weeks too, as birds checked out around the coasts) there's just one to report this week - seen at the Long Mynd (Shropshire) on 15th. Also looking likely to be the last ones of this part of the year were the small flocks of Waxwings in Suffolk and Lothian - 15 noted in the former county, at Sutton Common on 17th-18th with 12 in the latter, heading over Humbie on 18th.
Following on ther unconfirmed report of a Serin in Dublin on 15th, the only other one this week was a singing male that was trapped and ringed at Spurn (East Yorkshire) on 21st. It turned out that the bird had been at Easington the previous day.
A little further up the east coast at Flamborough Head, a Little Bunting was photographed near the lighthouse on 15th while down the coast, alongside the Wash was a Little Bunting at Gibraltar Point NNR (Lincolnshire) on 21st (it had been heard but not identified the previous evening). Two rather nice April records by which to conclude things with…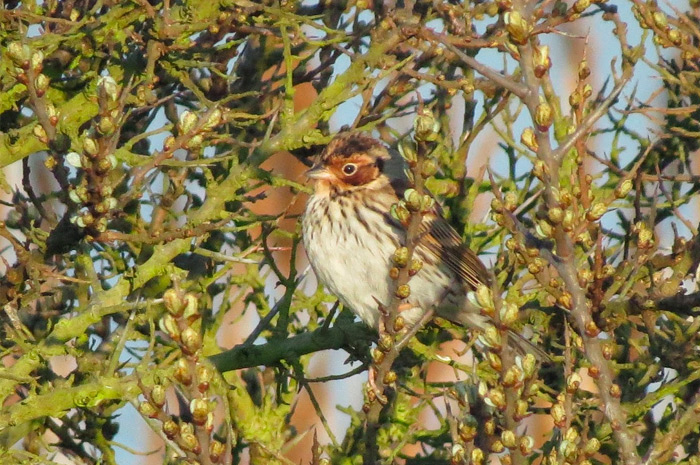 …yes, there we are - another seven days done for.
A look at the record books shows a whole host of absolute rompers on the list for the seven days that lie ahead - not too surprising given the time of year of course.
Depending on the weather we could be looking for a bunch of Black Kites or the occasional Black Stork or Black-eared Wheatear - they've been a regular feature, to one degree or another, historically in the week ahead.
Rather less of a regular feature is another black bird - Black Lark - the first record of which was noted at Spurn on April 27th 1984 - accepted decades later as information was accumulated and then assimilated. It is one of two April records, the Norfolk bird's appearance coming (as mentioned here last week) on the 20th of the month.
That Spurn Black Lark is one of several "Firsts" that have rocked up in the period between April 22nd-28th - the 23rd produced the first of just 10 Fan-tailed Warblers way back in 1962. April 24th yielded that incredible hat-trick of debut appearances - Lundy's two day Eastern Phoebe came along in 1987 while 12 months to the day later, the spectacular double of "first" Brown-headed Cowbird and (only) Moussier's Redstart were located on Islay and in Pembrokeshire.
Two British firsts made themselves known on April 26th - Fair Isle securing Sandhill Crane in 1981 while a more contemporary mega was the male Taiga Flycatcher at Flamborough Head in 2003 while, along with the Spurn Black Lark on April 27th, you can also add Britain's first Song Sparrow to the list for that date, found on Fair Isle in 1959.
Ambitions should remain high then and if all else fails, there's more of a chance of locating a Whiskered Tern or two (they've been recorded daily in the seven days ahead) while the likes of Marsh Sandpiper, Red-throated Pipit, Collared Flycatcher or even, outside bet, Calandra Lark could all loom large this time next week.
Good luck, so…
Mark Golley
22 Apr 2015


Thanks to this week's contributors for their photos, videos and sound files.
Tony Dixon, Ashley Fisher, Richard Smith, Mark Hipkin, Ian Cockburn, Adam Hartley, Colin Manville, Paul Dinning, PT Saunders, Sammy Langlois, Mark Johnson. Steve Gantlett, Hugh Harrop, Reston Kilgour, Dave Hutton, Paul Brewster, Fionn Moore, Séamus Feeney, Neil Hughes, Mike Coleman, Richard Stonier, Brett Spencer, Simon Knight, Paul Kelly, Richard Doan, and Kev Wilson at Gibraltar Point Bird Observatory.