Weekly round-up: 18 - 24 Feb 2015
At a glance
Scotland lands a second Harlequin of the winter in Highland, while the original boy remains in Aberdeenshire
Meanwhile, Cornwall doubles the winter tally of Pacific Divers
Both drake Black Scoters stay in Northumberland and Co.Kerry
And both American Coots continued to be reported from Co.Kerry and the Western Isles
A real curate's egg where the weather was concerned this week; some mild moments hinted at spring a-knocking on our door, whilst there were plenty of colder moments to remind us that winter continues to snap at our heels all the meanwhile.
Frankly, I've had quite enough of winter, and can't wait for spring to get under way. I want some warm days, light mornings and evenings, southerly winds wafting something interesting up from southern Europe, and the knotty problem of whether to watch Champions League football or head out for a spot of evening birding. Enough dreaming: have a load of ducks (and a couple of divers for good measure) to be going on with...
Harlequin
With every day that passes, the first-winter drake Harlequin on Aberdeenshire's River Don looks incrementally more dapper and handsome. Before too long we'll have a real looker on our hands... an accolade that, with the best will in the world, one could never really bestow upon lady Harlequins. They're a bit, well, brown...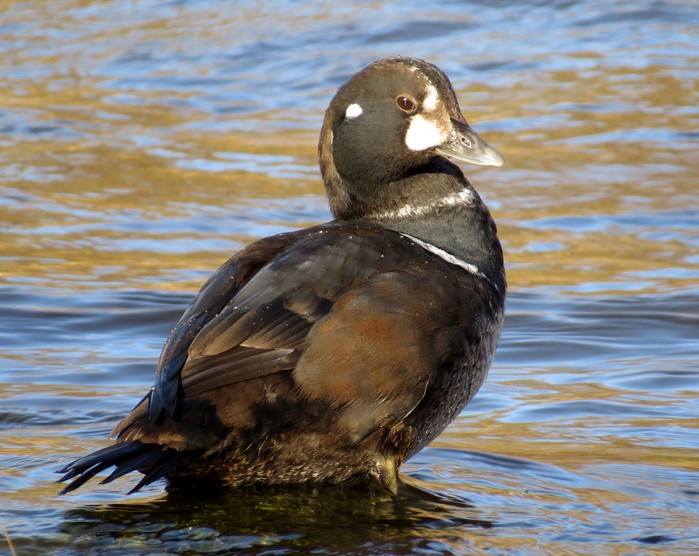 (Misty-eyed reminsicence alert... My first British Harlequins were the pair of females off the Ayrshire coast in 1996, and I remember feeling faintly disappointed at the time when, after the long overnight haul up from the south coast, I finally clapped eyes on them. It was all a bit reminiscent of another recent lifer I'd connected with, where stunning rarity put some spin on what was, if I was honest with myself, a somewhat aesthetically underwhelming bird. How does the saying go? Ah yes. You can't polish an American Coot....)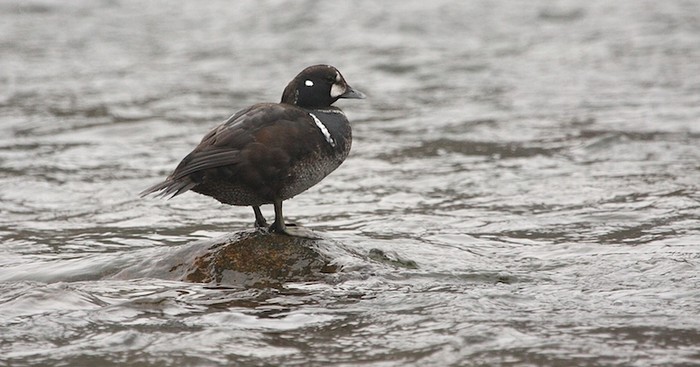 And yet, and yet... if I'd just found Scotland's second Harlequin of the winter, a female first reported from Brora (Highland) last week and confirmed this week on 22nd, I'd be feeling as pleased as a dog with two tails. As, I imagine, the finder of this one rightly is. Meanwhile, that drake in Aberdeenshire remained on the River Don until week's end, and if I could change my imminent travel plans to involve a stopover in Aberdeen, I'd be going to cop an eyeful of this most handsome of ducks.
Pacific Diver
Everything's better in doubles, isn't it? A double gin and tonic knocks the spots off a single shot. Watching your team win the the Premier League and the FA Cup in the same season just makes the experience that much sweeter (not that I'd know, lately...). And what's better than one Cornish Pacific Diver? Yep, that'd be two of them.
The long-staying and semi-regular bird in Mount's Bay continued on-station this week until 24th; but things got better still in my beloved Cornwall on 18th with confirmation of a second bird first reported on 15th in Gerran's Bay hanging out with the local Black-throated Divers; and it was still there on 19th. Hard to believe it wasn't so very long ago that jaws dropped with the confirmation of the first couple of British records.
Black Scoter
Speaking of birds that, once upon a day, were few and far between but now seem to be getting ever so slightly more frequent, paddle forwards you Black Scoters. Both of the recent birds remained into another week, off Cheswick Sands (Northumberland) and Rossbeigh (Co.Kerry) alike until 24th. Once upon a day you'd have hoped for a Surfie when scanning a large, distant shifting mass of scoters. Nowadays all bets are off, and there's so much more to play for – and of the much rarer scoters, these buttery-faced beauties are arguably the best-looking of the lot.
American Coot
Which segues awkwardly (but ironically) into the last of the week's headline species, our wintering duo of American Coots at Balranald RSPB reserve on North Uist (Western Isles) and in Ireland at Lough Gill (Co.Kerry). What can I say? They're rare coots, they're still there, they're probably still going to be there for some time yet, and... well, they're coots. Black mostly. With some white on.
Nope. I'm still underwhelmed, nearly 20 years after my British first at Stodmarsh, and despite a couple of subsequent reacquaintances up here in the blasted north. I think I'd rather have a Green-winged Teal - fickle creature that I am, it's all about the looks for me this week...
Away from the Gavia excitement that was Cornwall this week, there were two White-billed Divers recorded – up in Orkney, the latterly faithful adult bird seen once more off South Ronaldsay on 20th-22nd, and in Shetland the annual bird seen once again from Kirkabister on 24th.
Where Little Auks were concerned matters remained very peaceful indeed, with little more than a handful noted: a single bird off Bowness-on-Solway (Cumbria) on 21st, three birds past Brandon Point (Co.Kerry) on 22nd, and six birds from Cheswick Sands (Northumberland) on 23rd.
We finish the seabirds with a single Pomarine Skua, the bird seen from Kildonan on South Uist (Western Isles) on 22nd.
Things calmed down this week on the Cattle Egret front in Kent after last week's five bird largesse – normal service resumed with the regular two birds mooching around Dungeness on 18th-22nd.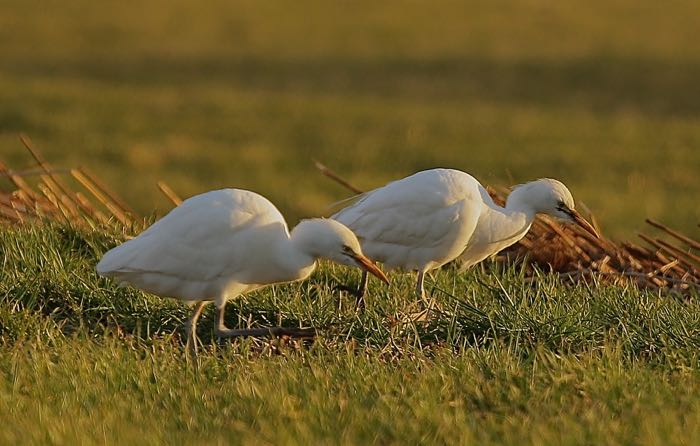 Great White Egrets meanwhile continued to be a winter staple for many of us, scattered around England and Wales (and Ireland, just, with one in Co.Galway at Angliham on 20th and Muckrush on 21st). Overall a slight decrease on last week, but a still respectable 35 or so birds were logged in the course of the week, with the peak count coming from Summer Leys NNR (Northamptonshire) on 20th, with five birds noted there. Trios were recorded at Walland Marsh (Kent) on 18th (with at least two noted more or less daily from the Dungeness area), and Frodsham (Cheshire) and Llangorse Lake (Powys) on 20th.
Taking a quick spin around the country, we'll kick off in the southwest, where one was seen in Cornwall at Truro and another in Dorset on Brownsea, both on 18th; and waterlogged Somerset predictably held the lion's share of records – two remained at Ham Wall RSPB on 18th; one remained at Steart WWT on 19th; on 21st, individuals remained at Chew Valley Lake and Catcott Lows; and two were at Shapwick Heath NNR still on 24th.
Moving east, one was reported from Hampshire at Lower Test Marshes HWT on 19th. One remained at Conningbrook GPs (Kent) on 24th.
Straddling the Suffolk / Norfolk border, Hockwold Washes' individual remained on 20th-22nd; elsewhere in Norfolk single birds were noted at Bowthorpe again on 18th-20th and at Earlham Marsh and Sparham Pools again on 19th; later that day one was at Bawburgh before flying off towards Colney Lakes.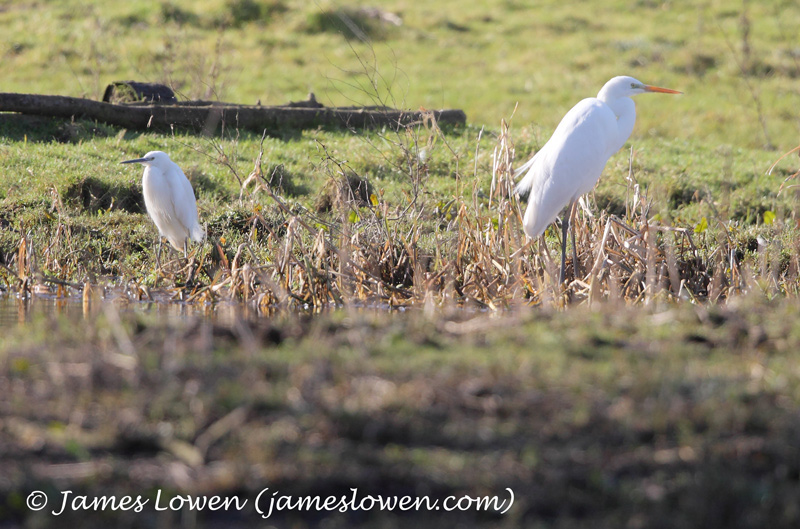 Heading north, one remained on Rutland Water (Leicestershire) on 20th-24th. Away from Summer Leys NR, Northamptonshire had single birds logged at Thrapston GPs on 18th and Ditchford GPs on 21st. Singletons were at Burton Marsh (Cheshire) on 19th-20th, and Crossens Outer Marsh (Lancashire) on 20th. Appropriately in the week of the Oscars, one flew over Hollywood (Worcestershire) on 21st; and away from Powys, two birds were in Wales at Wernffrwd (Glamorgan) on 22nd.
The new Glossy Ibis at Gonalston (Nottinghamshire) remained until 24th, while at Fen Drayton (Cambridgeshire) one was again present on 18th-22nd. Elsewhere, one flew over Sandy (Bedfordshire) on 20th, and across the water in Ireland one was seen at Wexford (Co.Wexford) on 18th.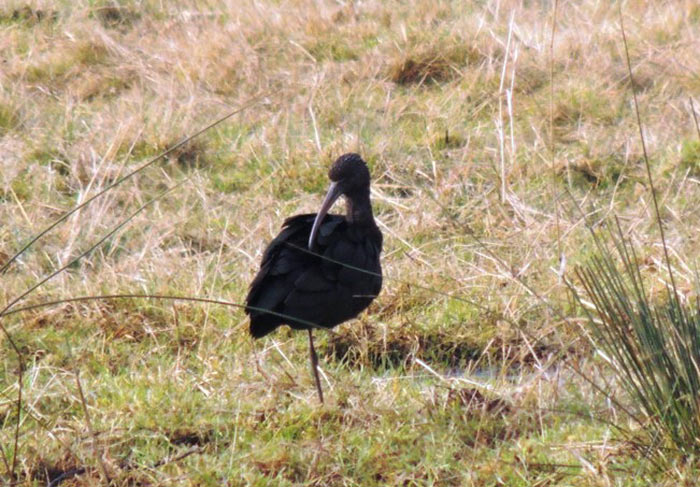 Keeping track of the country's Spoonbills remained something of a tussle this week, particularly along the south coast where flocks seemed to expand and contract willy-nilly. Probably best we kick off in the Dorset stronghold of Poole Harbour, where Arne RSPB dominated proceedings with a flock of 16 birds on 19th rising to 21 birds on 22nd-23rd. Meanwhile, not a million miles away two birds were on Brownsea on 18th; two were in Lytchett Bay on 20th, and three were noted in Brand's Bay on 20th also; Middlebere had three birds on 18th, and five on 22nd; and The Moors held five birds on 21st. In the west of the county Lodmoor RSPB had three birds present on 18th-22nd, and four birds there on 24th.
Moving west into Devon, things were equally fluid – the week kicked off with three birds still at Velator NR on 18th, which by 23rd had risen to seven individuals; three were noted at Wrafton from the Tarka Trail on 19th, with four there the following day; and on 19th and 22nd an immature bird was on Drake's Island before flying off up the River Tamar on each occasion.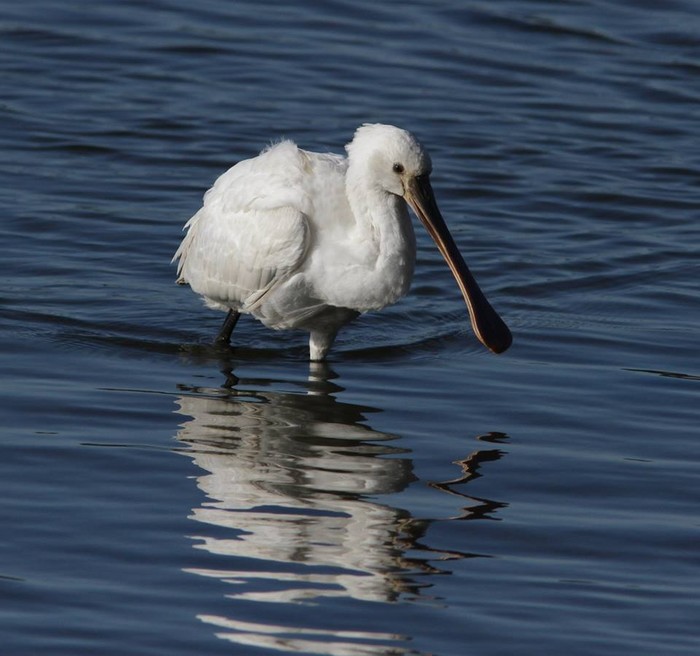 Heading back east, one was in Hampshire at Titchfield Haven again on 21st; but the hot action was in the Lymington area, with four birds on 18th rising to five birds at Normandy Marsh on 21st, falling back to four birds on 22nd. West Sussex accounted for a single bird at Church Norton on 18th; three birds were at Medmerry RSPB on 20th, with four there on 22nd and four earlier that day at Snow Hill Marsh.
Suffolk accounted for the remaining English birds, with two at Boyton & Hollesley Marshes RSPB on 18th, and three at Minsmere RSPB on 18th-22nd.
Co.Wexford was where it was all at in Ireland, with single birds reported from Rosslare on 19th, and over Killag and at Tacumshin on 21st. Elsewhere, one remained at Cromane (Co.Kerry) on 18th, and an immature was at Castle Espie (Co.Down) on 23rd.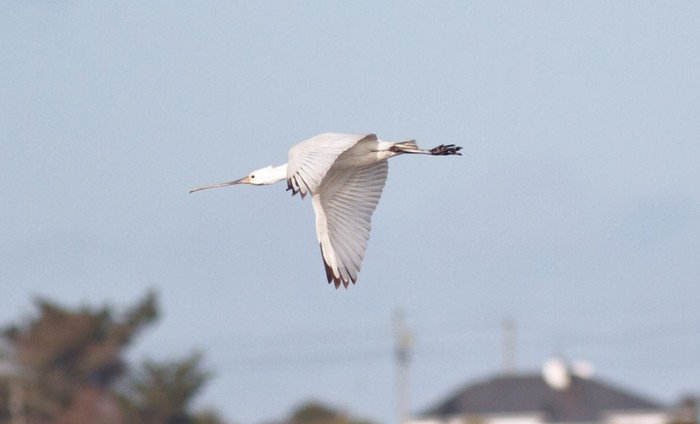 Things were very peaceful this week where Common Cranes were concerned – at least three were at Eldernell (Cambridgeshire) on 21st, while on 23rd three were noted flying over Great Yarmouth.
We'll start proceedings amongst the dirty honkers with the Ridgway's Cackling Goose still present at Cults Loch, near Castle Kennedy, Stranrarer (Dumfries & Galloway) on 18th-21st.
Three separate Richardson's Cackling Geese were noted this week, with two recorded at Bridgend on Islay on 18th (and subsequent singletons on 19th and 20th), and the bird still near Lissadell (Co. Sligo) on 18th. Remaining in Ireland, further variety came from the Lesser Canada Goose still on Wexford North Slob NNR (Co.Wexford) on 20th-22nd, and another reported from Malin Head (Co.Donegal) on 18th.
Once more there were slim pickings for Black Brants this week, with just a handful to report: two birds in Essex at Blue House Farm EWT on 19th; the adult again in East Yorkshire at Kilnsea on 21st; one in Hampshire at Keyhaven Marshes on 22nd; and on 24th, one in Dorset at Ferrybridge and one in Lincolnshire at Horse Shoe Point.
Just the one Snow Goose record this week, at Point of Ayre on mainland Orkney on 21st. In Northumberland, the adult Ross's Goose began the week at Widdrington Moor Lake on 18th, and was still at Stobswood on 24th.
The first-winter drake King Eider at Maenporth remained present until 24th, a stellar Cornish record for this northern eider. (Happily not a real Northern Eider. Sadly not a true Steller('s) Eider...). Elsewhere, the female was noted again off Ruddon's Point (Fife) on 22nd.
A smidgin better this week for Surf Scoters with seven birds to report. In England, the first-winter drake continued to flirt with the Essex/Suffolk county line on the Stour Estuary until 23rd, and the drake remained off Scarborough until 24th. Scottish records came from Lothian, with single birds noted from Lothian at Largo Bay and Musselburgh on 20th again. Just the one drake noted this week from Conwy off Pensarn on 18th-19th, whilst in Ireland the drake was again off Gleninagh Quay (Co.Clare) on 21st, and the first-winter drake off Rosslare (Co.Wexford) on 21st also.
In Ayrshire the first-winter drake Lesser Scaup remained on Martnaham Loch until 22nd; meanwhile in Wales the two regular drakes remained in Glamorgan's Cardiff Bay on 20th-24th and at Llangorse Lake (Powys) until 24th. Irish records came in the form of drakes on Pharisee Lough (Co.Cavan) on 19th-24th and Lough Gill (Co.Kerry) still on 19th also.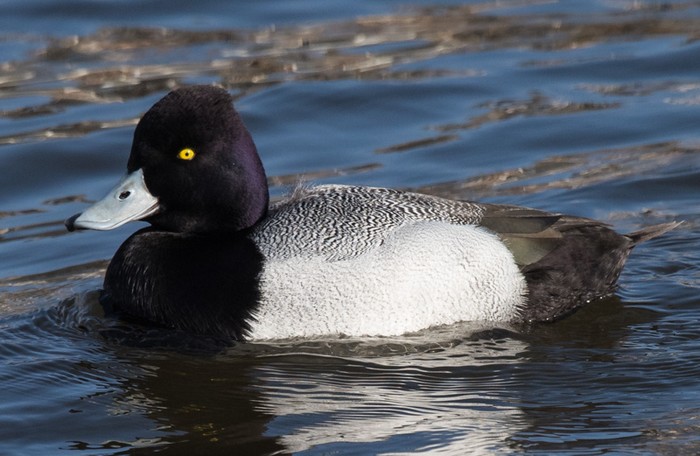 Ladies first with Ring-necked Ducks this week, with two females on Carlingwark Loch (Dumfries & Galloway) on 19th-20th, and one at Balranald RSPB (Western Isles) on 20th-22nd. Drakes were noted at Killarney (Co>Kerry) on 18th-22nd; Lough Cullin (Co.Mayo) again on 20th; Carrowmore Lake (Co.Mayo) on 21st still; Loch of Skaill (Orkney) on 21st-23rd; At Clatworthy Reservoir (Somerset) again on 22nd-24th; and at Knockaderry Lake (Co.Waterford) on 22nd still. The female Ferruginous Duck stayed put at Slimbridge WWT (Gloucestershire) until 24th, occasionally doing her rare ducky brethren no favours whatsoever by hopping the wire and joining the resident exotica in one of the captive pens. It'd be a simpler world if wild ducks didn't pose with captive ducks, and vice versa...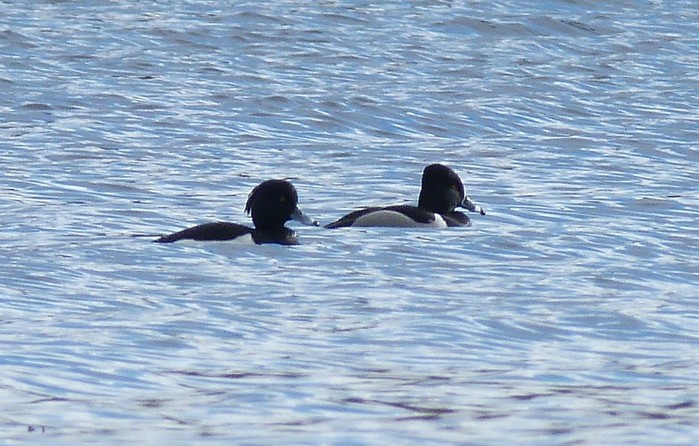 Starting our run through the week's Green-winged Teals in the far north, records from Orkney came from North Ronaldsay on 20th still, Loch of Skaill on 22nd, and Loch of Tankerness on 23rd. The faithful Caerlaverock WWT bird remain in Dumfries & Galloway for yet another week. Across in the Western Isles, one was still to be found on North Uist at Loch Sandary on 22nd. English birds were to be found at Ashleworth Ham NR (Gloucestershire) on 18th-24th, and Aust Warth (Gloucestershire) on 21st; at Stocks Reservoir (Lancashire) on 12st-23rd; on Dorman's Pool and latterly Saltholme (Cleveland) on 18th-23rd; and on the Axe Estuary (Somerset) still on 18th. One was at Hook (Pembrokeshire) on 21st, and another at Caernarfron (Gwynedd) on 22nd-24th. Irish records came from Layton (Co.Meath) on 28th-24th, and Askeaton (Co.Limerick) on 19th.
The two female American Wigeons remained in Cornwall all this week, albeit with just the one reported from the Gannel Estuary on 23rd. Elsewhere it was all single drakes: one still in Fairlie (Ayrshire) on 18th-24th; one at Holme Pierrepont (Nottinghamshire) on 18th-24th; one at Normanton (West Yorkshire) on 18th-24th; one on North Uist (Western Isles) at Aileodair on 19th; in Shetland still at Melby on 23rd; and in Ireland, birds at Trawbreaga Bay (Co.Donegal) on 18th and at Cahore Marsh (Co.Wexford) on 20th-24th.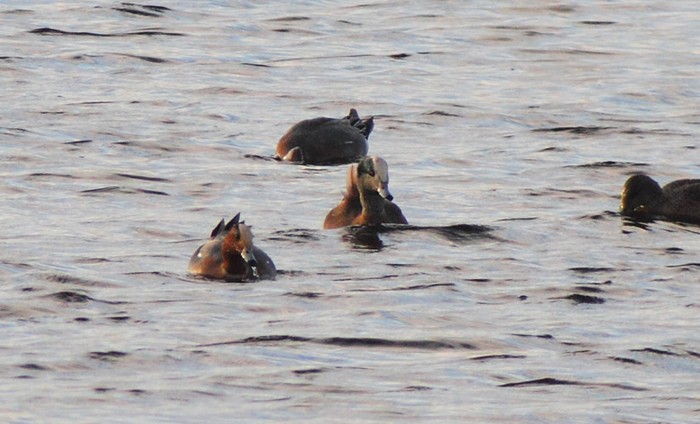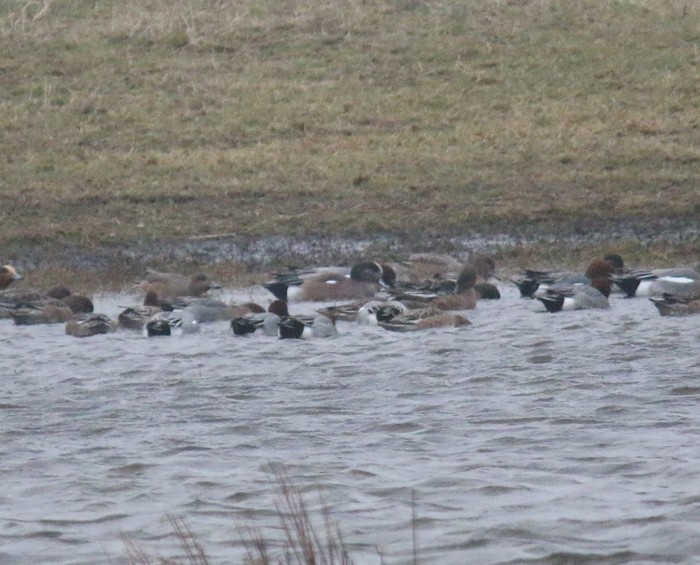 The drake Blue-winged Teal stayed at The Shunan on Mainland Orkney on 19th-24th, whilst at the opposite end of the country the drake Black Duck remained on Tresco (Scilly) to 19th.
After last week's musings that it doesn't get much quieter than a Spotted Sandpiper and a Lesser Yellowlegs where shorebirds are concerned, this week's Round-Up would humbly like to report that it does, in fact, get quieter than that. Two Lesser Yellowlegs is one species less variety, though none the more pleasing for all that – these dainty waders are always a treat.
And so they were – the Rogerstown Estuary bird remained in Ireland in Co.Dublin on 21st-22nd, while the other wintering first-winter put in a reappearance in East Sussex at Winchelsea on 21st again.
We'll kick off the gulls this week with American Herring Gulls - the potential first for the county picked out at Rufforth (North Yorkshire) last week was again noted there on 20th. Meanwhile down in Cornwall both of the possible birds (second- and third-winter individuals) seen last week on the Hayle Estuary on 21st and 19th respectively. Up here in Shetland, the hunt goes on for the first record of this surely overdue species...
Less contentious gull-fodder remained on the Wirral where the beautifully confiding first-winter Laughing Gull stuck around all week; across in Co.Cork, the second-winter individual remained at Ballycotton on 19th-22nd.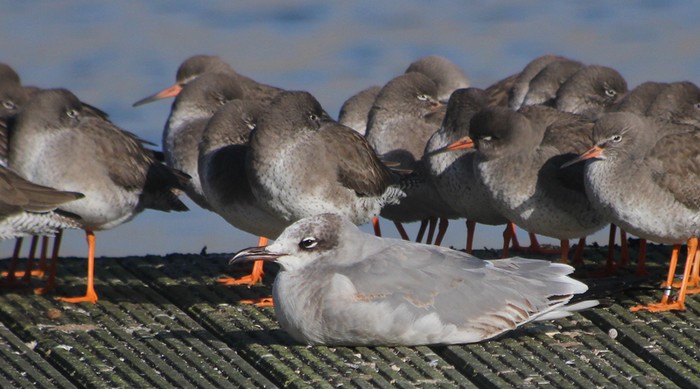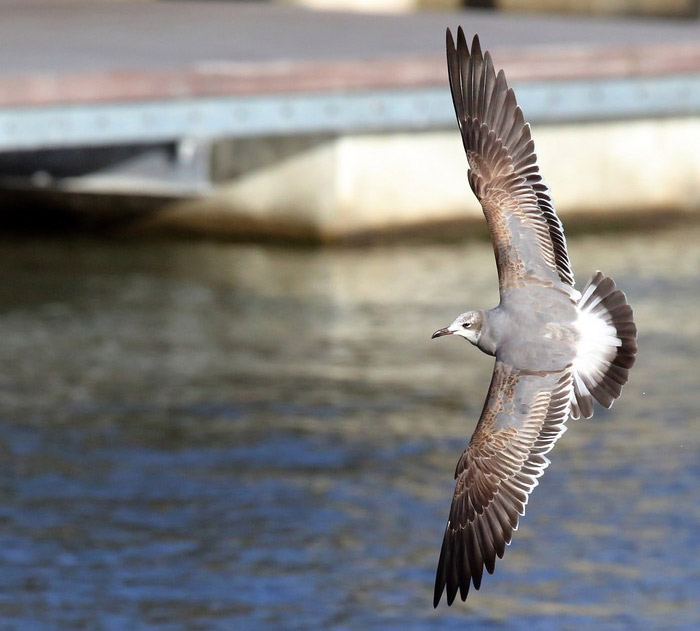 In Devon, the sporadic adult Bonaparte's Gull made fleeting appearances at Dawlish on 22nd and 23rd.
Ring-billed Gulls soared over the 20-record mark this week, with Ireland as usual dominating proceedings, and none more so than at the famous Nimmo's Pier – where five birds (a first-winter, two second-winters, and two adults) were logged on 19th. Elsewhere, Co.Clare scored adults at Seafield on 19th, Liscannor on 20th, and Clare Castle on 21st; Co.Kerry enjoyed an adult still at Dingle on 18th and a first-winter at Tralee Wetlands on 22nd; Co.Dublin had adults at Shanganagh water treatment plant on 20th and Drimnagh on 22nd; and further adults were at Cork City (Co.Cork) on 18th, Wexford town (Co.Wexford) on 20th, Carrickfergus (Co.Antrim) still on 21st-22nd, and Bray (Co.Wicklow) and Tramore (Co.Waterford) on 23rd still.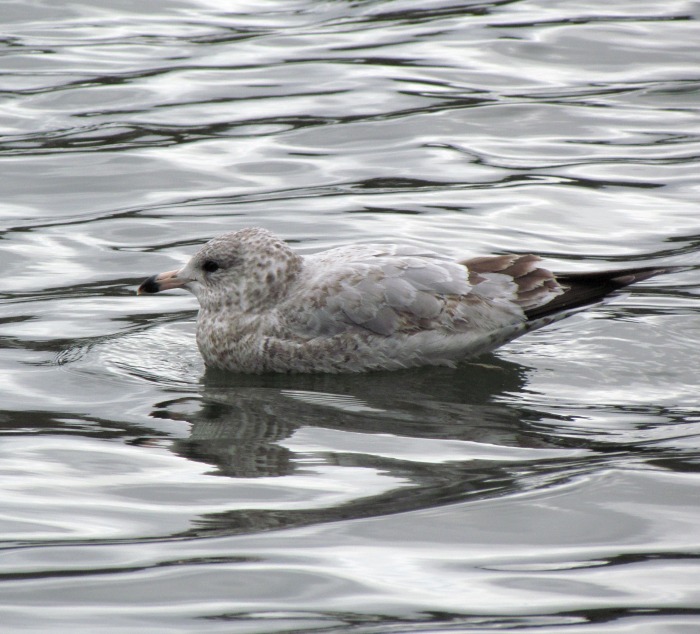 Scotland accounted for two birds - the adult remained at Townhill CP (Fife) on 18th-22nd, while Dingwall's regular adult was reported again on 23rd. In England, the 18th saw two adults recorded, in Hull (East Yorkshire) and at Rumworth Lodge reservoir (Manchester); the first-winter bird was again on the Hayle Estuary (Cornwall) on 19th, while the other Cornish first-winter remained at Swanpool on 18th-24th – and an adult was at Marazion on 24th; a first-winter was in East Yorkshire at Beacon Ponds on 21st; and the regular wintering adult was once more in Hampshire at Gosport on 21st-23rd.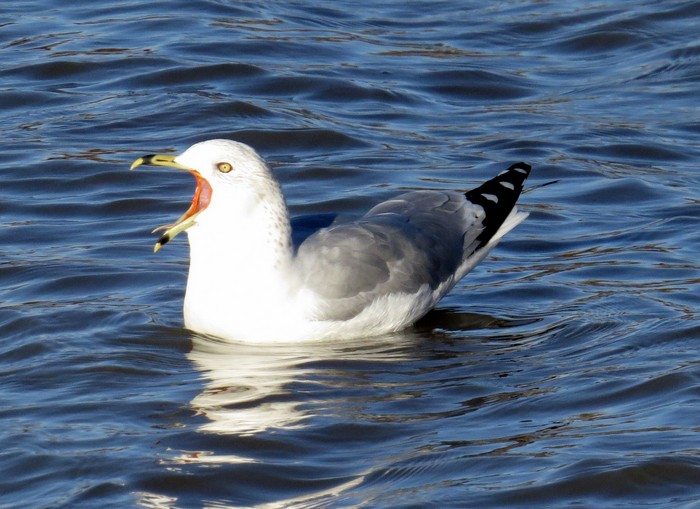 Once again, numbers of Glaucous Gulls contracted slightly this week, with some 70 birds widely scattered across 30 counties around Britain and Ireland – the breakdown being 16 Irish birds, 22 in England, 26 in Scotland (with a predictably northerly and north-westerly bias), and the balance in Wales. While the majority were single birds, duos were logged at a number of sites and Lerwick harbour (Shetland) held at least three birds during the week. Including one that gladly snaffled the remains of my lunchtime sandwich outside my office window on Monday.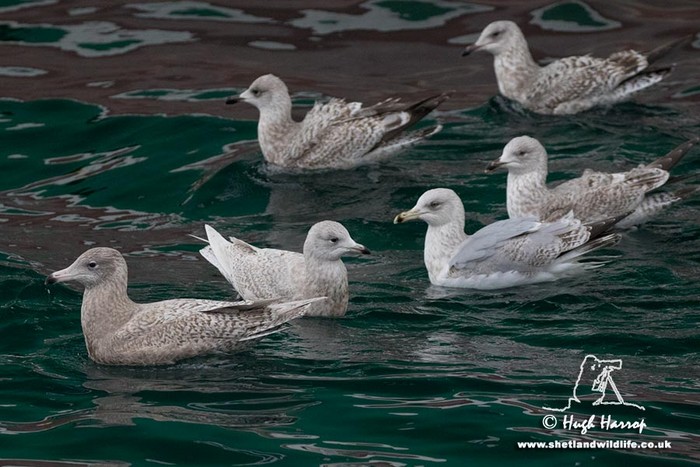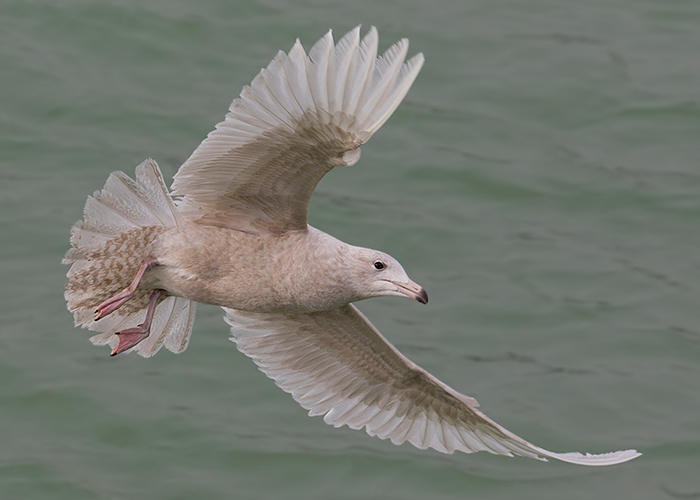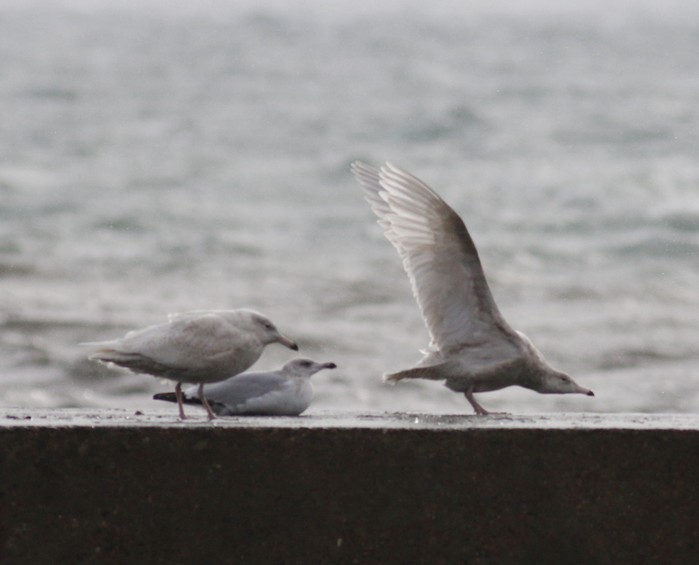 Where Iceland Gulls were concerned, numbers again increased on last week to a shade over 100 individuals logged across the combined recording area. Broken down, this looked like 26 for Ireland, 18 for England, a mere one for Wales in Conwy at Pensarn, and at least 55 more in Scotland. There were some notable tallies amongst these, with five birds at Ballycastle (co.Mayo) on 19th, five birds at Killybegs (Co.Donegal) on 21st, and on 22nd seven birds on Lewis in Stornoway harbour, and four on South Uist at Ludag (both Western Isles) – rising to five at the latter site by 24th, the same day on which six birds were noted at Peninerine on South Uist. Numbers in Shetland were hard to ascertain at times though there were at least eight in Lerwick harbour on 21st, while up on Unst as many as a dozen were estimated with five at Westing alone on 20th.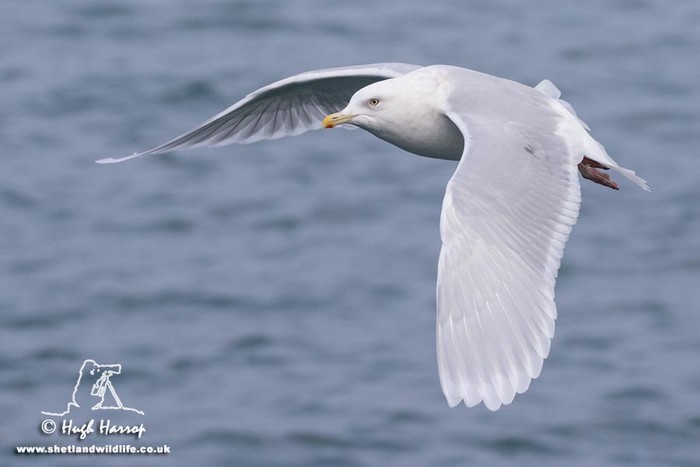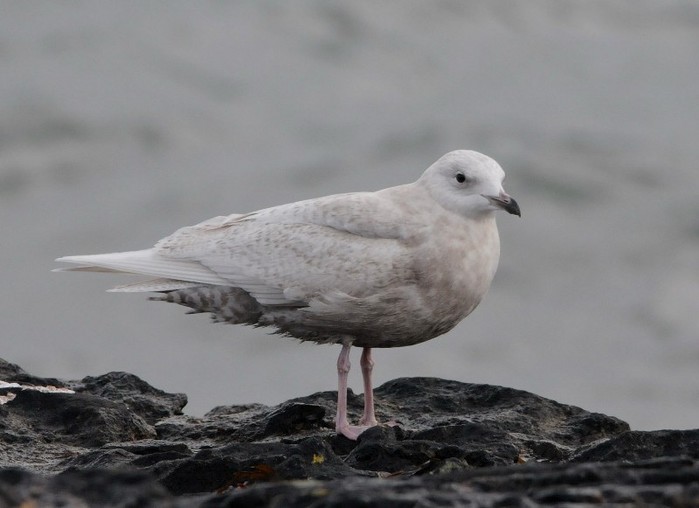 Where there's good numbers of Iceland Gulls there's usually a few Kumlien's Gulls to be had, and so it proved this week with three individuals noted: juveniles at Coverack (Cornwall) on 18th-22nd and Stoneybridge, South Uist (Western Isles) on 21st; and an adult gracing Rufforth (North Yorkshire) still on 18th-23rd.
All the best news pieces end with an 'and finally', and we're no exception... And finally, an unseasonal adult Sabine's Gull was logged in Ireland off Burial Island (Co.Down) on 18th.
Star billing this week amongst the raptors goes, of course, to the grey morph Gyr Falcon reported in Co.Kerry at Lough Gill on 19th.
More tangibly, there was still loadsa buteo to be had in England this week, with East Anglia still the heart of the hot Rough-legged Buzzard action, and Norfolk the very epicentre of it all: reports came in through the week from Burnham Overy (with two birds there on 20th and 23rd), Halvergate Marshes, Breydon Water, Acle, Holkham Pines (settled there on 22nd-24th), and Hellesdon – this latter bird seen on 18th-19th having been reportedly present in the area since December 2014. So how many birds are we talking about here? Let's call it four as a conservative estimate for this readily mobile species.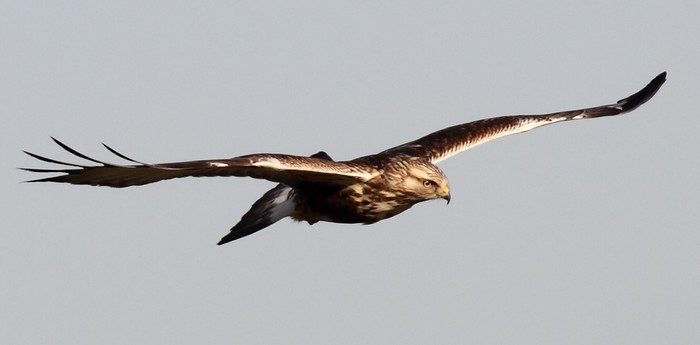 Further familiar faces continued to crop up elsewhere – in Essex, the Wallasea Island bird was again noted on 22nd, the Holme Fen NNR individual remained in Cambridgeshire on 18th-22nd, and in East Sussex the bird remained at Jevington on 19th-23rd. Heading north, one was reported over Holbeach Marsh (Lincolnshire) on 21st. Two were seen at Quarrington Hill (Co.Durham) on 20th, with further individuals reported in the county on 22nd near Sedgefield and Barnard Castle.
One was at Rudland Rigg (North Yorkshire) on 18th, with the settled bird at Grindale (East Yorkshire) on 18th-24th, and one at Buckton (also East Yorkshire) on 20th-21st. One was seen in the northwest on 18th at Saddleworth Moor (Greater Manchester). Meanwhile, up in Scotland the bird remained in Dumfries & Galloway at Mennock Pass on 19th-20th.
Continuing the theme of happy doubles this week, last week's Black-bellied Dipper at Harpham Moor (East Yorkshire) remained present this week until 22nd at least, and was joined on these shores by another bird up on Unst (Shetland) on 24th.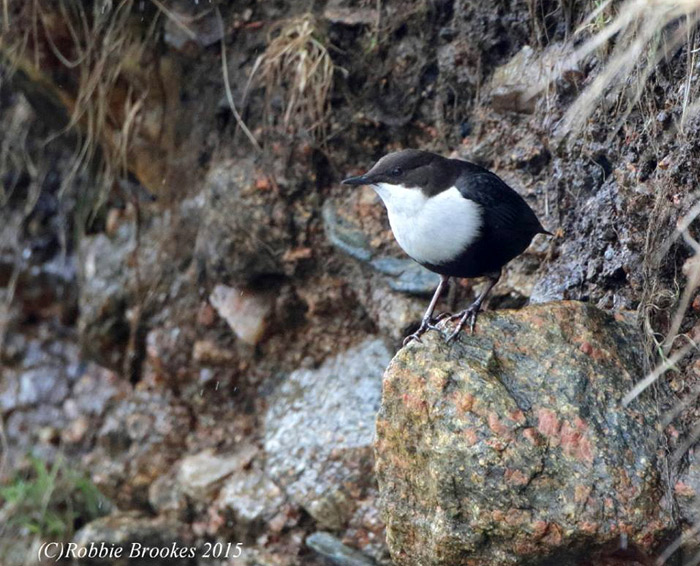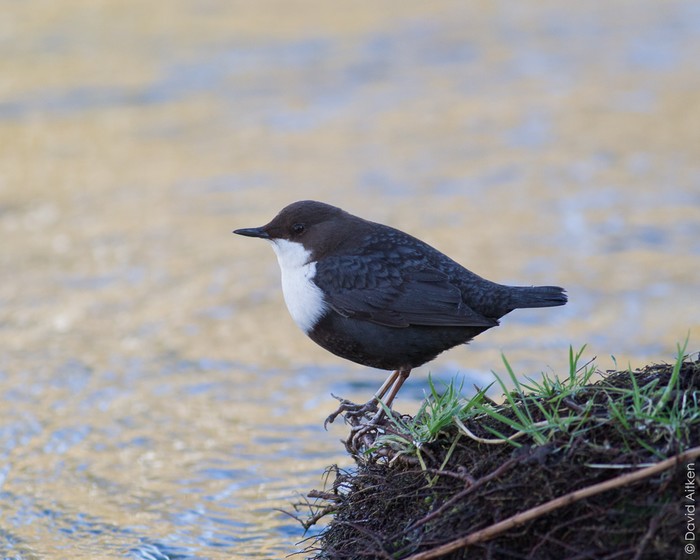 Down in darkest Devon, there were Penduline Tits stirring again at Darts Farm RSPB this week, with two individuals once again seen there on 23rd-24th.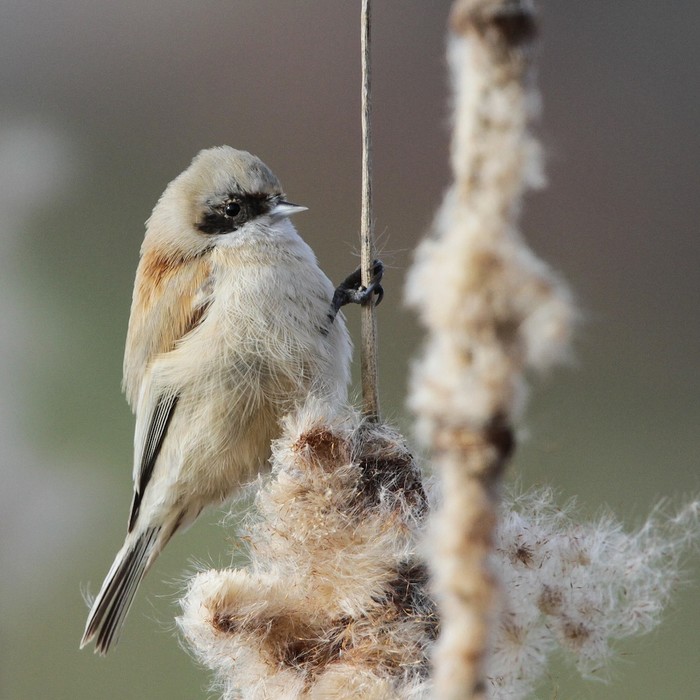 Sticking (mainly) with Devon, the county claimed three of the week's five reported Yellow-browed Warblers - one still at the edge of the Plym Estuary on 18th, the Paignton individual again present on 21st, and one at Slapton Ley on 24th. Meanwhile, a little further west in Cornwall a possible bird was heard calling at Carnon Downs on 18th, and one was at Ponsanooth sewage works on 24th.
The wintering contingent of Richard's Pipits remained up the east coast – starting in Kent, the Swale NNR individual was still present on 18th-24th; while up in Norfolk at Breydon Water RSPB at least one remained on 18th, with a second bird coming out of the woodwork on 22nd and 24th there; and finally we finish in North Yorkshire at Cloughton Wyke where one bird remained on 21st still.
All three wintering Little Buntings remained fixtures this week – the East Sussex bird in Ashdown Forest until 22nd, and the other individuals at Marazion (Cornwall) and Forest Farm (Glamorgan) until 24th.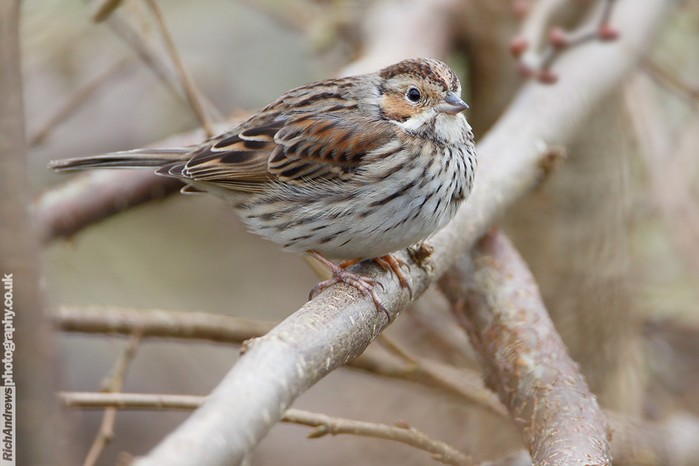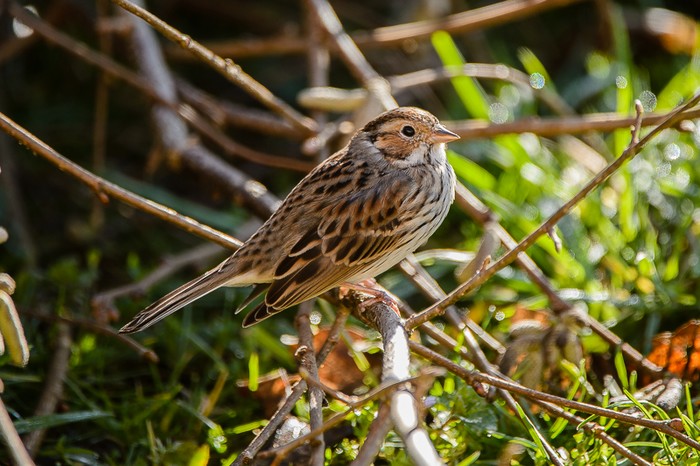 Waxwing numbers fell slightly on last week's half century, with just a shade over 45 seen this week, the bulk of which were the flock of 21 noted at Cults (Aberdeenshire) on 18th, and 15 in the same county at Westhill on 24th. Thereafter, slimmer pickings – five were in Lowestoft (Suffolk) on 20th, and rest were ones and twos, albeit a couple of settled birds here and there – birds at Acomb (North Yorkshire) and Orrell Water Park (Manchester) provided week-long entertainment.
Which brings us to the dapperest scourge of small mammals and birds, Great Grey Shrikes - and what a beautiful way to go. Some 25 birds were reported this week from 18 counties across England and Wales.
Starting with those Welsh birds, individuals remained at Cross Inn Forest (Ceredigion) on 18th; Llandegley (Powys) on 18th-22nd; World's End (Denbighshire) on 20th; and one was at Mynydd Maen (Gwent) on 20th also.
Reports from ever-reliable Gloucestershire concerned birds at Overley Wood on 18th; and from Crabtree Hill on 21st-24th, and Staple-edge Wood on 23rd also. Dropping down to Dorset, Morden Bog NNR held a bird still on 18th-22nd, with one at Studland Heath NNR on 21st. One remained in Bratley and Milkham Inclosures (Hampshire) on 18th-23rd, and one stayed at Iping Common (West Sussex) on 18th-23rd. In Surrey, one was still hunting around Thursley Common on 21st-24th; and in Kent the bird remained at Chilham on 19th-24th.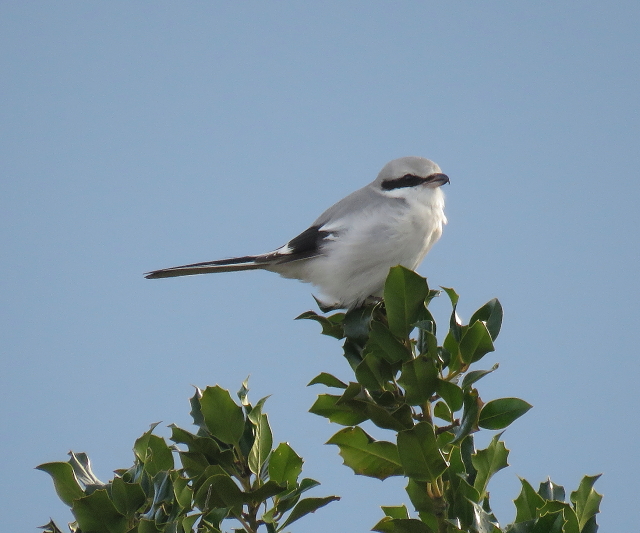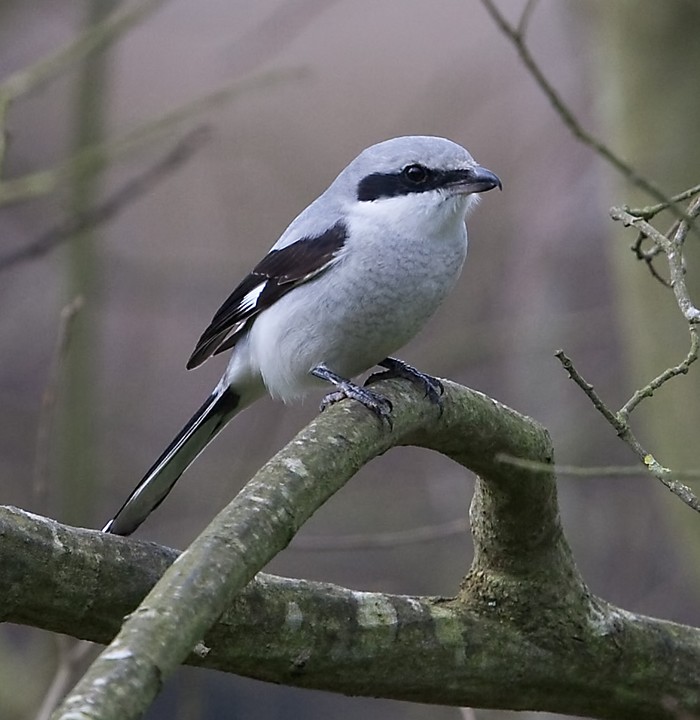 In Suffolk, birds were at Dalham on 20th, Upper Hollesley Common on 23rd-24th, and straddling the border with Norfolk in the Santon Downham area on 18th-22nd. Norfolk's Roydon Common claimed a bird on 18th-21st still. One remained in Cambridgeshire at Swaffham Prior Fen on 19th still, and in Lincolnshire birds were at Skillington on 19th, Aubourn on 22nd, and Bassingham on 23rd. One remained in Buckinghamshire at Grove on 23rd. Finally, we move north: birds remained at Thorne Moors (South Yorkshire) on 19th-22nd; at Beeley Moor (Derbyshire) on 18th-22nd; and in Northumberland in Harwood Forest on 19th.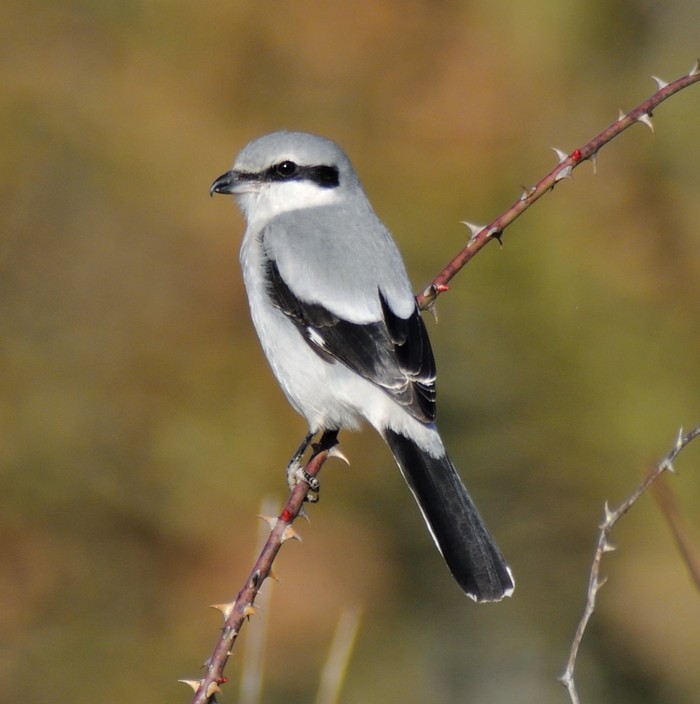 And so that's us done for another week. It's been quiet on the whole, but it had its moments. In these golden times for birders, it doesn't seem like we ever have a genuinely uneventful week. Which is nice.
But what of the week to come? [Cracks knuckles, gazes into crystal ball…]
I'm seeing hummingbirds, lots of them, and almost certainly a healthy dose of all the other goodies Costa Rica has to offer… But enough of my flight from the Shetland winter blues. What beauty am I going to miss?
Looking to past records, I'd love to think that spring was going to kick off with some southerly overshooting action, but I'm not so sure. It's still early days yet, for all my yearnings. Maybe we're in for another late winter Killdeer, or the more predictable winter fare of a Gyr Falcon or Snowy Owl.
But following a week where the wildfowl dominated the news for numbers and variety, how could I possibly resist that most alluring of all quacky blockers – we're very, very overdue another drake Steller's Eider. I know, statistically it's unlikely…
But we can all dream.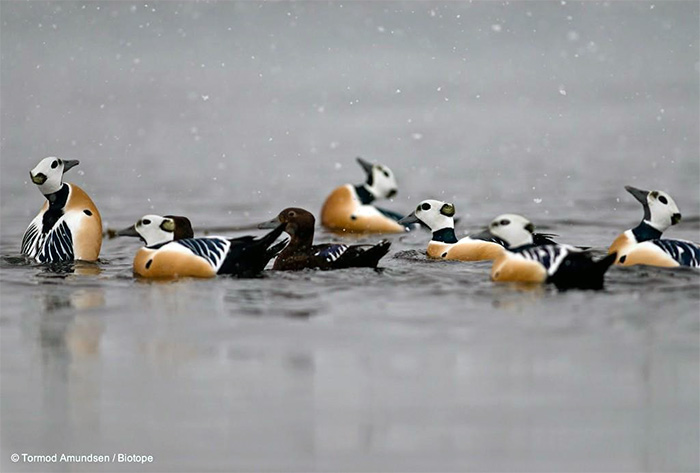 Jon Dunn
25 Feb 2015


Thanks to this week's contributors for their photos, videos and sound files.
John Nadin, John Gale, Chris Bond, Martin Casemore, Melvin harvey, Nick Mudge, James Lowen, Paul Kelly, Peter Howlett, Davey Farrar, Ben Moyes, Jonathan Farooqi, Edward Humphreys, Adam Hartley, John Nadin, Hugh Harrop, Steve Ashton, Toby Green, John Kemp, Jim Welford, Robbie Brookes, David Aitken, Colin Scott, Richard Andrews, Gareth Rees, Steve Smith, Mark Chidwick, Jonathan Theobald.