Weekly round-up: 11 - 17 Feb 2015
At a glance
Scotland's first-winter drake Harlequin still in place in Aberdeenshire
The duo of drake Black Scoters remain in both County Kerry and Northumberland
On the Hebrides, the American Coot hangs on for a few more days, ditto Kerry's too
Cornwall's Pacific Diver liking life in Mount's Bay still
…while in Donegal, there's another report of the adult Slaty-backed Gull, reported as back again (briefly) at Killybegs
The cold weather really had departed as the new week came along - yes, it was a bit chilly, but the change was clearly on the way as a milder push from out in the Atlantic trundled t'ward us at the start of the new review period.
As the mild weather came along, so did a rise in a) the temperature - in many areas nuzzling towards double figures; b) the wind - an almost balmy brisk, rather balmy southwesterly; and c) the precipitation - there were a couple of bands of rain early in the week that dropped some hefty showers across the country, from west to east, losing impact as it tracked from the Atlantic to the North Sea.
A little more chill weather plonked down across much of England post the weekend, with the weather map showing blue bits here and there. Warmer air topped across the north of Britain as a slight role reversal was offered up.
On with the show then and we'll take a slightly different view on all those birds we've got to know and love over the past few months…(and also as, for this week, I've absolutely nothing fresh to say…).
Harlequin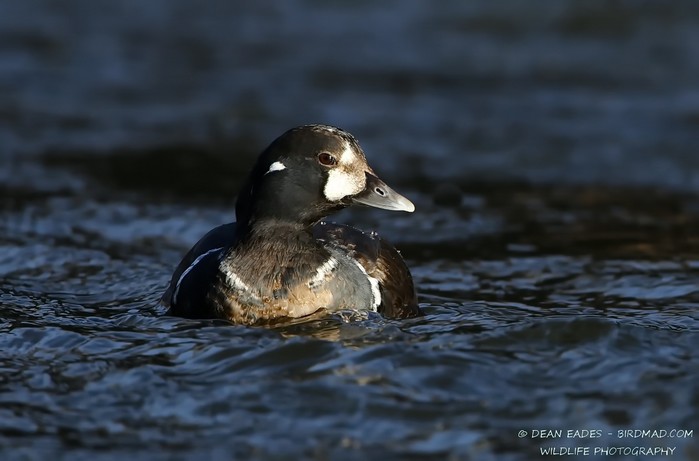 Species. Harlequin
Sex: Male. Age: First-winter.
Location: River Don, Aberdeen, Aberdeenshire.
Present to: February 17th.
Arrival date: January 4th.
Duration of stay to date: 45 days.
Guestimated departure date: let's go... March 26th.
Black Scoter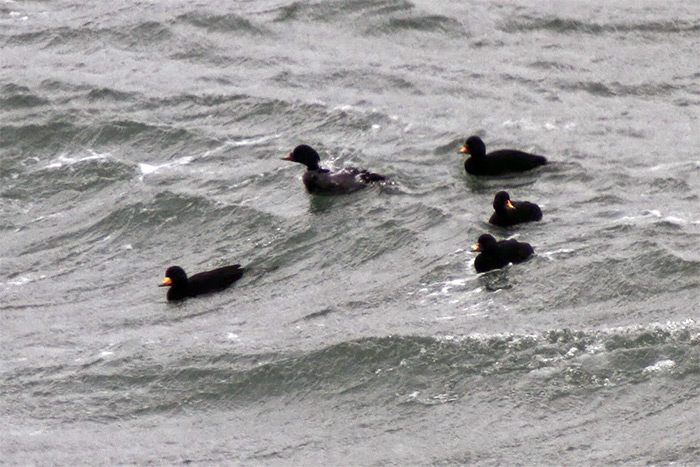 Species. Black Scoter
Sex: Male. Age: Adult
Location: Coolnaharragill Upper, Rossbeigh, County Kerry.
Present to: February 17th.
Arrival date: January 9th.
Duration of stay to date: 37 days.
Guestimated departure date: let's go….April 23rd.
…and the second one…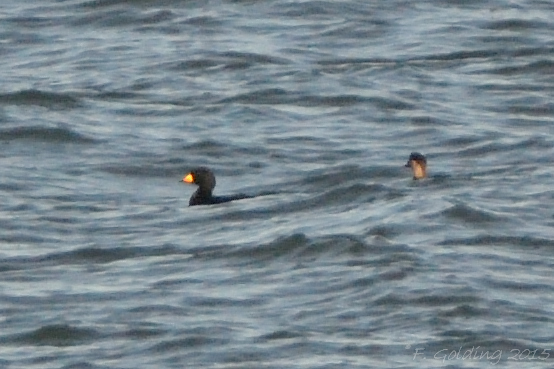 Species. Black Scoter
Sex: Male. Age: Adult
Location: Cheswick Sands, Northumberland
Present to: February 17th.
Arrival date: January 20th.
Duration of stay to date: 29 days.
Guestimated departure date: let's go….April 28th.
American Coot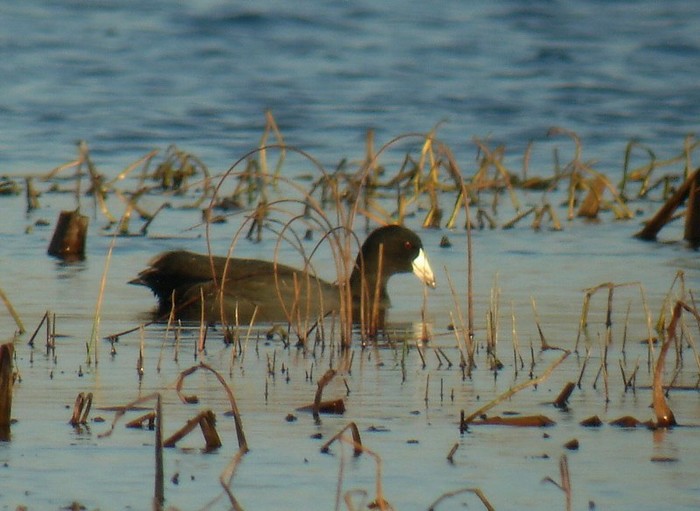 Species. American Coot
Sex: Unknown. Age: Presumed first-winter.
Location: Loch nam Feithean, Balranald RSPB reserve, North Uist, Outer Hebrides
Present to: February 16th.
Arrival date: November 16th 2014
Duration of stay to date: 93 days.
Guestimated departure date: let's go….April 11th.
…and the second one…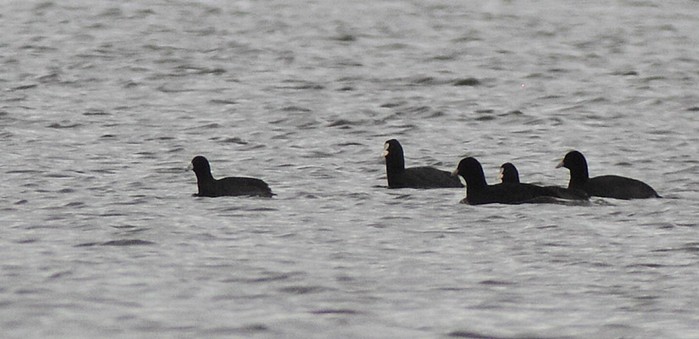 Species. American Coot
Sex: Unknown. Age: First-winter.
Location: Lough Gill, County Kerry.
Present to: February 17th.
Arrival date: November 5th 2014
Duration of stay to date: 105 days.
Guestimated departure date: let's go….April 11th.
Pacific Diver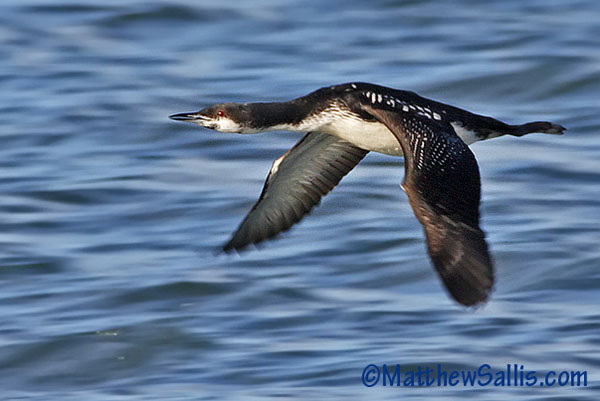 Species. Pacific Diver
Sex: Unknown. Age: Adult.
Location: Mount's Bay, Penzance, Cornwall
Present to: February 16th.
Arrival date: November 22nd 2014
Duration of stay to date: 87 days.
Guestimated departure date: let's go….March 14th.
Long-stayers Lottery
You now know when Mark thinks these birds are going to disappear so in a nod to the Challenge Lawro series on BBC sport we thought we would let you go head-to-head and give us your guesses as to when you think the current batch of long-staying rarities will depart! The departure date will be taken from the RBA news reports. As and when individual birds are gone we will update you in the weekly round-ups. Once the last of the birds has departed we will enter anyone with a correct date into a draw for some birding goodies. Good luck!
Slaty-backed Gull
…finally, before departing the headline acts, hearts were in mouths (to one degree or another) on 11th, as an after-dark Mega Alert heralded a strong claim of the adult Slaty-backed Gull back again at Killybegs in delightful Donegal.
Just one observer saw the bird, apparently on the water, so was unable to see the bird's leg colour in the brief 60 seconds that the bird was observed for. T'internet reported that the sole watcher on the day was the Donegal county recorder - and he was confident that the what was in front of him was indeed the second schistisagusfor Ireland.
Since then, it appears that only one observer went looking (an English man abroad by all accounts) and despite his gulling prowess, nothing more has been seen.
Assuming that Donegal's local recorder was on the money and it was indeed that elusive Slaty-backed - the usual question quickly arises….where the feck has it been since its early morning departure on January 18th? Perhaps it heads out to sea in search of trawlers (or maybe the Pacific Ocean?) and only comes back in to Killybegs on a whim? Maybe it has cruised the Irish coastline and has gone full circle and returned to Donegal?
Perhaps it was even a (gulp…) different individual….
…and finally…
When we reported news of the recently deceased Little Bustard found on the roadside near Blofield, in Norfolk, mention was made that the bird's body was being sent off for a forensic examination by the RSPB to establish the cause of death.
Two possibilities were listed - R.T.A casualty or victim of a game shoot. A few online punters decided that it clearly the former. We now know it was, at least partly, the latter.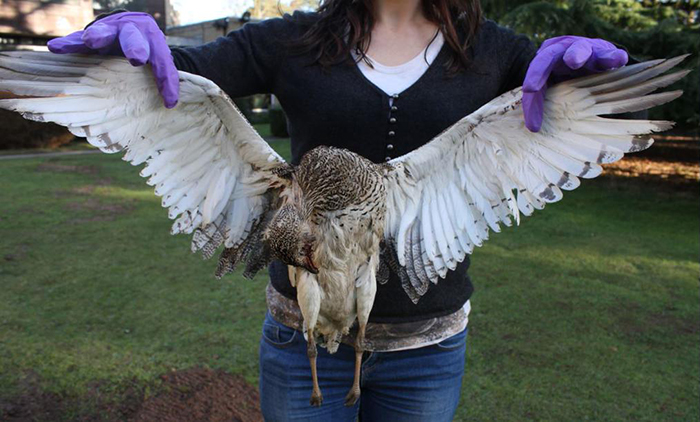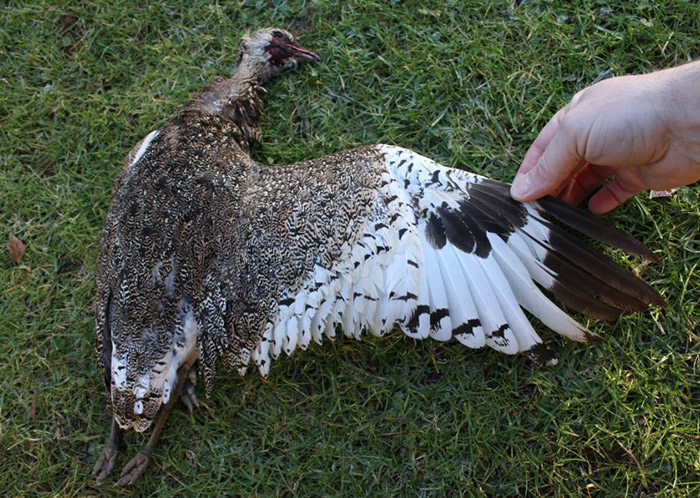 We probably won't ever know whether the bird was a victim of an organised shoot or a bit of a blast from the local farmer but it seems likely that the corpse was dumped as the species was something of an unknown commodity…
…there is also the possibility that the bird's identity was known (in terms of species), known to be protected and therefore known to be an illegal shot.
Either way, up until a few moments before the lead was unloaded, there was a superb Little Bustard beautifully incognito in a Norfolk field - and then it all went horribly wrong…
Highland's Loch Ewe has welcomed a few White-billed Divers in recent years and the first day of the new review period saw two birds located on the loch, at Naast. Normally the species heads through the area in April so this week's duo are a little out-of-place dates wise, but given the lack of observers generally in the area, that may come as no real surprise.
Another regular member of the adamsii family is the bird that has been noted at the south end of Orkney through many season across recent years - the adult White-billed Diver again between South Ronaldsay and Burray from 12th-16th (having last been reported from the area on January 20th).
The calmer weather finally saw the unusual midwinter flurry of Little Auk records to a halt - only five birds reported with two of those being deceased. The live'n'kicking singles were seen at Kinghorn (Fife) on 12th, Broadstrand (Co. Cork) and 14th and, back in Fife, off Anstruther on 16th. Faring less-well were the dead birds on Norfolk's Blakeney Point and Cleveland's Hartlepool (both found on 15th).
There was also a sad demise to report regarding the popular young Pomarine Skuas that had frequented the Knott End and Pilling area of Lancashire - that bird was found dead this week (on 14th). The only live individuals were noted of East Anglia's coast - from Minsmere (Suffolk) on 11th and Sheringham (Norfolk) on 13th.
The week began with three Cattle Egrets in one small corner of Kent - one at Hamstreet and two at Dungeness with the latter site seeing a swift rise up to a fascinating five in the evening pre-roost gathering at the ARC Pits - an evening which also produced a nice count of nine Great White Egrets too (topped by 11 on the evening of 17th).
Whether the four Great Whites seen on 11th at Walland Marsh were within that gathering is hard to know for sure (but it seems quite plausible) so they'[ve been knocked out of the week's tally - which peaks at a bare minimum 39 in all, spread across 11 English and two Welsh counties.
At least four birds (minimum) were in northwest England, including two at Burton Marsh Wetlands RSPB (Cheshire) on 14th and at Marshside RSPB (Lancashire) on 16th and one was also seen in the "northeast", at Frampton Marsh RSPB (Lincolnshire) on 17th. Up to four birds lingered at three sites in Northamptonshire (two still at Summer Leys, Earls Barton over the weekend), while at least one bird in Leicestershire was noted at Eyebrook Reservoir on 11th and Rutland Water on 14th. New was a singleton in the West Midlands, seen at Cheswick Water on 14th.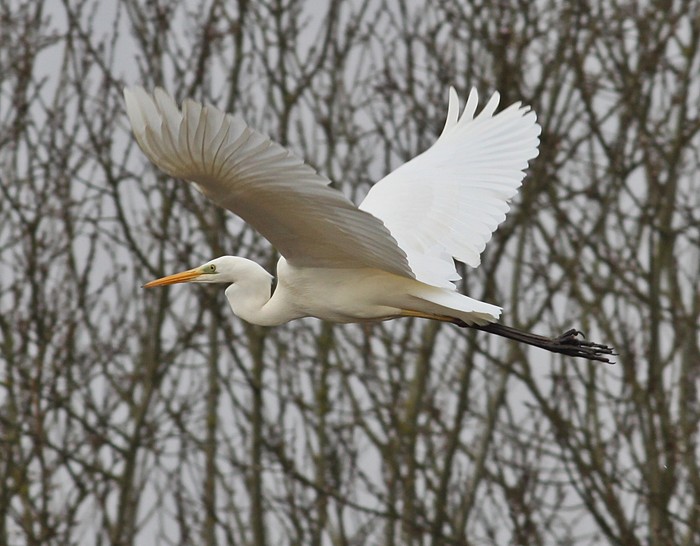 Norfolk fared well, at least four singles logged; at Earlham, Surlingham and Bowthorpe between 13th-15th, still at Lyng to 13th at least and in northwest Norfolk, in the Nar Valley on 14th-15th (moving from Blackborough to Pentney on 16th) and at Ongar Hill, near King's Lynn on 14th. Two Great White Egrets remained at Lakenheath Fen RSPB reserve (Norfolk/Suffolk border) at the start of the week while one also stayed in Cambridgeshire, at Fen Drayton Lakes RSPB to 14th.
Up to four singles were in Somerset through the week and one remained in Dorset, around Studland to the weekend, while Wales managed four Great Whites - two again at Llanrhidian Marsh (Glamorgan) on 12th with two more still at Llangorse Lake (Powys) on 14th.
A new Glossy Ibis was located at Gonalston (Nottinghamshire) on 12th where it remained for the rest of the week to 17th. Two further birds were noted, still present at Fen Drayton Lakes RSPB 14th-17th and Tramore Backstrand (Co. Waterford) to 17th.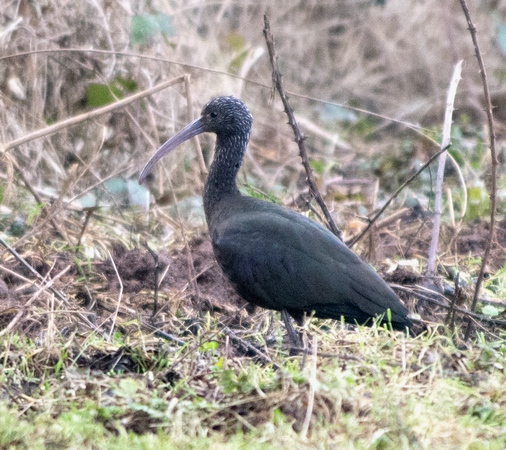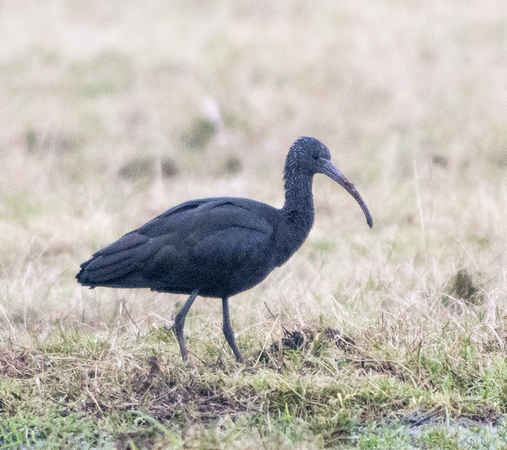 Around 16 Spoonbills got the week of to a decent start on 11th - four remained at Kingsmill Lake (Cornwall), threes were logged at Stanpit Marsh (Dorset), Farlington and then Lymington (Hampshire) and also in Suffolk, at Minsmere while two more Hampshire birds were seen at Titchfield Haven HWT and a single was also seen at Holes Bay (Dorset).
Calculating just how many birds were around the country from then on becomes something of a headache - numerous birds were strewn along the south coast; the Kingsmill flock went back up to five, on 12th, four birds were at Titchfield Haven by 16th, twos were at Lodmoor RSPB (Dorset), Medmerry RSPB and Church Norton (West Sussex) and also still at Ernesettle (Devon) on 14th-15th with another Devon bird seen at Thurlestone on 16th. Back in Dorset, 16 was the highest count of the week at the Arne RSPB reserve on 17th. On the north coast of the far southwest, a lone Spoonbill was on the Walmsley Sanctuary on 16th and seven were counted at Isley Marsh RSPB (Devon) on 15th.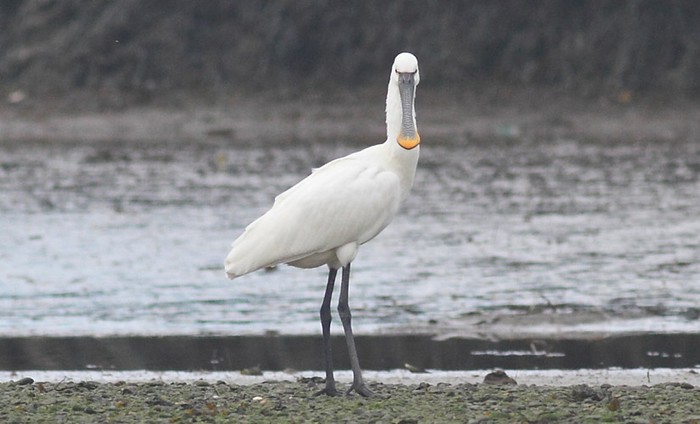 Ireland hosted five birds in all - lone Spoonbills seen at Rosslare (Co. Wexford) on 13th and at Cromane (Co. Kerry) and Strangford Lough (Co. Down) on 14th while two were still at Dungarvan (Co. Waterford) to 12th.
The first Common Cranes of the week were a quintet noted over Lincolnshire, flying east over Crowland on 14th. The same date saw eight appear near Manea (Cambridgeshire) - which remained to 16th at least - with two again at Lakenheath Fen RSPB (Norfolk side and Suffolk side) throughout the weekend and three over Strumpshaw Fen RSPB (Norfolk), also on 14th.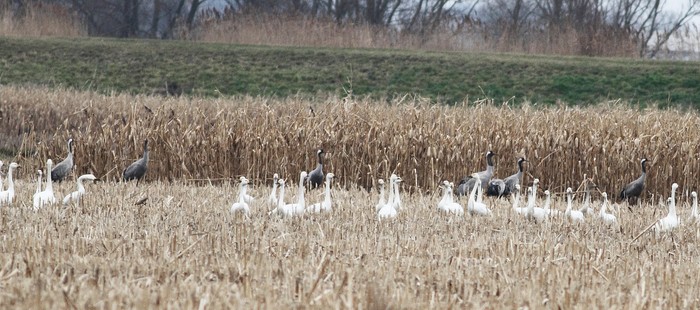 In southern Scotland, the Ridgway's Cackling Goose was still consorting with assorted other goose species at Cults Loch, near Castle Kennedy, Stranrarer (Dumfries & Galloway) to 11th at least.
Two separate Richardson's Cackling Geese were noted - again near Lissadell (Co. Sligo) on 13th and on Islay, near Bridgend, on 16th. Back in Ireland, the wintering Lesser Canada Goose was at Wexford's North Slob NNR to 15th.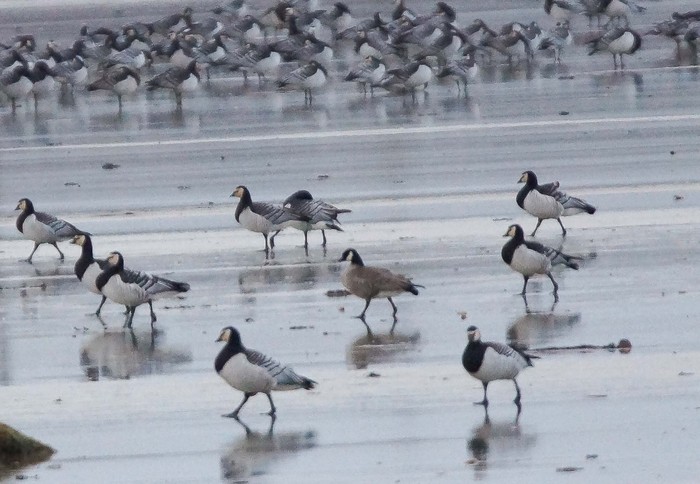 Black Brant reports were few and far between this week - singles noted at Darts Farm RSPB (Devon) on 11th, at Grainthorpe (Lincolnshire) and (back again?) at Salthouse (Norfolk) on 15th with another still present at Trimley St. Martin (Suffolk) on 16th. The final report came back in Lincolnshire, one noted at Frampton Marsh RSPB on 17th.
Northumberland's Ross's Goose remained around Stobswood to 17th while two blue Snow Geese were reported from Avonbridge (Lothian) at the end of last week, on 10th - but there's been no mention since then.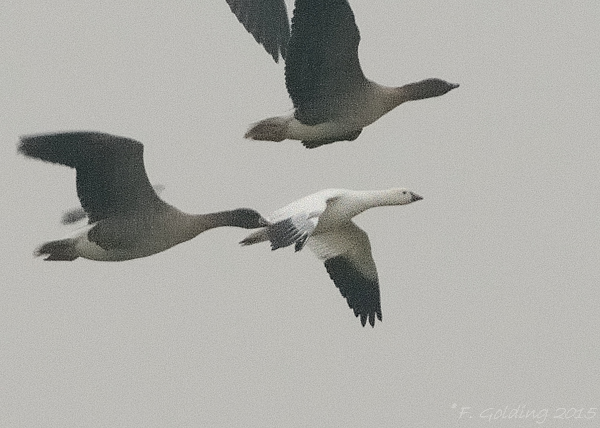 In Cornwall, at Maenporth, the first-winter drake King Eider lingered throughout the week while on Shetland, a female was noted again at Bluemull Sound on 13th.
After a fine showing of 13 Surf Scoters last week, numbers fell by over half this week, only five birds reported, all of them drakes. The often showy first-winter on the border of Essex and Suffolk was seen daily around Wrabness and Bradfield to 17th and familiar adults were still in Scotland, at Musselburgh (Lothian) and in Largo Bay, off Ruddon's Point (Fife) to 15th at least and in Ireland, at Lahinch, to 14th.
In North Yorkshire, a supremely handsome adult drake was found off the end of Filey Brigg on 14th, where he remained to 16th - the first in the county for 18 months, since another drake was noted at the same site in the summer of 2013.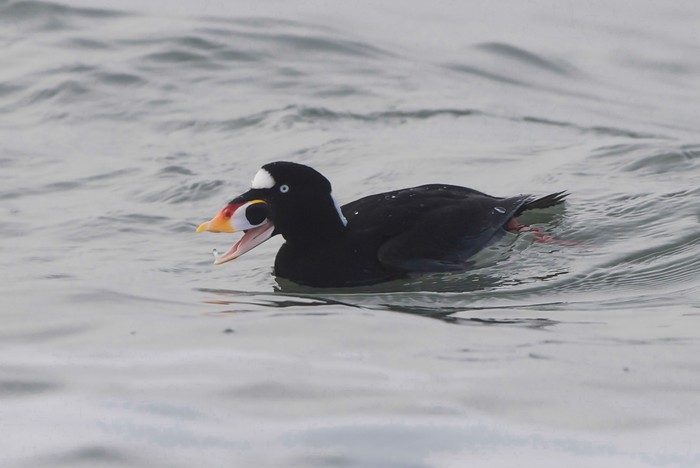 Richard Pittam managed to captured an exquisite shot of the bird - one of the most beautifully composed rare bird images in many a long winter month. Stunning...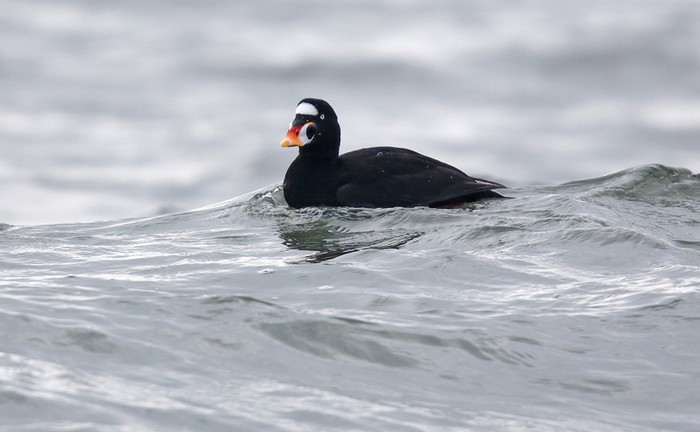 Ayrshire's first-winter drake Lesser Scaup continued to tour a few of the county's close-together waterways this week - moving from Broadwood Flash back to Trabboch on 11th before moving three or four miles back to Martnaham Loch by 14th. Adult drakes were thin on the ground, reported only from County Kerry's Lough Gill on 13th and in Glamorgan's Cardiff Bay to 16th at least.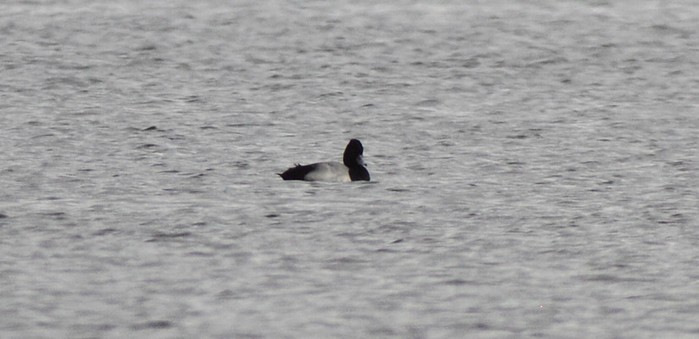 Also going walkabout was the female Ring-necked Duck in Northamptonshire - with no news/no sign since mid-January, she reappeared at Clifford Hill GPs on 11th before heading back the two mile to Billing GPs on 14th. Drakes present on the review's first day (11th) were still noted at Bray (Berkshire) and on Loch of Skaill, Mainland (Orkney) and these were followed by Irish males at Lough Leane, Ross Castle (Co. Kerry) on 12th and still on Carrowmore Lake (Co. Mayo) on 13th. There was just one Ferruginous Duck to report, the female still at Slimbridge WWT (Gloucestershire) to 16th.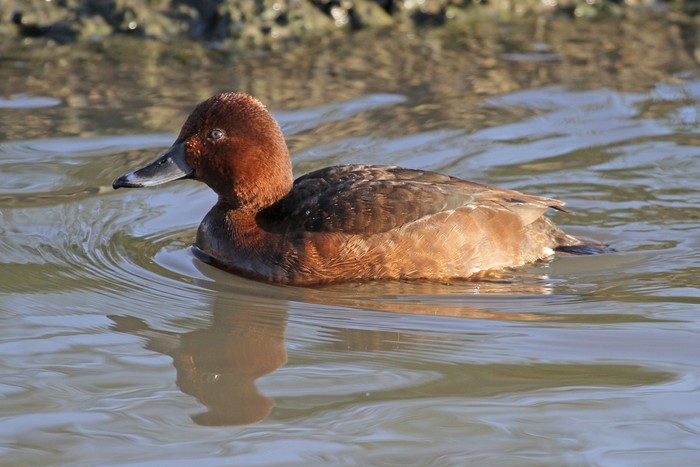 Four of the nine drake Green-winged Teals logged this week were seen in Scotland, including a new arrival at Duddingston Loch, near Edinburgh (Lothian) on 14th. The other three were all leftovers - at Lossiemouth (Moray) to 14th; on North Ronaldsay (Orkney) and (ever-present) at Caerlaverock WWT (Dumfries & Galloway) to 17th.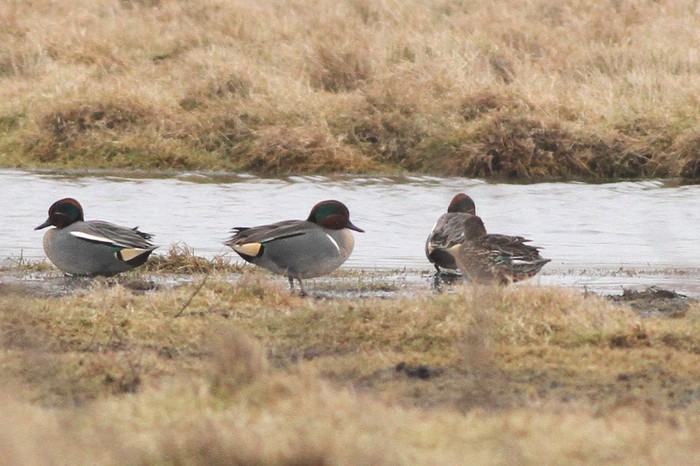 Also new were the lone drakes found at Stocks Reservoir (Lancashire) on 12th and at Laytown (Co. Meath) from 11th-17th - a massive Meath mega - while in Somerset, one was back again on the Axe Estuary on 15th, another remained in Cleveland, at Saltholme Pools RSPB (Cleveland) to 17th when one was found at Ashleworth Ham NR (Gloucestershire).
8:2 was the ratio of drake to duck American Wigeons this week, with Cornwall standing tall with three county birds in all, thanks to the first news of the two females on the Gannel Estuary since the start of the month, seen on 14th-16th, along with the male on the Kingsmill Lake, near Saltash to 15th at least. The drake at Holme Pierrepont (Nottinghamshire) was a nice East Midlands draw through to 15th while in Yorkshire, two single drakes in the West, one at Swillington Ings on 14th to 17th and one at Normanton on 16th to 17th.
The American Wigeon in Aberdeenshire clearly didn't object to a bit of fondling and fumbling last week, still on the Ythan Estuary to 12th before heading back to Meikle Loch by 14th and another Scottish drake was discovered on Hunterston Lagoon, Fairlie (Ayrshire) on 17th. Ireland rounds things of with two separate lingering drakes ~ still on the Drowes River (Co. Leitrim/Co. Donegal border) to 13th and on Cahore Marsh (Co. Wexford) to 16th.
News of the drake Blue-winged Teal at The Shunan, Mainland Orkney is often hard to come by, so it was good to hear that this dapper duck was still in semi-residence there, seen from 11th-15th. Rarer still, the drake Black Duck that remained on Tresco (Scilly) to 11th.
<!—Section Title -->
After dark news on the final night of the review period brought us a new shorebird to muse on ~ a Spotted Sandpiper identified in Cornwall, along the pretty Helford River, at Mawnan Smith on 17th. Potentially the 15th county record, its the first to be seen in Cornwall for just under two years, one spending five May days at Wadebridge in 2013.
After that, well, it doesn't get much quieter than this for shorebirds ~ only the Rogerstown Estuary Lesser Yellowlegs was to report this week, seen on 14th.
Slaty-backed Gull report aside, the pick of the Larry Dee action this week was the first-winter American Herring Gull watched on the airfield at Rufforth (North Yorkshire) on 11th-12th - there was no further sign of the distinctive-looking bird afterwards but, if accepted, it will become yet another "first" for the historic county.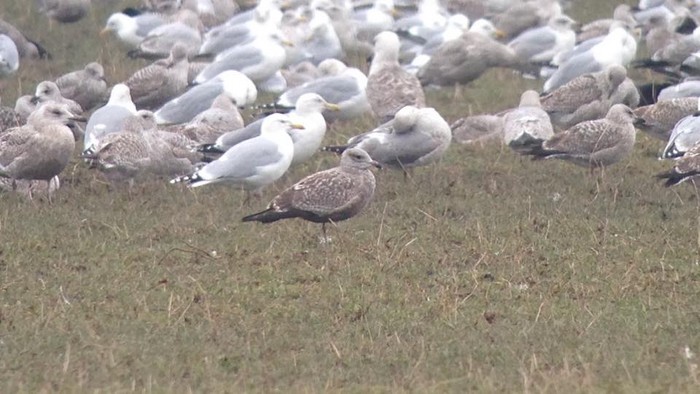 Spending another week on the Wirral was the brilliantly approachable first-winter Laughing Gull that continued to give the very best of views around the Marine Lake throughout the week.
When you sit and view images from a far, you think "yeah, nice enough" but with a day off in the northwest on the cards and the urge to see a rare becoming unbearable, the pull of the young Laugher was the perfect way to indulge myself on a damp Friday the 13th - no photos can convey the undoubted air of charm that this incredibly tame Nearctic lost soul has...astonishing views were had along the seafront and with a little bit of guile, said seagull was (literally) at arm's length and at absolute ease with someone being in such close proximity...and there wasn't a bit of bread or a bleedin' mealworm in sight - what a bird!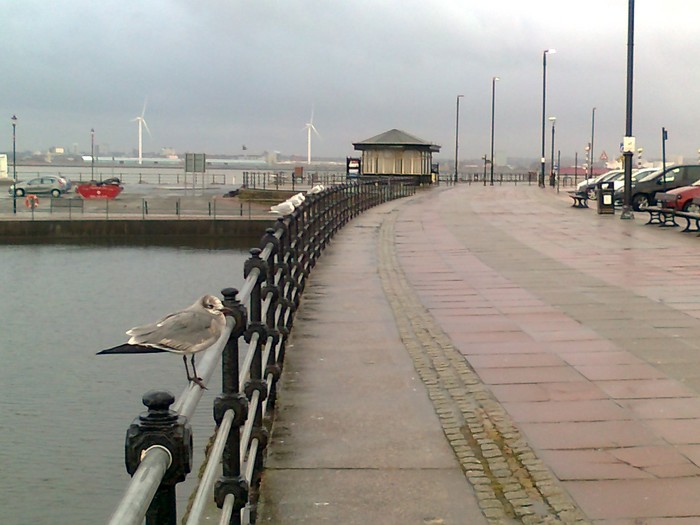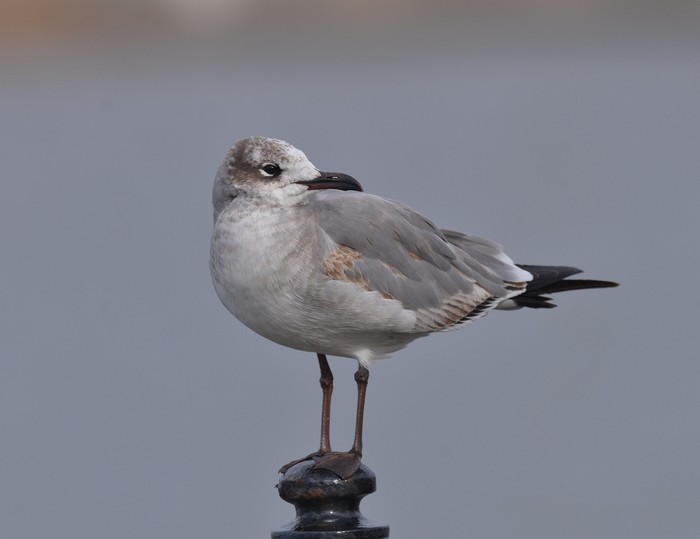 After a (presumed) saunter along the Welsh coast, the adult Bonaparte's Gull was back in Cardiff from 12th-15th while Devon's equally elsuive adult was noted on 11th, 15th and 17th this week.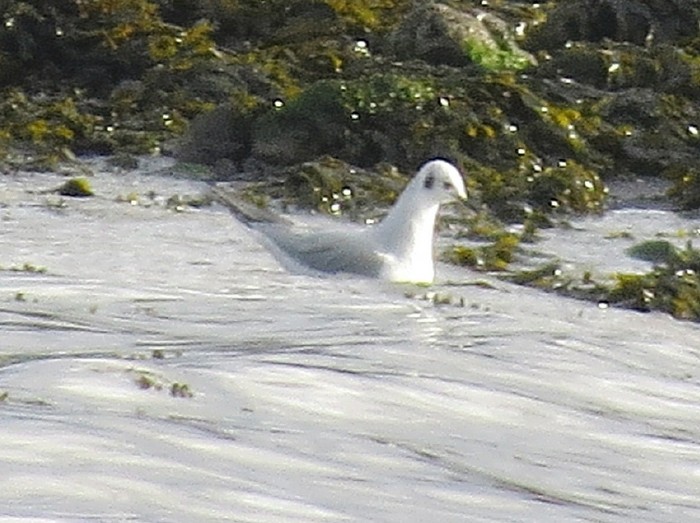 Ring-billed Gulls just made it break to the 20-mark this week across Britain and Ireland this week and, as usual, we'll start in the latter country...
Kerry held at least three birds - first-winters at Tralee Wetlands on 12th-16th and Black Rock Strand on 15th while an adult was at Blennerville for much of the week (with presumbaly the young Tralee bird popping in on 15th). Two Ring-bills, a second-winter and an adult, reamined at Bray (Co. Wicklow) to 16th with four more single adults seen at Wexford harbour (Co. Wexford) and Tramore (Co. Waterford) to 14th, on Cork City Lough on 16th and Lough Foyle (Co. Derry) on 17th.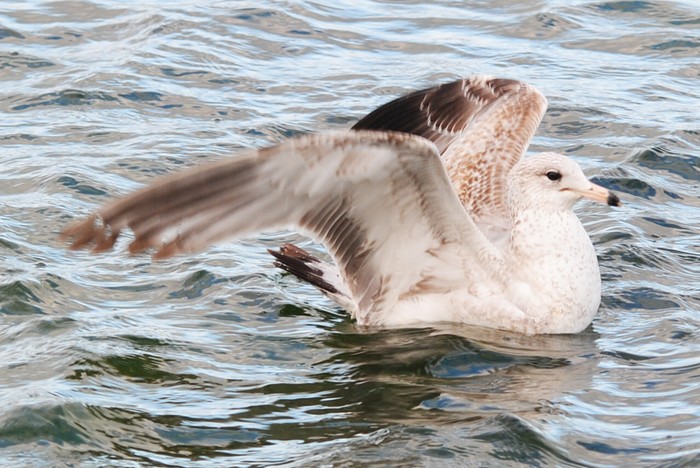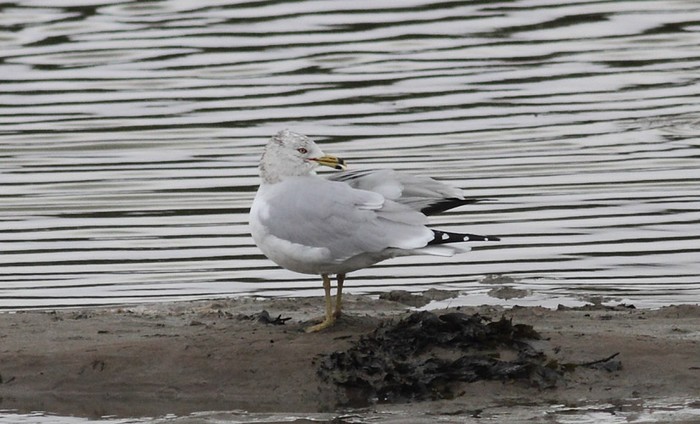 Scotland didn't do too badly again - the "new" adult remained at Dunfermline (Fife) throughout the week, while regulars at Strathclyde Loch (Clyde) and Dingwall (Highland) were present to 14th and 16th respectively. A first-winter bird was seen at Balranald RSPB, North Uist (Outer Hebrides) on 11th with perhaps the same bird still at Tigharry on 16th. Wales offered up the old-timer in the Llys-y-Fran Reservoir roost in Pembrokeshire on 14th while Hampshire managed two once again, back at Blashford Lakes HWT on 11th and in the Gosport car parks throughout the week. The final two Ringos were both Cornish first-winters - still on the Hayle Estuary to 16th with anew bird at Swanpool, near Falmouth on 15th-16th - gosh its nice to see that species and that site mentioned together again. Happy days!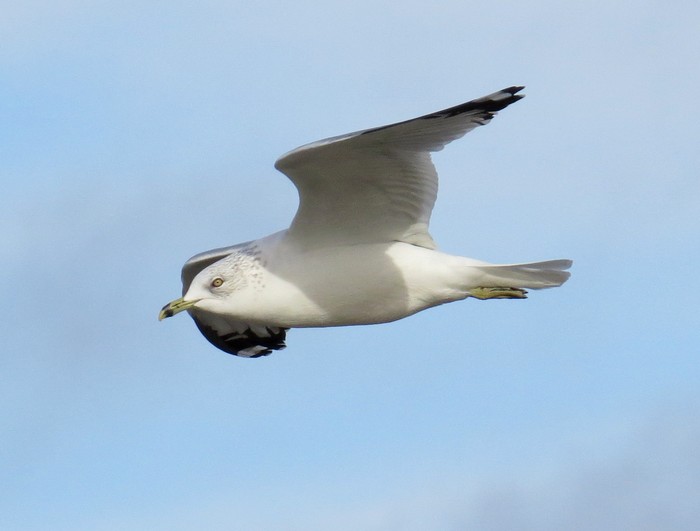 There was another slight drop in numbers of Glaucous Gulls this week - around 85 birds noted in 24 counties across Britain and Ireland with, in news that won't be too much of a shock, Scotland claining just over a third of all records again, around 34 noted, including eight around the Hebrides, seven each for Orkney and Argyll & Bute and six for Highland.
Cleveland and North Yorkshire shared the seven birds for the northwest of England, while the northwest managed a meagre two (and one of those was on Anglesey). Numbers elsewhere in Britain were similalry slender, four in East Anglia, three in the Midlands and four for the southeast for example, while Ireland boosted the total with 26 Glaucks in five counties, including a seven for the Mullet (Co. Mayo) on 16th and five at Killybegs (Co. Donegal) on 14th. Upwards of eight were noted around County Kerry as well, with three ofr Wexford and two for Cork.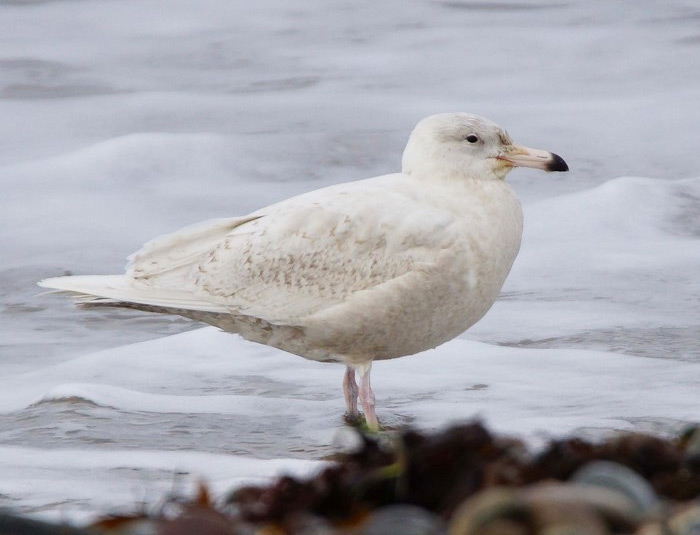 As Glaucous Gulls dropped a touch, Iceland Gulls rose a tad this week, a combined B & I total of 74 individuals recorded from 32 counties (up a couple from the previous week).
In Scotland, 30 birds were widely spread across 10 counties and regions, with half a dozen for Orkney, five in Argyll & Bute and four on the Outer Hebrides being the main localites for the week's happenings. The northeast of England managed a tidy 11, including at least three each for both West and North Yorkshire, while in the northwest one of three seen around Greater Manchester was a rather dandy "work tick" for your correspondent on 12th as it headed along the river before mooching off towards Old Trafford.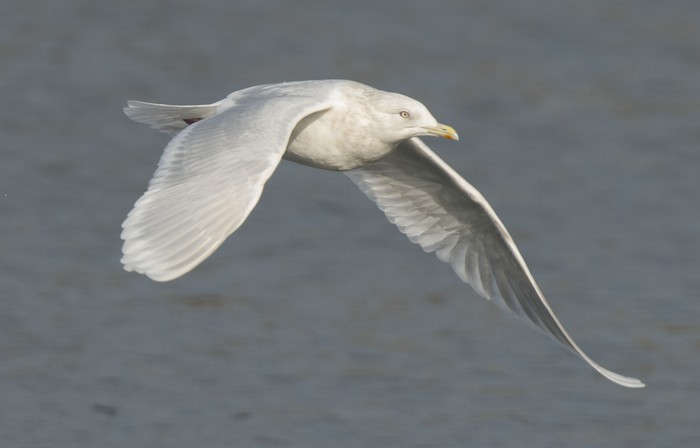 That was one of eight birds seen in the region, while up to four different birds were recorded in the evening roosts at Draycote Reservoir (Warwickshire) on 11th-12th (including three on the former date). East Anglia and the southeast managed seven between them while Ireland registered a baker's dozen Icelands, including seven at Killybegs on 15th.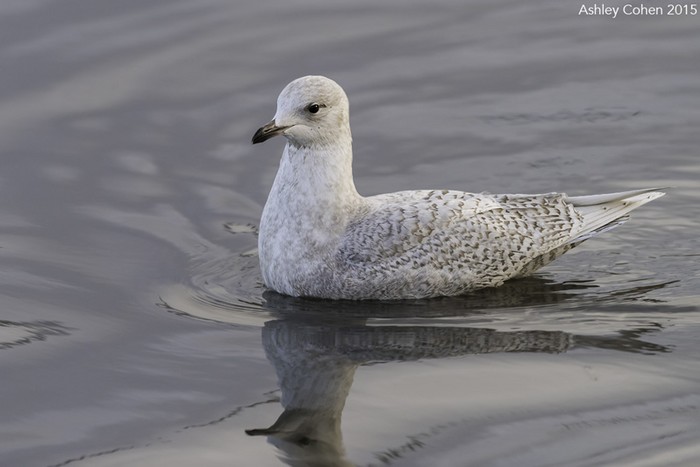 As if a Smickers, a Caspo or two and a few few white-wingers weren't enough, the gullers at Rufforth also enjoyed a couple of Kumlien's Gulls this week - a juvenile present there on 11th with an adult there from 12th-16th. That was the only English representative, four of the remaining five where seen in Scotland - two juveniles were on the Hebs., at Howmore, South Uist on 14th and Balranald RSPB, North Uist on 16th while further juvvys were at Loch Caolisport (Argyll & Bute) to 12th and in Scrabster harbour (Highland) on 16th. Ireland's only bird was a youngster at Killybegs on 13th-14th.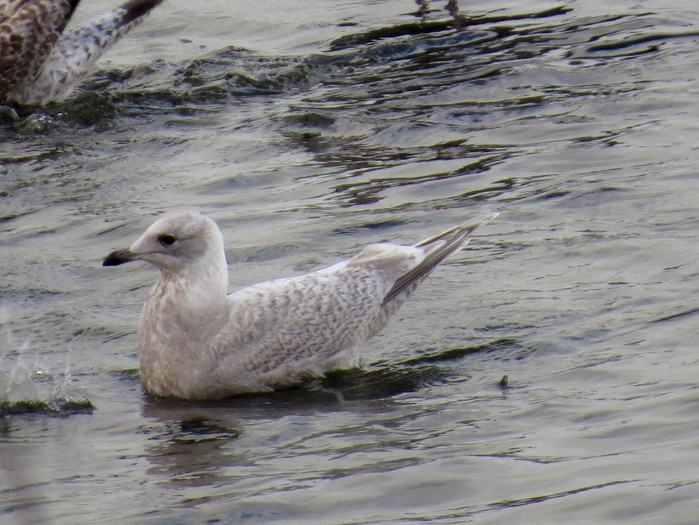 East Anglia remained the hub of much of the Rough-legged Buzzardaction this week - up to seven birds noted around the region, with Norfolk taking the lion's share of the records. At least two juveniles continued their winter residence at Holkham and Burnham Overy throughout the last seven days, with at least one still roaming between Haddiscoe, Halvergate Marshes and the Waveney Forest through to 17th. Elsewhere in Norfolk, singles were again at Welney WWT (from 14th-16th) and at Winfarthing on 13th while on the Suffolk border, one was also noted at Lakenheath Fen RSPB on 12th. In Cambridgeshire, the wintering Rough-leg was present throughout at Holme Fen NNR.
To the north of the region, single juveniles remained at Grindale, near Bridlington (East Yorkshire) to 15th and at Coxhoe (Co. Durham) to 17th while over in the northwest of England, one was noted on Saddleworth Moor (Greater Manchester) on 17th. Not too far away, two juveniles were found at Holme Moss, near Glossop (Derbyshire) on 17th (one was present the previous day). Further Rough-legged Buzzards were still on station down south: at Jevington and also near Ripe (East Sussex) to beyond the weekend (with another reported over Cuckmere on 17th), while the young bird in Essex was on Wallasea Island to 14th.
Nipping back, very briefly, to Welney WWT, mention ought to be made of a reported Dark-breasted Barn Owl on site there on 15th but not subsequently.
After the run of smally buntings made the main passerine news last week, we head to the Forest of Dean for this week's cream of the crop - where a brick red beauty of a singing male Two-barred Crossbill was found at Yew Tree Break, near Cinderford on 15th.
Gloucestershire's most recent record prior to this little cracker came in the very same spot exactly five months previously, seen at Yew Tree Break on September 15th 2014, while this time last year, the Forest of Dean seemed to be awash with wing-bars with flocks of up to 15 birds present.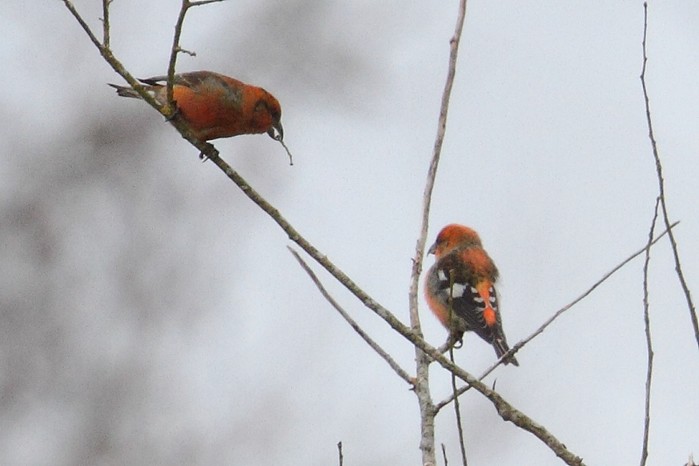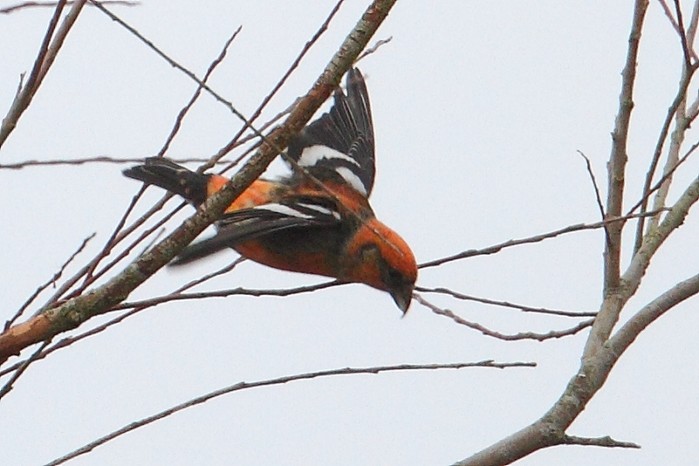 Also new this week was the Black-bellied Dipper at Harpham Moor (East Yorkshire) on 13th (though it turns out it was first noted on 10th). This particular sub-species remains eternally popular (as the two birds in Thetford proved a while ago) and this one was no different, seen on 14th and again on 17th - becoming the first in the county since one at Watton in the early days of 2008.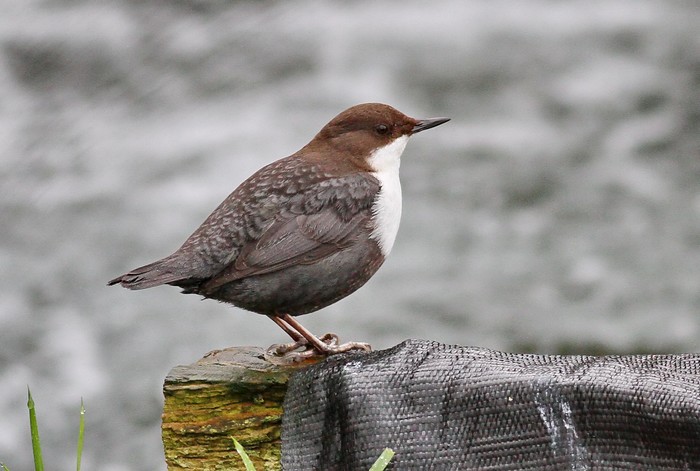 All three of last week's newly discovered Little Buntings were noted all the way through to 17th - still at Gulval, near Marazion (Cornwall), in the Ashdown Forest (East Sussex) and at the Forest Farm feeding station near Cardiff (Glamorgan).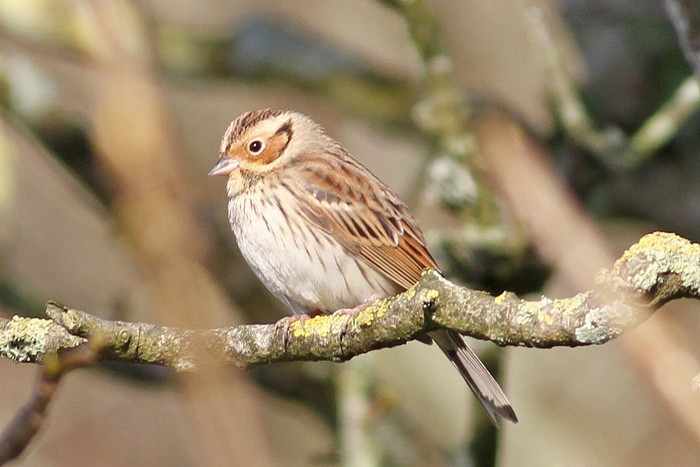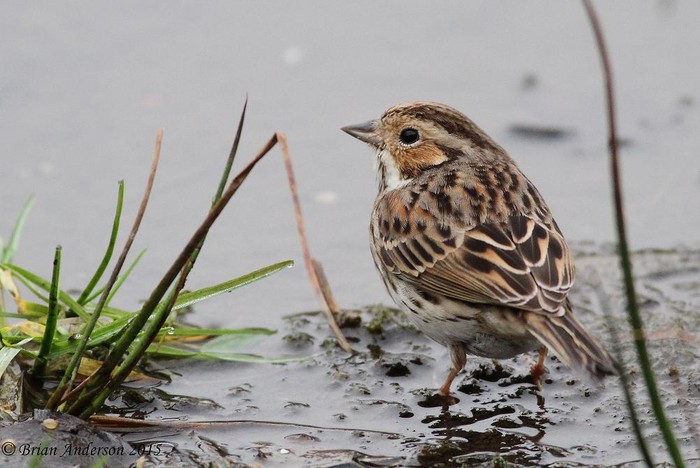 A rather fine February hat-trick for sure....
The two male Serins in Essex remained friends in Gunners Park, Shoeburyness through to 13th, with just one remaining to the end of the week while the three Penduline Tits continued to tiffle around between Exminster Marshes RSPB and Darts Farm RSPB through to Valentine's Day.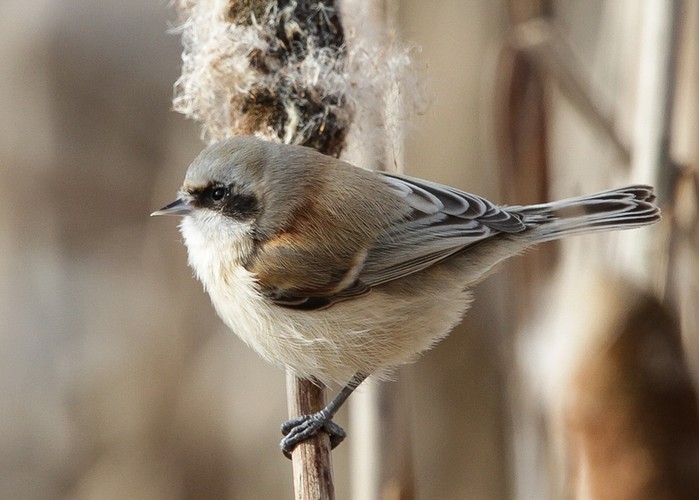 After a blank few days, news of a Yellow-browed Warbler at the Occombe Farm Nature Trail in Paignton (Devon) on 14th meant that fans of the wing-barred warbler had something to go at (this was a bird that was first noted on 9th apparently). A second south Devon inornatus was seen at Strete Gate, Slapton on 15th and the same date saw one noted at the Carminowe Valley, near Helston (Cornwall).
The wintering Richard's Pipit on the Swale NNR, Isle of Sheppey (Kent) was still present at the start of the new review period and the singleton at Cloughton Wyke (North Yorkshire) was seen again on 12th. In Norfolk, at Breydon Water, two birds were reported on 15th and again on 16th-17th.
...nearly done...
Waxwings just made it to the half century mark - exactly 50 seen over the past seven days with 10 at Guisborough (Cleveland) on 14th being the lone double figure flock. Nine birds were still in Immingham (Lincolnshire) on 11th and eight were seen by the main road near Fakenham (Norfolk) on 16th … and that was about it really… five were seen at four sites in Suffolk, several singles and the odd two were peppered along the east coast to Aberdeenshire while a female that remained in Greater Manchester, at Orrell throughout was a hit for many in the northwest. One made it to the Irish east coast too - seen in Firhouse, near Dublin city on 13th.
Finally, we'll conclude once more with Great Grey Shrikes - where there's quite some sort of fidgeting going on as a spell of brighter, sunny weather saw birds moving around and arriving from somewhere continental (maybe?) as they appear to be gearing up for a drift, slowly but surely, away from us.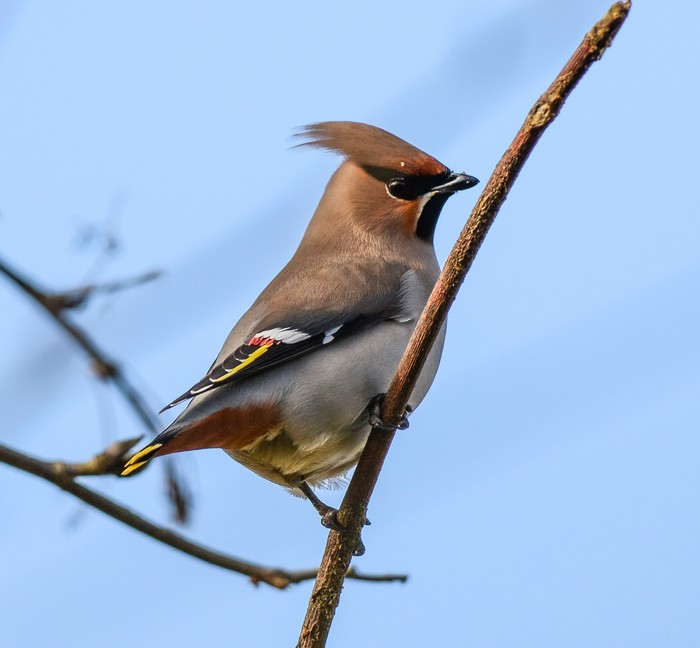 Numbers rose to at least 38 birds in 20 counties across England and Wales (compared to 25 in 18 seven days ago) - half a dozen were seen in the northeast including three in South Yorkshire, still at Thorne Moors NNR and Midhope Reservoir to 16th and 17th respectively while new was a bird at Bawtry from 11th. Others around the region remained at Wold Newton (Lincolnshire) and West Hartford Farm (Northumberland) with a second in the far northeast at Elsden on 12th.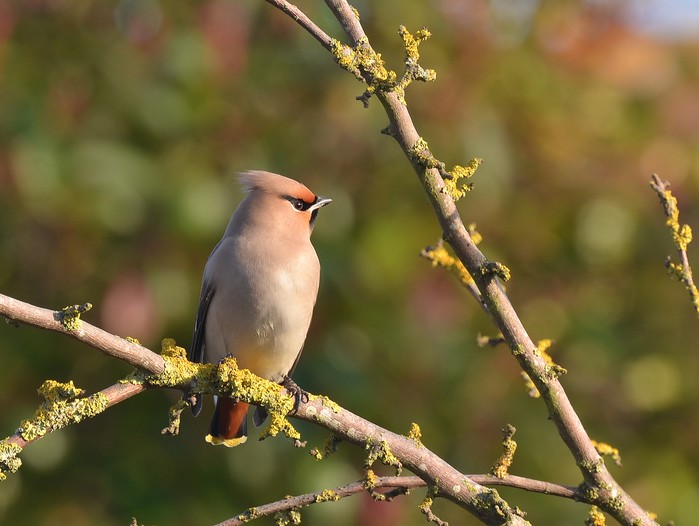 The male Great Grey Shrike remained on Grindleton Fell (Lancashire) all week long and one was found at Torver (Cumbria) on 16th. Three or four singles remained in the Midlands; at Beeley Moor (Derbyshire) and Deenethorpe (Northamptonshire) to 17th and at the southern end of the region, in the Forest of Dean (Gloucestershire) to 17th (birds at Crabtree Hill and Staple-Edge Wood). In East Anglia, two birds were in Cambridgeshire, near Newmarket from 11th and at Swaffham Prior Fen on 15th-17th while familiar favourites lingered at Santon Downham (Suffolk/Norfolk border) and Roydon Common NNR (Norfolk) beyond the weekend.
The southeast of England was almost awash with grey, black and white butcher birds - up to 11 Great Grey Shrikes noted with as many as three at separate sites in the New Forest on 15th, while two were together at Iping Common (West Sussex) on 14th. Elsewhere, two singles were seen in both Surrey (still on the commons at both Frensham and Thursley) and Bedfordshire (at Barton-le-Cley and near Shefford) and a new bird was trapped and ringed Charleston Reedbed (East Sussex) on 12th. The long-staying winterer remained at Chilham (Kent) to 15th at least. The southwest yielded just one - up on one of my old stomping grounds at Fernworthy Reservoir, Dartmoor on 17th. Gripper!
Denbighshire welcomed three of Wales' six birds - seen in the Clocaenog Forest on 15th and at both Cynwyd and World's End on 17th - with the remaining Principality birds at Pengwern (Glamorgan) on 14th, Llandegley (Powys) on 16th-17th and the Cross Inn Forest (Ceredigion) on 17th.
That wraps it up then and we can now look ahead to the next seven days…
As with any other time of the year, what appears in the next week is, doubtless, very much dependent on the weather ahead…
Unseasonal mild and warm air in the past has pushed a few spring rares our way - the middle of February 1998 yielded an Alpine Swift in Somerset (at Chew) on 18th, single Red-rumped Swallows in Cork (at Baltimore) on 19th and Pembrokeshire (at Boserton Pools) on 20th and a Great Spotted Cuckoo in Devon (at Dawlish) on 22nd.
Another Devonian Great Spotted Cuckoo was found on Lundy on February 23rd 1990 but there have been a couple of big-hitting birds found across the seven days we head towards….
Our first-ever twitchable (indeed only twitchable) Cedar Waxwing was an astonishing find in Nottingham on February 20th 1996 - found by someone who had, earlier that very day, looked in their field guide to see exactly what features they'd need to see on one to claim one - and it remained with up to 1200 Bohemian buddies through to March 18th.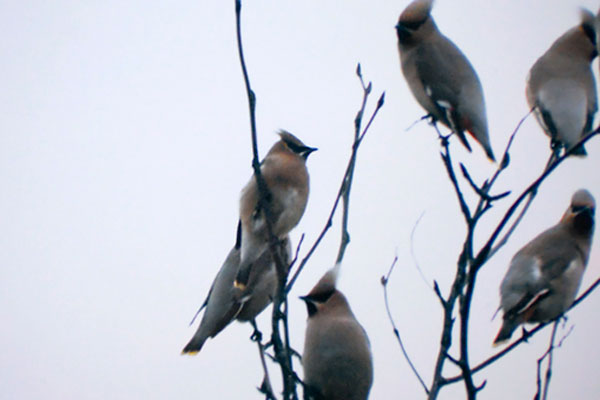 A spring Shetland bird, photographed on Noss in late June 1985 eventually toppled the Notts bird as a British first an just three others have followed - two in Ireland, one-dayers coming to Inishbofin in October 2009 and the Mullet in November 2012, with a second Scottish record following less than a year later, on Tiree for eight day in September 2013. That bird was in private gardens and, for all those new-listers, totally unavailable…
Never mind eh?
The second humdinger "dings" even more. Rock Bunting. Yorkshire's first (Britain's third) was discovered at Spurn on February 19th 1965 - staying in the area until March 10th.
Another followed two years later, a one-day male on Bardsey on June 1st and then nothing…for years and years and years and, bar the "Sizewell Bunting" of 1982, there wasn't a sniff of this hardcore mega until the curious tale of Bolton Abbey bird of May 12th 2012…
The intrigue regarding this record did die down eventually, but at the time, there was a right old rumpus kicked up about it all with the "H" word bandied about in no uncertain manner. Some birders went to the site, looking for the (alleged) tree that the (alleged) bird was (alleged to be) perched in for the (alleged) photo that was taken and, in shock news, the forums had a mini meltdown with it all.
All very irrelevant in the end as it was given the green light by BBRC and became the first acceptance for 45 years and the fifth record in all in to the bargain.
Let's hope that we don't need to hang on a further 45 years for the next - many of us will be pushing up the daisies by that point…
Mark Golley
18 Feb 2015


Thanks to this week's contributors for their photos, videos and sound files.
Dean Eades, Tom Shevlin. Frank Golding, John Kemp, Paul Kelly, Matthew Sallis, Drew Lyness, Robin Brace, Brendan Doe, Steve Percival, Frank Golding, Martin Standley. Richard Pittam, Christopher Teague, Rob Stonehouse, Tim Jones, Chris Bromley, John Fordham, Edward Carty, Paul Kelly, John Nadin, Paul Slade, Ashley Cohen, Lewis Thomson, Richard Wilson, Brian Anderson, Colin Scott, Michael Turner, Chris Bromley, Alan Tate.