Weekly round-up: 04 - 10 Feb 2015
At a glance
In Northeast Scotland, the first-winter drake Harlequin remains in Aberdeenshire for another week
The drake Black Scoters linger in both County Kerry and Northumberland
North Uist's American Coot remains in place…and so does Kerry's…
…while the Cornish Pacific Diver hangs on in Mount's Bay
Making a bit like Sesame Street, the following few minutes read will be brought to you by the words "as", "you" and "were"…
The predominately cold weather maintained some sort of a hold across almost the whole country for another seven days, though conditions were a little more benign than they'd been through the previous seven days.
A gentle ridge of high pressure set itself up countrywide as it drifted down from the high northwest, bringing (generally) brighter conditions and, more importantly, weather that was a little bit warmer too.
Temperatures were around the monthly norm, averaging six degrees for many, though some decent below zero figures were noted through the Scottish Highlands and down in to some areas of northern England too.
The genteel conditions this week ensured that there was little change in the bird news, indeed it was a somewhat static affair - hence the large swathes of fog that shrouded parts of Britain as the review period closed.
Anyway. There's news to be had - so, like Tuco Salamanca hovering and snuffling up some of Heisenberg's bluest, purest product, we'll whizz through the headliners at some speed…
Harlequin
First up, holding on to the Number 1 spot, the still-popular first-winter drake Harlequin was being enjoyed along the River Don in Aberdeen through to 10th.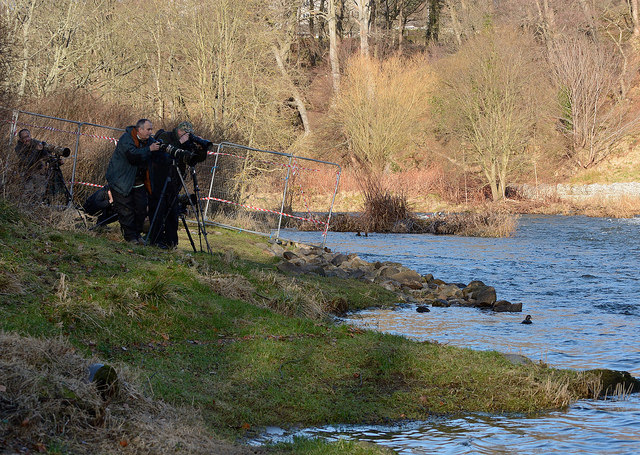 The regional first has clocked up a whole month on site - being first noted on January 4th - and, at present, appears to be in no real rush to leave. Famous last words and all that…

Black Scoter
Talking of firsts, Ireland's debut drake Black Scoter stuck it out at Coolnaharragill Upper, Rossbeigh in County Kerry through until 9th, clearly still proving to be a draw for some along the west coast.
On the east coast - of England this time - the drake Black Scoter was still residing offshore at Cheswick Sands (Northumberland) for a few days more this week, that bird too was present through to the end of the week.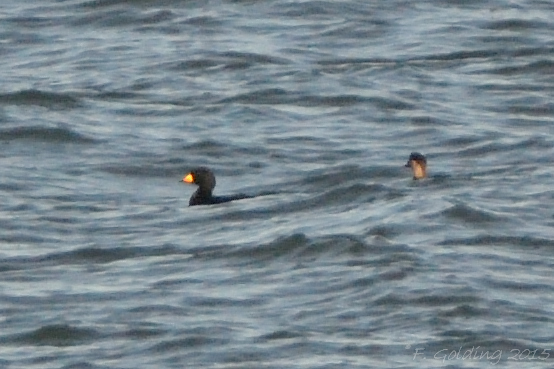 American Coot
As of the end of the weekend, we only had news of one American Coot - the wintering individual present on Loch nam Feithean, Balranald RSPB reserve, North Uist (Outer Hebrides) to 7th.
Across the Irish Sea and heading rapidly for the Atlantic, on County Kerry's Lough Gill, the was no news of Kerry's bird, present for several weeks on Lough Gill, until 8th, when it was noted as "still present". And there was me starting to think that it had done a bunk two months early…
Pacific Diver
Finally, as ever, in west Cornwall, the adult Pacific Diver looked to be in no hurry to depart Mount's Bay just yet - he/she was seen through until 9th.
No northern banana-beaks to report on this week, so we move right along to the Little Auks - just under 100 of which were reported across the past seven days.
The first day of the new review period saw exactly 50 recorded, fuelled by 24 in Northumberland, including 17 off Tynemouth and a further seven off Blyth, while half a dozen were noted from on-board the Good Shepherd around a mile off Sumburgh Head (Shetland).
The following day, 12 Little Auks were seen from the same vessel in an near-identical location, with another 23 dotted along the east coast, including one at Boston (Lincolnshire) and two off Cley (Norfolk) - one of which provided a Great Black-backed Gull with a tasty little pelagic hors-d'oeurve. Numbers tailed off from 5th, with low single figures noted from Angus, Fife and Lothian back down to another single off Norfolk (at Trimingham on 6th).
After some very tidy mid-winter totals of late, we were back down to something all the more expected for Pomarine Skuas - five singles logged through the week, with three of those seen in East Yorkshire, off Spurn and Flamborough Head on 4th and Spurn again on 8th. On 5th, one was noted off Seaton Sluice (Northumberland), the 7th saw one head by Gorleston-on-Sea (Norfolk) and the final one this week was seen from Thorpeness (Suffolk) on 10th.
In southwest Ireland, the wintering juvenile Night Heron at the Slob, Youghal (Co. Cork) was noted through to 4th but not since. You'd suspect that it may not be too far away…
After a little sojourn towards the East Sussex border recently, the two Cattle Egrets maintained station near Scotney to 4th, heading back to roost at Dungeness later the same day - they remained in the general area of the RSPB reserve through to 10th. It seems unlikely that the bird seen some 10 or 12 miles away, at Hamstreet on 8th and 10th was one of the Dungeness two and the double act seen in flight in Devon, seen over Haldon Forest on 4th can comfortably and safely be assumed to be different.
Back to Kent where the midwinter build-up of Great White Egrets at Dungeness was startling - nine birds appearing there on 4th with a stunning 12 around the reserve on 7th. This dozen helped the southeast of England's overall total hit an impressive 16 birds in all - another Kentish bird remained near Ashford to 9th at least, while further singles were recorded at Rustington (West Sussex) and Stony Stratford (Buckinghamshire) on 8th, then in Bedford on 9th.
Several birds were strewn across northwest England, up to four different birds were recorded around Merseyside and north Lancashire on the evening of 4th, including one on the River Alt, near Sefton. Singles were noted at three sites around Cheshire and Wirral and two further singles were reported in Lancashire throught he week. Three birds stuck it out around Northamptonshire, one for Summer Leys, Earls Barton and two still at Ditchford on 6th, while Leicestershire's lone Great White moved to Eyebrook Reservoir on 8th, where it stayed to the end of the review period.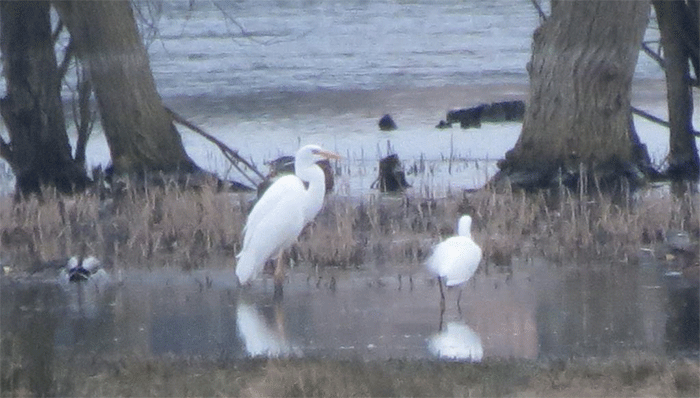 Two single birds were seen in Cambridgeshire, still at Ouse Fen RSPB to 8th and also at Fen Drayton Lakes RSPB on 9th. On the Norfolk/Suffolk border, one was still around the Lakenheath Fen RSPB reserve for much of the week, while Norfolk's Wensum Valley continued to host one around Lyng and Lenwade throughout the week. Up to five were noted around Somerset, including one still at Chew Valley Lake for much of the week, while new was a Great White Egret in Northumberland, found at Brunton Burn, Beadnell Bay on 6th.
The wintering Glossy Ibis at Fen Drayton Lakes RSPB (Cambridgeshire) was noted on 8th-9th while in Ireland, another was again at Tramore Backstrand (Co. Waterford) to 8th.
Over 40 Spoonbills were recorded this week, the majority of which were dotted along the south coast - 22 of them again at Arne RSPB (Dorset) on 5th (when a further four were seen n the county, in flight at Wool). Three young birds remained at Snow Hill Marsh, West Wittering (West Sussex) early in the week, with two at Medmerry RSPB as well. Three or four sites in Hampshire welcomed a couple of Spoonbills, at Lymington, Pennington and Farlington through the week, while in the southwest, three birds were in north Devon, at Isley Marsh RSPB on 5th and five were seen at Kingsmill Lake (Cornwall) on 6th-7th before moving over the border to Devon, alighting at Ernesettle on 8th. The only birds away from the south of England, were seen in Suffolk - one was at Minsmere RSPB on 8th with three at North Warren RSPB on 9th.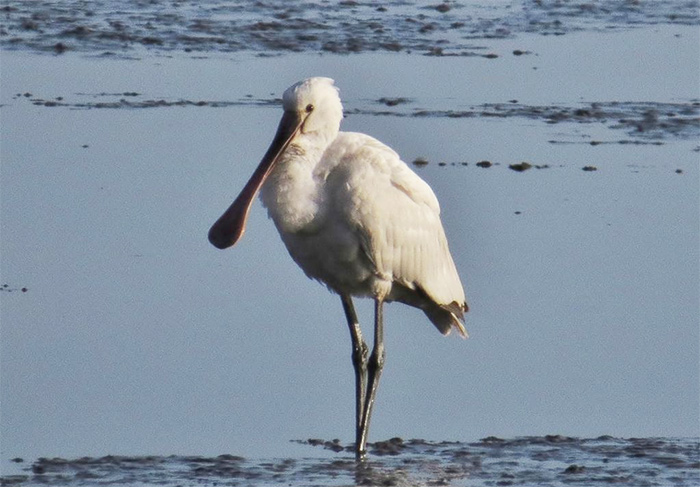 A stomping 36 Common Cranes roosted at Stubb Mill, Hickling NWT reserve (Norfolk) on 7th, with two and then three seen at Billockby on 7th and 9th. On the border with Suffolk, a pair were at Lakenheath Fen RSPB on 5th and again on 9th, while Cambridgeshire saw four at the Nene Washes on 5th, eight near Manea on 7th and two were noted at Wicken Fen NT on 9th. Away from East Anglia, a single Crane was reported over Derbyshire, at Lower Hartsay on 6th and one was also noted in flight at Holywood (Co. Down) on 8th.
The Ridgway's Cackling Goose (of unknown, assumed dubious, origin) was still being noted at Cults Loch, near Castle Kennedy, Stranrarer (Dumfries & Galloway) to 8th at least - with each day that passed the interest in this super little goose waned further and further.
On the Outer Hebrides, on North Uist, a Richardson's Cackling Goose was seen on the machair at Sollas on 8th-9th (it has been a fortnight or so since one was seen on the same island, so perhaps this could even be a new individual?) while in County Sligo, at Lissadell, a hutchinsii was seen again on 7th.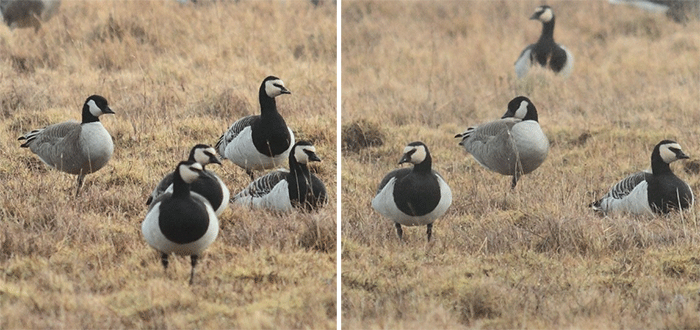 Up to nine adult Black Brants were recorded this week - two birds were noted at Trimley (Suffolk) on 9th, following on from one in the same county at Shotley on 8th. Elsewhere, one was again at Donna Nook (Lincolnshire) on 6th and 8th, still at Kilnsea (East Yorkshire) on 7th-8th, in Essex at Holland Haven on 8th, in West Sussex at Chichester Marina on 9th and on the Exminster Marshes (Devon) on 10th. One was also seen on the Irish west coast, at Castlegregory (Co. Kerry) on 10th.
Northumberland's vagrant Ross's Goose also stayed put, seen on 10th at Stobswood.
The first-winter drake King Eider appeared to have gone AWOL along the Cornish south coast last week (seen up to January 31st) but was back again at Maenporth from 7th to the end of the review period on 10th.
Upwards of 13 Surf Scoters were recorded this week - with the Celtic nations fairing best of all. Wales came out on top, with four (including three drakes) off Old Conwy on 7th with two (more?) drakes seen off Llandulas the same day.
Irish Surfies numbered four - a first-winter male and a female again off Rosslare Harbour (Co. Wexford) on 7th, with the drake around to 9th at least and two separate drakes were seen in County Clare, still at Lahinch to 9th and at Gleninagh, near Ballyvaughan from 5th-9th. In Scotland, single familiar drakes were at Musselburgh (Lothian) from 5th-8th and in Largo Bay, off Ruddon's Point (Fife) on 6th. As usual, England's sole Surf Scoter was the wintering first-winter drake on the border of Essex and Suffolk, still at Wrabness to 10th.
In Cornwall, the wintering drake Lesser Scaup moved from Dozmary Pool to Siblyback Reservoir this week, seen at the latter site on 5th-6th - the bird prioduced a similar move in 2012, moving from the former site to the latter site on February 6th. Three further birds were seen this week - adult drakes at Lough Gill (Co. Kerry) to 6th and in Cardiff Bay (Glamorgan) to 9th with the Ayrshire first-winter drake moving again, this time to Broadwood Flash on 10th.
There were 12 Ring-necked Ducks logged across the past week - seven drakes to five ducks - with new individuals (all of them males) seen at Ashford Reservoir (Somerset) on 6th, Loch of Skaill, Mainland (Orkney) on 7th-9th and Lough Cullin (Co. Mayo) on 7th. The Orcadian bird is of particular note, being the first seen there for almost three years.
Further drakes remained at Bray (Berkshire) from 7th-9th, on Loch an Eilein, Tiree (Argyll & Bute) to 7th and Roo Lough (Co. Clare/Galway border) to 9th with another (one of a pair) still at Lough Leane, Ross Castle (Co. Kerry) on 8th.
Female Ring-necked Ducks, along with the Ross Castle bird, were still to be found at Calvert Lakes (Buckinghamshire) on 5th and 8th-9th, on Loch Sandary, North Uist (Outer Hebrides) to 5th with two still at Carlingwark Loch (Dumfries & Galloway) to 10th.
Hampshire's drake Ferruginous Ducks was at Blashford Lakes HWT to 8th while in Gloucestershire, the female lingered at Slimbridge WWT throughout the week.
As with several recent weeks, Scotland was the place to be to try and encounter a drake Green-winged Teal - seven of the fourteen recorded this week were noted there. Three were seen on Orkney, on the Mainland at Loch of Tankerness and Loch of Skaill (on 4th and 7th respectively) while another remained on North Ronaldsay to 5th. Dumfries & Galloway were next, two still in the county, at Mersehead RSPB to 4th and at Caerlaverock WWT all week, while the bird at Lossiemouth (Moray) was seen to 6th. New was a drake on Benbecula (Outer Hebrides), seen near Balivanich on 7th.
In northeast England, four single Green-winged Teals were noted this week; at Staveley YWT (North Yorkshire) on 5th, North Cave Wetlands (East Yorkshire) on 6th; South Ferriby (Lincolnshire) on 7th and Saltholme Pools (Cleveland) on 10th, while in the southwest, a new bird was found on the Axe Estuary on 5th. Another drake was back at Abbotsbury Swannery (Dorset) on 10th. The final bird of the week was still in the north of Ireland, at Ballycarry Bridge (Co. Antrim) to 8th.
Four drake American Wigeons got the ball rolling on 4th; still at Kingsmill Lake, near Saltash (Cornwall), Nosterfield LNR (North Yorkshire), on the Ythan Estuary (Aberdeenshire) - a bird that was subsequently trapped and ringed on 7th - and at Harper's Island (Co. Cork). A further half a dozen were to follow during the rest of the week, all of them drakes.
New were birds at Burton Mere Wetlands RSPB (Cheshire) on 5th and at Holme Pierrepont (Nottinghamshire) and Lochportain, North Uist (Outer Hebrides) both found on 8th, while others lingered in Ireland at Drowes River (Co.Leitrim/Donegal border) and Cahore Marsh (Co. Wexford) for much of the week, while on Shetland, the drake relocated to Melby, on Mainland, on 8th.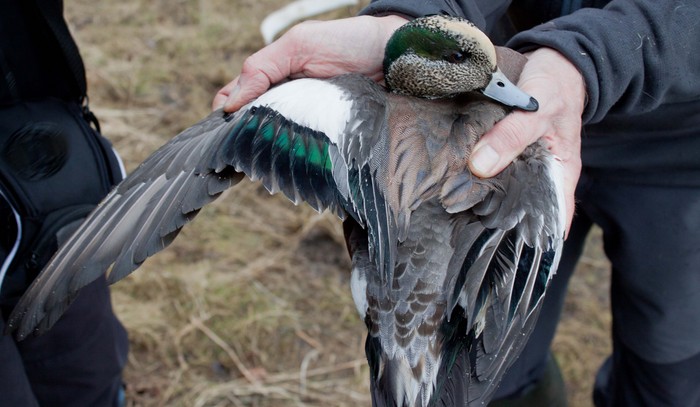 That new drake in Notts., was the first in the county since one was at Lound GPs in November 2011, while Cheshire last boasted an American Wigeons just twelve months ago, one at the same site as this week's individual.
Trailing in last, though still arguably the best ducky of the week, was the drake Black Duck that remained on Tresco (Scilly) that was seen on 4th, 6th and 10th, present mainly on the Abbey Pool.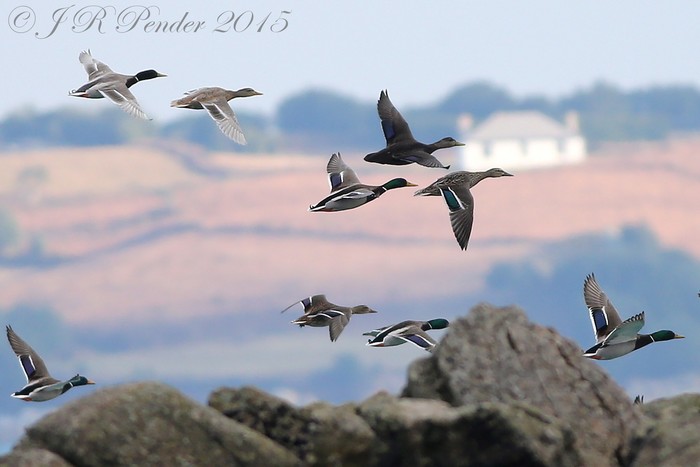 <!—Section Title -->
A new Lesser Yellowlegs was reported from the River Ilen, at Skibbereen (Co. Cork) on 4th and the second Irish bird of the week remained on the Rogerstown Estuary (Co. Dublin) all week to 10th. The first-winter in East Sussex pootled around Rye Harbour NR for a few days this week, from 4th-9th, with a brief trip back to Winchelsea on 8th.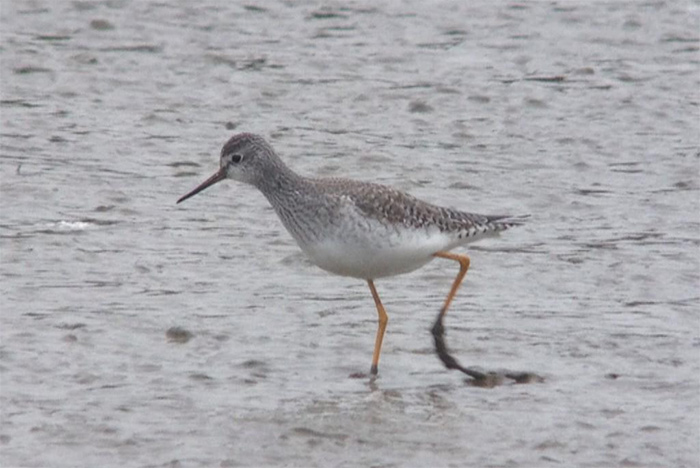 Last week's newly-arrived first-winter Laughing Gull on the Wirral, around New Brighton was present thoughout the week - stretching the imagination of many of the photographers present, some of whom came up with a few decent shots away from the boating lake pontoon. Also proving to be particularly photogenic this week was the semi-resident second-winter Laughing Gull at Ballycotton (Co. Cork) - Ronan McLaughlin producing some stunning, text-book images of the species this week.
Wowsa.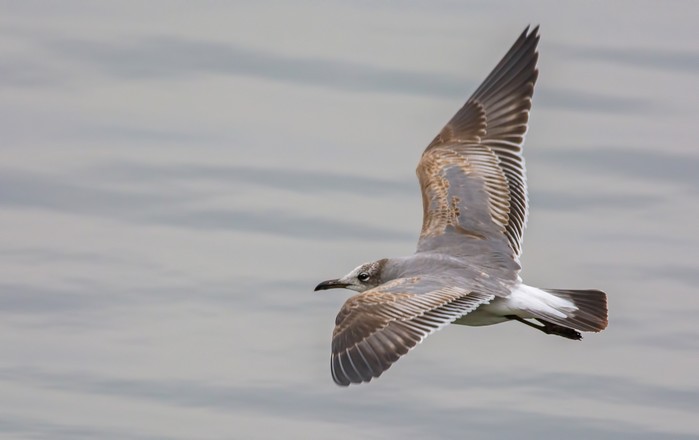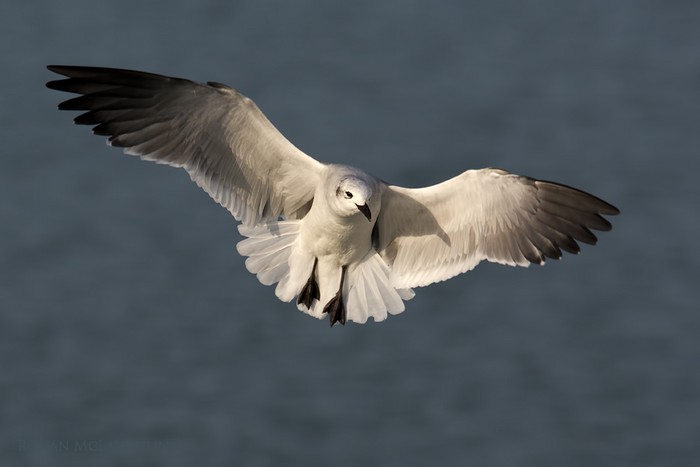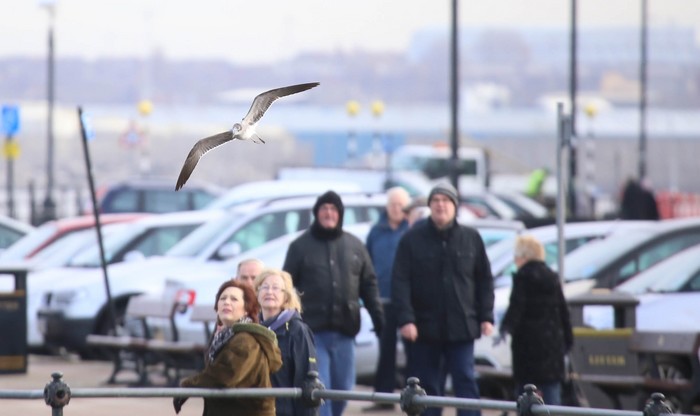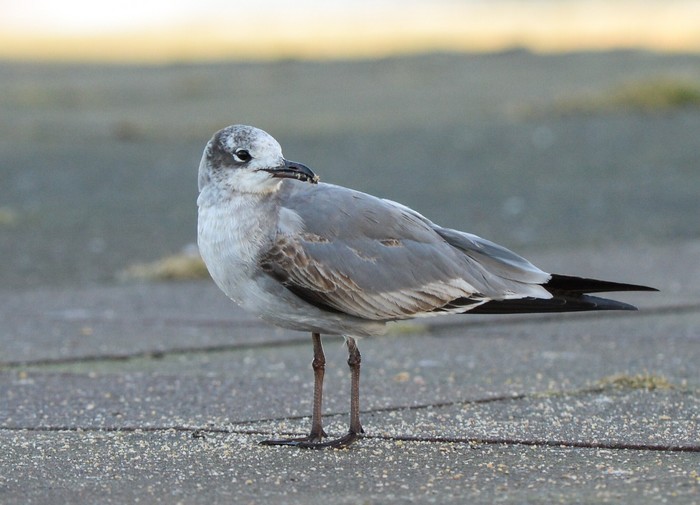 Away to Scotland, where the adult Bonaparte's Gull was back again at Lochgilphead (Argyll & Bute) on 4th (it was last noted here on New Year's Eve). Less elusive but by no means a daily fixture was the adult around Dawlish Warren NNR (Devon) - seen this week on 7th and 10th.
Fifteen Ring-billed Gulls were counted around Ireland this week, with three in both Cork and Kerry. The former county saw two adults noted at Cuskinny Marsh on 6th with another at Kinsale Marsh on 7th and 9th. Kerry maanged single adults at Blennerville on 5th and Tarbert on 6th-7th with a first-winter still around the Tralee Wetlands to 5th.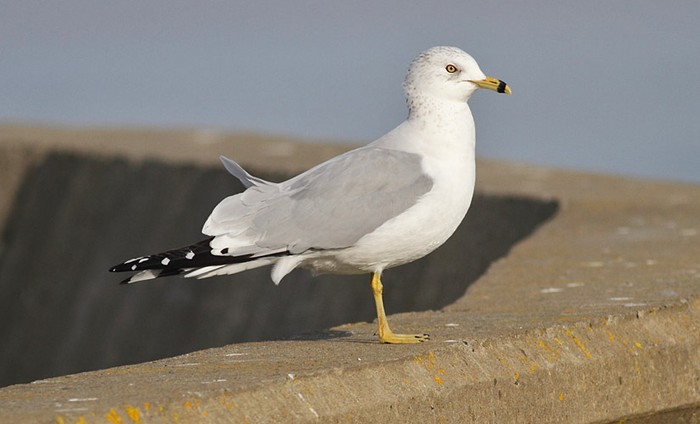 Two single adults were noted in Waterford, at Ballinacourty Pier on 7th and still at Tramore on 7th-8th, with further lone adults around the country at Carrickfergus and Portrush (Co. Antrim) on 4th and 6th, Drimnagh and Sandymount (Co. Dublin) on 7th and 10th, Cruisetown Strand (Co. Louth) on 10th, Wexford harbour (Co. Wexford) on 8th while first-winters were at Corranroo Bay (Co. Clare) on 4th and Nimmo's Pier (Co. Galway) on 7th.
Scotland welcomed a couple of new Ring-bills this week - a second-winter was noted at Skinflats Lagoon RSPB (Forth) on 6th while an adult popped up on the ice at Dunfermline (Fife) on 8th, a bird that remained to the end of the week. Further adults remained at Dingwall (Highland) to 6th and Strathclyde Loch (Clyde) to 7th.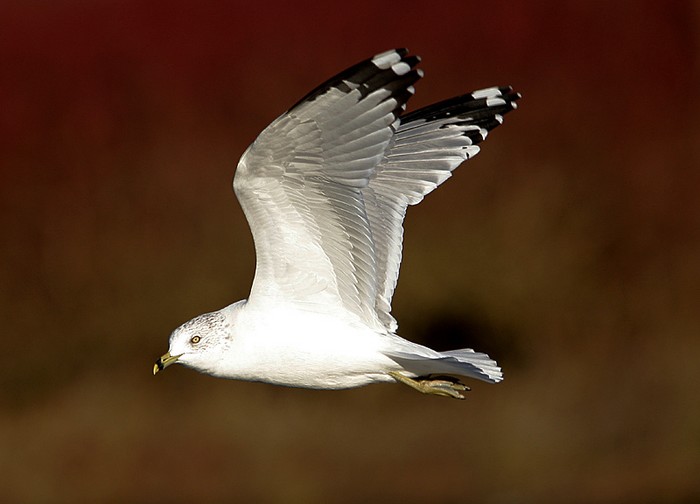 Wales managed another appearance of the oft-returning adult Ring-billed Gull at Llys-y-Fran Reservouir (Pembrokeshire) on 5th while Hampshire's favourtie delawarensis was in Gosport to 10th. In Dorset, an adult was discovered at Stanpit Marsh on 8th and Cornwall's recent first-winter bird was seen from 4th to 9th at both the Hayle Estuary and Drift Reservoir.
The number of counties went up by one but the numbers of Glaucous Gulls reported around Britain and Ireland this week fell away by some 35 compared to last week's triple score riot - c.90 birds reproted from 31 counties being the tally for the past seven days.
As has been the case for the past few weeks, Scotland was top of the class, around 47 birds noted in only seven counties - up to 14 were noted around the Outer Hebrides, including at least near Rubh' Arnal on Norty Uist on 7th. Highland weighed in with an impressive 10, eight were seen around Argyll & Bute, five were on Shetland and four were at Peterhead (Aberdeenshire) on 8th.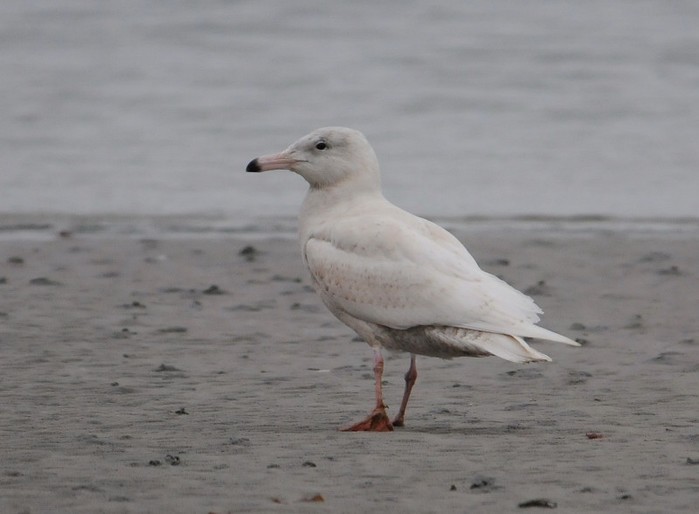 It was rather slender totals elsewhere by comparison. East Anglia boasted around 10 Glaucks in all, with five in Norfolk, at least four in Cambridgeshire and a single in Suffolk too. The north of England (east and west) managed seven between them (4:3) while in the south, seven were noted in the eastern sector, with four in the west. Wales provided just two while Ireland's 13 were spread thinly around eight counties, with Donegal's four and Wexford's three the leading lights.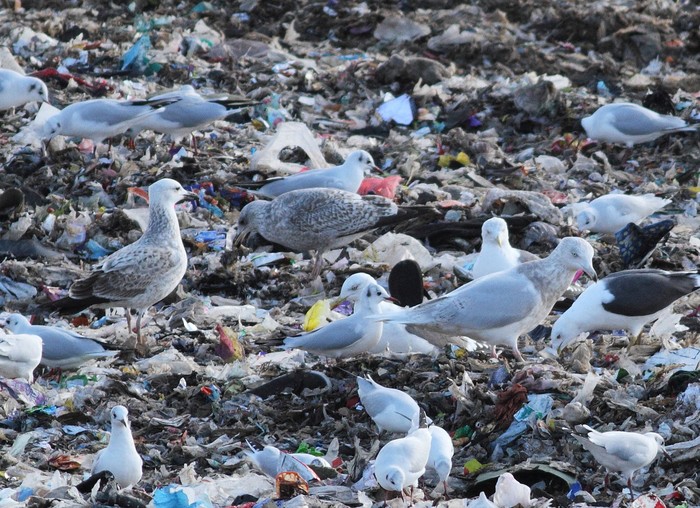 Iceland Gull suffered a similar percentage drop - from 90+ birds last week, we dropped to 71 over the past seven days, spread through 32 counties across Britain and Ireland.
Once again Scotland was the top scoring nation, 32 logged there in 11 counties and regions, with Shetland's half dozen helped along nicely by the four birds seen in Lerwick on 7th. Three were seen together at Loch Caolisport (Argyll & Bute) on 8th, while Aberdeenshire's gullers loaded up on half a dozen birds in all, with four more in Moray.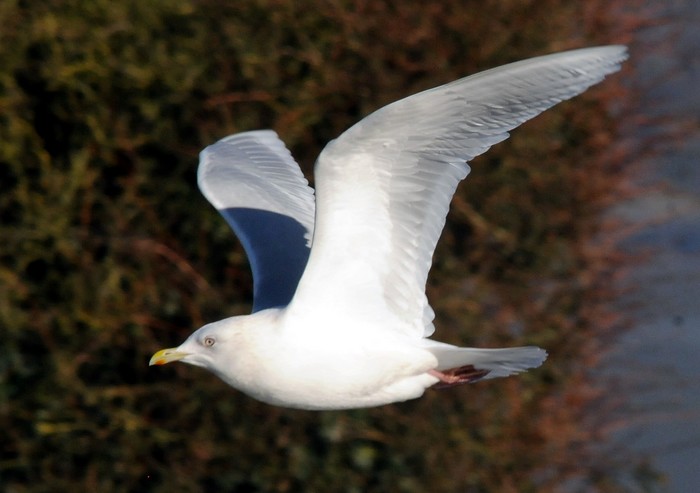 Elsewhere, there were up to nine Icelands in the northeast of England, located in five counties, with six for the northwest, helped by at least three at Richmond Bank (Cheshire) on 7th. A couple of birds were in Derbyshire, likewise Norfolk where the second-winter and juvenile seen at the tail end of last week commuted between Sheringham and Cley (its a rare day indeed when you see three different white-winged gulls in TG04 within just a few short, winter moments, so praise be for February 4th).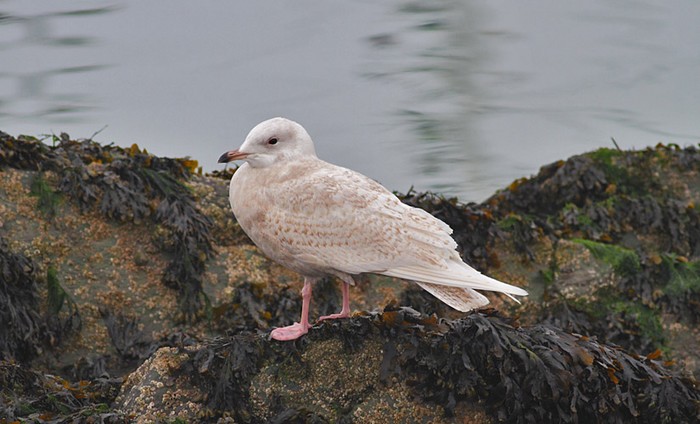 The south of England could manage just three birds in all, while Ireland added a further 17 to the overall weekly total - including four at Killybegs (Co. Donegal) on 7th. Also of note, the first (that I can recall) mention for County Longford within the review - an Iceland Gull seen at Lanesborough (on the border with Roscommon) on 6th. Fáilte Longford, fáilte.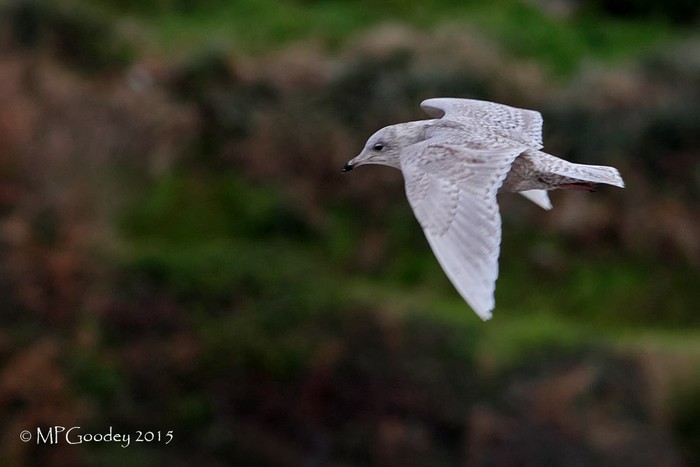 Faring a little better (at least holding its own) was Kumlien's Gull - 11 of which were noted this week. At least four were seen around the Hebrides, a juvenile and second-winter were between Rubh' Arnal and Kyles Paible, North Uist on 5th with another juvenile at Balgarva, South nUist on the same date. The islands' fourth was another youngster, again on South Uist, seen again at West Gerinish on 7th. Scotland's final representative was noted once more at Loch Caolisport (Argyll & Bute) on 8th, also a juvvy.
Four English Kumlien's included two on the Hayle Estuary (Cornwall) on 7th (the older bird present to 10th), an adult at Knapton (North Yorkshire), also on 7th while the recently returned second-winter at Littlehampton (West Sussex) was on station to 7th as well.

Ireland could offer only two - both juveniles - at Killybegs on 5th and in County Down, at Ardglass (mentioned in a Van Morrison song pop-pickers...) on 6th.
Before departing from the Wonderful World of Larids, mention needs to be made of the superb at-sea discovery of what is (presumably) Britain's most northerly-ever Caspian Gull - seen somewhere between 50 and 125 miles east of Whalsay and Out Skerries (I've read two figures online), either way its close to Norway!) - from a survey vessel on 6th.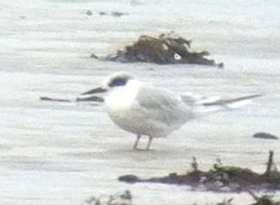 A quite exquisite first-winter, the bird will become, if deemed to be "fair game" by the Shetland List Police, a first for the islands, despite it being quite a way out of town...
With that thought in mind and employing the same logic, my Norfolk list can soar as it races to include the likes of Lesser Scaup, American Redstart and Naumann's Thrush on the list...heck, it may even stretch far enough to pop in a Long-legged Buzzard...!
All that scampishness aside, its quite some find in the middle of the Norwegian Sea, especially in a rather swell sea. Fair play to Mark Lewis for keeping it together with such a beautiful bird, and for holding on to the Weetabix too.
Finally, the adult Forster's Tern remained around Nimmo's Pier (County Galway) to 7th at least.
No sooner had I come up with a cheeky Thursday morning nod to Gyrfalcon as "one to watch" for next week, up comes news of one from 4th, seen out on the Mayo coast, on Inishkea South island - lying just off the coast of the Mullet.
This is the second record for the west coast county in the past three weeks, following on from one that headed across Carrowmore Quay on January 12th - that was the first one in Mayo since a white juvenile spent over two weeks around the Annagh Head area in March 2009, which became the 29th accepted record for the county.
Time for a bit of north to south action now to make the writing of all-things Rough-legged Buzzard a little more interesting. In Scotland, the juvenile remained at the Mennock Pass (Dumfires & Galloway) to 9th, while the northeast of England continued to entertain five single birds; in Lincolnshire, one was seen at Frampton Marsh RSPB on 6th; in South Yorkshire, a "new" bird was at Underbank Reservoir on 5th; East Yorkshire's showy youngster was at Grindale, near Bridlington to 8th at least and another juvenile was noted in North Yorkshire, at the Wykeham Forest on 8th. The final bird in the region was seen at Coxhoe (Co. Durham) on 4th.
East Anglia Rough-legs included one throughout the week in Cambridgeshire, at Holme Fen NNR. Norfolk saw a report of two birds on Halvergate Marshes on 4th (with at least one remaining between there and the Waveney Forest to 10th), one was noted again at Breydon Water on 8th and one or two continued to linger around the area between Holkham and Burnham Overy throughout the week. Suffolk's first report since November came from a train, just north of Ipswich, on 7th.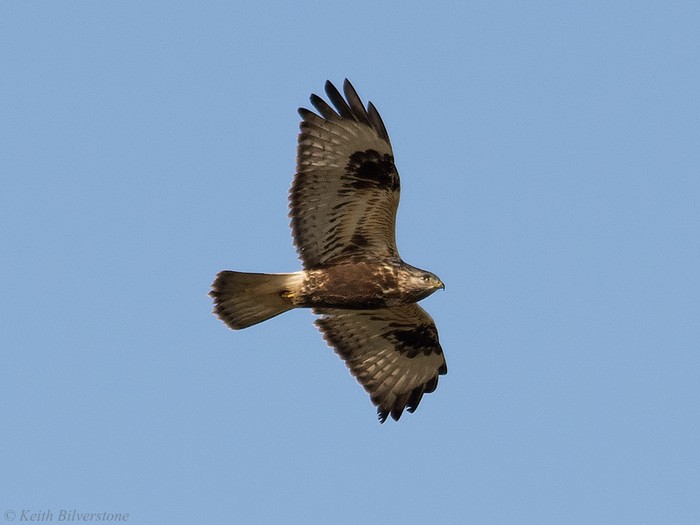 The popular juvenile Rough-legged Buzzards at Jevington (East Sussex) and Wallasea Island (Essex) were both in place to 7th, with the same date seeing one head over Rochester (Kent). The following day saw a report of one in West Sussex, near Washington and another was noted in East Sussex, near Ripe (which has apparently been around since the turn of the month).
Everyone likes a little winter surprise or two, and there was none better in the world of passerines this week than the discovery of a rather fine & dandy Little Bunting at a feeding station at Forest Farm, just four miles northwest of Cardiff (Glamorgan) on 5th.
This proved to be a rather popular bird through the rest of the week, showing off-and-on through to 10th and was the first record in the county since one was trapped and ringed on the Gower at the start of November 2005 and was the first anywhere in Wales since one on Bardsey in October 2012.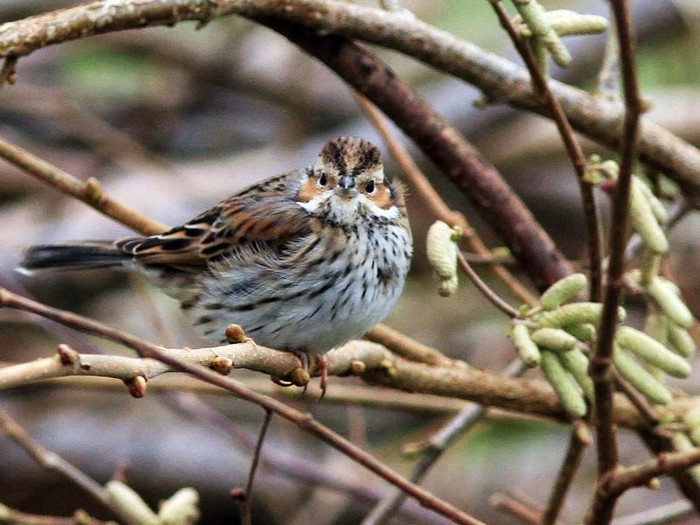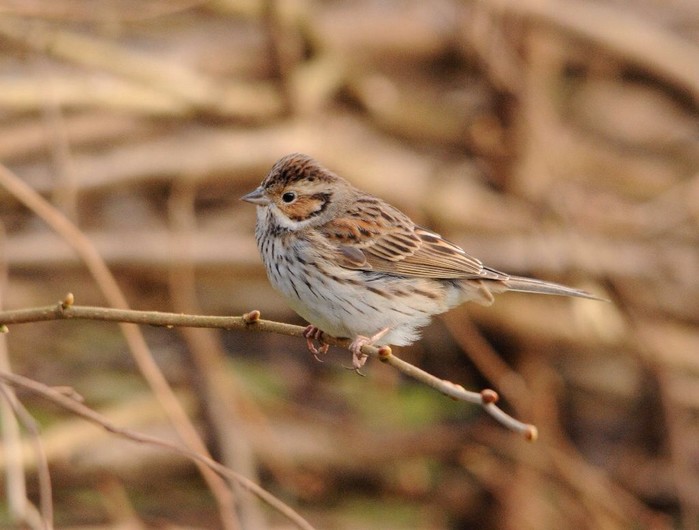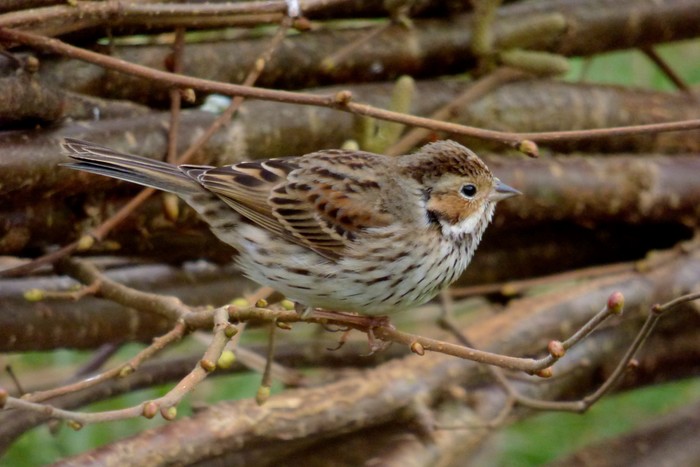 ...and no sooner had one come along, then up popped another two, a second bird was photographed in the Ashdown Forest (East Sussex) on 5th and on 10th a third was discovered east of Penzance (Cornwall) in fields just east of Gulval.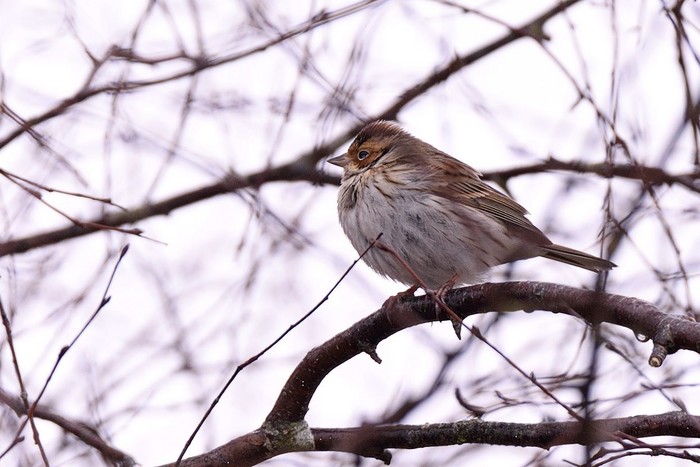 In Essex, at Gunners Park, Shoeburyness, the two male Serins were still in place until 10th while the triple bill of Penduline Tits in south Devon remained at Darts Farm RSPB reserve near Topsham to 6th before spending a day at the Exminster Marshes RSPB, before heading back from whence they came by 9th.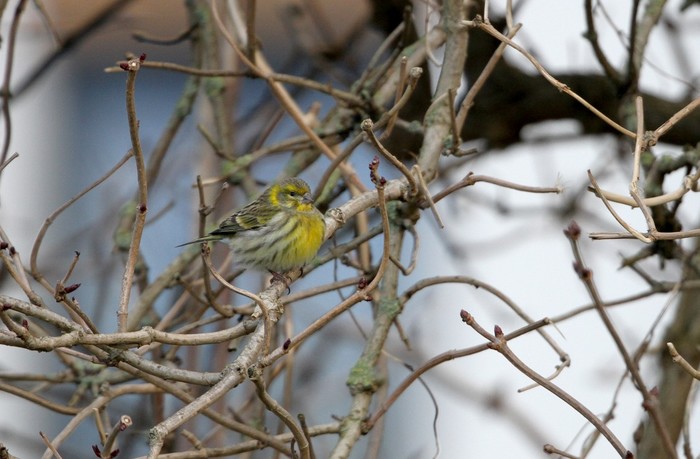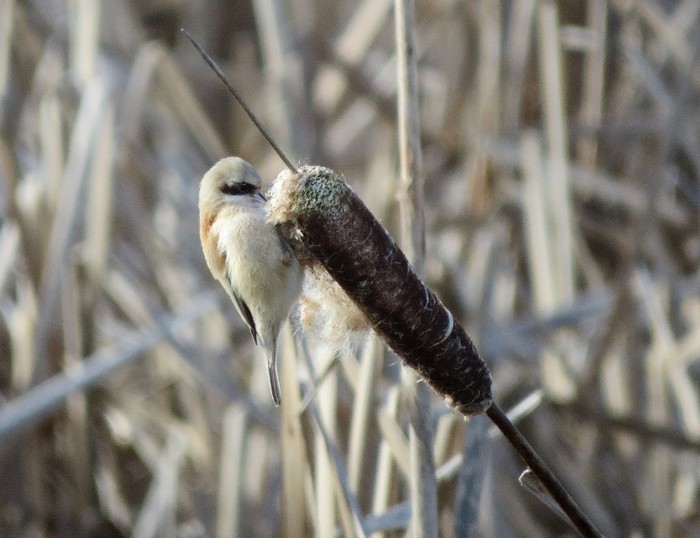 With a blank being drawn for
Yellow-browed Warblers
, we head right on in to
Richard's Pipit
- four of those recorded this week, all of them wintering birds from various points of the last few weeks.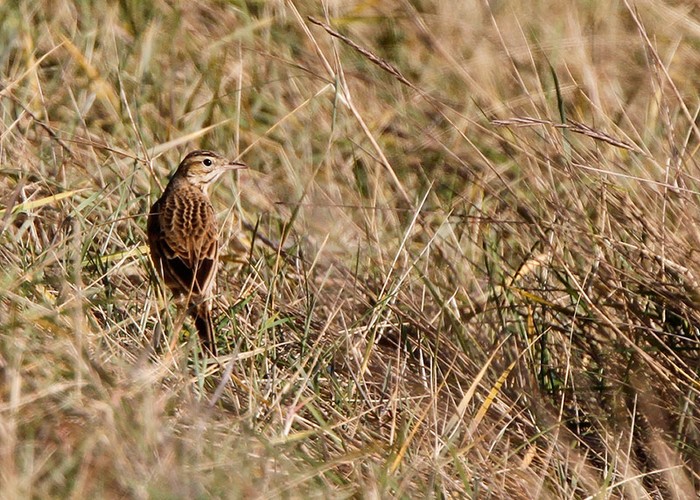 By the end of 5th, three singles had been logged; still near Redcliff Point (Dorset), at the Swale NNR, Isle of Sheppey (Kent) and again at Breydon Water (Norfolk) with the quartet completed by the continuing presence of one at Cloughton Wyke (North Yorkshire) to 8th.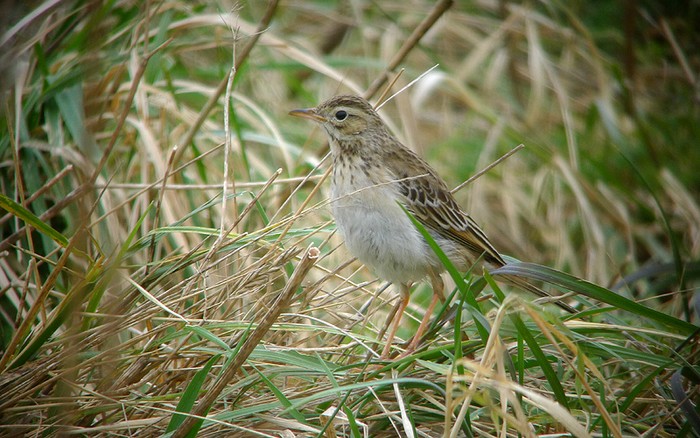 In Northumberland, the first-winter Rose-coloured Starling was still finding plenty to do around Prudhoe to 9th at least, while further pinkish and blackish hued birds - Waxwings - were noted in generally small numbers from Shetland and Orkney down the east coast to Suffolk.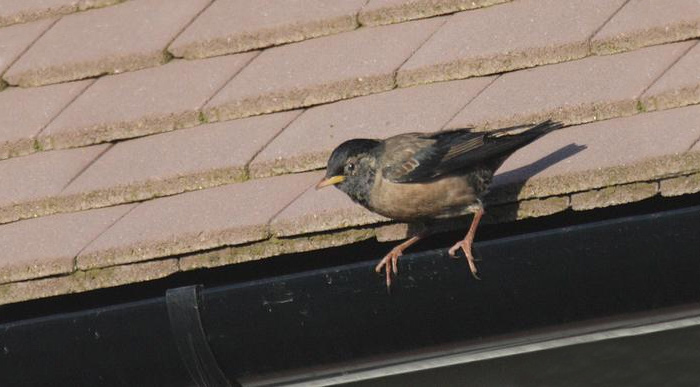 Flocks of 21, 26 and 15 were noted in various parts of Aberdeen on 4th and 5th, while nine at Immingham (Lincolnshire) from 4th-6th were a draw for some (the number rising to 12 by 10th). Suffolk too fared reasonably well in this poor winter for these scrumptious species - 10 at Kesgrave from 4th-8th with seven at Martlesham on 5th and six again noted in Ipswich on 8th.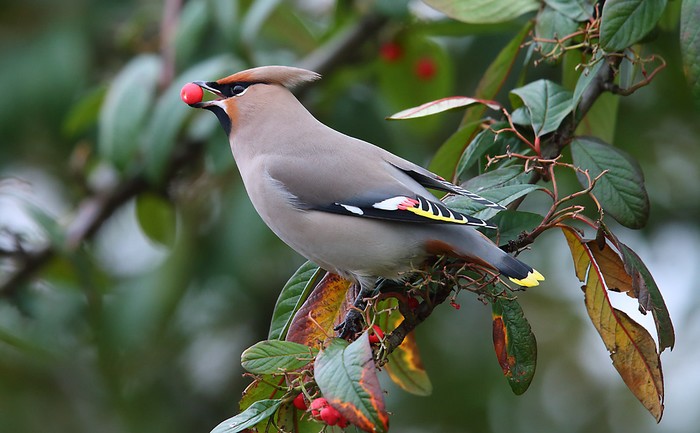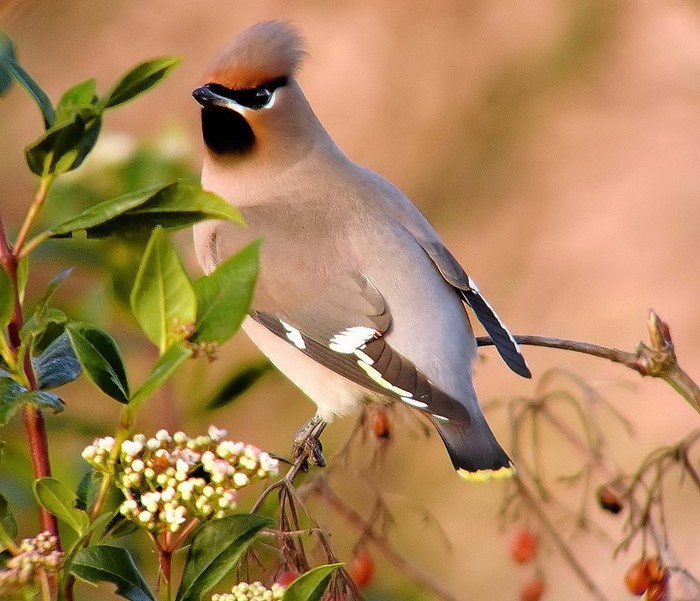 Three birds were of particular note on the west coast - a singleton arrived in Greater Manchester, at Orrell on 9th-10th and two were further west still, seen near Larne (Co. Antrim) on 9th.
A still-impressive 25 Great Grey Shrikes were spread around some 18 counties in England and Wales this week - the northeast continued to host five birds; one remained at Wold Newton (Lincolnshire) to 9th, two were in South Yorkshire, at Midhope Reservoir throughout the week and at Langsett Reservoir on 5th, with two more in Northumberland, seen at the Harwood Forest and still at West Hartford Farm, both on 7th.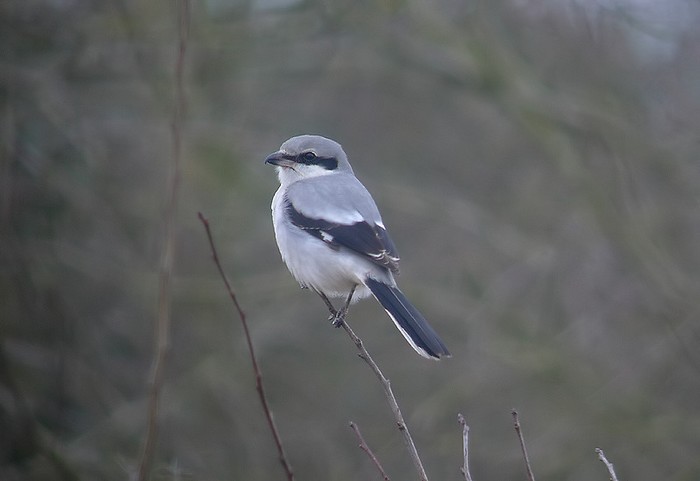 In the northwest, a single regional bird was noted, again on Grindleton Fell on 8th-9th, while three Midlands counties shared six birds, with two each for Derbyshire (at Church Wilne and Beeley), Northamptonshire (both at Deenethorpe on 4th) and Gloucestershire (separate birds in the Forest of Dean, at Staple-edge Wood on 4th and at Crabtree Hill to 9th at least).
The two wintering birds remained in East Anglia for much of another week, at Roydon Common NNR (Norfolk) to 8th and Santon Downham (Suffolk/Norfolk border) to 9th. Some seven Great Grey Shrikes were seen around the southeast of England, with twos in Hampshire (still at Bransbury Common throughout the week, with another in the New Forest on 6th-7th) and Surrey (lingering on Frensham Common and Thursley to 8th) while "old faithfuls" loitered on Iping Common (West Sussex), Chilham (Kent) and Ledburn (Buckinghamshire) for much of the week. The southwest's sole effort was the bird deep on Dartmoor, still at Soussons Down to 8th.
A Welsh trio of monochrome murderers were reported from Llwyn-on Reservoir (Glamorgan) on 4th, still in the Brechfa Forest (Carmarthenshire) on 7th and at Bryn Moel, near Lampeter (Ceredigion) on 8th.
…and so here endeth another roundup…plenty to go at despite it being a "quiet" time of year - "as you were" was pretty apt tho'…
The Calendar of Yore confirms that we really are, historically, within one of the quieter times of the year but, should the winterer chill air persist, there's certainly some Arctic goodies to carry-on considering as genuine options to pop up somewhere around the place (it seems to be getting a little milder though).
Arctic goodies such as those splendiferous pack-ice dwellers - Ross's Gull and Ivory Gull. Both species have managed four records each across the seven days that are coming along now.
As well as two glorious gulls, the Arctic continent also boasts not one but two ermine-clad assassins - and both Snowy Owl and Gyrfalcon are prominent rarities upon the pages of February's rarity texts.
Historically, the week ahead has seen the former recorded on six of the seven days between February 11th and 17th, totalling 14 acceptances in all, while the latter species has records from every day, in a figure of 11 in all.
If snow-birds aren't your bag, maybe think outside the box a little bit - February 17th 1979 was the red-letter day in the West Midlands when a wintering Dusky Thrush was found at Majors Green, near Shirley (thankfully most us have seen that species now…).
In more recent times, February 12th 2011 was the day on which the Oxfordshire Oriental Turtle Dove reappeared in gardens in Chipping Norton - finally offering the chance for listers to enjoy the first twitchable orientalis in the process.
Let's see what gives on any of the above when we re-convene, same time, same place, next week.
Mark Golley
11 Feb 2015


Thanks to this week's contributors for their photos, videos and sound files.
John Malloy, Barry Farquharson, Frank Golding, Martin Casemore, Lee Evans. Shaun Robson, Steve Duffield, Michael C'Clery, Alex Penn, Joe Pender, Niall Keogh John Tymon, Ronan McLaughlin, Austin Morley, Michael Turner, Joe Pender, Paul Kelly, William Mc Bay, John Kemp, Brendan Doe, Brian Henderson, Paul Kelly, Martin Goodey, Mark Lewis, Cathal Forkan, Keith Bilverstone, Cliff Woodhead, Katie Horrocks, John Lawton, Tom Lee, Richard Jeffree, Mike Buckland, Craig Shaw, Stefan McElwee, Tony Davison, Barry Wodhouse.
Contributors websites Check out our contributors website for more great photos and other news