Weekly round-up: 28 Jan - 03 Feb 2015
At a glance
The first-winter drake Harlequin remains in Aberdeen for another week
Drake Black Scoters still offshore from Northumberland and Kerry
North Uist's American Coots lingers on the loch, likewise in Kerry
Cornwall's Pacific Diver continues to show in Mount's Bay
Rare winter record of Pacific Golden Plover surfaces in Lincolnshire
Potential second-winter Thayer's Gull photographed in Shropshire at the end of the review week
The snow came then…
…and so did the generally chilly outlook that the Met Office forecasters had promised, with such overblown pomp and glee, as is often the case with their so-called "weather events" these days. "Weather events"…good grief…
Anyway. Grumpy Old Man moans aside, the weather did take a significantly more wintery outlook than of late, snowfall across the northwest and northeast of England in particular bringing a little bit of chaos as the new review week began.
Once that little belt of precipitation had forced a way across towards the continent, the airflow shifted to a proper Arctic blast, but it wasn't quite as fearsome as those "weather event" predictors had, ummm, predicted.
The wind went to a brisk north to nor'wester and as it strengthened, the wind chill went up, but all in all, it was nothing exceptional ~ it was just as late January and early February should be really…
Harlequin
When the need arises and the weekly review pops its head once and says" write me" ~ the hiatus is short'n'sweet folks ~ there are few better things in life than sitting at a computer and taking heady inspiration from the ragged and glorious raw garageband rock and sub- psychedelia of The Echos in full flow at the Old Princeton Landing in the early spring of 1996 ~ amped up guitars, with more fuzz than Scotland Yard is enough to whisk you away to a better place than a review with little, or no change on offer…
Remember it's Groundhog Day time right…
That said, and furry friends to one side once more, there was still a role call of honour to be had and, as was the case with last week, the list of our rarest birds this week was really rather neat.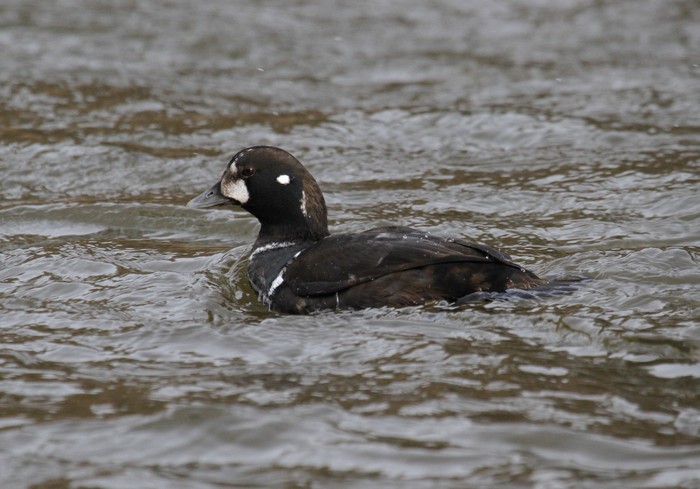 And, just as was the case with last week's #1 star, the "best bird" of the past seven days (funny Salop seagull aside…) was most certainly the first-winter Harlequin that continued to perform along the waters of the River Don in the fine settings of northeastern Scotland's rather wonderful Granite City through until 3rd.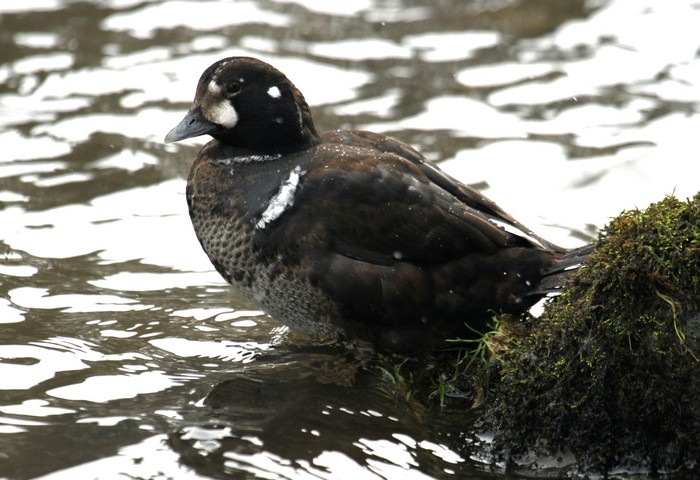 Despite the inclement weather (for us, not the bird ~ he's made of far tougher stuff), a steady trickle of budding duck tickers continued to make a way off to Aberdeen to enjoy this fine wee beastie ~ any talk of the species being (further) "devalued" should be met with the disdain such numb-nuttery deserves ~ it's a bleedin' Harlequin for chuff's sake ~ a rare of some merit…
Black Scoter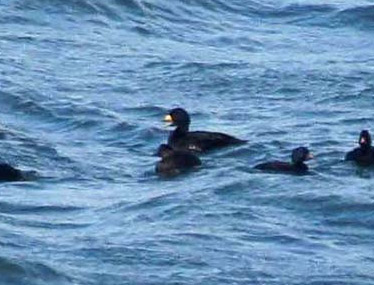 As the weekend began, the only news on either of our two drake Black Scoters came from Northumberland, where the second for the county remained off Cheswick Sands through to 31st.
…however, the news hounds need not have worried, the weekend bringing out birders to locations near and far and some ventured down to Coolnaharragill Upper, Rossbeigh to enjoy views of Kerry's drake Black Scoter, also noted on 31st-1st.
American Coot
…and we also seemed to be suitably bereft of too much hot news for another double act of crackingly rare waterfowl ~ American Coot ~ but at least one box in the Flight of the Conchords style "present" registration was checked…the wintering bird still remaining faithful to Loch nam Feithean, Balranald RSPB reserve on North Uist to at least 30th with the bird in County Kerry on Lough Gill to 2nd.
Which one is Jermaine and which one is Brett I wonder? And does that make me Murray…?
Errrr, anyway…back to business…(blame the psych vibes of The Echos man…)
Pacific Diver
For those with a penchant for more watery-based megas, the obliging winterer of west Cornwall was also around the aid a helping hand to the list of rarest rares ~ the adult Pacific Diver still content with the way of things in Mount's Bay to 3rd.
Whether this popular wintering star took a little trip across to Pendower Bay (where it was seen in November 2013) during the afternoon of 1st is not wholly known for sure, it was in Mount's Bay that morning and the following morning too, but there's no reason at all to think it couldn't have done something its done before.
Pacific Golden Plover
…and, with the Pacific in ours thoughts and before heading away to the more regular round-up fayre we come to the only new rare of the week ~ and a rather exceptional find too.
There are tens of thousands of Golden Plovers spread across the country during the winter and, when conditions allow, there's always a bit of a buzz when you get the chance to pick through a flock of a couple of 1000 birds, just on the extreme off-chance that you may just chance upon a wintering Dotterel or perhaps a smaller, more slight congener with the exciting underwing of grey…
Winter discoveries of either "Lesser" Golden Plovers remain something of a red-letter day, particularly where Pacific Golden Plover is concerned, so there's a doff-of-the-cap and nod of admiration to Graham Catley for his sharp-eyed discovery of a first-winter fulva amongst some 3,000 Goldies in fields near Alkborough Flats (Lincolnshire) on 29th.
Up until the end of 2013 there had been 99 records of this once desperately rare long-haul shorebird ~ around the time of the split from American in 1986, there had been only eight records ever, but the past three decades have seen numbers rise as observer awareness has increased in to the subtleties of differentiating the two species.
Indeed the first record at around the time of the split was a summer adult in Lincolnshire ~ found amongst the saltings and tidal creeks of Tetney and North Coates in July 1896 ~ a bird which formed a sensational two-tick day for many birders who took in the Plover post the first British Red-necked Stint found at Blacktoft Sands. In a remarkable quirk of fate, both the newly split species were seen in the general area at the same time ~ fine summery dress for both of them too.
Amongst those eight pre-1896 birds comes the only ever January acceptance to date ~ a bird that caused no end of panic in January and February 1985 when it was found at Fraisthorpe (East Yorkshire) ~ many knowing of the ID but not quite knowing just when (or if…) the split was going to happen. With information on the bird being a little scant, many held off from a visit.
Insurance listing wasn't what it is today…
Further "winter finds" have been sparse ~ an adult spent a couple of months on South Uist from February 9th 2004 while March has managed a single record too, one seen at Lodmoor (Dorset) in 1996. November records are hard to split between late autumn and early winter, but there are five in all, only one of which was seen at the tail end of the month ~ that too was at Lodmoor in 1996, seen for over three weeks from November 29th ~ while December can also proffer one bird, a showy first-winter on Cley Marshes and Blakeney Freshmarsh from 3rd-6th in 1993.
Once accepted, this week's offering will become the fourth Pacific Golden Plover for Lincolnshire ~ the first being the Tetney individual mentioned above. Birds #2 and #3 were found at South Ferriby in the consecutive July's of 1993 and 1994 ~ whether or not they were the same bird is unknown (tho' likely). What isn't in doubt is that one of the finder's was…step forward Mr. Catley.
(It is worth mentioning that two widely reported adults in Lincolnshire in July 2002, at Horse Shoe Point, never appeared in print).
Thayer's Gull
The final bird in our headliners list managed to cause a bit of a stir when photos were tweeted during the morning of 3rd ~ the three initial images showed a brown-winged, rather podgy looking second-winter bird, with a "white-wing" look to the underwing and an overall feel that put it lurching to the territory sometimes occupied by Thayer's Gull.
Photographed at Trench Pool, near Telford (Shropshire) the first couple of viewings of the shots obtained certainly seemed to be going in (generally) the right direction, but the subtleties within the puzzle that leads to the correct identification of this age of this particular vagrant here in the Western Palearctic are way too many and complex to go in to within these pages (which is all rather handy…) and it would take too long to pick apart the Shropshire bird, bit by bit.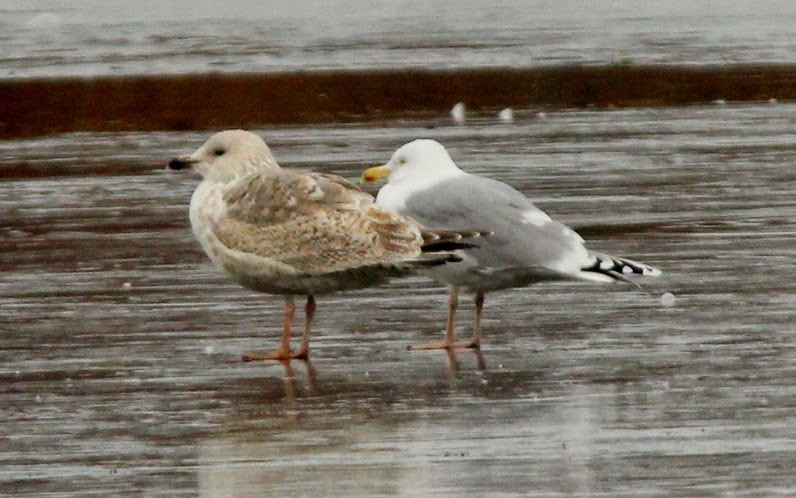 It is possible to find other second-winter Thayer's Gulls online (almost all photographed in California) that resemble the Trench Pool bird (to a degree) ~ but those same online searches of the Californian larids will throw up any number of birds that don't really look anything like Shropshire's contender ~ indeed they point you away from Thayer's as an option.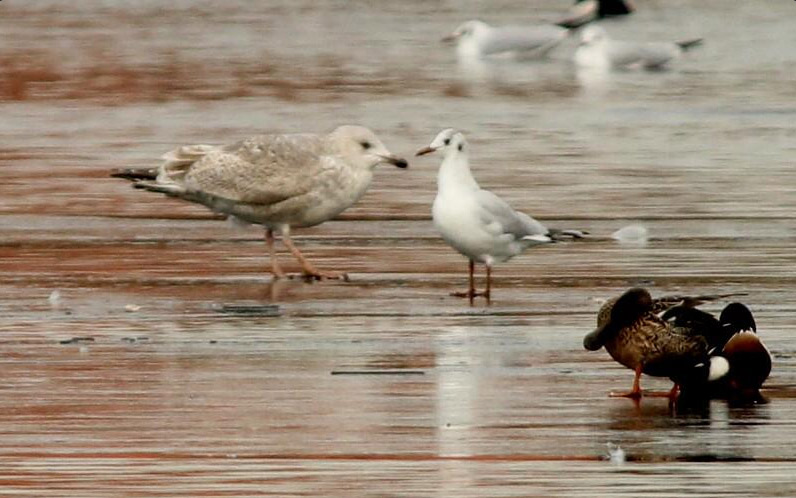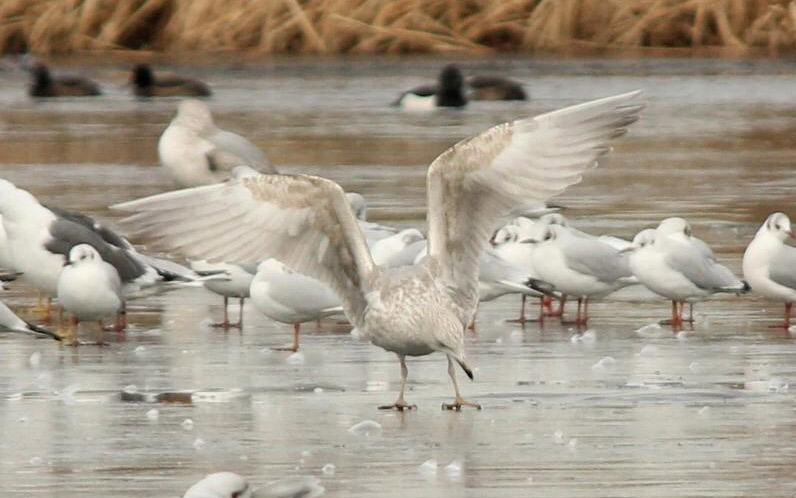 As with so many other larger gull species, variation is wide and varied and there'll need to be more investigation to see just where the overall thoughts lie with this bird…some shots do it favours, others, less so. Fingers crossed that it pops up again (it was looked for and not seen later in the day on 3rd) ~ could we have two English Thayer's at large right now?
Whether this is a thayeri or not, it was a sharp find in the first place, just like the Yorkshire real-deal of New Year, and also a decent shout from the tweeting gullerati to alert folk too.
Shetland's second White-billed Diver within just over week was noted again in Bluemull Sound, Yell on 29th (one was seen here during the second week of the New Year too).
The days of birders actually twitching Shetland and chancing their arm at seeing one of the these buttery, banana-ery beaked beauties from the ferry to Fetlar maybe long gone, but there's still a mini-frisson of excitement round these parts as a winter WBD on Shetland pops on to the pager. The memories of a stunning two-tick day back in late January 1987 (the Sullom Harlequin and said Fetlar White-billed Diver) still produce a warm glow inside the heart…
With the winds trying their hardest to be really Arctic-like and working their way down from the pack-ice, the news that a few Little Auks got caught up amongst it all was no real surprise.
Numbers (by the end of 31st) weren't significant though ~ three passed Kirkcaldy (Fife) on 28th and were followed by singles off both Filey (North Yorkshire) and Montrose (Angus) on 29th. The 31st saw at least 20 birds make it past St. Mary's Island (Northumberland), with two more in the same county, off Tynemouth. Half a dozen Little Auks flew by Whitburn (Co. Durham), two were off Hartlepool Headland (Cleveland) while three further birds were noted off the coast at Montrose and one was seen off Arbroath (also in Angus), while in Cornwall, another was noted from St. Ives Island.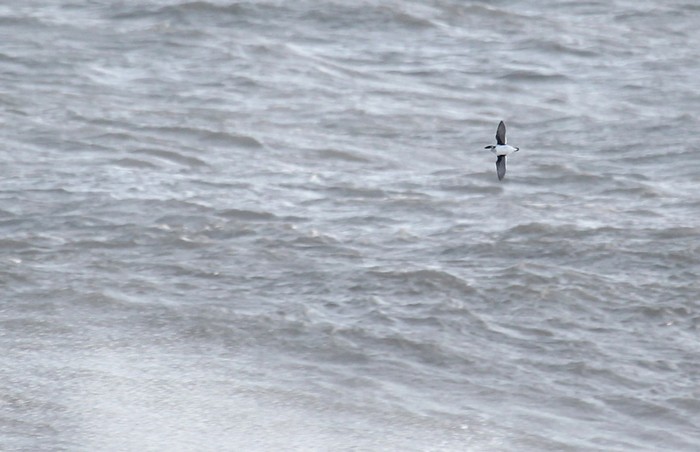 The windier weather of 1st saw the northeast of England strike some pretty high totals for the time of year ~ brisk northerlies or not ~ the first hints of something almost unseasonal happening came from Northumberland, with six early morning birds off St. Mary's Island, eight from Tynemouth and 16 noted off Newbiggin-by-the-Sea as well. By 11am, 20 Little Auks had been seen from Hartlepool Headland but Newbiggin rattled in 110 before midday.
Further decent Northumberland scores included 30 in 90 minutes from Craster and 87 in two hours off Hadston, with another 20 for Newbiggin by 1.30pm but all of these totals were usurped by the mightily impressive 365 logged from Whitburn through 'til mid-afternoon.
Elsewhere on 1st, Little Auks made it further north to Borders, Lothian and Fife, west to Rhos-on-Sea (Denbighshire) and south to Cley (Norfolk). Numbers on 2nd were back down to the very low ~ only nine recorded nationwide. With fewer still on 3rd.
Three of the sites mentioned above also featured in the Pomarine Skua side of things too ~ the 31st seeing singles pass Montrose, St. Mary's Island and Filey. A further couple of birds on the final day of January was noted off Spurn (East Yorkshire) and also Whitburn, with five from Gibraltar Point NNR (Lincolnshire) while one or two were noted from Dungeness (Kent) on 29th and singles were logged at four separate sites (all reasonably close together) from 28th-31st.
February 1st saw some 20 Poms recorded ~ nine of them in Kent, including four from Swalecliffe. At least four were seen in Norfolk and three were off the coast of Suffolk, with others noted in East and North Yorkshire and Cleveland too.
In Ireland, the wintering juvenile Night Heron remained at the Slob, Youghal (Co. Cork) through to 3rd and showing well from time to time by all accounts.
The two Cattle Egrets at Dungeness were present throughout the week to 3rd, straying towards Scotney as the week drew to close.
Great White Egrets managed at least seven at Dungeness on the evening of 2nd, part of a regional tally of around nine ~ others in Kent seen at Walland Marsh on 31st and still near Ashford on 29th while "ones" remained at Blashford Lakes HWT (Hampshire) to 31st and Roxton GPs (Bedfordshire) to 1st.
A further trio lingered in the Midlands, at Summer Leys, Earls Barton (Northamptonshire) through to 31st with another again at Ditchford on 30th, while one remained at Rutland Water (Leicestershire) in to the new month. The northwest of England was still doing ok for Great White Egrets ~ up to four noted at three sites in Cheshire (two for Burton Marsh on 28th, with singles at Hale and Parkgate to the month end, with one again on the Wirral, at Neston.
East Anglia continued to host three different birds ~ one each for Ouse Fen RSPB (Cambridgeshire), Sparham Pools and also Pentney GPs (Norfolk) and also Lakenheath Fen RSPB reserve (Suffolk/Norfolk border). The "top end" of southwest England saw at least two singles in Somerset (one on the Levels, at Ham Street RSPB on 30th and one remaining at Chew Valley Lake to 31st), while in Wales, one was still at the National Wetlands Centre WWT (Carmarthenshire) to 30th at least.
In Ireland, the wintering Glossy Ibis was seen at Pickardstown and Lisselan, Tramore Backstrand (Co. Waterford) to 30th, while the 2nd yielded two birds in England ~ again over Fen Drayton Lakes RSPB (Cambridgeshire) and Wat Tyler CP (Essex), the latter site hosting a bird on several dates in November last year.
There was a pretty slow start to all things Spoonbill this week ~ by close of play on 31st there'd been no "numbers" from Poole Harbour to pop in to the listings, so here's what was on offer through the first part of the week…
Two birds were noted again at Farlington Marshes (Hampshire) on 28th with two more on Rat Island, Jupiter Point (Cornwall) on the same date ~ rising by one on 29th. Six Spooners were off Shipstal Point, on the Arne RSPB reserve on the same date (with two nearby in Hole's Bay and three at Brand's Bay on 31st) while a further half dozen were reported from Medmerry RSPB (West Sussex), also on 29th.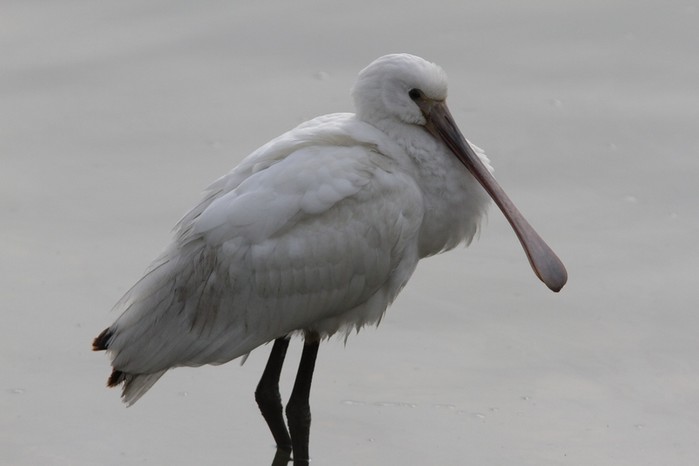 Thankfully, the first of Feb gave us a nice, big fat tally of Spoonbills to talk about ~ 34 seen at Arne, while Irish singles were still at Cromane (Co. Kerry) and new on Strangford Lough (Co. Down).
After a week or two of rather puny totals from some Grus hotspots , we were back to full strength this week with an impressive 34 Common Cranes in flight at Horsey (Norfolk) on 31st,just topping the 32 seen near Waxham on 29th (28 of which were adults).
Elsewhere, six remained on the Nene Washes (Cambridgeshire) to 31st and two birds were seen at Pollardstown Fen NNR, near Nass (Co. Kildare) on 2nd while in Dorset, a presumed returning bird was at Cheselbourne from 1st ~ a couple of first-winters were seen in the area from December 2013 to March 2014.
For a while this week, there was a certain degree of excitement when news came out of Dumfries & Galloway of a Ridgway's Cackling Goose (of the delicate and delightful form minima) seen near Stranrarer, at Castle Kennedy on 28th. As the week progressed, it was quickly ascertained that the bird was in the company of a rather mixed bag of compadres ~ some 600 Pink-footed Geese, a bunch of Greylags and numerous Canada Geese ~ with the last named being the one mentioned most frequently as a host species through to 3rd.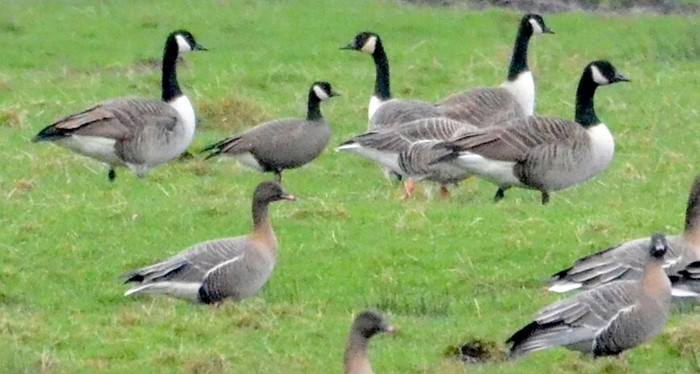 Any potential travellers to admire this gorgeous species-in-waiting would have probably preferred this individual to be with Barnacle Geese as was the case with the popular bird at Caerlaverock in the winter of 2008/'09 (a bird that was, incredibly, photographed in Norway a few days before arriving in Scotland).
That bird and others recorded amongst the wild geese of Islay (just two or three records of minima have been noted to the turn of the Millennium) will probably remain in limbo for many years to come ~ indeed it is a form that is generally thought to be rather an unlikely vagrant to the Western Palearctic (but so have other incredible birds of late…) and is very common in captivity ~ but somehow, the occasional vagrant contender still manages to find a route to our shores within flocks of wild birds.
Vagrant white-cheeked geese shouldn't be damned just because they tag along with feral, mobile populations of Canada Geese in this country ~ some genuine wild birds from the Americas may well tag on to semi-residents here but few actually consider that to be the case. The consensus seems to be that that is exactly where the current D&G bird has landed itself. Record "NP" I suspect.
Few though would put up a fight where the wild origins of the Richardson's Cackling Goose present at Lissadell (Co. Sligo) were concerned ~ seen again on 30th (though of course, there's still not an accepted record for Britain yet, a whole heap of them stacked up with the assorted records committees like planes over Heathrow).
After a week or two with no news, the parvipes Lesser Canada Goose was noted again in Wexford, at the North Slob NNR on 28th-1st.
While we're in rare Branta-mode, it is worth reporting a little bit of late news from Orkney for last week where a Red-breasted Goose was seen on Stronsay on 25th ~ one spent a couple of weeks on the Orkney mainland in November last year, so it is tempting to link the sightings as perhaps being of one-in-the-same individual.
By the time January drew to a close, there were just three reports of Black Brant ~ singles seen in Suffolk, at Trimley St. Martin on 28th and Shotley Marshes on 3rd, Exminster Marshes RSPB (Devon) on 29th and then Darts Farm on 2nd, as well as Apuldram, near Chichester (West Sussex) on 30th. The second day of February also saw two Brants noted at Chelmondiston (Suffolk).
The final day of the review saw news from East Yorkshire that both the adult and presumed juvenile Black Brant were still at Kilnsea ~ the juvenile remains one to discuss in terms of precise parentage, but its still a neat bird, pure or otherwise.
Our final goose news of the week comes from Northumberland, where the Ross's Goose stayed with the Pinkfeet near West Chevington through to 29th at least.
Last week's tidy find, the a first-winter drake King Eider on the south coast of Cornwall, at Maenporth continued to perform for visitors through to 31st and was one of three birds noted through the week. New on 28th was a drake off St. Combs (Aberdeenshire) ~ a drake was noted infrequently on several dates there in January and February 2013 ~ while a "queen" was seen in Bluemull Sound, Yell (Shetland) on 29th.
Three separate Surf Scoters were noted in Ireland this week ~ the first-winter drake was still around Rosslare Harbour (Co. Wexford) to 30th and the female was still in County Louth, at Clogher Head to 31st. A new drake was seen at Lahinch (Co. Clare) on 30th-2nd. Scottish Surfies were review regulars ~ the duck again off Ruddon's Point, Lower Largo Bay (Fife) to 30th and the drake at Eastfield, near Edinburgh (Lothian) on the same day, before appearing again off Musselburgh on 1st. England's only bird was the super young drake captured so beautifully in flight last week by Sean Nixon ~ still on the Stour Estuary, on the border of Essex and Suffolk to 3rd.
There wasn't much new to report where our wintering Lesser Scaups were concerned...adult drakes remaining at Llangorse lake (Powys), Cardiff Bay (Glamorgan) and on Dozmary Pool (Cornwall) to the end of the month and on in to February, with the first-winter drake in Ayrshire, at Martnaham Loch, present to 2nd. Ireland continued to offer up to birds, both on County Kerry's Lough Gill where a drake and a duck were reported again on 2nd.
The new review period began with both Berkshire and Buckinghamshire still being is possession of separate Ring-necked Ducks ~ the male in the former (at Bray), the female in the latter (at Calvert Lakes). The female on Loch Sandary, North Uist (Outer Hebrides) was recorded again on 29th-2nd and two lingered on Carlingwark Loch (Dumfries & Galloway) to 31st. In Ireland, lone drakes remained on Knockaderry Reservoir (Co. Waterford) to 30th and Roo Lough (Co. Clare/Galway border) to 2nd.
Double Fudge was back on the birding menu this week ~ with both the recent Ferruginous Ducks noted as January drew to a close and February came a'callin' ~ the female again at Slimbridge WWT (Gloucestershire) and the drake back at Blashford Lakes HWT (Hampshire).
Six of the eleven Green-winged Teals recorded this week were to be found in Scotland ~ much like many other recent seven-day spells. Orkney hosted lingering singles on North Ronaldsay to 30th and Loch of Tankerness, Mainland to 31st, with a further islanders still present on Loch Sandary, North Uist to 2nd at least and Shetland's Muckle Roe to 31st. On the Scottish mainland, singles remained at Lossiemouth (Moray) and Caerlaverock WWT (Dumfries & Galloway) into February.
The remaining five Teals were to be found at Saltholme Pools RSPB (Cleveland) to 28th, in Gloucestershire, at Aust Warth to 31st and in the north of Ireland, again at Ballycarry Bridge (Co. Antrim) and new at Anne's Point, Strangford Lough (Co. Down) both on 1st. The final drake of the week was noted again on Cross Lough, the Mullet (Co. Mayo) on 2nd.
Cornwall remained host to three American Wigeons this week, the two females back on the north coast, on the Gannel Estuary to 1st, with the male still at Kingsmill Lake, near Saltash to 29th.
Aberdeenshire drake American Wigeon relocated to the Ythan Estuary from 29th while new was another drake, this one found at Cahore Marsh (Co. Wexford) on 30th. Ireland's second of the week was still lurking at Harper's Island (Co. Cork) to 31st and the third, another drake, was again at Malin Town (Co. Donegal) on 3rd.
Pick of the bunch was the new adult male found at Nosterfield LNR (North Yorkshire) from 31st-3rd, the first in the county since October 2010.
The rarest quackers of the week wrap things up here ~ Orkney's drake Blue-winged Teal stuck it out on the Mainland, at The Shunan to 1st while way down south on Scilly, the drake Black Duck was on the Abbey Pool (Tresco) to 2nd ~ the lady Mallards in the area may need to be on their guard should the Stateside gent get the metaphorical nylon stockings out by way of impressing the gals at the local hop…
<!—Section Title -->
There was just one species of shorebird to report (bar the headline act) ~ so hello again to the first-winter Lesser Yellowlegs that was still at the Winchelsea Beach end of the Pett Level reserve in East Sussex to 31st. One of Ireland's recent twosome were noted this week ~ still in County Clare, at Poulnasherry Bay on 1st.
We'll top & tail the larid news with a couple of entertaining new arrivals ~ the first of which was located on the final day of the review period, February 3rd. The bird in question was a showy first-winter Laughing Gull which was found on the lake at New Brighton, on the Wirral ~ becoming the first record for Cheshire since a bird-of-the-year was seen at West Kirby in October 2001.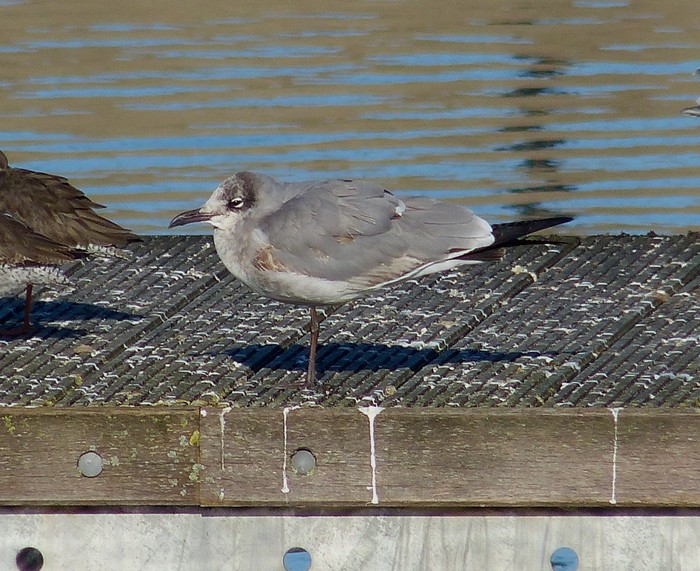 The first accepted record for the county (which is generally acknowledged to encompass the Wirral) was a first-summer seen at Hilbre Island in May 1978 (the local rare birds book lists a record from 1977, but that bird no longer appears on the BBRC files). The second followed in November 1985 (seen on two dates across ten days), with an another one-day bird at Houghton Green on January 12th 1997 before the West Kirkby individual mentioned above.
This week's new bird at New Brighton was a popular and well twitched bird ~ offering all of those with a Cheshire county list their chance to finally avail themselves of this pleasing Nearctic visitor.
The second record of the species this week was rather more predictable ~ over in Ireland, on 31st, came a further sighting of the second-winter Laughing Gull in Cork, which was showing well around Ballycotton harbour.
Another of our seagull regulars now ~ the adult Bonaparte's Gull was seen offshore at the "top end" of Dawlish Warren NNR (Devon) on 31st, 1st and 3rd, while in Glamorgan, near the heliport in Cardiff, the returning adult Bony's was back again on 2nd ~ this one has returned every year since March 2009, first appearing around the area as a second-winter.
Whether that in-and-out on 2nd was a brief day trip to an old haunt as it passed through on an early spring passage is an interesting question to raise given the brief appearance on 3rd of an Bonaparte's Gull in Cartmarthenshire, at the National Wetlands Centre, some 50 miles to the west nor'west. The bird departed to the north, so it could be one in the same ~ that said, we've had a new Laugher on the west side on the same day, so y'know, who knows...
Same one, new one ~ either way it becomes a county first and a great find to boot. (The record of an adult at Burry Port in July 2011 never made the record books).
Back to Ireland quick smart where there was a slight drop in Ring-billed Gull records across the last seven days. After 20 birds last week, there were just a dozen to mention this time around ~ with three of them (an adult, a second- and first-winter) were on Cork City Lough on 30th. Two adults were togther on the beach at Cruisetown Strand (Co. Louth) on 31st, while single adults elsewhere were noted at Carrickfergus (Co. Antrim) and still at Drimnagh (Co. Dublin) on 29th and also in Wexford harbour (Co. Wexford) on 29th-31st.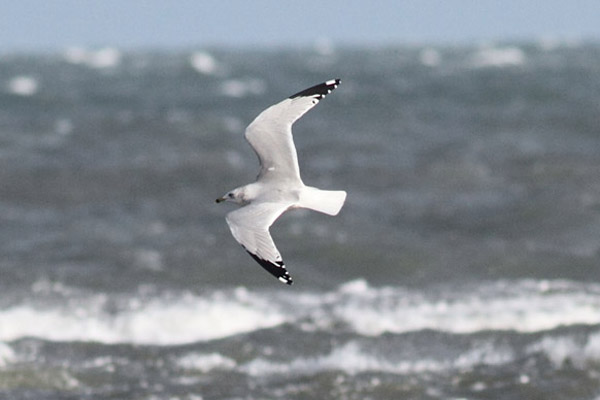 The second-winter bird was at Lough Leane, Ross Castle (Co. Kerry) on 1st and a further adults were seen the same day at Claddach (Co. Galway) and still at Tramore boating lake (Co. Waterford). The final Irish birds of the week were the first-winter that remained at Ennis (Co. Clare) to 2nd and on 3rd, an adult again at Carrahane Strand and two birds (an adult and a first-winter) still at Tralee Wetlands (all in Kerry).
Ring-bills on this side of the Irish Sea were typically thin on the ground. Three different birds remained around Scotland ~ the first-winter on North Uist was seen again at Tigharry, oppisite Loch Eaval on 30th, while regular adults were in Dingwall (Highland) and Strathclyde Loch (Clyde) to 2nd at least. One (no mention of age) was reported from Cheshire, at Pickerings Pasture on 28th while Hampshire's double at Blashford Lakes HWT and Gosport were noted to 2nd.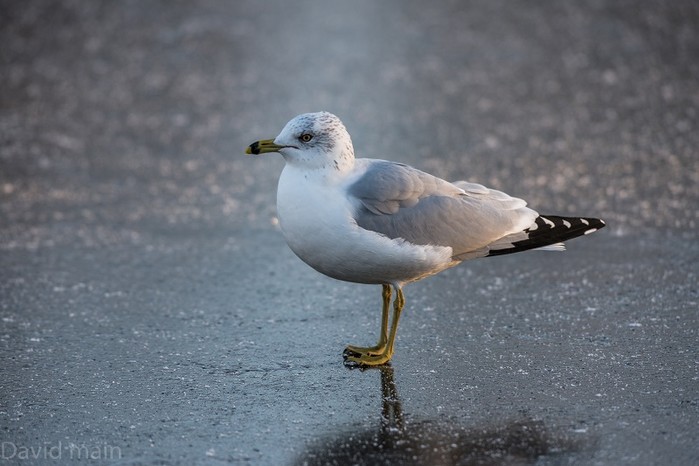 The past couple of weeks have seen the number of Glaucous Gulls recorded across Britain and Ireland saunter gently towards three figures and after a score of around 95 last week, the cold northerly airflow ensured that the century mark has been exceeed with some style in the past seven days.
A minimum 125 birds have been recorded in 30 counties this week, with just over half of them coming from just six Scottish counties, with at least 18 around the Outer Hebrides (including six at Rubh' Ardal on 29th) and a bare minimum 16 in Argyll & Bute, 11 of which were counted around Tiree on 30th (ten of them juveniles). Seven or eight were logged on Shetland, with the same number for Orkney, while Moray recorded six and Highland five.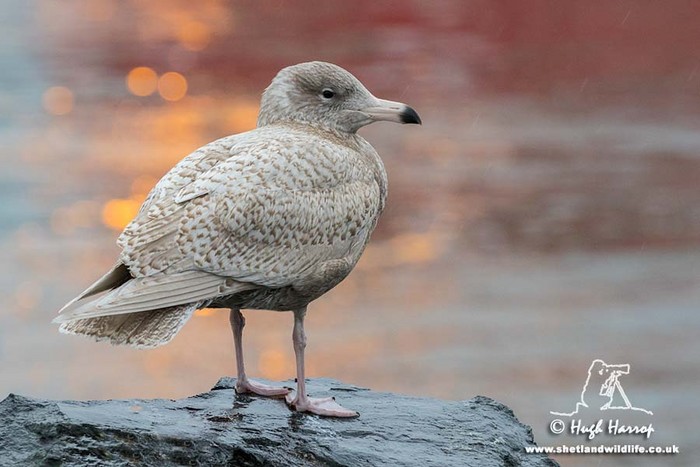 At least eight Glaucks were noted in northeast England, with three in the northwest, while the Midlands managed five or more. Up to seven were in East Anglia (including two off Cley on 1st), while southeast England managed four and the southwest at least five, including four still at Coverack, on the Lizard, to 1st.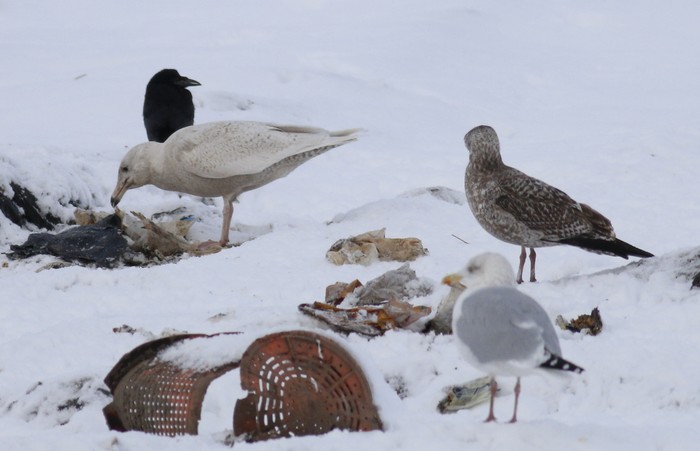 Just one Glaucous Gull was recorded in Wales this week, in Ceredigion, while Ireland accounted for around 26 or 27 of the grand total this week ~ seven birds (five youngsters) were on the Mullet on 28th while Kerry held up to nine (including three still at Cromane on 31st).
Also making a significant leap from last week's standings is Iceland Gull ~ from 50 birds then to around 90+ now, spread across 34 British and Irish counties. As with the Glaucous over half of the Icelands seen this week were noted in Scotland ~ ten or so were logged around Shetland, seven were seen on the Hebrides, Moray had half a dozen with Aberdeenshire and Highland attracting at least four each as well.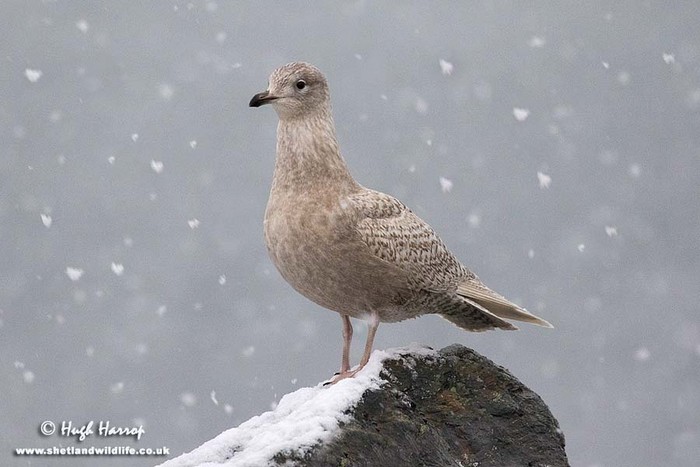 There was a decent spread across the northeast of England, at least 14 there, including threes for West and East Yorkshire as well as Northumberland, while the rest of the British regions managed low single figures only, four or five for the far southwest for instance, with the southeast and northwest scoring similarly (including three at Cheshire's Richmond Bank on 31st). Two birds were reported from Sheringham (Norfolk) on 3rd, one a well-documented second-winter.
A dozen or so Iceland Gulls were reported in Ireland, including three a piece for Mayo and Antrim, while Clare and Down picked up a couple.
In West Sussex, the showy second-winter Kumlien's Gull was a regular fixture at Littlehampton throughout the week and was one of five recordss of the form over the last seven days.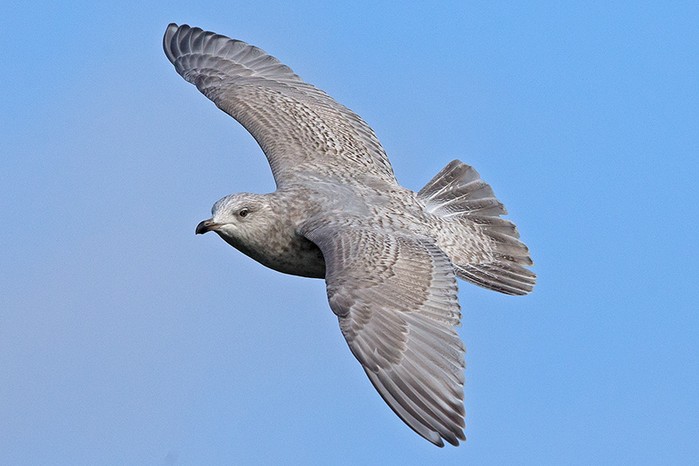 Two juveniles were new on South Uist (Outer Hebrides) on 31st ~ both in the West Gerinish area, one of them feeding on a dead Orca. Another bird of the year was logged again at Loch Caolisport (Argyll & Bute) to 30th and on Shetland, the second-winter Kumlien's Gull was still being seen in and around Lerwick to 31st. The week's only adult was found at Richmond Bank (Cheshire) on 3rd.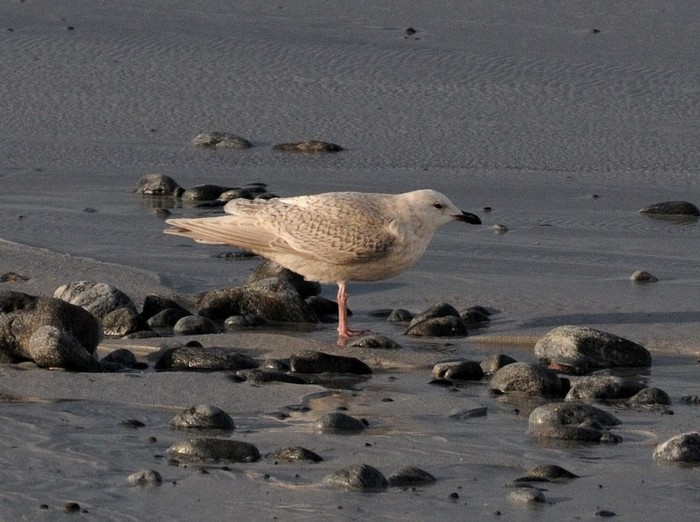 Back on to the Hebrides and to North Uist where another potential rather rare gull appeared between Rubh' Arnal and Kyles Paible on 29th (and again on 2nd) ~ an extremely dark first-winter bird that resembled an American Herring Gull.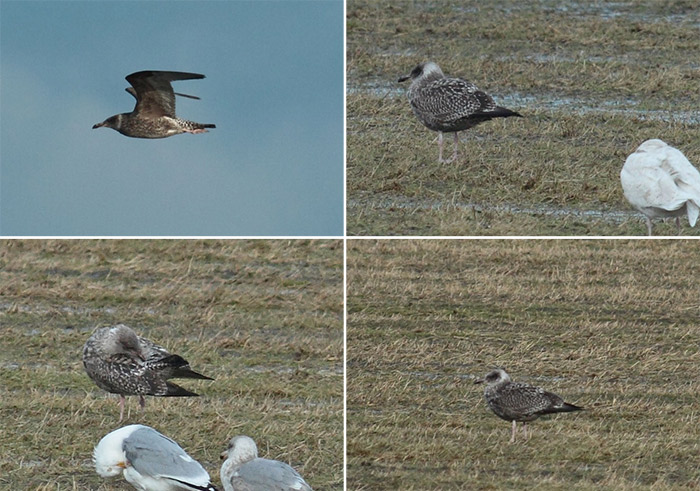 It seemed to be quite some bird from photos ~ almost as dark as a Lesser-black Backed Gull, but seemingly having the requisite (rather striking) semi-"fruit-bat" vibe in all the flight shots. An extraordinary looking thing and really rather gripping (if you like that sort of thing).
(Also, the possible first-winter American Herring Gull remained in Argyll & Bute, at Loch Caolisport to 30th).
Finally, for this section comes the adult Forster's Tern which popped up at The Claddagh, close to Nimmo's Pier (Co. Galway) on 1st before being seen the following day way, way down across Galway Bay, at Kinvarra, a mini-trek of at least 12 miles or so in a straight-ish line. But given that only a fortnight ago, the bird was seen along the coast from Kinvarra, at Corranroo in County Clare, we know that this old timer likes the right to roam.
East Anglia and the North East of England were pretty much even-steven on the Rough-legged Buzzard front this week ~ a minimum four for the former region and at least four in the latter.
In South Yorkshire, one remained around the Midhope Reservoir to 3rd and a second was seen on the border with West Yorkshire, at Winscar Reservoir on 31st. The showy youngster that has delighted many observers through the winter was still at Grindale, near Bridlington (East Yorkshire) to 31st and one was noted again at Harthope Burn (Northumberland) on 30th.
Three Rough-legs were in Norfolk ~ two juveniles were still in the area of Burnham Overy for much of the week, as was the bird at Halvergate Marshes which popped across to nearby Beighton Marshes on 31st while Cambridgehsire hosted a Rough-legged Buzzard on Holme Fen NNR throough to February as well.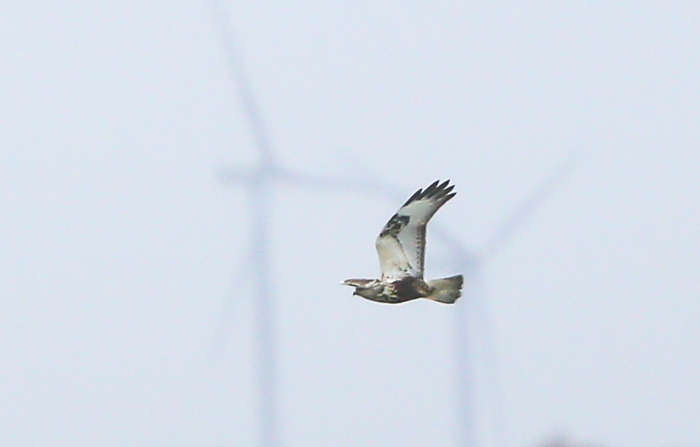 The only others reported this week were in southeast England ~ juveniles remaining at Jevington (East Sussex) to 2nd and Wallasea Island (Essex) to 3rd, with another reported in Surrey, near Cranleigh on 30th. Scotland's juvenile lingered in Dumfires & Galloway, at the Mennock Pass, throughout the week.
A super unseasonal (though not unprecedented) winter find in Essex this week takes the lead for our oft-short section on all things Passerine…two Serins discovered in Gunners Park, Shoeburyness on 29th, where they remained to 3rd.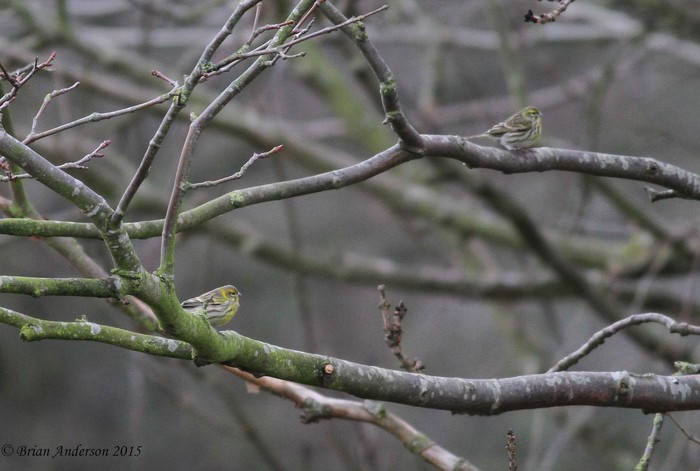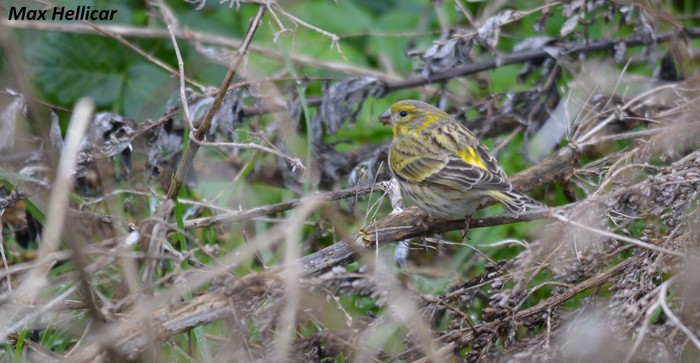 The RBA archive is littered with possibles, probables and reported Serins in Essex for many years past, and it is hard to work out exactly when the last one/s actually were…we may be back in 2011 for the most recent record.
In south Devon, the trio of Penduline Tits were still on site at Darts Farm RSPB reserve to the early morning of 31st at least while elsewhere in the southwest just two Yellow-browed Warblers were seen, both in Cornwall ~ still present at College Reservoir, near Falmouth to 30th and at St. Levan on 2nd-3rd.
Four wintering Richard's Pipit continued to be seen around various widely spaced parts of Britain ~ last week's new bird in Kent, found at the Swale NNR on the Isle of Sheppey was present to 2nd while the birds at Cloughton Wyke (North Yorkshire) and near Redcliff Point (Dorset) were noted to 29th and 2nd respectively. After a few days absence (a dozen in fact) the Richard's Pipit reappeared at Breydon Water (Norfolk) on 31st-3rd and a new bird, the fifth for the week was seen at Coverack (Cornwall) on 3rd.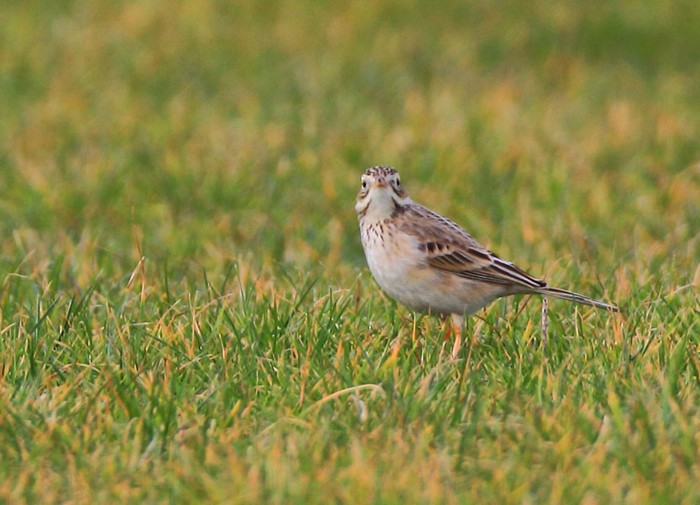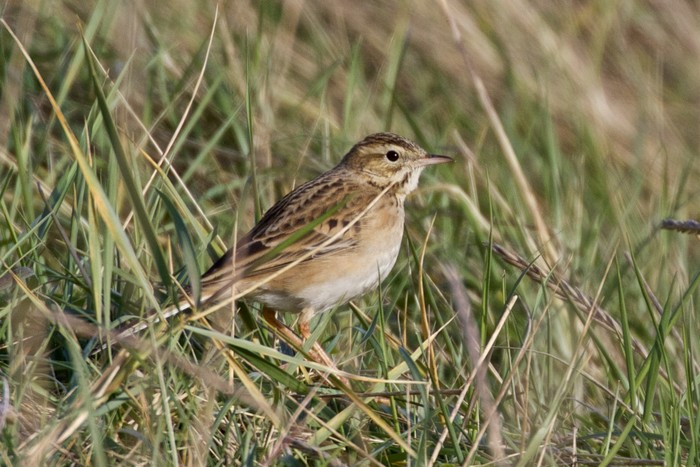 The first-winter Rose-coloured Starling in Northumberland was seen off-and-on to 3rd at Prudhoe while Waxwings appeared in slightly higher numbers than of late ~ a dozen were seen in South Shields (Co. Durham) on 28th, with the same date seeing at least 21 head over Heaton (Northumberland). In Aberdeen, last week's 11 remained around the city to 31st and 21 were seen there on 2nd, while elsewhere in the northeast of Scotland, 20 were noted at Cults, on 31st.
Elsewhere, eight Waxwings were seen in Elgin (Moray) on 31st and six were rather showy in Ipswich (Suffolk) on the final day of January, with eight there on 1st. Another Suffolk octet were then found at Kesgrave on 2nd (when none were reported in Ipswich). The 2nd also saw a flock of a dozen noted in East Yorkshire, at Burton Fleming.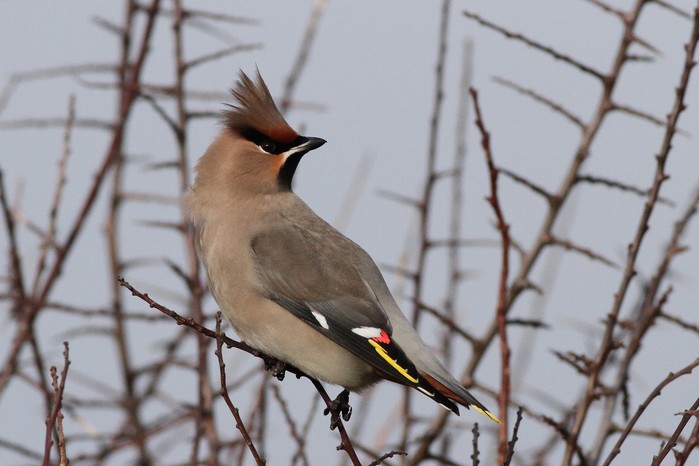 Ones and two filtered further south, including two at Brightlingsea (Essex), another at Lymington (Hampshire) on 28th with one also reported in Dorset, at Corfe Castle, on 2nd (tho' it was gone by 3rd). Also of note, one was (heard only) at Dun Laoghaire (Co. Dublin) on 1st and a photographed bird in the Irish borderlands, at Emyvale in County Monaghan ~ not a county that sees much of an outing in these parts.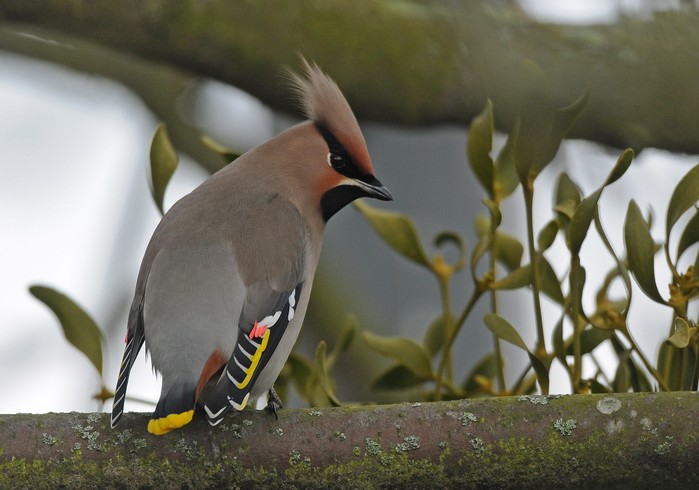 Four Great Grey Shrikes were noted across the northeast this week ~ two were in Lincolnshire, at Stainby on 30th and still at Wold Newton to 3rd and singles were still at West Hartford Farm (Northumberland) to 1st at least and on the moors at Midhope Reservoir (South Yorkshire) to 31st and 3rd. Also in South Yorkshire, another Great Grey Shrike was noted again at Thorne Moors NNR on 1st.
Across in the northwest, the wintering bird at Lytham Moss (Lancashire) was ever-present while in the Midlands, two birds were in Derbyshire, at Church Wilne and Farley Moor to the weekend and also one remained in Northamptonshire, at Deenethorpe to 31st.
On the extreme edge of the Midlands, at the southern end of the region, at least three Great Grey Shrikes were logged around Gloucestershire ~ in the Forest of Dean, at Woorgreens Lake NR on 29th and Crabtree Hill to 31st and at Great Barrington to the same date.
There was no change in East Anglia, birds lingering on Norfolk's Roydon Common NNR and on the Suffolk border at Santon Downham for much of the week, while in the southwest, two birds began the week in Dorset, on Morden Bog NR and Godlingston Heath NNR on 28th.
Further through the south coast counties, at Bransbury Common (Hampshire) and Iping Common (West Sussex) the wintering Great Grey Shrikes made it to February, while one on Surrey's Frensham Common was new on the first of the month. Down in the southwest of England, a single bird remained on Dartmoor, seen at Bellever Tor on 2nd.
Up until the end of the month, there was just one Welsh bird to report, still at Twmbarlwm (Glamorgan/Gwent border) to 30th.
That's that then. The first month of 2015 is done and dusted and we move headlong in to February with hopes and expectations of some class acts to come.
The history books show a crazy mix of some ultra high-class rarities and a few crazies too ~ the controversial male Rock Thrush at Minster, in Kent, that was found February 5th 1983 was the cause of untold debate at the time as to precisely where it came from and why it looked so scruffy (…if you were spent a couple of months on a seawall in north Kent you'd look pretty ropey too).
A Red-rumped Swallow spent six days on the Lizard, at Coverack from February 8th 2004 while another random find, the Cornish first-winter Least Sandpiper that was mentioned elsewhere in last week's review was many birder's chance to enjoy the species in fine fettle when it was discovered on the beach at Portscatho on a bleak, damp, dank and windy Sunday February 9th 1986 (most people had only seen the stricken, grim hobbler at Dungeness prior to that).
That's three crazies ~ what about the megas? Well, the presumed returning drake Redhead ~ remember them? ~ appeared at Rutland Water on February 4th 1997 (the last of just two British records, an unseasonal drake in Cork in July 2003 is the only other one to date), while a female Belted Kingfisher was found in County Tipperary on February 6th 1985 (it had been seen in Clare, at Ballyvaughan the previous autumn.
The first American Coot for the Western Palearctic was found at Ballycotton Lake on February 1981 (they seem so passé now) but it is February 10th that has provided some real action…
Three years ago came the surprise finding of a sizzling male Common Yellowthroat at Rhiwderin in south Wales ~ drawing 100's of visitors to the sight (for what is still our most recent example of the species. However, that couldn't top the extraordinary find made on the same date in 2002 ~ when Britain's second Allen's Gallinule was picked up, in a moribund state, at Weston, on the Isle of Portland.
That incredible bird, despite its sorry, utterly knackered condition, was the first here in 100 years. Let's hope the next one comes along a) hail and hearty and b) sometime before the end of the 2010's.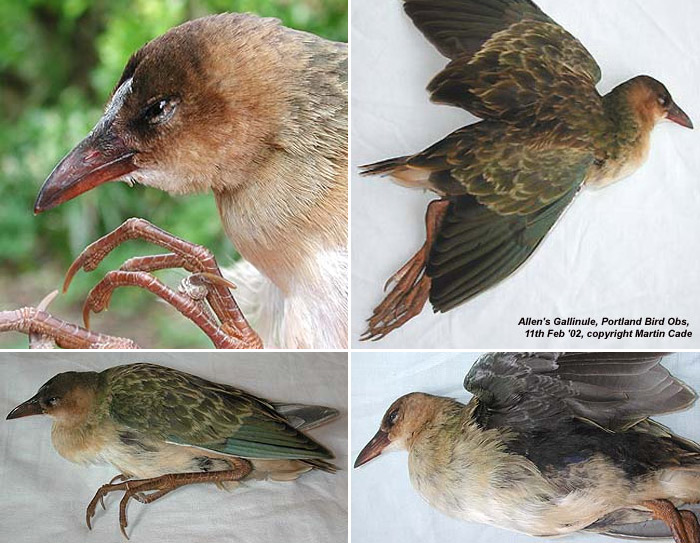 There's optimistic for you…
(…and to draw things to an absolute close on Punxatawney Phil for another 12 months, he popped out on Gobbler's Knob this week, saw his shadow and has duly predicted six more weeks of winter. What a perceptive chap…I'll take him over invented "weather events" any day).
Mark Golley
05 Feb 2015


Thanks this week to Adam Hutt, Garry Taylor and the Spurn Bird Observatory for supplying the Brant images. Thanks too to Martin Cade & the Portland Bird Observatory for the archive shots of the Allen's Gallinule. Thanks also the rest of this week's contributors for their photos, videos and sound files.
Tim Marshall, Sean Geraty, Graham Catley, Kris Webb, Jonathan Farooqi, Martin Casemore, Nick Mudge, Brian Henderson, Steve Duffield, Allan Conlin, Paul Kelly, David Main, Hugh Harrop, Toby Green, Chris Upson, John Kemp, Sean Nixon, Brian Anderson, Max Hellicar, Michael Trew, Terry Laws, Rob Stonehouse, Jon Evans.
Contributors websites Check out our contributors website for more great photos and other news