Weekly round-up: 21 - 27 Jan 2015
At a glance
The first-winter drake Harlequin stays put in Northeast Scotland
Northumberland's second Black Scoter firms up and remains to the weekend, as does Ireland's first, still in Kerry
Two scoops of American Coots still on offer in Ireland and on the Hebs
An old favourite - the Cornish Pacific Diver continues to show
While the juvenile Ivory Gull seems to have taken its leave of the Highlands
R.I.P - freshly dead Little Bustard discovered in east Norfolk
After the chill winds and sometimes snowy weather began to drift away across in to Europe, a little light mid-Atlantic mild air descended across much of the country as the frosts of recent days were replaced by a rather more damp and moist feel to the air, temperatures suddenly darting towards double figures in the west and south with a bit of rain and drizzle to boot.
The shock and awe of last week's sensational offering from Donegal has receded to idle chit-chat quicker than Chelsea can capitulate in the FA Cup and there was a certain familiarity to the proceedings.
So, as we edge ever-closer towards the day when Punxsutawney Phil pops out of his temporary home on Gobbler's Knob (really, you couldn't make it up…) to let his nation know what the deal is with the rest of the winter - its February 2nd this year folks - there's good reason why here in Review Round-Up corner at the very time when Groundhog Day looms large, there's a certain Bill Murray/Phil Connors feeling to all of the bird news that's about to follow.
So, as has become customary, the RBA Weekly Review makes a nod to the cutest Woodchuck you could imagine and, avoiding the Groundhogese, its down to business and there's a distinct feeling that you may have seen all of what follows before…

Harlequin
Pop chart aficionados will be all-too well aware that there are some truly classic songs that never-ever made it to the #1 slot, playing second fiddle at #2 before fading away and dropping down the listings - from the Kinks deliciously woozy "Waterloo Sunset" and the New Romantic pomp of Ultravox's "Vienna" through to ballsy, hedonistic swirl and majesty of The Rolling Stones "Brown Sugar" and the raging two-fingered salute to the Establishment that remains one of Sex Pistols finest moments - "God Save the Queen".
In some ways it felt as though this week's Number 1 avian chart contender was going to be the Ray Davies or John Lydon of January 2015, such was his push for the top spot thwarted by rarer birds…this week, that's changed as the gulls and bustards (live ones at any rate) of recent weeks have vanished, leaving the path clear for an ascent to the peak…
Yes, holding station in northeast Scotland for a few more days was the still-popular and often rather showy first-winter drake Harlequin - still along the River Don, on the north side of Aberdeen through to 27th, chalking up a fortnight+ stay in to the bargain.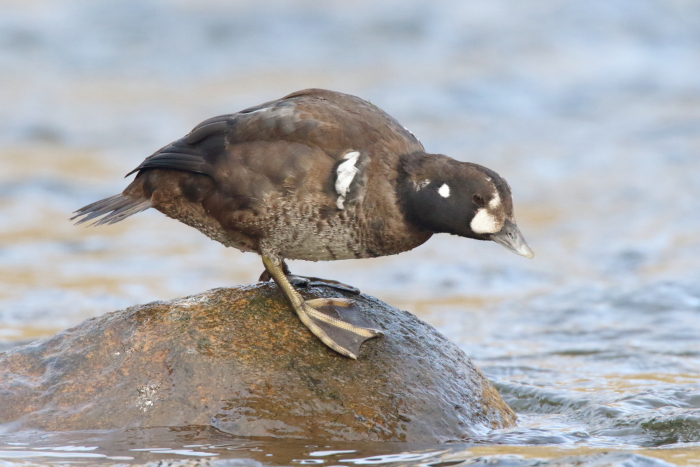 There's still some way to go though before it breaks any sorts of records - there are three Harlequins that have chalked up 100+ days in situ - the female at Wick from February 1991 stuck it out in the north of Scotland for 101 days; the Balranald first-winter drake of 2013 went three days longer (departing on June 1st) whilst the record-holder remains the female in the Outer Hebrides, on Coll, North Uist for 141 days in the first part of 2004.
Our boy in Aberdeenshire has some way to go…
Black Scoter
Only once before in our modern birding history has there been a time when not one, but two of the still ultra-rare Black Scoter has been present at the same time - October 10th 2005 in north Wales and Highland - but this week we can officially report the same scenario.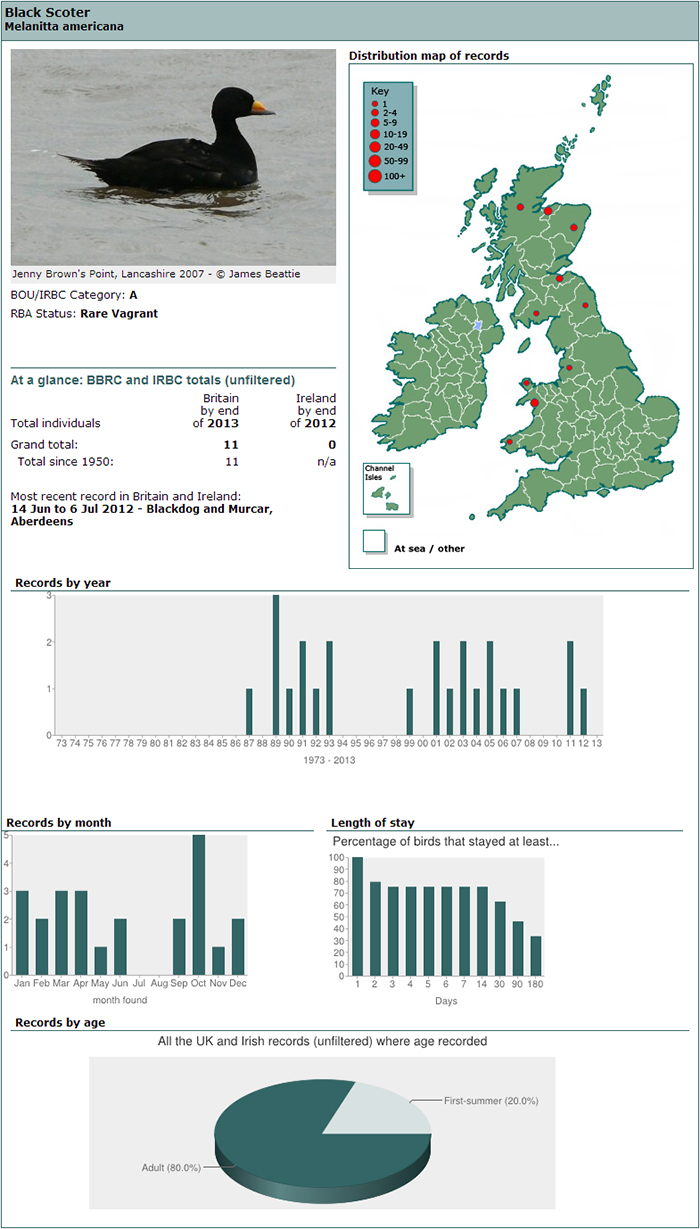 Last week came a slightly sketchy report of a drake americana away up on the northeast of England, at Cheswick Sands in Northumberland - a bird which apparently was hampered by the distance it was often been seen at - but this week has seen the bird lose the "reported" epithet to be the real deal.
The Cheswick bird was noted on 21st and again from 24th-27th and, if accepted, it will become the second county record, following on from the lingering drake in Northumberland that spent a week of the Stag Rocks in April 2011 before reappearing off Goswick for almost a month from mid-October the same year.
…and there's no reason to see why it couldn't be the same drake that was seen from the Cleveland coast, off Redcar for two or three days last summer as well - perhaps all the sightings along the North Sea coasts (from Aberdeenshire to Cleveland) in the past four or five years relate to one-in-the-same roaming vagrant? It does seem like a reasonable conclusion for once…
Over in County Kerry, the first Black Scoter for Ireland continued to perform for visitors at Coolnaharragill Upper, Rossbeigh to 27th - there's been a mighty impressive haul of rares to be had in Kerry of late, let alone the rest of the Irish west coast…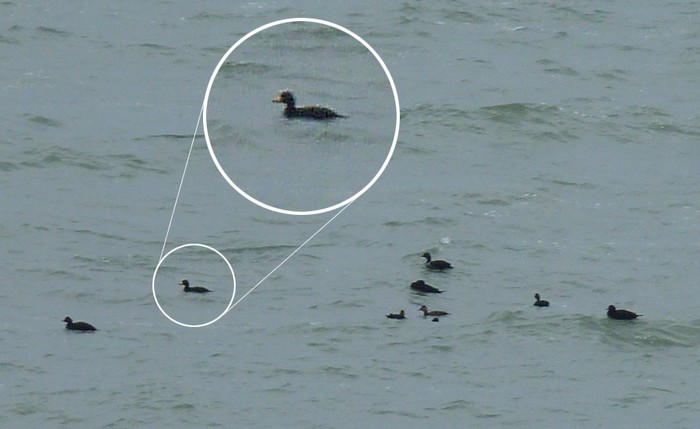 American Coot
…and one of those was part of the "as you were" double helping of American Coots - the wintering bird remaining on Lough Gill all week, while the Hebridean americana lingered on Loch nam Feithean, Balranald RSPB reserve, North Uist through to 24th.
Pacific Diver
We're still in full-on Punxsutawney Phil mode, so as we head from the far flung corner of Scotland and Ireland, we scoot down to the ever-lovely confines of west Cornwall, where, at the Longrock end of Mount's Bay, the adult Pacific Diver was still loosely consorting with a few Black-throated Divers through to 27th.
For the moment at least, this super-rare returnee appears to be showing no hint of heading away to we-know-not-where.
Ivory Gull
Last but not least time - for anyone taking in the Harlequin in Aberdeenshire, a few days in the far north would have begged for a trip west towards Ullapool to take in the brilliant first-winter Ivory Gull in Highland that seemed to be enjoying life on the fish farm cages at Ardmair to 21st.
These marvellous High Arctic wanderer with a circumpolar distribution remain a crowd-favourite whenever and wherever they turn up - as the recent run of records in Scotland has shown but English birds remain rare. The exceptional invasion of late November and December 2013 when nine bird headed our way saw three make it to England - two together at Seahouses and singles in Durham and East Yorkshire were almost unparalleled - but others "below the line" prior to that have been very thin on the ground…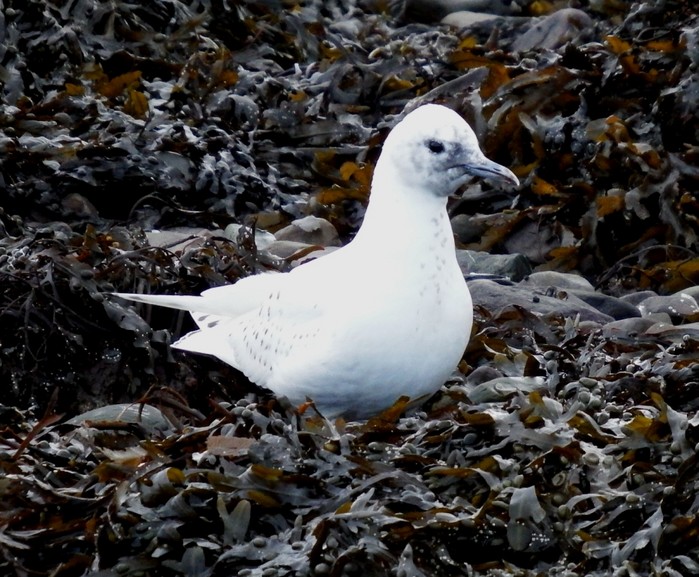 The Lancastrian adult, at Fairhaven in 2002 and the Suffolk showstopper at Aldeburgh in late 1999 are perhaps the only ones that spring to mind in relatively recent years aside from those in the Class of 2013 - we shouldn't forget a couple of Welsh twitchable offerings either in the same time frame - and a few east coast county watchers are hoping that the next burst of chill Arctic air that's on the horizon for the weekend ahead may produce the goods - be it the silky smooth all-white affair of an adult or the ermine-clad feathery garb of a juvenile - Lincolnshire, for instance, awaits the first county record, while the infamous bird on the beach at Brancaster remains Norfolk's only effort - 37 years have elapsed since that one - a bird which continues to ruffle a few feathers to this day for county listers of a certain vintage…
Little Bustard
…and talking about ruffling feathers in Norfolk - news of a recently deceased Little Bustard sent a few jaws-a-droppin' my bewties on the afternoon of 27th…
The freshly dead bird was picked up by a birder's relatives on the road near Blofield Heath on 22nd - they realised it wasn't a "normal" game bird and so, with camera phone to hand, they duly took a snap of the corpse and pinged it through to the man with the bins. Cue much consternation at what was pictured before him.
As yet, the cause of death is unknown - it seems from the one image that there's not much external damage so let's see what happens. Traffic casualty whilst the bird was "gritting" or a game shoot victim? All will become clear in due course.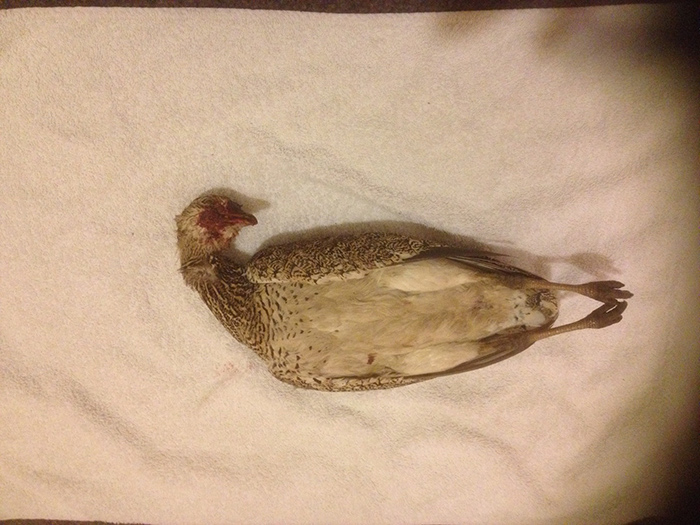 One thing is for sure - it is a massive county bird, despite 26 accepted records, there have been only two in anything like modern times - two single birds found dead within 12 days of each other in the far southeast and far northwest of the Norfolk - at Scole, near Diss and on North Wootton Marshes - between December 19th and 31st 1968. Before that? Norfolk's most recent record was a shot female at Breydon in December 1916.
Funnily enough, there were a very small number of county birders who began actively searching the coastal kale and beet fields of north Norfolk as soon as the East Yorkshire Little Bustard rocked up - if there'd been two on the south coast and one on the northeast coast, hell, why not one in Norfolk? Well, 10/10 for those who predicted that one - when it arrived, how long it was here (sorry, that's all very parochial of me…) are questions that will forever remain unanswered.
That said, given the pattern of occurrence elsewhere as 2015 beckoned, a date of somewhere between December 30th and January 2nd seems like a one likely option. The other, equally as plausible, thought is something all the more recent in terms of arrival - could it have been "fresh in"?
It is interesting to note that the twitched bird present at the moment at Nijerk, in the Netherlands was found on 23rd (yep, just a day after the Norfolk bird) and it is on a suitable trajectory for a westward passage to East Anglia (roughly Minsmere), so maybe the new Norfolk gripper was part of the same mini-movement and just overshot mainland Europe by a 100 miles or so…
There's nothing yet to suggest anything other than we've had four different Little Bustards since November 18th (though they are known to fly up to 600 kms a night on migration…) - but four birds in two months is remarkable stuff in the modern day birding climate and it begs the question as to why?
A good breeding season coupled with suitable winter weather to push them in to Britain? Perhaps it is another as-yet unrecognised nod to climate change or, as was the (tongue-in-cheek?) suggestion from the Wiltshire GB scheme when news of the Dorset LB broke, could it be a captive reared French bird that was responsible for the record(s)?
That isn't a question that will be at the forefront of my mind when I kick one out of the fields behind Walsey Hills later this week, that's for sure…
…it isn't just the "big birds of the week" that are doing that whole Groundhog Day thing - many of the scarce birds that follow also fall slap-bang in to the middle of the same furry fold and the re-appearance of the White-billed Diver offshore at Kirkabister on the Shetland Mainland was something that wouldn't have surprised many - the most recent sighting here was in mid-November but the species has been recorded at the same site every year since at least 2002.
Along the northeast coast of the North Sea (from East Yorkshire to Angus) just under 40 Little Auks throughout the week, spread around seven counties, with up to 16 seen (in ones, twos and threes) around Lothian, while three sites recorded five birds each; Kinghorn (Fife) on 22nd, Beadnell (Northumberland) on 24th and Eyemouth (Borders) on 25th.
Just creeping in to double figures was Pomarine Skua - with Suffolk mustering seven of the 10 birds recorded with four from Thorpeness on 26th (along with singles off Minsmere on 21st, Southwold on 24th and Lowestoft, also on 26th). Still performing well was the young bird in the Knott End area of Lancashire through to 26th, with the remaining three singles split between Spurn and Flamborough Head (East Yorkshire) on 24th and 27th and Parton (Cumbria) six days beforehand.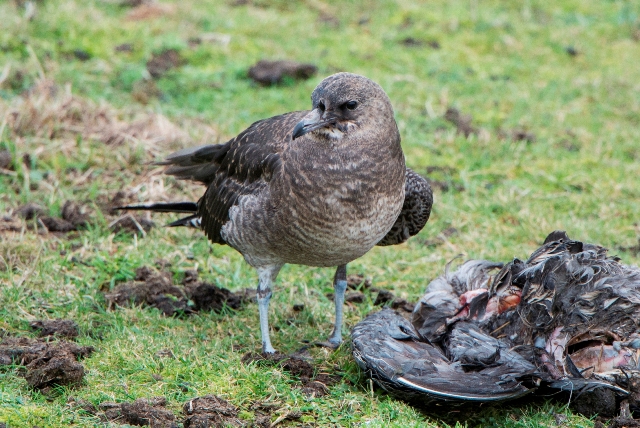 The third week in January isn't the time of year you'd expect to read of three Night Herons but that's where we are with it all this week - lingering juveniles remained at Kent's Nickoll's Quarry to 23rd (before relocating to the River Adur in West Sussex on 25th) and on the Slob, at Youghal (Co. Cork) to 26th, while in Norfolk, the handsome adult reappeared in Norfolk's Wensum Valley, this time at Lenwade, on 21st.
This bird was originally noted at Sparham Pools, a mile or two away, on January 4th-5th and, at the time, the review mentioned the fly-in-the-ointment of the roaming, near-feral birds that roamed the same valley for many years after the October storm of 1987. Given the longevity of the species (they can live beyond 20 years) and their secrecy, there remains an outside chance that this beautiful bird could be a generation or two down the line from that original stock. The most recent records through the valley prior to this were at Pensthorpe in May 2011 (when two adults were seen).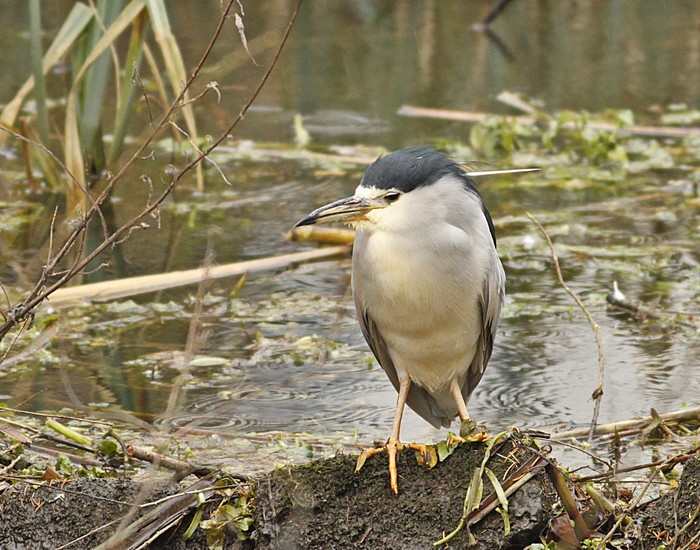 The current bird may well be tarred by that "feral" brush or maybe it is connected to the recent mini-winter influx. There's every chance that we may never know, one way or another, for sure.
Back in to Kent, where the double helping of Cattle Egrets remained at Dungeness through to 25th at least. Three more were reported in Berkshire on 22nd, but we've heard nothing more since.
By the end of the seven days to 27th, up to 38 Great White Egrets, with, as is often the case through the winter months, the southeast of England leading the way with some nine birds in four counties, with six of those seen in Kent. Dungeness registered three on 23rd and further singles were noted at nearby Hamstreet, on the Romney Marsh on 22nd, at Higham on 23rd and still near Ashford for much of the week too.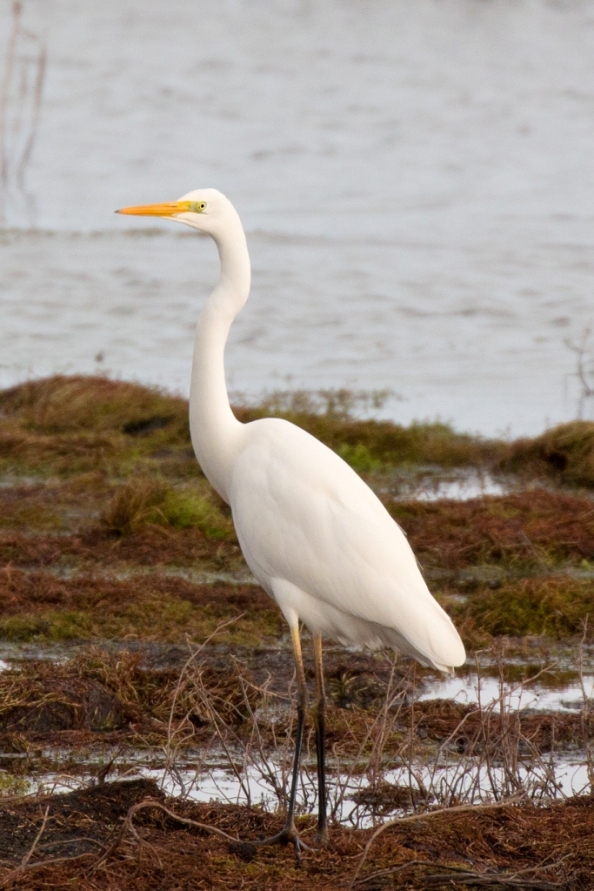 Further SE singles remained at Roxton (Bedfordshire) to 24th, Rye Harbour (East Sussex) to 25th and Blashford Lakes HWT (Hampshire) to 27th. In the Midlands, up to seven Great White Egrets were noted, again Northamptonshire faring best with three at Summer Leys on 25th, two at Earls Barton on 23rd with one at Pitsford Reservoir on 25th. One also remained at Rutland Water (Leicestershire) to 26th. Around half a dozen birds were still in the northwest of England - including twos at Parkgate and Frodsham on 24th, while in Wales a further half dozen were seen - three remaining at Llangorse Lake (Powys) to 25th when two were also still on Llanrhidian Marsh (Glamorgan). The final bird in the Principality was along the River Tywi, near Llandeilo (Carmarthenshire) on 23rd-24th.
It was "as-you-were" for East Anglia - two Great Whites lingered on the Lakenheath Fen RSPB reserve (Suffolk/Norfolk border) to 26th, while singles were at Ouse Fen RSPB (Cambridgeshire) to 25th and still near Lyng, at Sparham Pools to 26th at least. Up to four birds were seen around the Somerset Levels, one remained at Studland (Dorset) to 24th and in Ireland, a lone bird was at Lough Corrib (Co. Galway) on 26th (it was noted on 3rd as well).
The sole Glossy Ibis this week was the wintering, though rather elusive bird that was seen again heading over Fen Drayton Lakes RSPB (Cambridgeshire) on 22nd - it was last reported on 13th.
The wintering Spoonbills in Dorset peaked at 35 this week, seen again on the Arne RSPB reserve on 23rd (with 29 counted there on 26th). A further 17 birds were logged elsewhere - threes remained at Isley Marsh RSPB (Devon) to 21st, Snow Hill Marsh and Medmerry RSPB (West Sussex) to 26th and, in Suffolk, at North Warren RSPB and then Halvergate RSPB to 27th. Doubles were again on Samson (Scilly) to 22nd, at Farlington Marshes (Hampshire) on 24th and Dungarvan (Co. Waterford) to the same date. Loners were at Jupiter Point (Cornwall) on 21st and Cromane (Co. Kerry) throughout.
Common Crane records were thin on the ground - six were seen at the Stubb Mill roost on 21st, while eight were on the Nene Washes, near Eldernell (Cambridgeshire) on 25th with the same (?) octet at Little Thetford on 26th.
Finally, in Somerset, an "O.U.O" White Stork was watched in fields near Ilchester on 21st (and, for good measure, the presumed duff American White Ibis was at Sevenoaks (Kent) thoughout the week.
The only vagrant "white-cheeked goose" reported this week was the cute Richardson's Cackling Goose that was still on North Uist, near Loch Mhic Coan, on 24th.
Far rarer, though nowhere near as clear cut in terms of even its sub-specific status (any status in fact...) was the adult Gray-bellied Brant thatw as seen again at Seafield, on The Mullet (Co. Mayo) on 21st - the bird was reported a possible on a couple of dates in December and the early part of this month, but has only really seemed to have firmed up this week.
Up to four different Black Brants remained in Essex this week - two were still at Dengie on 25th and singles were at West Mersea from 21st-23rd and South Woodham Ferrers on 25th. A new adult popped up at Gosport (Hampshire) on 24th when a second was at Farlington Marshes too. Along the coast in West Sussex, a Brant was seen at Birdham on 21st and in Devon, a singleton was around the Exe Estuary for the whole week.
Along the east coast, an interesting first-winter bird was found at Holderness (East Yorkshire) on 23rd, moving to Kilnsea on 25th - whilst it may well be a young Black Brant, it does feel as though it could perhaps have some bernicla influence (but that's from photos rather then in-field views)...either way, a smart bird...while the adult Brant was still at Kilnsea for much of the week too. Lincolnshire continued to host one at Donna Nook, seen to 27th while one on the pitch & putt course at Wells on 25th was most likely a hybrid.
Keeping the wild Pinkfeet company in Northumberland this week was an equally wild and Category A quality adult Ross's Goose - seen at near West Chevington from 24th-27th. Presumably this may be the bird seen in December in Lothian - quite how birds such as vagrant Ross's and Snow Goose can be lost is always a bit curious, especially given how they stick out like the proverbial sore thumb - somewhere there's still a white Lesser Snow Goose around too, along with at least one pair of vagrant Canada Geese.
New this week was the first-winter drake King Eider that was discovered at Maenporth (Cornwall) on 27th - an unsurprisingly very rare species for the county where there have been, to date four records of (probably) three birds. The most recent record prior to this week was the first-summer drake that was seen from Newquay on May 10th 2001, with presumably the same individual relocating further along the north coast, to Pentire Head on August 20th-30th of the same year before moving further around the coast to Marazion on September 19th. The year before that saw a "queen" spend the first three months of 2000 in and around Penzance and (again) Marazion - a bird that was much admired by twitchers who headed to west Cornwall to be awed by the white Gyr at Cape Cornwall in March.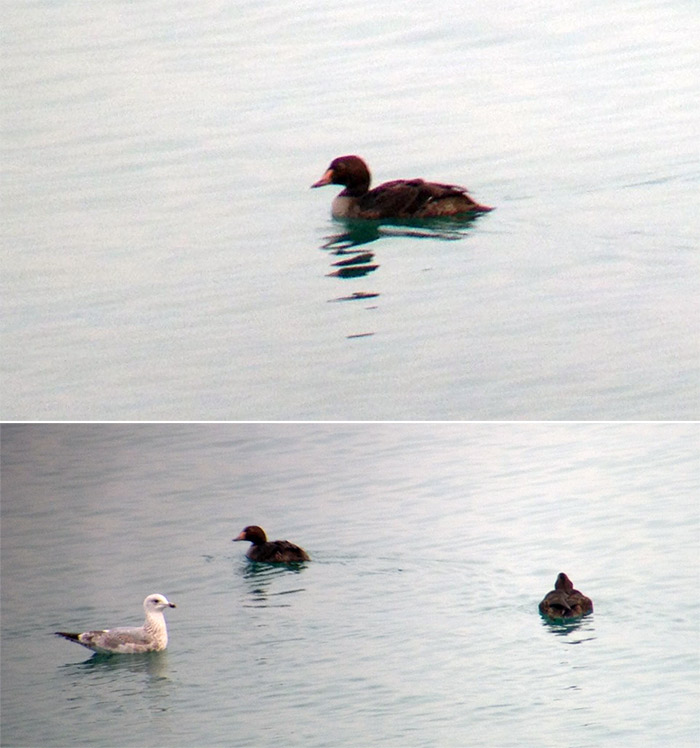 The St. Piran state's first-ever King Eider (another queen) was well-watched at Porthscatho in February 1986 (it had appeared a few weeks before) and was responsible for a rather more significant twitch - thanks to that startling, sharp-eyed uncovering of a wintering Least Sandpiper at the very same location... :o)
The now-regular female King Eider was still to be found in the Ruddon's Bay and Lower Largo area of Fife through to 22nd. A drake Surf Scoter was also present there that day with a further 13 noted through the rest of the week.
Four drakes and a duck were still in Colwyn Bay (Conwy) on 25th and in Ireland, lastw eek's young drake at Rosslare Harbour (Co. Wexford) was joined by a female on 25th. County Louth also hosted two birds, a female seen at Clogerhead on 25th with a male at The Hermitage on 26th. Elsewhere, well, guess what - it was the same old story. Lothian's drake was at Musselburgh on 22nd, the bird found last week at Skaw, Unst (Shetland) was present to 25th and the young drake on the Suffolk/Essex border remained around the Stour Estuary all week long.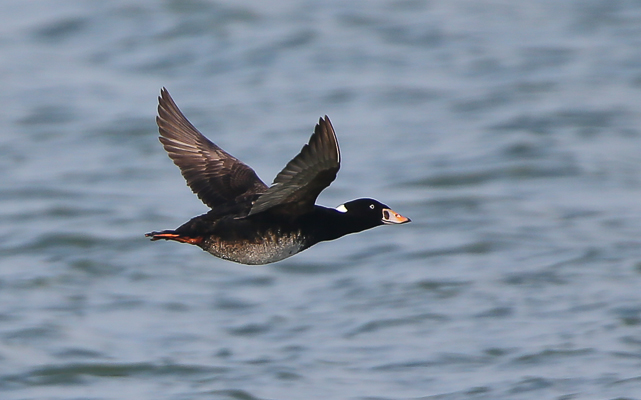 Its time to "Saddle Up the Palomino" again, well the nose-banded drake Lesser Scaup at least - our American/Portugeuse chum still on Llangorse Lake (Powys) to 25th. Scotland's first-winter drake was still to be seen in Ayrshire, moving to Martnaham Loch from 24th through to 27th and two further drakes lingered on both Dozmary Pool (Cornwall) and Cardiff Bay (Glamorgan) to the end of the week. In Ireland, a pair of Lesser Scaups were reported again from Kerry's Lough Gill to 24th - recent thoughts from some local and visiting birders alike is that there's perhaps nothing more than Greaters present there right now...
Four Ring-necked Ducks were logged in Scotland over the past seven days - all of them ducks - with two on Carlingwark Loch (Dumfries & Galloway) to 25th, still on Loch Sandary, North Uist (Outer Hebrides) to 26th while a new bird was seen at St. John's Loch (Highland) on 21st. Ireland too held four birds - all of them drakes - still on Lough Leane, near Killarney (Co. Kerry) to 21st, at Carrowmore Lake (Co. Mayo) on 22nd, still on Roo Lough (Co. Clare) to 24th when one was also noted again on Knockaderry Reservoir (Co. Waterford). The Home Counties laid claim to the final two birds - the drake flip-flopping again between Bray and Dorney (Berkshire) to 26th while a female was on Calvert Lakes (Buckinghamshire) to 26th as well.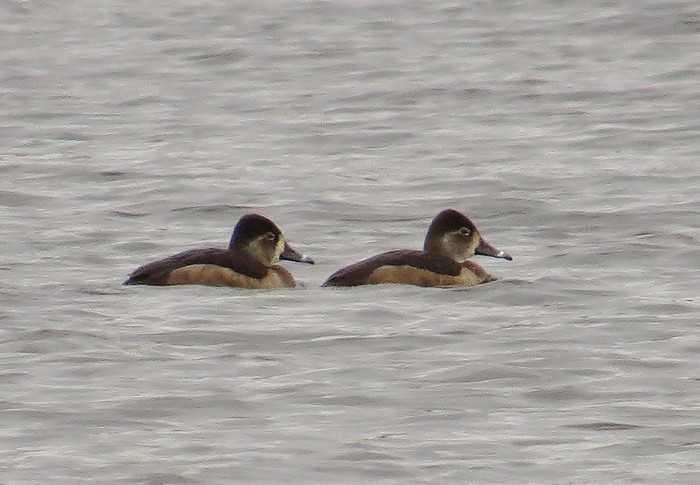 The week's only Ferruginous Duck was the lingering female that remained at Slimbridge WWT (Gloucestershire) throughout the week.
Orkney's drake Blue-winged Teal was still on the Mainland, at The Shunan to 25th while the last seven days has offered up three separate drake Green-winged Teals around the islands - on North Ronaldsay on 23rd, at Tankerness on 24th and Loch of Busqouy on 25th. Two more were still in Dumfries & Galloway, at Mersehead RSPB to 26th and Caerlaverock WWT all week, while the Scottish mainland's only record remained at Lossiemouth (Moray) to 26th at least.
A further seven birds were split 4:3 between England and Ireland - one reappeared at Saltholme Pools RSPB (Cleveland) on 27th; in North Yorkshire, one arrived at North Duffield Carrs (North Yorkshire) on 24th, departing the following day; Norfolk's Welney WWT saw the reappearance of one on 25th (having last been reported on January 4th) and in the south Midlands, in Gloucestershire, a drake Green-winged Teal was at Aust Warth on 23rd-25th, then Northwick Warth on 26th-27th. Ireland's threesome were still at Ballycarry (Co. Antrim) to 24th and was followed by singles at Dublin's Rogerstown Estuary and Clare's Knock, both birds also seen on 24th.
Cornwall's three American Wigeons stuck it out for a few more days in the far southwest - the two females on the Gannel Estuary remained to 25th (with at least one there on 26th) whilst the drake stuck it out on Kingsmill Lake, near Saltash all week. Scotland also offered up three birds - all drakes - seen near Loch Mhic Coan, North Uist on 24th and, the following day, at Meikle Loch (Aberdeenshire) and also at Dornoch (Highland). Ireland managed two more, again both drakes, seen at Malin Town (Co. Donegal) to 22nd and then in Galway, at Belclare Turlough on 24th.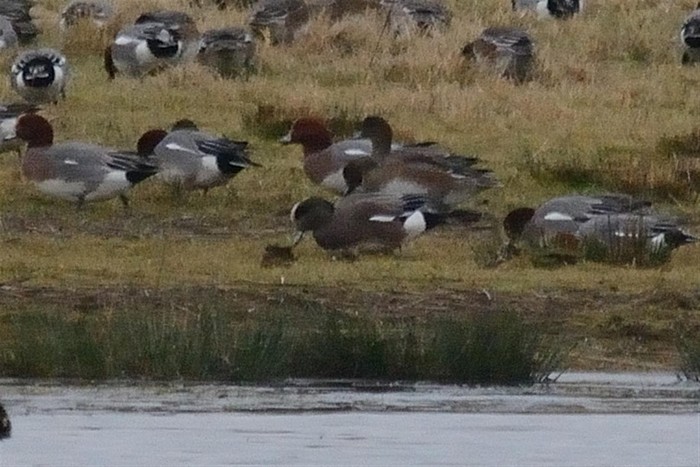 Last but absolutely not least, the Scilly drake Black Duck that was photographed last week off Samson has finally been pinned down elsewhere around the archipelago - unsurprisingly it has settled on Tresco's Great Pool, noted there on the last day of the review, 27th.
<!—Section Title -->
Cold weather up north may have done for the wintering Spotted Sandpiper in northeast Scotland this week (no sign by 25th) but there've been no such issues for the Lesser Yellowlegs in East Sussex and Ireland - the Poulnasherry Bay bird present in County Clare to 24th, the individual on the Rogerstown Estuary remaining to 26th and the site-hopping bird on the south coast popped up at three sites through the week - appearing again at Winchelsea on 21st before heading back, briefly to Pett Level on 25th before scooting back to the former site on the same day. A trip to Rye Harbour was next, the bird present there to 26th at least.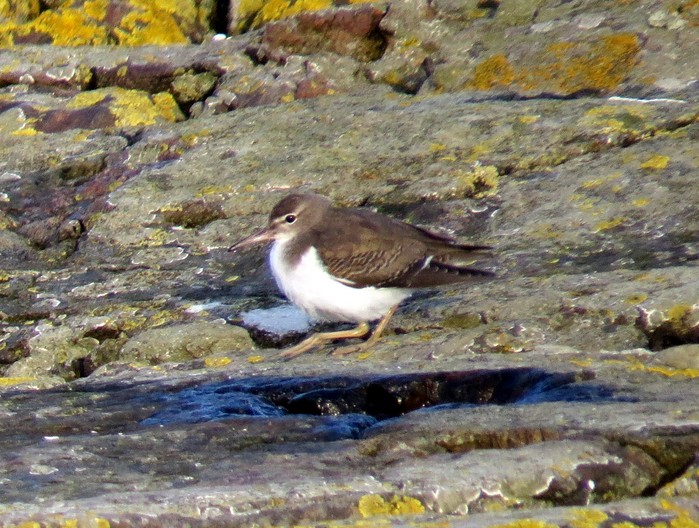 In Ireland, Cork's second-winter Laughing Gull was noted at Ballycotton on 24th and 26th (it appears not to be resident at all, just a regular visitor) while the equally regular adult Bonaparte's Gull in Devon was recorded at Dawlish Warren NNR on 24th and 27th.
Ring-billed Gull time now and there was, once again, a decent spread of the species around Ireland this week - at least 20 birds noted with Galway's Nimmo's Pier faring best with four birds (two adults, a second- and first-winter there on 26th. Four singles were seen around County Kerry; first-winters seen at Reenard Point on 21st and still at the Tralee Wetlands to 25th while a second-winter was at Lough Leane, near Killarney again from 21st and an adult was noted on Carrahane Strand on 26th.
Three adult Ring-bills were seen in and around Cork City between 21st-26th; two birds (a second-winter and adult) were loosely around Bray (Co. Wicklow) on 23rd-24th, and two single adults were in Antrim this week, at Portrush on 23rd and Carrickfergus on 24th. Further lone adults remained at Cruisetown (Co. Louth), Drimnagh (Co. Dublin), both to 24th, and Wexford to 25th while the first-winter was at Ennis (Co. Clare) to 23rd.
Away from Ireland, a further three Ring-billed Gulls were logged around Scotland - the adult at Dingwall (Highland) to 23rd, the first-winter on North Uist to 25th and the adult again at Strathclyde Loch (Clyde) to 26th. Two more mature birds were in Hampshire, at both Gosport and Blashford to the end of the week with a new arriving first-winter on the Hayle Estuary (Cornwall) on 24th and 26th.
Once again, the numbers of Glaucous Gulls was pretty close to the previous couple of weeks - perhaps up a tad - to some 95 birds across 34 British and Irish counties.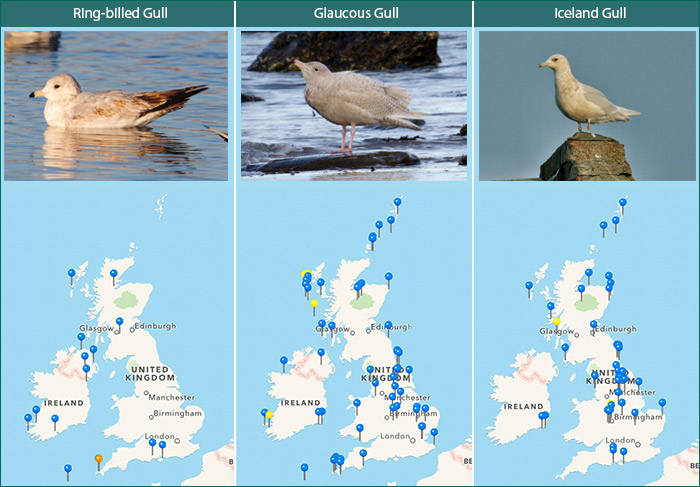 At least 35 birds were noted around Scotland, mainly on the islands to the west and north, with mayb up to a dozen in the Hebrides, seven on Orkney (including three on North Ronaldsay), six on Shetland and five in Argyll & Bute. Numbers in northern England (either to the west or to the east) were low-ish (up to eight in the former region), while the Midlands managed five, the southeast four, Wales and East Anglia three each with seven for the southwest, including an impressive five at Coverack (Cornwall) on 26th.
Irish birders managed around 25 birds or so, with seven for Kerry, five for Donegal and threes for Sligo and Mayo. Ones and twos were recorded from Armagh and Antrim to Cork and Wexford.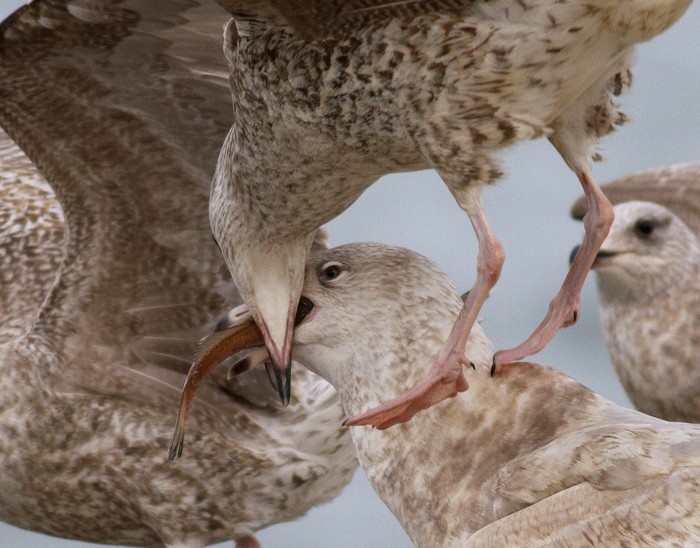 Lagging a way behind their bigger rellies was Iceland Gull but despite that, numbers were up on last week - 50 or so logged across 29 British and Irish counties. Scotland managed 18 (including four on Shetland and Aberdeenshire) as did the northeast of England (where North Yorkshire managed up to six and West Yorkshire five). Further south, numbers were low - five in all for the Midlands and singles for the northwest, southwest, south east and East Anglia. Even Ireland, so often the domain of white-wingers at this time of year managed a mere half dozen.
Popping back as perhaps something of a surprise was the (now) second-winter Kumlien's Gull that returned to Littlehampton (West Sussex) on 21st. Found last February (on 8th), the bird lingered around the area until May 18th 2014, but its great to it return - and it is, once again, prving to be something a birder's favourite already.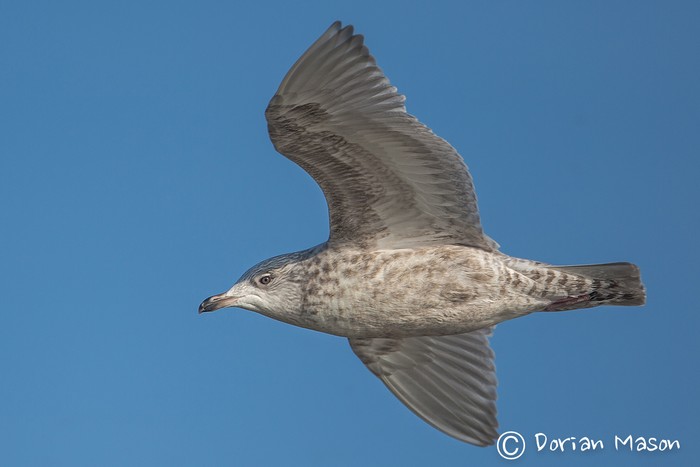 New was the adult Kumlien's Gull found on the Lizard, at Coverack on 24th, while a second-winter was fresh-in to the Shetland Mainland, at Lerwick, on 25th-26th. Juveniles were still at Loch Caolisport (Argyll & Bute) on 21st, again in Warwickshire, this time near Bubbenhall on 22nd-24th and at Ballyillon (Co. Donegal) on 22nd.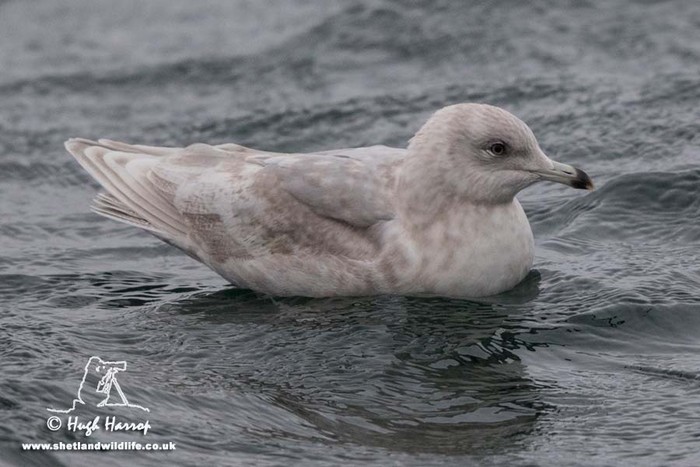 Given the build-up to GH Day and the reviews penchant to string something out for as long as possibel, it woudl seem only right to make note of the fact that pretty much all of the Rough-legged Buzzards seen this week were (unsurpringly) regulars around these here parts...
Scotland had two to play with, a juvenile at Watten (Highland) on 22nd and the wintering bird in Dumfries & Galloway, at Mennock Pass throughout. As many as seven were recorded around the northeast - in South Yorkshire one was at Broomhead on 25th and two were around the nearby Midhope Reservoir on 27th. Two were in Durham, still at Quarrington Hill (to 24th) while a new arrival was seen at Coxhoe from 22nd. On the border of Cleveland and North Yorkshire, at Sleddale, a Rough-leg was present on 22nd and the Bridlington youngster was on station to 26th.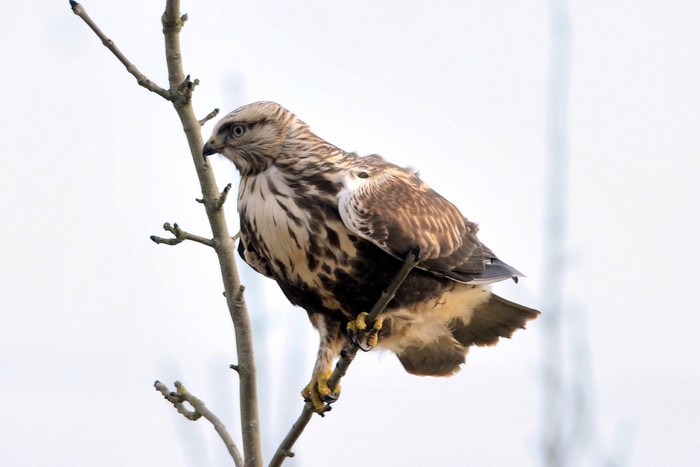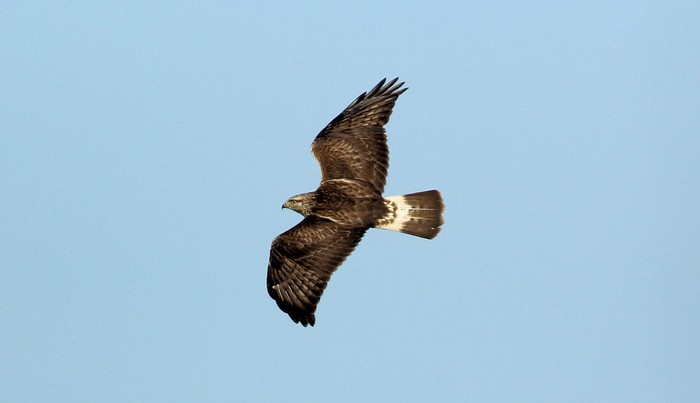 As expected, two popular individuals were still in and around the dunes and pines at Burnham Overy and Holkham all week long (one of which presumably strayed east to Warham Greens on 27th). Further west, at Holme, one was noted heading east on 23rd, with the same date also seeing another appear again at Ongar Hill, near King's Lynn. Other Norfolk birds were reported from Boughton Fen and Haddiscoe Marshes, also both on 23rd, with another still at Havergate for much of the week. In Cambridgeshire, the Rough-legged Buzzard was at Holme Fen NNR for a further seven days.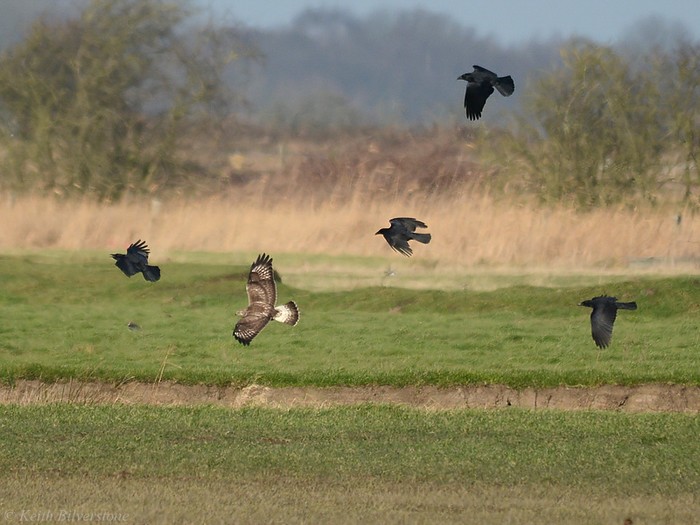 In the Midlands, a single bird was reported in Nottinghamshire, at Ollerton on 25th while the winterers at Jevington (East Sussex) and Wallasea Island (Essex) stuck it out until 25th and 27th respectively.
No sooner did the three Penduline Tits seem to have fallen off the radar then, hello, they were back at the Darts Farm reserve in south Devon - present again from 21st-23rd and again on 27th.
A few Yellow-browed Warblers continued to tuck themselves away in various bits of southwestern England - three were in Cornwall, at Helston on 22nd, Constantine on 24th and still at College Reservoir, near Falmouth to 26th. Devon's only option remained around the southwest end of the Plym throughout the week, while new was a bird in Somerset, at Bower Ashton on 27th.
Also new was the Richard's Pipit on the Isle of Sheppey, at Swale NNR from 25th. Three fellow wintering individuals remained at Horse Eye Level (East Sussex) to 23rd, Cloughton Wyke (North Yorkshire) to 25th and near Redcliff Point (Dorset) to 27th.
Northumberland held on to its Rose-coloured Starling at Prudhoe for the week, while Waxwings continued to be in very short supply - in Durham, a flock of 10 were at Jarrow on 27th with 11 seen in Aberdeenshire the same day. Norfolk managed a handful (just under 10 in total) including four in Hunstanton on 23rd.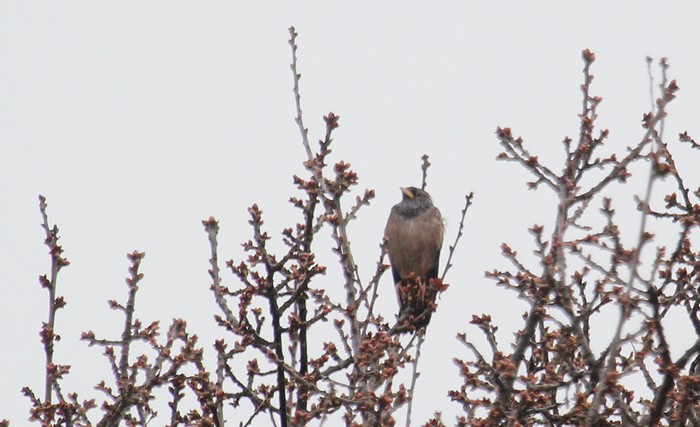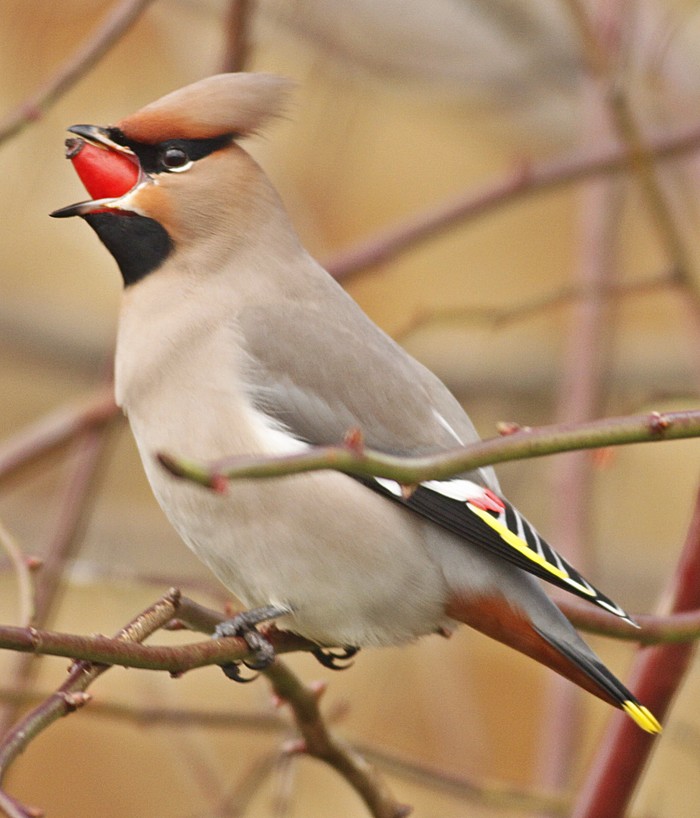 Finally, this week, there's a wee spike to report on the last seven days of Great Grey Shrike activity - 34 birds reported from 22 counties countrywide, many of them "old favourites"…
Wales fared really well, up to seven seen, including three in Powys - at Mynydd Wysg and in the Brecon Beacons on 21st and Talybont Reservoir on 24th. Two more were in Glamorgan, still at Llwyn-on Reservoir to 26th and also at Glyn-neath on 26th, with another on the border with Gwent, still at Twmbarlwm on 23rd. The final bird was at Brechfa (Carmarthenshire) from 22nd.
Three of the southeast's nine birds were seen in Hampshire, at Bransbury Common, Ockneil Plain and Digden Bottom whilst popular wintering birds remained at Ledburn (Buckinghamshire), Enstone (Oxfordshire), on Thursley Common (Surrey), Iping Common (West Sussex) and at Chilham (Kent) with a newbie at Lewes (East Sussex) on 25th. Southwestern England managed more new arrivals at Ivybridge (Devon) on 24th and in Dorset at Bovington Camp on 23rd, on Godlingstone Heath from 24th and in the Wareham Forest on 27th. A second Devonian record came from Dartmoor, one still at Soussons Plantation to 22nd at least.
Two Great Grey Shrikes were in Gloucestershire again, at Crabtree Hill and Great Barrington (to 21st and 23rd) while elsewhere in the Midlands, two were in Derbyshire (at Beeley Moor and Church Wilne for much of the week) and still in Northamptonshire, at Deenethorpe to 25th. It was same, same in East Anglia, semi-residents on Roydon Common NNR and at Santon Downham to 27th while the northeast saw two for Northumberland and South Yorkshire with a loner in Lincolnshire, at Wold Newton from 23rd-26th. Last up, the northwest of England's only monochrome beauty - on Lytham Moss in Lancashire for a further seven days.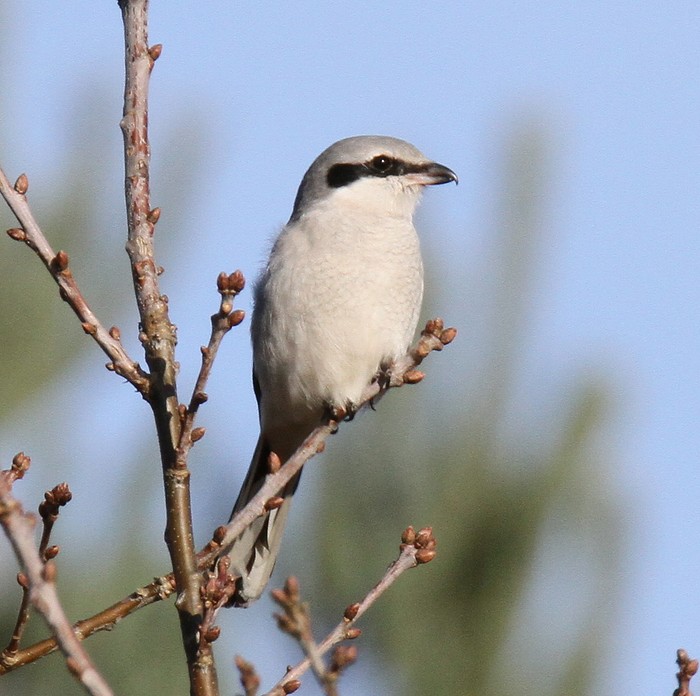 There's been no little weirdness, historically speaking, where the week is concerned - a hugely unseasonal Great Snipe was noted at Slimbridge on January 28th 1958; a wintering Paddyfield Warbler was found at Pagham Harbour on January 30th 2012; a White's Thrush presence in Highland came to light via a unique image captured via a camera trap on January 31st 2013 and the same date (in 1945) saw the appearance of a Roller in London whilst February 3rd 1912 saw the appearance of two Great Snipes in Kent…
Could we be on for any hint of bonkersness records in the next seven days?
If we get anything off the wall, once again you have to think Arctic or perhaps even further afield (if the recent Slaty-backed Gull is anything to go by). The weather suggests Arctic influence for sure…
Its all gone ever-so-quiet on the Glaucous-winged Gull front since the fine beast in Cleveland in January 2009 - the species was recorded annually between 2006 and 2009, courtesy of just two birds) but many would settle for a mainland mega…(a bird that is, in Western Palearctic terms now lagging behind in recent records compared to the annual-at-the-mo Slaty-backed.
…or why not wish for something in the Pine Grosbeak line? That famous recent bird on Shetland reappeared at North Collafirth on January 31st 2013 - I for one would welcome another crack at that particular birding dagger-in-the-heart…
Chances are we'll maybe receive another Ivory Gull or perhaps, with the air sweeping off the iceflows, a first Ross's Gull of the winter. Or maybe there's another Little Bustard about to pop up in East Anglia?
Mark Golley
28 Jan 2015


Thanks to all contributors for their photos, videos and sound files.
Andrew Jordan, James Beattie, Davey Farrar, Richard Rafe, Paul Slade, Drew Lyness, Mark Jones, Steve Votier, Sean Nixon, Kris Gibb, Mick Hemmingway, Dermot Breen, Pete Hines, David Bould, John Nadin, Hugh Harrop, Harry Murphy, Dorian Mason, Andrew Hood, Darren Ward, Keith Bilverstone, Jonathan Farooqi, Drew Lyness, Paul Lawrence,
Thanks to this week's round-up sponsors - Oriole Birding
Contributors websites Check out our contributors website for more great photos and other news