Weekly round-up: 24 - 30 September 2014
The week at a glance
County Cork plays host to Ireland's third Ovenbird, found at Mizen Head
North Ronaldsay lands a male Eyebrowed Thrush at the end of the week
Shetland's second Myrtle Warbler of the year makes two appearances on Mainland…
…while a one-day Swainson's Thrush on Unst behaves a little better
…and if that's not enough, aRed-eyed Vireo drops on to Mainland Shetland too, followed by an Irish double, in Clare and Cork
Like Shetland needed anything else! ~ a showy White's Thrush emerges in the murk on Mainland
East Yorkshire's juvenile Masked Shrike remains a popular draw throughout the week
Belated news from Norfolk of a Pallas's Grasshopper Warbler on the edge of the Broads
Ok.
So that was a pretty hectic week wasn't it? Well, it was if you were in the Northern Isles or the west coast of Ireland. A whole host of outstanding rarities made it a very busy week for the guys at RBA Towers as "Mega Alerts" became almost a daily feature of the last seven days.
The absoloute, crinkling blocker didn't get here, but this tiome last week, the weather was looking only a little more interesting than the north side of marginal, but a tricky Atlantic weather system, then the still established high pver Scandinavia saw rares swing in from the west and east in what becomes a pretty classic week.
Birders away from the extreme edges of Britain and Ireland suffered Rare Envy throughout the week ~ it was all quiet across the most of the country but no matter, this was quite a spell.
Ovenbird
"2-3, 2-3 Ovenbird, this is Cardboard Box…Ovenbird do you copy…?"
Y'know, I've always wanted to tip my hat to the soft, genial, warm Scilly tones of the late 80's and 90's legend that was "Cardboard Box" ~ a kindly, generous local pensioner named Eddie O' Grady, who bought in totally to the birding ethos of Scilly at the time and, as the Porthcressa changed hands and waned as the hub of the islands' bird news, with CB radio to hand "Cardboard Box" took to the air and relayed any number of great birds to one and all...
Sadly "Cardboard Box" didn't manage to live to see the day when Ovenbird was actually a genuine mega on his home island of St. Mary's (rather than just the nom de plume for one Mr. R Filby) but there's little doubting that, had he still been alive, Eddie would have delighted in passing on the news of this week's thrilling new arrival in County Cork.
Ireland's third-ever (but only second living) Ovenbird was discovered in the main garden on Mizen Head during the late afternoon of 27th ~ becoming the second for the county in to the bargain.
Cork's first Ovenbird was the famous two-day bird that put Dursey Island on the map for many birders living on the east side of the Irish Sea ~ not too many had heard of the rocky outcrop and cable car up until that point ~ and that bird, like this week's was a September bird ~ seen on 24th-25th of the month in 1990. Indeed, the two Cork birds are the only two of the nine Ovenbirds to have arrived in September ~ the range of dates for first occurrence dates for the other seven fall between October 7th and December 20th.
Britain's first Ovenbird was found by one-time Fair Isle warden Iain Robertson on Out Skerries on October 7th 1973, while Ireland's first was found dead in Mayo's Lough Carra forest on the curios date of December 8th 1977. It would be another eight years 'til the next one but this too was also a freshly dead corpse ~ found at Wembury, not far from Plymouth on October 22nd 1985.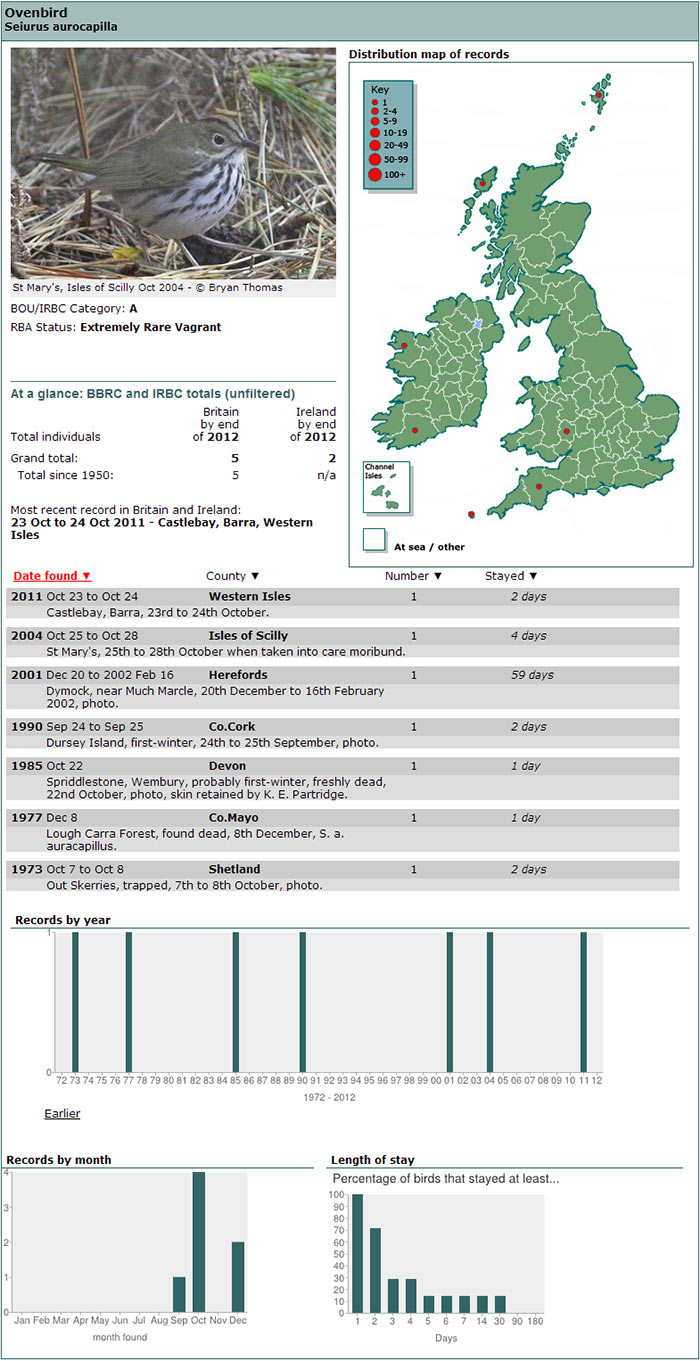 The Dursey bird was next in 1990 and then mainland Britain's first live record was noted/reported/suppressed/hoaxed (take your pick ~ there remain more doubters about this than there are those who don't think Apollo 11 got much further than a Hollywood sound-stage) in Herefordshire, at Dymock, near Much Mardle from December 20th 2001 to February 16th 2002 ~ even the picture didn't convince some…
Thankfully, less than three years later, we all had a chance to marvel at this quirkiest of North American wood-warblers, often at absurdly close range, under the pines near Watermill on St. Mary's from October 25th-28th (when it was sadly taken in to care). Scottish islands then accounted for the two most recent Ovenbirds prior to the Cork bird ~ one spent two skulky days at Castlebay, Barra (Outer Hebrides) on October 23rd-24th 2011 and last year saw Orkney secure their first record, thanks to the photographed bird on Papa Westray on October 6th.
With two dead birds and a suppressed bird in the tally of nine and four further ones on "far-flung" islands (three of them two-day individuals, the other a one-dayer)we're down to just two ~ this week's Mizen bird ~ which also now joins the one-day club ~ so that leaves just one, that gorgeous Scilly performer as being "available" for more than the most ardent, well financed lister.
Eyebrowed Thrush
In most weeks, the appearance of an Eyebrowed Thrush would often mean some sort of top billing, but the cutesy Ovenbird means that the arrival on North Ronaldsay of this splendidly rare thrush is knocked back a touch.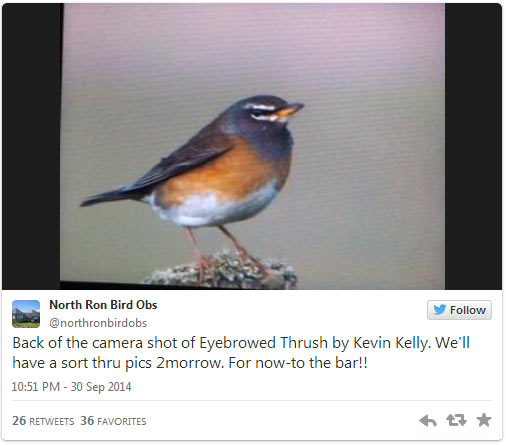 Found at Holland House, not long after a Pechora Pipit had shown up and headed away quick-smart, the Eyebrowed Thrush becomes only the fourth definite record since the turn of the millennium and the second for the island within that same period ~ a slight drab first-winter was present on North Ron on October 5th-6th 2009.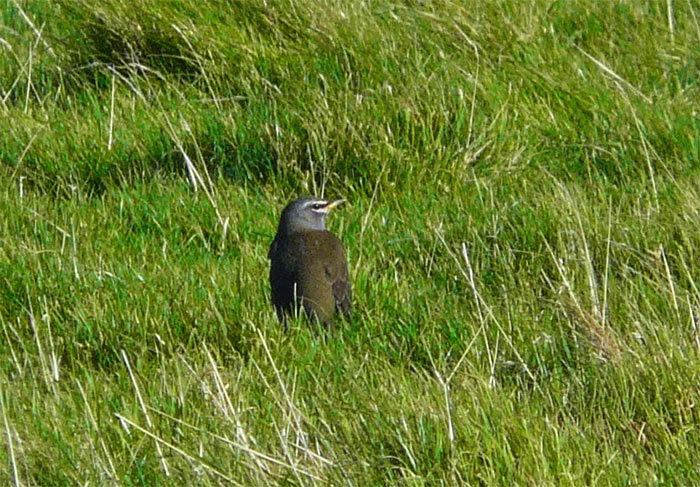 Having spent plenty of time volunteering at Heligoland Bird Observatory, Germany, this autumn I decided to come to North Ronaldsay. I'd been here for 2 months helping with the daily census of the island, bird-watching every day to try and improve my birding skills and with the 30th September being my last day on the island I took one last walk around the observatory before packing up my things. There were a Redwings around and 2 Song Thrushes and then as they flew I noticed one that looked a bit weird!
I could see it didn't have any markings on its sides and after a few minutes I re-found it perched on the post and now also noticed that it had a purple/grey head with a small white stripe above the eye, a really obvious yellow bill an orange breast and sides. It disappeared so I headed back to the observatory as I knew it was something good but not sure exactly which species, where Mark Warren was gathering people to go and look for the Pechora Pipit he'd just seen. I ran into the lounge where Sara Marcias was looking up the Pipit and grabbed the book and on turning to the Thrush page found my mystery bird-it was an Eyebrowed Thrush. Upon announcing this to Mark, I could tell he didn't believe me but at this stage I had no idea quite how rare this bird was as we all dashed out to try and re-find straight away.
I was pretty nervous until we did just that about ten minutes later when Mark saw it on the bank and screamed S@#T KITTY!!!! We all started to panic a bit (well mainly Mark) as the bird flew to a fence and then showed really well and we managed to get most people to see the bird quickly as it stayed around the Observatory for the rest of the day, with Sara almost managing to catch it in one of the Heligoland traps in the evening. It was an absolutely stunning bird, which we believe to be adult male, and a great way to end my experience on North Ronaldsay. Kitty Mermagen
Orkney now has three of these Far Eastern travellers on the books, along with the Ronaldsay duo in the 2000's is the first ~ found at Evie, on Mainland, in September 1984. Those trio of Orcadian records are part of 21 records in all, the first three of which were all found at the tail end of 1964 ~ in October of that year birds were seen in Northamptonshire and the Outer Hebrides, with one in December on Scilly ~ and those famous islands have managed seven Eyebrowed Thrushes to date, the most recent accepted record coming in 1993 (tho' one was reported briefly on St. Martin's last autumn).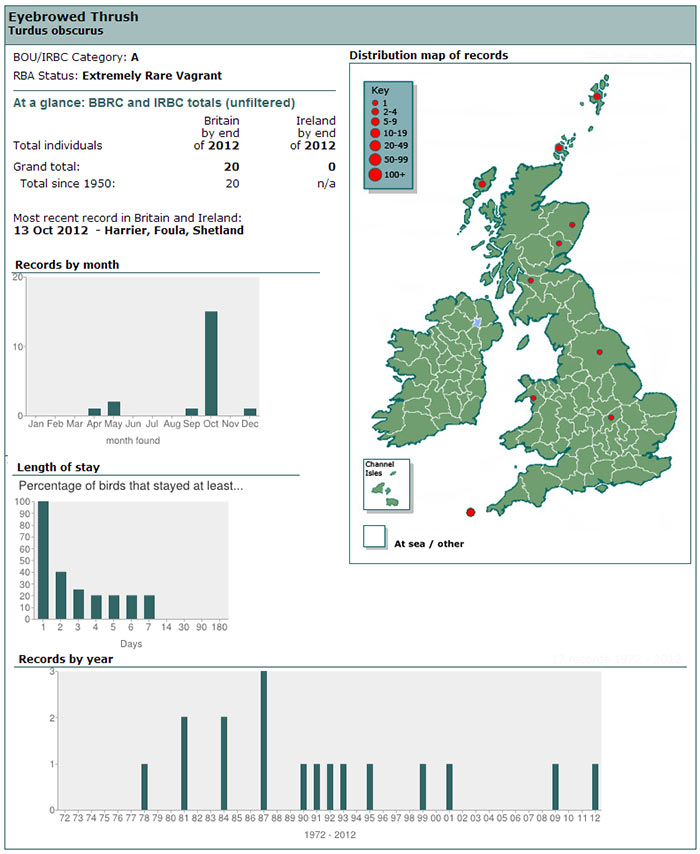 Myrtle Warbler
Coming in with a strong "third place" this week is the "now you see it, now you don't" Myrtle Warbler found alongside the Pool of Virkie at the southern end of the Shetland mainland at breakfast time on 29th ~ seen at Eastshore before disappearing, off towards the boat club. The rest of the day drew a blank but the following morning saw (presumably) the same yellow-rumped ocean hopper appear at nearby Grutness where it decided to give up the ghost and perform well to all.
This exciting discovery represents the first September record anywhere in Britain and Ireland, the first autumn record for the Shetland, the second there this year and the fourth island record overall. Along with this spring's island-hopper (that moved from North Ronaldsay to Unst, arriving on May 7th), Fair Isle played host to the other two spring Myrtle Warblers ~ a male being found near the South Light on May 18th 1977, with the second, another first-summer male, spending three days on the island in early June 1999.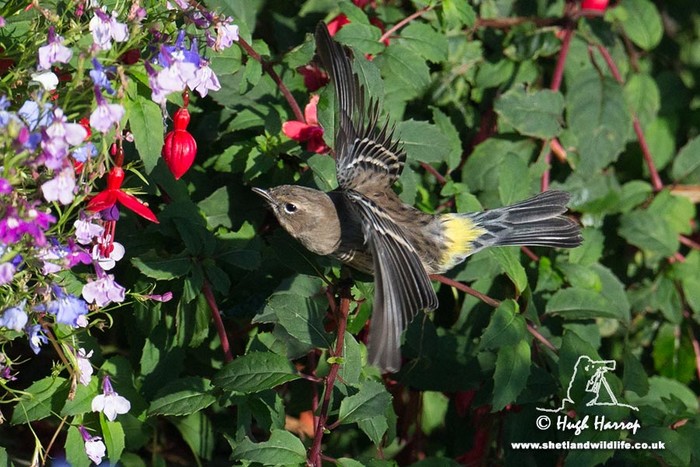 In terms of rarity value (such a mucky turn of phrase) this cute little wood-warbler remains marginally rarer than the species that follows ~ there have been 32 accepted records up until the end of 2012 (and another well-watched one, though not in the tally, on Dursey also in 2012) , with a couple of late October birds to add to the mix from last autumn (on Lundy and Inishmore), along with this year's well-watched wintering bird in Durham in January and February and the Orkney + Shetland bird from May to add to the pile.
Two Myrtle Warblers in the same year is very impressive by any standards, but the vastness of Shetland will have to go some to compete with Galway's rather more miniscule Inishmore ~ in the last four years, the Irish island has landed four Myrtles, one on October 10th-11th 2010, two on October 6th 2012 (when a few dozen dippers weren't seeing an Eastern Kingbird) and last year, the fourth in as many years arrived on October 29th.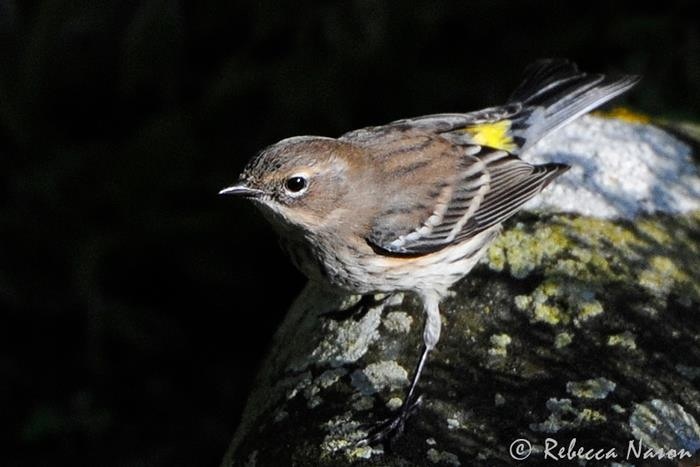 …and with some more favourable Nearctic weather seemingly looming large, what's not say that Inishmore won't bag another.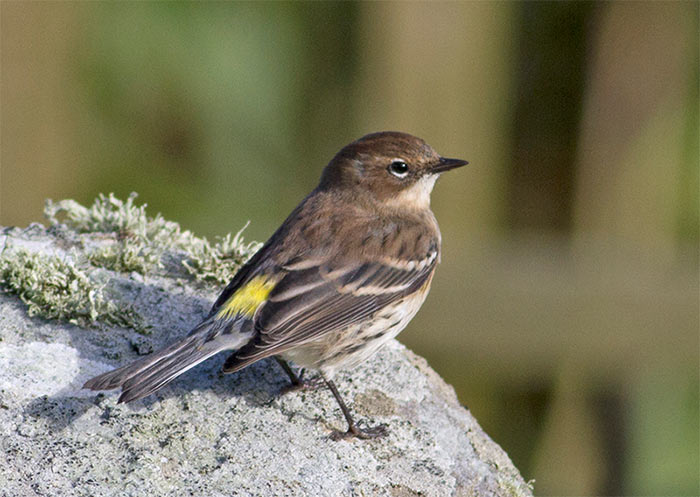 Cork tops the list for previous records, 11 there so far, with Scilly coming along next with five ~ the most recent there coming in 1995. The shift in records to Ireland and now Shetland is marked, and there are parallels to be drawn with the species that follows…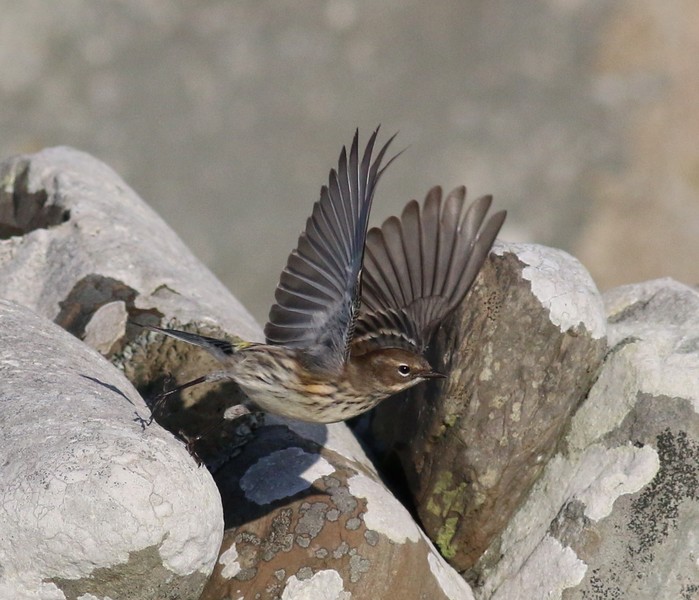 Swainson's Thrush
"Long ago in the book old, before the chapter where dreams unfold" you'd never really have given credence to thoughts of too many North American passerines appearing on the Northern Isles. It just wasn't what happened ~ they were the domain of the southwest of England and the Irish west coast. Sure there were occasional wacky records from the Outer Hebrides, Orkney and Shetland, but that's all they were ~ wacky (arguably none more so than the Fetlar Chestnut-sided Warbler which really was a shot across the bows to those couldn't get in to Yanks in the North…
That 1985 Shetland mega really did open the eyes of a generation of birders to the endless Stars'n'Stripes & Maple Leaf possibilities and potential of distant islands at the extreme northern extremities of Britain ~ given the right weather, those top drawer birds once thought to be the staple of Scilly and Cape Clear would tunr up elsewhere. The past three decades have emphasised that repeatedly ~ none more so than Britain's second Magnolia Warbler and Cape May Warbler in the past 24 months ~ and one species that has really shown the way is Swainson's Thrush.
The 11th Shetland record of this perky Catharus was found at Norwick, Unst on 28th ~ the third for that island alone, the other two discovered within just three weeks of each other in the autumn of 2003. Shetland mainland leads the way with four records to date, with Fair Isle on two whilst Fetlar and Foula have one each, for now…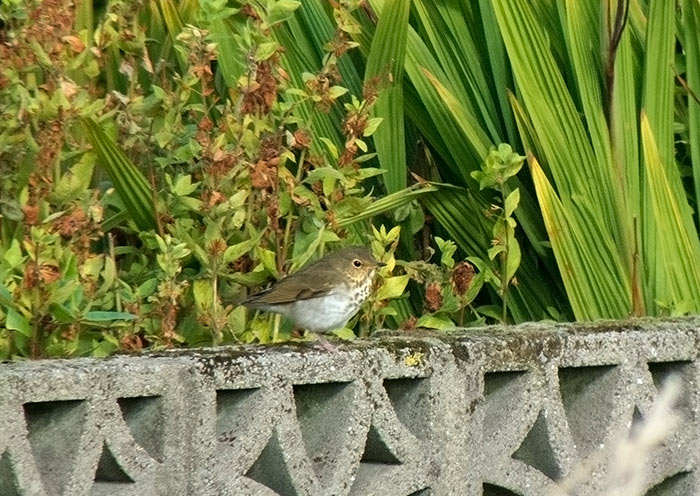 Shetland's first Swainson's Thrush was found at Scatness in late October 1980, with a decade long wait for the second, on Fair Isle, in late September 1990. Another decade passed before Shetland's third was discovered, this one on Mainland and since then eight more have followed in quick succession ~ including two in both 2003 and 2010.
Contrast those 11 Shetland records with Scilly's 11 ~ the first eight were found during the islands' golden age ~ between 1979 and 1991 (with doubles in '79 and '90) with only three records between 1991 and 2014, the most recent of those almost a decade ago, seen on Gugh on October 26th 2004.
Something's changed (actually several things have) and they would appear to be rather pronounced changes at that.
So, Shetland and Scilly tie the lead with 11 each, with Cork next on five accepted records to date. Cornwall, Devon, the Outer Hebrides and Orkney have two each, whilst Mayo and (surprisingly) Kent have one a piece (the latter county collecting a late October bird at Sandwich Bay in 1976).
Red-eyed Vireo
For some non-birding visitors to Shetland's Sumburgh Hotel the name Red-eyed Vireo could, at first glance, appear to be either some kind of weird, potent Northern Isles cocktail, or perhaps a term of endearment towards those who have perhaps imbibed too much of the Lerwick Brewery's fine 60? North the previous night/morning/lunchtime…
…however for those with bins around their necks and a knowledge of what's hot-to-trot in westerlies up north, the brief (and apparently absolutely knackered) Red-eyed Vireo seen on the lawn of Shetland's most famous establishment for a few minutes on 25th was both a great find and the first Nearctic passerine of the autumn ~ proving to be a telling sign of what else was heading along behind it.
It took until 2012 for Shetland to record the first Red-eyed Vireo for the islands when one was found at Valyie on Unst on September 12th 2012 (a bird that's stayed to 15th) and the second record followed just over 12 months later when Fair Isle recorded their first, seen on the cliffs at Easter Lowther for an afternoon early last October. Now, comes the third in three years and the first for the main island.
Then, within just a couple of days of Shetland's bird, the week's second Red-eyed Vireo was found along the road to the lighthouse on Loop Head in County Clare on the morning of 27th. This becomes the county's first September record, the previous four all coming in October and all those four have been seen around the Loop Head and nearby Kilbaha area.
Clare's first three Red-eyed Vireos were all found in 1995 ~ bird one was seen on 7th-8th, the second was discovered as a fresh corpse below the lighthouse on 21st with bird three coming on 28th-29th. The most recent record, another October 7th find, this time in 2006, was a bird which quickly became a high-quality padder for many as events took a dramatic and exciting turn for the better a day later…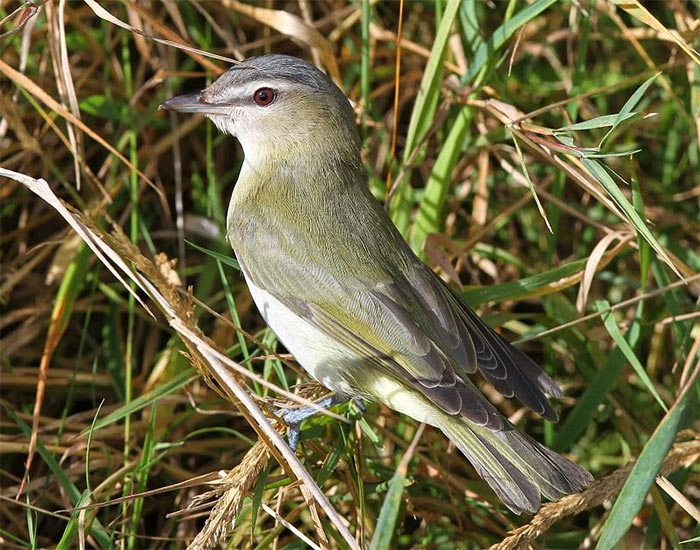 Not wishing to miss out, as it were, within 24 hours of the Loop Head bird, the third of the week (actually the third in four days) was found at Firkeel (Co. Cork) during the morning of 28th ~ the fourth record of the species for the site (one which famously hosted two Scarlet Tanagers within one October week in the glorious Nearctic autumn of 1985. This week's Firkeel bird was the only one of the three Red-eyed Vireos to remain for a second day, still present on 29th.
Cork is, by far and away, Ireland's leading light, with 31 Red-eyed Vireos recorded to the end of 2012 (and we can add on last year's Inch Strand September individual and this week's Firkeel bird too of course) and many British and European birders will have enjoyed an Irish ReV or two ~ they really should be Father's shouldn't they ~ when availing themselves of the Cape Clear Blue-winged Warbler in 2000 or the already touched-upon (in a roundabout way) Kilbaha Canada Warbler in 2006.
Up until the end of 2012, 178 records had been accepted for the this trans-Atlantic long haul flyer ~ a decent return since the first two live birds were seen on St. Agnes in October 1962. Scilly remains well in front of all-comers with 49 acceptances to date with a further 27 for the Cornish mainland (and 11 for neighbouring Devon).
This isn't a species that is entirely rooted in the west coast though ~ mainland Britain's east coast has clocked up 13 records (from Lothian to Kent) with Suffolk cruising ahead with four to date (all between 1988 to 1995 though) while the most recent record on the opposite side of the country came to Cleveland's North Gare in October 2010.
So, this isn't a really rare bird but for those in the know though, a Red-eyed Vireo still represents, as one old sage put it so succinctly once upon a time, a hyper zonky mega-crippler. And despite the obvious fact that is certainly not a mega or (for some) a crippler (in (yaaaaaaaaawn) modern-era forum parlance at least) this is a species that remains an extremely high-quality, much admired visitor from the west. Long may that continue too.
White's Thrush
The whole "east meets west" things was touched upon at the end of last week's review and a lively 29th on Mainland Shetland saw that whole hugely entertaining scenario come together nicely ~ a few hours after the Myrtle Warbler came along to Virkie, so birders at Durigarth, near Brow Loch, came up trumps with one of the eternally great rares, the one you so wish to come across ~ a White's Thrush.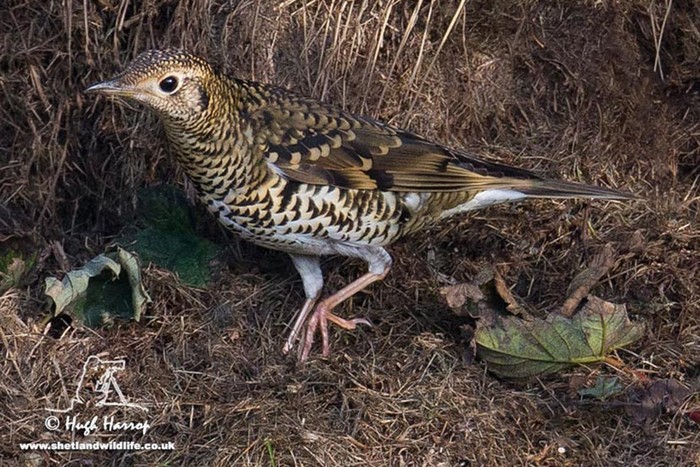 The bird was discovered late in the day but did show itself to a few folk and, to the relief of all those present around Mainland, who were too far a field to get to the site that evening, the Thrush did the business and stayed put overnight and showed well during the morning of 30th.
Despite a distinct surge in recent records of this gobsmackingly beautiful species, the allure remains undeniable and very strong indeed. There are 79 accepted records (up until the end of 2012) and last year saw a further five reported ~ two in Highland (including the bird captured in January via a camera-trap), two on Scilly (both on St. Agnes, at either end of October) and also on Fair Isle.
That final bird and this week's fresh arrival takes Shetland's total to 29 records in all ~ 15 of those have come in the past decade, including four birds between October 1st-10th in 2004 and four between October 1st-13th 2008 (including two in a day on Fair Isle).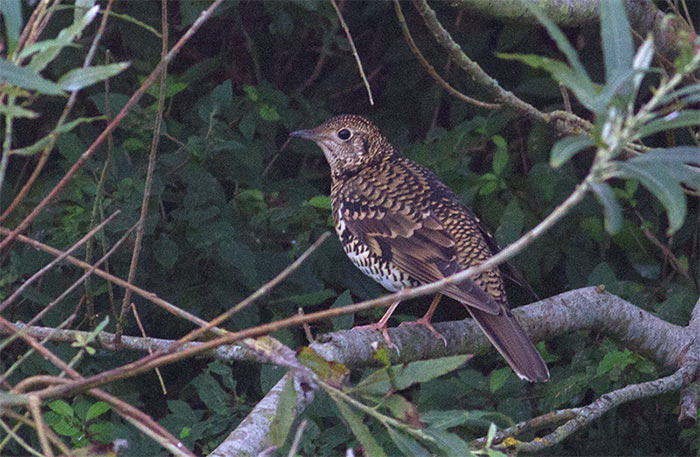 Nationally, the upturn in records in the past decade echoes the Shetland showing too ~ there have been a dozen in the past decade ~ which doesn't necessarily sound like a whole lot but you have to a period of 28 years to come up with the next dozen (away from Shetland), stretching back to 1976.
Yes, this species is on the up and that's something to embrace and enjoy!
Masked Shrike
So after all the newbies dashed their merry way to the bird-filled environs of Spurn last Saturday for Yorkshire's first and Britain third juvenile Masked Shrike it turns out there was no need to panic as this obliging cracker did the business at Kilnsea throughout the week until 30th.
Hundreds of birders made their way to East Yorkshire to collect this rather delightful little shrike over the course of the eleven days it remained on site and it is to the credit of all the regulars at Spurn and those connected with the Spurn Bird Observatory that this sizeable twitch was nicely organised with everyone going home happy.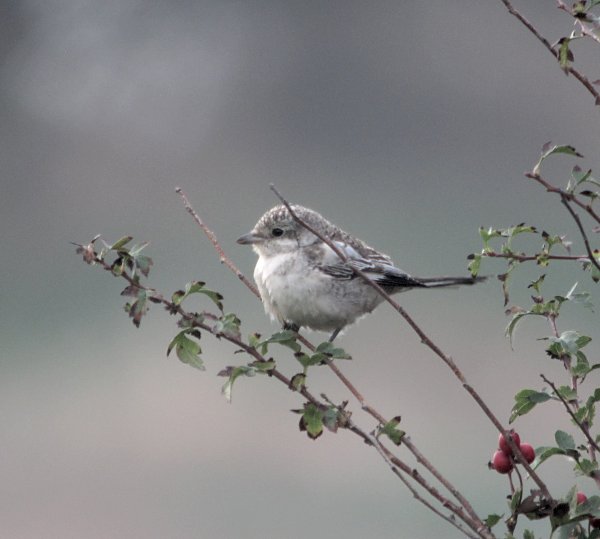 Currently still falling short of Britain's first Masked Shrike in terms of length of "days on site" ~ that Kilrenny late autumn cracker lingered for 17 day ~ this southern stayer drew crowds comparable with that first bird and when the next appears (we've had three in 10 years now) it will be interesting to see how well attended it may, or may not, be.
Pallas's Grasshopper Warbler
Finally, we'll wrap things up with news of the second (or maybe even third) mainland Pallas's Grasshopper Warbler of the autumn to date (still no sign of action on the Northern Isles) ~ seen a handful of times in flight and once on-the-deck (over an hour and half or so) in a farmland ditch at Sea Palling (Norfolk) on September 19th ~ slap bang in the middle of that outstanding spell that saw birds litter the east coast like feathered flotsam and jetsam.
The start of the month yielded that amazing record down in Hampshire, at Titchfield Haven whilst a few days beforehand, a birder carrying out survey work on the recently acquired NWT marshes to the east of East Bank saw a Pallas's Grasshopper Warbler on the remarkable date of September 2nd ~ the observer knows the species well from a lot of time spent in southeast Asia but is unlikely to submit it.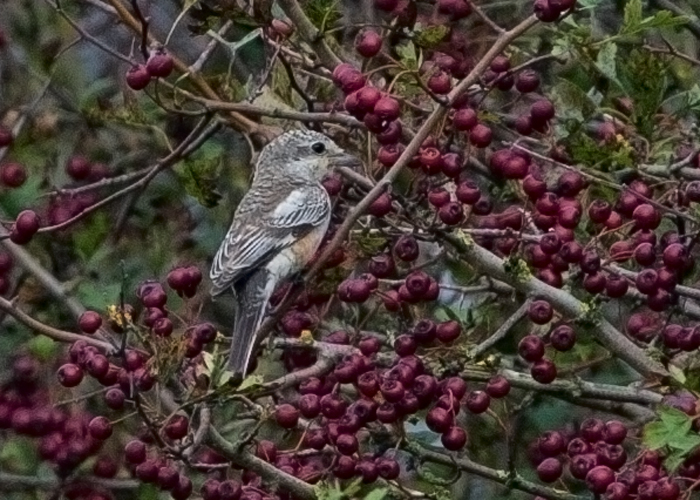 Prior to this September, Norfolk has (as was mentioned three weeks ago) three previous Pallas's Grasshopper Warblers to mention ~ the first was at Cley on September 13th 1976, the second (not submitted but seen well by four observers) spent some time in suaeda at the Watch House on Blakeney Point on September 19th 1994 with the third appearing not too far away, also on the Point, on September 22nd 2001 (residing there for three days).
At least 120 Great Shearwaters were seen on a pelagic some five miles south of Galley Head (Co. Cork) on 27th and a singleton was noted the same day from Lizard Point (Cornwall), with a lone Cory's Shearwater noted there the same day. The only other report of the latter species this week came from Cley beach (Norfolk), one heading east there on 24th.
The breezy 24th saw up to seven Sabine's Gull appear in the northeast of England ~ two each for Flamborough Head (East Yorkshire) and also for St. Mary's Island (Northumberland), with a further single for the latter county appearing at Seaton Sluice. In Cleveland, a juvenile was noted off Saltburn and another was at Hartlepool, while in The Minch, a juvenile was again off the Shiant Islands.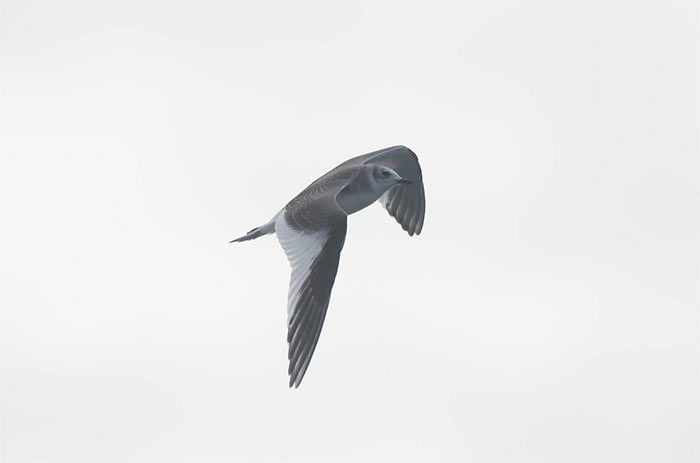 Further birds were logged on 25th off Bardsey and Newbiggin-by-the-Sea with three singles following on 26th, off Flamborough and Whitburn on the east coast with one off Ardvule Point, South Uist on the west coast. A juvenile was noted at Dungeness on 27th and the 28th saw Bardsey clock up another with northern singles appearing at Nairn (Highland) and Lossiemouth (Moray). An adult rounded things off on 30th, seen at Cooley Point (Co. Louth).
Back to 24th and in the same bit of Hebridean Minch eight Long-tailed Skuas were noted ~ part of a countrywide tally of 19 for the day which included two off Hilbre Island (Cheshire) and Stornoway, Lewis (Outer Hebrides) and two singles in Lincolnshire, including another for Sutton Bridge. Three were seen from Whitburn (Co. Durham) on 25th and five more followed, including four birds on 27th, with two seen off St. Mary's Island.
There just shy of 100 Pomarine Skuas recorded across the week, including 38 in 10 counties on 24th, with "fives" for Flamborough, Hartlepool Headland and Kilcummin Head. The following day saw 10 birds head past Whitburn and the 26th saw Donegal's Malin Head log a week-high count of 18. Flamborough birders saw another 14 or so through to the end of the weekend, including eight on 27th.
The only Grey Phalaropes seen through the past seven days were noted on North Ronaldsay's Gretchen Loch on 27th and at Morfa Madryn NR (Gwynedd) on 28th-30th.
A handful of Leach's Storm-petrels were recorded ~ three were seen in Mayo, off Kilcummin Head, on 24th and two appeared off the Stornaway to Ullapool ferry (Outer Hebrides) on 25th. On South Uist, at Ardvule Point, single Leach's were logged in the morning and evening of 26th and on 27th as well.
Some brisk southerlies blowing through the top edge of the Western Approaches pushed 104 Balearic Shearwaters towards Lizard Point on 27th, the highest total of the week with other notable Cornish scores reported from Pendeen on 24th (91 there then), 73 in an hour off Pendennis, Falmouth on 26th and 46 from Downderry on 25th, while in Devon, 16 were recorded off Prawle Point on 26th. Elsewhere single figures were reported from Scilly, Dorset, Pembrokeshire, Anglesey and Norfolk.
In Norfolk, a Purple Heron was reported from Sculthorpe Moor NR on 25th while a juvenile was seen again in Somerset, this time at the Gordano Valley, near Clevedon on 29th. In Lancashire, the juvenile Night Heron was reported again from Brockholes Nature Reserve LWT on 27th.
Two new lone Glossy Ibis were found over the weekend, one noted in County Louth, at Lurgangreen on 27th and one at Marazion Marsh RSPB (Cornwall) on 28th. Otherwise it was "as you were" ~ singles still hanging out at Frampton Marsh RSPB (Lincolnshire), Wicken Fen NT (Cambridgeshire), Dungeness RSPB (Kent), Wat Tyler CP (Essex) and Tramore Backstrand (Co. Waterford) for much of the week.
Great White Egrets remained a daily feature of pager and App., news this week with 24th alone yielding 16 birds in nine counties countrywide, including three still at Leighton Moss RSPB (Lancashire) and two at Wicken Fen NT. Further doubles were seen at Wat Tyler CP, Pitsea (Essex) on 25th, Studland (Dorset) on 28th and Rutland Water (Leicestershire) from 29th while three singles were noted in Norfolk. In Kent, four Great Whites were at Dungeness on 27th-29th and in Somerset another quartet were at Steart WWT on 28th. Topping them all, a flock of five seen along the Nene Washes (Cambridgeshire) on 29th.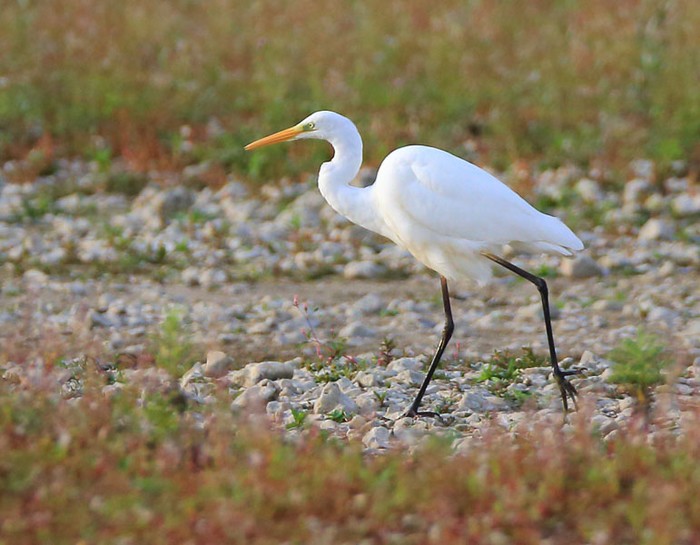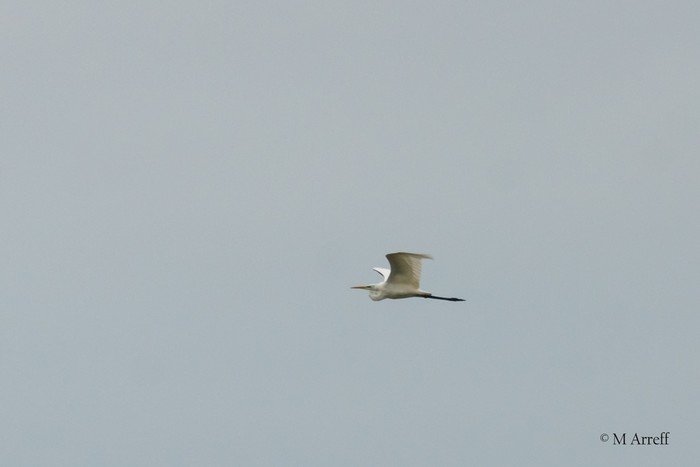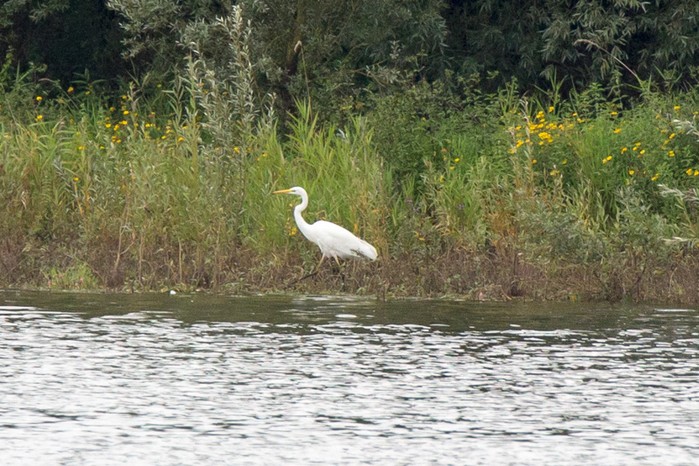 Along with the three Great White Egrets, 150+ Little Egrets, the Leighton Moss RSPB reserve held on to a single Cattle Egret until the morning of 24th. Funnily enough, later the same day, after an apparent absence of two or three days, one was again noted at Burton Mere RSPB reserve (Cheshire) from 24th-28th at least. Making a reappearance on the south coast, the Cattle Egret at Pagham Harbour, seen again on 28th-29th. In the north of Ireland, the regular bird was noted again amongst the moo-cows at Hillsborough on 24th.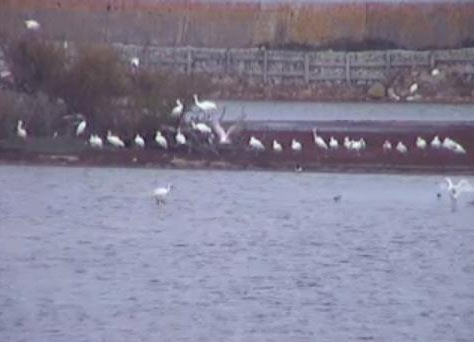 The 28th saw and amazing 39 Spoonbills counted at Brownsea Island (Dorset), comfortably the largest group of the year (for many a year in actual fact), with 31 at nearby Arne RSPB the following day. Three double figure counts were seen taken in Norfolk ~ 11 at Warham and 12 at Cley on 25th (feasibly the same birds) and 14 at Stiffkey on 28th ~ while five at Rye Harbour (East Sussex) on 27th was also of note. A further 11 or 12 birds were dotted around the place, including returning winterers to Wacker Quay, on the River Lynher (Cornwall) and Cromane (Co. Kerry). Elsewhere birds were noted from Northumberland to Flintshire and Kent.
Back to the corner of southeast Cornwall briefly, where Wacker Quay also hosted a lone Common Crane from 24th-26th with perhaps the same bird then heading down to the Lizard later the same day where it stayed to 27th. The semi-resident first-summer remained at Molescroft Carrs (East Yorkshire) all week and an unringed bird was seen amongst the released birds at Slimbridge WWT (Gloucestershire) on 25th. Two Cranes were at Winterton (Norfolk) on 27th, nine were seen on the Nene Washes, at Eldernell (Cambridgeshire) on 26th while the high count of the week was back in the Norfolk Broads, 37 counted at Waxham on 29th. The last ones of the week was noted at Glamis (Angus) and still in north Devon, at Braunton, both on 30th.
Two Spotted Crakes were seen at different points of Marazion Marsh RSPB on 25th with one there to 28th. The only other bird this week was a juvenile, trapped and ringed, at Chew Valley Lake (Somerset) on 25th. Two migrant Corncrakes made themselves known ~ at Levington Creek (Suffolk) on 24th and on North Ronaldsay (Orkney) on 27th.
Good news came forth from Lothian where an adult Ross's Goose was seen amongst some 15,000 Pink-footed Geese around the Aberlady Bay area ~ the brid was first noted on 22nd but was identified for sure as a cute and dinky Ross's on 27th, a bird which remained to 30th.
As exciting as these travellers from the States are, they still receive nothing more than a shrug of the shoulders by many, many birders ~ some brow beaten in to negative submission by endless "they're plastic" mutterings from contemporaries and an approach to mirror that from the fuddy-duddy, Neo-Con BOURC who still can't seem to wrap their collective heads around these vagrants as being vagrants…and this from the same body of men who gave Hooded Merganser the green light.
Good grief…
Seaduck never rile anyone, so let's get there before the ire raises further, and it as good to see news of an eclipse drake again in Burghead Bay (Moray) on 26th while a female was again at Basta Voe, Yell (Shetland) on 27th-30th. Single drake Surf Scoters were noted at Garrettstown (Co. Cork) on 27th and Llandulas (Conwy) on 28th while a female remained off Blackdog (Aberdeenshire) to 26th.
In south Wales, the drake Lesser Scaup remained in Glamorgan's Cardiff Bay until 29th at least, while in Leicestershire, a drake Ring-necked Duck was sharp find amongst upwards of 3,000 Tufties on Rutland Water on 24th.
In Northumberland, the female-type Blue-winged Teal (or possible hybrid) was still on the waters around Castle Island, near Cambois from 24th-27th (having last been reported there on 16th) while new (And an undisputed bob-on one) was the juvenile at Shannon Airport Lagoons (Co. Clare) on 29th. Three drake American Wigeons were noted too ~ again at Loch Leven (Perth & Kinross) and also at North Loch, Sanday (Orkney), both noted on 29th and then in Donegal, at Inch Island lake on 30th.
<!—Section Title -->
The first Great Snipe may have taken a bit longer than expected to reach us but at last, this top flight Biggus Snipus has made a North Sea flight and plonked its chunky wader-self at Ham, on Foula (Shetland) from 24th-27th ~ adding one more to a total of around 70 Shetland records to date.
For so long, Shetland was the only place to try your luck in terms of connecting with a species that has a deceptively high number of records on the books (626 to the end of 2012) but which, for generation after generation of listing birders, has proved to be something of a thorn-in-the-side.
Traditionally, it always used to be a flog up to Shetland, with everything crossed, for those hoping to chalk off this species ~ the best bet being a week or two on Fair Isle in the last two weeks of September ~ but that has changed over the past couple of decades thanks to some seriously obliging birds (the Girton bird of early autumn 1989, last September's beautiful juvenile at Kilnsea or Cley's insane singing, displaying male in May 2011 immediately springing to mind) but it is still a genuine thrill to see the words Great Snipe appear on the pager.
A lovely looking juvenile Baird's Sandpiper was found at Louisburgh, near Cross Lough (Co. Mayo) on 26th, where it remained to the following day. A second west coast youngster was found at Lenadoon Point (Co. Sligo) ~ which is, coincidentally, the second county record, the sole one to date coming in September 2011. Mayo has, to date, nine accepted records up until the end of 2012.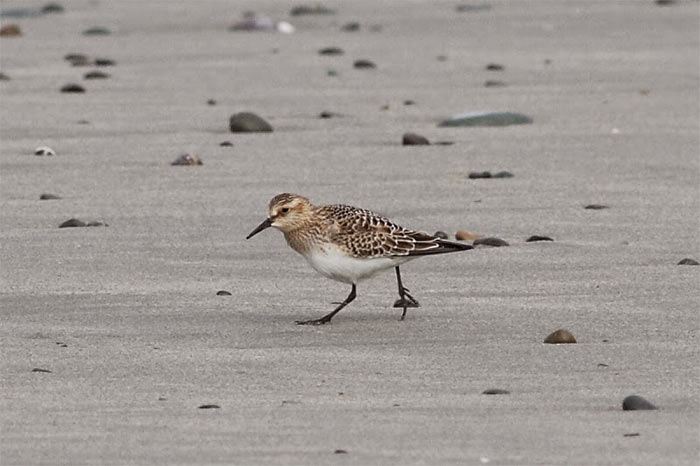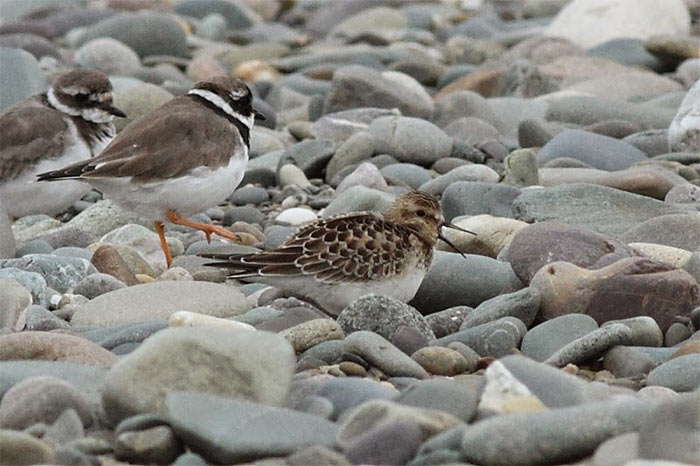 Ireland also played host to a couple of newly arrived American Golden Plovers this week, found on Tory Island (Co. Donegal) on 27th and Tacumshin (Co. Wexford) on 28th, with one noted again on the latter date at Loch a'Phuill, Tiree (Argyll & Bute). New Buff-breasted Sandpipers pitched up at Loch of Strathbeg RSPB (Aberdeenshire) on 25th, moving to nearby Drums by 27th and then inland at Ringstone Edge Reservoir (West Yorkshire) on 29th-30th.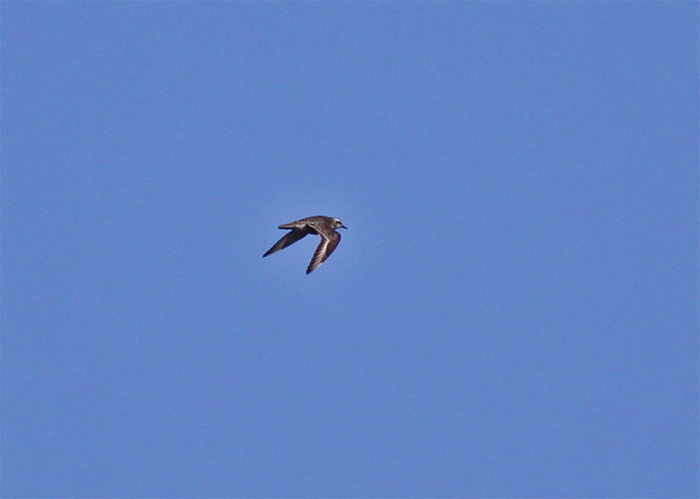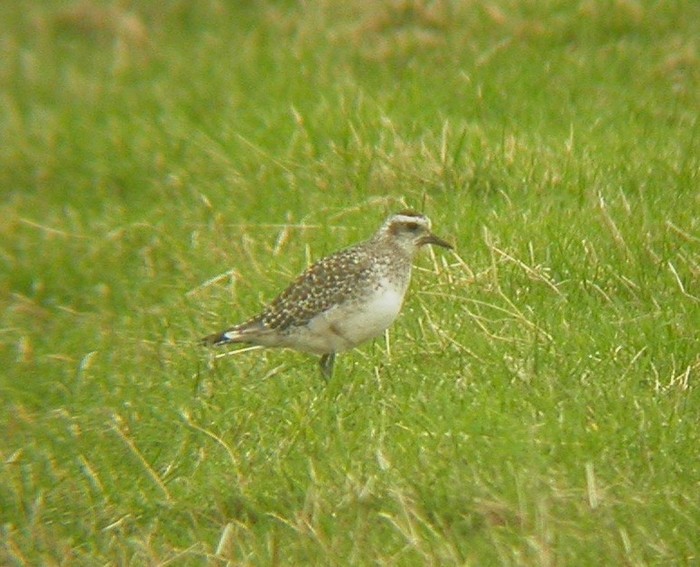 Still present for another few days on the south coast was the juvenile Lesser Yellowlegs at Titchfield Haven ~ present to 29th.
Numbers of Pectoral Sandpipers fell away for another week this week ~ after 24 last time out, we dropped to 17 across the past seven days.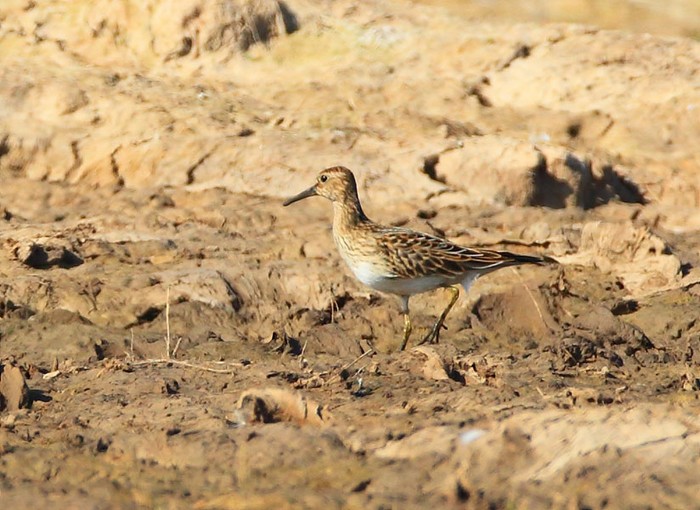 Two juveniles remained at Grindon Lough (Northumberland) at the beginning of the new review period, part of five seen in the northeast region, with singles in Cleveland, North Yorkshire and Lincolnshire. Three Scottish islands hosted lone Pecs across 24th-25th, seen on Tiree, South Uist and North Ronaldsay, while there were further ones reported in Lancashire (at Leighton Moss on 25th) back at Newington (Nottinghamshire) from 25th-30th and at Newport Wetlands (Gwent) to 25th. A new individual appeared on South Uist, at Baile Gharbhaidh, on 30th.
Not too far away in Gloucestershire, a Pectoral Sandpiper hopped between New Passage and Northiwck Warth between 24th-28th and one also made it to Cliffe Pools RSPB (Kent) on 25th. Three Irish counties scored singles ~ at Muckrush (Co. Galway) and still at Tacumshin (Co. Wexford) on 24th with another in Waterford, at Dungarvan on 27th.
A Red-necked Phalarope was reported from pools at Llanfairfechan (Conwy) on 25th (there was no sign the following day) while just one Temminck's Stint was found, strike another bird up for Unst, present there from 24th-30th.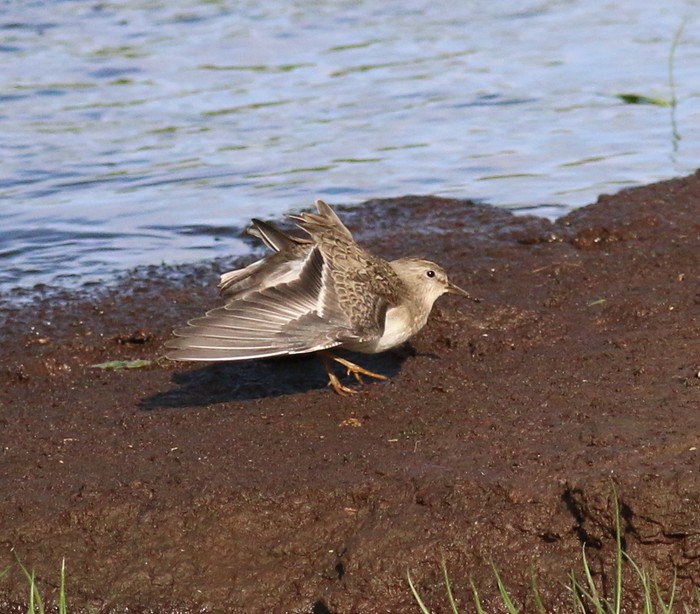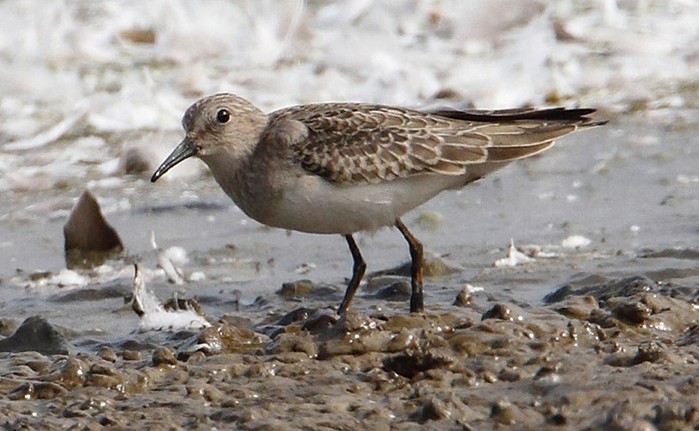 Half a dozen Dotterels appeared across the week, all of them singles. First came a flyover bird at Oldbury (Gloucestershire) on 25th and it was followed by one just south of Seahouses (Northumberland) on 26th when another was found at Ouse Fen RSPB (Cambridgeshire) ~ a bird that stayed to 27th. Another flight-only Dotterel flew over three spots on the Lizard on 26th and on 27th one was seen on a path in the Brecon Beacons (Powys). The last one of the week flew over Portland (Dorset) on 28th.
In County Louth, the adult Forster's Tern moved from Solider's Point, near Dundalk to Cruisetown Strand, present at the latter site on 28th while across in Cork, the second-winter Laughing Gull was on the beach at Ballycotton on 27th.
An adult Ring-billed Gull was found at Ballynamona (Co. Cork) on 25th while the regular adult was still at Portrush (Co. Antrim) on 26th and Lurgangreen (Co. Louth) on 30th. On the Outer Hebrides, a new second-winter was located at Kilpheder, South Uist on 27th.
On Orkney, the Iceland Gull remained at Bay of Skaill, Mainland to 27th while new was an adult at Cromane (Co. Kerry) on 24th.
Caspian Gull continued to fall again this week with a maximum dozen reported countrywide. Up to five were seen in Suffolk, including three at Walberswick on 26th while the weirdos at Cromer stuck around in to the early part of the week. A new Norfolk first-winter was seen following a fishing boat at Winterton on 24th while singles were seen in assorted parts of the Midlands ~ in Nottinghamshire, Leicestershire and Staffordshire, with one or two in East Yorkshire too.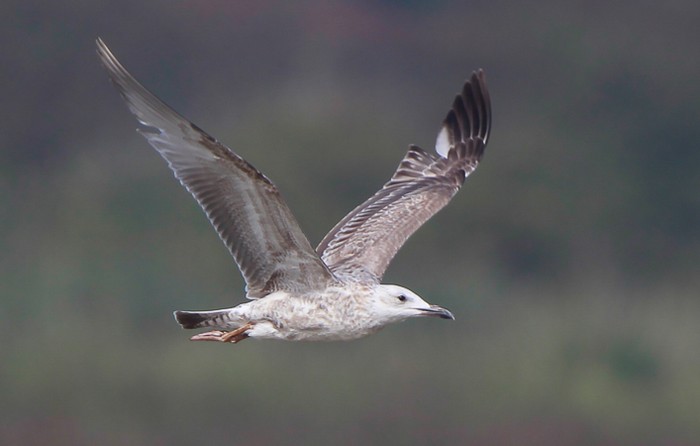 Up on the Cairngorms the adult Snowy Owl continued to test the fitness of birders heading out to Ben Macdui to pay homage to this magisterial beast from the Arctic ~ present to 29th at least.
On Orkney, what could have been last week's reported Pallid Harrier firmed up this week when a juvenile was finally nailed down over Quoyangry, South Ronaldsay on 29th ~ the fourth record for Orkney, following two birds in the invasion year of 2011, the first being that summering male in 1995. While we're on the subject, last week saw a report of a juvenile Pallid Montagu's Harrier head through Minsmere RSPB on 21st, only for a confirmed sighting of the latter species to come through from nearby Thorpeness 25 minutes later.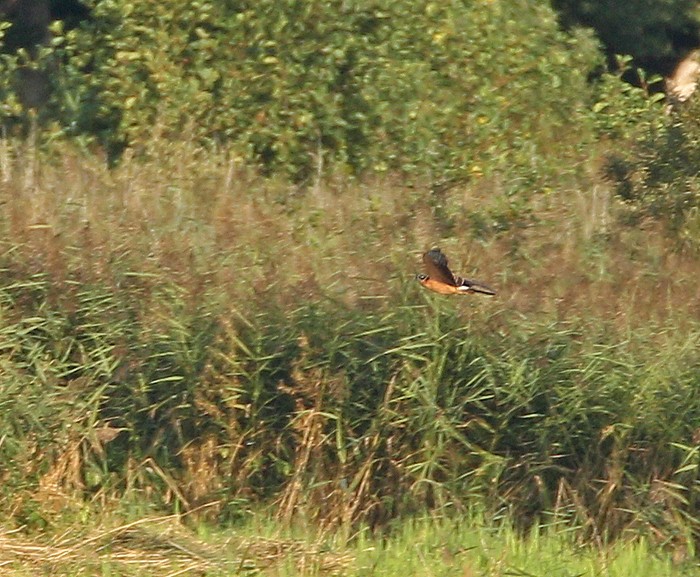 Now, thanks to Ian Clarke's record shot, it seems as though the Minsmere bird was indeed a Pallid Harrier ~ if accepted it will become just the second record for the county, the first being a spring male, seen at Bramford in May 1999.
Owls and harriers aside, it was a somewhat skinny week for BoPs ~ there are just five more birds to report. Single Honey Buzzards were seen over Surrey, at Capel and Leith Hill on 24th and 25th respectively and at Reculver (Kent) on 28th. In East Yorkshire, a Rough-legged Buzzard was seen over Patrington Haven on 30th. Finally a curious report came from Buckinghamshire, also on 28th, of a perched male Montagu's Harrier in a tree near Edlesborough.
Shetland Specialities ~ A Slight Return…
Last week's rather super looking Pechora Pipit remained in gardens along Baltasound's Springpark Road until 25th, with the dashing male Eastern Subalpine Warbler not too far away either ~ he lasted longer, still in place on Unst to 29th.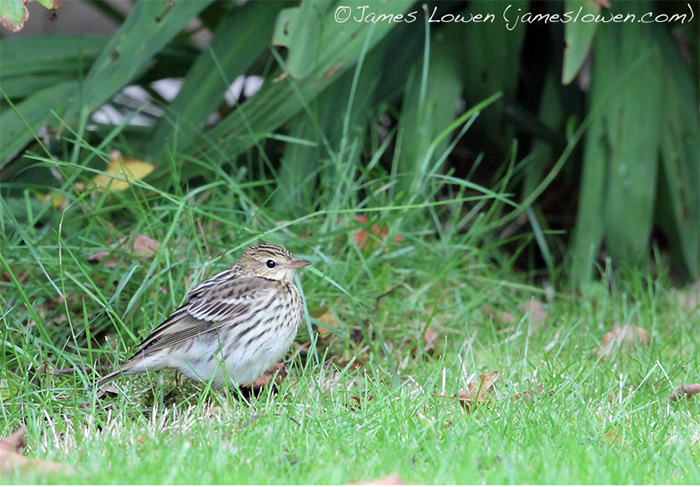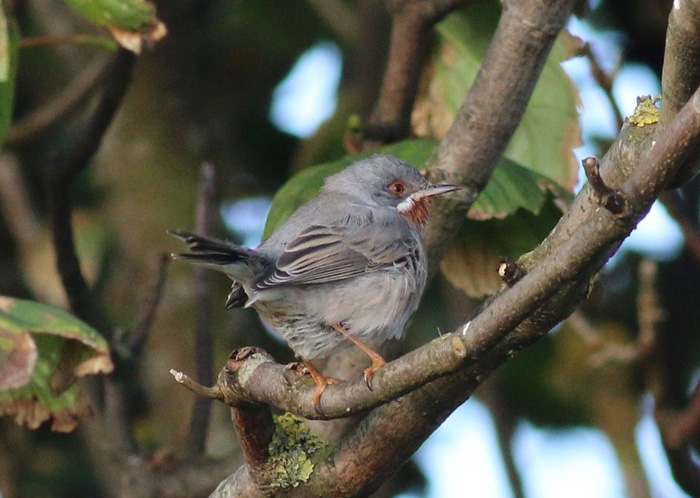 By way of scuppering the whole "Shetland Specialities" vive, North Ronaldsay's birders popped in a well deserved Pechora Pipit by the Bird Observatory on 30th, but it headed rapidly north (will it get to Fair Isle by the afternoon I wonder?) becoming North Ronaldsay's (and Orkney's fourth) Pechora ~ previous birds coming in October 1989, September 2005 and October 2011.
With a triumvirate of Nearctic vagrants found around Shetland this week, there was an impressive new arrival from southeastern Europe too ~ a Black-headed Bunting found on Out Skerries on 29th, the second for Shetland this autumn (following on from a short-stayer at Sumburgh at the start of the month) and potentially the 53rd record there overall.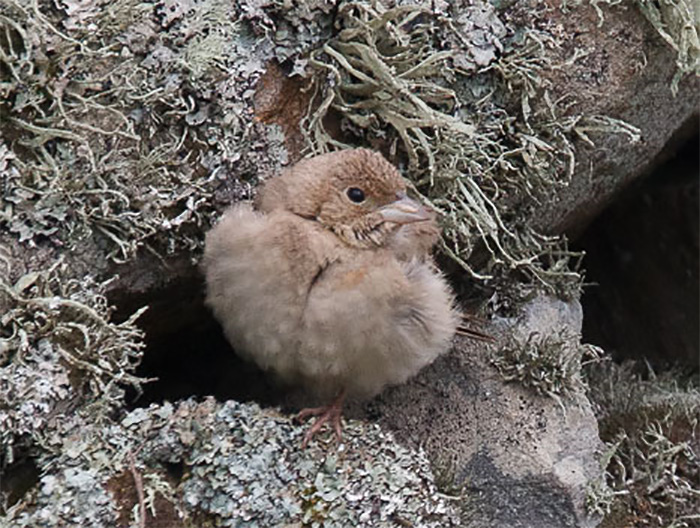 As well as all the furtive, creepy-crawly warblers and pipits and chunky buntings too, all so beloved by birders to Shetland, another bird that has crept its way on to many a hit-list for a trip north in the last decade or so is Hornemann's Arctic Redpoll ~ and one of these robust, chamois-faced snowballs duly obliged this week, discovered at Veensgarth, Mainland on 26th, where it remained to 28th at least.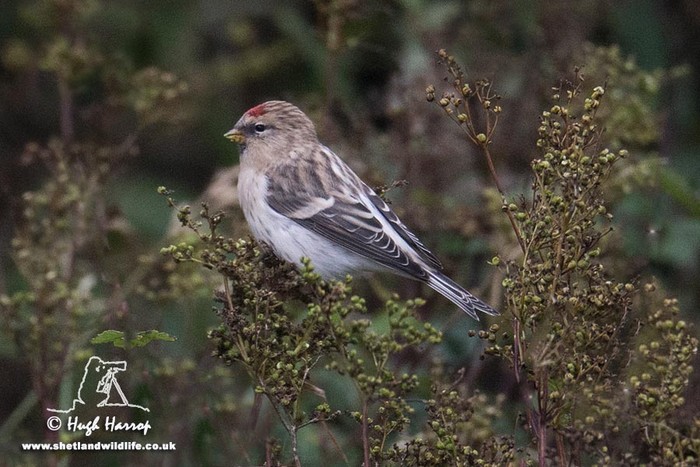 It really is tough to accept that this (of all the redpolls) isn't a separate species, but there's bad news ahead ~ the lump of all lumps is rumoured to be looming as the melting pot of Carduelis genes seems likely to overwhelm everyone and "they" just give up reducing us to various forms of one species. That would be truly dismal news if accurate ~ and there's me hoping that hornemanni and "proper" full-on rostrata were going the other way.
Though the following species are in no way all "Shetland Specialities", we'll mop up the sole Rustic Bunting, Red-throated Pipit and Greenish Warbler of the week ~ the long-staying Rustic was on Unst to 30th, the summery-garbed Pipit was on Fair Isle to 24th, while the dapper warbler was found at Lower Voe, Mainland on 28th. There's more Shetland carry-on to follow, but for now, we'll move on…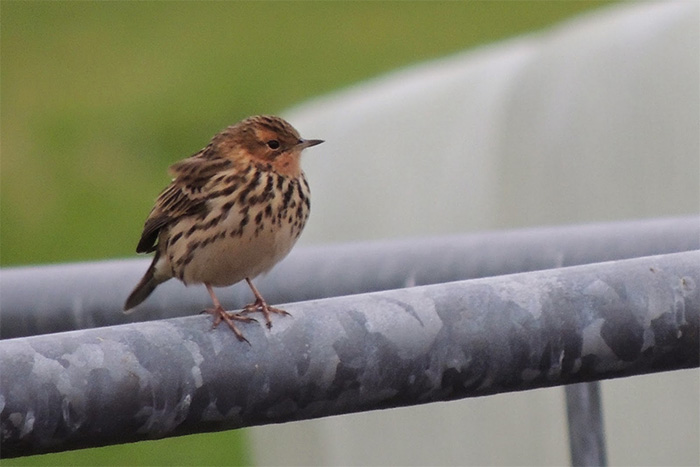 Bits & Bobs ~ Warblers and Flycatchers
An Arctic Warbler was an excellent morning find on the Lizard, in Church Cove on 30th ~ still an extreme rarity in Cornwall, there's been none in the past 12 years, the most recent record appearing in Cot Valley in mid October 2002. The remaining six birds have been shared across west Cornish valleys ~ Nanquidno has two (including the county first in 1984), Cot also has two (the 2002 bird above and one in October 1985), while Porthgwarra, Kenidjack and Kelynack all of one each.
Despite the date, it was something of a surprise to see news of a Dusky Warbler reported from Wells Woods (Norfolk) on 29th (in far from useful weather for the east coast) by a single observer. Despite searching, the bird melted away in an instant and wasn't seen again ~ prior to the species' removal from the Rarities List in 2005, Norfolk had 56 records of this teasing tacker to its name. Will this one pass muster with the local records committee?
The two Melodious Warblers found in the far northwest of Scotland last week were still looking pretty settled in their new confines this week too ~ the bird at Scarinish, Tiree (Argyll & Bute) stuck it out to 28th with the individual at Castlebay, Barra (Outer Hebrides) popping an extra day on top of that, present on 29th. A single new bird was also found when one was seen on Skomer (Pembrokeshire) on 26th.
Despite trying to swerve away from Shetland it is actually pretty tough to do so throughout the rest of the review so abandoning that plan (!) we'll move from Melodious Warbler to Marsh Warbler and this week's sole specimens were found on Shetland ~ seen on Unst on 24th-25th and on the same island on 30th.
One of the big-hitters in the past three weeks has been Barred Warbler but after some mighty fine tallies of late, we're down to around 30 this week ~ 15 of them seen around Shetland, including two at Mossbank, Mainland on 26th. There were three for Orkney and two in Highland, while the southwest could muster four (two for Scilly and one each for Dorset and Somerset ~ seen at Berrow on 25th) with the southeast recording five (which included a good inland find at Blows Down in Bedfordshire on 27th).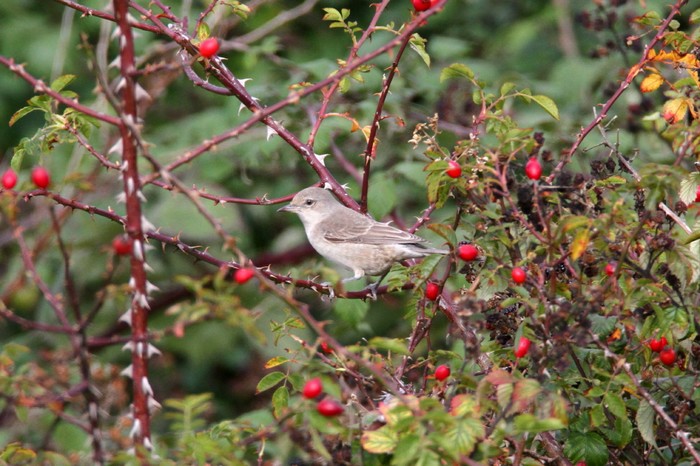 There were two Welsh representative as well ~ one was on Bardsey until 27th and another arrived on Ramsey Island (Pembrokeshire) on 29th while, after almost a month of good numbers on the east coast, just one could be found this week, trapped and ringed at Whitburn (Co. Durham) on 28th.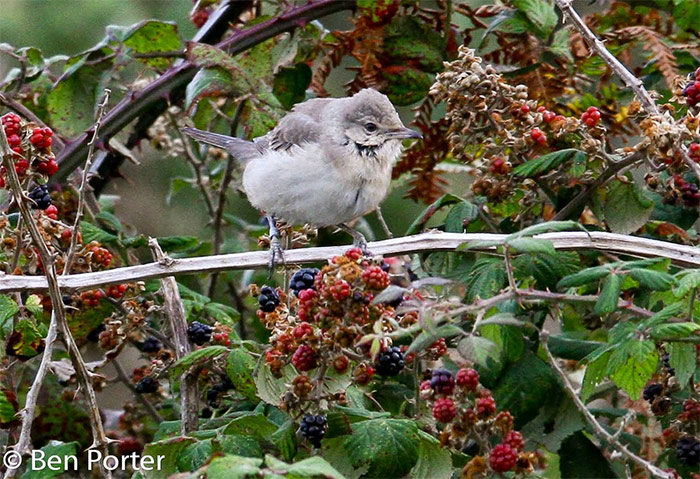 While I'm in the mood for mopping up some of the last couple of weeks' more significant arrival species, let's dive headlong in to Yellow-browed Warbler ~ a pleasant task knowing that there aren't anywhere near as many as last week to tot up on the RBA abacus…
Last week's spectacular collection of passerines included around 270 Yellow-browed Warblers ~ this week the numbers dropped, stone-like ~ to around 120 (give or take some repetition here and there). Again Shetland was out in front, collecting around 40 of Scotland's 55+ in all, with five on Fair Isle and four on Out Skerries on 24th the main numbers, with ones and twos dotted around liberally across several islands. Orkney produced up to nine, while notable were two at Auchie Glen (Dumfries & Galloway) on 25th.
Eleven or twelve were seen in the northeast until 30th with at least nine new arrivals found on 29th, with only eight in East Anglia, while notable roving singles were found on Anglesey on 26th and Bardsey on 30th, Marshside RSPB (Lancashire) on 29th and, remarkably, near Liverpool Street station in the City of London on 25th ~ having taken countless journeys from there to Norfolk over the years, its hard to imagine where in that urban concrete jungle a delicate Siberian leaf-warbler could find solace, but find it it did.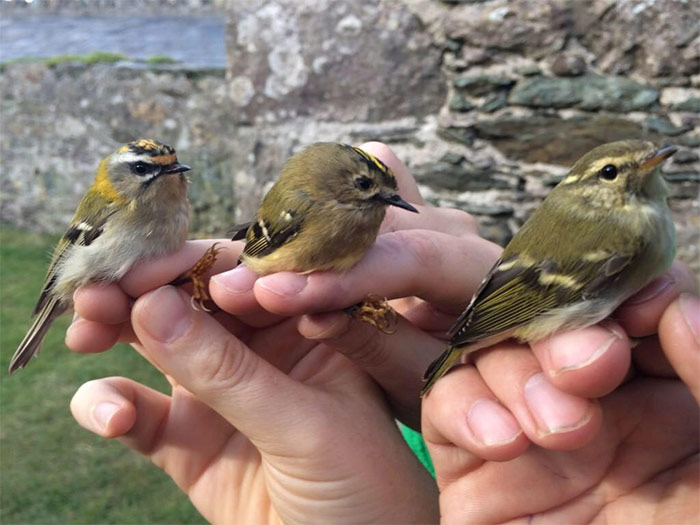 Several Yellow-broweds have, inevitably drifted their way to the southwest and as many as 11 birds were seen around Scilly this week, while three were noted on Portland. Ireland collected seven birds with one in Wexford (at Hook Head on 25th), one in Kerry (At Dunquin on 30th), two in Galway (at Slyne Head on 26th and Menlo on 28th) and three in Cork (at Mizen Head on 28th and the Old Head of Kinsale and Knockadoon Head on 29th).
Last week's other prime candidate to keep the Ibuprofen close to hand was Red-breasted Flycatchers and, thankfully (!), traffic of these Ficedula flickers had eased somewhat over the past week, numbers tumbling from 130 to around 30. DEEP JOY!!!
Shetland was again dominant, with up to 15 birds recorded through the week, from a total of 19 for Scotland ~ three were seen on Orkney and singles also made it to Barra, in the Outer Hebrides and Tiree (Argyll & Bute). Just five Red-breasted Flycatchers were seen down the entire east coast, one each for Durham, Cleveland, North and East Yorkshire, Lincolnshire and Suffolk, while a new bird made it to Skokholm (Pembrokeshire) on 25th-26th (with presumably another new arrival there on 29th). Three birds reached Scilly, one on St. Agnes on 24th and two on St. Mary's on 27th-28th.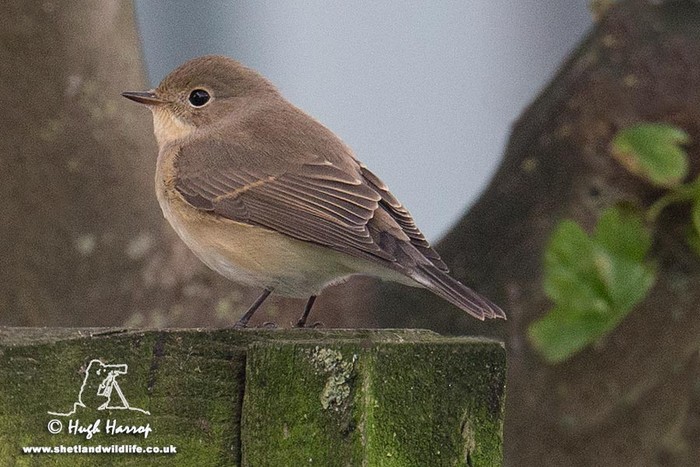 Bits & Bobs 2 ~ Rosefinches and Wrynecks
Five Common Rosefinches started off the week on Shetland, with two on Out Skerries and singles on Fair Isle, Foula and Unst. A further four or five were to make themselves known across the islands during rest of the week with two on Fair Isle on 27th and up to three on Unst on 28th.
Day 2 of the new review week, 25th, saw singles found on Bryher (Scilly) and on North Ronaldsay (Orkney) and two or three birds were found around Spurn and Kilnsea across the weekend of 27th-28th, one of them being trapped and ringed. Easily the "Rosefinch of the Week" though was the juvenile that was also trapped and ringed, this one at the Teifi Marshes NR (Ceredigion) on 27th, the first in the county for 13 years and a day ~ one seen on September 26th 2001 at Llanrhystud.
Like so many species that have been remarkably prolific throughout various parts of September, Wrynecks crashed and burned this week too ~ from 60 or so last week, numbers fell to just 16 this week. Up to 10 of those were logged in the southwest, with maybe four on Scilly, three in Dorset and two for Scilly Devon, with a single in Cornwall. Pembrokeshire recorded two, one at St. David's on 24th, the other on Ramsey Island on 26th. The final quartet were noted in Suffolk (at Minsmere on 24th), on Shetland (inevitably on Unst, from 26th and Fair Isle on 29th) and in Wexford (still at Carne for much of the week).
Bits & Bobs 3 ~ Hoopoes and Shrikes
Two of the three Hoopoes found this week popped up on Shetland ~ the first was seen on Mainland, at Catfirth on 25th with the second following on 28th over on Bressay. The same date also saw the ever-productive Bardsey Island land a lovely Upupa ~ the first of the year in the county and the first on the island since April 2011.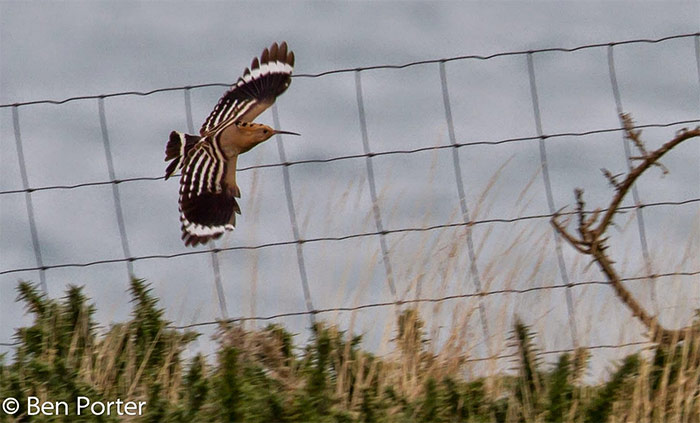 A Great Grey Shrike spent 24th-25th on Foula (Shetland) and was followed by singles at Haslingden (Lancashire) and (an impressive record this one) at Northolt (Middlesex), both on 28th, the latter still present the next morning.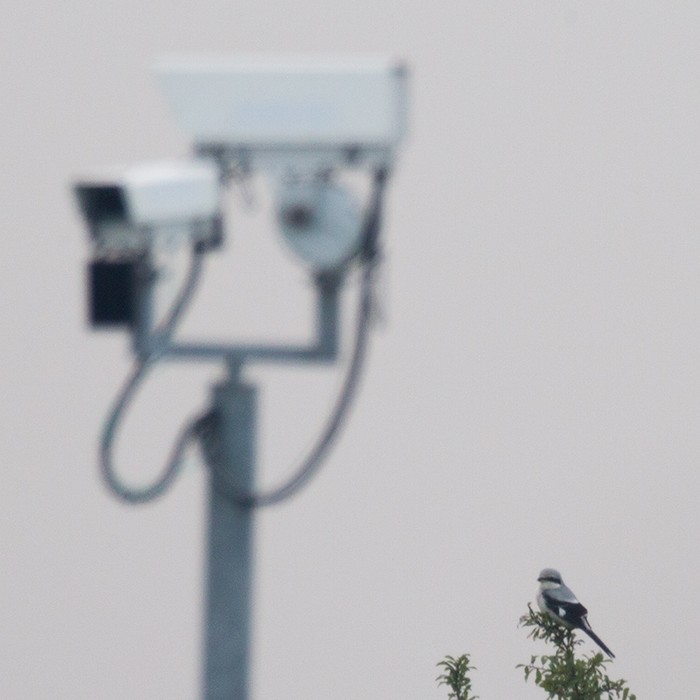 Around 12
Red-backed Shrikes
were spread far and wide this week ~ from Shetland's Pool of Virkie (on 25th) to Cornwall's Lizard (on 27th) and Norfolk's Horsey and Waxham (on 24th and 28th) to Mayo's Mullet peninsula (on 28th) anyone could have bumped in to one, anywhere this week. Singles leftover from last week lingered at St. Cyrus (Aberdeenshire), Seasalter (Kent) and Sandy Point (Hampshire) and newbies were found at Bempton Cliffs RSPB (East Yorkshire) and Lowestoft (Suffolk) on 27th and St. David's (Pembrokeshire) on 30th.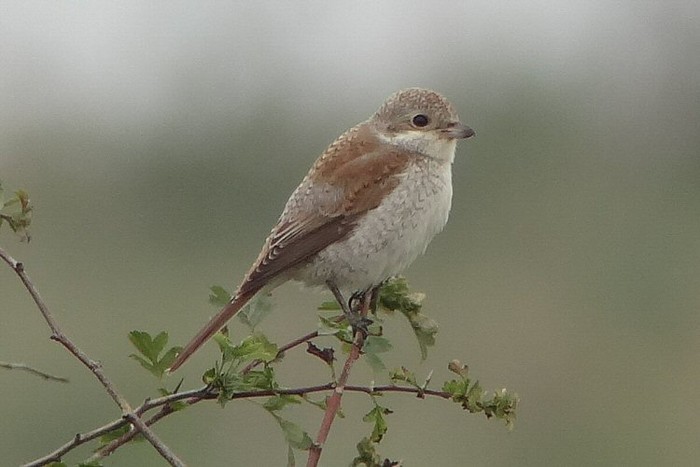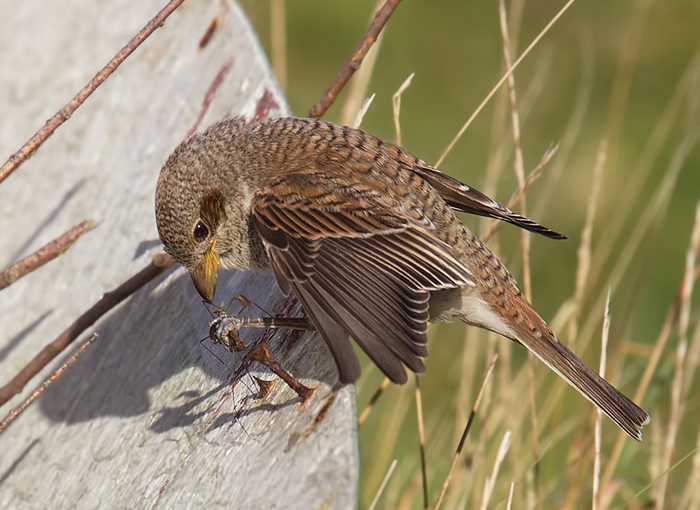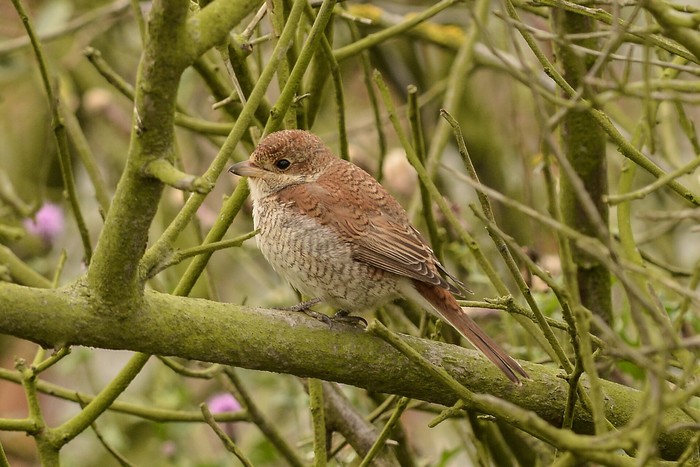 Bits & Bobs 4 ~ Pipits, Larks and Bluethroats
Shetland and Scilly were the only places to have a Red-throated Pipit reported, both on 30th ~ one in flight over Loch of Clumlie, Mainland, the other over Pelistry, St. Mary's.
Lingering Richard's Pipits started the new week in place on Fair Isle and at Keyhaven (Hampshire), the latter still present on 25th. New individuals were found on 27th on Bardsey (Gwynedd) and also across the bar on Gugh (Scilly), with another at Spurn on 28th. The final trio of the week's eight birds were another bird on Bardsey, at Kilnsea and one at Margate (Kent), all on 29th, the middle one being seen again on 30th.
Also sticking it out on Fair Isle on 24th was the Short-toed Lark and some 20 miles to the south, another remained on North Ronaldsay to 25th. The only new arrival was found at Cubert, near Crantock (Cornwall) on 28th where it remained to the following day.
The rather striking male Bluethroat found at the end of last week on Lower Moors, St. Mary's (Scilly) was present through to 30th. For three of the other four this week, well, cast your eyes north once more to Shetland, singles seen on Fair Isle on 24th, Unst (another male) from 25th-29th and on Out Skerries through to 28th as well. The last one of the week was seen at Sanday (Orkney) on 30th.
Bits & Bobs 5 ~ The Finishing Line beckons…!
Four species to go then ~ and we'll start with Rose-coloured Starling and four of last week's 11 made it to the new review period, the following juveniles all present and correct on 24th ~ Dawlish Warren (Devon), Barrow Gurney Reservoir (Somerset), St. David's (Pembrokeshire) and Fair Isle (Shetland), with the first of two new birds for the week appearing the same day, found on Foula. The only other new arrivals were seen on Scilly, on Bryher, by the Hell Bay Hotel on 27th-30th and another on St. Mary's from 30th, along with one near Firkeel (Co. Cork) on 29th.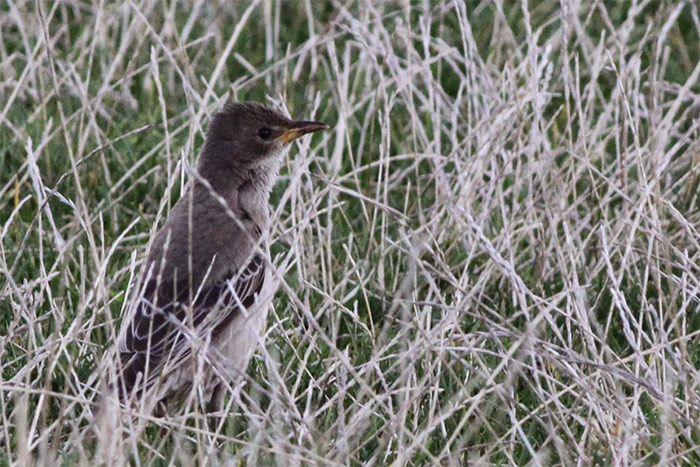 The week's only Ortolan Bunting was seen on Treeve Common, near Land's End (Cornwall) on 29th. The same day also saw a curious report come from the reedbed at Cley, where a female Serin was mentioned briefly around lunchtime. Stranger things and all that…
Last up then and we come to Little Buntings with three birds on Shetland. After a mighty week last time out (13 seen on the islands), just one stuck around on Out Skerries (through to 28th) while Unst's very own mini "Patagonia Rest Stop" area, the gardens around Springpark Road ~ saw a Little Bunting making itself known there on 26th, adding to a significant list of rares in the area this week. The third Shetland bird of the week appeared on Fair Isle on 30th. New on the British mainland was a bird trapped and ringed at Spurn (East Yorkshire) on 29th while Scilly birders found one on Bryher the same day.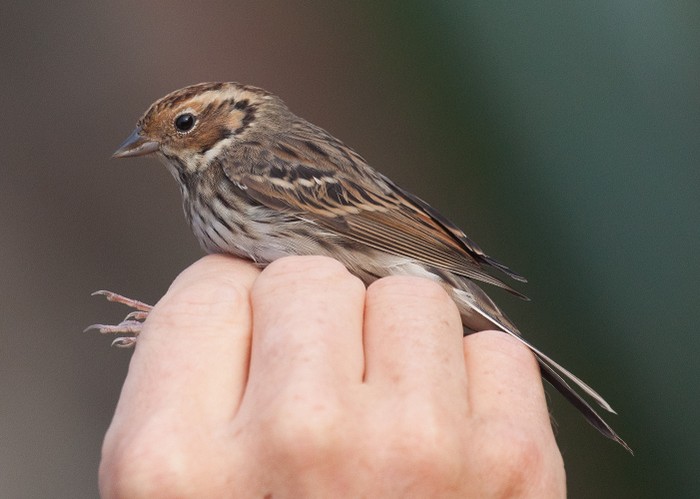 The week ahead
Through general knackeredness and a steely desire to draw last week's near-epic review to a close, my tired and very weary brain didn't actually see the impending western weather activity as being the potent dropper of American passerines that it turned out to be…
The week ahead, well, it looks as though southwesterly winds and a high pressure system will keep things mild to the weekend, temperatures nuzzling the low 20's in the south. The change looks likely as the weekend comes along ~ strong SW winds, low pressure systems and rain set to fall across the country as the jet-stream drifts from north of us to running right across the centre of the country.
The Northern Isles would seem to be the place to keep an eye on while the weather shifts around ~ the gloves are off right now and any "Sibe" could smash their way in to our consciousness. The "most wanted" options have to be the Rufous-tailed Robin/Siberian Blue Robin combo, one of the latter was found freshly dead on Foula on October 1st 2011 and one of the former species was found freshly dead on North Ronaldsay on October 2nd 2010).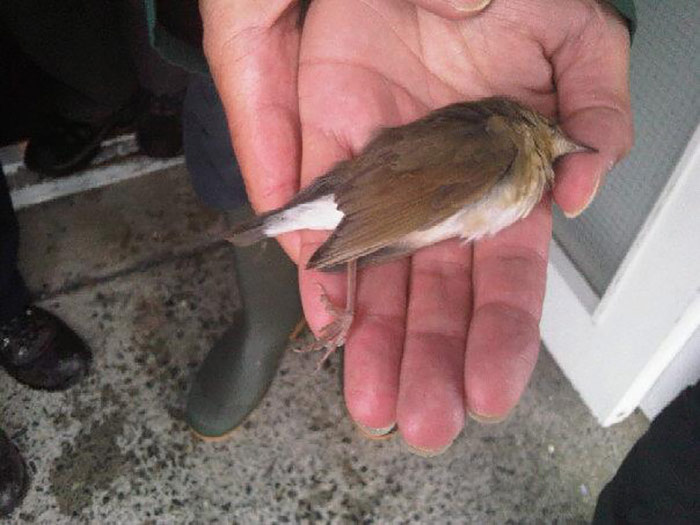 Keep you eyes on the Northern Isles from Sunday through Tuesday next week and see what comes along on some strong ESE to SE winds…it could be tasty.
The Atlantic lows that shift in by Saturday don't appear to be racing towards us, so it could be more of a Nearctic shorebird vibe rather than a Nearctic passerine feel post the weekend away from Shetland and Orkney, but let's be optimistic and think Devon, Cornwall, Scilly or Ireland for a nice, gaudy wood-warbler!
A Northern Parula was a magnificent second-prize on October 1st 1983 for me as a Saturday day-tripping schoolboy dipper (on the Garrison Green Warbler…) while the same date in 1995 produced that oh-so-controversial Bay-breasted Warbler at Land's End.
October 2nd has produced five species of American wood-warbler over the years, including a Yellow Warbler on Barra, a Common Yellowthroat on Bryher and a Black-and-white Warbler in East Sussex.
Britain's second Northern Waterthrush was found on Tresco on October 3rd 1968 and the awesome male Northern Parula that wowed folk along the Garrison on St. Mary's arrived on October 3rd1985. Britain's first Grey Catbird played cat-and-mouse on Anglesey from October 4th in 2001 (yes, not a wood-warbler, but still a mega!) while the same date in 2000 produced that stonking first-winter male Blue-winged Warbler on Cape Clear (and also an American Redstart in Hampshire in 1985).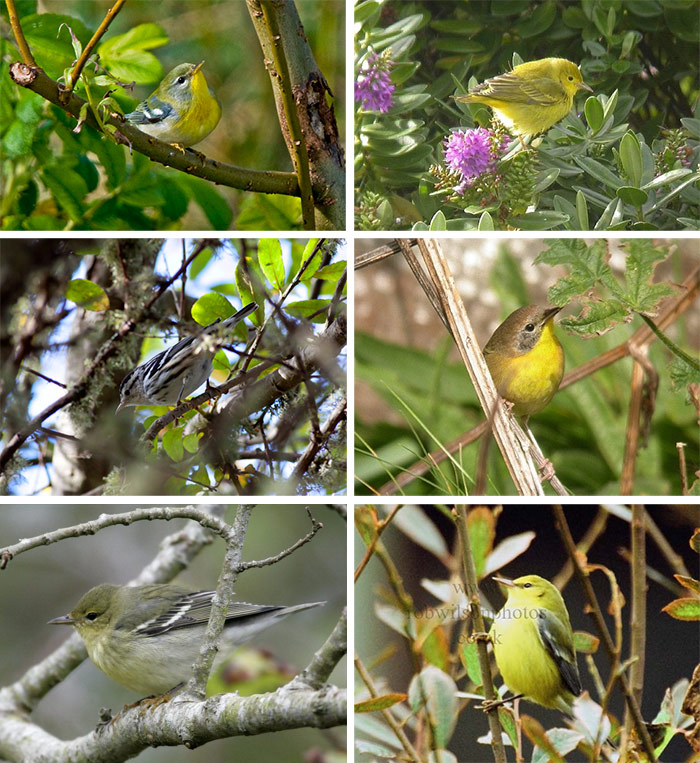 The stream of "First Records" during the week ahead continues with the first Blackburnian Warbler on Skomer on October 5th 1961 (another date where five different species have been found) while the 6th is a good day to find Blackpoll Warbler, four discovered on that date.
Bringing us, more by luck than judgement, to a complete full circle we end of October 7th ~ the date on which you'll remember that our very first Ovenbird was found on Out Skerries back in 1973.
Over to you Cardboard Box, over to you…
Mark Golley
01 Oct 2014


Special thanks this week Kitty Mermagen and the team from North Ronaldsay Bird Obs for all things Eyebrowed Thrush and special mention also to Hugh Harrop for his Shetland images and videos this week.
Many thanks to the rest of our contributors for their photos videos too, we really appreciate your support.
Will Wagstaff, Bob Flood David Parnaby, Ciaran Hatsell and Fair Isle Bird Observatory, Mark Warren and North Ronaldsay Bird Observatory, Martin Cade and Portland Bird Observatory, Steve Stansfield, Ben Porter and Bardsey Bird Observatory, Roger Riddington and British Birds, Bryan Thomas, Ashley Fisher, Rebecca Nason, Toby Green, Gary Bell, John Murphy, Adam Hartley, Robert Wilson, Oriole Birding. Nick Davies - Hebridean Whale Cruises, Michael Trew, Mike Arreff, Andrew Brown, Birds of Poole Harhour, Derek Mays, Dermot Breen, Paul Kelly - Irish Bird Images, John Bowler, Nigel Tucker - Natural FX, Peter Hackett, Sean Nixon, Ian Clarke, James Lowen, Chris Turner, Derek Hales, Andrew Moon, Tony Dixon, Steve Ashton, Michael Turner, Alex Shepherd, Jill Wilson, Micky Maher, Phil Woollen, Geoffrey Alan Clewes, Will Soar.
Contributors websites
Check out our contributors website for more great photos and news