Weekly round-up: 13 - 19 August 2014
The week at a glance
Irish seawatching yields Fea's Petrels in Mayo and Clare, with Scilly adding another to August's tally
The adult Stilt Sandpiper takes leave of the northeast
Norfolk's Franklin's Gull almost starts to behave itself
Two early Blyth's Reed Warblers find themselves lost on Fair Isle
…and the breeding Bee-eaters fledge five on the Isle of Wight
Pretty much the whole country became entrenched in a cool, northwest to northerly airflow over the past week, bringing hefty showers, breezy winds, lower than average temperatures, with a smattering of sunny spells in weather that had an autumnal feel that was much more suited to mid-September than mid-August.
The bird news reflected that too, with seawatching being one of the primary elements of the week ~ indeed there was little more on offer in one of the quietest weeks of the summer.

Like a music fan looking at the weekend line-ups at the just finished "V Festival" and thinking ~ "hmmmm, that's rather disappointing" and "actually with that line-up it's unsurprisingly dull" ~ many birders may look back on the seven days that have just passed and find feelings that are very much the same…
There were glimmers of promise (faint and diminishing glimmers at best) but they ultimately faded away as mid-August's potential fell somewhat flat in a laregly cool and blustery week.
However, just like a 3-0 win at Carrow Road, a resurgent English Test Match side and an awesome Women's World Cup winning rugby team, for a few folk there were some undoubted avian "sunny spells" amongst the grey and damp and, just like last week, the lead species for the week (and also the location) remained the same.
Fea's Petrel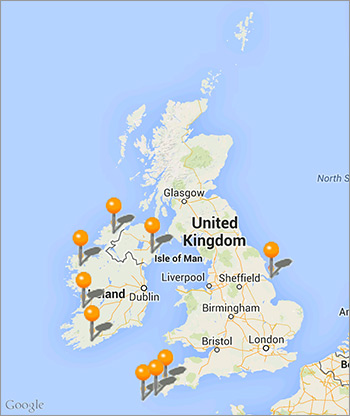 Last week revealed all the relevant scores-on-the-doors for the summer's tally of Fea's Petrels ~ well, we can add a further three to those minimum six so far, and this week's trio of records puts August's record to date up to a healthy half dozen.
In a mini Groundhog Day moment, it was (once again), Mayo's Kilcummin Head that drew first blood this week ~ one heading by on 13th with a second recorded from the same spot later in the week, seen on 17th. As was mentioned here last week, the west coast county scored a quartet of records in 2007 but now 2014 is hot on its heels ~ three records within just a week (from August 10th to 17th) is some run of form and there's plenty of time for seawatchers there to see more (if the weather holds for them).
As to whether it is just one roaming individual, performing sizeable offshore circuits is an interesting question ~ one that been mused upon before for birds off the west of Cornwall. Individual Fea's Petrels can often be separated in the field by their markings, so it would be interesting to know how much detail was observed on the Kilcummin trio.
The week's third record of a Fea's-type came from County Clare's Bridges of Ross, seen passing by on the morning of 16th. With 21 accepted records (to the end of 2012) and a potential further five since, this craggy outpost remains the place to chance your arm for a Pterodroma in either Ireland or Britain.
Breaking the Republic's hold on records of this eternally exciting seabird superstar was the Monday evening jaunt out from St. Mary's (Scilly) on 18th ~ a Fea's Petrel spending almost five minutes are the M.V. Sapphire. What a thrill it must be to be on board when that particular shout goes up…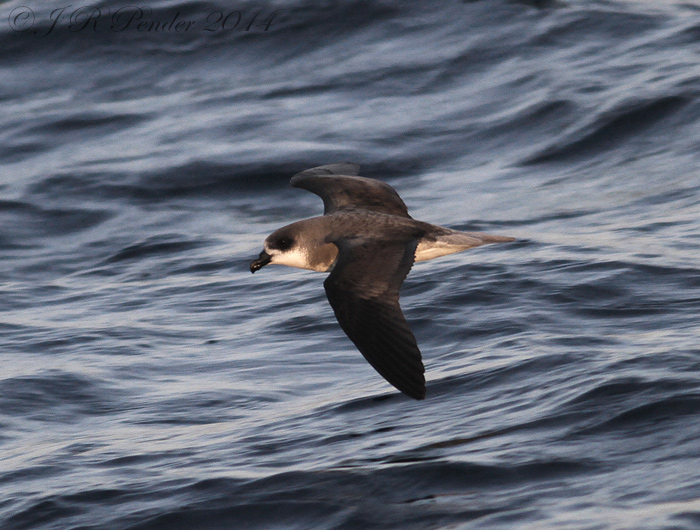 This time last year (August 9th) saw a Fea's-type appear a few miles off the islands and that was the first since one in September 2004.
Once again then, the efforts of the Scilly Pelagic team have been duly rewarded. But they must surely have eyes on a bigger prize. If you've not done so already, read more about this particular cracker here.
Stilt Sandpiper
In the northeast of England, the moulting adult Stilt Sandpiper remained at Cresswell Pond NWT until the morning of 14th ~ seemingly departing sometime around 8.15 in the morning.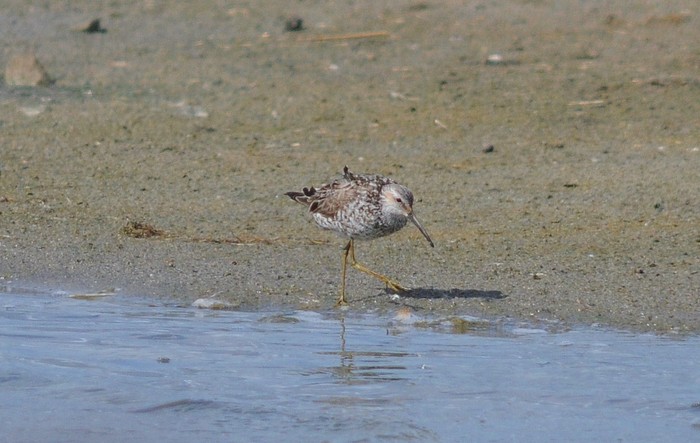 As yet, it hasn't appeared down south (or even anywhere else in Northumberland), but the arrival of a bird in Sweden on 18th piqued interest in to whether we're dealing with one in the same…
Franklin's Gull
Elusive was most certainly the word being employed on the Franklin's Gull that has been seen in Norfolk over the past two weeks. Found first at Breydon Water on August 1st (where it spent just over two hours on site) it re-emerged on the North Scrape at Cley's NWT reserve late in the day on 6th showing for around 30 dusky minutes.
Despite the very small band of evening gull roost regulars spending the next few days scanning the significant gatherings of gulls on both sides of the reserve, hope appeared to be fading that there would be any sort of second coming at Cley...though the volume of Black-headed Gulls coming through each night gave the faintest glimmer of hope...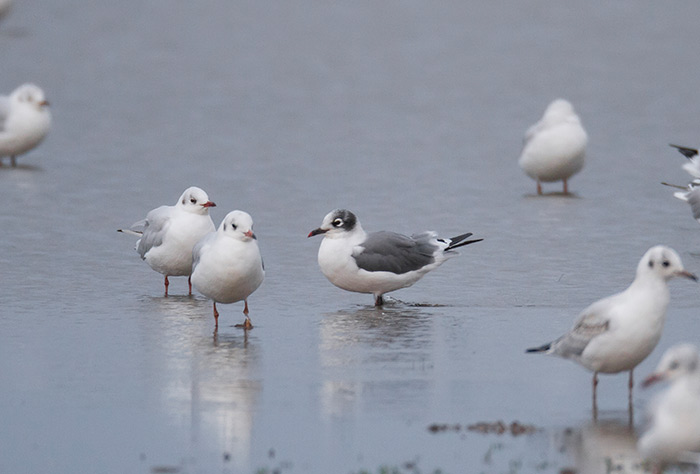 Hope which was, remarkably (joyfully!!!) rewarded a whole week after the first visit when the presumed moulting second-winter bird dropped in to Simmonds' Scrape on the evening of 13th ~ the bird performing well until the dark descended. It then repeated the evening show on both 15th and 16th, again on the south side of the reserve, becoming one of the birds of the weekend.
A lifer for a few folk, and Norfolk tick for those not birding in the 90's and, most importantly of all, a monster Cley Square gripback for me :o) ! (Having taken the call about the discovery on North Scrape the week before, sitting with a beer in New Barnet ahead of a musical jaunt overseas, was more painful than you could ever imagine...).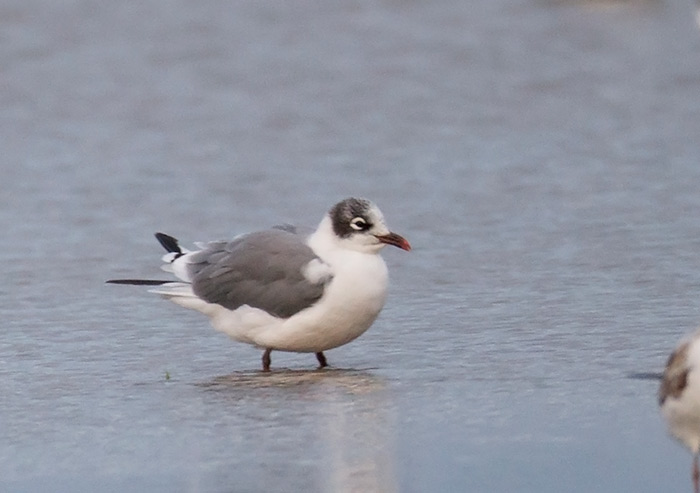 Quite how far it is travelling every day is anyone's guess ~ and where it spends time through the day and evening is another mini-conundrum.
This compact, chubby little gull has just exceeded the century mark here (105 accepted records to the end of 2012) ~ a tidy enough two-a-year average for the species since the first was seen in Britain, discovered in Hampshire, at Farlington Marshes, in the early days of 1970. Recent "big years" have included 2005 ~ nine recorded in all, with six uncovered in the first ten days of a stormy November, while a dozen birds were seen the following year.
Blyth's Reed Warbler
Shetland appears to be on a nice run of early, early autumn form right now ~ the last two weeks have already provided our earliest-ever Rustic Bunting on Unst and an earlier-than-usual Booted Warbler on Whalsay. This week, Fair Isle took the lead with the discovery of a juvenile Blyth's Reed Warbler in the Gully trap on the afternoon of 14th, with a second arriving just two days later, on 16th.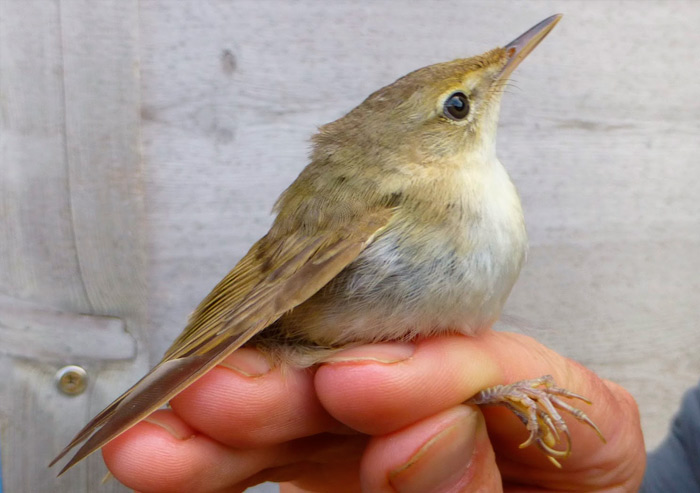 There are only three previous August records of Blyth's Reed Warbler ~ the most recent being on August 26th 2000 when a juvenile was trapped and ringed at Woolston Eyes (Cheshire) with earlier birds appearing at Low Hauxley (Northumberland) on August 31st 1991 and, the earliest of all coming on Noss (Shetland) on August 14th 1985.
The rise and rise of this once notoriously tricky in-field ID species has been well documented here in the recent past ~ but it is still hard to imagine that it was only 30 years ago that 70 or 80 excited souls gathered around the Observatory building at Spurn on a murky late May morning to bear witness to what was Britain's first-ever twitchable Blyth's Reed Warbler. That particular Spurn bird (Seen on May 28th 1984) was just the 11th seen here although seven of the previous 10 records before that came in a remarkable 1912. Now, three decades down the line, we stand at around the 160 mark ~ a rather startling upturn in fortunes for the range expanding Acro.
Wilson's Storm-petrel
We're back down to single birds this week and both of the Wilson's Storm-petrels recorded over the past seven days were logged on the high seas off Scilly ~ seen from Sapphire pelagics on the consecutive nights of 13th and 14th.
Cory's Shearwater
After a reasonable spread of birds last week, numbers of Cory's Shearwaters fell away somewhat over the past few days. In the waters off the southwest of England, single birds were noted from Pendeen on 13th, a few miles off Penzance on 16th and Porthgwarra on 17th. Birders aboard the Scillonian saw four birds on 13th and one on 15th, while the highest count of the past seven days came from the Scilly pelagic of 13th, at least 15 birds seen on that evening's trip. A further three were noted the next evening.
A small flock of three Cory's Shearwaters off Flamborough Head must have been a very pleasant surprise on 14th while watchers at the East Yorkshire site logged a single the next day too. Elsewhere on the east coast, a bird off Lossiemouth (Moray) was a fine county record on 14th and a breezy morning on 17th saw singles reported from Cley (Norfolk) and also Long Nab, Burniston (North Yorkshire) with the latter site recording another later the same day and again on the morning of 19th (a bird that had passed Filey earlier the same day before continuing north, noted later from Whitburn).
The week's remaining Cory's records all came from Ireland ~ there was one each for Mayo's Kilcummin Head and Donegal's Melmore Head on 13th, with the latter county securing eight on 16th (all heading by Bloody Foreland) and a further single off Malin Head on 17th. In Antrim at Ramore Head, near Portrush, a lone bird was recorded, also on 17th.
Great Shearwater
Also seeing a decrease in numbers was Great Shearwater ~ a total of 36 in all recorded over the past seven days. Several of those birds were seen on 13th ~ including seven on that evening's Scilly pelagic out of St. Mary's, three for Pendeen and two off Kilcummin (with two singles in Donegal).
The only other multiples were three on the Scilly pelagic of 14th, two each for Mayo's Inishturk and Donegal's Melmore Head on 17th and six some 40 miles off Scilly on 19th.
Four single Great Shearwaters were reported from three separate Cornish sites, along with loners in Donegal, Mayo and Clare. Most surprising of all though was the close-inshore mid-afternoon stooger than sauntered past Cley and Blakeney Point on 18th, a bird that continued north, tracking past three counties ~ East Yorkshire's Flamborough Head, North Yorkshire's Long Nab, Burniston and Northumberland's Newbiggin, Snab Point, Beadnell and Farne Islands through a long haul north on 19th.
Best of the rest
Along with the ever-so-showy near-adult Long-tailed Skua on the beach at Church Norton (West Sussex) ~ last seen on 16th ~ a further eight birds were recorded in four counties (two Irish, one Welsh, one English).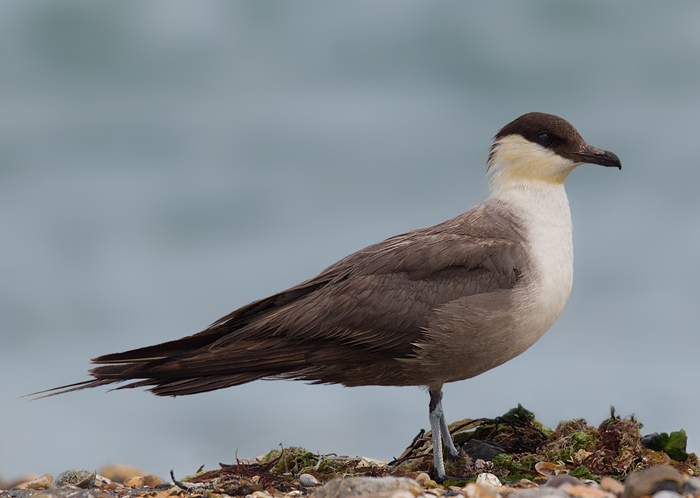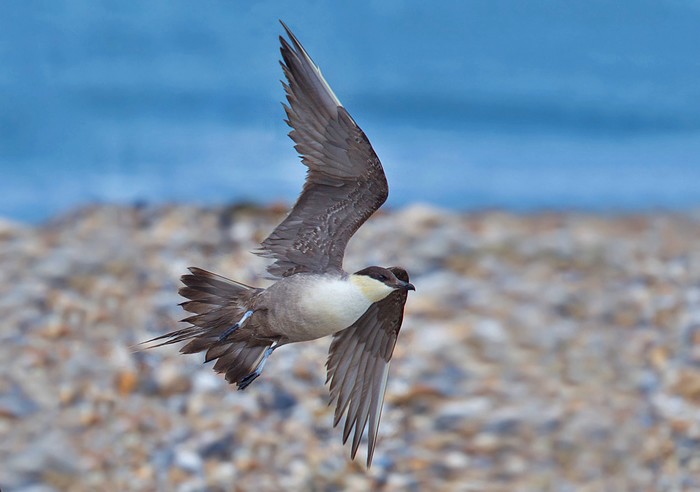 Four birds were seen off Kilcummin Head on 13th with another at Bloody Foreland in Donegal. The same county saw one pass Malin Head on 17th, while Pembrokeshire's Strumble Head recorded singles on 17th and 18th. The final bird was noted in Somerset, off Hurlestone Point, also on 18th.
Only seven Pomarine Skuas were reported this week, two each for Bridges of Ross on 13th, Flamborough Head on 15th and Malin Head on 17th with a lone bird off the first-mentioned location on 16th.
The new review began with a couple of Sabine's Gulls passing Kilcummin Head on 13th. Next was a funky-looking first-summer that spent a few minutes offshore from the beach at Cley on the morning of 15th while, more predictable, was the adult noted off Staffin Bay, Skye (Highland) the same day. Kilcummin watchers picked up another Sab's on 16th and on 17th, singles were noted from Ramore Head (Co. Antrim) and Portland Bill (Dorset).
We're slowly edging towards the best time of the year in which to encounter Leach's Storm-petrels at close quarters and, despite weather that was rather more suited to mid-September than mid-August, we have to satisfy ourselves with just the one record this week ~ seen from the Ullapool to Stornaway ferry on 16th.
After a Grey Phalarope flew past Malin Head (Co. Donegal) on 13th, the week's only other record popped up in Essex on blowy Monday ~ an adult found at Holland Haven on 18th where it remained to 19th.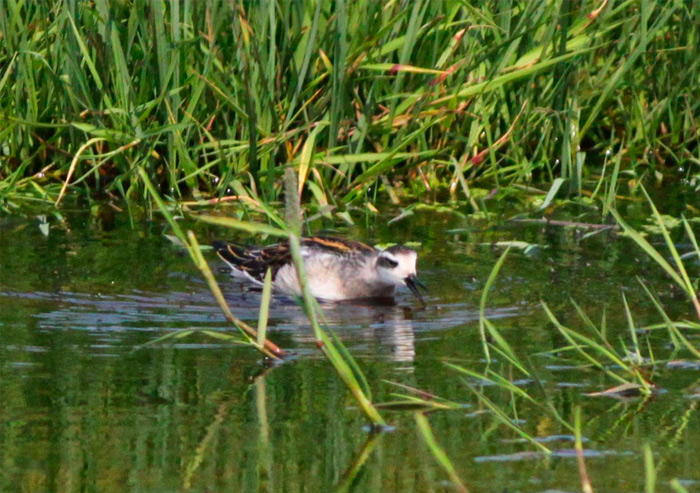 Balearic Shearwaters hit double figures just once this week ~ 16 seen from Portland Bill on 18th making up a fair percentage of the overall total of 70 birds in the seven days just gone. Those birds were spread across 14 counties in Britain and Ireland with the only significant tallies of any sort being Cornwall's 17 birds and Dorset's 25 (all off Portland). A handful of singles made it to the east coast but it was general the west that fared best in a very average week for the species.

After all the excitement of the baby Bee-eaters making out of the nest and off to apparent safety somewhere on the Isle of Wight, news finally emerged this week of what has long been on the cards ~ a pair of Glossy Ibis in full-on courtship and nest-building mode.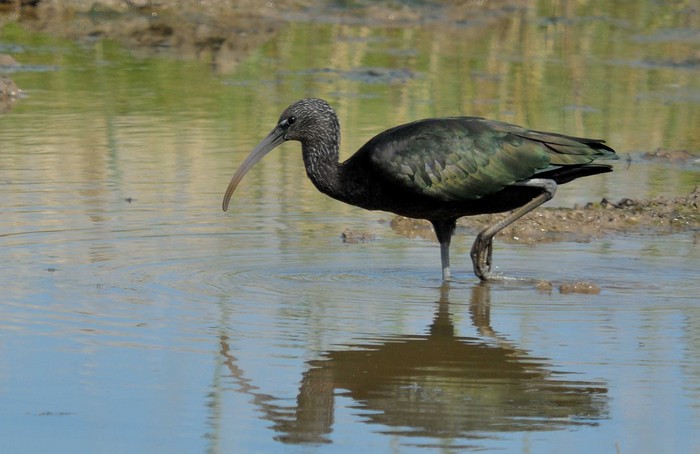 The pair, which didn't lay eggs, chose the east coast surrounds of the RSPB reserve at Frampton Marsh in Lincolnshire in which to become a little on the amorous side and are the first recorded modern-day Ibis pair to attempt to bred here ~ and is surely a sign of things to come. At least one remained for much of the week on site and it will be fascinating to see if the species joins the list of "climate change" breeders of late ~ three egret species, Spoonbill and Purple Heron to name just five…
Further Glossy Ibis continued to hang out at Cossington Meadows (Leicestershire) and Abberton Reservoir (Essex) to 13th with one heading over Canvey Island the following day. The 16th saw one arrive in Kent, at Pegwell Bay and on 17th another was reported at Slimbridge WWT (Gloucestershire). The last singles of the week dropped in to Saltholme Pools RSPB (Cleveland) and near Stretham (Cambridgeshire) on 19th.
In Warwickshire, the summering second-summer Night Heron drew close to a calendar month on site at Seeswood Pool ~ first noted on July 21st, the popular bird was still present to 17th at least.
Just one Cattle Egret was reported this week ~ present throughout the week at Sidlesham (West Sussex). There somewhat larger distant Great White relations where less hard to come by, a grand total of up to 34 in all recorded over the last week.
A minimum of four were seen on the Somerset Levels (at Shapwick Heath NNR on 17th) while three at Shell Ness (Kent) on 15th and two at both Denge Marshes, Dungeness and Leighton Moss RSPB on 17th helped bumped the total up and up. A further bird at Allhallows boosted Kent's total to six birds, while three or four singles were seen around various bits of Cambridgeshire through the week, three were seen in Lancashire, including two still at Leighton Moss RSPB and a two or three singles were seen in Suffolk (at Minsmere, the Hockwold Washes at Lakenheath and Carlton Marshes SWT).
Further single Great White Egrets were noted from Nosterfield NR (North Yorkshire) to Crows-an-Wra (Cornwall) ~ many were "review regulars" but a few new birds were noted including individuals at Studland (Dorset) on 13th, Cossington Meadows (Leicestershire) on 14th, Arundel (West Sussex) on 18th and Bala Lake (Gwynedd) and Brandon Marsh NR (Warwickshire) on 19th.
During the afternoon of 16th, a monster 72 Spoonbills were shared between three East Anglia sites ~ 28 for Cley, 27 for Havergate Island and 17 for Titchwell. Earlier in the week, Stiffkey had seen a high-tide gathering of 24 birds on 13th and at Minsmere RSPB, seven were seen on 14th and sox headed over Carlton Marshes SWT on 16th.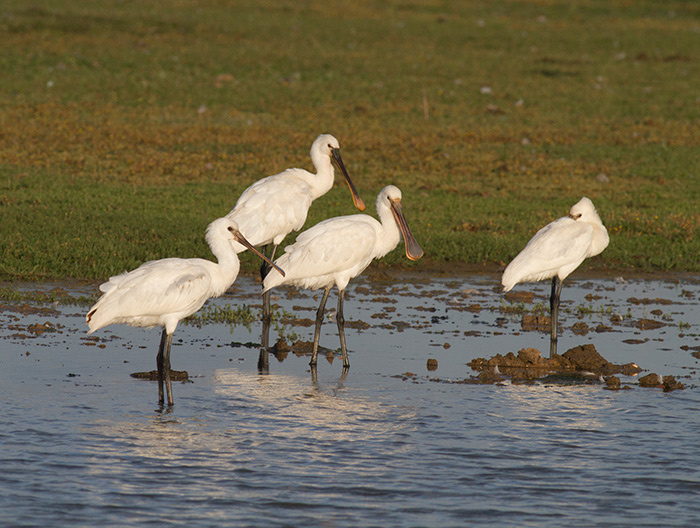 Three Spoonbills remained in Findhorn Bay (Moray) for the week with three more at Arne RSPB (Dorset) on 19th. Two birds were noted at both Frampton Marsh RSPB (Lincolnshire) and Hickling Broad NWT (Norfolk) at the start of the review period. Singletons were at Langenhoe Point (Essex) on 13th and still at Quoile Pondage (Co. Down) on 16th.
Trying hard not to be outdone by the large gatherings of the above-named species in Norfolk, the Broadland Common Cranes managed a significant post-breeding flock of 22 birds at Horsey on 14th with 31 (including two juveniles) on 18th. In East Yorkshire, the first-summer was at Leven Carrs on 13th and Arram Carrs on 16th, while one over the River Mersey, at Hale on 16th presumably accounted for the bird seen later at Mold (Flintshire) later the same day.
The week began with three Spotted Crakes on offer ~ the lingering birds remaining at both Rainham Marshes RSPB (London) and Titchwell RSPB (Norfolk) whilst new was one at Tacumshin (Co. Wexford). Last week's newbie at Bowling Green Marsh RSPB (Devon) was seen again on 14th whilst the second new bird of the week arrived at Tophill Low NR (East Yorkshire) on 17th.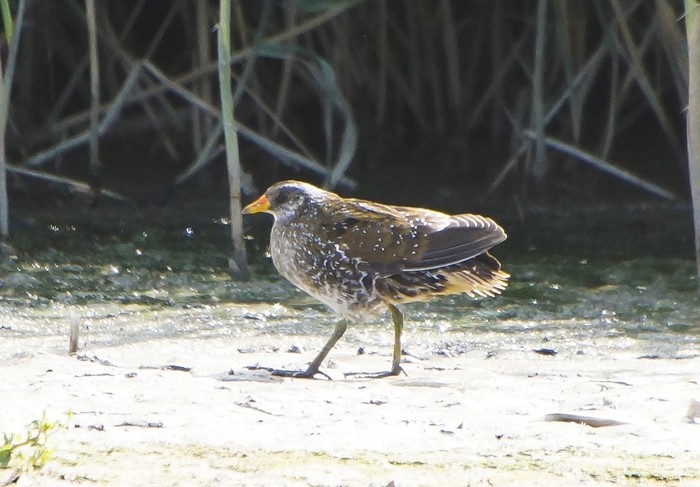 In Borders, a Corncrake was flushed from fields near Reston on 16th.
It'll come as no great surprise that this week was another summery snoozefest where our watery chums were concerned ~ the eclipse drake Lesser Scaup remained on Blagdon Lake (Somerset) until 17th before moving to nearby Chew Valley Lake on 19th, while out-to-sea, a drake Surf Scoter lingered off the Aberdenshire coast, at Blackdog, to 17th.
<!—Section Title -->
County Offaly's first-ever record of Long-billed Dowitcher leads the way this week where the shorebird action is concerned ~ found at Lough Boora Parklands on 18th, the summer adult must have been quite some surprise for the finder ~ especially in a county that lies almost slap bang in the middle of Ireland.
Last week it was Spurn birders who had the pleasure of observing a Terek Sandpiper, this week it was the turn of Kentish birders to have their turn, with the discovery of an always welcome wader at Swalecliffe on 16th. Sadly, this week's individual spent even less time on site than the Spurn bird, disappearing just a couple of hours after discovery.
To date, there have been seven accepted Terek records in Kent, the most recent coming six years ago, at Lydd from June 1st-8th 2008 (a bird that also popped in to neighbouring East Sussex). Further records include another in the first decade of the 2000's (at Cliffe in 2005), two birds in the 1990's (consecutive years of 1998 and 1999), two in the 1980's (including another at Cliffe, in 1989 and one for Dungeness in 1982) with the first county record being a one-day bird at Sandwich Bay in May 1973.
After weeks of hosting an adult Pacific Golden Plover, North Ronaldsay played swapsies and changed it for an adult American Golden Plover on 15th (the PGP was last seen on 11th).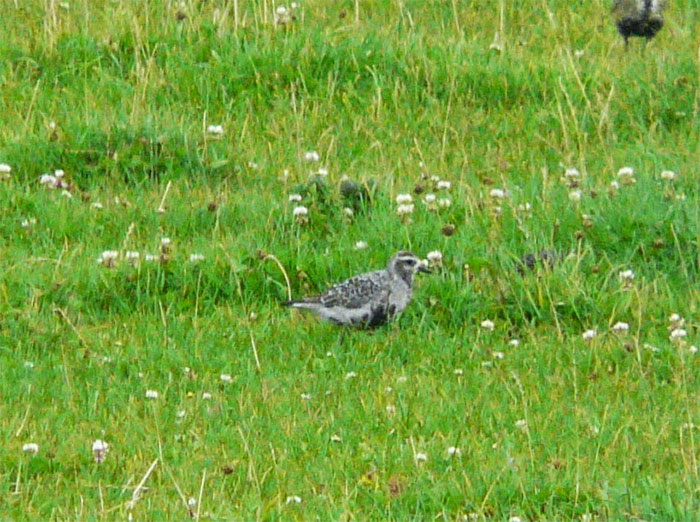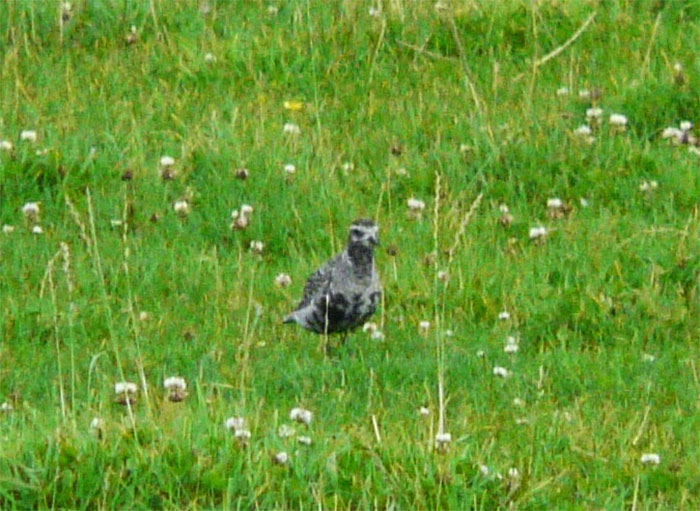 Back in Ireland, the third Buff-breasted Sandpiper of the month was found at Leam Lough (Co. Mayo) on 13th while one of the two White-rumped Sandpipers recorded this week was found at Cork's Pilmore Strand on 17th ~ the other bird was again at Gibraltar Point NNR (Lincolnshire) on 13th.
Just three Pectoral Sandpipers through the past few days, one was still at Pulborough Brooks RSPB (West Sussex) to 14th and new were lone birds found on Tresco, on the Great Pool on 18th and a busy Frampton Marsh RSPB on 19th.
Red-necked Phalaropes registered five separate individuals ~ first came one for North Ronaldsay on 13th and 17th (with two seen on 19th), while the juvenile seen last week at Frampton Marsh RSPB was reported again on 15th. A Shetland juvenile was at Pool of Virkie on 16th with the final bird of the week making itself known at Pilning (Gloucestershire) on 18th.
Whilst we don't know whether it was a Kentish Plover or a Greater Sand Plover that spent a little time on the beach at Laytown (Co. Meath) on 13th, we do know that we seem to have lost all of our home-grown Black-winged Stilts ~ no sign of any in Sussex of Suffolk this week. Let's wish them Godspeed and all that...

The adult Bonaparte's Gull was noted at Oare Marshes (Kent) on at least three days this week (13th and then 17th-18th) while two single Ring-billed Gulls made themselves known in Ireland ~ a first-summer was again at Sandymount (Co. Dublin) on 15th and another was still at Lurgan Green (Co. Louth) on 18th-19th.
After no mention at all since the first couple of days of June, the Kumlien's Gull on Fair Isle was reported again this week ~ on 13th and 15th (has it had a summer holiday somewhere else?)
In other gull news, it is great to that the juvenile cachinnans just keep on coming! Out of around 30 Caspian Gulls logged this week, almsot half were new juveniles including three at Flamborough Head (one on 13th and two on 17th). Flamborough gullers also scored with an adult on 14th and real-deal third-summer from a Polish colony on 17th-18th.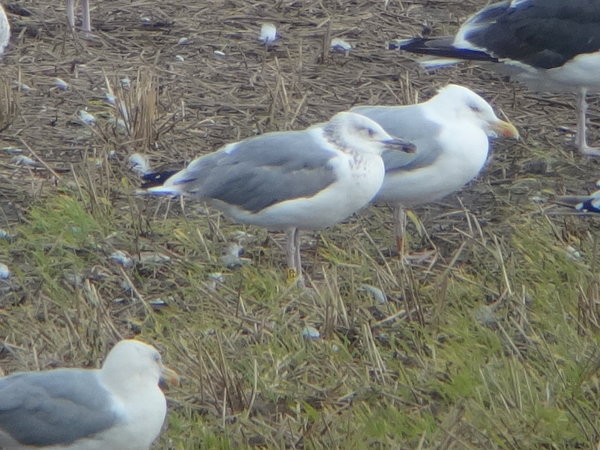 It is interesting to compare the East Yorkshire third-summer to Amble's Yellow PKCS ~ a bird that was still present on the Northumberland coast until 19th and a bird that is supposed to (absolutely) be a third-summer (despite looking a whole 12 months or so older....).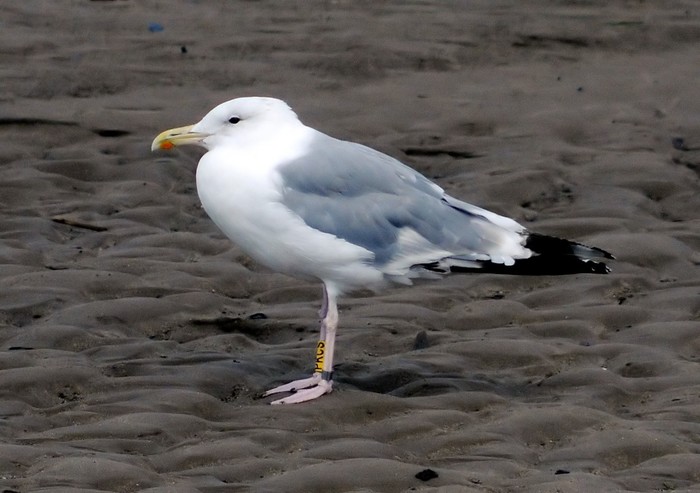 Back to known birds of this year ~ juvenile cachinnans away from East Yorkshire were also noted at Stanwick GPs (Northamptonshire) on 14th (with two present on 19th), at Cley NWT (Norfolk), Grafham Water and Milton Tip (Cambridgshire) Farmoor Reservoir (Oxfordshire) and Dungeness (Kent), all on 17th with the final ones of the week found at Broome (Bedfordshire) on 18th and Nosterfield NR (North Yorkshire) and Walberswick (Suffolk) on 19th ~ one of five Caspians there that day.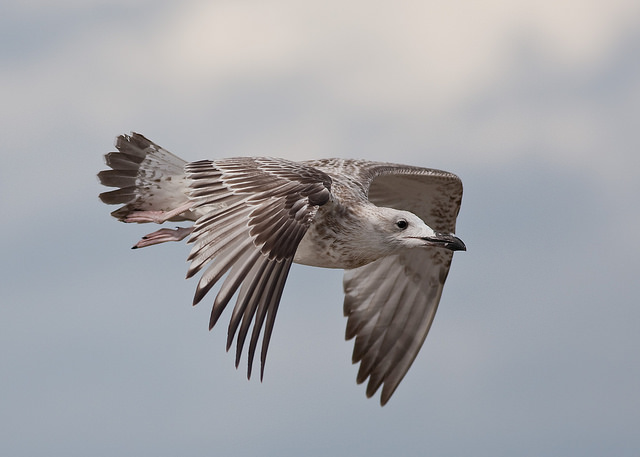 Also in Cley, as well as all the fun of the Franklin's and a reasonable assemblage of Caspian Gulls, comes news of a two-night second-summer Baltic Gull ~ seen on the weekend of 16th-17th. This is the seocnd for the site this summer, following a stonking, textbook first-summer a month or so ago.
The week began with an adult male Honey Buzzard heading over Hamsterley Forest (Co. Durham) on 13th with another reported the same day at Mount Hawke (Cornwall). Five more followed through the rest of the week, at Priestcliffe (Derbyshire) on 17th, Kilham (South Yorkshire) on 18th with two seen above Belvide Reservoir (Staffordshire) with another over the observatory on Bardsey Island (Gwynedd) ~ the last three all noted on 19th.
Interesting news from East Yorkshire's Blacktoft Sands RSPB where three Montagu's Harriers were seen heading to roost on 13th. The only other birds noted were a juvenile at Dungeness RSPB on 17th-19th and a ringtail at Birling Gap (East Sussex) on 19th.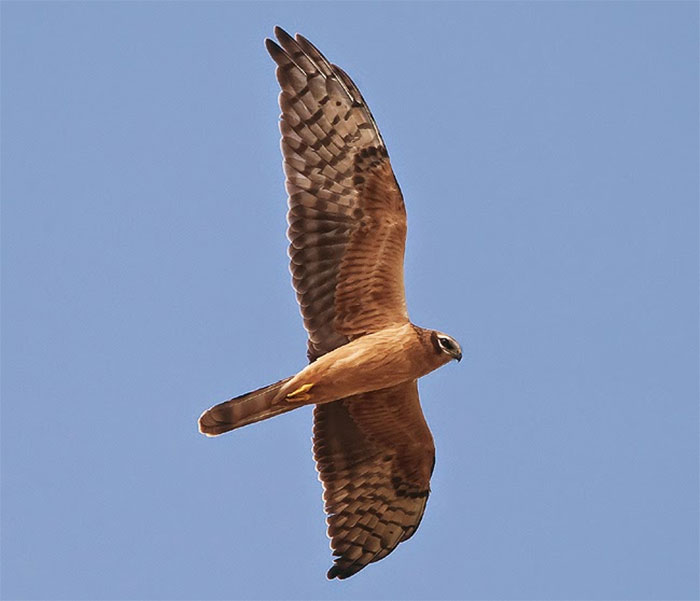 Quite how a Western Bonelli's Warbler managed to navigate a way to Portland Bill during a spell of northwest winds emanating from the Atlantic is far too hard to explain but appear it did ~ in the Obs., garden mist-net during the morning of 16th.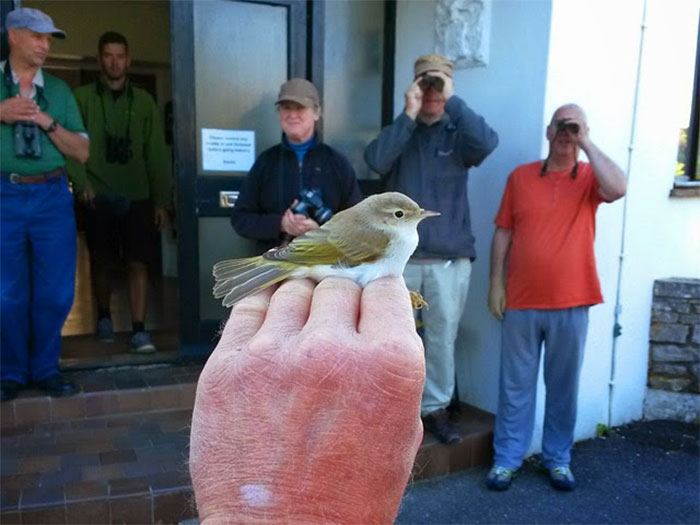 A beautiful, fresh and particularly vibrant lime and mossy green bird, this rather fabulous plain-faced Phyllosc., becomes the first definite Western Bonelli's in the county for 30 long years (since one was watched at Hengistbury Head on May 24th-25th 1984).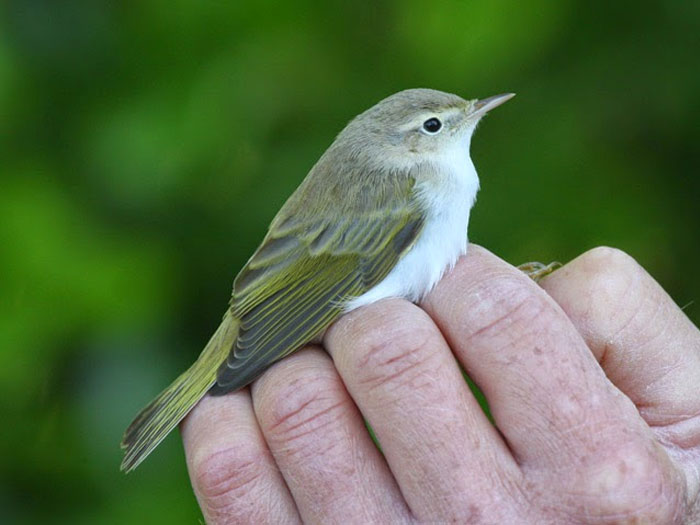 That particular bird was the fifth for the county with the first four all appearing on Portland ~ on August 29th 1955, from August 10th 1965, on September 9th 1972 and, most recently (up until now) from August 13th 1976.
Dorset has hosted three Bonelli's Warbler sp. ~ in August 1974, May 1975 and August 1989 (the latter two at Hengistbury Head, the first on Brownsea Island), while the most recent record of either species in the county was the much-twitched spring one-day Eastern Bonelli's Warbler at Southwell, on Portland on May Day 2009.
From the cute Phylloscopus to the more robust Acrocephalus now and, along with the double bill of Blyth's Reeds on Fair Isle, a nice, early Marsh Warbler was found on the same island on 15th ~ splicing in between the rarer option's two separate dates and providing an educational double act within just a few hours for good measure too.
Shetland's Booted Warbler was still in gardens on Whalsay on 15th and on Mainland, an Icterine Warbler spent a second day at Sumburgh on 13th. The second record this week came from the rather unexpected location of Cossington Meadows LRWT (Leicestershire) on 15th ~ a superb county record and a third impressive species on site this week to boot. The only Melodious Warbler was found at Beachy Head (East Sussex) on 16th.
The first drift of northwest winds predictably delivered a Barred Warbler to East Anglia, one seen at Thorpeness (Suffolk) on 15th. The same date produced five more birds around the Northern Isles ~ on Orkney a singleton was on North Ronaldsay, while Shetland held four ~ one for Whalsay with three on Fair Isle. The 15th was a busy old day on the latter island ~ a Common Rosefinch seen along with the other drift bits & bobs and the week's second was found on North Ronaldsay on 19th.
With reasonably poor genuine drift conditions, there was little surprise that a species such as Wryneck was in short supply ~ three reported through the last seven days ~ the first arriving at Beddington SF (London) on 16th, the second seen at Southrop (Gloucestershire) on 17th with another mentioned for Richmond Park (London) on 18th.
Last, but absolutely not (in any shape or form) least, Bee-eaters!
After many musings as to the current state of play with the breeding pair that had taken up temporary residence at the Wydcombe Estate NT on the Isle of Wight Friday 15th brought the news we'd all been hoping for ~ three newly fledged juveniles were sat out on trees alongside four adults with the popular septet still in place on 18th. Then as the week rolled to a climax, two more youngsters appeared to bring the tally to five juveniles and four adults (all of which appear to have been involved in the feeding operations.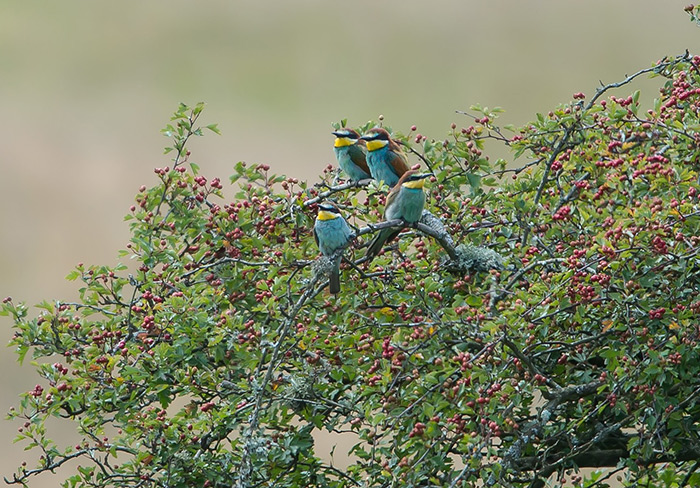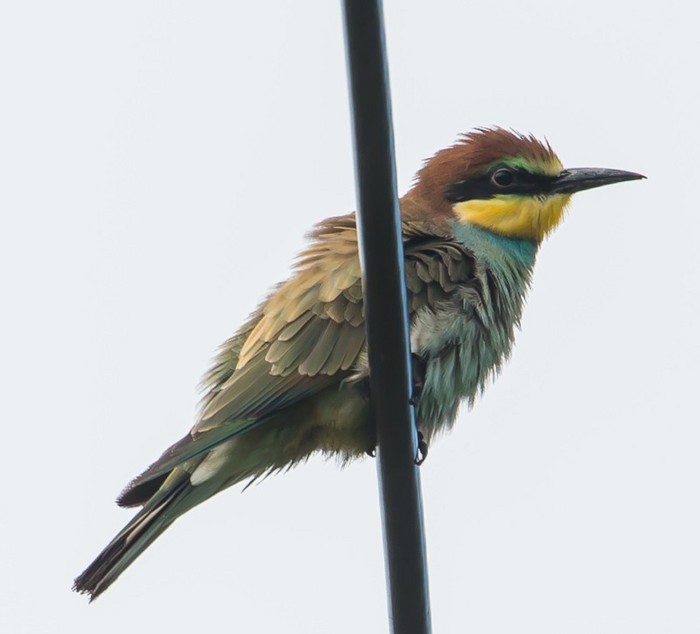 Only the third successful breeding record here, the first in Sussex in 1955, the second being the famous pair in Durham in 2002, it has been a nervy old wait to see if the parents would see it through ~ thankfully they have and it's certainly a great way to conclude this week's news ~ well almost finish, news of a Bee-eater at Westonzoyland (Somerset) on 19th topping off the news for the week.
It looks as though we're in for a spell of largely westerly Atlantic style weather for a few days to come, with no real sign that we're on for any nice drift migrant systems in the foreseeable.
What will come our way? It seems as though seabirds and shorebirds will, for the third week in a row, be the focus of attention.
A Barolo Little Shearwater off Bridges of Ross would come as no surprise this week ~ singles have been seen at the legendary seawatching spot in County Clare on five of the seven days ahead, with two there on August 25th (in 1995 and 2000).
The seven days ahead are also spectacularly hot for Fea's Petrels too ~ seen daily between August 20th to 26th with eight records for both 24th and 25th, with seven on 26th. Impressive stuff…
If waders are your bag ~ think Greater Yellowlegs ~ four have appeared in the period we're getting to now. But maybe with an real punch of Atlantic weather, maybe someone somewhere will uncover an altogether more mega Nearctic wanderer. There's 1000's who would appreciate a Hudsonian Godwit while everyone would be keen to bag a Willet.
Think the unthinkable…and, well, you never know…
Mark Golley
20 Aug 2014


Special thanks this week to Steve Gantlett for allowing us to use his super shots of the Cley Franklin's Gull and to Martin Cade and the Portland Bird Observatory for the cracking in-hand images of the Western Bonelli's Warbler.
Thanks also all our other contributors for their photos, videos and sound recordings.
Joe Pender, Brian Henderson, Steve Gantlett, Penny Clarke, David Parnaby and Fair Isle Bird Observatory, Steve Ashton, Stuart King, Ian Forrest, Bart Ives, Alan Tremethick, David Borderick, Mark Warren and North Ronaldsay Bird Observatory, Andrew Hood, Brian Henderson, Mark Chicwick, Steve Blain, Martin Casemore, John DArcy.