Weekly round-up: 23 - 29 July 2014
The week at a glance
Fair Isle's lonely Swinhoe's Storm-petrel hits the back of net again.. and again…
The summer's second Stilt Sandpiper drops in to Northumberland
East Anglia's Black-winged Pratincole seems settled-ish in Cambridgeshire
Nice'n'early does it for Dorset Aquatic Warbler
Double dose of Pacific Golden Plovers hit Orkney and Staffordshire ~ returning birds perhaps?
…and, saving the best until last ~ breeding Bee-eaters feeding youngsters on the Isle of Wight
Here we are again then….
Saddling up the RBA Round-Up is an interesting proposition after a good six weeks or so away from the cut and thrust of the rarity scene. But climbing aboard the old nag is something that needs to be done, so it's giddy-up and, while we're at it, just don't spook the horse.
It was indeed heart-warming to read from a far that nothing seismic changed in the time I was elsewhere (like it was ever going to…) ~ megas came and went (no ticks missed…hurrah!) with a few things causing a bit of a stir amongst the headlines over the past month and half or so ~ and debate about this and that was seemingly in full flow as chunterings rumbled along on the usual channels (most recently in the hotshots' sights, the duff duck in Suffolk).
Actually, after endless mornings seeing Magnificent Frigatebirds and Brown Boobies from the hotel breakfast room and a jaunt above Rio for such Atlantic Rainforest lovelies as Pin-tailed Manakin and Black-cheeked Gnateater (oh, and meeting Pele…) it was rather comforting to see the day to day grizzles and gripes of the online community interspersed with the occasional burst of (eeeeeeeeeeek….!) pleasure and joy in what they (we…) do. When viewed from 1000's of miles away, the British birding and listing community truly is a strange beast.
Anyway. To the matter in hand.
This week began with temperatures generally holding station in the mid to high 20's (degrees C) for many, as high pressure maintained a sunlit grip over much of the country. As the weekend approached, so did more hefty electrical storms and these were quickly followed by a gradual cooling across much of the country as a northwesterly airflow wafted a way over the UK. It wasn't cool for all though, temperatures in the southeast held firm around the top of end the 70's which, again, set off some fiercesome storms, with flash flooding and travel issues following on behind.
Birdwise? Well, there was still plenty of excitement on hand across much of the week, with some new old favourites (or should that be old new favourites…?) keeping folk on their toes (and in the air or at sea if they so desired).

Swinhoe's Storm-petrel, Fair Isle
Shetland's singing single Swinhoe's Storm-petrel couldn't help presenting itself on a couple of Fair Isle nights this week ~ caught overnight on the evening of 24th/25th ~ the first time in almost a week ~ with a second appearance coming overnight on 28th/29th ~ it has now found the net (in 2014) exactly the same number of times that the majestic Germany did against the pitiful Brazilians in Belo Horizonte…
(Does that make David Parnaby the birding equivalent to Toni Kroos or Andre Schrulle? Maybe given his leader's role at the Obs., he's actually a birding Joachim Loew…).
The seven nocturnal appearances on the island this year have almost all fallen before the date of the first sighting on the island last summer ~ bird #1 last year was noted calling around South Haven overnight on July 21st/22nd 2013, with trapping of said beasite following on the night of 26th/27th July. Last year's second Swinhoe's was caught on August 7th, a bird which was retrapped across several nights until 17th.
How long will this summer's bird hang on for? Will bird two make itself known in the next couple of weeks? And what about if a new unringed bird should happen to throw itself in to a Fair Isle petrel net…lorks…!
Stilt Sandpiper, Northumberland
Just over a couple of weeks ago and the RBA Round-up brought news of Norfolk's second-ever Stilt Sandpiper, seen on the sizeable expanse of water that is Hickling Broad, present on 11th (and perhaps 12th) July. This week comes news of Northumberland's second-ever Stilt Sandpiper, found at Cresswell Pond NWT on the busy morning of 29th.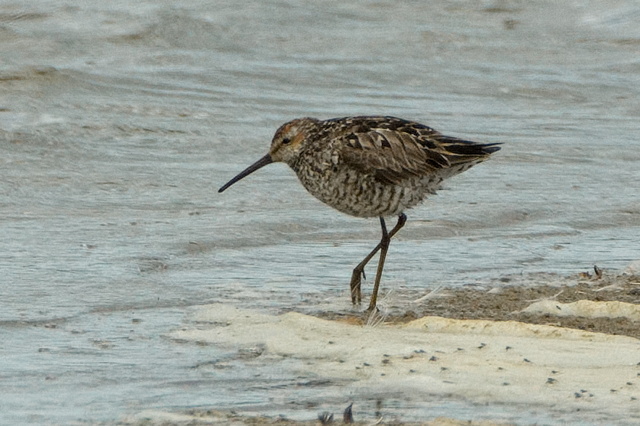 The species may not be the draw it once was ~ long-stayers such as last autumn's eight-day adult at Sandbach in Cheshire have gone a long way in dampening the ardour where Stilt Sandpiper is concerned ~ but, as is often touched upon here, that shouldn't detract from a cracking find and a great county bird.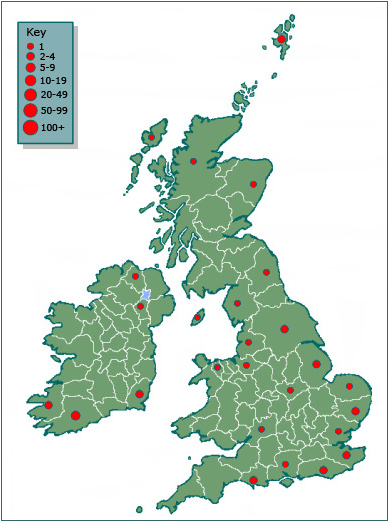 Prior to this week's newbie, Northumberland had hosted the species just once before, an adult found at Low-Newton-by-the-Sea on August 5th 2012, an individual that lingered for five days in all.
If the birds of summer 2014 are thought to be different, then we're just one off the half century for a shorebird that is perhaps rarer than the numbers make out ~ returning birds may account for several records during the 80's and 90's through to the present day (a prime recent example being the 2008 juvenile that arrived on the Outer Hebrides before appearing on the Isle of Man and then the coast of Cumbria within the space of a fortnight).
Those 49 (or less) records have all come since Britain's first was found 60 years ago next month, along the banks of the Humber at Spurn in late August 1954. Happy Diamond Anniversary Stilt Sandpiper…
Black-winged Pratincole, Cambridgeshire
A regular thought across the past few months across the imaginary online pages you see here is just how bloody marvellous it must be to have a Cambridgeshire list at the moment. So many entertaining birds have passed through the county in the last 18 months ~ it has often felt like the place to be.
Last week, the East Anglia enclave hosted the roaming "on tour" Black-winged Pratincole, popping in at the Ouse Washes RSPB for a couple of days from 19th-20th. Lo and behold, on the evening of 25th, it was back again showing on the pools on the same reserve, remaining in the general area to 27th. Where it goes a'wanderin' is impossible to know, but given the vast openness of the fenland landscape around it and just how secretive these glorious Glareloas can be, perhaps this individual hasn't been too far at all.
As mentioned last week, this is only the third record for Cambridgeshire, following consecutive singles in 1981 (at Fenstanton GPs from August 12th-18th) and on the Ouse Washes in 1982 (on October 11th-12th) and seems likely to be this particular bird's sixth county of its east coast sojourn, having already taken in Northumberland (on June 12th), Cleveland (on June 13th), Durham (on July 5th-6th), Northumberland again (on July 7th), Lincolnshire (on July 14th), Norfolk (on July 15th-17th) and, finally (for now) Cambridgeshire (on July 19th-20th and 25th-27th).
The tour t-shirts are being made up in the RBA office right now…and new dates will be added…south coast next?
Aquatic Warbler, Dorset
The early morning discovery of an adult Aquatic Warbler in the nets at Dorset's Lytchett Bay on 25th heralded not only the first of the year for this often extremely tricky to see "tiger striped denizen of the marsh" but also the first July record of the species in at least 14 years…
Finding out exactly when the last July Aquatic Warbler was seen in the UK isn't that easy (especially given the demotion away from the Rarities List) but it seems as though they are on the blue side of rare.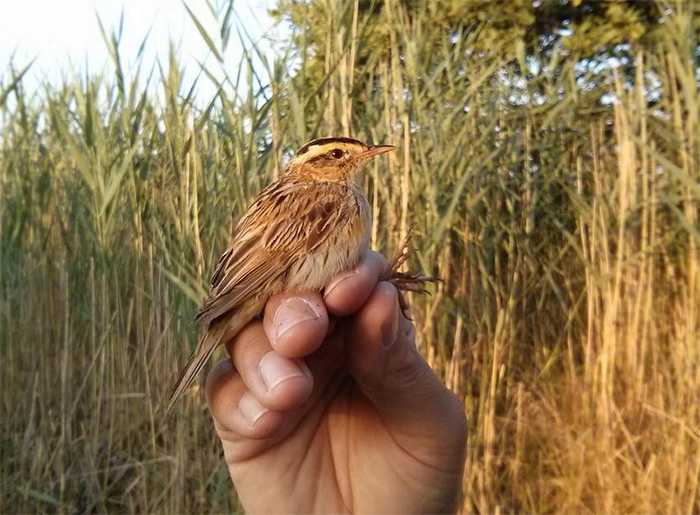 Traditionally the species is, of course, a favourite of the end of the first week of August through to early October, generally sticking to famous old haunts like Marazion Marsh or South Milton Ley. Seeing them is another matter and it is generally the net result of a ringer's handy work that sees them materialise.
Our friends on the near continent often used to have tremendous results by setting up nets in crop fields from mid to late July and using tapes of Aquatic Warbler through the early hours ~ some remarkable numbers were caught in the late 1990's and early 2000's. Someone, somewhere may well let us know if that still happens nowadays.
At present, Birdlife International continues to list the species' status as "Vulnerable" (as per the IUCN Red List) ~ this status has remained the same for 20 years (after being listed as "Threatened" in 1988 as draining of marshland habitats, damming of floodplains and the canalisation of rivers all saw populations plummet).
Recent declines within core populations in central Europe have stopped, thanks to intensive management work and conservation projects, but the population remains, at present, largely conservation dependent.
Pacific Golden Plover, Orkney and Staffordshire
Pacific Golden Plover is generally not a species to always make the news headlines but it has been one of those weeks. Gamely predicted for almost every week I wasn't in the country by Jon Dunn, he managed to (ummm) un-predict it last week and so, right on cue, the first of the year popped up, to be swiftly followed by the second. (Does that makes the Whalsay resident and sometimes RBA scribe Mr Dunn really good or really bad at the predicting gubbins?).
Whatever. Leading the way, dancin' across the water, came the Pacific Golden Plover that frequented the south east end of Orkney's North Ronaldsay on 23rd, where it remained to 28th.
The Orkney Islands have had up to 11 records of the species to date (from a grand total that teeters just under three figures currently) and North Ronaldsay has 10 of those to its name. Most recent was a summer adult last year, on July 1st, a month that has now accounted for six of the records for the island in all (and three in the last four years), since the first was found on July 14th 1991.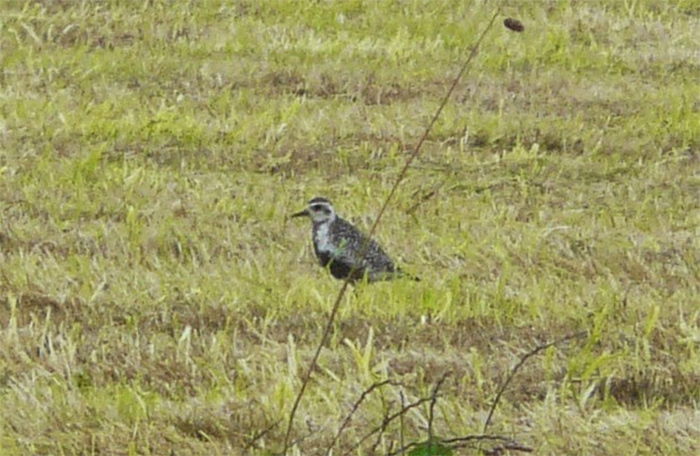 How many of those Orkney birds are returning birds is another of those impossible to answer questions, but there's every chance that this year's individual may well have been last year's individual.
The same thought is also a tempting one to lay at the door of the stunning discovery of Staffordshire's first Pacific Golden Plover at Middleton Lakes RSPB, near Drayton Bassett on 26th, remaining there to 29th.
Could this tremendous county first possibly be the same adult (presumably an adult male judging by the photos) that was seen in Leicestershire, at Rutland Water between July 15th-18th last year? It really is tempting to suggest so ~ given the relatively close proximity of the sites to each other and the closeness of dates.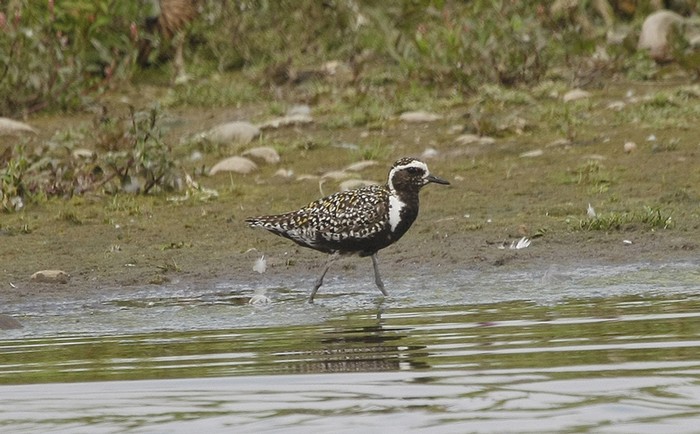 Most of Middelton Lakes lies within Staffordshire (the southern end is Warwickshire's) and this week's star attraction can be added to the role call of honour for the site which boasts further cracking inland shorebird discoveries such as White-rumped, Broad-billed and Least Sandpiper.
A quick photo comparison doesn't offer a definitive yes or no but we know that shorebirds (even vagrants) can be regular returning birds to a general area or even to a specific site….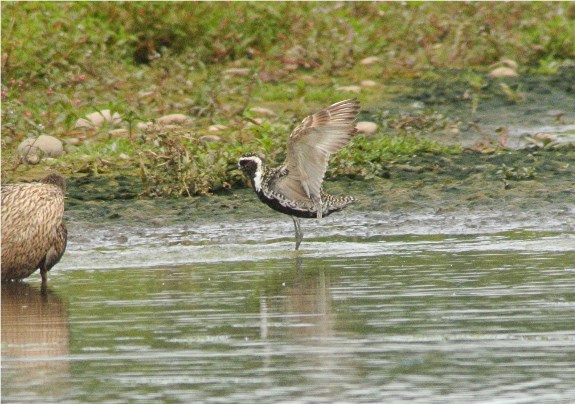 This final point was, quite coincidentally, proved beautifully this week at the RSPB reserve at Titchwell ~ a metal-ringed Spotted Redshank showed itself well enough beside the bank to enable warden Paul Eele to get a read of the digits on the ring. Lo and behold, it proved to be the very same bird seen in the very same spot almost a year ago to the day when a limosa godwit watcher spent an hour of his time pitting his wits against the mobile Tringa to see the ring number in full ~ numbers seen, it turned out that it was ringed at Castricum, in the Netherlands in July 2008.
Bee-eaters, breeding on the Isle of Wight
Bee-eaters will draw a crowd whenever and wherever they alight and these distant travellers ~ that always seem as though you've just wolfed down a psychedelic pill or two, with an appearance so vivid, stunning and hallucinatory ~ become all the more special when news comes forth of a (very rare) breeding attempt comes to post.
This week, that's exactly what happened as news from the National Trust property on the Wydcombe Estate on the Isle of Wight revealed that a nest was being attended by three adults (discovered earlier this summer) with thoughts that at least two young were being fed in the nest burrow to the end of the review period.
Watchpoints in place, along with an already operational 24-hour guard, it would seem highly likely that the island's holiday crowds will see a gentle spike as birders mosey over the Solent to witness a little piece of south coast history.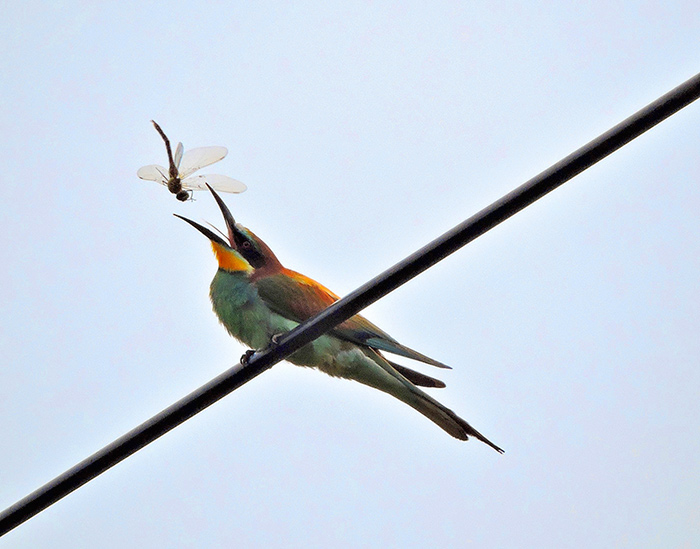 The most recent known breeding attempt came in the summer of 2005 near Hampton Bishop (Herefordshire) when two adults were visiting a nest in the last week of July (fox predation apparently the reason for failure, though the heavy rain at the time wouldn't have helped matters) whilst three years earlier, Britain's second successful breeding record came from Bishop Middleham quarry in County Durham ~ the summer's Merops activities there resulting in two juveniles (from a brood of five) fledging successfully, drawing around 15,000 to the site in the process.
Prior to that, two out of three pairs raised seven young at Street Sands Quarry, near Plumpton (East Sussex) in the summer of 1955 (over 1,000 people visited the site, a remarkable number for the times) while another failed attempt was recorded in Scotland in 1920, when a pair nested along the banks of the River Esk near Mussleburgh, but the female was captured by a local gardener who kept her in a greenhouse where she died a couple of days later, after laying one egg.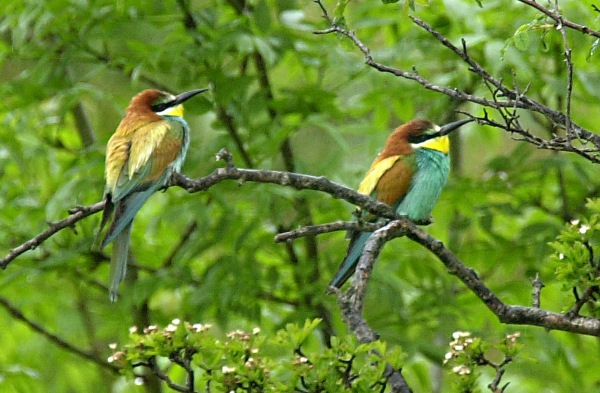 Fingers crossed then that the Class of 2014 will fledge ok and create another little slice of ornithological history in the process.

Ireland's pelagic birders claimed the week's sole record of Wilson's Storm-petrel ~ five seen from a trip that headed out some 15 miles off Cork's Galley Head on 24th.
Along the east coast of northern England through to Shetland a total of 11 Leach's Storm-petrels were tape-lured this week, a single and then two caught on the Farne Islands (Northumberland), one at Fife Ness (Fife), three singles on North Ronaldsay (Orkney) with four on Fair Isle (Shetland) including three overnight on 26th/27th.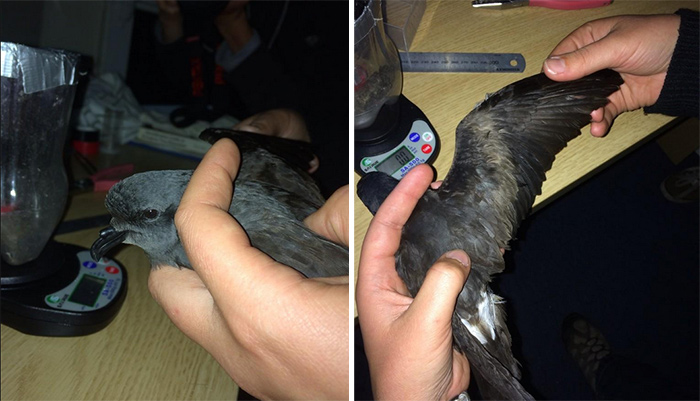 The Galley Head pelagic on 24th scored 15 Great Shearwaters and two Cory's Shearwaters with the same date seeing four Greats and three Cory's noted off one of the regular pelagics from St. Mary's (Scilly).
Two more Great Shearwaters were noted from M.V. Scillonian III on the evening crossing of 29th while the same date saw a very wayward Cory's Shearwater track past Lossiemouth (Moray), a great county record. The final records of the week were two more Cory's , noted past Bl;oody Foreland (Co. Donegal), also on 29th.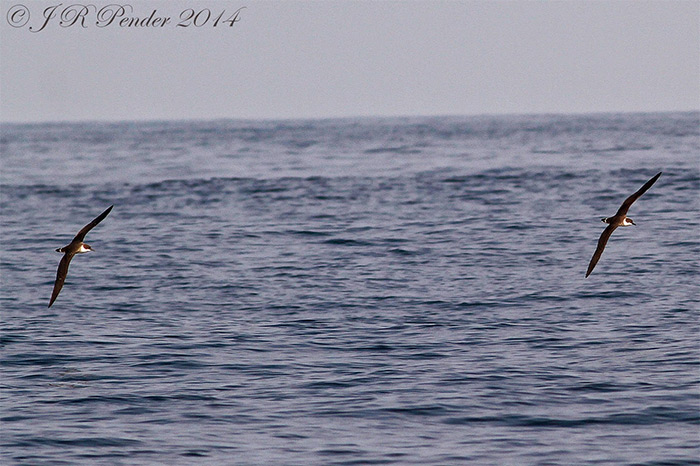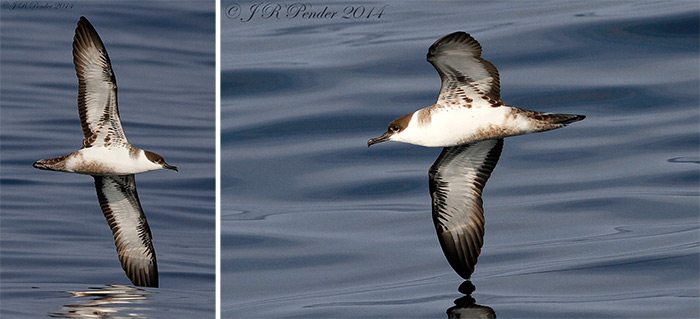 Four more Cory's Shearwaters were seen from another Scilly pelagic on the evening of 28th, after two were seen from Deep Point (on St. Mary's) earlier the same day. Cornish singles were logged off Cape Cornwall (also on 28th) and Porthgwarra (on 25th) while one was reported to have ventured down the North Sea, noted around three miles off South Shields (Co. Durham) on 26th. Over in County Mayo, two Cory's headed past Kilcummin Head on 27th.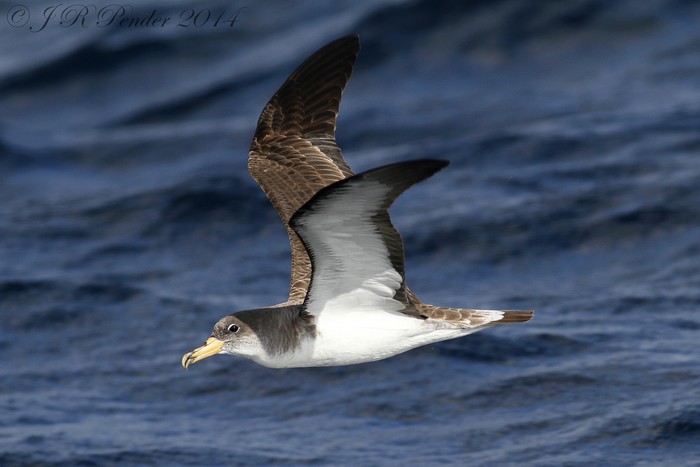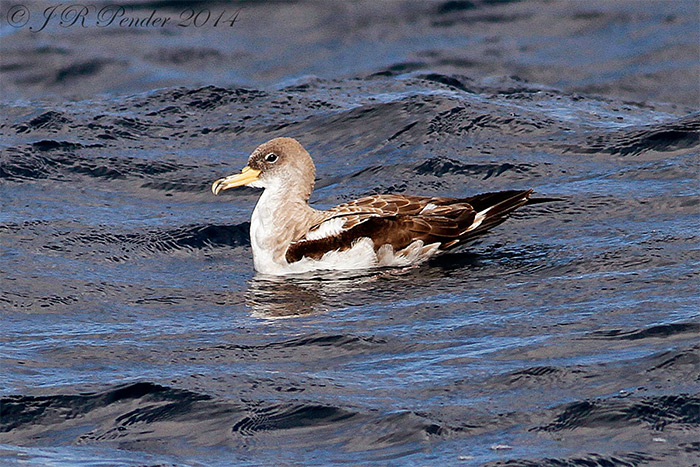 Aside from two off Scilly, the only Balearic Shearwaters this week were all recorded from Portland Bill (Dorset), single figures almost daily bar 14 on 27th.
A now-you-see-it-now-you-don't adult Long-tailed Skuas proved to be a particularly popular bird to see for visitors to the area between Titchwell RSPB and Thornham Point and harbour, on the northwest corner of Norfolk on 26th and again on 28th-29th, sometimes over the marsh, but often on the beach. Just under a fortnight ago, east and west Norfolk hosted single adult Long-taileds ~ could this be one of those?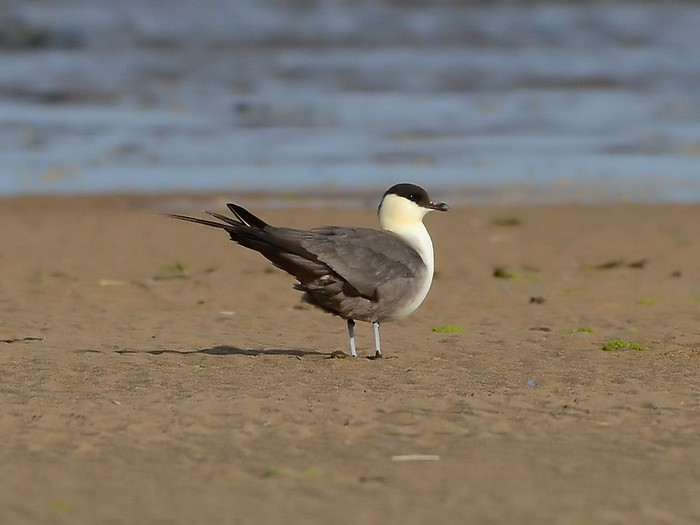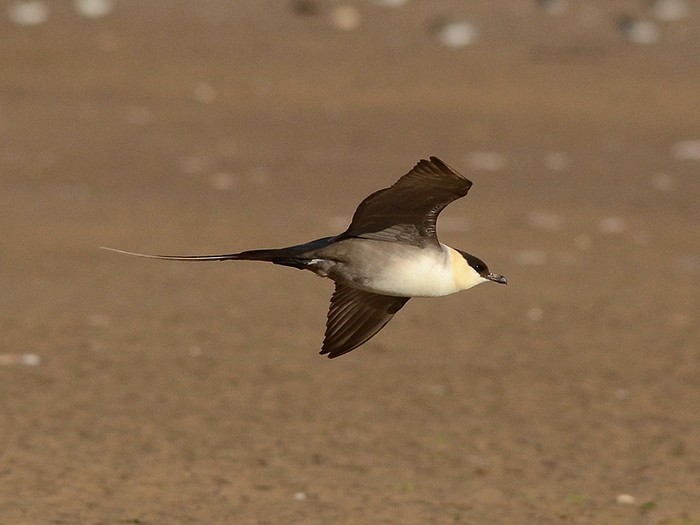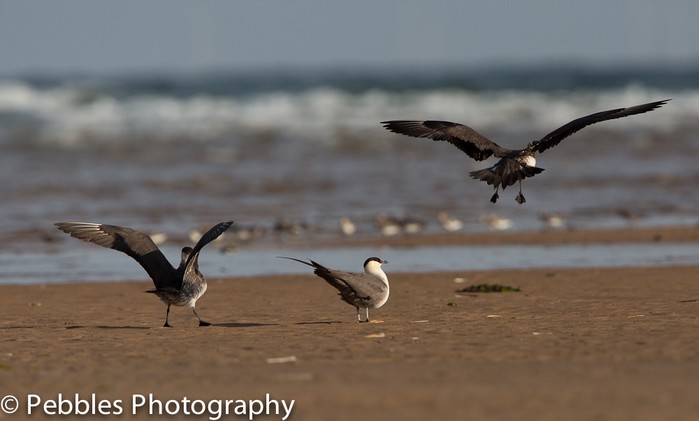 Pomarine Skuas, like their delicate long-tailed cousins, have been in summery short-supply this week (no real surprise there) but a single was reported from St. Abb's Head (Borders) on 23rd and two headed south past Flamborough Head (East Yorkshire) on 28th.
East Anglia logged one or two Purple Herons during the day of 26th ~ Norfolk saw one noted in ditches at Claxton Marshes during the morning while the early evening saw another reported heading south along the marshes at Oulton Broad (Suffolk). It isn't beyond the realms of possibility that they may even have been one in the same. Still proving popular in the Midlands was the showy second-summer Night Heron at Seeswood Pool (Warwickshire) which showed through until 29th while two Black Storks were reported from the Somerset Levels, at Shapwick Heath NNR, on 29th.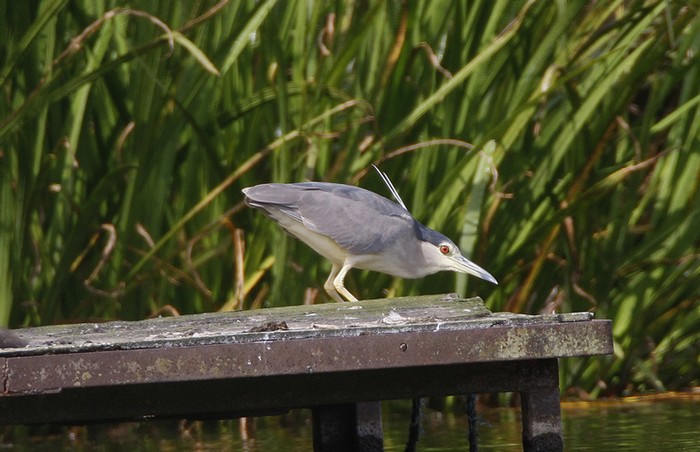 Two Cattle Egrets roosted at Frampton-on-Severn (Gloucestershire) on 27th (and seen again the following two evenings) whilst the near-resident adult remained a roost favourite at Hillsborough (Co. Down) to 28th.
There was a slight drop in numbers of Great White Egrets this week ~ after 30 or so seven days ago, we're down to around 22 or so this time around. Six at Ham Wall RSPB (Somerset) on 24th was no real surprise given the species' recent history in the area, with other records in the southwest coming from Seaton (Devon) on 24th with, in Dorset, one at Lodmoor RSPB from 23rd and another (presumably the Seaton bird) heading through both West Bexington and Abbotsbury, also on the morning of 24th.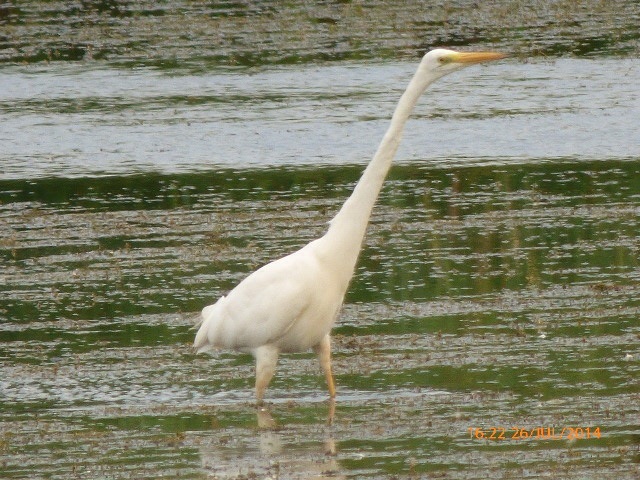 Three singles were recorded in Kent, at Bough Beech Reservoir on 24th, Cliffe Pools RSPB on 25th and near Tonbridge on 28th, while up to five were seen in East Anglia ~ Cambridgeshire singles were at Wicken Fen NT on 23rd and Burwell Fen on 25th, two were at Lakenheath Fen RSPB (Suffolk) on 23rd and one was still at Norfolk's Hickling Broad through to 28th at least.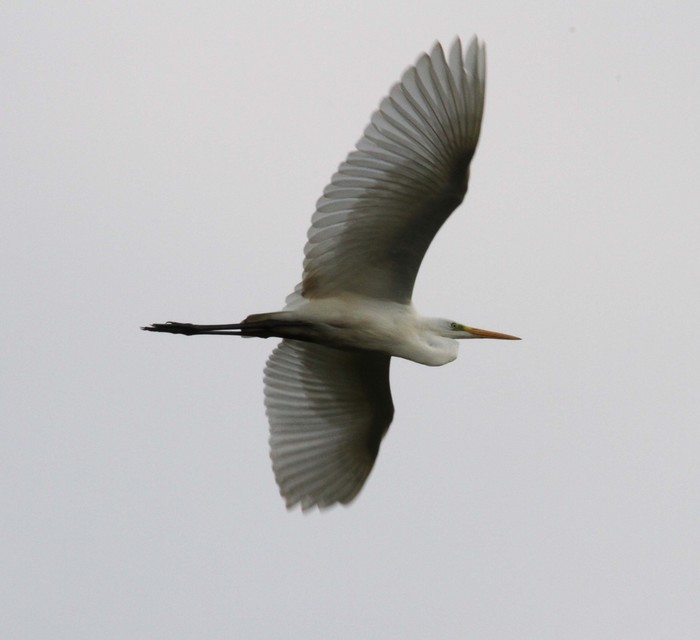 Welsh singles were noted at Cardiff Wetlands (Glamorgan) on 23rd and still at the Alwen Reservoir (Conwy/Denbighshire) to 26th. In Lancashire, three Great White Egrets were at Leighton Moss RSPB to 25th (with two to 29th) while on the east coast of Ireland, a lone bird was seen in Wicklow, at Vartry Reservoir, on 28th.
The now-annual Spoonbill-fest along the north Norfolk coast remained in full flow this week as young birds and accompanying parents and non-breeders spread themselves away from their natal site at Holkham. A minimum 33 birds in all were known to be present on 29th ~ 18 at Cley and 15 at Titchwell at (more-or-less) the same time (tho' Cley peaked at 20 earlier the same day). In the east of Norfolk, seven birds were at Breydon Water on 25th and another was at Hickling Broad on 28th.
Further tidy gatherings included eight at Alkborough Flats (Lincolnshire) on 25th-27th and six at Middlebere Farm (Dorset) on 25th. Minsmere RSPB hosted three on the Suffolk coast on 23rd with twos at Frampton Marsh RSPB (Lincolnshire) and still on the Findhorn (Moray) (on 25th and to 27th respectively). Single Spoonbills were reported from Kent to Northumberland on the east coast, whilst Ireland recorded loners at Dundrum (Co. Down) on 23rd and Tacumshin (Co. Wexford) on the same date.
Seven summering Glossy Ibis were reported through the week, spread from the northwest to the south east of England ~ one remained on the River Bela, at Milnthorpe (Cumbria) to 29th, with singles noted in South Yorkshire (over Rawmarsh) on 26th, in Lincolnshire (at Frampton Marsh RSPB) to 29th, inland again in Leicestershire (at Wanlip Meadows) to 29th, still in Cambridgeshire (at Berry Fen) to 26th and Oxfordshire (at Otmoor RSPB) to 26th and in Essex (at North Fambridge and then Old Hall Marshes RSPB) on 26th-28th.
There was double Grus action again at Hatfield Moor (South Yorkshire) on 23rd and 29th along with Hickling Broad (Norfolk) on 26th and in the Cambridgeshire fens and washes at Burwell on 27th and the Ouse Washes RSPB on 28th. The lone first-summer Common Crane was at Leven Carrs (East Yorkshire) on 24th and another was at Braunton Burrows (Devon) on 28th-29th.
Ploughing a lonely, if rather muddy, furrow in all things Crakes and Rails are the week's three Spotted Crakes ~ a singing male heard at Berry Fen (Cambridgeshire) on 23rd, an often showy adult that showed through most of the day at Titchwell RSPB (Norfolk) on 28th-29th and another full grown bird at Burton Mere RSPB (Cheshire) on 29th (with, apparently two chicks in tow at one point).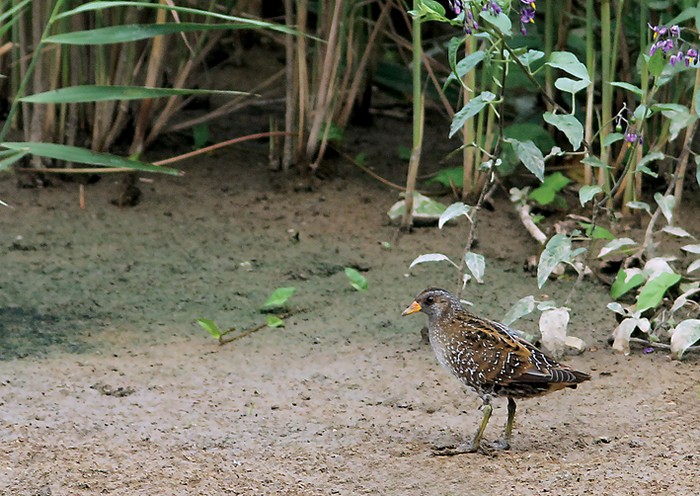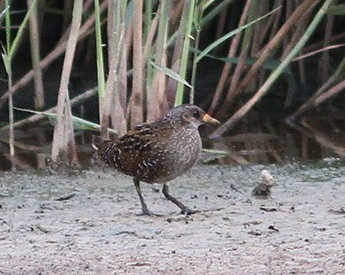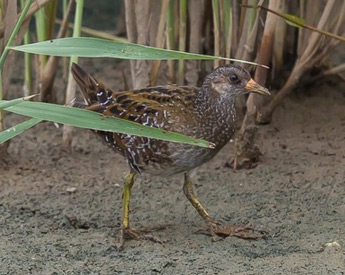 There were a few genuine wild duckies up for grabs this week amongst the rogue Blue-winged Teals and Buffleheads ~ look hard enough and there'll be a duff Hooded Merganser or two out there somewhere too, just waiting to move to a pond in the middle of Kent or something…
Up at Blackdog and Murcar, the Aberdeenshire Scoter Watchers popped in three summering Surfies this week ~ two adult drakes and a duck seen across 24th-27th.
Just the one Ring-necked Duck was on offer this week ~ down by the river at Murton GPs in Angus to be precise, where the drake remained to 26th. p>
<!—Section Title -->
The popular Collared Pratincole remained at Suffolk's Minsmere RSPB reserve until the evening of 27th before, remarkably, reappearing way up north at Castle Island, Ashington (Northumberland) on the afternoon of 28th ~ becoming not only the second Pratincole species for the county this month but just the third county record and the first since 1983 in to the bargain.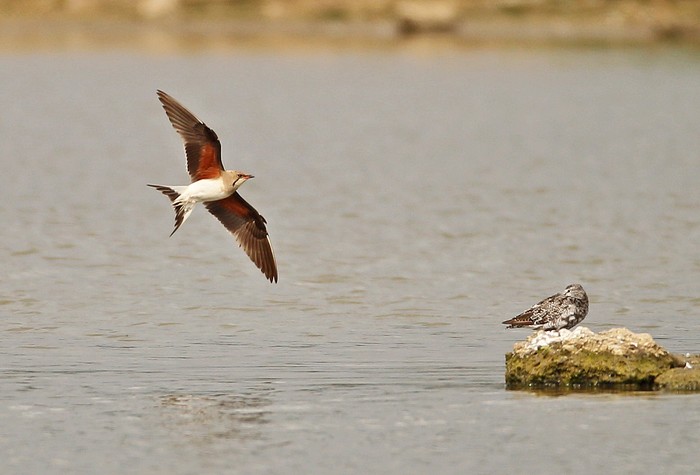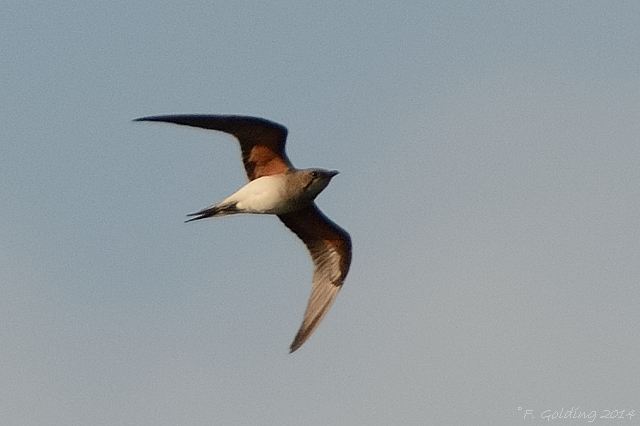 The most recent Northumbrian record came from Beadnell in May 1983 (blimey, the year I ticked the same species ~ hurrah for Blunham GPs...) while the first came (in another footy-related birdy-thing...) in the same month that England won the World Cup (the month was July...I refuse, point blank, to name the year...)
With the already discussed well travelled, fly-around Black-winged Pratincole and now this on-the-hoof Collared there's little doubt at the family group that's been clocking up the most air-miles of late.
Lincolnshire pulled out 2014's second Broad-billed Sandpiper within the county boundaries on the morning of 29th, found on Tennyson's Marsh, Gibraltar Point NNR ~ the third record for the reserve, following singles in July 1990 and August 1997. It will be the 12th county record and the third in July (along with the already mentioned Gib bird of 1990, another appeared at Donna Nook in July 1995).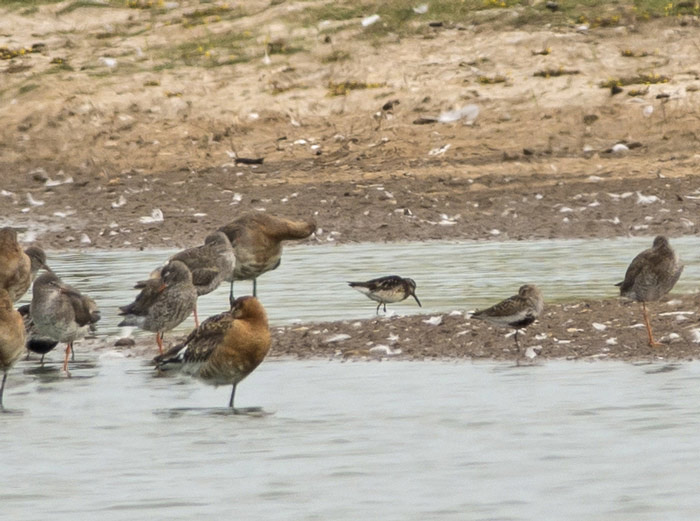 Once upon a time, it was almost par for the course to come across late July Broad-billed Sandpipers ~ there was a decade from the mid 80's to the mid 90's where the species was nigh-on annual in mid-late July (with three in July 1989 and three in 1990 (including one at Cley...I thank you...we had two more in the period as well...ahhhh, those were the days...) with doubles in both 1994 and 1996. After that were July singles in 1999 and 2000, then a super quartet of records in 2004 then not one single July bird until this week's Lincs., individual.

The Gibraltar Point Broad-billed Sandpipers actually joined a White-rumped Sandpiper in a cool double-bill, the latter found on 28th ~ one of three found this week. First came one at Cresswell Pond NWT on 26th (a mere appetiser for the main course that followed...) with the third in another fine shorebird seven days arriving at Pool of Virkie, Mainland (Shetland) on 29th.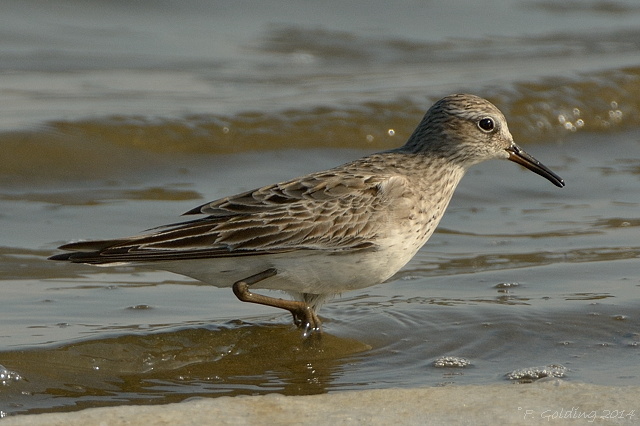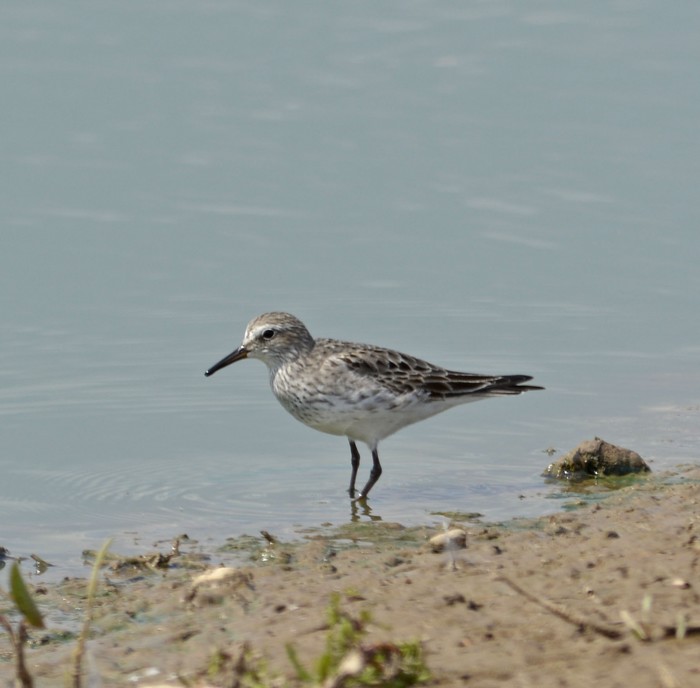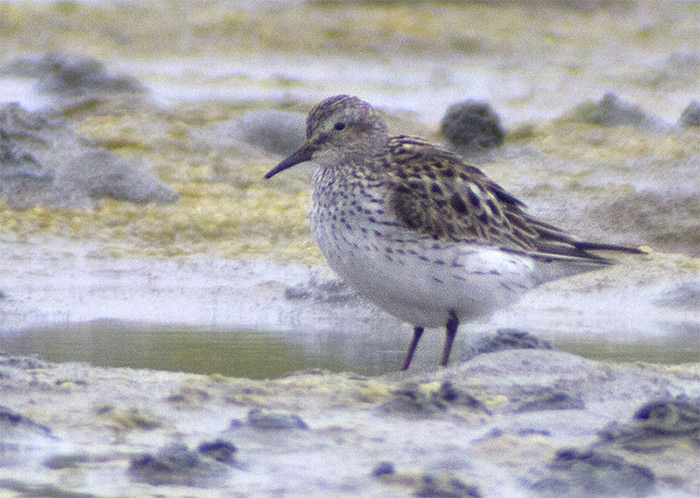 In Hampshire, a Baird's Sandpiper was reported from Pennington Marshes in "horrible heat haze" on 23rd ~ the same site holding the last accepted record of the speices on September 14th 2012, which was the eighth for the county in all. Will this be number nine?
The Frampton Marsh Lesser Yellowlegs was reported to staff up until 26th though words to the wise suggested that perhaps the juvenile Wood Sandpiper on site may have clouded the issue for some...No such problems up north, where a Lesser Yellowlegs was found at Loch of Stathbeg RSPB (Aberdeenshire) on 29th, the eighth for the county and the fourth for the site.
In Ireland, an exceptionally early juvenile American Golden Plover was reported from Lough Beg (Co. Derry) on 29th ~ that's some record...
Norfolk Wash watchers scored a Red-necked Phalarope in the throng of high-tide birds at Snettisham on 27th while over in Cambridgeshire, an adult Temminck's Stint played a neat second fiddle to the rarer flying machine at Ouse Washes RSPB from 25th-29th.
The growing fledgling Black-winged Stilts continued to delight visitors to Bracklesham Bay RSPB (West Sussex) all week and Cavenham Pits (Suffolk) to 28th ~ adults and three juveniles at the south coast site while the East Anglian combo was still at four young to two adults (the latter family party heading south over nearby Great Livermere on the evening of 29th).
As was touched upon last week, there are murmurings, mutterings and mention of up to six breeding pairs of Black-winged Stilts in the UK this summer. With pinches of salt well to the fore, we know we've definitely had two attempts, the above Sussex birds and the failed birds in Kent, but let's call the Suffolk ones as local raised shall we?
Based on nothing other than some common sense and a little more intuition (danger combo those...) the chances of a family group of just fledged Stilts coming across the English Channel or North Sea to find themselves at home in Suffolk seem far less likely a scenario as a particularly well-under-wraps breeding effort somewhere very adjacent to where they find themselves now.
If they were surpressed, good luck to all those involved, there's enough dimwits out there wielding whatever eggers carry or even camera lenses (and bins and 'scopes) to compromise things (see here for a recent example http://birdersagainst.org/bird-photographers-do-you-recognise-this-person/) and to justify any "Black Ops". And if they weren't known about, well, what a wonderful surprise….
While we're musing on surprises, what about the summer Sabine's Gull that somehow found a way to Paxton Pits NR (Cambridgeshire) on the evening of 26th for just the fourth or fifth record in the past 14 years or so. Amazing stuff for the county that's on a hot, hot streak right now.
Devon's first-summer Ross's Gull remained around the Topsham and Bowling Green Marsh area of the county throughout the week while Cork's summering second calendar year Laughing Gull was at Ballycotton to 29th.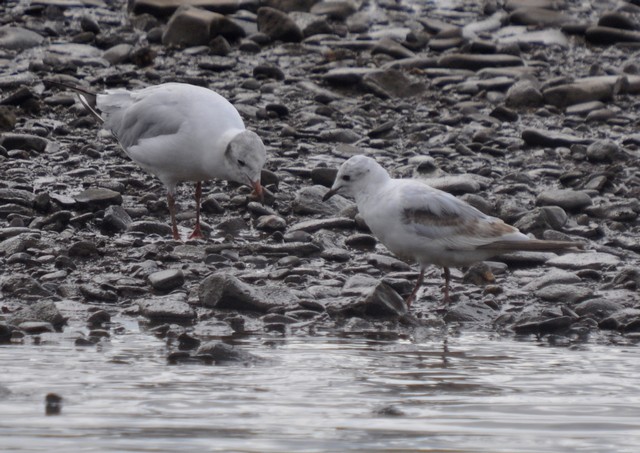 The second-summer or adult Bonaparte's Gull remained on Oare Marshes (Kent) until 27th (and again on 29th) ~ as per some of the shorebirds discussed earlier, it seems highly likely that this is a returning bird ~ a first-summer was, of course, present at the same site last summer from May 30th to August 17th.
Up on Flamborugh Head, a first-summer Baltic Gull was logged on the morning of 26th ~ the second of the month after the first-summer at Cley the week before. Last year was an exceptional breeding season for fuscus and reports from Finland in the last couple of weeks suggest that far higher than average numbers of first-summer (2cy) birds are present and heading away south. More records will surely follow here in the next couple of weeks.
...and, for the umpteeenth time, you don't need a ring on your fuscus ~that's bunkum ~ 2cy's are an in-the-field ID and a straightforward one at that, if you know what to look for. Sadly, like the species that follows, they suffer from the comtemptible large gull syndrome where many birders disengage from rational thought and roundly dismiss them all as "seagulls".
But for those of us signed up and ready to give Big Love to Big Gulls, these are (typically) exciting times. Along with fuscus comes cachinnans and this week has been a strong one for this delicious species from the east.
Juvenile Caspian Gull is a favoured prize for avid gullers and the last seven days have seen birds of the year appear in some early force. First came one in the pigfields near Great Livermere (Suffolk) on 24th. The roost at the nearby lake the next evening yielded three youngsters (in a dizzying haul of 10 birds in all...wow!) with the fourth or fifth of the week heading in past Flamborough Head (East Yorkshire) on 26th, relocating to Sewerby later the day.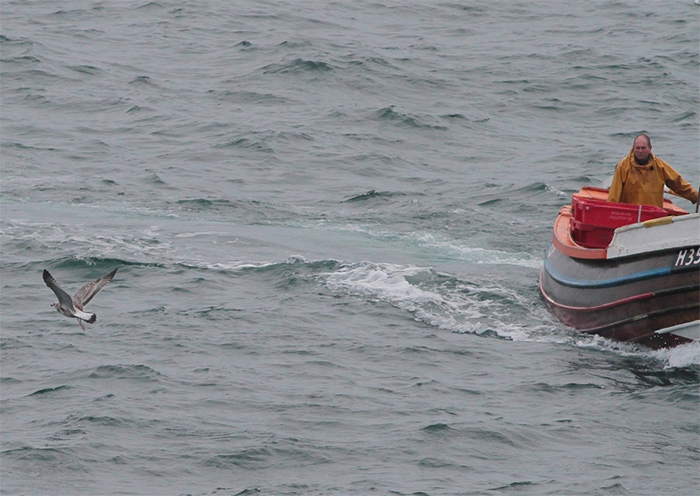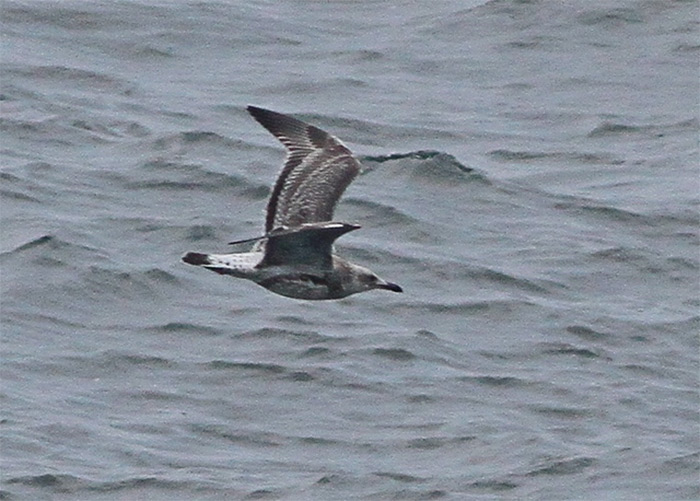 At Livermere on 27th, two juveniles were seen again and Norfolk collected a three juveniles too, including two different ones at Cley ~ on the evening of 28th (joining two different adults in the growing roost) and in the late afternoon of 29th too. The final juvenile of the week (in a very impressive east coast haul) was noted at Burniston (North Yorkshire), also on 29th. Further cachinnans included a first-summer at Halsham (East Yorkshire), on 28th and a third- or fourth summer at Stanwick GPs (Northamptonshire) on 29th.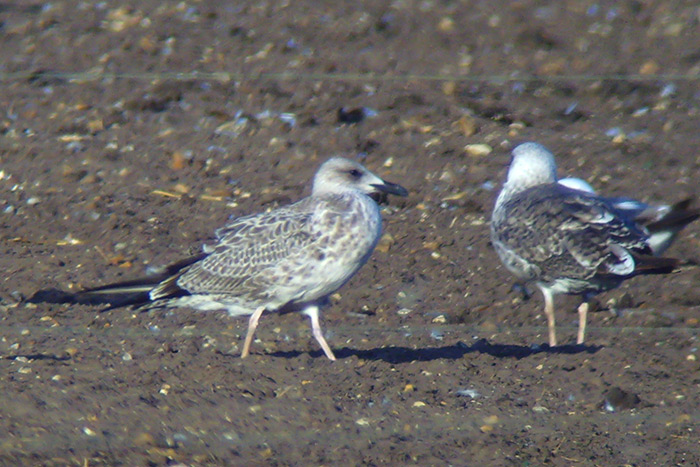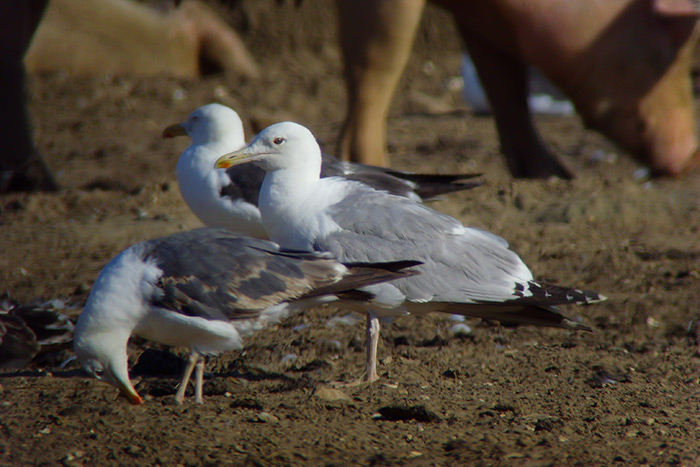 In Dublin Bay, the first-summer Ring-billed Gull remained to 28th at least while an Iceland Gull was reported from Parton (Cumbria) on 28th (they so need a UK version of Dollywood there right?) while a young Glaucous Gull was on the North Pier at Baltimore (Co. Cork) on 26th.
Rounding things off for this section is the adult White-winged Black Tern that was found at Port Clarence commuting to nearby Saltholme Pools RSPB (Cleveland) on 26th where it stayed until 28th ~ the third in four years in and around the area.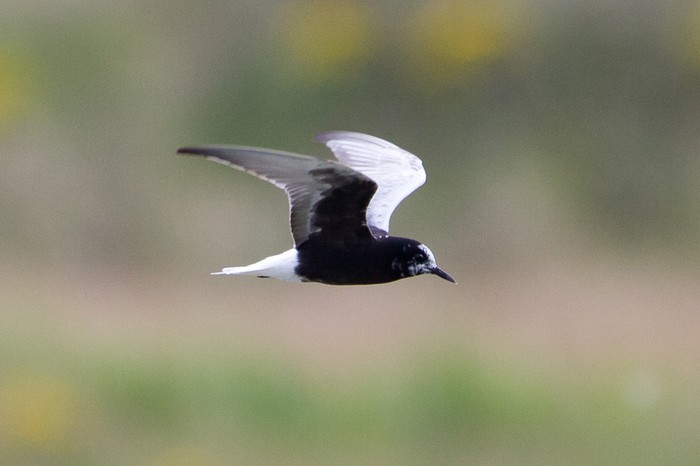 Single male and female Honey Buzzards were being seen from the Welbeck Raptor Viewpoint (Nottinghamshire) off and on during the course of the week and, aside from another unconfirmed report of a first-summer male Red-footed Falcon in Orkney (on 27th), were the only raptors of note in the public domain until the end of the review period when a juvenile Montagu's Harrier was logged at Abbotsbury (Dorset).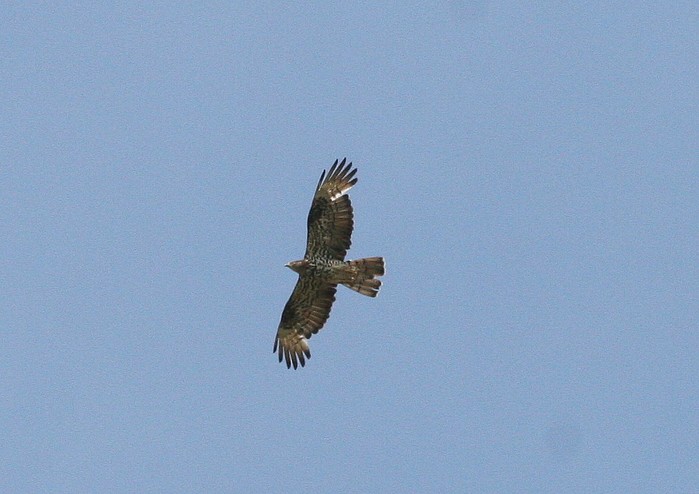 As the weekend drew to a close and the working week began, news from East Yorkshire suggested that there may well have been a breeding pair of Marsh Warblers around the Spurn Peninsula recently ~ the male present since sometime in June.
East Norfolk's male Red-backed Shrike lingered at Winterton until 23rd while aside from the exciting news from the Isle of Wight, a Bee-eater was reported as a heard only from Taynton (Gloucestershire) on 23rd.
…and that was that in Passerine Alley…barely anything to report bar those three species (and the two in the headlines) ~ despite some interesting weather at the start of the review period which threw up a male Red-headed Bunting on the Dutch coast and which has, in olden times, produced late July Icterine Warbler. It wasn't to be this time around but August beckons and who doesn't love August and all she offers up.
…and what, I wonder, is on the cards for the next few days?
Shorebirds have taken centre stage for much of the past few weeks ~ from Great Knot to Black-winged Pratincole and Stilt Sandpiper to Collared Pratincole so the mind turns to better and better shorebirds to come…
This time last year saw one of two July '13 Mongolian Sand Plovers ruffle Irish birders' feathers when it spent a couple of late, late July days in Cork (after one in Moray earlier in the month). Who'd bet against one of these mega-looking males rocking up somewhere in the next week or so? (If you "need" this form, go see the next twitchable one…the split is coming).
It is also a decent time to keep eyes peeled for a Greater Sand Plovers too ~ one arrived at Spurn on July 29th 1981, lingering for nine days with both of Cley's birds falling in to the period we're heading towards ~ a long-stayer was found on the reserve on July 30th 1985 with another appearing on August 5th 1992 (just a couple of days after the bird below) while Sussex almost qualifies with their bird of July 28th 1996.
Three of our 11 accepted Red-necked Stints have featured in the seven days ahead ~ Britain's second was found at Cley on July 29th 1992 and stayed (off and on) to August 3rd. Ireland's second spent two days at Ballycotton in July and August 2002 with Ireland's fourth arriving on the beach at Reenroe, Ballingskelligs in Kerry on August 1st 2011 (the most recent to date ~ and for those who don't "do" Ireland, the most recent available RnS was the amazing two dayer in Cambridgeshire in September 2001.
The Lancashire Great Knot of 2004 was first found on July 31st that year while two Stilt Sandpipers have been found on August 1st (both in Wexford, in 1983 and 1988) and that's just the start of the list!
If shorebirds aren't your bag, keep eyes peeled for White-winged Black Terns ~ the seven days ahead have produced 48 records (up until the species was removed from the Rarities List in 2005) including 11 each for July 31st and August 5th.
But let's think bigger and better…let's go mega seabird….this is one I've banged on about but it warrants another biff on the drum.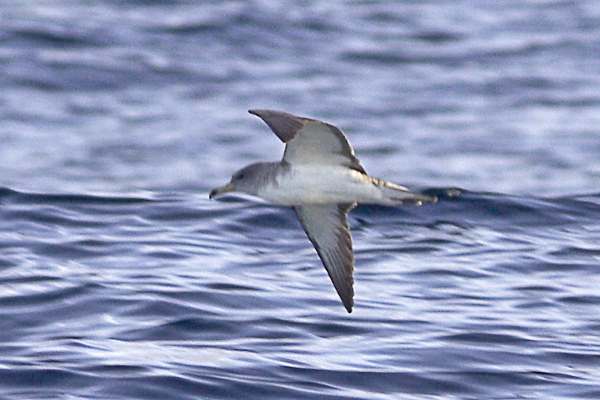 Our only accepted Scopoli's Shearwater came along 10 years ago this week ~ on August 2nd 2004 ~ seen from a pelagic some five or six miles off Scilly, Bryan Thomas managing these two great shots.
With the hawk-like eyes of Bob Flood and Ashley Fisher still leading the way on the M.V. Sapphire, coupled with skipper Joe Pender's knowledge of local waters and camera skills (enjoy those Cory's from this week…) there's every chance that not only will it be these guys who pick up the next one, they'll also get the shots to prove it to the masses.
Mark Golley
30 July 2014



Many thanks to all our contributors for their photos, videos and sound recordings.
Frank Golding, Shaun Robson, Mark Warren and North Ronaldsay Bird Observatory, Dave Hutton, Steven Nuttall, Phillip Parsons, Andy Butler and the National Trust Isle of Wight, Mike Malpass, David Steel and the National Trust Farne Islands, Joe Pender from Sapphire Pelagics, Keith Bilverstone, Stephen Carr from Pebble Photography, Dave Hutton, Rob Creek, Mike Morse, Penny Clarke, Sue Bryan, Oliver Reville, Ian Clarke, Les Davidson, Roger Riddington, Simon Thurgood, Martin Garner from Birding Frontiers, Lee Gregory, Martyn Sidwell, Peter Stanfield,