The spectacle of autumn migration at Spurn
The third annual Spurn Migration Festival - East Yorkshire 4-6 September 2015
This September Spurn will yet again host Britain's only bird migration festival. Now in its third year the festival is held on Yorkshire's east coast at one of the best locations in Britain to witness the spectacle of autumn migration.
Visitors will have the chance to enjoy a packed programme of guided migration watches, walks, talks, activities and events led by the expert staff and volunteers of the host organisations.
This year's main lecture on Saturday evening is "Israel – Where Migration is Defined" by Yoav Perlman. Yoav is one of the top ornithologists in Israel who started birding at the age of 8. He was doing national survey work by the age of 15 and has been the chief ringer at many ringing stations in Israel. He worked as the research and monitoring director of the Israel Ornithological Centre while doing is MSc on Nubian Nightjars at Ben Gurion University. He is a member of the Israeli Rarities and Distribution Committee and is currently living in Norfolk while he does a PhD at the University of East Anglia on Great Bustard conservation in Iberia.
Speaking ahead of the weekend Rob Adams, chairman of the migration festival said "I have been very much a part of Spurn now for the past 45 years and the magic of this place never ceases to amaze me. It's the only site I know where you can witness the mystery of migration on such a grand scale. So with that in mind I really don't think you can afford to miss the 2015 Spurn Migration Festival. I really do look forward to meeting up with you there and it is my personal I promise to you that you will not be disappointed."
The Yorkshire Wildlife Trust are co-organisers, and their CEO Rob Stoneman gave his thoughts about Spurn during autumn migration. "I can vividly remember the excitement all those years ago. The early morning start. The beaten up old Bedford van that took us 10-year old aspiring bird-watchers out to the east coast. The grey skies, the mud and sand merging into the sea and then the birds – thousands of them, flying in from the sea and landing all around us. Thrushes, warblers, Goldcrests all tumbling out of the sky to find a bush near me. A look through my army binoculars (handed down from Grandad), a quick check in the bird book and TICK. Satisfaction and passion for wildlife ran through my very being.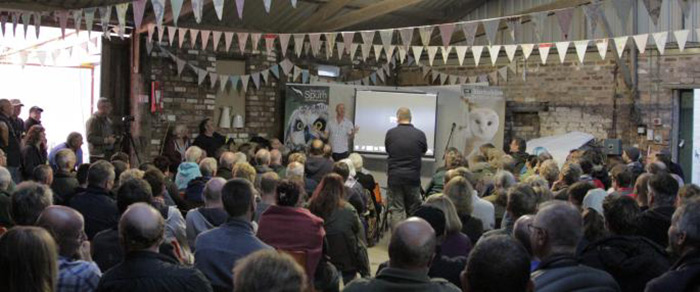 I still find it exciting: the rarity, a gloriously good view, the sheer volume of birds on the move; amazement at the distance travelled. The migration is spectacular and awe-inspiring. It grounds me to this little Atlantic island that sits at the heart of one of the greatest spectacles on Earth. The migration beckons."
Mark Pearson, a dedicated Yorkshire birder, has found many rare and scarce birds on the Yorkshire added his thoughts on this year's festival: "I'll be representing Filey Bird Observatory, Spurn's kid sister a little further up the Yorkshire coast, again at this year's Migfest; but beyond that, it's the perfect opportunity to connect with good people, a friendly atmosphere and great birds at what is just a ridiculously fine place for enjoying migration at its best."
Experience the migration spectacle at Spurn
More information can be found at spurnmigfest.com
A programme of talks can be found here
And a full event programme can be downloaded here
Tickets are priced as follows:
Weekend Ticket (Friday evening, Saturday & Sunday) – £23.00
Day Tickets (Saturday / Sunday) – £15.00
Saturday Evening Lecture & Hog Roast – £8.00
Tickets can be ordered on the Yorkshire Wildlife Trust website or by phoning 01904-659570.
Martin Garner - Birding Frontiers
26 August 2015