The 'Scopory's' Shearwater off Scilly, August 2014
We steamed out from St Mary's quay at 5pm Friday 8th August at the start of the second Birder Special Pelagic weekend. All were fuelled with excitement given Wilson's and large shears had performed well for the past 2 weeks. We reached 3 miles offshore before the first cry, 'Cory's!' Then there were two of them, no five, hang on, now its 10… By the time we set up a drift at 6 miles, we were surrounded by foraging Cory's (and some Great Shears), on the distant horizon, mid distance, and 'right there' beside the boat! Cory's were everywhere. I wanted to sit back, relax, and enjoy the phenomenon, but might a Scopoli's then slip through? So, I went about the exhausting task of trying to check every Calonectris shearwater, off the bow, the stern, starboard side and port side. Others were doing the same.
At about 7.45pm, I was stood with Richard Stonier port side by the cabin. A Calonectris shearwater flew in from ahead of the bow, close. It instantly struck me as small and slender. It exposed its underwings revealing 'fingering' (whitish tongues in inner webs, especially outer primaries). I double checked, and triple checked with each wingbeat. There was fingering alright, but the basal area to p10 looked darkish. It then banked away. Crikes, alarm bells were screaming. Richard was also onto the bird like a shot. The same is true of other birders looking to port side, including Higgo, Keith Pellow, Gary Thoburn, Robert Jones, Neil Glenn and chums, and others. It wasn't just me having a funny turn (my default assumption).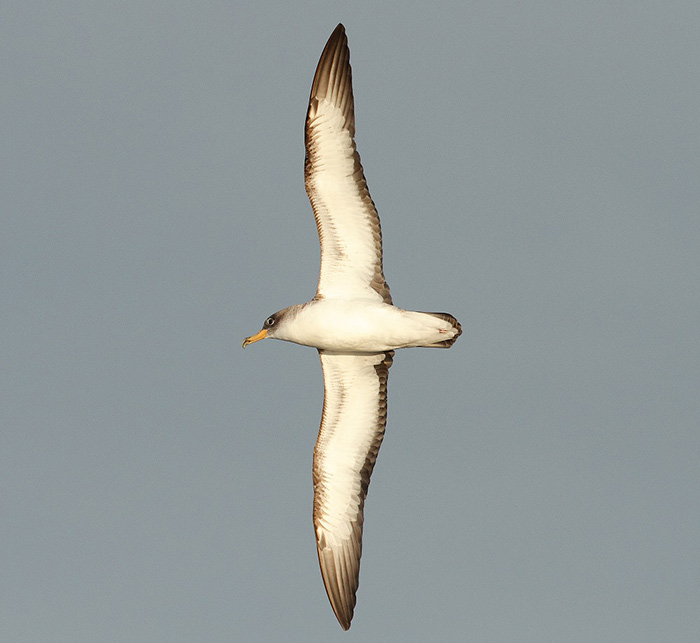 Anyway, to cut a long story short, compared to the many Cory's seen that evening at the same close range, this shearwater was obviously a smaller slighter bird, something like an emaciated Cory's. There is notable size difference in Cory's with males larger than females; but surely we had seen a mix of male and female Cory's that evening, unless this was a Cory's stag or hen weekend off Scilly. The bird in question was strikingly smaller and more slender than any of the other Calonectris shearwaters around us.
We went straight to the back of the cameras. The head and bill looked very good for Scopoli's. Ace! It had a single 'dark spot' in the outer greater underprimary coverts of each wing, good for Scopoli's, Cory's typically has two. Getting better! There appeared to be fingering. Great! Oh, but p10 isn't fingered, or at best there is a ghosting of a finger. My heart sank. Although research in the area is far from done and dusted, the most recent article says fingering must include p10. I told everyone my concern. Anyway, the lads said they would email through some shots because back of camera, light dimming, and boat rocking and rolling do not add up to ideal conditions to deliberate over a second for Britain (the first also off Scilly).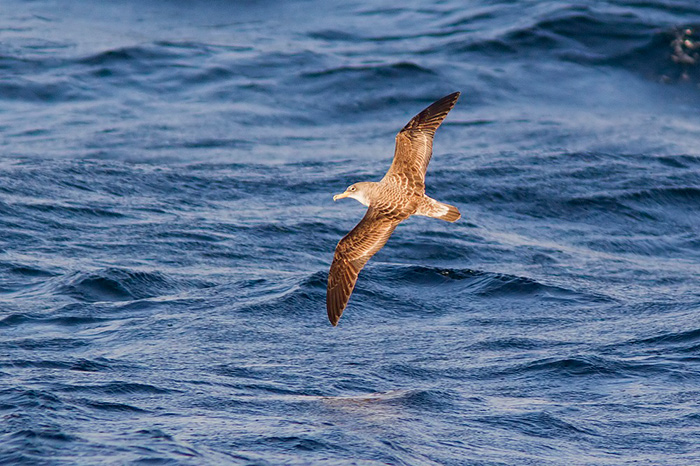 A combination of factors meant I didn't get the main photos until Sunday evening; including the full weekend schedule at sea, poor internet connection in Scilly, and a tendency for the lads to head off to the boozer for the evening. By the time the photos arrived, I had mulled the whole thing over multiple times. I checked the photos and, based on the field experience and the photos, I think in all likelihood this bird was a Scopoli's, but I am not 100% certain. There are issues with interpretation of lighting in the under primaries (i.e. the fingers), but the fingers in the outermost primaries are real in my opinion, except of course p10. I have concluded there seems to be little point in pursuing this bird, at least at the moment, since p10 without fingers is a rather large anomaly based on current published research.
This has spurred me on to accelerate a project that I am working on with colleagues in the Med, with the aim of trying to sort out the underwing pattern of Cory's and Scopoli's once and for all. The first tentative conclusion that we have drawn is that there is more to the story than currently published…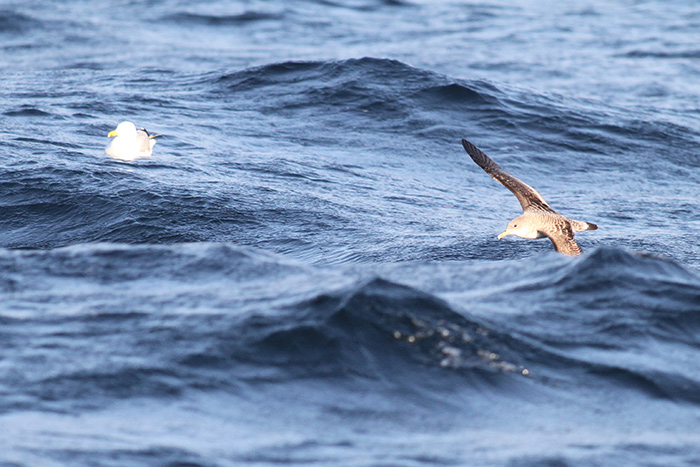 As a matter of interest, I sent the photos to 3 highly respected authorities in 3 different countries on Sunday night (no time to go back to them to ask for permission to name names). The decent chaps all got back to me by the time of writing this note (Monday lunch). Two commented on head and bill structure. One said, 'upperparts look 100% Scopoli's (based on the jizz, structure, proportions etc...).' Another said, 'I agree that the head and bill look very good for Scopoli's.' The third didn't comment on structure. Of the underprimaries, one said, 'I too was concerned by the possibility of the strong, direct light being at least partly responsible for the lightness of the primaries. Will have a more critical look when I return home.' Another said, 'As you know, we still don't know the full characters of Scopoli's, but I have never seen one with this p10/underprimary pattern'. The third said he will comment shortly, work permitting.
Bob Flood - Scilly Pelagics
11 Aug 2014