Shetland to Snowcaps, and back again
A two day race in search of Costa Rica's hummingbirds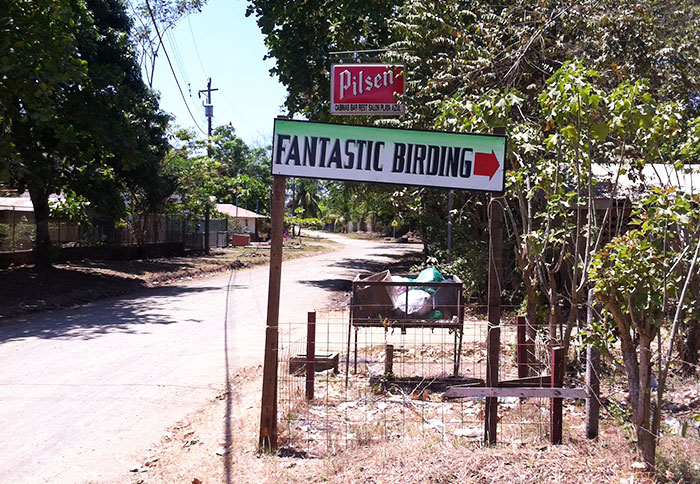 I think a lot of us, at one time or another, have done a bird race. You know the score – 24 hours of charging around a defined geographic area trying to amass as many species as possible. Sometimes it's for charity, sometimes it's simply to compete against other teams... but it's always fun.
(It's sometimes hard to remind yourself you're having fun when it's pouring with rain as night falls and you're standing soaked to the skin and swivel-eyed with exhaustion, hoping against hope for a churring Nightjar to give itself up... but that's bird races for you. A rollercoaster of bird-induced adrenalin rushes and slumps of despair, and all to see as many species as you can).

This is starting to feel like one of those golden moments that occur in some bird races when everything begins to come together in such a way that transcends your wildest dreams.
Back in the day, before moving from Kent to Shetland we used to race one Sunday every May. To begin with, our tallies were pretty feeble – but as the years passed and our site gen got better and better, our totals improved – and in 2002 we came within a whisker of 150 species in 24 hours in the county – just two species short of that milestone. Lessons learned? Preparation and local knowledge were everything, and a dash of the old school twitchers' carefree but bonkers determination helped considerably too.
And then I moved to Shetland. The birds came to me, and my days of bird racing (let alone national twitching) were a thing of the past. Life happened, as it does, and my free time steadily eroded. Finding time to go anywhere these days is pretty challenging... but after visiting Ecuador in 2014 and being blown away by the hummingbirds there, the old spark began to flare up once again. And let's be honest, after a trying, stormy Shetland winter there's barely a soul here who doesn't crave a spot of sunshine and a change of scenery...
I had a weekend free in February this year. I wanted warmth, I wanted hummingbirds and lots of them, and hey, I wanted to taste the excitement of a bird race once more – and so the plan began to coalesce to go somewhere relatively compact but packed with hummers and spend 48 hours seeing as many species as I could.
Costa Rica fitted the bill perfectly – and with affordable well-timed flights and the services of a local guide who clearly knew his stuff, I was good to go. A guide? I know there are birders who scoff at using a local guide – there's some sort of pride or machismo thing going on that compels them to do-it-themselves overseas. And that's fine, each to their own... but I know that when I lead tours of overseas naturalists in the UK they see more for having my local knowledge to hand, so why would I be any different in Costa Rica? I was delighted to speak to Pat O'Donnell, an American birder now living in San Jose, and having convinced him I was deathly serious about this epic hummingbird quest, we were ready for the off.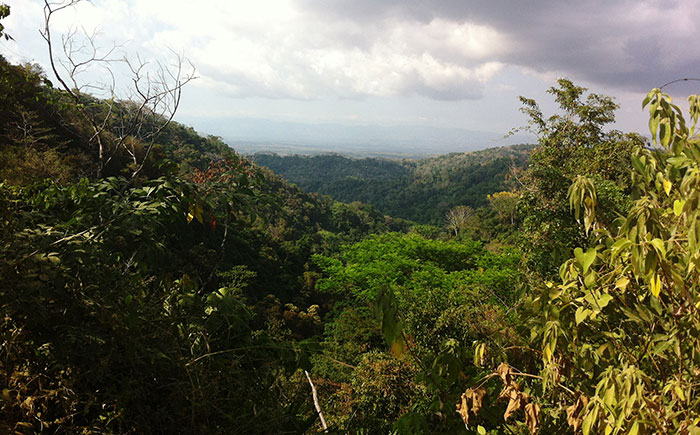 Saturday, 4:30 am
I've not had much sleep after arriving at midnight local time, but frankly my body clock isn't too sure what time it's meant to be and, besides, I am running on adrenalin. Pat arrives shortly afterwards, and we're heading off into the dawn to be at Carara at first light for our first target species, the Costa Rican endemic Mangrove Hummingbird. We stop en route to check shorebirds and gulls in case there's something interesting amongst them because, let's be frank, we're birders and that's what we do. The next two days are about hummingbirds, but we're going to be birding along the way...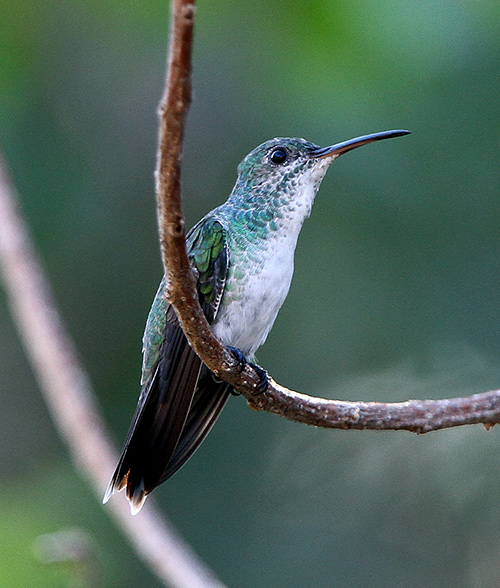 We work our way down a deeply rutted dry track beside some mangrove thickets, and the first hummingbirds of the day fall in quick succession – a Plain-capped Starthroat and a Scaly-breasted Hummingbird. Pat cautions that visiting birders may mistake a distant Scaly-breasted for a Mangrove – superficially similar, the Mangrove has much cleaner, whiter underparts. Forewarned, we keep looking, Pat's excellent Ferruginous Pygmy-owl calls drawing in curious passerines as we go. Finally, as the sun begins to become decidedly hot, success – a female Mangrove Hummingbird comes to the edge of the trees and gives tremendous views. She's a smart bird, and while far from the gaudiest hummer I'm going to encounter this weekend, I'm thrilled to see her.
It's a huge relief – both a coveted species under the belt and our being able to move on and make the most of the rest of the day that remains available to us.
As the morning progresses and we work our way through the lowlands it's clear that the dry season has been particularly dry this year. It helps enormously that Pat has local gen with the whereabouts of some flowering trees - and as we explore the back-roads these trees harbour dozens of hummers, none more obvious than Green-breasted Mangos, but including amongst their number Blue-throated Goldentails and Ruby-throated Hummingbirds. The numbers are slowly mounting up, but this is emphatically not a straightforward box-ticking exercise – we're needing to work hard for some of these species in particular, and like any bird race there's going to need to be a dollop or two of sheer good fortune if the trickiest species are to be landed.
We'll be racking up far more species tomorrow when we head up into the higher, more temperate elevations but today we're trying to land some of those trickier species. As the sun begins to set we're staking out one particular tree that to me looks little different to any other beside the dirt road we've been traversing. In the last couple of hours we've done well for other birds, particularly trogons (Black-headed, Gartered, and Slaty-tailed all putting in close appearances) but the hummingbirds have been pretty quiet.
Pat knows what he's hoping for though, and as if to order two small hummers appear on a bare branch at the very crown of the tree – one's another Ruby-throated, but the other... yes, it's a White-crested Coquette! The Ruby-throat is pugnacious, and aggressively chases away the coquette. We could so easily have missed this one…
The day's not quite over yet – we finish off with some delightfully-named Charming Hummingbirds. It sounds like someone was trying to think of something positive to say about this very understated species – it's not got much going for it in the looks stakes. But it's our 13th species since we started long ago at dawn.
Sunday, 5:00 am
And we're heading into what promises to be a much more species-heavy day – but one with some stellar quality and, if we're lucky, some spectacular and sought-after birds. Our first stop is an abandoned butterfly garden that abounds with porterweed and is surrounded by dense forest – even to my untrained neotropical eye this looks rare... My only reservation is the weather – in complete contrast to yesterday it's raining steadily. At least, unlike Shetland, this rain falls vertically and doesn't come at you sideways – and the hummingbirds don't seem unduly bothered. The first bird we clap eyes on seems like a good omen – a Green Thorn-tail – and two more species are immediately evident – Violet-headed Hummingbirds and Crowned Woodnymphs – feeding industriously around the bushes.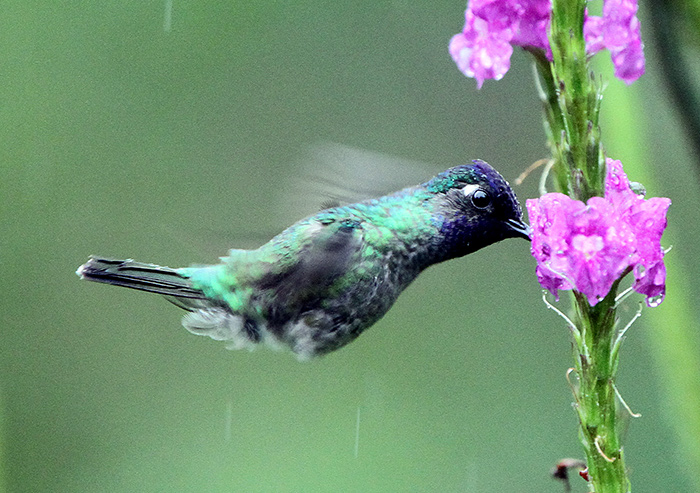 All hell breaks loose as two metaphorically massive but literally diminutive birds turn up in quick succession – my second coquette of the trip, a male Black-crested, and then perhaps the most dropdead gorgeous of them all, a male Snowcap. I'd wanted to see this one so badly, and it doesn't disappoint – that gorgeous burgundy plumage with a hint of green iridescence, set off by that improbably white crown. Amazing. I can't get enough of this... but of course, we're after numbers as well as aesthetics, so we can't afford to linger – and having had our fill of a showy female Snowcap and a subtly attractive Bronze-tailed Plumeleteer (those pink feet!) we're moving on to our next site in the Sarapiqui area.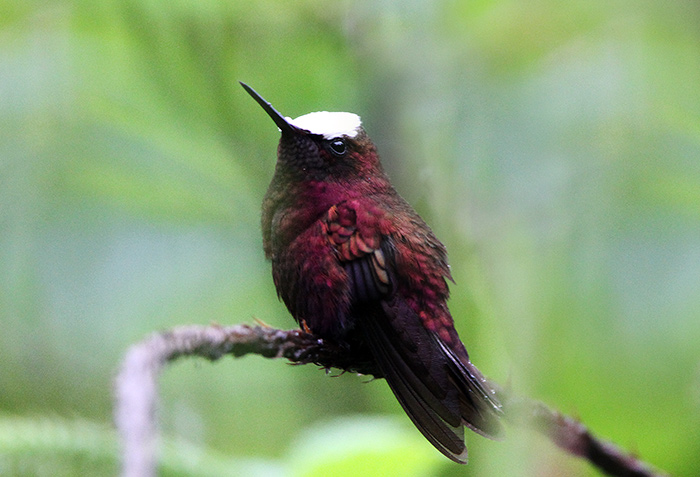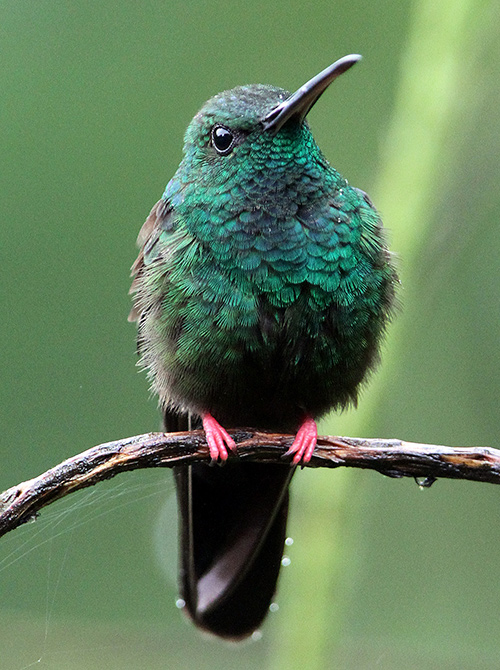 I've never seen so many heliconias crammed into one spot as there are here, and after scoring a nice low Purple-crowned Fairy I'm hoping for some hot hermit action. The weather though takes a turn for the worse, and the rain goes from steady to absolutely torrential. Pat's prepared with an umbrella – I'm reduced to trying to keep my camera body shielded with my hat... But we can't stop – there's something singing in the depths of the dark, dripping undergrowth – a Band-tailed Barbthroat. And there, sitting a foot above the ground in the gloom, he is. Suddenly the rain seems pretty inconsequential, though it's undoubtedly having a detrimental effect on feeding activity on those heliconias.
We cut our losses and push on. Pat has another stretch of heliconias in mind en route to our next stop, and it delivers twofold – a terrific Long-tailed Hermit emerges from dense bushes to feed beside us and, overhead around a small flowering tree, a Blue-chested Hummingbird appears. This is starting to feel like one of those golden moments that occur in some bird races when everything begins to come together in such a way that transcends your wildest dreams...
We continue climbing up the hills, stopping to check likely looking flowering trees. The rain's not easing, and we're just seeing Rufous-tailed Hummingbirds for the most part. Lunch at a roadside cafe with hummingbird feeders gives views of fabulous Violet Sabrewings, dashing large hummers of rich purple with black and white counterpoints, but to be honest it's a bit grim sitting on the verandah – it's positively cold, windy and wet.
We're optimistic though, and give those flowering trees another good grilling after lunch. Another Green Thorntail, and then... another Costa Rican endemic is dancing around the flowers – a Coppery-headed Emerald! Elation warms me better than any hot meal.
Our next stop looks and feels a little, well... dude. It's La Paz Waterfall Gardens and after our efforts in the wild this is very different indeed. We pay the entrance fee, and walk down a landscaped hillside past a monkey enclosure to a small gravelled area dotted with hummingbird feeders. The monkeys may be captive, but the hummingbirds here are as wild as they come, and this established feeding station clearly has a magnetic draw on them – the air's alive with birds coming and going: more sumptuous Violet Sabrewings, another Green Thorntail, Green-crowned Brilliants, another Coppery-headed Emerald... And soon enough, new species too – in quick succession a Purple-throated Mountain-gem and a stunning Black-bellied Hummingbird – this latter by no means a certainty on our list of target species for the weekend, and a tremendous bonus bird.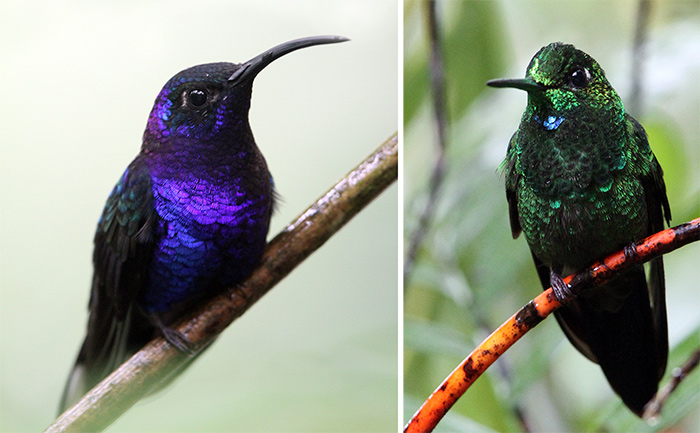 Pat's mind meanwhile is assessing the possibilities nearby, and we make a speculative diversion to a nearby fast-flowing, boulder-choked river. Pat points out a small waterfall dropping into a mossy corner of the river, and remarks that it looks like the perfect place for a Green-fronted Lancebill – and within seconds, a small hummingbird flies up from a rock, flycatches, and perches on a bare branch overhanging the water. Green-fronted Lancebill, right on cue! We watch it for a few precious moments before it's gone... and despite our efforts to relocate it or another, that's our lot. Another fabulous and scarce bird has given terrific views, made me very happy indeed, and our luck is holding well.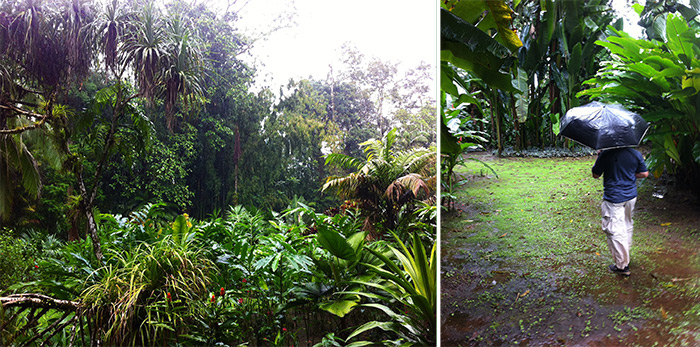 It's all uphill from here on as the afternoon is drawing on, and time's getting increasingly precious – a coffee stop at the Volcan restaurant provides another bank of feeders, and once again they're heaving with birds – both Purple-throated and White-bellied Mountain Gems, Volcano Hummingbird, Green Violet-ear, Stripe-tailed Hummingbird, and a solitary Magenta-throated Woodstar. The species are stacking up nicely...
Higher still, and we're right up into the clouds on the slopes of Poas volcano. The rain is once again torrential, and despite knowing that Fiery-throated Hummingbirds are numerous here, they're nowhere to be seen. My spirits begin to drop a little – this is familiar territory, trying increasingly hard for a species as the day ticks down to an end; and to make matters worse, this is a lifer for me. We're almost back at our car when a hummer comes zipping in out of the sheets of falling water, and perches in the shelter of a roadside tree. It's a Fiery-throated, and while this isn't quite the photographic opportunity I had hoped it might be, it's a good close view and fills my binoculars.
Our return to San Jose finds us dropping out of the rain and back into early evening sunshine. We've just time to make a few stops along the way to try for Scintillant Hummingbird... but in the end, we're not successful. It's one of just a very few possible species we've missed this weekend – which, combined with those species in the south of the country near the Panamanian border, give me all the excuse I need to plan a return visit!
And so back to my hotel for a few hours sleep before catching an early plane back home. At this point it was hard to get to sleep – my mind was a whirl of kaleidoscope colours and intoxicating names. We'd done well – really well – and had amassed a haul of species that did this spontaneous birding trip real justice. Of a total of 223 species seen and heard, 37 of them were hummingbirds. We'd seen national and regional endemics; some scarce and secretive species; and we'd had an absolute blast along the way. This had been a high-octane hummingbird road trip, a bird race with a big difference and a tight focus, and I was heading home from Costa Rica a very happy man indeed.
My thanks to Pat O'Donnell – I'd thoroughly recommend his assistance for anyone heading out to go birding in Costa Rica – he's a font of bird and site information, and great company too birdingcraft.com/wordpress/about-patrick-odonnell
Jon Dunn
www.jondunn.com
12 March 2015

Share your birding tales
Do you have a birding story you would like to share? From foreign birding trips to your local patch we would love to hear from you.
All our articles are free for anyone to view and we include them in our weekly newsletter which goes out to thousands of birders. We also share them on our Twitter and Facebook pages making sure your article will get read by as many people as possible.
If you could would like to write an articles please email us with your ideas, thank you.
The RBA team