RBA readers poll - Have the Hawk and Owl Trust got it right? The Results
Wow, what a response to the poll. Over We 750 of you voted and left 188 comments, so thank you all for taking part.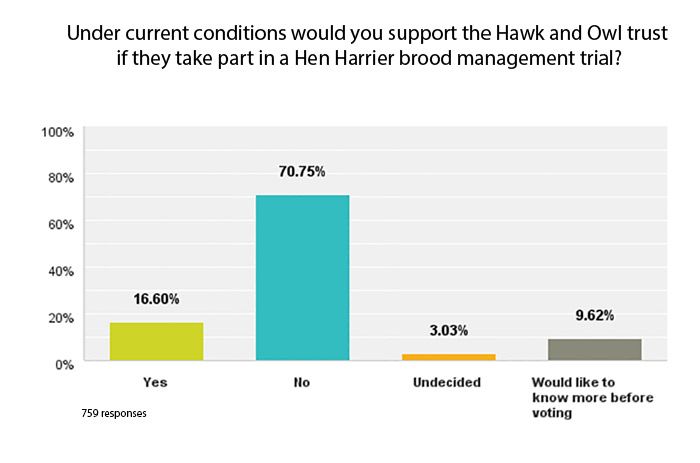 The results are pretty conclusive and show that an overwhelming number of you do not support with the position that the Hawk and Owl Trust (HOT) have taken on a trial of Hen Harrier brood management. Nearly 71% of you said you do not support them, at this stage, if they got involved in a Hen Harrier brood management trial. 17% of you said that you do support them with 9%, saying they would like to know more about the issues before voting and just over 3% said they were undecided.
A small number of people left comments saying we should have explained what brood management is for those who don't know. However, it is a complex management tool and it is made even more complex when in comes to Hen Harriers do to all the issues surround illegal persecution. There we felt that for those who didn't know what it was or didn't understand it full we would the option to say so in the poll rather than forcing a yes/no vote.
Judging by many of the comments left in the poll and the discussion on social media it is a clear that there are some very strong feelings around the issue. A large number of the comments by those against the HOT's position point out that before any trial of brood management can take place the illegal persecution Hen Harrier must stop and the laws protecting the species be properly enforced. This seems to be a line in the sand for many and the HOT themselves have said that this would need to happen before a trial could take place. However they also say that they could get involved in a trial as early as this breeding season so it is unclear how persecution could be proven to have ceased before then.
This leads on to another common thread in your comments in which many of you felt the HOT have not explained fully their position clearly enough. Despite numerous posts by the HOT's chairman, Phillip Merrick's, on both Mark Avery's blog and the HOT's own website many of you still don't feel they have explained fully on what evidence they come to the decision to get involved in a trial and what exactly the trial they have agreed to take part in would involve. It does seem a strange position to take, to agree to a trial, tell everyone that it is 'the way forward' but not to tell people how they came to this conclusion and exactly what the trial would involve and how it would work.
A very small number of people made the comment that birders and conservation organisations shouldn't be in conflict about this issue as it only strengthens the case of the shooting lobby. But surely it must be possible to question the decisions of conservation bodies, many of which we are all members of? Sure, they have scientific expertise and knowledge that many lay persons do not have but it would be wrong to think that birders and wildlife enthusiasts are not well informed on such matters. In fact many of our subscribers and followers on social media work within the fields of conservation and so are very well placed to comment on such matters. If the decision taken by the HOT was made using sound scientific evidence and was put to it's board with a clear rationale then it would stand up to any scrutiny made of it by both the well and ill-informed, wouldn't it?
For now it seems the HOT have failed to make their case. No doubt there will be plenty more twists and turns on this issue and we will do our best to keep you informed about them here. But you should also make sure to follow the Hawk and Owl Trust as well as others such who write regularly on these issues such as Mark Avery, RSPB, Raptor Politics, Birders Against Wildlife Crime, Raptor Persecution Scotland, British Association for Shooting and Conservation, Countryside Alliance, Shooting Times, Game & Wildlife Conservancy Trust to name but a few.
We also thought you might find it interesting to see a selection of some of the comments left by those who voted in the poll, you will find these at the end of the page.
And finally we will be passing on the results of the poll along with the 188 comments to the Hawk and Owl Trust, hopefully they will have something to say about them.
Thanks again for voting.
Rare Bird Alert
04 Feb 2015
Voters comments: Question. Under current conditions would you support the Hawk and Owl trust if they take part in a Hen Harrier brood management trial?
"YES - The current impasse must be broken, or else hen harriers in England will continue to be on the verge of extinction. While it is unpalatable really, a brood management scheme for a trial period of say 3 years may provide a way forward, and if it increases the number of breeding pairs in the years after who would them say it is not a good thing. In no way is that dumbing down the main message that illegal persecution and habitat destruction must stop. "
"YES - I'm angered and saddened by HH persecution, however, whatever is being done to protect HH's at the moment is failing. Illegal persecution is rampant. If it's a choice between business as usual or trialling compromises I know what I would go for. I'd like to see tougher penalties and BM used in combination. Like it or not, the decision to persecute hen harriers comes down to individual gamekeepers. We need influence that with a combination of carrot and stick because stick alone isn't working. Dr Avery may be getting more blog traffic but he's doing real damage to relations between shooting interests and conservation objectives. It's the HH and birders that are paying the price. "
"YES - Illegal killing is the number one priority, but the HOT approach cannot do any harm, can it? Surely it can only help, and publicity about it's actions might stimulate movement towards solving the killing of Hen Harriers. "
"YES - Intransigent positions on both sides will see the total destruction of hen harriers. HOT are brave conservationists with realistic approach to save the birds, not their political standing"
"NO - Don't need brood management. Persecution needs to stop and harriers ALLOWED to recover naturally. Management bows to the needs of an outdated pursuit which doesn't appear to be viable with the presence of harriers. It seems incredible that the HOT are willing to accommodate " sport" which requires us to change the laws on a protected species in order for it to be viable! SURELY it MUST be the sport which needs to adapt/ change to work within existing laws. Akin to a burglar asking to relax the law on breaking and entry so that he is no longer a criminal. I know, it sounds absurd doesn't it?!!! "
"NO - B.M. of a species which is virtually extinct would be contrary to IUCN guide and begs the obvious question - which raptor next ? given the antipathy of the shooting lobby to Peregrines and Common Buzzards. Let the species recover naturally first by proper law enforcement THEN and only then we can consider B.M. "
"NO - The fundamental problem of the illegal killing of birds of prey, including hen harriers, has barely been addressed by the statutory agencies. Supplementary feeding, proven to be effective at Langholm, has barely been tried by shooting estates. There is no evidence that illegal killing of hen harriers has decreased, except in areas where they have already been eradicated after years of attrition. The grouse industry has singularly failed to address persecution, yet brood management is simply pandering to the criminal who have been "managing" hen harriers for decades. There is no evidence that brood management will help hen harriers recover in the longer term - let's just see how many of last year's 40+ fledged young from Langholm have survived to breed….."
"NO - This will not solve the problem of illegal killing of raptors. Need a fundamental change to the driven grouse shooting management system. "
"NO - This move by Hawk and Owl Trust effectively undoes all of the RSPBs good work and the huge public pressure that has built on the grouse shooting industry in one fell swoop. Persecution is nowhere near being addressed and I struggle to see the H&OTs motivation for this move being solely for the wellbeing of Hen Harriers. The secretive nature of their plans and unsatisfactory responses from Philip Merricks smacks of collusion with pro grouse shoot organisations. GWCT, NGO and Moorland Association are now rubbing their hands together, as all this does is undermine the RSPB leaving them open to further ridicule, while Hen Harrier persecution will continue unabated. Poor show H&OT. "
"NO - HOT have got this spectacularly wrong. RSPB have clearly been the main conservation lead on this topic. If HOT felt the BMT was a potential way forward they should have spoken with RSPB first. With vicarious liability and the first jail sentence in Scotland now is the time to put pressure on sporting estates in the rest of the UK. Instead we have several more years of stalling - a massive missed opportunity. HOT you should be ashamed of yourselves! "
"NO - Why go for such an invasive method when diversionary feeding has worked so effectively at Langholm - increasing harrier numbers without adverse effects on grouse? "
"NO - Brood management is a very useful tool in the correct context, but, at present, Hen Harrier recovery in England is NOT the correct context. Need to focus relentlessly on stopping illegal persecution and better (more wildlife friendly) management of moors and uplands. "
"NO - Their position appears to be completely contradictory. One minute they say they will not get involved until illegal persecution has stopped, the next they are saying that illegal persecution will not stop unless we undertake Brood Management. Nor are they answering any questions about what this 'trial' actually is. They seem to have rejected diversionary feeding as being a solution to the problem. Their Chair suggests that we need to compromise to solve the Hen Harrier issue yet I see no evidence whatsoever that shooting interest have compromised at all. A question I have continually asked, and no one has answered, is where is the compromise in the proposed HH Action Plan from shooting interests? What are they compromising on? "
"NO - Definitely NOT. Brood meddling is not an approach management technique in this context. It is ANTI-Hen Harrier and only serves to pacify those who have been persecuting them illegally for the last 60 years. SHAME ON HOT! "
"NO - No deals should be made until the grouse management industry demonstrate some restraint i.e. there must be a target for numbers of harriers to be present and breeding before a brood management scheme is enacted. "
"NO - Brood management should not be discussed until there is a viable and expanding HH pop in England. There is no evidence that it will help HH and until persecution stops it should not be on the table. HOT is playing politics rather than considering the conservation of the HH. "
"NO - Agree with the conditions that RSPB and other groups want to see fulfilled before Brood Management is introduced - ie Hen Harrier numbers rise"
"NO - Utterly gutted by your attitude. "
"NO - HOT need to explain their position in full . "
"NO - I find it astonishing that the HOT are taking this dangerous and retrograde step. "
"NO - Absolutely NOT! Their Chairman, Philip Merricks, is totally misguided and ill-informed on this issue. Hen Harriers have been specially protected by law for 60 years and that protection must not be weakened solely because a small minority of selfish individuals consider them a nuisance. Any meddling with Hen Harriers nest is both illegal and totally anti-conservation. Moreover, it contradicts IUCN Guidelines in that all threats must be addressed before undertaking any translocations. Land Owners and Land Managers must abide by the law or face the consequences."