Bee-eaters breed in Britain for second year running
The RSPB have today [31 July] announced the presence of a colony of six Bee-eaters in Cumbria, four of which have bred, making it the second year running the species has done so in Britain.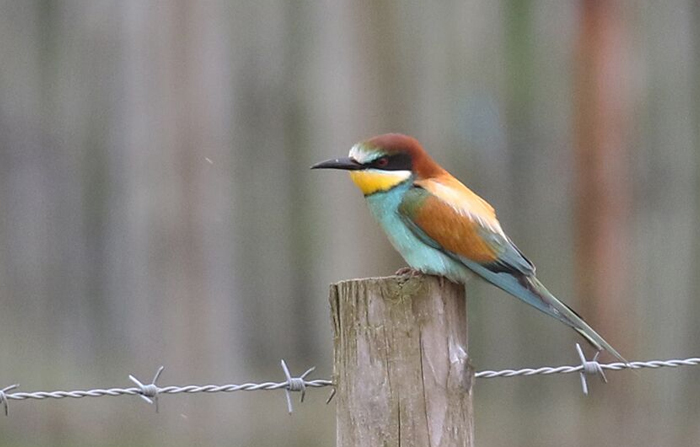 The birds were discovered at Hanson Aggregates Quarry at Lower Gelt, near Brampton in Cumbria. Hanson employees had been puzzled by the appearance of several exotic-looking birds that had suddenly appeared in the quarry and contacted the RSPB.
This is the second year in a row Bee-eaters have bred in Britain following the successful fledging of young on the Isle of Wight last year
Mark Thomas from RSPB Investigations takes up the story
"Amazingly, a total of six bee-eaters were seen, hawking over the small sand quarry and courtship-feeding on the perimeter fence. Despite the fact that bee-eaters have bred in the UK on three occasions from 2002, this is still a very rare breeding bird and one needing full protection from the actions of egg collectors and unnecessary disturbance. The phone lines between the RSPB regional office in Newcastle and The Lodge were red-hot and plans were drawn up and rapidly actioned.
The RSPB is proud to be have been involved in the previous breeding attempts and to be assisting this species with its colonisation of the UK. Talks with Hanson and the landowner, assisted by Cumbria Police, were very productive and protection wardening began almost immediately. Observations showed that two pairs of birds were nest-building and that the extra individuals were non-breeding 'helpers'!
Members of the local birding community were contacted and informed of the presence of the birds and brought on-board as very willing volunteers! Beyond the welfare of the birds always coming first, the RSPB's aim in these situations is to attempt to provide a public viewing scheme, so spectacular birds can be enjoyed by as many people as possible. It was clear that Hanson and the landowner shared that belief and the location was absolutely perfect, with ample parking and good observation points.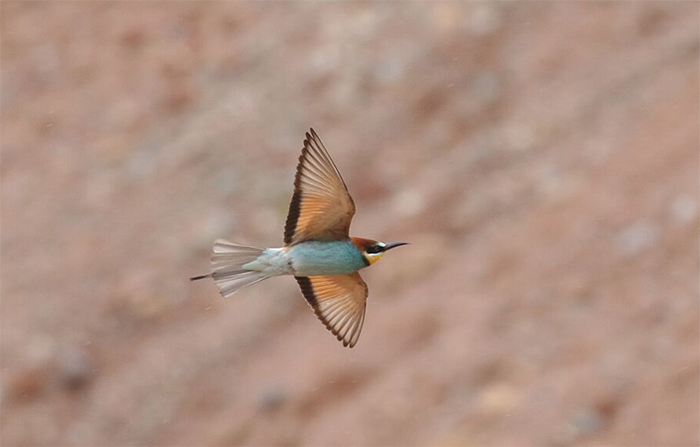 How to see the birds
The RSPB have set up a viewing scheme which is now operational giving everyone the opportunity to see these stunning birds in Britain. The quarry is situated 8 miles north east of Carlisle, 1.5 miles south of Brampton just off the A69. For satnavs follow CA8 1SY, which is the Old Hare and Hounds pub very close by. Bee-eaters can be seen from the car park and from a viewing area 200m away from the nest but the track to this is uneven and uphill in places. Please follow all on-site instructions and under no circumstances enter the active quarry.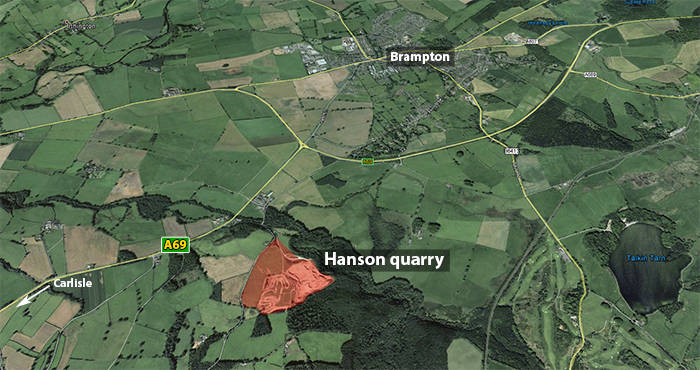 The site is open from 8 am until 8 pm daily, with a number of RSPB staff and quality telescopes on hand to assist you with your visit. There is a £5 parking fee at the land owners request.
RSPB
31 July 2015