RSPB launch crowdfunder to rebuild hide destroyed in storm surge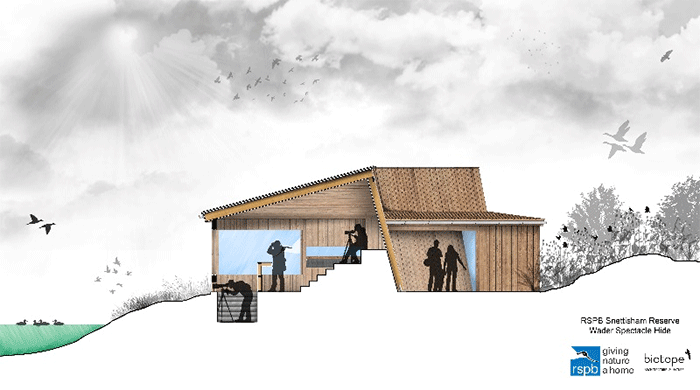 You may remember the devastating tidal surge in December 2013 that left a trail of destruction along the coastline and our coastal reserves . The surge completely destroyed two of our hides at RSPB Snettisham and seriously damaged another, along with devastating damage to the sea banks and lagoons. The photograph of our hide teetering on the edge of collapse was hard to forget.
In the immediate aftermath of the surge we launched a funding appeal. That money was shared between the RSPB's coastal reserves and was spent on restoring the incredible habitats we work so hard to protect. This money helped restore the shore banks, lagoons and boardwalks at RSPB Snettisham.
We're now asking for your help again.
The new hide
Working with specialist Norway-based birding architects, Biotope, the RSPB has drawn up plans for a new hide to replace those lost in 2013. This new hide is designed to be storm-proof and provide stunning views of the famous wader spectacles of The Wash – when tens of thousands of waders descend into the lagoons after being forced off the vast mudflats by the incoming tide.
The hide will hold up to 80 people and have dedicated areas for birders and photographers, as well as wheelchair access and catering for people of all ages and abilities who are drawn to Snettisham by its fantastic wildlife.
This will not be just any hide, and as a result will cost £140,000 to build. This is where we hope that lovers of Snettisham Nature Reserve and its wildlife will be able to help.
With your vital support we hope to raise the money to build a hide that:
is bold and innovative, designed by specialist bird hide designers Biotope
is flood resilient
can accommodate large numbers of people during our high tide spectacles
blends into the landscape, using materials that compliment the reserve
has a dedicated photography area
has inspiring and informative information panels inside
provides unrivalled viewing of roosting birds on The Wash
In order to raise the money needed to build the hide, on Monday 10 July the RSPB in Eastern England launched a crowdfunding appeal to encourage people to donate to the cost of the new hide.
How you can help
These are a few things you can to do if you would like to help us realise this vision for Snettisham (and we hope you will!):
1. Donate to our appeal - if you've visited Snettisham and experienced the sound of ten thousand pink-footed geese flying overhead or seen the mesmerizing display of knot as they fly to escape from the incoming tide before going to roost in the reserve's lagoons, we hope you will understand why we think this new hide will be so brilliant. You can donate to our appeal on our Crowdfunder page: www.crowdfunder.org.uk/snettishamhide or if you would prefer, you can email snettishamproject@rspb.org.uk or phone 01845 545263 for other ways of making a donation.


2. Share the appeal with people you know - more than 25,000 people visit Snettisham each year. We hope that a large number of these people will want to give their support to help build this new hide that will make Snettisham's wildlife accessible to so many more people. If you know people who you think would like to support our appeal, please share this email with them / tell them about the appeal.


3. Shout about it on social media! - We want to get the word out to birders and nature lovers everywhere. If you use Twitter and/or Facebook, you can help. Please use #SnettsHide to tag your tweets / Facebook posts.

Tell people you have donated and ask them to do the same www.crowdfunder.org.uk/snettishamhide

Sign up to support our Thunderclap: www.thunderclap.it/projects/59212-rebuild-snettisham-hide All you need is a Facebook or Twitter account – it's dead easy!


4. Visit Snettisham this July for one of our summer wader spectacles! - July sees the early return of the first knot and other wintering waders in the thousands and spring tides later this month will create a fantastic summer wader spectacle for anyone visiting the reserve. We have three special summer wader events taking place this July on Sunday 23 (pm – picnic with waders), Wednesday 26 (am – early morning wader walk) and Thursday 27 (am). For more details and to book your place on any of these events, visit www.rspb.org.uk/snettisham email titchwell@rspb.org.uk or phone 01485 210779
RSPB
12 July 2017
Share this story
Tweet