RBA Scarce and Rare Bird Round-up Photograph of 2013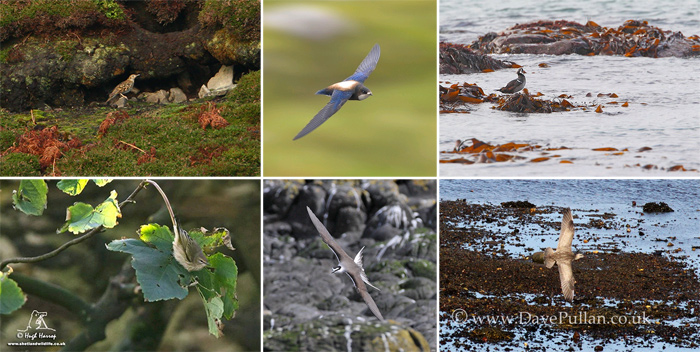 This year has, of course, been one of the greatest years ever for the appearance of scarce and rare birds across Britain and Ireland.
"Blockers" tumbled as unlikely "second-time around" species popped up on remote islands, with wave after wave of top class rarities acting as an almighty back-up list, pretty much, all year round.
Along with the monster megas of the spring and autumn, you can add in to the mix some great winter birding at the top and tail of the year, an outstanding east coast early autumn drift migrant bonanza, outrageous seabirds and any number of subtle forms to stretch the intellect - 2013 was, quite simply astonishing.
Hopefully at least some of that astonishment has been conveyed through the weekly round-ups. Those weekly "tales of the birding tape" have comprised somewhere just shy of a quarter of a million words and getting on for a thousand different scarce and rare bird images.
To give credit to those photographers who've been generous enough to post their images, it was decided to hold the inaugural RBA Review Photograph of the Year award. The "qualifying" rules this year were simple and straightforward. The only requirement was that the image had appeared within the RBA round-ups over the last 12 months.
The process was straightforward, or so it seemed. The initial set of images to cut down to a workable total was drawn up by someone with an intrinsic link to the RBA round-ups….ummmm, me (so, basically, I'm to blame if your favourite shot isn't in here…) but it proved to be a rather daunting task to even start to whittle them down - but that's one of the joys of a long winter night or three in Norfolk….
As it turned out, some of the front runners began to make themselves known relatively quickly. Many images could be admired but dismissed immediately - great record shots weren't going to always make the cut - but after a while it was apparent that there was a sizeable bunch of contenders and some work was needed to take the numbers down some more.
Eventually a Booker Prize-style "long list" was settled upon - 52 photos from 44 photographers - many shots markedly different from each other of course, but all portraying great scarce or rare birds in wonderful detail or (and this is important) in a style that wouldn't always appeal to some - a great bird captured in an image with something more akin to an artist's mind. This ruffled a few feathers so to speak, but we got there in the end…
The long list became a short list - drawn up by two of us, myself and Brian Egan (who puts the review in to online shape every week and who is a professional lens-man to boot). The judging criteria was wide and varied - composition was obviously a key element along with the general "sharpness" of the image - but there was a little more to the picture than meets the eye…
Several of the images that were selected on the initial "long list" that just missed out on the short-list were of huge benefit in terms of aiding the process of identifying a vagrant - Paul Rowe's Western Orphean Warbler, showing not only precise detail of the undertail covert but also the ghosted pattern of the tail pattern itself - was key in the early days of confirming the specific identity of Pembrokeshire's star bird.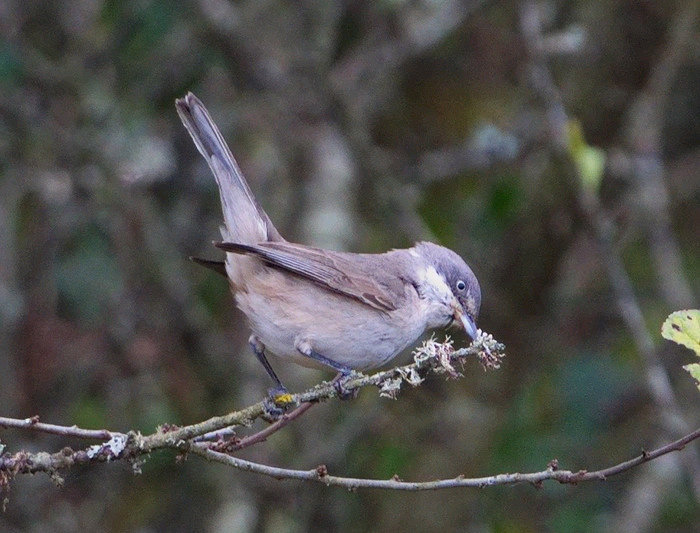 In a similar vein, Alastair Wilson's super portrait of the Caspian Stonechat on St. Agnes was not only a great capture of a stunningly rare bird but also, in one image, had not only a delicate, deft touch in terms of composition but also managed to portray the need-to-see tail pattern too.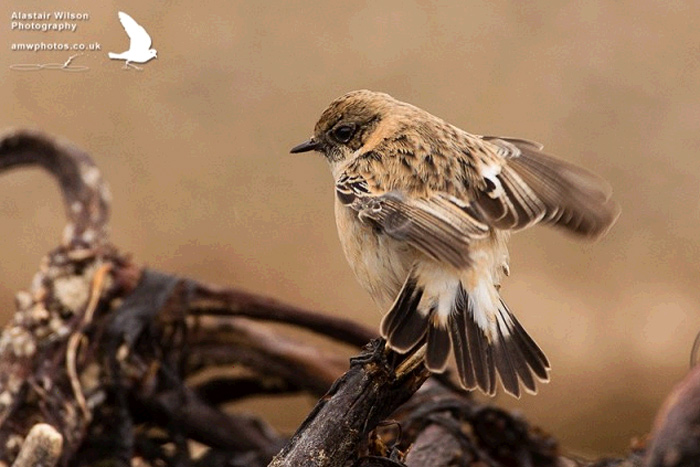 At the other end of the scale, Stuart Piner's remarkable flight shot of the Shetland Thick-billed Warbler not only captured an incredible vagrant in an unusual action shot, but also showed many of the features needed to confirm the bird's identity. A very different type of shot to Paul's and Alastair's, but well worthy of contention. It didn't quite make the grade, which was handy as it saved red faces all-round when it came to the vote itself…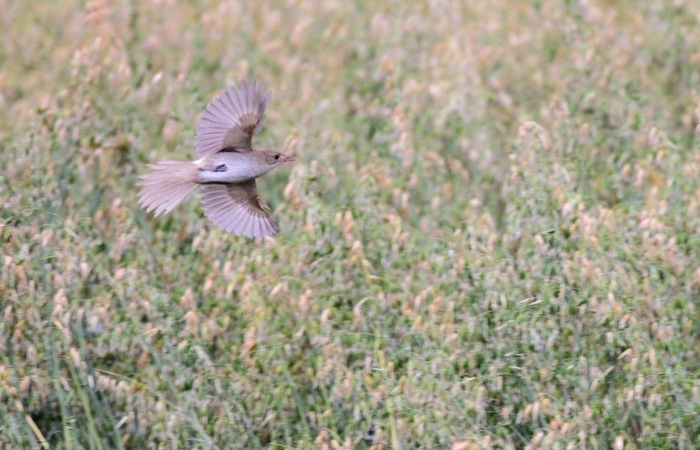 With coffee mugs in hand, it took some while to discuss and debate the super array of shots on offer - but eventually a list of six final short-list contenders was agreed upon and that set of shots was offered up to the in-house RBA judging panel; Chris Batty, Pete Hayman, Will Soar and Stuart Piner, along with Brian and myself. Needless to say, there was a certain amount of comment on the chosen six shots - omissions mentioned and the like - but eventually decorum was maintained and the votes were cast.
The images were scored by the six of us with six points for each person's favourite down to one for their "last" option. Soon enough, a winner was selected and the results can be seen below….
Before we get to the winners, we thought it was only right to include a few of those shots that made it on to the "long list" - some of these may even be your preference to those selected by us. What appeals to one may well not appeal to others…and that's the joy and fun (and subjectivity) of what we're doing here.
Ashley Fisher's Pallid Swift on St. Mary's was an easy choice to push forward on to the long list at least - the bird in the image may well be small but it is framed beautifully against the blue sky, pin sharp, with all the detail you could ever wish to see on the upperside of a spring Pallid Swift. Add in the woozy, ever-distinctive backdrop of the airport terminal building and you immediately identify with bird and location. A really super shot….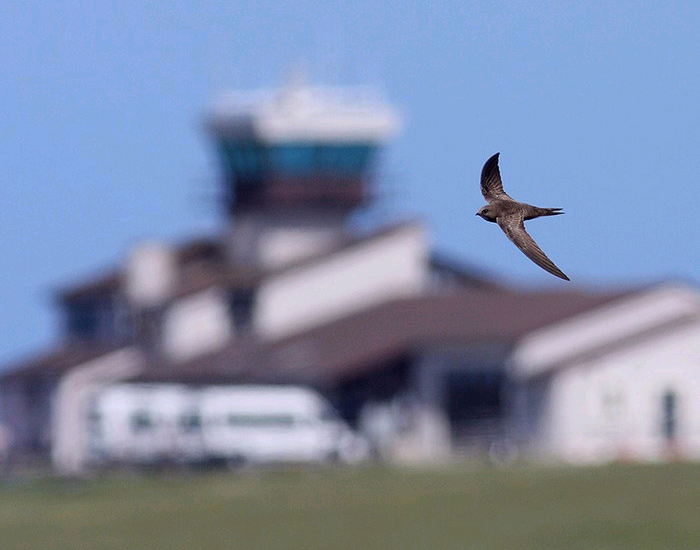 In a similar aerial feeder vain, from Suffolk came John Richardson's brilliant Pacific Swift image - this was soooo close to making the final sextet of shots - many may argue it should have - with the bird captured beautifully against the fresh and verdant late spring herbage. Again a pin sharp shot of a flying swift is no mean feat, and the head-on view is pleasingly different whilst ensuring that the bird shows field marks galore. A great, great capture of one of spring's biggest birds.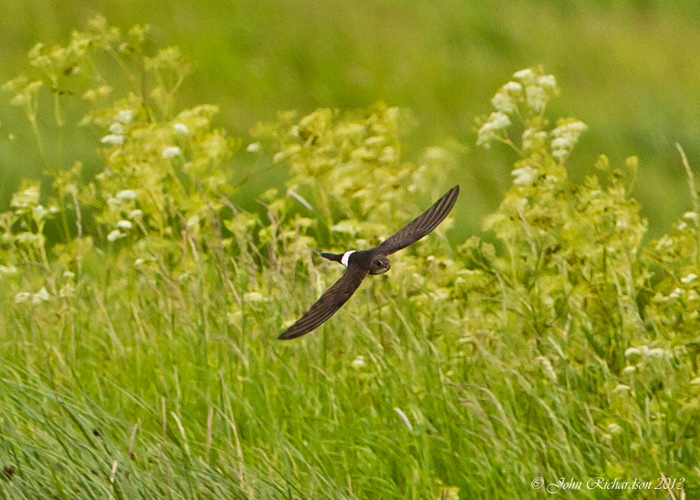 Mike Thrower's autumn image from Shetland is different again - a unique portrait of two species that always quicken the pulse - one a classic Shetland bird, the other an invader from suitably northern climes too. The birds may be small and one may be slightly obscured but it is, for me at least, one of the funkiest rarity shots of the year (and Two-barred Crossbill alone is, arguably, one of the species of the year).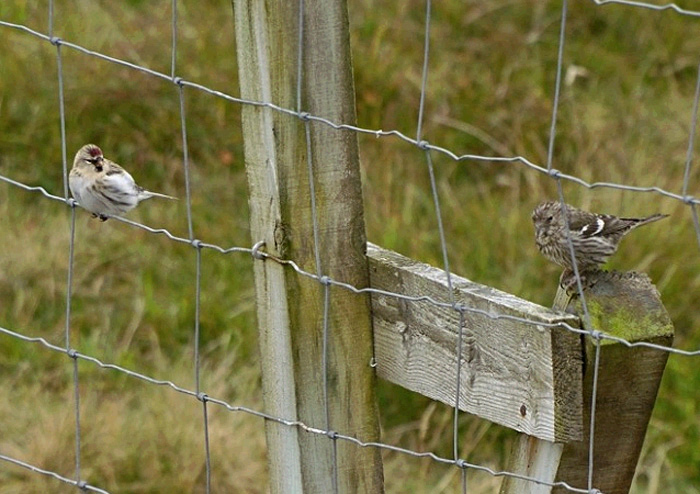 Staying on Shetland for a moment, one of the ultra-rares of the year was Unst's Cape May Warbler - any number of amazing close-up shots portrayed the bird to the full but there were a couple of shots that stood out. One is in the final six and this delightful shot by Rebecca Nason (a personal favourite of mine) was, like John Richardson's Pacific Swift, so close to making the final six (I lost out…!). A markedly different image of the bird to many seen online, Rebecca captures the delicate Trans-Atlantic waif beautifully on a skinny shrub bough whilst ensuring that many of the distinctive identification criteria remain on show.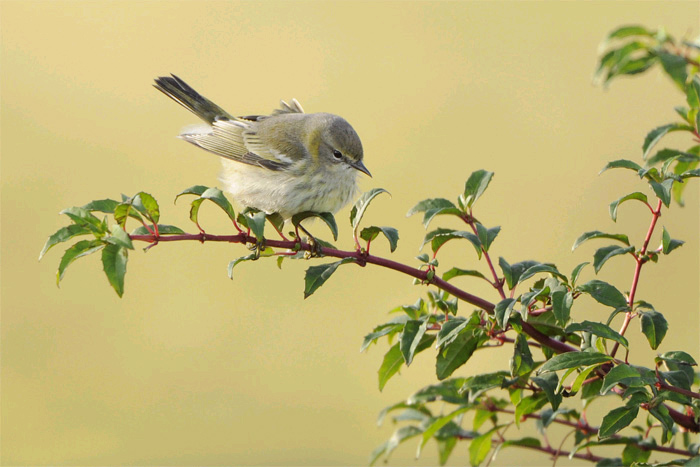 Back to East Anglia and to Norfolk photographer Penny Clarke's Yellow-browed Warbler taken on Blakeney Point. In another crazy year for this Siberian forest traveller, the RBA website has been awash with shots, really good shots, of this delightful leaf-warbler, but this one felt a little different. Penny took the shot late in the day on a dim, grey autumn afternoon, capturing a gentle moodiness which seems to pervade the shot - black and russet, silver and grey acting as a suitable backdrop to the bird, caught in full-on active feeding mode. You can almost sense the urgency as the warbler looks to feed in the Plantation with daylight withering away. Subtle and evocative, all in one image.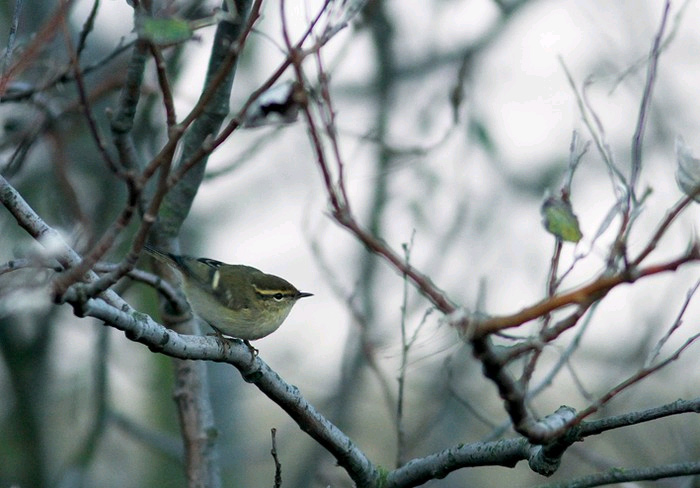 Finally, one of my favourite rarity portraits of the year - Trevor Guy's picture of the adult male Daurian Shrike at Pendeen. A gorgeous bird captured neatly a-top the crown of brown, seedless umbellifers - simple and stunning.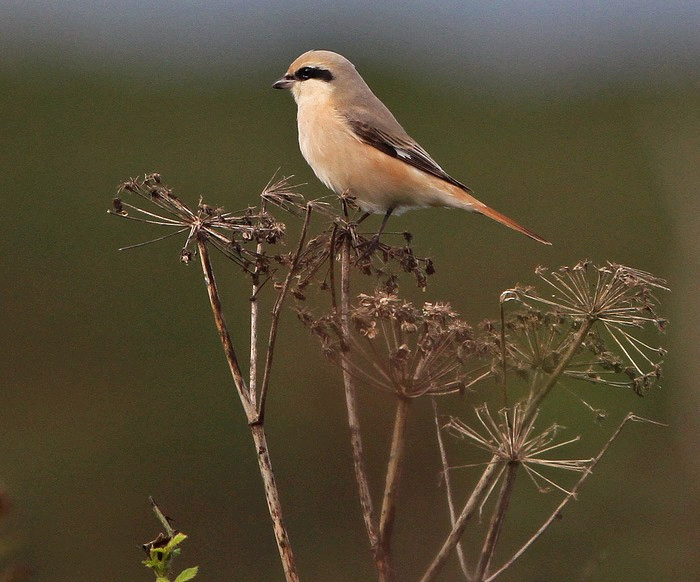 And so, to the top six.
As mentioned earlier, the ad-hoc, in-house judging panel voted six points for their favourite shot down to one. After the emails flopped in to my Inbox and the votes counted, it was evident that there was one clear winner….
Before that though, in time honoured fashion, we'll go through the list in reverse order…
Joint 5th Place
Bridled Tern, Farne Islands, Northumberland - Rob Wilson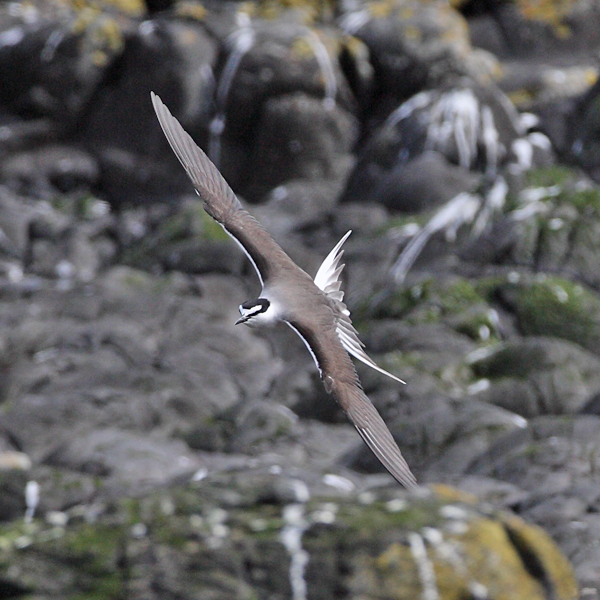 Somewhat overshadowed by the twitch and (literal) fall-out surrounding the White-throated Needletail, the discovery of a Bridled Tern was one of the highlights of early summer.
Norfolk-based photographer Rob Wilson was co-finder of the bird and he managed to capture some great shots of the bird - and this one was one of the very best. At the time, I wrote a caption which mentioned that it was a "beautiful picture of a truly exciting rarity" and that still stands now. Others on the panel enjoyed the "clarity of image" and agreed that the shot was "worthy of the plaudits".
Hudsonian Whimbrel, Yell, Shetland - Dave Pullan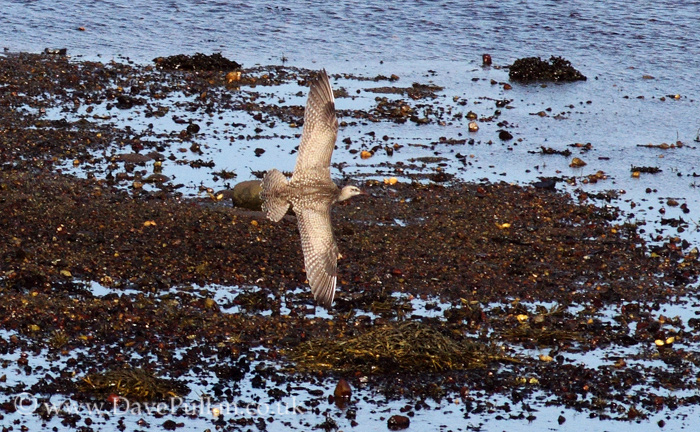 Talking of plaudits, Dave Pullan's outstanding image of the Shetland Hudsonian Whimbrel got some rave reviews around the table - "As an ID shot it is almost perfect " was a sentiment echoed by all, with a couple of comments mentioning that this had to be an outstanding candidate for the British Birds Zeiss Award.
Chris Batty summed things up perfectly with regard to this superb shot - "Dave's photo demonstrates the defining character – the rump colour being uniform with the upperparts - of this incipient species, and in this sense it is a photograph for identification purposes, yet the photograph perfectly sets the bird in its shoreline habitat."
4th Place
Cape May Warbler, Unst, Shetland - Hugh Harrop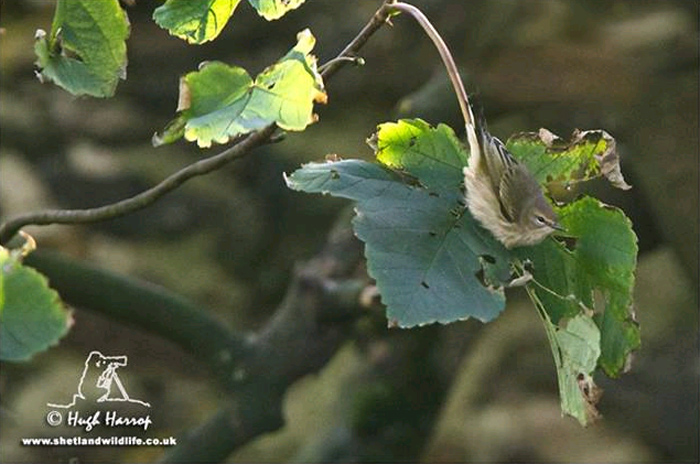 In an autumn that just kept on giving, each single contender for "Bird of the Autumn" usurped within days (or so it seemed) but few could come close to toppling the Cape May Warbler on Unst towards the end of October. As mentioned earlier, any number of "full-framers" were taken but Hugh's unique shot captured this ultra-vagrant in a gloriously satisfying moment in time.
The "unique composition of this shot" was a comment that appeared a couple of times during the informal round of voting but Brian Egan summed up the thoughts that several of us had regarding this delightful photograph.
" You can see the photographers mind working in this shot" he said, "slightly unconventional with the bird looking in the short space, but conforming to the rule of thirds and the bird is the perfect size in the frame." Brian also made mention of how "the autumnal leaves, wonderfully backlight, give the image a sense of time and place, something you rarely get with rarity photos, it's usually about how close you can get."
3rd Place
Harlequin, North Uist, Outer Hebrides - Kit Day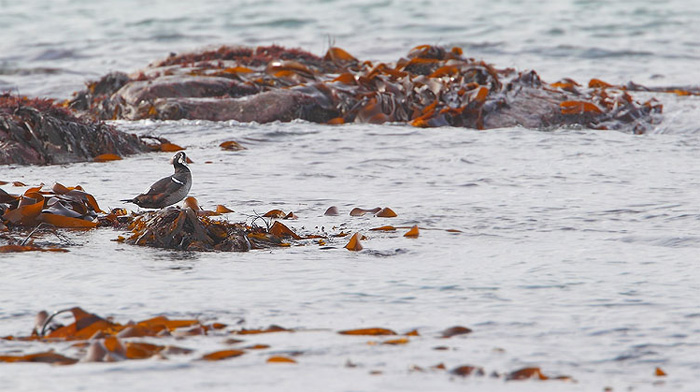 There may have been "better" images of this early-in-the-year mega, indeed some on the panel commented that Kit Day had "better" shots of the bird itself but this beautiful, subtle picture manages to convey not only a relatively benign and placid seascape, but also a fabulous bird merging gently in to its environment.
One of the judges remarked about the "lovely photo of the bird in the landscape" and how it "would look great as a painting" - and that for me summed up everything I liked about it perfectly. Kit has gone for a different type of shot here and ever since I saw it, it has remained one of my favourite images of the year.
Why? Well, a little like Brian's comment regarding the sense of time and place in Hugh Harrop's Cape May Warbler, I love this shot for precisely that - all of the understated grace and beauty is encapsulated within the split-second squeeze of Kit's shutter button. The rusts of the bird's rear flank melds with the similarly toned kelp wrapping around the purple-grey hued rocks, also the perfect mimic of the Harlequin's upperparts. I could go on and on about this image but time dictates otherwise - but this cracking shot is a pure delight compared to some of the frame-fillers that are so often regarded as the norm in rare bird photography nowadays.
2nd Place
White's Thrush, Fair Isle, Shetland - Steve Arlow
After some howls of indignation that one of Steve's full-frame, pin-sharp images of the very same bird wasn't included in the short-list, this particular shot of the early morning White's Thrush on Fair Isle eased a path in to a comfortable second place.
Positive comments littered the inbox regarding this picture - here's a sample from a few of us…
Pete Hayman mentioned how it "captures Shetland autumn classically, a generally skulking bird…stuck out on a peat/heather moorland setting". Chris Batty added "part of the mystique of White's Thrush is that it is just so hard to see, let alone get a clear view…however, the barren nature of Fair Isle gives the photographer an advantage, and Steve has capitalised on this".
Brian Egan said "it could almost have been shot through bins or a scope, it's the kind of view most birders get of birds… add into the equation that it is a White's Thrush showing that well in Britain and you have the perfect combination, a great image".
A great image indeed - you really can feel as though you were there, right beside Steve, as he took the shot. Those island colours seem to act as the perfect foil to the sensational, intricate gold and black and white of one of the best birds on the British List. All those who decided to go back to Observatory for breakfast rather than stay put (as Steve did) must have been kicking themselves for weeks to come…
1st Place
White-throated Needletail, Harris, Outer Hebrides - Chris Bromley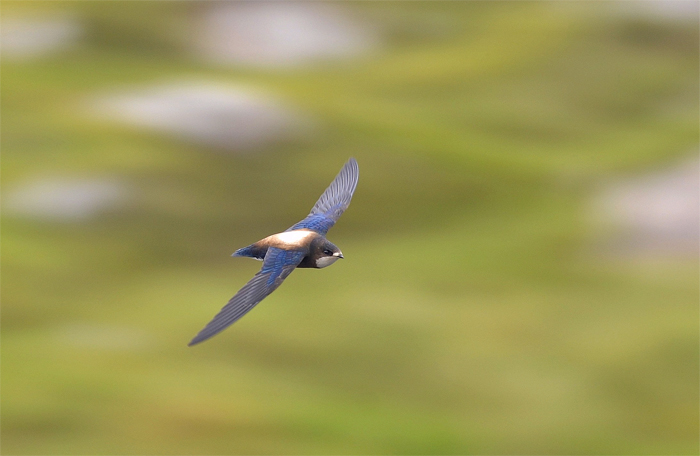 Voted a clear, comfortable winner by the six of us - four maximum scores of six and two five pointers too - it was almost over before it began - Chris Bromley had managed a truly amazing shot of a truly amazing bird, an image made all the more poignant and sombre because of the untimely demise that ended many people's ultimate twitch with the most bittersweet of twists.
A blistering rarity image, this would be a blistering image of a White-throated Needletail from anywhere in the world. In the review that it appeared in I mentioned "there are "record shot" rare bird images, there are good rare bird images, there are even plenty of great rare bird images, but this astounding shot of the Harris White-throated Needletail….is one out of the very top drawer…this was a jet-propelled swift, a bird that doesn't always lend itself to being an easy image to capture. Chris has pulled off a remarkable feat with this beautiful photo, so much detail on such a fast-moving bird."
Stuart said "this photo captures it perfectly mid-zoom – difficult bird to get in-focus, great background, like the blurred primary tips and he's done a good job of capturing the blue on the upperwing" and with Pete saying that Chris "has done brilliantly to capture such clarity and feather detail on a bird that must have been (yes I am completely gripped) travelling around at great speeds."
Our in-house professional photographer Brian mentioned "an amazing image of an amazing bird. The background makes the bird 'pop' whilst the exposure is just about perfect, the white on the back is burnt out but this is inevitable given the rest of the image… the blurred wingtip happens to give a sense of movement and speed, something you don't always get with flight shots when everything is frozen and sharp."
In a similar vein, Chris Batty said "Chris has captured a stunning portrait, with the angle of the bird suggesting - if not an interaction – a tacit acknowledgement by the Needletail of the presence of the photographer" while Will Soar summed it all up - "whether by luck or by skill, Chris has captured it perfectly for the same reasons as others have given (lighting, background, movement in the wings etc): it just has to win!"
And, of course, win it did. Many, many congratulations to Chris and also to the other five photographers featured here. Thanks too, to those photographers who, even if not mentioned above, made it to the long-list and to the many of you who have posted pictures to the RBA website or have responded to emails to allow us to use shots within the Round Up.
Chris recounts the day he got his remarkable image
As the plane touched down on the islands we received the positive news we had eagerly been waiting for; the race was on!
The drive to Harris was full of enthusiasm that it had been nailed down and we were going to see the bird with relative ease – That was until we arrived…The 'sighting' had been misinterpreted by a 're-tweet' on the social networking site twitter that morning. That hit all of those present hard!
After what seemed like an eternity a phone call was taken in which I'm sure I was not alone on eavesdropping in on, over the tense silence that had taken hold. It had been seen- this time for real over Loch Direcleit; just around the corner from where were all gathered!
The events that then prevailed really do set this up to be of the ultimate thrill driven experiences in anybody's birding career!
The adrenalin rush that followed was not due to the sprint up the hill towards Loch Direcleit, but what was coming down it, and directly towards us! I think many 'choice words' were exchanged at this point, all of which deemed very appropriate at the time and to this day!
As the bird continued it's circuits over the water body (and indeed us), teasing photographers as it did so, it became apparent that we were witnessing a true 'once in a lifetime' event and I often found myself simply watching the bird in amazement, observing its features and behaviour, rather than repeatedly firing off shots of the individual. You could really appreciate this bird more than just it's 'rarity value' because it was just so brilliant!!
As time went on we were now getting used to ducking and diving as the swift repeatedly dive-bombed us all on a regular basis, so close that you could hear its wings flap as it elegantly and flexibly dodged us by inches; but yet the awesomeness was never be-littled by this. The sounds and visual expressions of 'wows' from the observers confirmed this, not that it really needed confirming. The constant 'buzz' was repeated and recharged every time… not once was it taken for granted!
So surely if it's that close that a picture of the bird must be fairly easy, right? Come on… I don't even have any 'usable' images of common swifts never mind a White-throated Needletail!
I reviewed my images taken that morning whilst the bird had 'popped' over the harbour to continue its tour over Tarbert (which it did momentarily on occasions before returning to its regular haunt), and there were some shots of what quite clearly was the bird but sadly nothing decent.
I was very pleased to hear that we would be staying with the bird for quite a while longer before we needed to head back to the mainland, time for round two. After getting quite a few number images I reviewed the back of many cameras with other photographers pleased (and rightly so) with their results. Feeling quite frankly depressed I took some time to sort through my shots using the delete button, often using the terms like 'if only that was in focus', but then, my winning image appeared on the screen, looks like I could leave the island happy after all! Well happier; lets face it no one would have gone home sad after that! After revealing the image to those on site I was even more than ecstatic and great appreciated the feedback, and if I'm honest I was felt somewhat smug!
In hindsight I guess I got very lucky that day; right place, right time… if only the same could be said for the Needletail!
To quote my twitter post on that day comments such as "nearly just had my head taken off by the White-throated Needletail #bestdayever!" really do sum up the events that day quite well! A day to remember!
A day however that would have been impossible to contemplate had Dan Pointon not have given me a lift to see the bird, along with the great company of Josh Jones and John Pegden. A huge thanks again guys!
It has come as a great surprise, being presented with such a response regarding the image having been complimented with such genuinely positive comments. I would also so like thank all who have taken the time to congratulate and express their charismatic opinions/views on the image. It is very much appreciated!
And It of course goes with out saying that the above obviously includes all at RBA, with their comments within this piece and in their weekly review dated 26th June - 2nd July
The prizes
Chris's Needletail image wins him a £150 voucher to spend on photographic equipment at Wex Photographic, Steve Arlow bags a £50 voucher for his White's Thrush and Kit Day's Harlequin lands him a £25 voucher.
Mark Golley and the RBA team
January 2014