Finders-in-the-field: Great Knot, RSPB Titchwell, Norfolk June 2016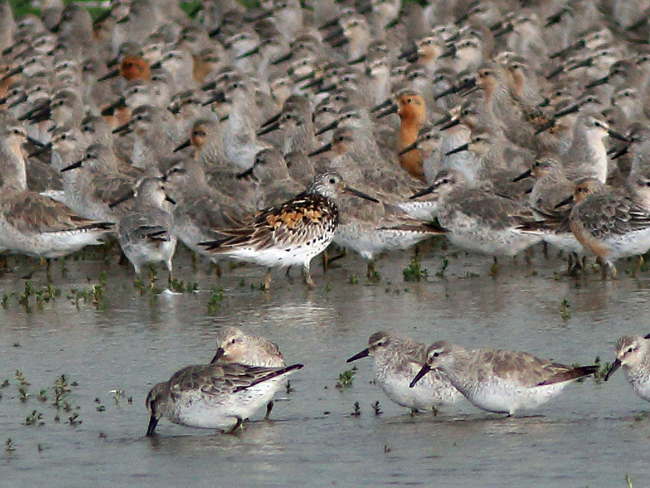 Titchwell RSPB is my local patch and it is no more than a 2 minute drive from my home. My normal routine is to be at Titchwell first thing and leave around 10:00. However on Wednesday 15th June, 2016 by a series of coincidences this changed. I had arrived as usual around 06:30 slightly expectant of something on return passage as the morning before I had found a nice adult winter plumaged Curlew Sandpiper in the company of 3 Knot. Having walked around the reserve I decided to sit in Parrinder hide as there were surprisingly few waders, no Knot a couple of Bar-tails and a hundred odd Black-tailed Godwits.
As it was quiet, I decided to leave and return later. This is where my routine changed as I met several people and stopped to chat, delaying me, so I didn't leave the reserve as I usually do. I walked back out with the intention of going to the sea, but stopped to chat and sat down on the bench overlooking the freshmarsh. It was at this point a gentlemen asked me what the large flock of birds were in the distance flying over Brancaster beach, I told him they were Knot and had probably been disturbed.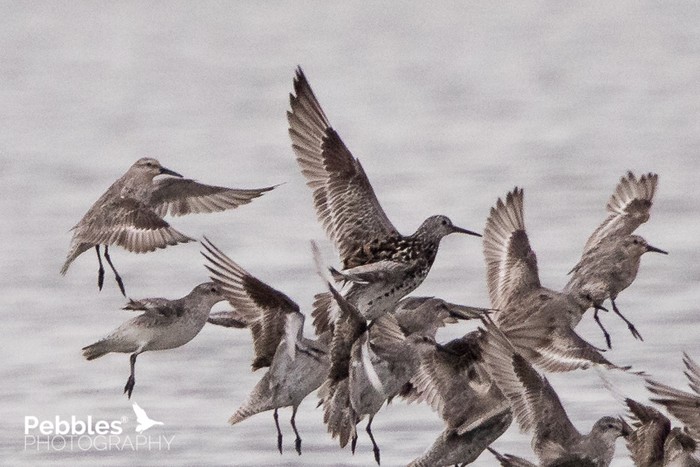 A couple of minutes later a flock of approximately 2500 Knot flew in over Parrinder hide from the sea and circled to land. As the birds settled I started to go through them. I had perhaps looked at 4 birds when I saw a bird which I immediately recognised as a breeding plumaged Great Knot. Its dark head, long bill, and wonderfully coloured back with black and orange patches, are very reminiscent of Turnstone, with an intensely spotted black breast and black arrow markings to the flank. After a sharp intake of breath I started to recheck the details as I couldn't really believe what I was seeing.
The chap on the bench next to me said "what is it" and I told him I was looking at a mega Great Knot.
I let him have a quick look in my scope and then I couldn't find it. It was not many seconds but seemed like hours before I picked it up again. I tried to phone Paul Eele but he had no signal which is not unusual at Titchwell. Panic - I then remembered the office number for Titchwell, Paul answers and I tell him I am looking at a Great Knot on freshmarsh. He ran down the path, and as he arrived I said "It is one". He looked through my scope and then ran off shouting in his radio it's a Great Knot. I then managed to get hold of Trevor Girling and called Rare Bird Alert to release the news to the masses. The rest, as they say, is history.
It is very difficult to convey the excitement this bird generated, as after a few minutes several non-birders were around who wanted to see what the excitement was about and they all shared this.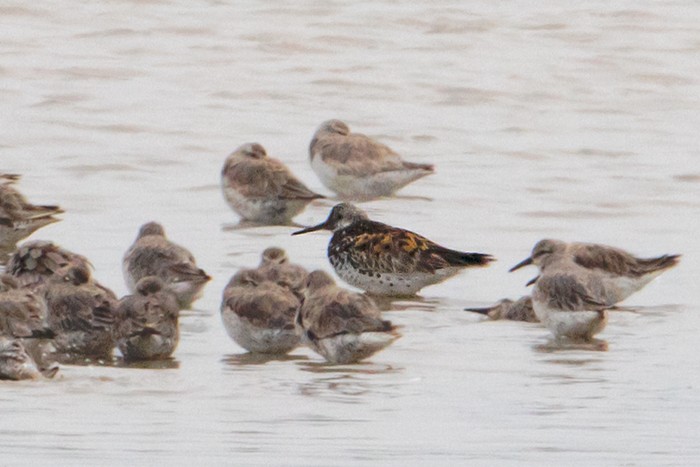 An absolutely brilliant bird and one I hadn't expected to see. I must have been psychic though as in the hide earlier I had been looking at pictures of Great Knot on my phone. It was good to get the information out quickly as I know that several people had the opportunity to see it before it departed to the beach in a thunderstorm.
Chris Booth
-----------------
From the warden
Many years ago we wrote a 'major twitch plan' to cope with the arrival of major rarity on the reserve. After many years I was able to dust if off and put it into practice last Wednesday afternoon when I took a call from Chris Booth saying he had just found a great knot on the fresh marsh. My first instinct was to dash down to see the bird before putting the plan into action.
Within a few minutes, volunteers were organised to help with car parking and marshalling and the news was put out. Although busy over the weekend, the twitch went well with most people managing to catch up with the bird. With the bird spending much of its time on the beach, marshalling people wasn't really required although we did need to do some carparking. At times the carpark was full but a steady turnover of people meant spaces soon became available.
As well at the attraction of the great knot, the reserve is currently hosting an excellent selection of early summer waders. Up to 7 spotted redshank, 200+ black tailed godwits, 250+ avocets, 3 green sandpiper and 2 ruff along with good numbers of red knot and bar tailed godwits have been present. The erection of the anti-predator fence on the fresh marsh earlier this year has allowed us to manage the waters levels on the lagoon in a more dynamic way so providing better conditions for waders. So far, this has been working well. Along with good numbers of waders, avocet breeding numbers have increased this year and we are on course to have our most successful breeding season for many years.
Now that I know the plan works, hopefully the next mega won't be too far away.
Paul Eele, Warden, RSPB Titchwell
--------------------------------------------------
Great Knot records in Britian and Europe
Of the previous British records, the first - on the Shetland Isles - was labelled the 'Great Not' on account of the ensuing dip, the well-watched bird in Cleveland was named the 'Great Dot' due to the extreme range that many watched the bird, the 2004 bird in Lancashire showed for just 80 minutes before disappearing for fifteen days and then only reappearing for two, and the 2014 record at Breydon Water remarkably followed a 'false-start' at the same location in 2009 when a Knot was misidentified as this species.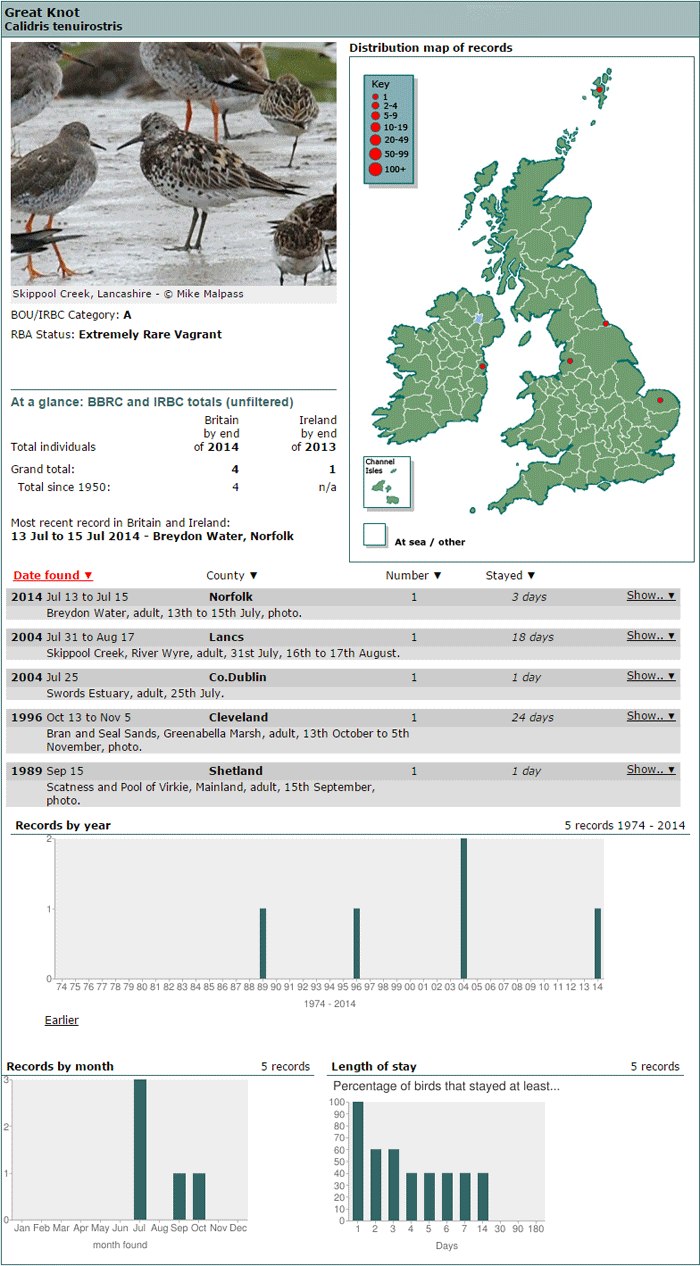 Previous European records of Great Knot, excepting Britain and Ireland are as detailed:
Spain 07/04/1979
Germany 01/08/1987
Norway 12/09/1987
Netherlands 19/09/1991 - 25/09/1991
Poland 15/09/2001
Sweden 02/08/2005 - 03/08/2005
Sweden 18/06/2012 - 19/06/2012
Sweden 11/06/2014 - 12/06/2014
Poland 17/07/2014
Netherlands 13/05/2016 - 17/05/2016
Although the current bird is the sixteenth record of Great Knot in Europe, it seems likely that some records may represent relocating or returning individuals; in particular the individual in County Dublin and Lancashire in July/August 2004, but perhaps also the 'clusters' of records in Germany, Norway and the Shetland Isles in August/September in 1987 and 1989, and in Sweden, Norfolk, Poland and the Netherlands in May/June/July 2012, 2014 and 2016. Also relevant are two records from Morocco, on 27th August 1980 and 8th November 2014, a strong indication of the ultimate destination of vagrant Great Knots seen in Europe.
The peak months of occurence in Europe are July and September, and although the majority have only stayed for one day, the longest visit was 24 days (Cleveland, England). With the exception of birds in the Netherlands on 1991 and Poland in 2001 that were in juvenile plumage, all have been adult birds.
Write for Rare Bird Alert
Do you have a birding story you would like to share? From foreign birding trips to your local patch, finders accounts and more, we would love to hear from you.
All our articles are free for anyone to view and we include them in our weekly newsletter which goes out to thousands of birders every Wednesday. We also share them on our Twitter and Facebook pages, making sure your article will get read by as many people as possible.
If you would like to write an article please for us please get in touch with your ideas, thank you.
The RBA team