Finders in the field: Eastern Crowned Warbler, Brotton, Cleveland Oct 2014
by Ian Kendall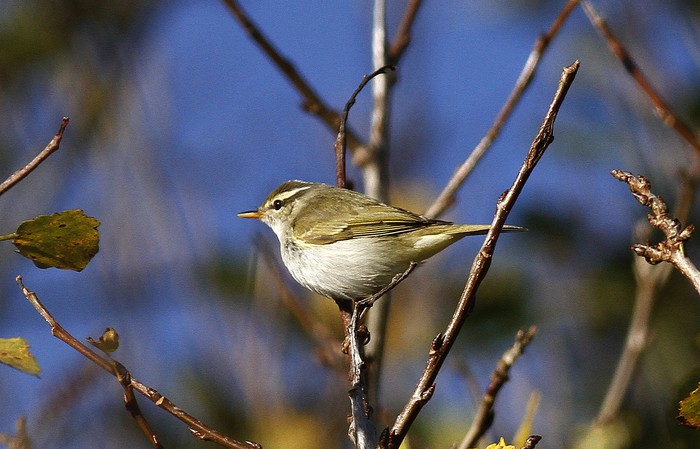 It was 30th October and after returning from a predictably unsuccessful attempt to find anything in the patriotic homeland of Cornwall (now something of an inevitable tradition), the clocks had gone back, the winds were south-westerly and the prospects weren't looking that good for finding anything in east Cleveland either. Watching the BBC Breakfast forecast though, I managed to focus long enough on the right hand side of the screen to see that the winds were in fact from the south-south east - result, so "Our Dog Flint's" walk was going to be at one of three local patches, not the local woods.
Choosing Hunley Hall Golf Course, I opted for the classic dog walking technique of leaving him in the car to quickly check the plantation near to the hotel first, somewhere I rarely check. A quick circuit revealed good numbers of Blackbirds and a couple of Brambling, although little else, but just as I was leaving the wood I noticed a pale phyllosc in the last Sycamore. It looked like it then flew across the road into some Dogwood, so I walked out to the edge of the wood to check, but couldn't find it – hey ho, another one lost and I started to leave the wood, but as I did something made me glance back into the Sycamore and luckily the warbler was still in it. I put my bins up and was stunned to see a green and white warbler with a couple of weak wing bars and my first thoughts were 'Bloody hell Arctic'. It then came towards me and I was struck by its gleaming white underparts and the long bright super, set in much darker surrounds. ****, time for a phone call.
Eastern-crowned Warbler in Britain and Ireland
BOU/IRBC Category: A
RBA Category: Extremely rare vagrant
Accepted British records (post 1950): 2
2011: 30 Oct - Hertfordshire, Hilfield Park Reservoir, first-winter, trapped.
2009: 22 to 24 Oct - Co.Durham, Trow Quarry, South Shields, first-winter.
I phoned Mark Askew saying that I think I've got an Eastern Crowned, but that it may be just an Arctic. Unable to share my excitement (he had had to go to Doncaster), he did agree to make a few more phone-calls. I then waited for backup and a bit of reality checking and during the wait the bird showed pretty well, at one point turning its head on its side facing away from me, showing what I was sure was a reasonably obvious central crown stripe. Things were now getting serious and I didn't have to wait too long before Graham Megson arrived, but the bird had moved further into the wood and had disappeared. He'd interpreted Mark's phone call as Eastern Bonelli's, so when I was waffling on about confusion with Arctic, he must have thought they were the ramblings of a mad man. Quickly back on track Ian Boustead arrived next, so we spilt up and tried to relocate the bird.
As the wood is hard work and the prospect of re-finding it seemed slim, I gloomily mused over the options for submitting the record. Also, I was blissfully unaware of the "On this day"….coincidence, with the Herts record, not that frankly, I'd necessarily go out with a view to finding an Eastern Crowned. Anyway, back to reality - after a few minutes Ian Boustead shouted and came running up the path with the kind of athleticism only shown in the presence of a rare bird, saying he'd seen it and it was sure it was an Eastern Crowned. We found Graham watching the bird and over the next half hour or so we all got reasonable views, but agreed the crown looked entirely plain olive green and so by now, we were convincing ourselves it was Arctic. Mark Rowbottom was next on the scene and after a few more views I'd now clearly seen a broad off white patch at the rear of the crown, which, along with the gleaming white underparts convinced me it had to be Eastern Crowned. What was going on, this was now getting frustrating. Mark was the voice of reason though and suggested we now needed to do something – after all even Arctic hadn't been seen in the county for a good few years, so either way others needed to see it and we needed to make a decision, but a hard call for such a rare bird.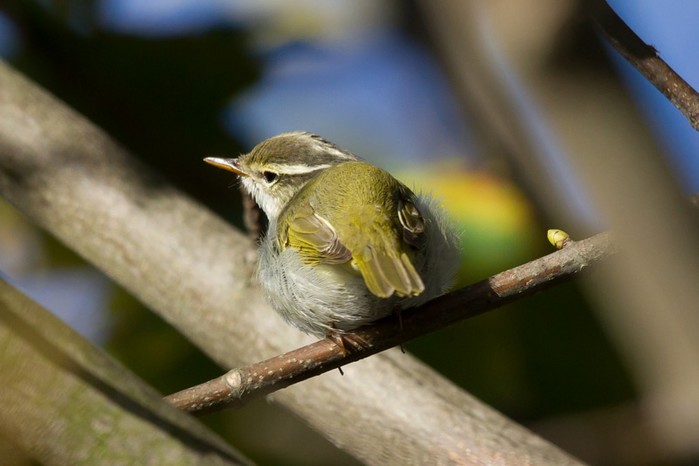 Mark's voice of reason lead to a flurry of activity; comparison of some of the photos Ian had skilfully managed to get of the bird, with internet photos, a few calls to people who could get to site to help confirm what we were seeing, a discussion with college friend Martin Garner, a quick chat with RBA and a conversation with the hotel staff over parking arrangements. Time now to walk the dog and during my check of the wider golf course, others, including Tom Francis arrived and confirmed the presence of lemon undertail coverts and this, combined with the suite of other features we'd seen meant it was 'good to go'.
Good to go, but the story I'd actually told the hotel staff that it was a rare bird and that there may be a few cars and would they mind - blah blah, assuming it was going to be Arctic, so another conversation seemed in order – a few more cars now maybe and would they mind – blah blah. They were remarkably helpful and whilst my decision to park cars in the housing estate wasn't the best in the world (well it seemed big enough at the time and I wasn't convinced the grass overflow would hold up), things seemed to go reasonably smoothly.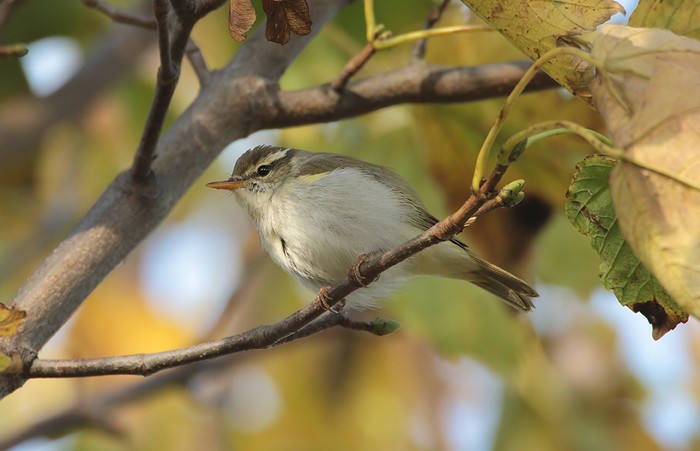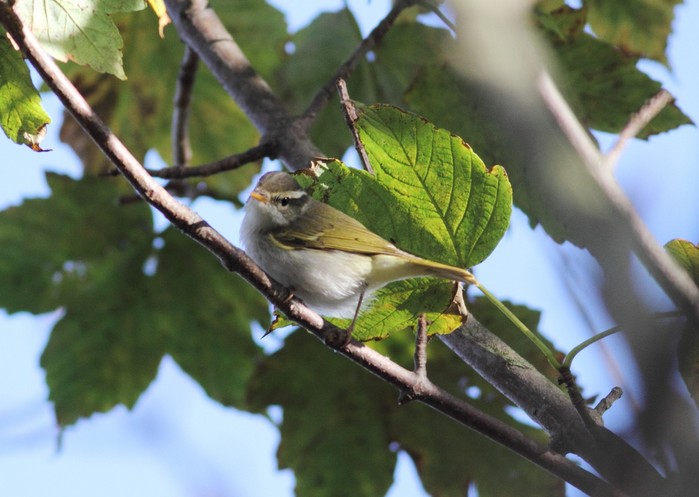 The bird moved around a bit sluggishly, not dissimilar to Red-eyed Vireo, which meant it could be frustratingly difficult to pick up at times. In the afternoon it vanished for over an hour and had moved to the far side of the wood, where it was re-found by Mark Askew (safely back from Doncaster) in a large leafy Sycamore, although even then it was still difficult and some people were unable to get on it, not helped by the assault course like nature of this part of the wood and the fading light. Fortunately it remained pretty faithful to the corner of the wood where it was first found for much of the rest of its stay and showed well in some fine sunshine through to Saturday evening but evidently departed overnight.
It was a fine looking creature, with some cracking features – the dark olive lateral sides of the crown, the clean white underparts, lemony undertail coverts, the often obscured median crown stipe and pale lower mandible – all easy to see in a relaxed state, but the leap from a phone-call to a mate to a phone call to the wider world in a state of trembling excitement was a reasonably big one. Thanks to those who helped in the process on confirming the bird, you know who you are.
As some call it, 'Our little recording area' of Cleveland can pay rewards for endless hours of patch working and to that I'm grateful. Suffice it to say I'll be checking the wood just a little bit more often in the future.
From the Archive: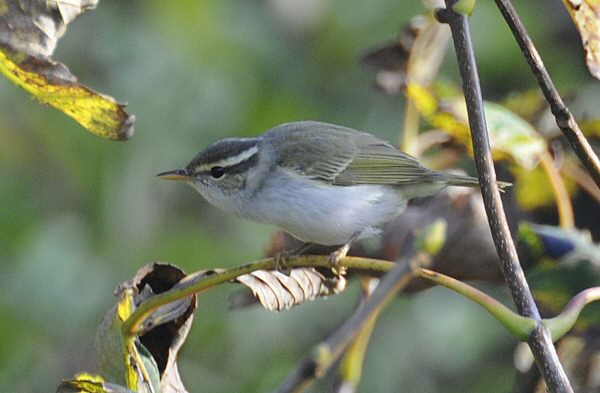 Ian Kendall
November 2014