Finders-in-the-field: Slate-coloured Junco, Point of Ayre, Isle of Man, April 2016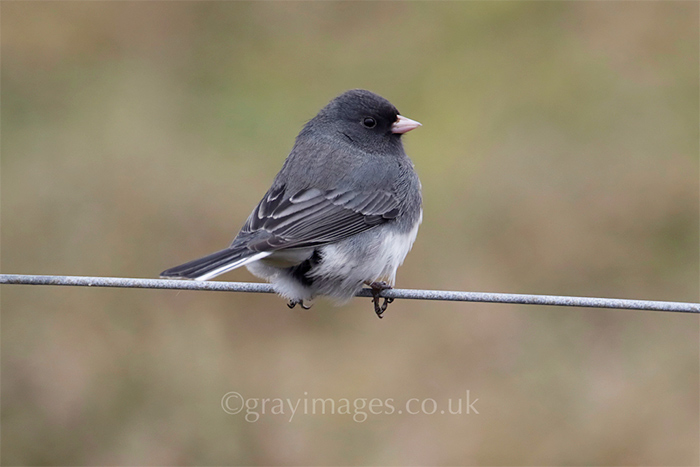 8 degrees wind 1>2 visability good risk of showers
It was a gloomy Saturday night and it had rained constantly for 2 days here in the Isle of Man. But as a keen bird ringer, I checked the weather forecast for Sunday morning and finally, it was giving clear and calm.
I decided to visit one of my ringing sites - Wrights Pit North GR NX46307 04509– at the Point of Ayre to (hopefully) colour ring some Wheatear. I arrived at the site at approximately 09.20 and noticed two wheatears in the far corner, so I set up and within 3 hours I had ringed 4 wheatears, 2 Meadow Pipets and 2 linnets. I then packed up and as I drove towards the exit gate, I noticed a pair of Stonechats, so I set up next to some bramble by the exterior fence and returned to my car, about 30 metres away to wait.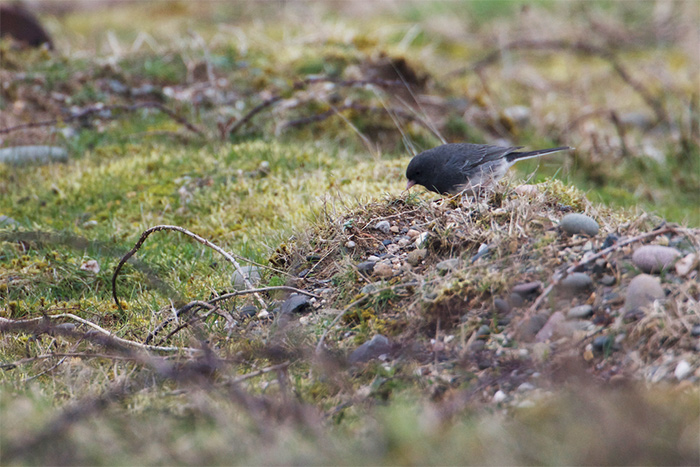 I then noticed a bird fly across the heath from the coast and land in the brambles, showing a flash of black and white on the tail. My first thought was that it was a Pied Wagtail. As I raised my binoculars I saw a small bird skulking in the undergrowth but I couldn't get clear sight of the head. I did however notice the dusky grey markings on the body feathers and thought it could be some kind of warbler, maybe a Lesser Whitethroat. The bird then jumped out of the brambles onto the ground and straight away I focused through the binoculars and couldn't believe it - A Dark Eyed Junco!
I watched the bird get closer and feed in the short grass for two minutes and then reached for my camera to take a few record shots.
The bird then jumped up onto the fence posts and dropped down on the other side of the fence. So I walked out of the gate, around the corner and bumped into another birder, David Wright, who has just started breeding bird surveys for Manx Bird Life. He asked me if I had managed to get some photos of 'that bird' sat on the fence post – I smiled and said 'What, the Dark Eyed Junco' and he smiled back replying 'Yes!'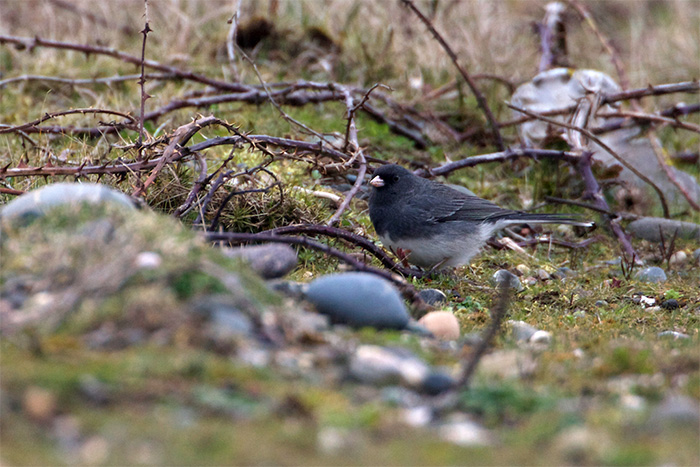 I then put the call out to our local birders advising them of my find.
The bird was then relocated on Wrights Pit East about 150 metres from where it was first seen, where it showed well feeding around the bottom of some gorse bushes until most people left at around 17.15.
Birding can be had work in the Isle of man and lots of people spend a lot of their time doing it for very little. So today was a very good day on Island.
Sean Gray
05 April 2015

Write for Rare Bird Alert
Do you have a birding story you would like to share? From foreign birding trips to your local patch, finders accounts and more, we would love to hear from you.
All our articles are free for anyone to view and we include them in our weekly newsletter which goes out to thousands of birders every Wednesday. We also share them on our Twitter and Facebook pages, making sure your article will get read by as many people as possible.
If you would like to write an article please for us please get in touch with your ideas, thank you.
The RBA team