Finders-in-the-Field: Moltoni's Subalpine Warbler, Blakeney Point, Norfolk
Paul Nichols and Andy Stoddart
On Blakeney Point a quick check of the Plantation is done by the Ranger team most mornings. Whilst doing the rounds on the morning of 11th May I spotted a small bird flying from the poplars into the large sycamore in the centre. This turned out to be a rather bright female Subalpine Warbler which promptly flew west into the yucca then south into the small bay of Suaeda in front of the Lifeboat House. A scan of this area proved fruitless, so too was a search of the Lupins.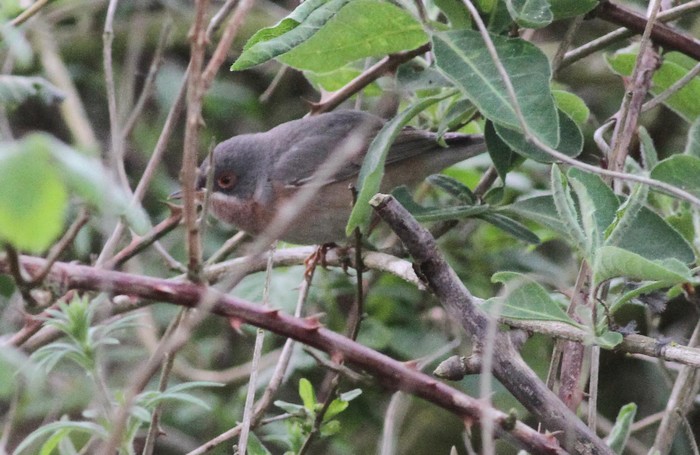 I called Rare Bird Alert and some local birders and then went back to the Plantation hoping the bird had done a loop. To my surprise, however, I now found myself looking at a male Subalpine Warbler! This left me wondering if I'd gone mad - had I mistaken the male for a female? Not likely, but what were the chances of two Subalpine Warblers in the same place?
I decided to concentrate on the bird in front of me. Having previously seen both western and eastern forms of Subalpine Warbler on the Point I knew what to look for, but Moltoni's hadn't crossed my mind. It was at about this time that AS arrived and he continues the story...
11th May was one of those days which go spinning off in strange and unexpected directions. A warm wind was blowing from the southwest and the day looked as though it held at least some promise. Sure enough, PN soon kicked the day off in fine style by kindly phoning me about a female Subalpine Warbler in the Plantation. By the time I arrived, however, he had just located a male! Cue some head-scratching!
A Spotted Flycatcher provided a temporary diversion but after a couple of minutes the target bird duly appeared in a rose bush and I was able to get my first views - a male indeed, and, intriguingly, rather pale with somewhat pinky underparts. Views were brief, however. The bird then dropped into the base of the Plantation's main sycamore from where, shortly afterwards, came a striking 'trrrrrrr' rattle call, quite low-pitched and quite long in duration and resembling a soft version of a Wren or Long-tailed Tit call or perhaps a Red-breasted Flycatcher. This was very interesting indeed! Although the bird had not been in view when the call was heard, the two were clearly connected and I became quickly convinced that it was a Moltoni's Subalpine Warbler!
To confirm this, however, we needed better views and, to be absolutely sure, we needed to hear the call again. Occasional fragments of a very high-pitched song could be heard but no further calls were forthcoming. The bird was very skulking but, with a bit of creeping around, we managed excellent close views as it fed quietly in the low bramble, often with a Chiffchaff, occasionally ascending into the white poplars and the lower branches of the sycamore.
Overall it looked rather pale and anaemic, as though painted in pastels. The upperparts were a soft, pale bluey-grey with no darkening in the lores and the underparts were a beautiful pale dusty pink colour, somewhere between salmon-pink and rose-pink and certainly with no hint of orange hues. The pink extended uniformly across the throat, upper breast and flanks, with no disjunction in tone between the throat and flanks, and the lower breast, belly and vent were whiter. The white submoustcahial stripe was prominent but did not stand out very strikingly as the head and underparts were so pale. Interestingly, the flight feathers were very fresh with broad rich brown fringes, creating a contrast between the pale grey upperparts and a rather brown-looking wing (many Moltoni's have a late winter complete moult, resulting in a very fresh appearance in spring. By contrast, Subalpine Warblers have a post-breeding moult and are therefore much more faded and worn by spring).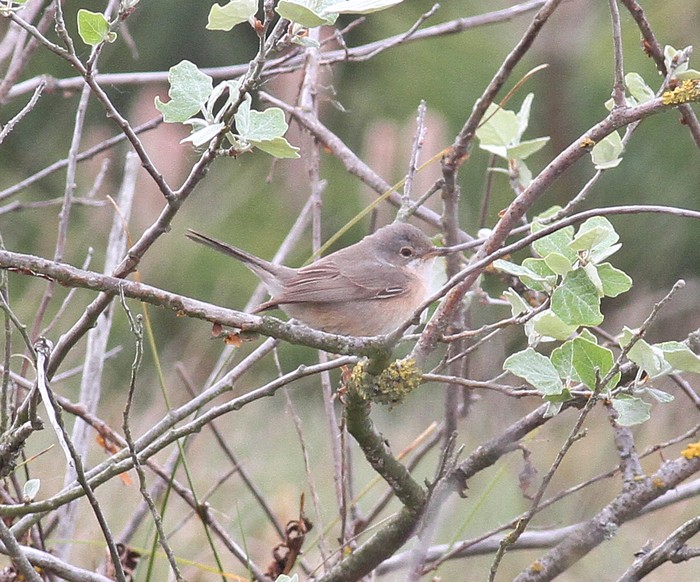 This was clearly a Moltoni's Subalpine Warbler but it stubbornly refused to call again. With absolute confirmation of this final piece of the jigsaw still required, perseverance was still in order. Eventually, however, the bird flipped into the spindleberry at the rear of the Plantation then back into the main sycamore, and as it did so it gave two more clear rattle calls. With no other features to see or hear, the identification was now secure and we could spread the news.
The first Blakeney Point regulars and Cley birders were quickly on the scene and all obtained excellent views (and heard the rattle call) as the bird fed in the tamarisk clump by the nearby Laboratory, feeding alongside a Chiffchaff, a Willow Warbler, a male Redstart and two Common Whitethroats. Here its dusty pink underparts matched beautifully the dusty pink of the tamarisk flowers. PN also managed to secure some video footage and a recording. Amazingly, after a few minutes, the original female Subalpine Warbler appeared there as well, giving a unique opportunity to see two Subalpine Warblers at once. We never heard any calls definitely attributable to the female, however, and it is therefore best regarded as 'Subalpine Warbler sp.' (i.e. Subalpine or Moltoni's Warbler).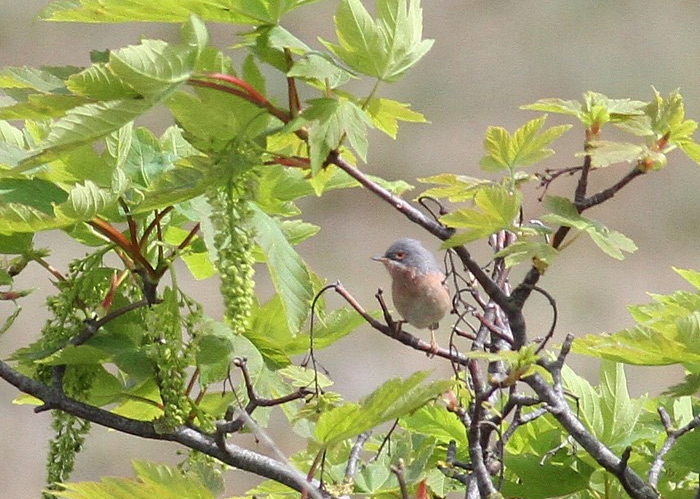 Soon the crowds began to arrive, both by boat and on foot, and, although the Moltoni's remained elusive, all managed at least some views and many were able to enjoy the song and the rattle call as well. Despite the bird's elusive nature some surprisingly good images were also taken. It remained until dusk, as did the female, but, as expected, there was no sign of either next morning.
There are three published records of Moltoni's Subalpine Warbler in Britain. Remarkably, Britain's very first Subalpine Warbler on St. Kilda on 13th June 1894 has recently been shown to have been a Moltoni's, whilst two modern records from Shetland are also accepted - at Scatness, Mainland on 22nd-28th May 2009 and at Skaw, Unst on 1st-10th June the same year. Two further claims (on Shetland and Scilly) are in circulation with BBRC. Assuming its acceptance, therefore, the Blakeney Point bird is either the fourth, fifth or sixth record for Britain, the first for the British mainland and, naturally, the first for Norfolk, the 'Cley Square' and Blakeney Point! The Point's track record for Subalpine Warblers is indeed remarkable, with (including the Moltoni's) a total of eighteen now logged.
Only officially split in February this year, and with its breeding range and identification characters only recently clarified, the true status of Moltoni's Subalpine Warbler in Britain has yet to be understood. It has presumably been overlooked in the past but it may always remain rare, akin perhaps to other restricted range Mediterranean taxa such as Marmora's Warbler and Balearic Woodchat Shrike.
In the species comments in the 2013 BBRC Report I wrote of Moltoni's: "The chances of one appearing on the British mainland in the near future look reasonably high, in which case a significant 'twitch' will be on the cards". This has come true even more quickly than I expected! Following hot on the heels of Marcus Nash's Burnham Overy Dunes Citril Finch the day before (another Norfolk 'first'), this was a memorable two-day period indeed, with many people no doubt having to twitch the county on two consecutive days! For me, it was a new World bird, a memorable discovery and all the more satisfying for being on my beloved Blakeney Point.
Paul Nichols and Andy Stoddart
14 May 2015

Write for Rare Bird Alert
Do you have a birding story you would like to share? From foreign birding trips to your local patch, finders accounts and more, we would love to hear from you.
All our articles are free for anyone to view and we include them in our weekly newsletter which goes out to thousands of birders every Wednesday. We also share them on our Twitter and Facebook pages, making sure your article will get read by as many people as possible.
If you would like to write an article please for us please get in touch with your ideas, thank you.
The RBA team