Finders in the Field: Marsh Sandpiper, Frampton on Severn, Gloucestershire
28 - 30 Aug 2014
Martin McGill
The week began with some interesting weather forecasts, easterlies with heavy rain and migration was well underway. By coincidence I was due to benefit from a four days off due to a run of working weekends. A conversation with Nige Warren at In Focus had me speculating on a certain graceful needle billed wader being 'next in line', it was a good date and weather system.
I went in to work at WWT Slimbridge on the 26th mentioning to Dave Paynter that it feels rare. I eagerly checked and balanced water levels and went through the birds on the scrapes, a good selection was present. All pumps and grids sorted so I went on to spend all day tractor mowing on the Dumbles, just another part of management for the thousands of wildfowl and waders that winter on site. It was clear that a fall of birds had happened, a flock of Ruff were with the Lapwing so stopping for a sandwich late afternoon I was pleased to see six Greenshank among the other fall waders on the Severn. It looked promising, I finished up late, as we left for home I mentioned 'that' hoped for wader again to Dave.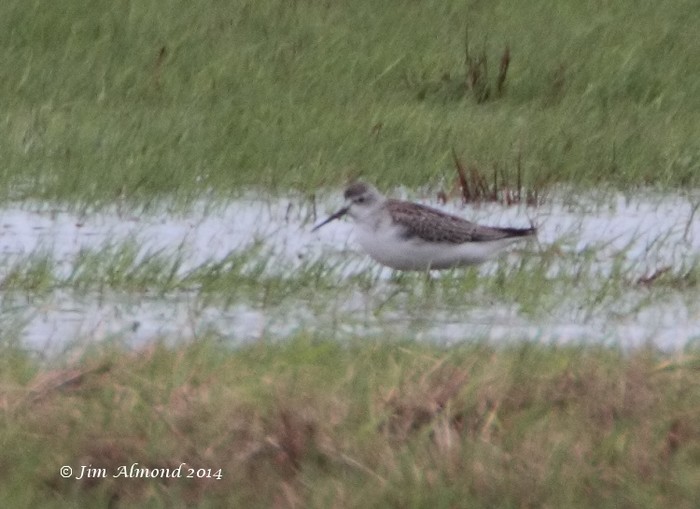 On Wednesday morning I went searching for migrants for a couple of hours and had a decent haul of passerines. I wandered along the path north of Splatt Bridge at Frampton on Severn spotting a small flock of Teal on the shallow flood. This temporary wetland was created by the recent super moon high tide surge. A party of 4 Ruff and 7 Greenshank with the duck were very notable for this location and added to a very enjoyable prolonged and above all relaxed birding walk, something which is not really possible whilst working.
The next day I was keen to go out again so I set off to Hock Ditch, a distant wader flock was forced into mobility to the highest mud due to the incoming tide. A variety of waders were out on the Severn, a juvenile Curlew Sandpiper was the first of the autumn for me, a few Common Terns, Whinchat and Redstart added to the tally. Five Pintail dropped out of sky and into the flooded field, I just had to check it again, I had thoughts of rare waders. I grew up rather obsessed with wildfowl but waders have really hooked me as a result I am into sifting through flocks of these varied birds.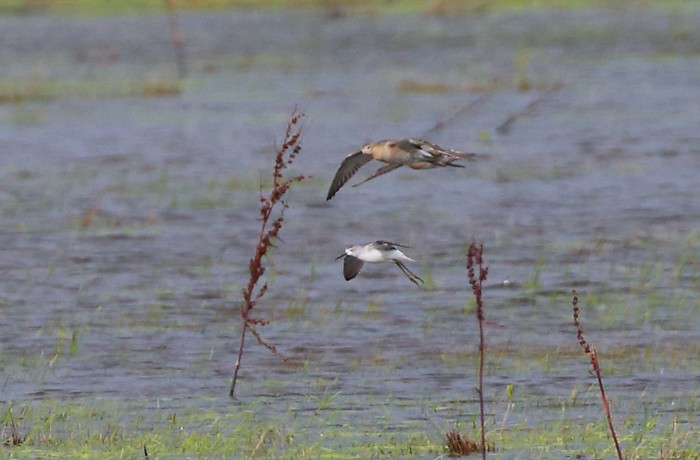 A scan of the flood revealed an increase, more Greenshank and Ruff on every sweep of the scope. When I got to a tenth 'shank' it turned out to be a small, delicate and more elegant creature that made the Greenshanks look ungainly. 'Get in' , a Marsh Sandpiper was wading around among this mob of waders. This fine visitor was a juvenile, like so many young waders at this time of year nearly every feather was perfect. What a smashing bird, just what I had been hoping for. I spent a bit of time enjoying being in its company taking the time to study the plumage, when preening I noticed it had a slightly bent tip to the bill.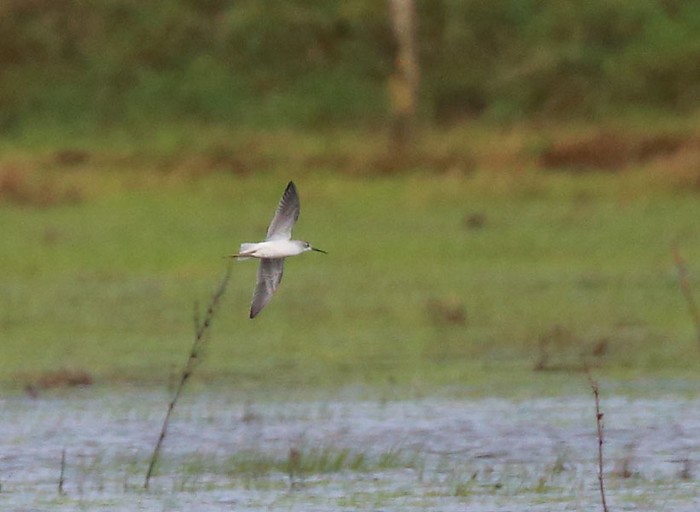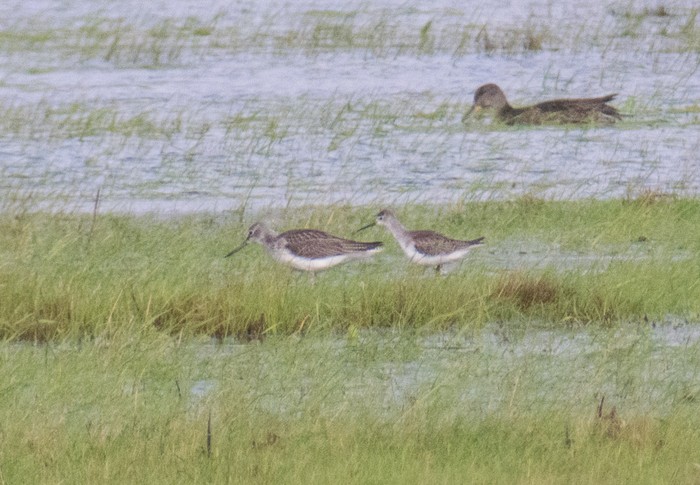 The Frampton Severn bird is only the second of have seen in England, the first being a spring adult I twitched with Rich Hearn at Earl's Barton GP in Northants many years ago. I have enjoyed watching this species many times abroad including memorable parties of spring breeding plumage adults in Greece and most recently in October 2013 when I was among the small numbers of wintering birds that feed in the high tide creeks and pools in and around the Coto Donana NP.
After taking in all I could on this bird I began ringing friends so they could pass on news then tweeted out details. It was flushed by raptors flying over a couple of times and made forays south over the adjacent reserve. This allowed me to see it in the WWT Slimbridge recording area which was a bonus. The bird flew down to the reserve on a few occasions and it may well have actually roosted there.
From all the messages I have received it is clear that a lot of people enjoyed this bird, especially me and all local/county birders. A first for the county is always nice but this wader was something a little bit special.
Martin McGill
September 2014

Marsh Sandpiper in Britain and Ireland