Finders in the Field: Eastern Black-eared Wheatear, Hampshire, June 2015
by Gary Howard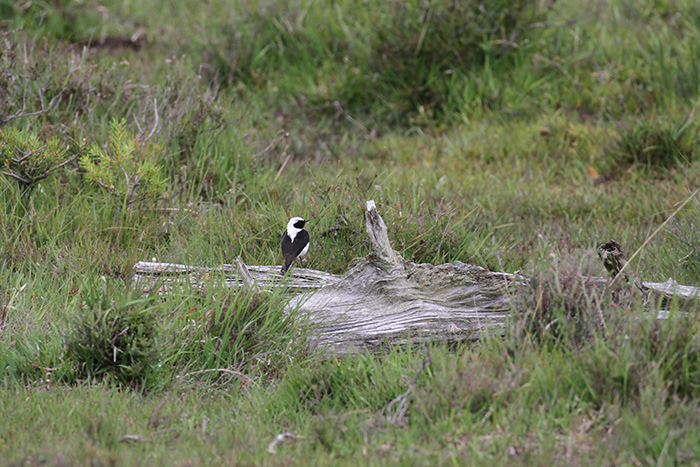 We'd been planning a family weekend away to Northumberland to visit the Farne Islands but as the week progressed the weather forecast didn't look good for mucking about in boats off the north-east coast. I suggested a trip to the New Forest and as campsite availability was good we decided to wait until the last minute and go if the weather looked fair. We finally decided to go on Friday and packed the car ready for a reasonably early start and I said to my wife, let's start at Acres Down and see how we get on…………
It was overcast, cool but dry when we arrived at Acres Down just after 09.00 to find that we were the first car in the car park. We strolled up onto the viewpoint in no particular hurry enjoying views of Tree Pipit and Stonechat en-route. We arrived to find a couple of chaps (James Burge and Dave Knight) just settling down to start watching over the forest and we set ourselves up a few metres away. Around 10.00 another guy, who I thought I recognised (Rob Clements) emerged from the forest on the south side and stood nearby.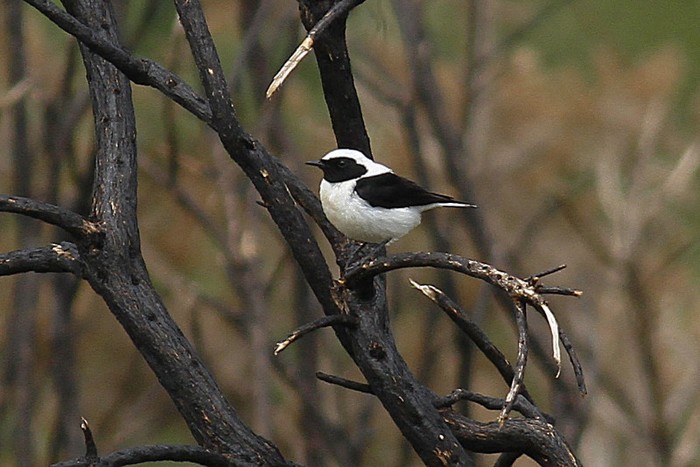 At about 10.30 as I scanned for birds I heard someone say something like "is that a shrike?"(it was James Burge) and looking to my right about 100 metres away I could see a black and white bird on the top of a pine almost at eye level. I trained my scope on the bird and said "no, it's a wheatear" and almost as soon as I said it the bird dropped off the tree and I said something mad like "it's not a wheatear, it's a black-eared." I rushed to the edge of the hill but couldn't see anything so I ran a few metres downhill to the base of the pines but still saw nothing. My wife and the other 3 birders appeared on the edge of the hill and I ran back up to discuss what had just happened. I pulled out my mobile phone and showed them the Black-eared Wheatear plate on the Collins Bird Guide. Straight away that caused confusion because the other guys felt it didn't look right and yet I was the only one who had a scope and I was utterly convinced of what it was. I have seen Black-eared Wheatear many times before across Europe and in the Middle East. In a bit of a panic I said I was off to relocate it and I dashed off down the slope. I knew I'd "found" a mega but it was slipping out of my grip and without even a record shot I feared it would be just another of those ones that got away…..
I worked my way slowly and methodically around the base of the hill and after what seemed like an eternity, but was in fact 20 minutes, I saw the bird again. As I reached for my camera it flew away towards a large group of pines at the foot of the hill and out of sight. Jenny, my wife, who was now trying to cope with keeping twin 11 year old boys in sight and carrying my scope and shadowing me saw me give the thumbs up and went back up to tell the other 3 who were still on the hill. A few minutes later we were all walking towards the area where I'd seen it fly and I picked it up on open ground amongst the bog cotton. It was a stunning bird and eventually I got some photos and then all too quickly it once again flicked away out of sight. What a bird, I could scarcely believe it ! I was elated and now a little more relaxed.
I was anxious to get the news out so I quickly photographed the screen image on the back of my camera and then when I attempted to tweet the news found that I had no phone signal! The bird reappeared and we all got a good long look before it again flew out of sight. I turned to the others and discussed what we'd seen. Rob Clements was still concerned by the colouration of the bird and questioned the I.D. but I said that it looked to me to be an Eastern "form" and that I was happy it was a Black-eared Wheatear. I dashed off up the slope, eventually got a signal and tweeted out the news and then called RBA to ensure the widest possible audience.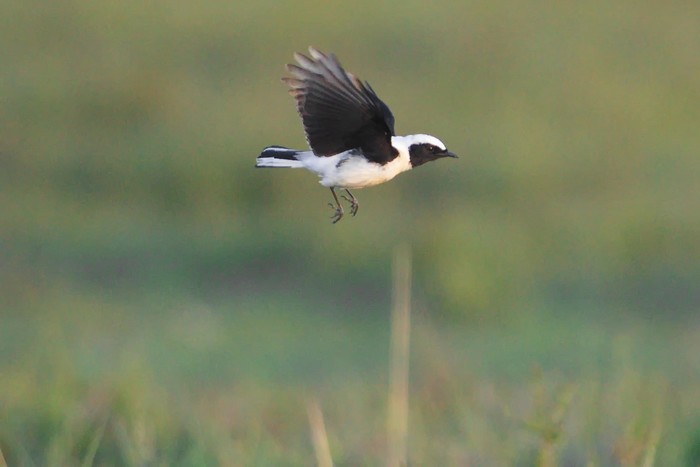 I set off again to search for it and was getting a bit desperate after another 30 minutes passed without a glimpse and the first twitchers arrived on the scene. Luckily I found it again on an area of gently undulating ground immediately west of the hill and got the first few people on it. It was now sunny and bright and the bird showed well, if not at times a bit distantly, feeding on the ground but frequently flying up into trees. With the crowd building and my family now hoping for some lunch we wandered slowly back to the car. An amazing mornings birding but nothing like what I was expecting in the summer in the middle of the New Forest.
Gary Howard
Gary Howard's birds and widlife
16 Jun 2015
Write for Rare Bird Alert
Do you have a birding story you would like to share? From foreign birding trips to your local patch, finders accounts and more, we would love to hear from you.
All our articles are free for anyone to view and we include them in our weekly newsletter which goes out to thousands of birders every Wednesday. We also share them on our Twitter and Facebook pages, making sure your article will get read by as many people as possible.
If you would like to write an article please for us please get in touch with your ideas, thank you.
The RBA team