Finders-in-the-field: Western Sandpiper, Aird an Rùnair, Western Isles, Sep 2016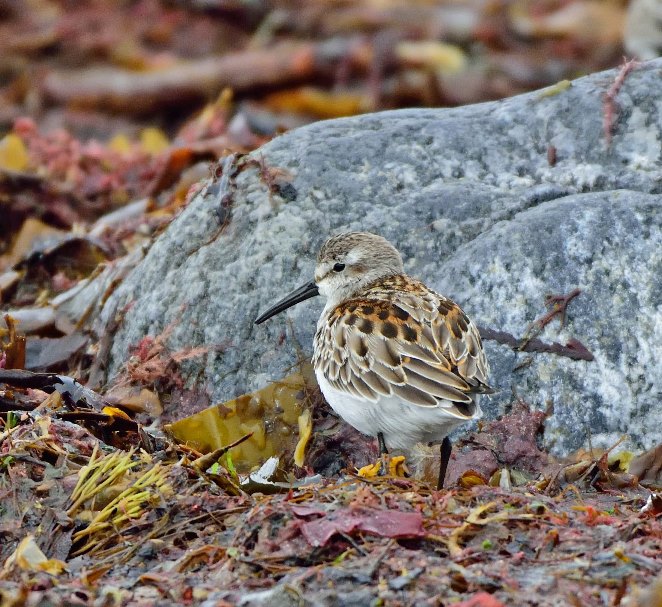 Aird an Rùnair, North Uist is well known as the premier seawatching site in Britain for witnessing the spring migration of both Pomarine and Long-tailed Skuas. Over the years watchers have also notched up many rarities in May including such birds as Bufflehead (a fly-by that later turned up on the east side of Lewis), Semipalmated Sandpiper, Snowy Owl, Short-toed Lark and Citrine Wagtail to mention a few. Unless it is very windy seawatching here in autumn is far less productive with most birds usually heading far out on a SW heading. At this time Griminish Point a headland some 7 km to the north comes into its own and has been the preferred North Uist seawatching point to witness a variety of seabirds passing south as well as good numbers of many other species including geese, ducks, divers and waders coming down via Iceland. In recent years, however, vehicular access has been made difficult thereby extending the slog out to the point.
On the 31st August the weather conditions looked good after midday for a seawatch from there but as I was suffering from a heavy cold I decided the effort to get there was not worth it. As you can drive to near the end at Aird an Rùnair with not too much of a walk to seawatch this seemed to be a better option although numbers of species would be much lower than off Griminish Point. My visit got off to a good start as I was driving to the end when a Turtle Dove got up off the track. After I parked the Monach Islands were not visible as fairly frequent pulses of light rain swept across the headland. From the car park nothing much appeared to be moving through but I needed to be much further around on the headland to see much movement. When the rain eased off I made my way out and watched from 13.30 to 15.30 hours from a relatively sheltered position among the rocks. By this time it was mostly sunny but two hours was enough for me and among the species heading SW had been 15 Sooty Shearwaters and 485 Manx Shearwaters.
On the short walk out to seawatch there had been reasonable numbers of mixed waders present, mainly Dunlin, but including small numbers of Knot and Bar-tailed Godwits. When I returned the tide was fast coming in pushing the birds closer in and onto the banks of seaweed. Settling down to check through these my attention was quickly drawn to one that really stood out. Smaller than Dunlin with startling white underparts, rich rufous upper scapulars and a longish bill. Surely this was a Western Sandpiper.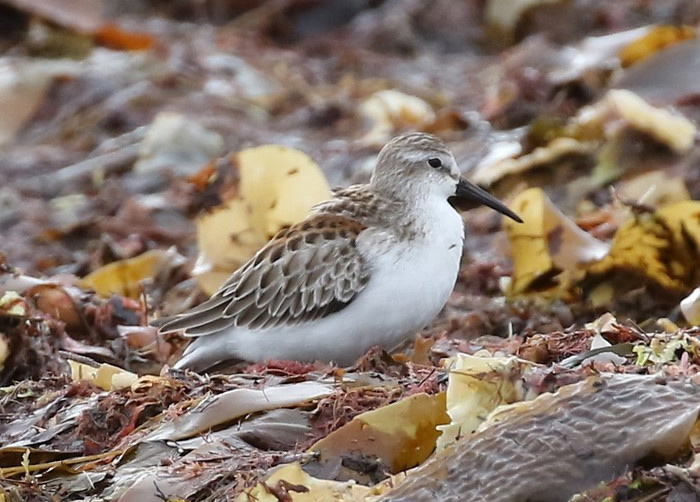 I was aware that some juvenile Semipalmated Sandpipers can show rufous in their upper scapulars, in fact I had seen one showing this at nearby Loch Paible some years ago (a photo of this bird appears in the 1999 Outer Hebrides Bird Report). The local hotline has rather fallen out of use in recent years but I made a couple of phone calls to alert others and Ian Thompson replied he would be there in about an hour. I settled down to get some photos just as a Peregrine arrived on the beach but missing its intended wader quarry. Thankfully all the birds returned and I quickly got some record shots of the sandpiper.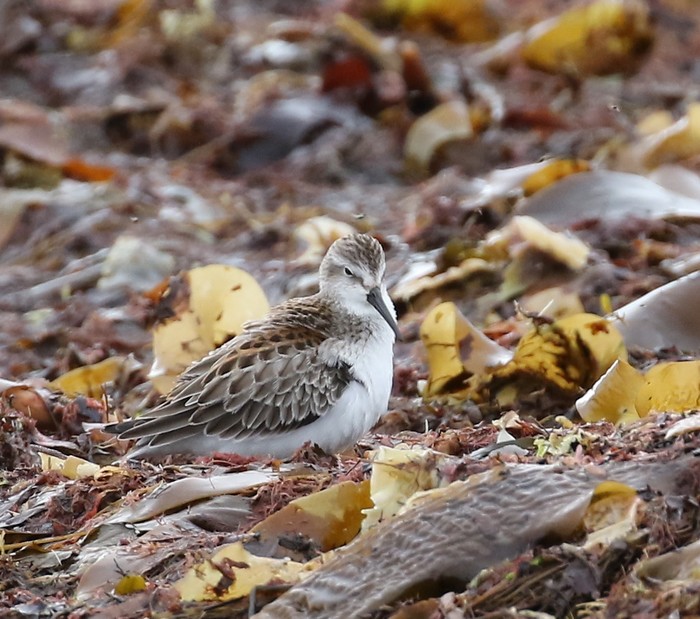 While waiting for Ian to arrive and knowing Tony Marr had seen a Buff-breasted Sandpiper at the Butt of Lewis earlier in the morning I decided to check out the nearby stubble fields. There was almost a complete absence of birds but in one area there were a couple of Lapwings and when I walked a bit closer up got a Buff-breast. A few minutes later the bird appeared in flight closer to when I could see conspicuous dark crescents on the primary coverts. Also the bird called, a quiet, rather soft cheu. As for Ruff it is well known Buff-breasts are usually silent but I have heard them call on a few occasions. Returning to meet Ian I ran over what I knew about separating Semipalmated and Western. My only experience of one in this country was many, many years ago in Devon. I remembered that this bird had a very distinctive long bill. When Ian arrived the tide was now peaking and all the waders were very jumpy but eventually everything became calmer and we both got good views of the sandpiper.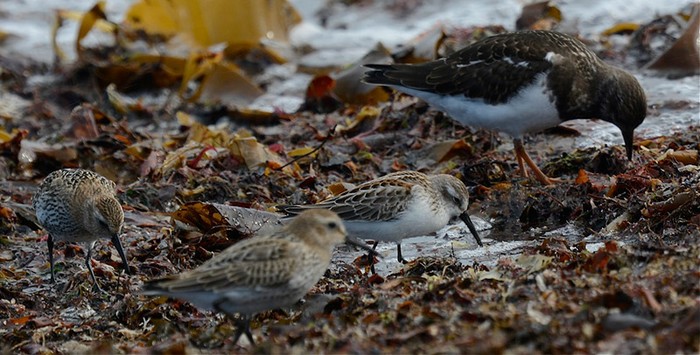 As an added bonus the Buff-breast also forsook the stubble and landed on the beach. On what we had seen we were both reasonably happy that the bird was a Western but on circulation thought it best to infuse some degree of caution before we had read up on some of the identification issues for Semipalmated/Western. There is one such Outer Hebrides record waiting to be resolved of a bird on South Uist in early September 2012. Initially thought to have been Semipalmated but now by some as Western.
The exceptionally well-marked Aird an Rùnair individual should not cause any of these problems with the rarities committee. If I had not felt under the weather on the 31st I would have undoubtedly gone to Griminish Point thus missing out on a rewarding afternoons birding. There was every chance, however, that it would have been discovered over the following days as it is still present at the time of writing (3rd September). On this date it was heard to call – a high jeet.
Brian Rabbitts
September 2016
Western Sandpiper records in Britain and Ireland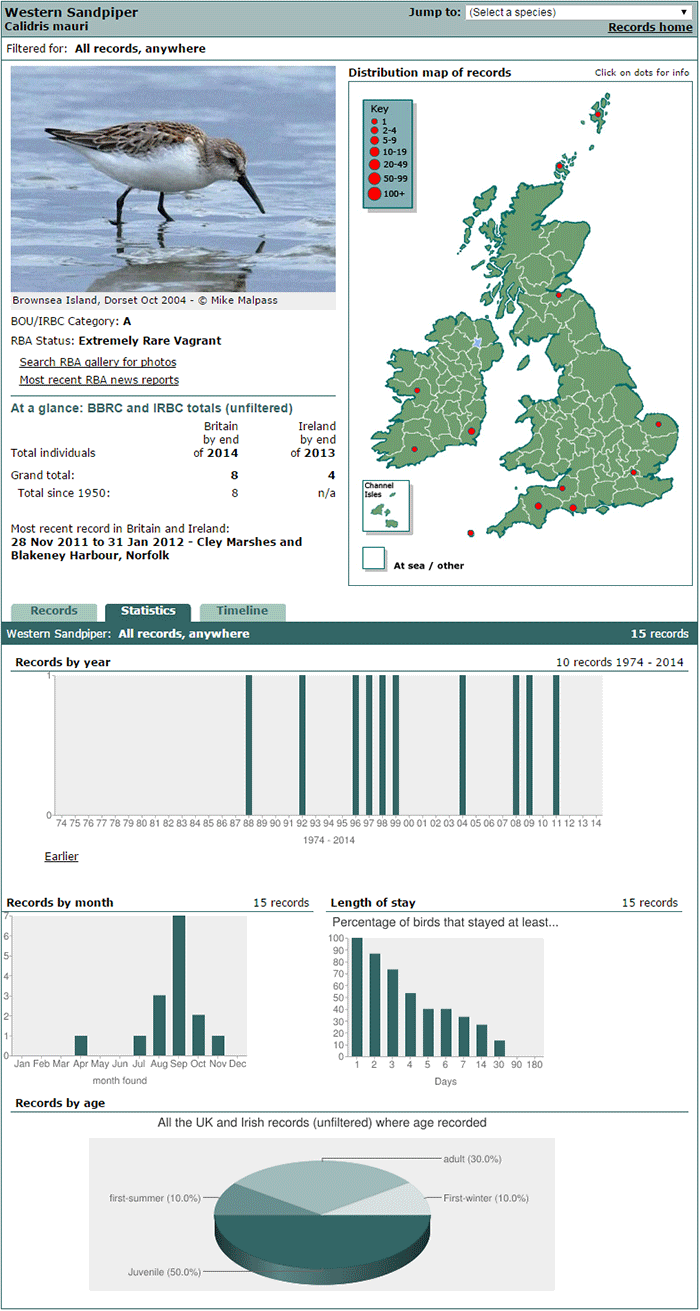 Contributors websites


Write for Rare Bird Alert
Do you have a birding story you would like to share? From foreign birding trips to your local patch, finders accounts and more, we would love to hear from you.
All our articles are free for anyone to view and we include them in our weekly newsletter which goes out to thousands of birders every Wednesday. We also share them on our Twitter and Facebook pages, making sure your article will get read by as many people as possible.
If you would like to write an article please for us please get in touch with your ideas, thank you.
The RBA team