Declining sea ice means uncertain future for Ivory Gull
A recent study has concluded that the timing, formation and recession and extent of Arctic sea ice plays a large role in Ivory Gull (Pagophila eburnean) distribution and migratory timing.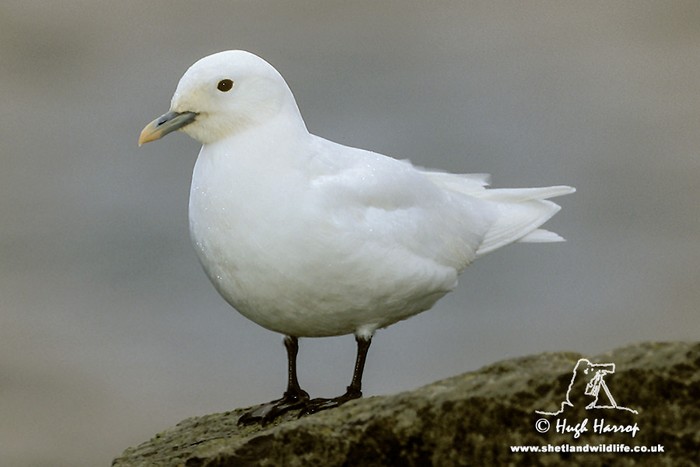 An endangered seabird that spends its entire year in the Arctic environment, the Ivory Gull, has in the past three decades, seen a 70% decline in Canada. The Ivory Gull is rare in the seabird world being the only species, other than the Black Guillemot (Cepphus grille), capable of remaining north of 70°N in the winter.
The breeding locations and suspected wintering locations for Canadian Ivory Gulls have been identified previously. However, information on migration timing and movements is largely speculative, although many Canadian birds migrate along the Greenland coast in spring and autumn.
Based on this hypothesis, the study satellite tagged 12 Ivory Gulls on Seymour Island, Nunavut in 2010, which provided up to four breeding seasons of tracking data and they tested three predictions.
gulls would use primarily marine habitats and travel routes during migration, not terrestrial routes.
gulls would migrate primarily over ice, and would not migrate in advance of its formation, and
wintering locations over ice would be close to the floe edge, because this area was more likely to provide foraging options (e.g., hooded seal Crystophora cristata whelping patches.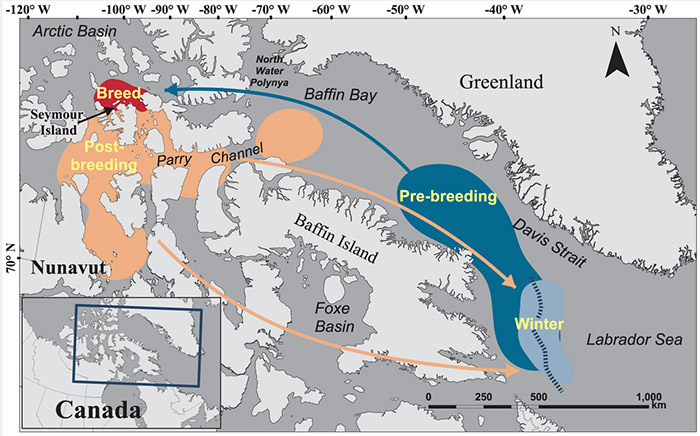 Analysis of their migratory behaviour revealed considerable individual variation of post-breeding migratory route selection.
According to study authors, the gulls are most often found over pack ice of 70 to 90 percent concentration; they are almost never observed more than 5 kilometres from sea ice.
Ivory Gulls travelled a median of 74 days during post-breeding migration, but only 18 days during pre-breeding migration. In contrast to predictions, Ivory Gulls did not use the Greenland coast during migratory periods. Ivory Gulls overwintered near the ice edge in Davis Strait, but also used the Labrador Sea in late February and March.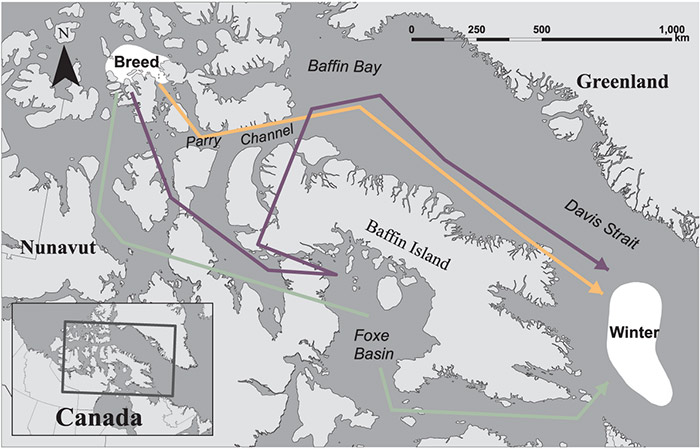 The study concludes… "Arctic seabirds, like the Ivory Gull, live in a dynamic and harsh environment that is experiencing dramatic changes due to global warming. The overall warming trend in ocean temperatures will affect the spatial and temporal distribution of seabird prey, factors known to influence reproductive phenology and success in some other Arctic seabird species. However, it remains unclear whether the gulls have the behavioural plasticity to deal with predicted declines in the extent and duration of sea ice in the coming years, and if they do, what consequences this may have for body condition and reproduction. Like predictions for Polar Bears, recent declines in Ivory Gull populations may be a harbinger of the future for ice-associated species in the Arctic.
Spencer et al
January 2015
Source: Spencer NC, Gilchrist HG, Mallory ML (2014). Annual movement patterns of endangered ivory gulls: the importance of sea ice, PLoS One, 9 (12) e115231. DOI: 10.1371/journal.pone.0115231