Review: 2014 Filey Bird Report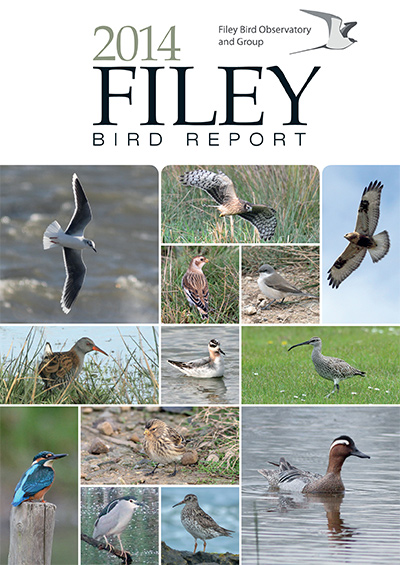 Almost every county produces them, ditto many Bird Observatories. A thankless and laborious task for all involved, everyone striving to do the very best job they can. As a Records Committee member for Norfolk and species account writer for the Norfolk Bird & Mammal report too, I speak with at least some experience of involvement within parts of the process that ends up with a thorough resource, and research tool, for the future.
The standard of some reports is not always as high as you'd perhaps wish for, looking a little stodgy and unimaginative in design (conservative if you will), laboured within the many pages present, but within the past few months, a couple of outstanding reports have come my way - the first was discovered on a glorious mid-June day on beautiful Bardsey, where the 2014 report for the BBFO was purchased on the spot and enjoyed for many hours thereafter (fantastic value for £10) - a credit to editor Tony John and warden Steve Stansfield and his staff.
Report number two that has struck a major chord came my way this week - in the sumptuous form of the 2014 Filey Bird Report, produced by the Filey Bird Observatory & Group (FBOG).
Now I've only been to Filey four times in my life - twice for the 1st British Spectacled Warbler (the finest game of birder's football ever played took place dipping on a sunny Sunday by the car park café…) with successful visits following for the Pechora Pipit and putative Caspian Reed Warbler - but a lack of visits to the area shouldn't preclude anyone from obtaining a copy of the 2014 report quick smart.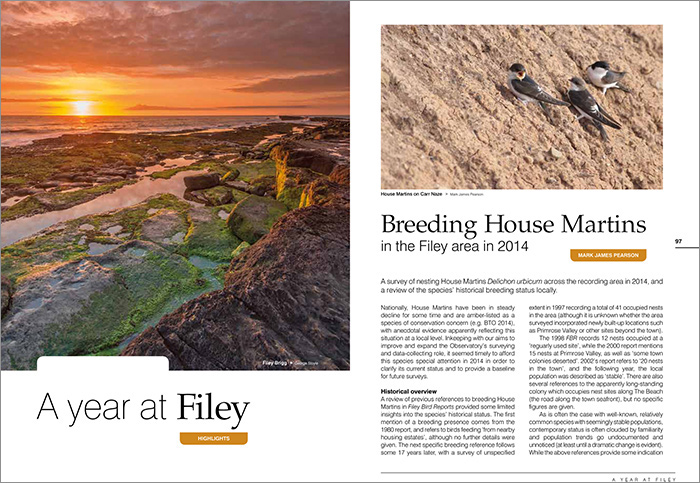 They say that first impressions count and when you pick up the 2014 Filey Bird Report, the first impression is very good indeed. There's a pleasing heft to the thing, it "feels" nice and the super-looking cover just wills you to investigate further (and they've got a cool logo too)…
As soon as the inviting cover is opened comes the first of numerous treats inside; a fold out map that shows the casual reader precisely where Filey is (nestled on North Yorkshire's east coast between Scarborough to the north and Flamborough to the south), then the recording area and then, extending the page further, "local context" detail too, naming the prime birding spots around Filey itself.
First impressions then, they're important right? Here we're already at a 10/10…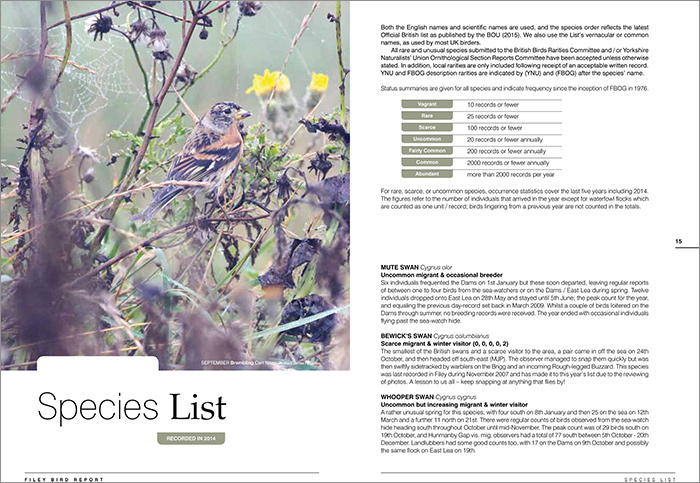 Across the following 140+ pages the quality is maintained to the highest standards - be it in terms of the clarity within the species' accounts (neat, easy to read graphs aiding the process too), the quality of photographs (for common, scarce or rare visitors alike), the readability of feature pieces and, in particular, some beautifully effective artwork from Darren Woodhead.
The "Contents" page is clear and concise and the Annual Review takes that clarity onwards to the Species List (aided and abetted by the first of many super images throughout).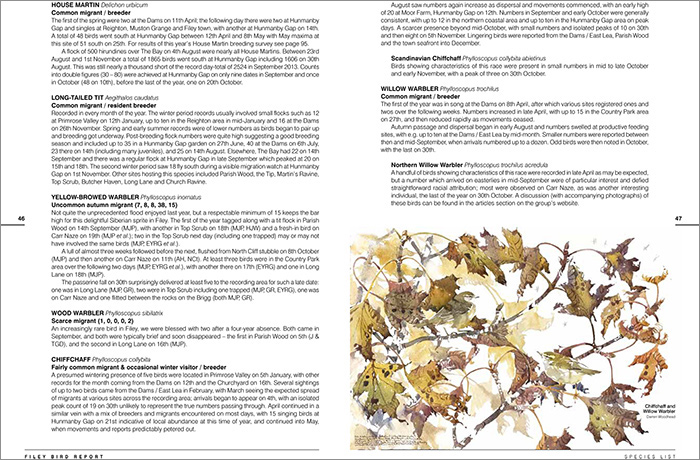 Easy to read, the Species List is never too verbose but still manages to pack in lots of information (credit to the seven species account writers for that, it isn't easy to do). The layout too is never cluttered (again something that some county reports suffer from, year in, year out). Throughout the text is a liberal scattering of often pleasing black and white artworks, accompanied by delightful colour vignettes by the super-talented Darren Woodhead - these alone are worthy of countless viewings to enjoy his grasp of not only plumage but manner and movement too (his "Goldfinch on Meadowsweet" and delicate and subtle perched Kingfisher are simply lovely).
With the Kingfisher watercolour in mind, it gives an opportunity to give a significant nod of approval to Chris Gaughan who has overseen the design and production. Deft touches abound, imaginative and creative, but still within the parameters of a bird report. Take a look at the subtle way in which text has been overlayed on the tip of the Kingfisher watercolour; smart, clever and effective. Not everything has to be confined to a structured space and the report is so much the better for such a thoughtful, inventive and very modern layout.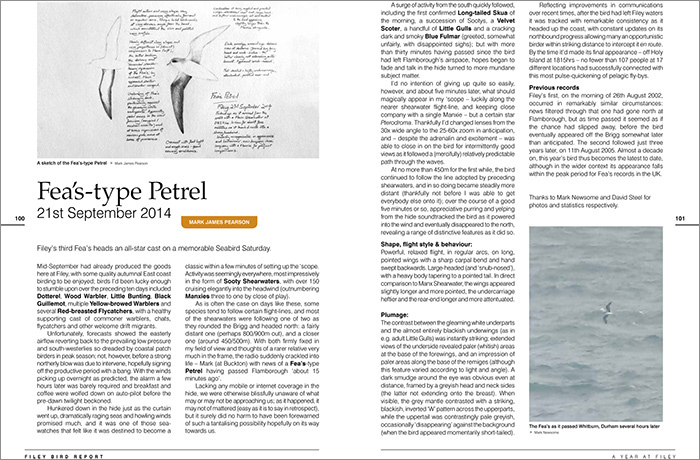 The quality is maintained once you've departed the Species List; 22 pages of birds from all seasons within the FBOG area comes next, no fuss, no frills, no wordy captions, just 42 lovely photographs divided throughout the four seasons (Mike Day's Night Heron and John Harwood's Long-tailed Duck are right up my street). Another single double page spread follows ("For The Record") where Mark James Pearson's Short-eared Owl on the rocks is particularly eye-catching. Further fine images accompany features throughout the rest of the report, be it the ringing round-up or seabird monitoring article.
Next within the report that keeps on giving is "A Year At Filey" which has something for everyone; from rarity accounts to a short paper on breeding House Martins and a round-up of a record year for Grey Phalaropes, accompanied by three more lovely images from Mark James Pearson - hats off again to editor and designer for being happy to go with a full colour page shot here - if it's good enough, just do it!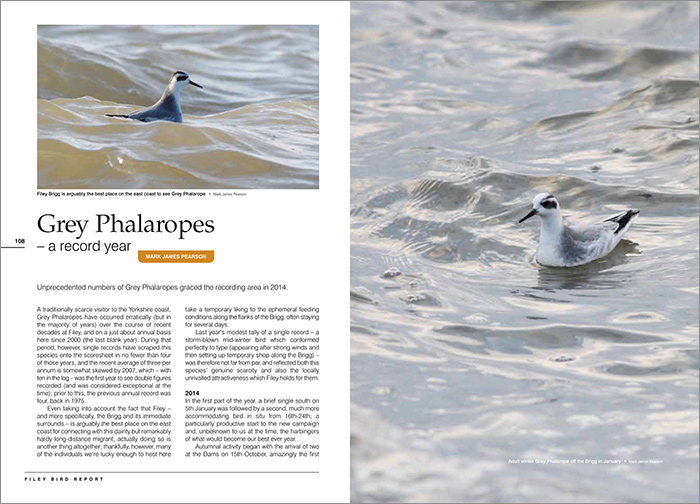 The area's other wildlife (mammals, moths, butterflies and dragonflies) is covered thoroughly, more super images throughout too as the report draws to a conclusion. There's one final lovely little touch too - in a report stuffed to the gunnels with information it is great to see the younger members of FBOG getting the chance to relate some of their memorable Filey days too, how refreshing (and important) is that?
Aside from a mislabelled Little Gull sketch, this report is faultless. From start to finish, with each turn of the page there is something to enjoy, become engaged with and admire. Report Editor Ian Robinson and his team are to be applauded for a superb piece of work which (and get this…) is priced at just £8. Heaven knows how such a high end report retails at that price but it is a report that every single County Bird Report editor should purchase and then aspire to produce something of a similar standard and in a similar fashion.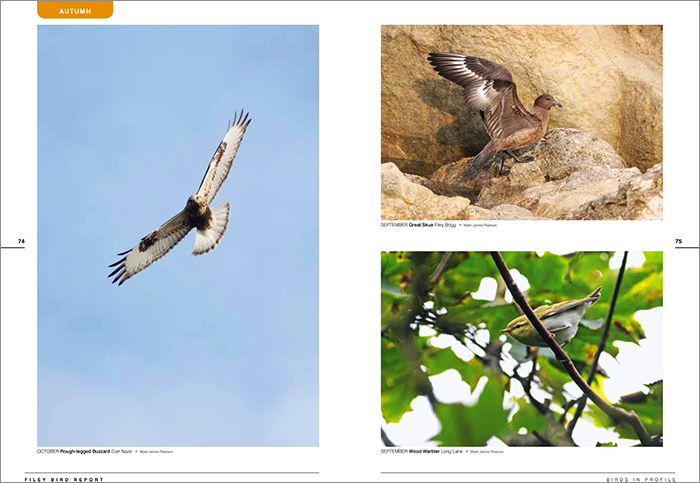 All these words written for a bird report for an area I don't go to? It may seem ever-so OTT (and perhaps it is) - but this Gold Star, 10/10, Triple AAA standard work deserves every single word of praise and every plaudit that comes along. Across the board, this sets the benchmark for bird reports nationally and I can't wait for the 2015 edition.
You can purchase the 2014 Filey Bird Report from the FBOG website
Mark Golley
11 November 2015
Cley