Out Of Africa! The Beijing Swift's Incredible Journey Charted At Last
A ground-breaking study has revealed that the Beijing Swifts (Apus Apus pekinensis) which breed at The Summer Palace in Beijing, travel more than 13,000km to spend the winter in southern Africa before returning the following Spring.
This means that, in its lifetime, the average Beijing Swift will cover a migration distance greater than 180,000 km, about half of the distance from Earth to the Moon.
These iconic birds - synonymous with Beijing since 1417 when they made their nests in the original city gatehouses - arrive in Beijing in April and, after breeding, begin their long journey to Africa in late July, taking a route that first leads them west-northwest into Mongolia, from where they pass north of the Tianshan mountains, then south through Iran and central Arabia into tropical Africa, before spending 3 months of the winter in Namibia and the Western Cape.
They begin the return journey in February, retracing a similar route, arriving in Beijing in mid-April, a journey that sees them cross about 20 borders.
The project, a collaboration between scientists from Beijing and Guangzhou in China, Belgium, Sweden and the UK, began in May 2014 when ultra-lightweight 'backpacks' containing tiny lightsensing geolocators were fitted to 31 Beijing Swifts as part of an ongoing banding operation by the China Birdwatching Society at The Summer Palace. The geolocators, generously provided by scientists in Sweden and the UK, log the position of the Swift by measuring day length and local midday from which positions are calculated. When the Swift is recaptured, one year later, the data is downloaded and analysed using special software.
Until now there was only speculation about the journeys made by one of Beijing's iconic birds. For the first time we know the distance traveled, the route taken and wintering areas used by an individual bird.
As in many other parts of the world, Swifts in Beijing have declined dramatically (60 per cent in the last 30 years, according to a Beijing Professor). Understanding their movements will help scientists and conservationists to discover the reasons for the decline and to put in place measures to help them.
Ms Fu Jianping, President of the China Birdwatching Society, said: "Swifts have a special place in the hearts of Beijingers and their screaming flights at dusk around many of our major landmarks are one of the most enchanting features of our summer. For years we have waved them goodbye at the end of July not knowing where they go. Thanks to this project, now we do."
Prof. Zhao Xinru, consultant of China Birdwatching Society, said: "Birds are sensitive to environmental change. They fly all over the world without the constraint of national boundaries. We care about the ecology of Swifts not only because we want to discover the mystery of their migration but also to help conserve these amazing travellers. The experts and volunteers in China are proud to be part of this team."
Ms Yan Su from The Summer Palace added: "We are privileged that, at the end of their epic spring migration from southern Africa, these incredible birds choose the Summer Palace to breed. We are delighted to work with experts from the China Birdwatching Society and overseas to help understand more about the life of the Swift and we hope that the millions of visitors to this historic attraction in the heart of Beijing will now get even more out of their visit to the Summer Palace"
Prof. Susanne Åkesson at the Centre for Animal Movement Research at Lund University in Sweden, said "The Swift is an exceptional bird, with advanced flight and navigation adaptations that mean it spends all migration and wintering continuously on the wing. The migration between China and Africa is unusual among birds, and shows a capacity to explore rich feeding areas far apart for this highly aerial bird species. The data will help us understand how birds, like the Common Swift, have evolved long distance migration routes and time their migrations to local environmental conditions and peaks in food abundance. The great success of the project is thanks to the fruitful cooperation between local ornithologists, ringers and scientists."
And Dr. Dick Newell of Action for Swifts in the UK said: "The Common Swift is one of 2 species that we know makes this epic journey from Beijing to Africa, (the other being the Amur Falcon). Action for Swifts works to conserve and create nesting places for Swifts on the breeding grounds. It is only by finding where Swifts go that we can know where they may be encountering other problems outside the breeding season" "As a bird ringer, migration has always fascinated and driven me. Swifts embody all the wonder of a life in the air. I'm grateful to have had the opportunity to take part in this ground breaking study. To have achieved this result is a crowning moment." added Lyndon Kearsley of the Royal Belgian Institute of Natural Sciences.
"This project has been made possible by the teamwork, dedication, cooperation and passion of the organisations and individuals involved. That this tiny bird – that can fit into a human hand – travels to southern Africa and back every year without landing once, is simply awe-inspiring and proof that the natural world is the greatest source of inspiration there is." Terry Townshend, Founder of Birding Beijing.
24 May 2015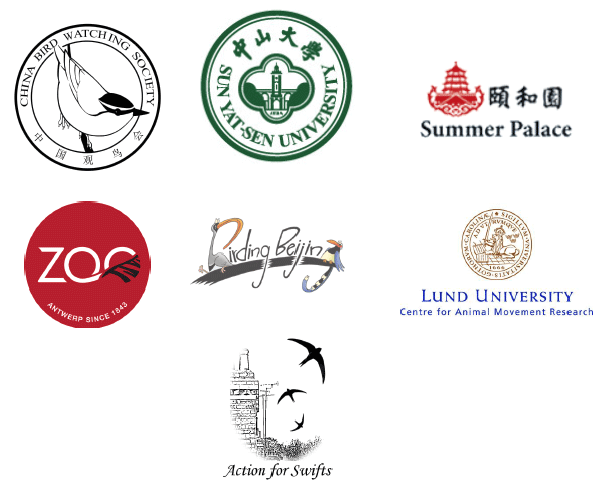 Birding Beijing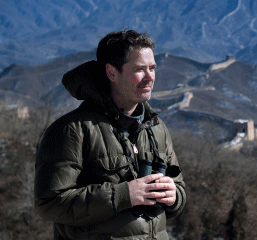 Birding Beijing was launched in August 2010 by Terry Townshend, a British birder living and working in Beijing. Through this blog he celebrates the birds that can be found in and around China's vibrant capital city. He is indebted to the growing number of birders in Beijing, both Chinese and expat, who contribute a huge amount to the content found on this site.
A passionate conservationist, Terry has spearheaded efforts to save some of China's most endangered birds, in particular the Jankowski's Bunting, a poorly known bird living in remote northeast China with a known population of under 100 pairs. In 2012 he became a Species Champion with BirdLife International.
Terry is dedicated to encouraging young people to learn, and care, about the environment and loves nothing more than showing students, children and visitors to Beijing the wonders of the birds that can be found here. He has a prominent media profile, often being asked to comment on environmental issues and featuring on mainstream TV, lifestyle magazines and in national and international newspapers.
Terry has found several new birds for Beijing, including the capital's first Tree Pipit in the UK Ambassador's garden (!). He is a regular contributor to the Beijing Birdwatching Society's lecture series and, earlier this year, was honoured to deliver the keynote lecture at the National Zoological Museum to celebrate China's National Bird Day.
He is a co-author on Europe's leading birding blog, Birding Frontiers and, since 2014, he has been a Brand Ambassador for Swarovski Optik.