Weekly birding round-up: 21 - 27 Nov
The week at a glance
Co.Cork lands a Bufflehead at Ballinacarriga Lough
And a couple of Hume's Warblers trickle through to Devon and East Yorkshire
Sometimes, no matter how we try to spin it, we just can't polish a… bird. Or rather, a week's birds. The past seven days were quieter than a very quiet thing indeed. The easterlies that chilled parts of the region were simply too little, too late – imagine if we'd had those a month ago… Still, we get what we're given, and here's what we got.
Bufflehead
Buffleheads are funny things – and I don't mean their slightly gormless appearance, though they're that too. A quick glance at the distribution map for past British and Irish records reveals something of a quirk – a distinctive concentration of records from the English Midlands, with a bit of east coast spin thrown in for good measure. I suppose one could explain the Midlands bias by, perhaps, the number of freshwater bodies there… or maybe a concentration of birders actually paying attention to said freshwater…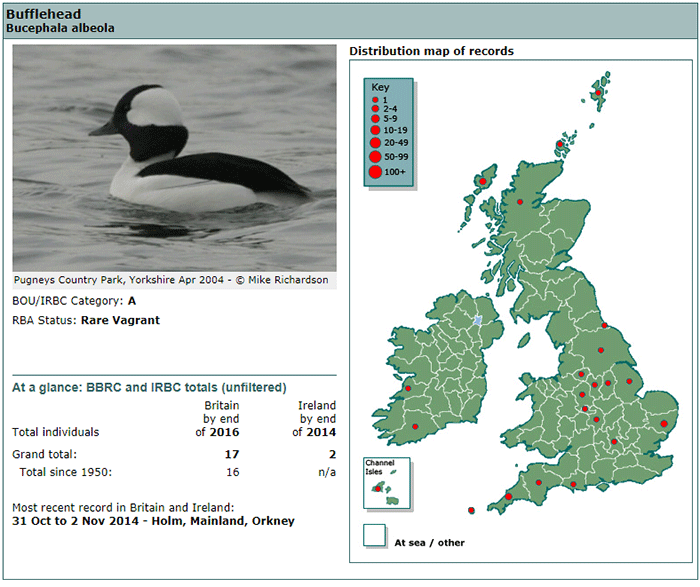 …or maybe, and this is my cynical favourite, there are more ornamental duck keepers in the area? That's a wholly unscientific hypothesis, of course. But all the same – why have comparatively so few Buffleheads been found in the west? It's not like there aren't freshwater bodies or birders there, after all.
Take Ireland – it's only got two accepted Bufflehead records up to the end of 2014. Which, for such a distinctive duck, in a country with both attentive birders and wildfowlers alike, seems a bit odd. As we've seen lately, it's not like it doesn't get plenty of other Nearctic ducks – indeed, this week, of the 17 Ring-necked Ducks seen in Britain and Ireland no fewer than 11 of them were in Ireland. It's closer to America – so it seems like a fairly logical step to assume that it should have had more Buffleheads than it has. But there we have it, historically it's all about the English Midlands where the species is concerned.

Happily, the balance was ever so slightly redressed this week with the finding of a female or juvenile drake Bufflehead in Co.Cork at Ballinacarriga Lough on 26th-27th. Just the third Irish record, and the second for Co.Cork, this would perhaps prove more of a potent draw for Irish birders had both of those prior records not stayed for over 50 days apiece.
Hume's Warblers
In a not entirely radical bit of divination last week, I predicted the coming days would probably feature a Hume's Warbler or two. Not wanting to make too big a deal of that prediction coming to pass though as, to be frank, easterlies at this late juncture were always likely to waft at least one our way – unlike their commoner Yellow-browed Warbler brethren, Hume's Warblers tend to travel that bit later in the year.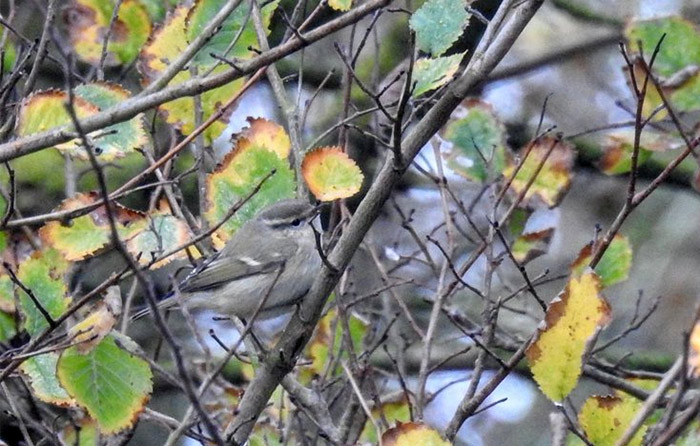 So, sure enough this week, two or three made it to these shores. In Devon, an obliging bird lingered on Berry Head on 22nd-26th; Kilnsea (East Yorkshire) sported our second on 25th; and a further bird was reported, heard only, from Scarborough (North Yorkshire) on 26th. In an otherwise fairly peaceful week, that was enough to elevate them to the headlines.
The best of this week's seabirds was, by some margin, the adult Pacific Diver lurking back in Mount's Bay (Cornwall) on 21st-25th; a less rare, but always substantial diver presence this week came in the form of a White-billed Diver off Barra (Western Isles) on 24th, with another seen at the traditional wintering site of Kirkabister off the east coast of Shetland on 26th.
Three Pomarine Skuas passing Porthpean (Cornwall) early in the week on 22nd flattered to deceive, as thereafter things fell a lot quieter – with just further single birds off Spurn (East Yorkshire) on 24th and Winterton (Norfolk) on 25th. Spurn also provided the week's only Long-tailed Skua, seen from there on 22nd.
And so that brings us, in rather quick order, to Little Auks - around 25 birds were noted nationwide in the course of the week, either in Scotland or the English northeast, scattered between North Ronaldsay (Orkney) in the north and Gibraltar Point NNR (Lincolnshire) in the south. All were single birds with the exception of duos of Whitburn (Co.Durham) on 22nd and 24th, a duo off Maidens (Ayrshire) on 26th, and a trio from Troon (Ayrshire) on 25th.
Some 200 records of Cattle Egrets this week represents either a genuine drop in numbers by approximately a quarter on the prior week, or else simply a lack of records coming out of the Somerset Levels – no chunky numbers came off those sodden meadows this week, so it fell to Abbotsbury (Dorset) to provide the week's highest single site count, 35 birds on 23rd; followed by Rock (Cornwall) with 21 birds still on 23rd also.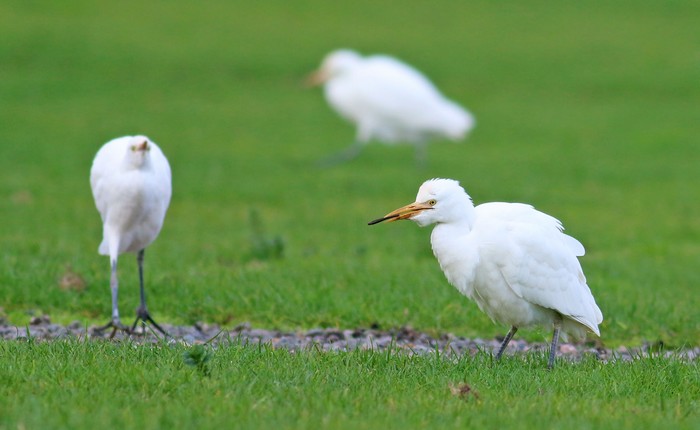 In Cleveland the adult Night Heron remained at Redcar on 21st but wasn't seen thereafter; a long stay but only a short window for local birders to catch up with this late bird. Briefer and rarer fare still in Cleveland followed on 26th when a Little Bittern was fleetingly seen in flight at Saltholme RSPB. Whatever's going in Cleveland lately? Eyes peeled for a Chinese Pond Heron next…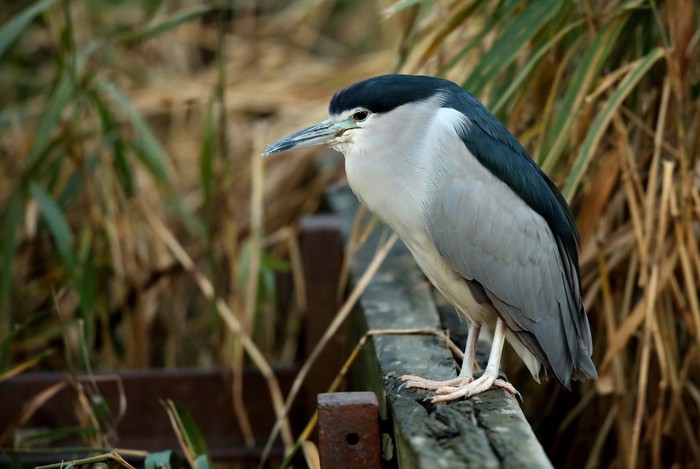 In Devon the Glossy Ibis was still to be seen at Fremington Pill on 21st, but once more was the only representative of its kind to be seen nationally this week.
Cambridgeshire continued to be the hotspot for non-Norfolk Common Cranes, with a peak count of 43 birds coming from Eldernell on 23rd. Elsewhere, four birds were seen in flight over Dinton Pastures CP (Berkshire) on 25th; the first-winter bird remained at Coldstream (Borders) on 23rd-27th; and two unringed adults were again at Slimbridge WWT (Gloucestershire) on 24th-25th.
If anything could buck the otherwise rather quiet early winter trend this week, it had to be our scarce and rare honkers and quackers – though even here, on the RBA duckpond, it was a mixed bag.
Of The Goose Formerly Known As Canada, we start with the hutchinsii Richardson's Cackling Goose still on North Uist (Western Isles) on 24th; and then, on 25th, we have a single interior Todd's Canada Goose seen in Cumbria at Anthorn. Lastly, on 27th, the small Canada-type was again seen on Barra (Western Isles).
The intermediate morph Snow Goose was again seen in Highland at Munlochy Bay on 21st and again on 27th.
At least one Black Brant continued to lob around The Fleet in Dorset this week, being seen at various points between 21st-25th; further English sightings came as the week unfolded from West Mersea (Essex) on 21st; Holkham (Norfolk) on 22nd; Walney (Cumbria) still on 23rd; and at Donna Nook (Lincolnshire) on 25th.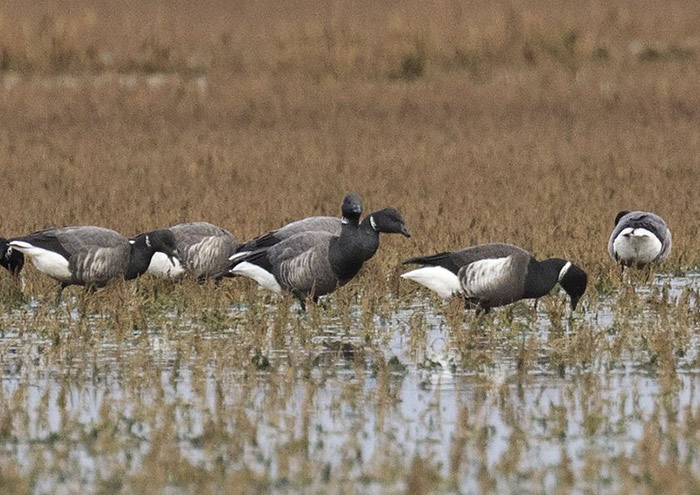 The drake Black Scoter was again seen in Northumberland this week at Cocklawburn Beach on 24th-25th. Surf Scoters, meanwhile, comprised two drakes again off Harris (Western Isles) on 22nd, rising to three drakes there on 24th; a female or juvenile drake on Loch Ryan (Dumfries & Galloway) on 22nd, joined there on 24th by a first-winter drake; a drake off Gullane Point (Lothian) on 27th; and a final first-winter drake seen from the ferry off Berneray (Western Isles) on 24th.
The week's main duck event, however, was not the rarest Nearctic offering available – but for sheer volume, Ring-necked Ducks continued to take a lot of beating. Nowhere was this more true than in Ireland, for here we've a couple of actual flocks of them this week – five drakes were present on Ballinacarriga Lough (Co.Cork) on 25th with one still present on 26th, while four drakes were to be seen on Lough Yganavan (Co.Kerry) on 23rd still; a mere two birds were present on Inch Island (Co.Donegal) on 23rd.
In England, it was mainly all about settled single birds – the drake still at Slapton Ley (Devon) on 21st-24th; the first-winter drake again at Radipole RSPB (Dorset) on 24th-26th; the drake further north at Woodhall Spa Airfield LWT (Lincolnshire) on 23rd-26th still; the drake again in Essex on 26th at Abbotts Hall Farm EWT; and a drake at Pitsford reservoir (Northamptonshire) on 25th. Scotland supplied the drake again at Loch Watten (Highland) on 24th.
A spanking drake Lesser Scaup was discovered on 26th in Somerset at Chew Valley Lake; in Wales, meanwhile, the female on Anglesey at Llyn Llygeirian was still present this week on 21st-26th.
A Green-winged Teal in Cornwall on 21st-25th added extra lustre to Nanjizal's already excellent annual showing of scarce and rare birds of all shapes and sizes. Further drakes were seen this week on North Ronaldsay (Orkney) still on 24th-27th and the Orkney mainland still at Loch of Skaill on 27th; on North Uist (Western Isles) on 24th-26th; at The Gearagh (Co.Cork) on 24th; on Loch Flemington (Highland) on 27th; and a final bird on 24th reported from Attenborough NR (Nottinghamshire). There will, surely, be more coming out of the woodwork in the coming weeks and months of winter.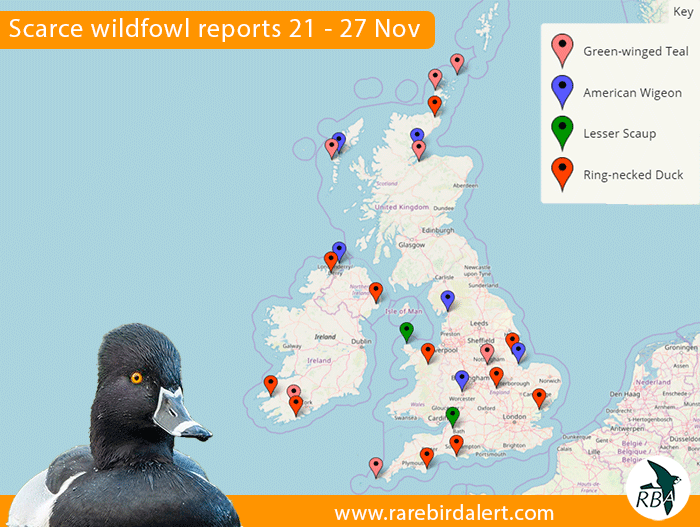 The same too might be hoped for where American Wigeon are concerned – this week, the female remained at Grimley (Worcestershire) on 21st-27th; the drake was still on Leighton Moss RSPB (Lancashire) on 21st-27th; and another was reported from Frampton Marsh RSPB (Lincolnshire) on 25th. In Scotland, one was present on North Uist (Western Isles) on 24th while the drake was again present on Tain Links (Highland) on 27th and, in Ireland, a drake on the Culdaff estuary (Co.Monaghan) on 21st-22nd was joined there by a female on 25th.
In Norfolk, the second-winter drake King Eider remained off Sheringham on 22nd-23rd while in Ceredigion at Ynylas the long-staying queen was once again seen on 25th-26th.
Lastly, in Shetland, our honorary waterfowl the Pied-billed Grebe was still present on Loch of Spiggie on 25th.
<!—Section Title -->
We've a lot to thank Ireland for this week as, without it, the shorebirds would be very slim pickings indeed. As it was, we're not exactly extracting a big juicy lugworm from the week's shorebird news estuary – more of a modest ragworm, really.
So we'll kick off at Myroe (Co.Derry) where all three of the recent party of White-rumped Sandpipers were once again to be seen on 25th. They shared their chosen locale with a Lesser Yellowlegs on 23rd-26th too.
Further Lesser Yellowlegs were familiar faces – at Lodmoor RSPB (Dorset) still on 21st-26th; in Cornwall once more at Devoran Quay on 22nd; and at Tacumshin (Co.Wexford) again on 24th.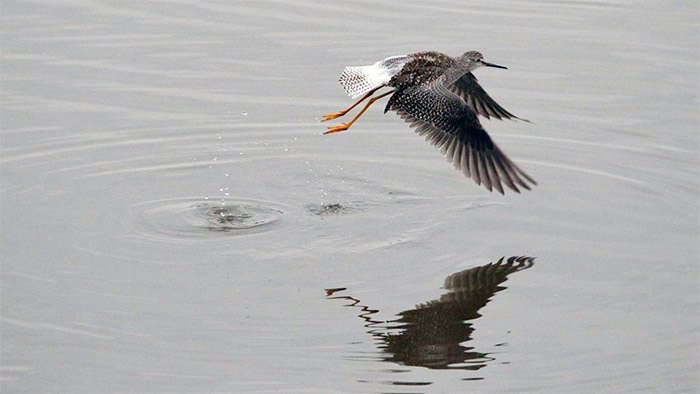 In Cornwall, another blast from the recent past emerged from the woodwork, briefly, on 22nd and again on 26th when the Temminck's Stint was once more seen at Stithians reservoir.
Lincolnshire's faithful adult Long-billed Dowitcher was playing somewhat harder to get than of late, being noted at Frampton Marsh RSPB only on 21st but not thereafter until 26th when there it was again.
A Dotterel was reported in flight over Praa Sands (Cornwall) on 26th.
Even Grey Phalaropes were having a quiet time this week – we've just a single bird seen in Cullen Bay (Moray) on 24th. And that's your lot.
This week was, really, neither fish nor fowl – not autumn, but not really winter either. So migrants of all kinds were thin on the ground – and even that winter staple, white-winged gulls, were in short supply. More of which (very) shortly…
Top of this week's gull class then would be the adult Bonaparte's Gull found in Northumberland at Bamburgh on 25th-27th.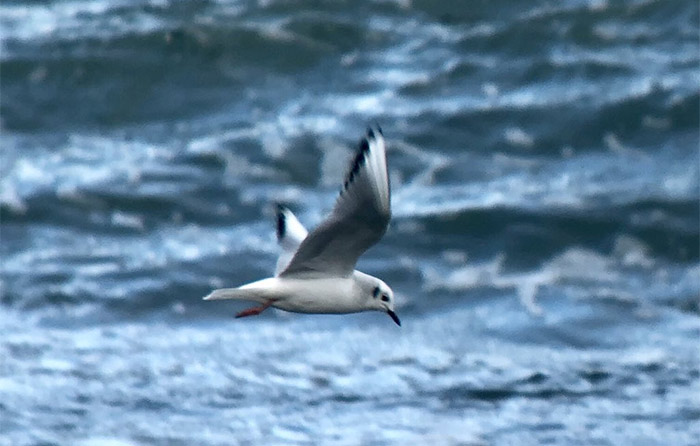 An adult Ring-billed Gull provided a little more variety in Ireland at Sandymount Bay (Co.Dublin) on 24th.
And so to those white-wingers. Pick of the bunch would be the adult Kumlien's Gull again at Greencastle (Co.Down) on 25th; it's commoner brethren, Iceland Gulls were only slightly more numerous – on 23rd, individuals were logged at Cot Valley (Cornwall) and Theddlethorpe (Lincolnshire); on 24th, a bird was seen in Kirkwall (Orkney), and on 24th-26th at Atherton and Pennington Flash (Greater Manchester); on 25th, birds were seen at Collieston (Aberdeenshire) and in Ireland at Rough Point (Co.Kerry); and on 26th, one was at Morvah (Cornwall).
A similar paucity of Glaucous Gulls wraps up the gulls'n'terns – single birds were noted on 21st at Doncaster (South Yorkshire) and off Whitburn CP (Co.Durham); on 22nd at Par (Cornwall) and Fraserburgh (Aberdeenshire); in Moray at Loch Spynie on 22nd-27th and on the Lossie estuary on 24th; and at Seaham (Co.Durham) on 25th again. On 27th individuals were seen in Co.Kerry at Trabeg and Annascaul.
Stornoway on Lewis (Western Isles) boasted the best of the white-winged action on 21st with not only an Iceland Gull present that day but also two Glaucous Gulls. It's early days yet but, like we said at the outset, quiet times for now.
Norfolk continued its recent form as the Rough-legged Buzzards hotspot this week, with a succession of records coming more or less daily from the county: the week began with a rash of sightings on 21st at Heacham, Holme, Kelling and Haddiscoe – the latter site accounting for daily reports of at least one bird and certainly two individuals on 23rd – followed by subsequent records from Kimberley Hall on 24th and, on 25th, Morston Chase and Welney WWT. Then, on 26th, birds were seen at Ongar Hill and Titchwell RSPB; and on 27th, one was seen at Holkham.
Away from Norfolk, at least one bird remained in the the Yaxley (Cambridgeshire) area on 21st-25th, with two birds seen there on 25th-26th; a further scatter of sightings of single birds came from Bough Beech reservoir (Kent) on 21st, near Bettyhill (Highland) on 22nd, at Old Hall Marshes RSPB (Kent) and North Uist (Western Isles) on 24th, and back in Cambridgeshire at Woodwalton Fen NNR on 25th. On 26th a probable bird was noted at Snape (Suffolk), while a further possible was reported from St Martin's (Scilly), having been present there for some five days.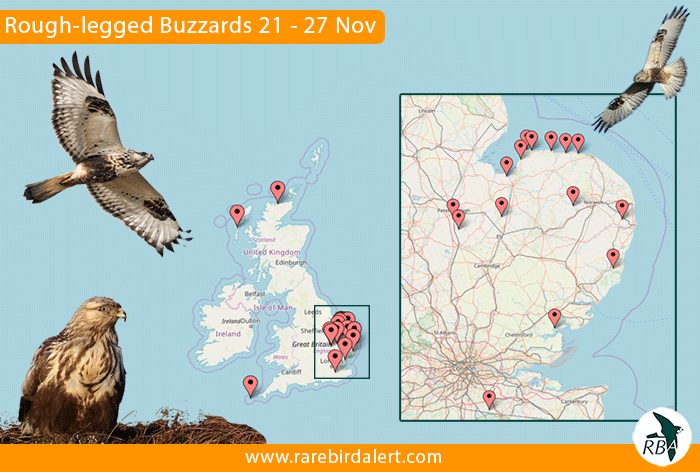 An immature White-tailed Eagle flew north up the Shetland south mainland over Sandwick in the morning of 27th.
Our weekly Snowy Owl sighting came this week from Orkney where the male was once again seen on Eday on 22nd.
Nowhere was the changing of the seasons more pronounced this week than amongst the precious few sightings of interesting passerines. We've already covered the Hume's Warblers in our headlines so it's with little further ado that we rattle through the rest of the warblers of note…
Numbers of Yellow-browed Warblers continued to contract, down to some 20 birds again this week, with a distinctly southwesterly flavour to many of those records.
Most numerous of the rest, though that's relative, were Dusky Warblers - the week began with one present at Nanjizal (Cornwall) on 21st; one was heard only in Dorset at Abbotsbury on 22nd before, on 23rd-25th, another bird was discovered nearby at East Fleet; and then, on 26th, the Abbotsbury bird finally showed itself. This, and Yellow-browed have to be high on the local patch-worker's most-wanted list as we go into the last remaining weeks of the year – one to look (and listen) out for in sheltered thickets and damp places.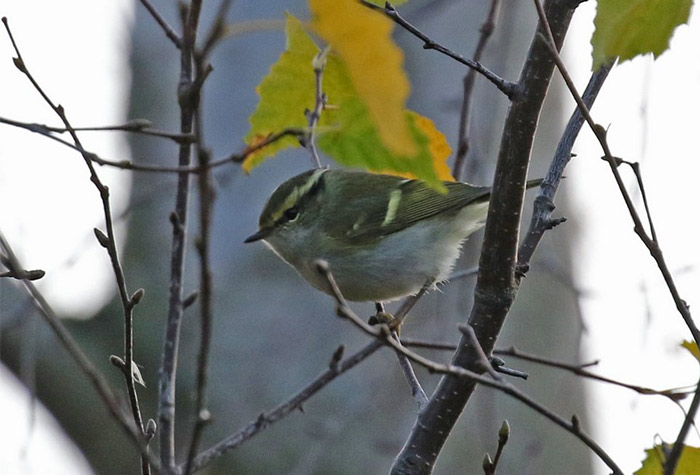 Norfolk scored another Pallas's Warbler at Wells Woods on 25th-27th - a late bird, and not an easy one, as it proved particularly elusive, mobile and sprightly for those hoping for good views.
Another late Barred Warbler was seen this week on 21st at Sandscale Haws (Cumbria).
After the previous week's glut of sightings of Richard's Pipits on the move, this past week was a more sedate affair altogether, with a couple of settled birds notable – one on The Lizard (Cornwall) still on 21st-23rd, and the other at Easington (East Yorkshire) on 22nd-26th. A further probable bird was noted in Dorset on Portland on 23rd; while an Irish sighting came on 21st from Knockadoon Head (Co.Cork).
Cornwall provided a little late colour in the form of sightings of Hoopoe - one was reported from Sennen on 22nd and subsequently seen there again on 26th; while one was seen on 22nd also at St Erth; and a final bird was found a long way north at Boat of Garten (Highland) on 26th-27th.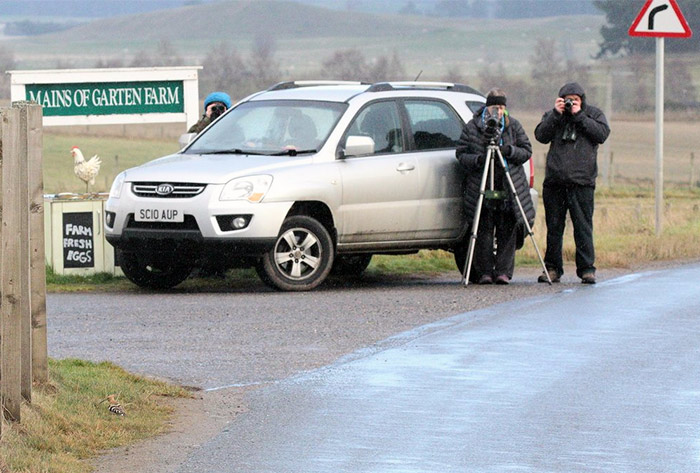 Norfolk, meanwhile, landed a Penduline Tit at Haddiscoe on 25th.
Even Great Grey Shrikes seemed a little jaded this week, with just seven birds in all reported. These comprised settled birds remaining in Ashdown Forest (East Sussex) on 21st-23rd, Cannock Chase (Staffordshire) still on 23rd-26th, and at Leighton Moss RSPB (Lancashire) again on 23rd-26th; and further sightings logged at Langford Lowfields (Nottinghamshire) on 21st-24th, Brandon Park Heath (Suffolk) on 22nd-25th, and Gisburn Forest (Lancashire) and Pentrefoelas (Conwy) on 23rd.
At least Waxwings appeared to have read the script – around 1,000 birds were logged in the course of the week, for the most part comprising flocks in Scotland with just a few scattered outliers further south. Our biggest aggregations came on 22nd at Fochabers (Moray) with 250 birds and at Kemnay (Aberdeenshire) on 25th, where 180 birds were noted.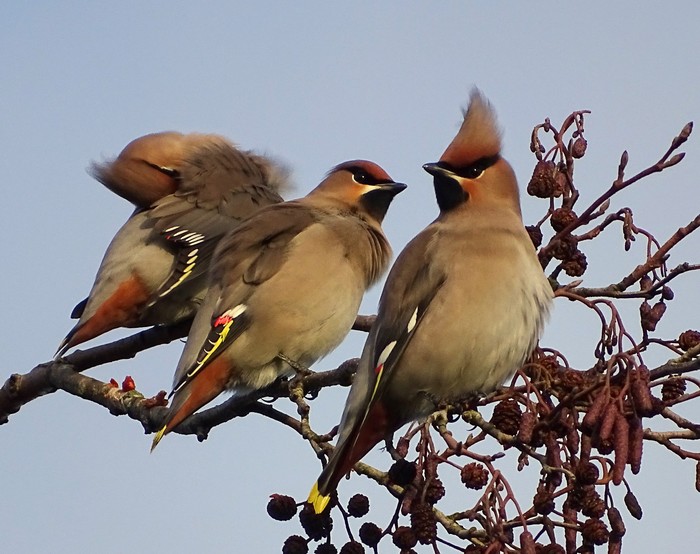 In East Yorkshire news that the Pied Crow was still present at Flamborough emerged on 24th after a while of not being reported.
Two juvenile Rose-coloured Starlings were seen for much of this week – the bird at Kesgrave (Suffolk) still on 21st-25th, and a new individual coming to the feeders in a North Seaton (Northumberland) garden on 22nd-26th. Always a nice garden tick to have, that one. A further fresh juvenile was seen on 26th in Hull (East Yorkshire), while the recent juvenile at Annan (Dumfries & Galloway) was again seen there on 26th also, and another new juvenile was found as the week drew to a close on 27th in a Derbyshire garden in Etwall.
The lingering Common Rosefinch remained on Unst (Shetland) still on 21st at Baltasound.
The exilipes Arctic Redpoll at Orgreave (South Yorkshire) was still present there until 24th, while one was trapped and ringed in the county at Hatfield Moors NNR on 25th; another was trapped and ringed in West Yorkshire at Wintersett reservoir on 26th. In Norfolk, two remained in Wells Woods until 24th whilst suspicions that there may have been more than a duo present all along seemed confirmed on 22nd when three birds were logged there. Two fresh birds were present in Northumberland at Fontburn reservoir on 24th. Again, a species that must be on the determined local patch-worker's radar now that pickings are getting slimmer…
Half a dozen Parrot Crossbills were once more seen in Norfolk at St.Faith's Common on 22nd; a further probable bird was reported in flight over Waveney Forest on 23rd.
Finally, a small flush of Serins were a feature in the southwest this week – single birds were seen on St Mary's (Scilly) on 23rd-24th; at Nanjizal (Cornwall) on 21st-25th; and further east on Portland (Dorset) on 23rd-25th.
Switzerland continued to boast the absolute stand-out pick of the overseas bunch this week in the gorgeous form of the Long-tailed Shrike still present at Grandson on 22nd-25th.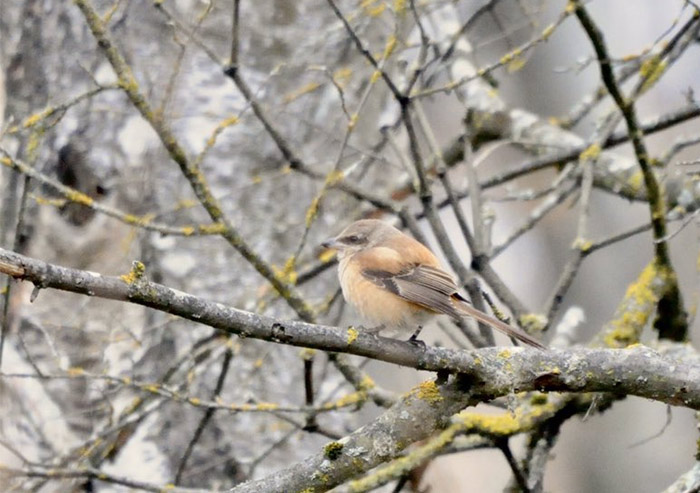 If that wasn't enough for British birders to cast covetous eyes at from afar, closer to home Holland still hosted the Nutcracker at Wageningen on 21st-26th; and, for good measure, a Black-winged Pratincole at Het Wild on 24th-25th.
Also not a million miles away from us, in France the Eastern Imperial Eagle remained at Saint-Gilles on 26th, and a Cream-coloured Courser, present since 16th, remained at Le Plessis until 26th. Meanwhile in Belgium the Pygmy Cormorant was still present at Parc Domaine du Val Duchesse on 21st-25th.
Plenty of food for jealous thought there… Perhaps more plausible from a British perspective, if only on the basis of precedent, were the Oriental Turtle Doves in Sweden this week at Degernas still on 22nd-26th and Sveg on 26th. Any Turtle Dove is, frankly, notable these days, but at this time of year they're worth more than a second glance. Sweden also featured an ocularis East Siberian Wagtail on 24th on Gotland at Sandhamn. What a cracking good-looking bird that was….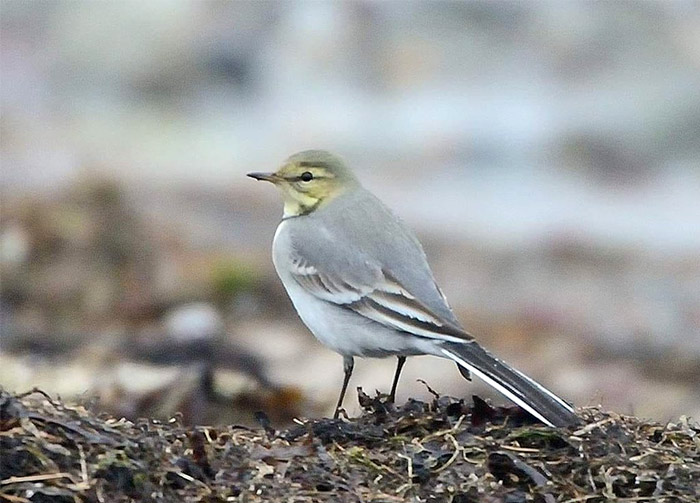 With an easterly flavour in mind, in Romania this week a Spur-winged Plover was seen on 24th at Pisculet, a second national record; and much further afield still, in Azerbaijan on 22nd a Long-tailed Rosefinch at Besh Barmag – this being a first for the country.
Moving west, in Italy's first Asian Desert Warbler was present at Torre Canne on 21st. Meanwhile, on the Iberian peninsula, Spain continued to feature a Sociable Plover in Andalucia at La Janda on 22nd, and a Steppe Grey Shrike in the Ebro Delta NP on 24th; and, in Portugal, the Green Heron was once again seen at Quinta do Lago on 24th.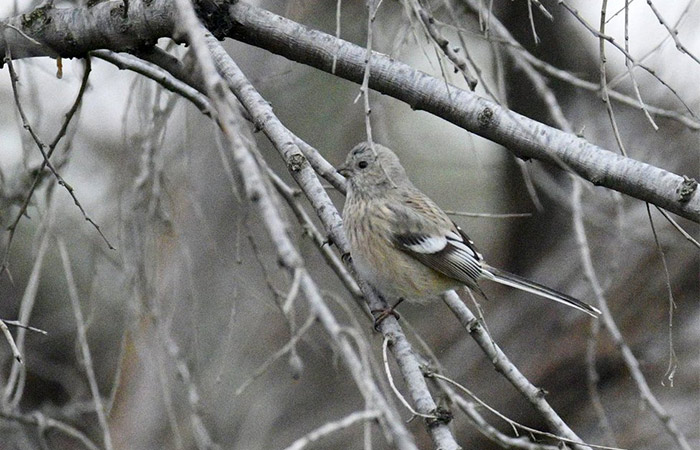 Heading out into the Atlantic, on the Canary Islands the Dwarf Bittern was still lurking on Fuerteventura on 25th; but the biggest news from the area came on 21st at sea off the archipelago when a Red-footed Booby was seen from the MS Braemar.
Meanwhile out on the Azores the Tricolored Heron was still present on Sao Miguel on 21st-26th, sharing that island with an American Coot on 21st.
The new week looks set to begin with a massive lump of low pressure parked north west of the British Isles and that's going to mean two things – plenty of strong westerlies and buckets of rain are in the post for Britain and Ireland, and it's going to make for uncomfortable conditions for birds and birders alike.
In a nutshell, winter's here.
While a glance at past records might tempt the eternally optimistic to hope for a late decent wheatear or a Nearctic passerine of some description, this coming week feels like as good a one as any to batten down the hatches and devote more attention than hitherto to the local ducks and gulls.
The recent glut of Ring-necked Ducks and this week's Bufflehead may give some cautious grounds for optimism and, if all else fails, we're due a few more Ring-billed Gulls and, who knows, if we're really lucky a nice American Herring Gull.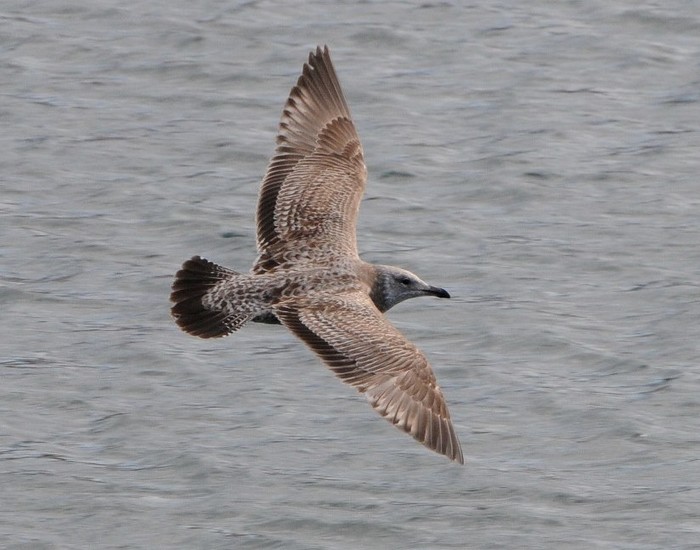 Jon Dunn
28 November 2018
Share this story
Tweet