Great White Egret breeds successfully in Norfolk for the first time
2017 saw Holkham celebrating its 50th year of being designated as a National Nature Reserve, and what better present but a new species breeding successfully for the first time in Norfolk.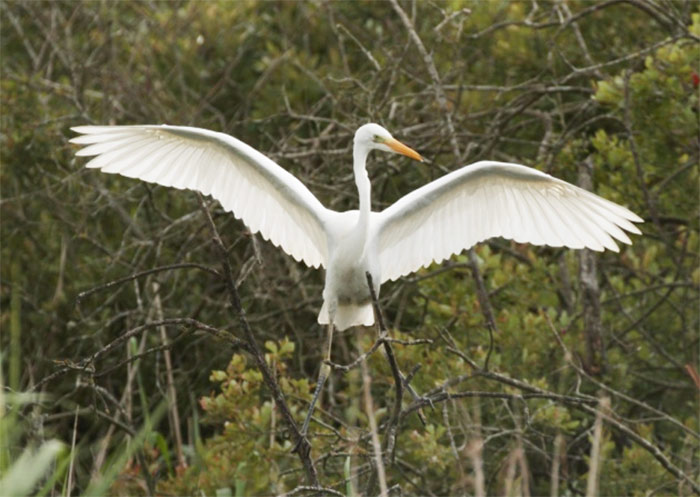 In 2016, a pair of Great White Egrets nested in the Little Egret colony at the west end of the freshmarsh, but, unfortunately, failed to produce fledged young. This year, three young have fledged.
Historically, it is likely that Great White Egrets were common across central Europe, but in the latter half of the nineteenth century and early twentieth century they suffered a catastrophic decline, being almost exterminated as a breeding species in most parts of Europe, leaving the species restricted to the wetlands of eastern Europe. Large scale flood control and drainage was a major factor, as was persecution. Throughout the 1800s economic prosperity increased in the middle classes, who sought to emulate the wealthy elite. Many adult egrets were killed during the breeding season when the use of egret plumes became fashionable, especially in the millinery trade. Towards the end of the twentieth century there was increasing evidence of recovery, many former breeding sites were recolonised and the species started to appear more regularly in northern and north-western Europe.
From the first record in 1821 until the late 1980's, Great White Egrets remained very rare in Britain. Since then, the species has increased in number massively, eventually being removed as a BBRC rarity in 2005, by which time there had been over 300 records. The first successful breeding occurred in the Somerset Levels in 2012, with 2017 seeing a total of seven pairs and 17 young at the same locality.
Holkham's mix of freshwater grazing marsh, extensive network of pools and wet woodlands provides the ideal habitat for the Ardeidae family. Little Egret first started breeding at the site in 2002, when five pairs fledged 13 young, whilst Spoonbills first successfully bred in 2010, when six pairs fledged 10 young. In 2015, around 50 pairs of Little Egrets nested at Holkham, whilst 14 pairs of Spoonbills raised 27 young, with even more nests this year. With the apparent on-going colonisation to Britain by Cattle Egrets, Little Bitterns and, this year, even Night Herons, what will be the next addition to Holkham's breeding herons?
9 August 2017
Share this story
Tweet