Finders-in-the-Field: Ruby-crowned Kinglet - a first for Britain
Isle of Barra, Western Isles, 12 - 19 November 2020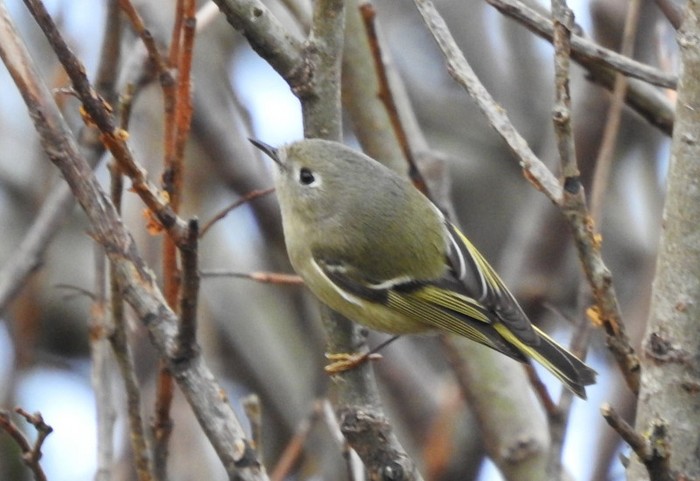 I like to believe that autumn migration begins on the 22nd of June, the day after the end of spring migration. I live for these times, when the chances of finding rare birds are at their greatest. My wife Kathy and I had been flogging our home island of Barra non-stop for months and by early November we were starting to feel the strain and looking forward to the close of the season when we could ease off and have a long overdue lie-in. We left the house at first light on the 12th, although it was raining again for the fifth consecutive day and another gale was coming.
Our first stop was at the bushes by the football pitch in Castlebay, where a Siberian Chiffchaff, an eastern-looking Lesser Whitethroat and 5 Blackcaps continued their long residence. From there we headed up the west side of the island, pausing to scan Loch Tangasdale. I've found 3 Ring-necked Ducks here in previous autumns, but today it held just 4 Tufties, 15 Wigeon and a dozen Whooper Swans, just as it had every day for the past fortnight. Continuing northwards along the coast, we stopped to watch the bizarre spectacle of a Woodcock being chased by a Peregrine which in turn was being chased by a Buzzard, the three birds flying low and fast round and round a hillock, Keystone Cops-style. After its third circuit, the Woodcock out-witted the Peregrine by veering away over a cliff and lived to see another day. The Peregrine went off to try its luck with the Lapwing flock on the machair, and the Buzzard sat on top of the hillock wondering where the other two had gone!
A few minutes later, we pulled over by the Old Manse at Cuithir. This is an imposing house, currently being renovated and returned to its former glory. Between the building and the road is a small block of woodland consisting of Alder, Willow and several lines of lichen-encrusted Spruces, many of which have been toppled by the vicious storms that batter the island every winter. This site has always felt 'rare' to me and I try to check it every day in spring and autumn. On our first autumn on Barra in 2010, I found a Firecrest here, followed by a couple of Barred Warblers and a Red-breasted Flycatcher in the following years, then an Arctic Warbler in 2016 and this September a Wryneck.
I stepped out of the car just as Pop Master was starting on the radio. Kathy loves to catch this, so stayed where she was. It was still raining and the wind was picking up to near gale force as I walked along the road scanning the trees as they thrashed around in the gusts. Next I slowly made my way down the track towards the entrance to the property. Halfway down I caught a glimpse of a bird flicking out, then back in to the base of a rose bush about ten metres ahead. The view was fleeting, but it looked small and I had the impression that it was quite bright but with an element of grey. I glanced back towards the car and beckoned Kathy to join me. Moving forward a couple of paces to get a clearer view, the bird flicked out again before dropping low into the back of the rose bush. My mind was racing, trying to figure out what this might be. Despite its size, something about it felt wrong for Goldcrest: it was in the wrong place, doing the wrong thing. It had more of a Yellow-browed Warbler feel, but what about that impression of grey? It was mid-November; was this going to be a Hume's Warbler? At this point I heard a call that I didn't recognise: a rather soft-sounding double 'chack' with an odd springy quality. Bearing in mind that I was now in the mindset that the bird I'd glimpsed was going to turn into a Hume's Warbler, and the call I was hearing clearly wasn't from that species but sounded more like an Acro or Sylvia type bird, I figured there must be two birds, not one. This was turning into quite a day! I looked back towards the car to see that Kathy was still listening to Pop Master. I beckoned frantically. Realising I was onto something, she was out of the car and coming down the track within seconds. Thinking back on it now, the subsequent moments seem to go into slow-motion. Kathy is edging towards me when the bird pops up into the rose bush. I get my bins on it and I see that it doesn't have a supercilium, so it's not a Hume's or indeed a warbler species at all. It looks like a Crest but there's something wrong about it. I try to see the top of its head but the angle is wrong, so I take a step to the side for a better view. It's dawning on me now that this might be something very rare indeed. I get the view I need: there is no gold crest on this little bird; in fact the top of its head is unmarked. I look back to see Kathy a few feet behind me and beckon her in closer saying, 'There's a first for Britain in this rose bush. Ruby-crowned Kinglet!'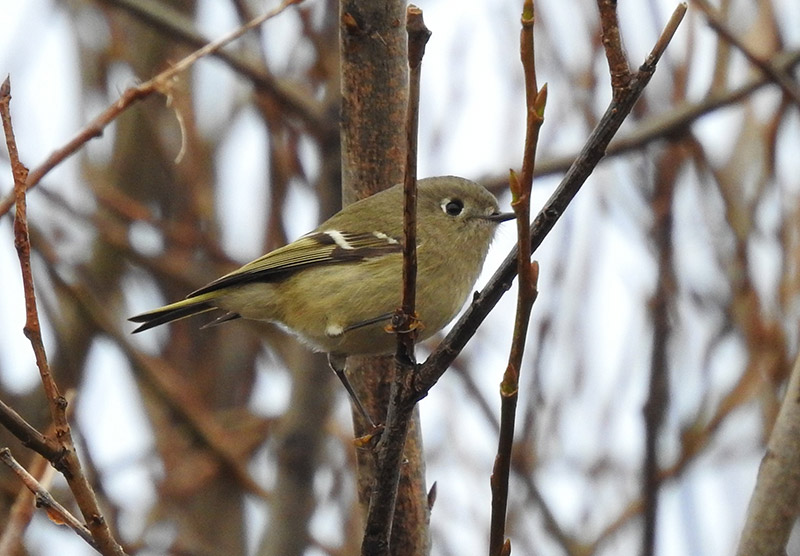 Over the next minute or so, the Kinglet bounced around low in the bushes in front of us, at times coming to within a few feet. The penny dropped that the call I'd heard was coming from this bird as I took a few shaky record shots and got a sound recording. Then I needed to sit down for a minute to compose myself: the enormity of the situation was sinking in while the bird continued to show well. I'd phoned Ian Ricketts, the other resident birder on Barra, and he arrived a few minutes later, but accidentally pressed the horn as he got out of his car. It was a long hour before the three of us saw the Kinglet again! We then had a few glimpses of the bird in worsening weather, but it kept going missing. After a while we realised that it was actually spending most of its time feeding on the ground. So here's a tip for any birders hoping to find this species: if the weather is really bad, look down among the leaf litter just in front of you.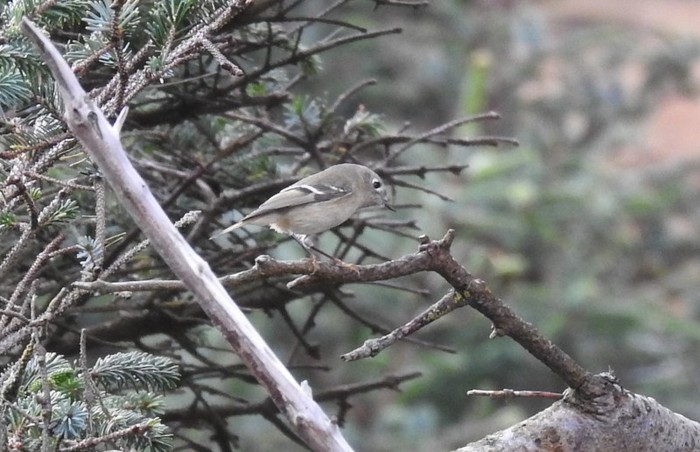 At the beginning of lockdown the three of us had discussed what we'd do if we found something really rare on Barra during the pandemic. We'd always put rare bird news out as soon as possible in the past, and the resulting twitches for the Kingbird and American Redstart, for example, had been very successful and enjoyable events for twitchers and islanders alike. But now things were different. As our community hall was hurriedly transformed into a basic field hospital with a line of camp-beds back in March in anticipation of Covid's arrival, it became clear that our priority was to protect our island community from potential dangers, which included influxes of birders. So we'd made the decision back then that if a mega rarity turned up, we wouldn't release the news. This scenario remained largely hypothetical until that day at the Old Manse, when the whole thing became all too real. It was an incredibly stressful situation to be in, making the find of a lifetime but not being able to tell anyone. Much soul-searching was done and I'm pleased to say we made the right choice and the news was kept between the three of us.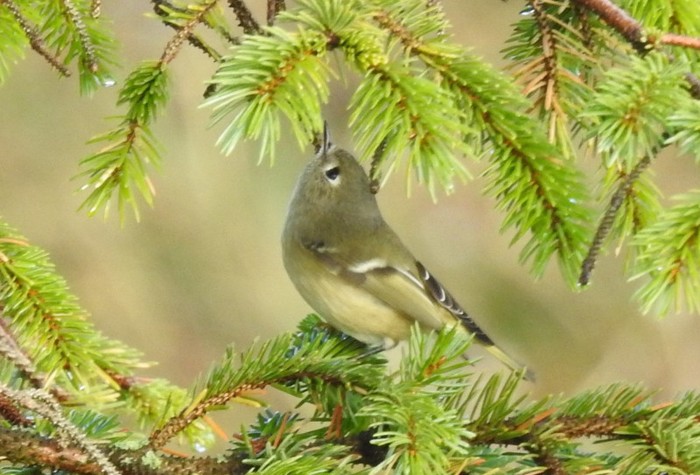 We hoped the Kinglet would be a one-day bird like the Irish one in 2013, but when it was still there the next day our hearts sank. I think it's fair to say that the continued presence of a British first has never been met with such disappointment by its finders before! We kept tabs on it as the days passed, wondering just how long it would stay. While our fellow islanders are used to our eccentric birding ways, we figured that even the most incurious souls would start to wonder what was going on if they passed us day after day staring at the same clump of trees in the rain, so we kept our visits as brief as possible so as not to arouse suspicion. We even concocted a cover story just in case anyone asked what we were doing.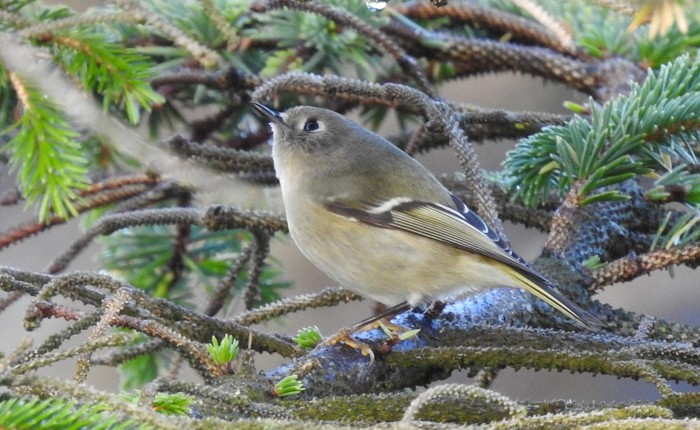 The Kinglet spent most of its time foraging in the Spruces and during brighter periods it would fly-catch from the treetops, but in bad weather it would return to ground-feeding and could often be elusive. It was fascinating to see it in different light conditions: on bright days the green tones really shone out, but on dull days it took on a much colder grey appearance. After calling frequently on its first day, it became progressively quieter. It clearly wasn't an adult male as it lacked the ruby crown stripe, so it was either a female or first-winter, most probably the latter. We last saw it on the 19th and it now seems likely that it departed during a brief break in the weather that evening. We continued to check the site and other areas of the island for the next three days just to be certain it was gone. I released the news via Rare Bird Alert and Twitter on the Sunday afternoon and I'm relieved to say the response from birders, islanders and everyone else has been overwhelmingly positive and supportive of our decision not to put the news out while the bird was here. We look forward to safer times when we can again welcome back our fellow birders and share some great Barra birds.
Bruce Taylor
25 Nov 2020
Share this story
Tweet