Weekly birding round-up: 30 Mar – 5 Apr 2021
The Northern Mockingbird remains in Devon
In Co.Kerry, the Double-crested Cormorant is still present
While amongst a flush of new arrivals, a smart Citrine Wagtail brightens Northumberland
For a while this past week, we could dare to think that winter was done and dusted, and we had sunnier times ahead. The week began with the warmest March day in half a century, recorded in London on Tuesday 30th when the mercury rose to 24.5C… and came to a shuddering conclusion with 70mph northerly gales sweeping snow across Shetland on Sunday 4th and, as Monday 5th unfolded, down through Scotland and into northern England. Who'd be a newly arrived Chiffchaff in that little lot?
Northern Mockingbird
Back to the top of the pile, the long-staying Northern Mockingbird in Exmouth grew increasingly popular this week, with a steady stream of admirers making their way to Devon to pay their respects, and the bird showing well still until 5th.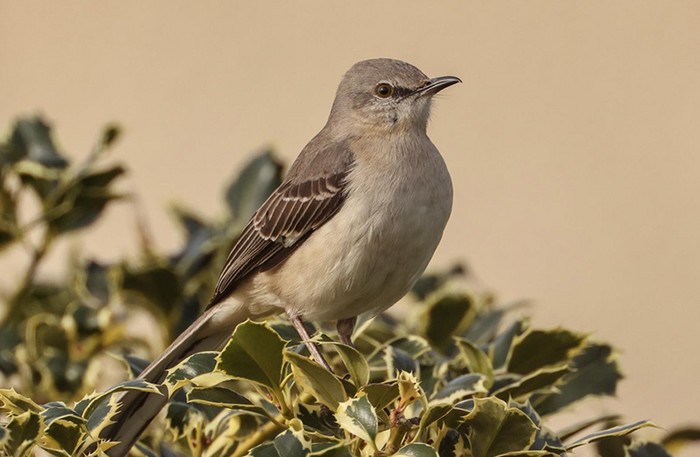 There will always be detractors who say it could only have made it here with some ship assistance, and maybe it did, but as we noted way back when the news initially broke, there have been some significantly lost past Northern Mockingbirds found away from their breeding range in the US, including birds that by one means or another have made open water sea crossings.
For some, then, going to see this bird apparently falls into the realms of an insurance policy, but that surely traduces birding to a numbers game that snuffs out the spark of magic that's at the heart of migration and vagrancy. Sure, Britain's third Northern Mockingbird might have hitched a lift at least part of the way on board an east-bound ship in the mid-Atlantic… but equally, it may well not have done, especially in an autumn that featured other remarkable Nearctic arrivals like Britain's first Yellow-bellied Flycatcher and Ruby-crowned Kinglet.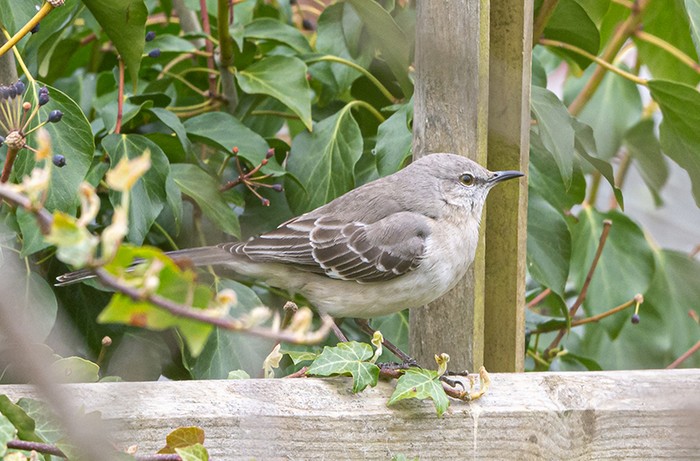 Double-crested Cormorant
Back into the headlines for Ireland's second Double-crested Cormorant this week, marking the first-winter bird at Ballylongford (Co.Kerry) notching up another month on its residency – still present in the opening days of April this week on 2nd-3rd. When is it going to feel the need to move on – and where, if and when it does, will it end up?
Citrine Wagtail
It's not that Citrine Wagtails feel rarer than Eastern Yellow Wagtails these days – though, to be honest, they do – that brings one of the former up into the rarefied atmosphere of our headlines this week. Nope, it's partly sheer aesthetic indulgence, because a spring male Citrine Wagtail is an utterly stonking-looking bird, and partly because one arriving this early in the year is simply notable.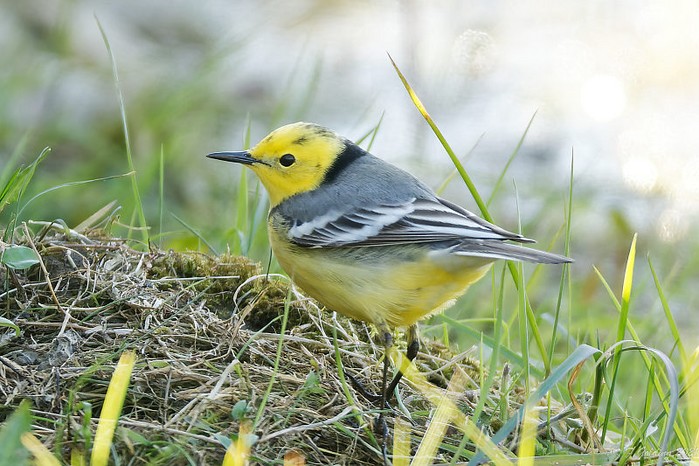 April had started strongly with a small fall of male Blue-headed Wagtails found on the southern coastal extremities of Scilly and Kent on 2nd-3rd and, of course, a cracking male cinereocapilla Ashy-headed Wagtail also on St Mary's (Scilly) on 1st-2nd. On 3rd, northern England replied emphatically, with the discovery of a male Citrine Wagtail at Lynemouth Flash in Northumberland.
Anyone who's only seen first-winter Citrine Wagtails and hasn't caught up with a spring male has been significantly short-changed. Take a look at the images of this one-day Northumbrian bird and dare to dream of finding one of these lemony beauties on your local patch in the weeks to come…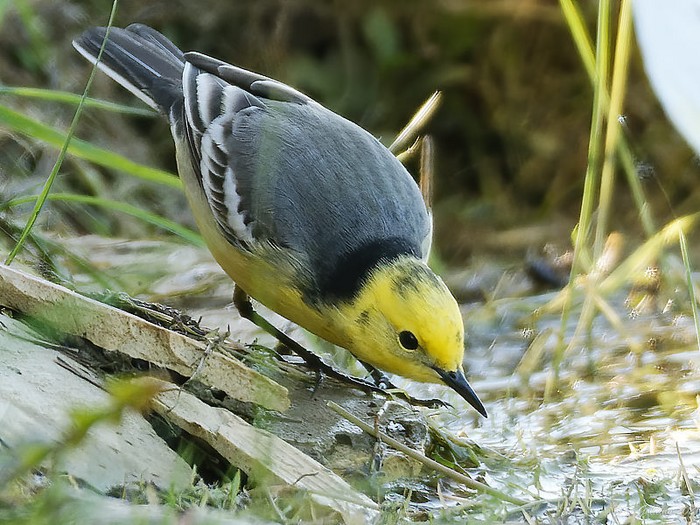 The RV Celtic Explorer continued to ply her trade further north this week, and again was notching up some modest at-sea seabird successes. As we well know, she may yet deliver an absolute howler of a rare seabird but, this week, north-west of St Kilda (Western Isles) on 1st, single Leach's Petrel and Little Auk were notable.
Another Leach's Petrel lingered off Flamborough (East Yorkshire) on 5th.
In Shetland, two White-billed Divers remained in the relatively sheltered waters of South Nesting Bay on 31st while, in Orkney on 3rd, the single bird remained off Papa Westray. Aberdeenshire's hotspot, Portsoy, entered the fray on 3rd also with three birds logged off there that day.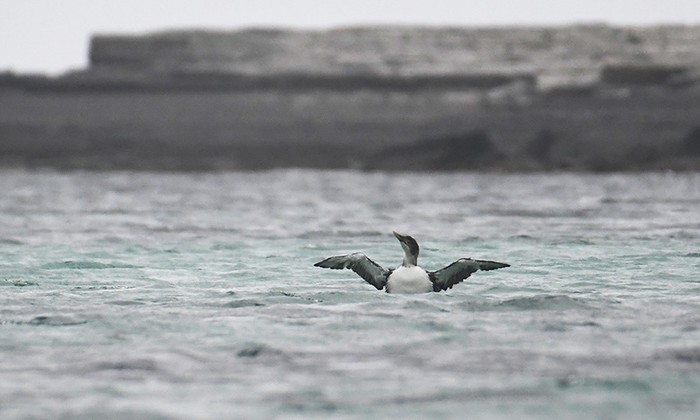 Finally, in Cornwall, a possible Pacific Diver was seen from Pendower Beach on 31st; potentially the same bird last seen to the west from Pennance Point on 18th February.
Apart from the unconfirmed report of a Purple Heron seen in flight at Blue House Farm EWT (Essex) on 2nd, the scarcer long-legged beasty news this week continued to be made by Glossy Ibises. Starting in Devon, just one bird was logged this week at Fremington Pill on 31st-1st still; the Dorset bird remained faithful to Stanpit Marsh on 30th-5th; and, in Kent, the Dungeness bird was still present on 30th-5th.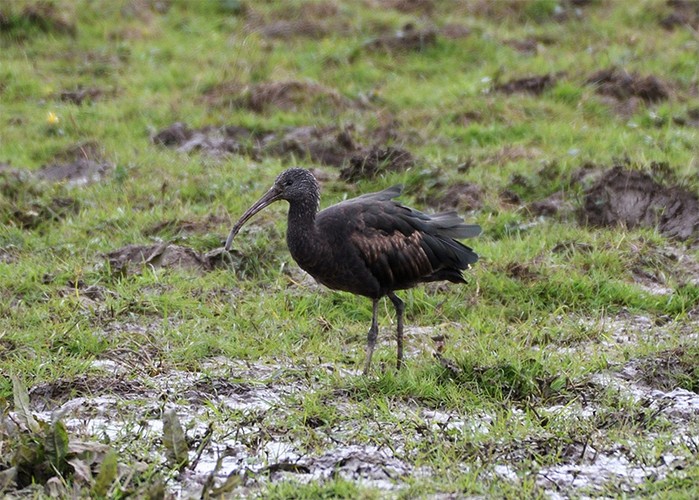 The trio of birds were seen again in Cambridgeshire at Earith on 3rd-5th while, in Oxfordshire, the Otmoor RSPB individual was still to be seen on 30th-5th. Northamptonshire sightings came from Thrapston GPs still on 30th-2nd and 4th-5th, and at Stanwick GPs on 3rd and 5th. Ireland's sole representative remained at Pilmore (Co.Cork) on 31st.
The first Spotted Crake of the year was sound-recorded at Tregaron Bog NNR (Ceredigion) on 2nd.
As ever, we'll start the best of the honkers and quackers of recent days with The Goose Formerly Known As Canada. An interior Todd's Canada Goose in Northumberland at Cresswell on 2nd was followed, on 3rd, by one again in Cumbria at Rockcliffe Marsh and then, on 4th, by one once more at Banks Marsh NNR (Lancashire); while on North Uist (Western Isles), the two hutchinsii Richardson's Cackling Geese remained present on 3rd.
Black Brants remained a scarce commodity, with just reports from Co.Dublin where one was still present on North Bull Island on 30th and, on 4th, a further sighting came from Raheny.
Possible Grey-bellied Brants, on the other hand, were somewhat more numerous – five birds were logged at North Bull Island on 30th, with two birds the following day again at Lurgangreen (Co.Louth), and one still present there on 5th; and one possible bird once more in Highland at Castle Stuart on 3rd-4th.
Two Snow Geese were noted in Aberdeenshire at Lonmay on 30th, and Loch of Strathbeg RSPB on 2nd.
Absent from the news for a month, the first-winter drake Black Duck was once more seen on The Mullet at Inishkea North (Co.Mayo) on 3rd.
In Shetland, the recently found drake American Wigeon was lingering at Loch of Spiggie on 31st-4th; other longer staying birds remained at Larne Lough (Co.Antrim) on 30th, Grindon Lough (Northumberland) on 3rd again, and at Port Clarence (Cleveland) again on 4th. A final bird was found on 5th at Ardwell (Dumfries & Galloway) on the beach at Chapel Rossan Bay.
Numbers of Green-winged Teals were down somewhat on the past couple of weeks. Single birds were seen again in Cleveland at South Gare on 31st and Saltholme RSPB on 1st-5th; in East Yorkshire at North Cave Wetlands YWT on 30th-5th; in Scotland at Tain Links (Highland) again on 30th-2nd, on South Uist (Western Isles) on 31st, and on Barra (Western Isles) still on 5th; and Irish individuals were logged at Blennerville (Co.Kerry) still on 31st-5th, and at Corballis (Co.Dublin) on 2nd.
Some 35 Ring-necked Ducks represented a still-solid nationwide tally in recent days and, once more, there were sites still holding multiple birds – four remained on Dozmary Pool (Cornwall) on 30th-2nd, with four present on Siblyback Lake on 4th; and duos were still present at Radley GPs (Oxfordshire) on 30th and again on 5th, Tacumshin (Co.Wexford) on 1st-4th, Talley Lakes (Carmarthenshire) on 1st-3rd, and on Cloonfinnan Lough (Co.Leitrim) still on 4th.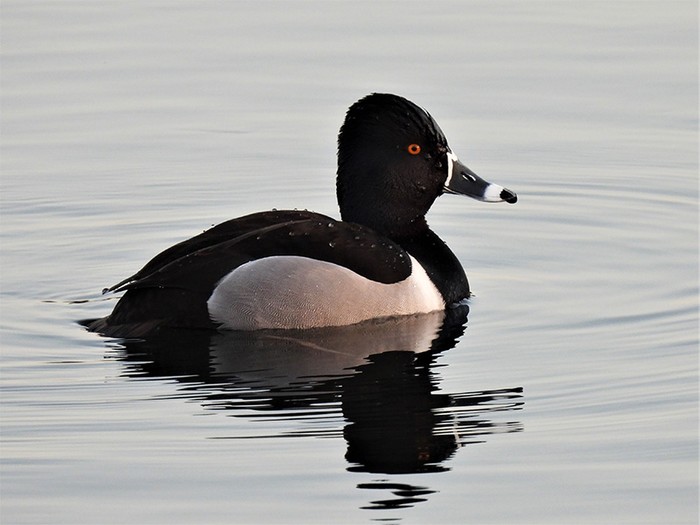 In Co.Cork, the first-winter female Bufflehead was still happily settled on her lake near Nohoval on 3rd.
Lothian continued to be graced by the drake White-winged Scoter off Musselburgh on 31st-4th; two Surf Scoters were also still off there on the same dates. Further Surf Scoters were noted from Llanddulas (Conwy) still on 30th-3rd; Kirkwall (Orkney) again on 1st; at Embo (Highland), where two birds were again seen on 2nd-5th; back in Lothian, where two drakes were seen from Ferny Ness on 3rd; and in Moray, where a drake flew by Lossiemouth on 4th. A final probable bird was seen from a moving train in Flintshire on 1st at Ffynnongroyw.
In Orkney, a first-winter drake King Eider was found off Papa Westray on 1st-2nd.
In the absence of any news from Suffolk, our only presumed feral Hooded Merganser this week was the drake still present on Hornsea Mere (East Yorkshire) on 30th-5th.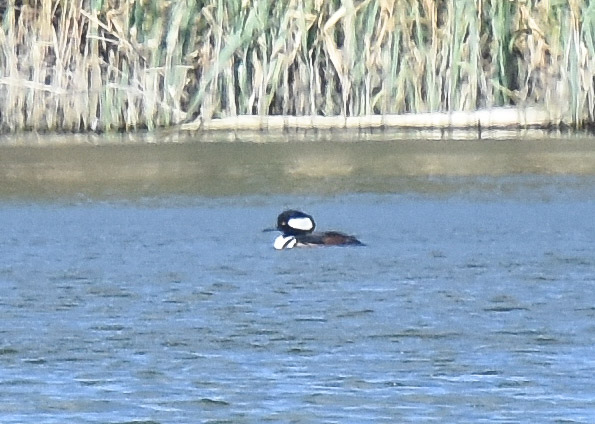 Last of all, and free of any such taint, our honorary wildfowl, the elusive Pied-billed Grebe in Lancashire at Bantons Lake, was last seen there this week on 30th.
<!—Section Title -->
Had the bird's identity only been confirmed, the probable Solitary Sandpiper seen for half an hour before flying off this week at Cot Valley (Cornwall) on 2nd would, of course, have ascended to the headlines in short order. One, for now, for Cornish birders to keep an eye out for in Penwith.
More concrete news continued to emanate from Ayrshire, where the Spotted Sandpiper continued to sit tight at Culzean Bay on 1st-2nd.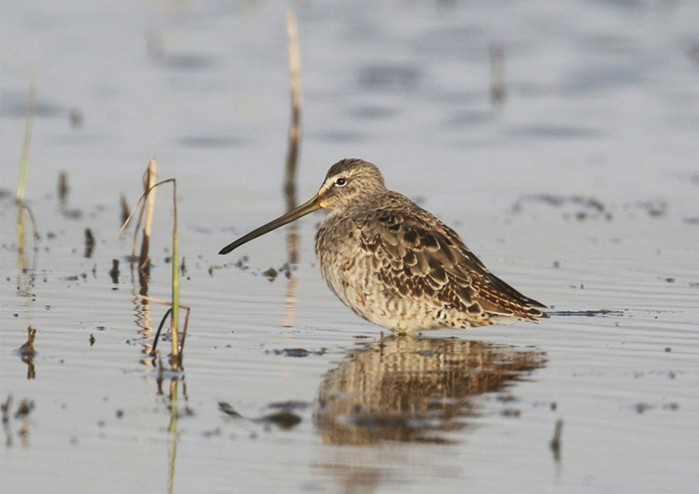 Back in the southwest, the Lesser Yellowlegs was still happily settled at Aveton Gifford (Devon) until 5th, while its Irish wintering counterpart remained at Killongford Pools (Co.Waterford) until 5th also.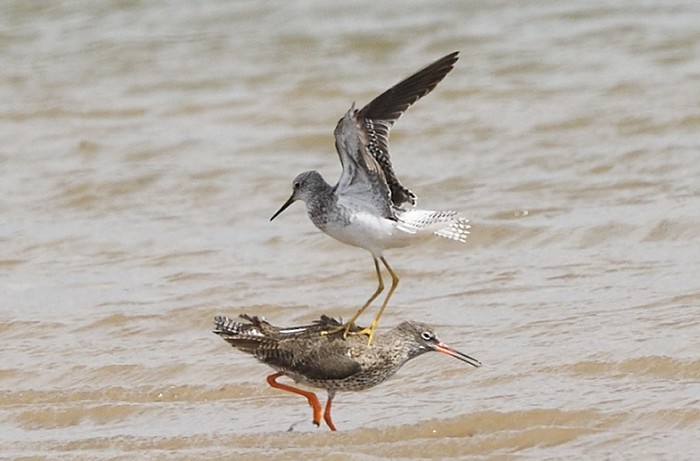 Also in Ireland, one of the recent Long-billed Dowitchers lingered at Tacumshin (Co.Wexford) on 31st-4th, while the North Yorkshire bird was again seen at Scorton GPs on 31st.
Finally, a Grey Phalarope was seen from Hegistbury Head (Dorset) on 31st.
Again heading the pack this week, the first-winter American Herring Gull stayed a constant delight in Cornwall at Newlyn harbour on 30th-5th, and proved enticing for a number of Northern Mockingbird pilgrims.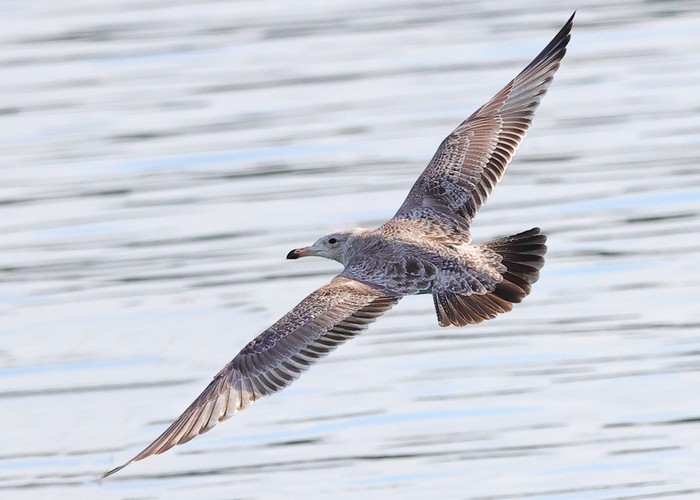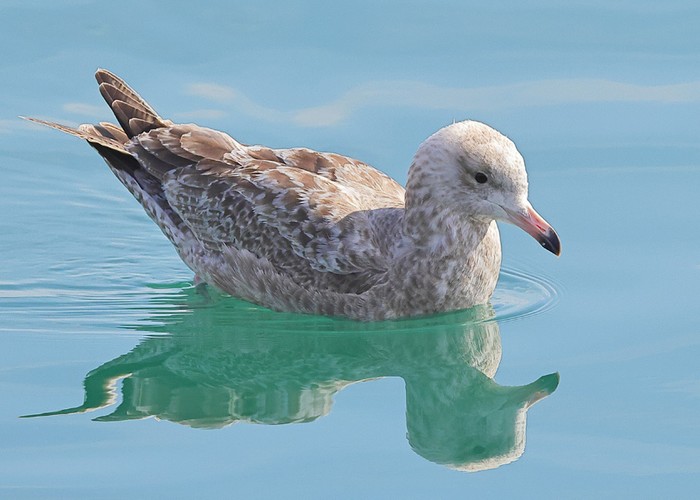 Not a million miles from Newlyn, an adult Kumlien's Gull was enticed by agricultural activity to linger in fields at Sancreed (Cornwall) on 1st-2nd, and had relocated to Drift reservoir on 4th. The regular second-winter individual in Cambridgeshire appeared again at Smithy Fen on 31st and 5th; while the adult was again present at Blennerville (Co.Kerry) on 5th.
Numbers of white-wingers picked up a little, perhaps as much a reflection of increased observer coverage over the Easter period as any genuine surge. Some 35 Glaucous Gulls and 85 Iceland Gulls were logged over the course of the week, with the only notable single site counts being quartets of the latter species noted on North Uist (Western Isles) on 31st and from Scrabster harbour (Highland) again on 2nd-5th.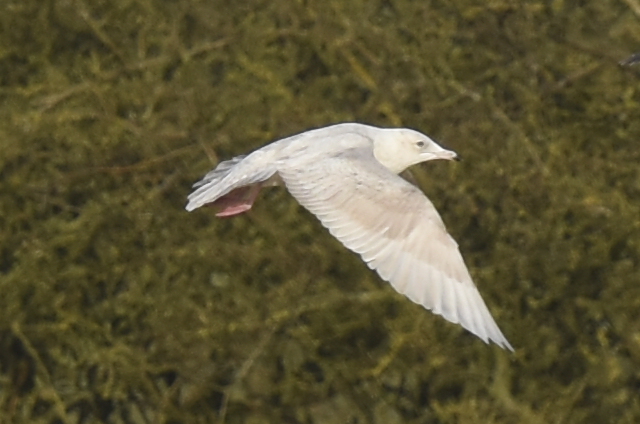 An adult Sabine's Gull provided variety this week, seen from Splash Point (East Sussex) on 1st.
Returning to Nearctic species, Bonaparte's Gulls were noted in Gloucestershire again at Frampton Pools on 30th-5th (and nearby Slimbridge WWT on 1st); at Ballyfrench Bay (Co.Down) on 30th; and in Co.Wexford where, at Cahore Marsh, one was found on 31st-1st.
Bonaparte's Gull, busy doing nothing this morning on the jetty at Frampton Sailing Lake, best viewed from the footpath that goes up the lane past the Sailing Club. #GlosBirds pic.twitter.com/FjSdK9ZIYE

— Mike King???? (@GlosterBirder) April 5, 2021
Ring-billed Gulls became a scarcer commodity in recent days – just four birds were reported, at Enniskillen (Co.Fermanagh) again on 31st, in Wexford harbour (Co.Wexford) on 31st also and, on 4th-5th, at Tralee Bay Wetlands Centre (Co.Kerry) again – the latter sighting being supplanted by both recent birds at nearby Blennerville again on 5th.
It's been far from a classic winter for Rough-legged Buzzards, with the species only reported sporadically. A juvenile brightened up this week in Suffolk at Sudbourne Marshes (Suffolk) on 1st-3rd.
Spring felt like it was beginning to fire on all cylinders for a brief window in the first half of the week, and perhaps nowhere more so than on Scilly, which enjoyed the best of a small arrival of scarce wagtails – best of which was the male Ashy-headed Wagtail present on St Mary's on 1st-2nd, the identification confirmed by sound-recordings. A probable individual flew inland at Nanjizal (Cornwall) on 3rd.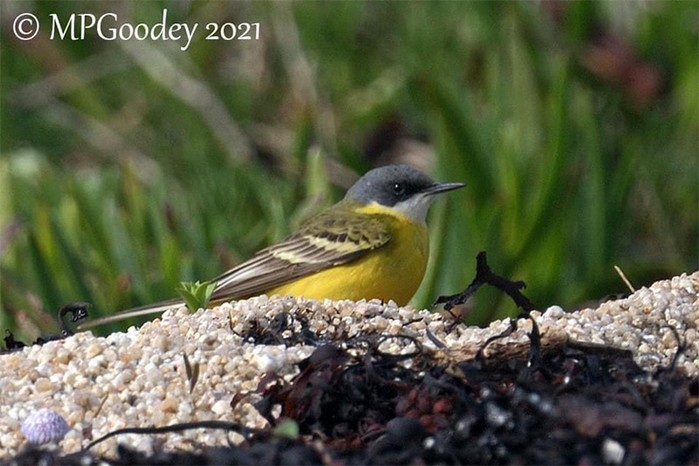 Two Blue-headed Wagtails were also present on St Mary's on 2nd, with one still present on 3rd. Further birds were logged on St Martin's and St Agnes on 2nd, with two birds noted on the latter island. At the other extremity of the English south coast, two birds were present in Kent at Worth Marsh on 2nd-3rd, with three birds present there on 4th, and another in the county at Dungeness on 3rd-5th. A possible Eastern Yellow Wagtail passed over Longhoughton Steel (Northumberland) on 31st, while the possible bird was again seen at Frodsham Marsh (Cheshire) on 5th.
Nor were these funky wagtail arrivals the only spring colour on offer. A baker's dozen Hoopoes were seen this week, including one well inland at Knowl Wall (Staffordshire) on 31st; the remainder were further south, with records spread between Scilly and Hampshire, with the exception of a westerly outlier in Ireland at Hook Head (Co.Wexford) on 3rd.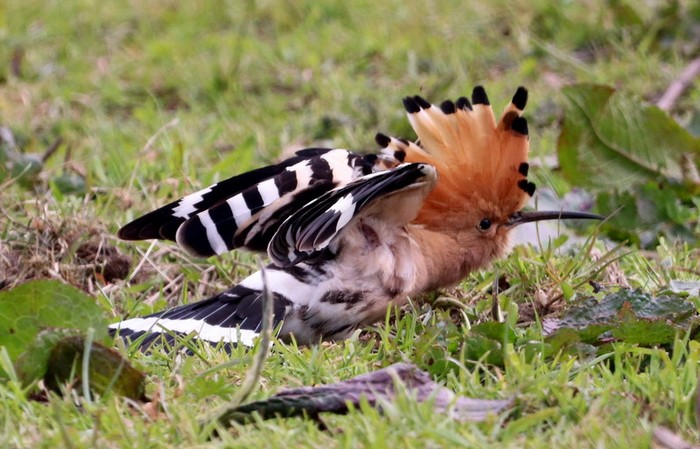 A scatter of Red-rumped Swallows broadly mirrored that arrival, with individuals found on 1st in Co.Wexford at Cahore Marsh; in Dorset on 2nd on Portland and, on 3rd, at Radipole Lake RSPB; on 3rd-4th in East Sussex at West Rise Marsh; and on 4th at Dungeness (Kent) and St Aldhelm's Head (Dorset).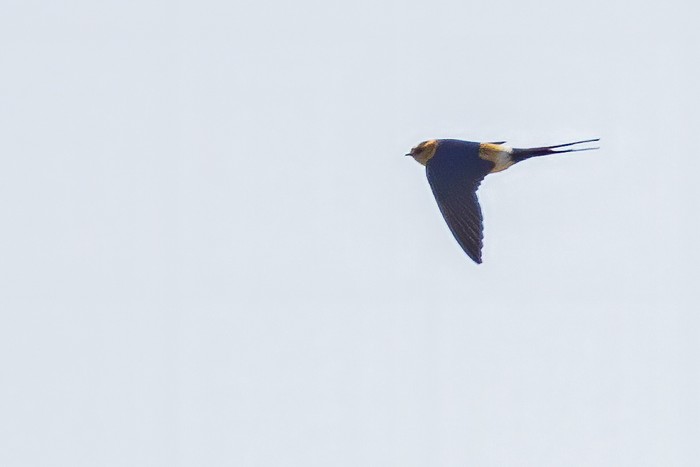 East Sussex supplied a Richard's Pipit at Sidlesham Ferry on 31st.
The first Wrynecks of the spring checked in, with birds found at Thurlestone (Devon) on 31st, in Cornwall at Pendeen and Portheras Cove on 2nd, and on 3rd on St Mary's (Scilly) and in Hampshire at Fishlake Meadows HIWWT.
As anticipated, there were more sightings of Alpine Swift this week, with a probable bird in Suffolk between Thorpeness and Sizewell on 31st followed by a spate of records in Pembrokeshire – a bird was noted from Skokholm on 1st at 1pm followed closely by a sighting on Skomer ten minutes later – the latter, larger island holding the bird until early evening; while on 2nd, the bird had moved to the mainland, being seen in the morning at Wooltack Point. Another sighting came in the afternoon, some distance away in the county, near Castlemartin. As the week came to a close, a final bird was found in Devon in the late morning of 5th at Torcross.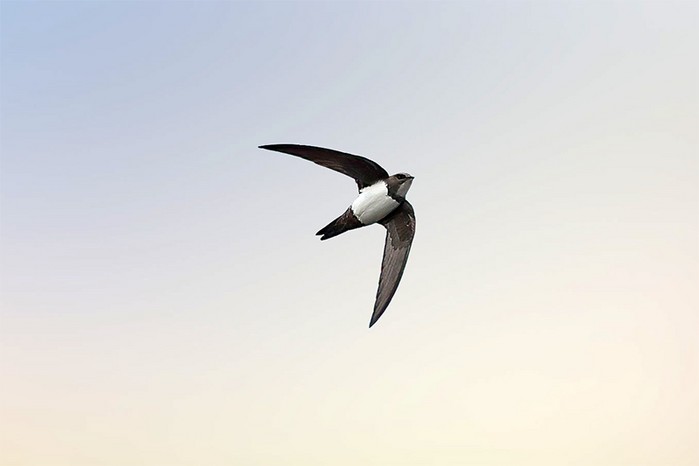 In Somerset, the three recent Penduline Tits were seen on 30th-2nd at Weston Airfield, with at least two of them still present there on 3rd, and one on 4th-5th.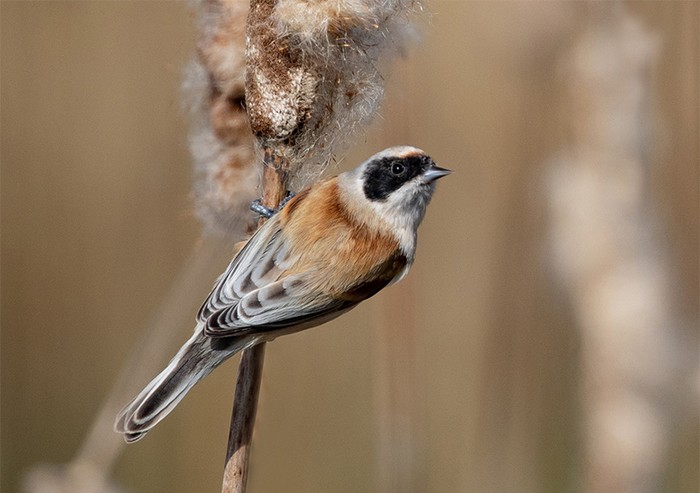 Further gilding the southern arrival lily, the best of the week's warblers was emphatically the male Western Subalpine Warbler found on The Lizard (Cornwall) at Soapy Cove on 5th – the first of hopefully many more over the course of the weeks to come.
Wintering Yellow-browed Warblers remained at Watermead Lake (Buckinghamshire) on 30th-4th; in West Sussex at Patching sewage works on 30th-5th; and in an Exwick (Devon) garden again on 3rd.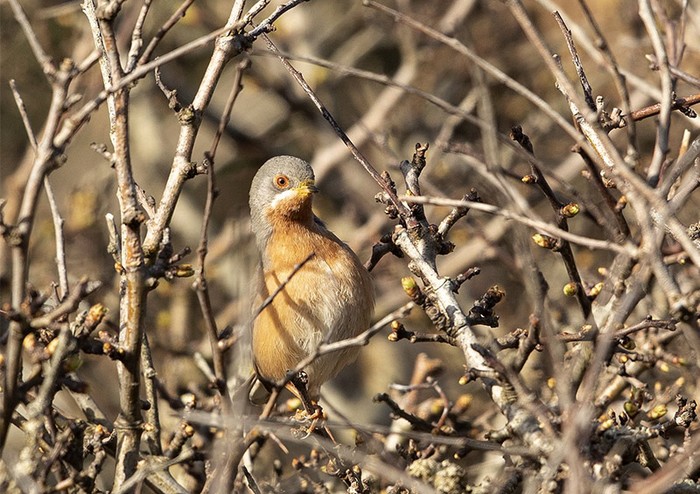 Two of wintering Dusky Warblers were also hanging on for another week – these being the regularly reported individual still present at Ainsdale NNR (Merseyside) on 30th, and the Nunnery Lakes NR (Norfolk) bird again on 2nd-3rd.
A handful of Great Grey Shrikes were reported this week, with some familiar faces cropping up again amongst their number. One was seen in Shropshire at Brown Clee Hill on 30th-4th; the Crabtree Hill (Gloucestershire) bird was present still on 30th-5th; in Carmarthenshire, the Brechfa Forest individual was again seen on 31st-2nd; the recent bird remained at Capel St Mary (Suffolk) on 3rd-5th; one lingered in Derbyshire near Cromford still on 3rd-5th; and the Woolmer Forest bird was still present in Hampshire on 4th-5th followed, on 5th, by further sightings at Withybed Bottom and Harvest Slade Bottom. On 5th the Usk reservoir (Carmarthenshire/Powys) bird was again seen.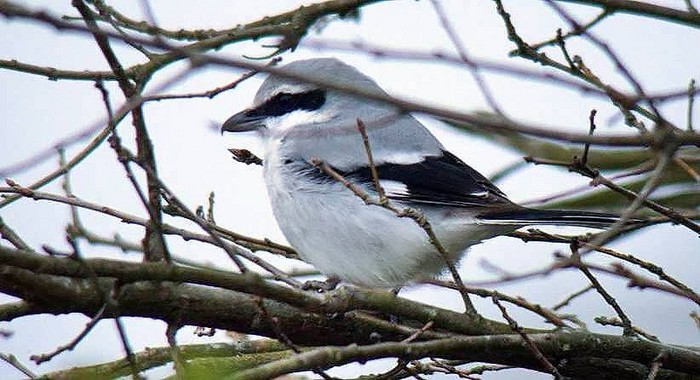 A possible Short-toed Lark was seen on St Mary's (Scilly) on 4th.
In Kent, a Serin flew over Swanscombe Marshes on 2nd; another was seen in Cornwall at Trevilley on 4th.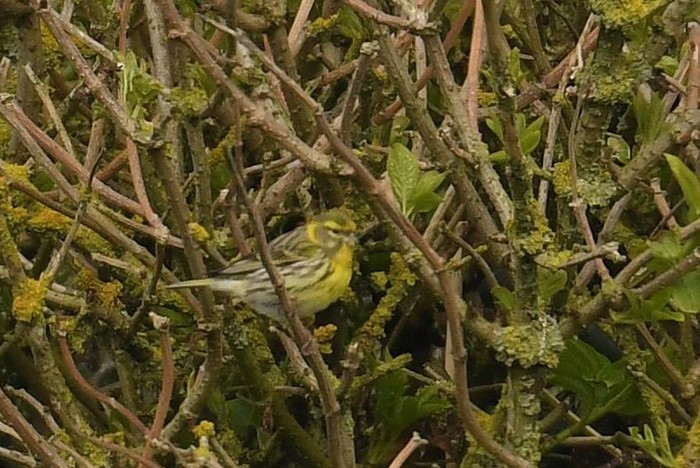 After a stay that's extended to four months, it seems like the male Rustic Bunting at Thursley Common NNR (surrey) may have finally moved on this week, as he was last reported from there on 29th – all is not completely lost, however, as both his companion Little Buntings are, for the time being, still present there, being seen this week until 5th.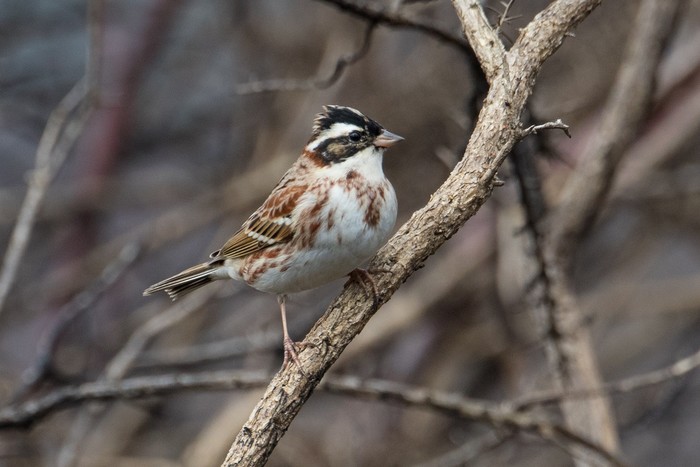 Additional Little Buntings this week were birds in song again at Langford Lowfields RSPB (Nottinghamshire) on 30th-5th, and Warnham LNR (West Sussex) still on 31st-5th; and new single birds at West Acre (Norfolk) on 1st, and Trevilley (Cornwall) on 30th-3rd, the latter bird having been present for a little over a week at Trevilley by the time news of it broke. A further bird was trapped and ringed at an undisclosed site in Worcestershire on 4th.
Continuing to prove a crowd-pleaser, the recently arrived Walrus seemed settled this week on the lifeboat slip at Tenby (Pembrokeshire), remaining there on 30th-4th, and now very much enjoying local celebrity status.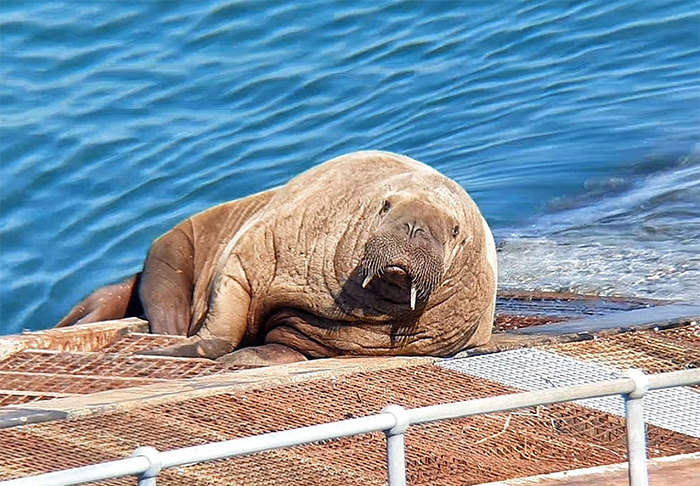 While the coming cold snap might be to the liking of a wayward Walrus, it may be less welcome for Large Tortoiseshells newly emerged from hibernation. More sightings of single insects came in the past week from Steps Hill (Buckinghamshire) on 30th-31st, Landguard NR (Suffolk) on 1st, and in Poole (Dorset) on 4th; with an additional probable individual seen in West Sussex at Shoreham on 1st.
Quieter times in the past week for overseas news than of late, which isn't to say there weren't still some birds that continue to register on British birders' radars as potential vagrant species one of these fortunate days…
Kicking off our daydreams, Denmark scored a Black-winged Kite again on 30th, seen on Zealand at Parkeerplaats Noord; and the Sandhill Crane was again seen on 2nd at Dokkedal.
Remaining in the realms of pleasant fantasy, in Germany the Pygmy Cormorant was still present this week at Dubbelausee on 30th-2nd.
Belgium held onto two species we're not completely unfamiliar with, on a good day – the meena Western Rufous Turtle Dove was still present at Heist on 30th-31st, while the female Baikal Teal was lingering at Wechelderzande on 31st-4th.
Italy also landed a Western Rufous Turtle Dove at Porcia on 31st.
An adult Black-browed Albatross was seen at sea off the French coast between Sept-Iles and Perros-Guirec on 1st. Will we be treated to more sightings off the English east coast this summer?
In Iceland, the wintering Slate-coloured Junco was again seen near Heidmork on 1st.
Finally, further afield still, a male Caspian Plover was found on 2nd in Turkey at Manavgat.
Given half a chance, the second week of April starts to feature all manner of lovely things – double figure tallies of historic Little Bitterns, Red-rumped Swallows, Subalpine Warbler sp…
It's easy to picture a warm, spring day, the sort of balmy birding conditions that might see you out and about in a t-shirt, scoring some nice southerly overshooting scarce or rare. But this week isn't going to be that week, or at least, not for long.
At the time of writing, it looks like we might get a brief window, midweek, when the wind coming into southern Britain and Ireland could loop over the Bay of Biscay from southern France, but other than that… it's looking like northerlies or north-westerlies for the week to come. Not promising conditions, it has to be said.
If there's hope to be found in there, or at least a decent bird, it seems like a good week to pay attention to gulls. No shrinking violets, they're always good value in a spell of grim weather at this point in the year. The coming week sees 14 past records of Bonaparte's Gull, half a dozen Laughing Gulls, four American Herring Gulls and three Franklin's Gulls. Any of those would represent a solid self-found bird…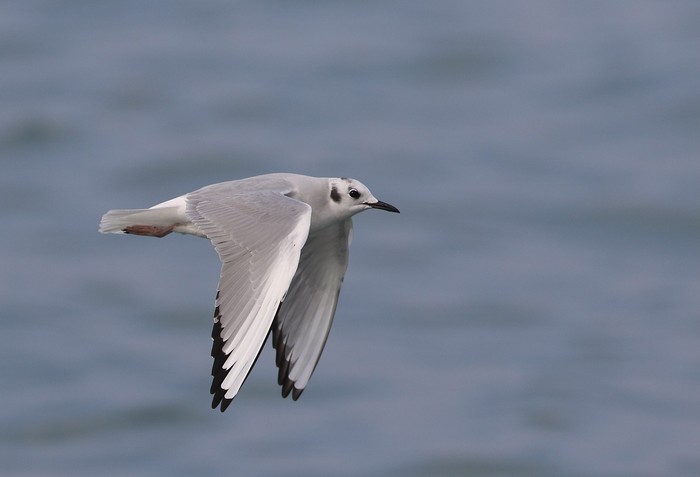 Jon Dunn
6 April 2021
Many thanks to all this week's contributors for your photos and videos
Share this story
Tweet