Weekly birding round-up: 5 - 11 Jan 2021
The week at a glance
A Kent garden is graced by the county's first White-throated Sparrow
And in Co.Cork the Belted Kingfisher sees in the New Year
It goes without saying that, with most of the country firmly locked down once more, our birding activity is now sensibly confined to local limits. Which absolutely doesn't mean that scarce and rare birds aren't still out there, close to birders' homes, just waiting to be logged or found anew. The past week proved to be a case in point…
White-throated Sparrow
The new year was barely a few days old before we got wind of our first new passerine rarity of 2021 – Kent's first ever White-throated Sparrow, visiting Emily Holbrook's garden at the edge of the Orlestone Forest NR, a little way outside of Ashford. News broke to the wider world on 10th, the bird having been present in the garden for several days beforehand, with some suggesting it may have been there since late December.
These smart Nearctic sparrows turn up with pleasing regularity, and we're approaching the half century with 48 British records to the end of 2018 alone. There's a distinct northerly bias to records, with southern English counties – for the most part – getting the crumbs from the table – Scilly, Cornwall, Somerset and Sussex all boasting one past record apiece. The exception to that rule is Hampshire, which to date has four accepted records, thought to relate to three birds, on the books - which, given the amount of transatlantic shipping that puts into Southampton, may not be entirely coincidental.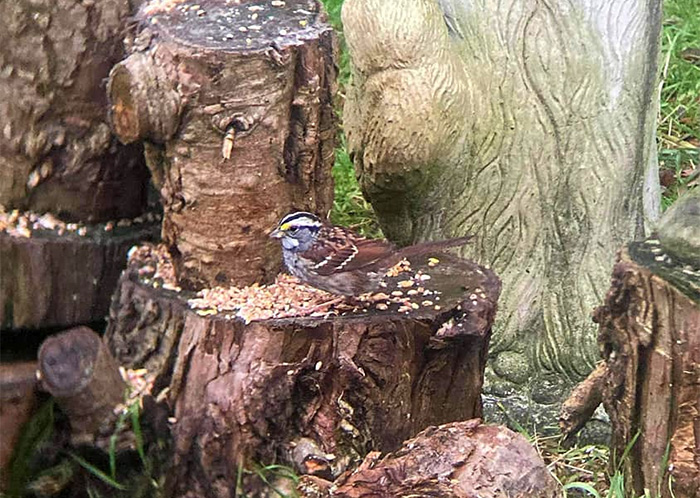 (We only need look to 2019, where one turned up in Southampton on board the MV Arcadia on 10th October, followed in quick succession on 31st October by one reported 'near Southampton' and, for good measure that day, two more reported off the Cornish coast on board the Queen Mary liner Southampton-bound from New York…)
While most British birds tend to be found in late spring and early summer, with May and June being our peak months for them, four post-1950 birds owe their discovery to December or January – birds found in Co.Antrim on 1st December 1984, Willingham (Lincolnshire) on 5th December 1992, Helsby (Cheshire) on 14th December 2008, and Churchstanton (Somerset) on 23rd January 2013. All four of those went on to be long-stayers – the Somerset bird departing earliest, on 3rd March.
Under the current circumstances, Kent birders will have to be patient if they're to hope to add this one to their county lists – but at least precedence suggests this bird will hang around, especially as it's clearly found a well-stocked feeding station in Emily's garden – though it wasn't seen there on 11th, and for now, it's worth putting on the record that it was in an area of the garden where it wasn't visible to the public anyway.
Meanwhile, it's potentially the rarest bird that's going to be recorded later this month in the RSPB's Big Garden Birdwatch.
Belted Kingfisher
A further fillip of good news came from Co.Cork this week, where the Belted Kingfisher at Dunboy was still happily settled there on 5th. That now has all the hallmarks of a bird that's there for the long-haul.
Shetland's wintering White-billed Diver contingent continued to be seen, intermittently, off Mainland and Unst this week – two were again noted in the regular site of South Nesting Bay on 5th, with at least one still present there on 7th; and one was again seen from Unst, off Skaw on 6th. A bird was reported way to 0the south, off Wyke Regis (Dorset) on 10th.
Little Auks demonstrated a strongly northern bias, with three Scottish individuals logged in recent days – one at Merkinch LNR (Highland) on 6th and, on 9th, single birds seen in Dunnet Bay (Highland) and off Lossiemouth (Moray).
Cornwall's Falmouth provided the week's only Pomarine Skua sightings, of a single bird on 5th and 8th.
Lingering Glossy Ibises were still available to be seen by their local admirers this week, not least in Cambridgeshire, where one was still settled at Chesterton Fen on 5th-7th; two were still present at Fen Drayton Lakes RSPB on 9th-10th; one more sighting came on 8th from Milton CP; the recent trio remained at Earith Bridge on 10th; and another single bird was seen at Somersham on 10th.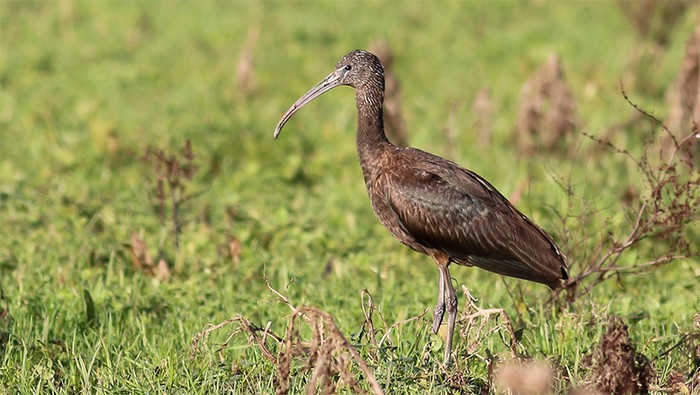 Other settled birds continued to be seen nationwide – one was still present at Alrewas (Staffordshire) on 5th; the recent Haysden Lake bird was still present there in Kent on 5th-10th; the settled Poole Harbour (Dorset) bird was regularly seen at Stanpit Marsh and Hengistbury Head on 5th-11th; and, on the Isle of Wight, one was present still at Brading Marsh RSPB on 6th.
Further English sightings came in the form of a brief bird at Northwick Lido (Worcestershire) on 7th, and a bird seen over Martham Broad (Norfolk) on 9th. Ireland's only bird was an individual at Garryvoe (Co.Cork) on 5th.
Our weekly date with the honkers and quackers starts in Highland where, on 5th, the possible adult Grey-bellied Brant was once again seen at Wester Dalziel.
The south of England, meanwhile, held the lion's share of the week's Black Brants - starting in Devon, sightings came from Exmouth on 6th and Topsham on 9th; one was seen in Hampshire at Tipner Lake on 5th; and Kent scored a bird at Hoo on 7th. Two probable birds were seen in Essex at Paglesham Lagoons on 10th. To the north, in East Yorkshire the recent bird was once more seen at Kilnsea on 7th-10th; and in Ireland, one was once more seen at Blackrock (Co.Dublin) on 10th-11th.
Three Snow Geese were seen with Pink-footed Geese at Burnham Overy Dunes (Norfolk) on 10th.
Moving onto the quackers, in Highland the resident drake Black Duck checked in for another year at Strontian on 5th.
In Northumberland, the drake American Wigeon was once more seen at Big Waters NR on 5th-11th; sightings of a drake from Co.Galway came from Kiltiernan Turlough on 3rd-8th, and Kilcolgan on 9th. A further possible drake was photographed in Brand's Bay (Dorset) on 11th.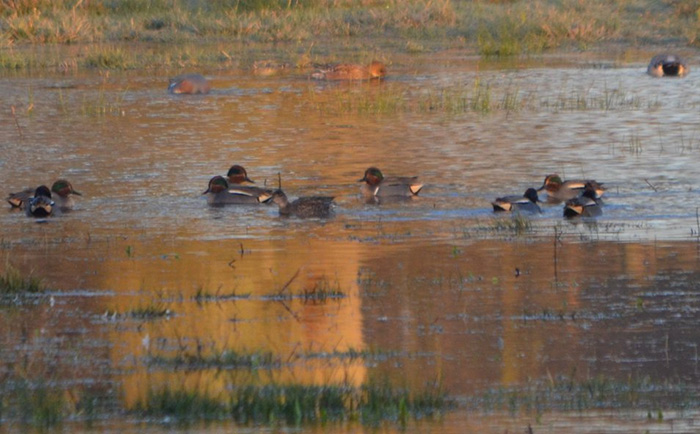 Orkney remained the British locus for Green-winged Teals, with birds once again seen on Sanday on 7th, North Ronaldsay on 8th-11th, and on Mainland at Point of Grimsetter on 10th and at Toab on 11th. At the opposite end of the country, one remained in Devon at Matford Marsh RSPB on 6th-7th. Two Irish birds were logged - at Blennerville (Co.Kerry) on 5th-11th and Tacumshin (Co.Wexford) on 10th.
Ring-necked Ducks remained numerous for another week, with some 30 birds recorded nationwide and, amongst them, several sites enjoying multiple birds. The largest aggregation was in Carmarthenshire where, at Talley Lakes on 5th, four birds were seen; elsewhere, trios were noted on Tiree (Argyll & Bute) on 6th and at Witney (Oxfordshire) on 9th-10th; and duos at Siblyback Lake (Cornwall) still on 5th-11th, Lough Gara (Co.Sligo) again on 6th, and at Monalty Lough (Co.Monaghan) on 8th-9th.
Rarer fare was still available in Ireland – the first-winter drake Lesser Scaup remained at Knockaderry reservoir (Co.Waterford) on 6th.
Hampshire, meanwhile, still offered the regular drake Ferruginous Duck at Blashford Lakes on 5th.
Back to Scotland now to kick off the seaducks, where in Moray the drake King Eider was still present at Burghead Bay on 5th; a first-winter drake was seen in Ireland at Castlegregory (Co.Kerry) on 9th-10th.
The honours were fairly spread where Surf Scoters were concerned, with a wide scatter of records nationally. Starting in Scotland, one was seen from Embo (Highland) on 5th and nearby Dornoch on 10th-11th; while the drake remained in Orkney off Kirkwall on 6th, and two birds remained off the regular site at Musselburgh on 6th-8th still with one again off there on 10th. In Wales, two were seen in the north from Llanddulas (Conwy) on 5th, with one again off there on 9th; while a drake was off Rhossili (Glamorgan) in the south on 9th also. Ireland, meanwhile, lay claim to a drake off Balbriggan (Co.Dublin) on 7th; and three birds from Laytown (Co.Meath) on 8th still, with two remaining there the following day.
Almost making it to the headlines this week, a probable drake Black Scoter was seen at Hoylake (Cheshire) on 9th.
We finish with the week's dandiest of ducks – the dapper drake Bufflehead, still present at Quiole Pondage (Co.Down) on 7th-8th, his residency extending to just over a month now since he was first found there on 5th December last year.
<!—Section Title -->
The first full week of the new year didn't feature any of the mega waders that have graced the news in the past month or so, but that's not to say there weren't still some quality birds to enliven the news in recent days – not least a trio of rare plovers.
Heading north to south, we begin up in Moray where, at Findhorn Bay on 6th-8th, the settled Pacific Golden Plover was still grimly seeing out the Scottish winter.
Barely any way south, on South Uist (Western Isles), the American Golden Plover seen intermittently in the closing days of December and the start of January was again seen there on 9th.
Much further south, in Somerset, the returning adult Kentish Plover was once more found on the beach at Burnham-on-Sea on 5th.
In northern England, Long-billed Dowitchers were again seen this week in Cumbria at Anthorn on 6th and 10th, and in North Yorkshire at Scorton GPs on 6th also.
Highlight this pm was picking up the Long-billed Dowicher on call as it came in with Lapwings at Scorton Pits, N Yorks also 2 Cattle Egrets here. On to Bolton on Swale reserve & 31 Little Egrets, 1 Cattle Egret and 88 Cormorants made for an impressive roost & some hot dots! pic.twitter.com/gPOctoo0Yp

— Dan Brown (@DanBrownNature) January 6, 2021
Three of our wintering contingent of Lesser Yellowlegs remained on offer for their local admirers – these being the individuals at Aveton Gifford (Devon) on 5th-10th; at Nosterfield NR (North Yorkshire) again on 9th-10th; and the bird still present in Ireland at Killongford Pools (Co.Waterford) on 5th-11th.
After a flurry of sightings in the proceeding fortnight, Grey Phalaropes calmed down to a more typical midwinter showing – just two were seen this week, one at Kinloss (Moray) on 8th, and the other at Dornoch (Highland) on 10th.
Pick of the week's gulls were Ring-billed Gulls, once again ascending into double figures in recent days. English sightings came from Hayle Estuary RSPB (Cornwall) still on 5th-10th, with two birds present on the latter date – a site remembered fondly by many a British birder of a certain age, I'm sure, for providing their first Ring-billed Gull back in the day – with another bird reported from Blashford Lakes (Hampshire) on 5th again. In Scotland, the adult bird was once more seen in Strathclyde CP (Clyde) on 5th; and in Wales, an adult was again seen at Llys-y-Fran reservoir (Pembrokeshire) on 10th.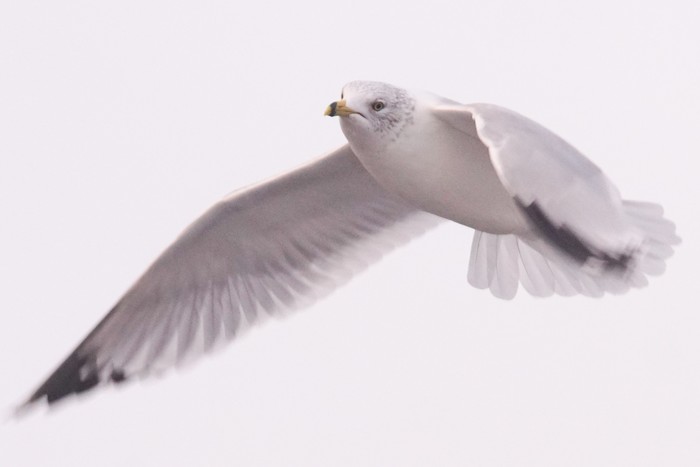 Ireland, as we'd expect, enjoyed a slew of records – birds remained at Bray harbour (Co.Wicklow) on 5th, Tralee Bay Wetlands Centre (Co.Kerry) on 6th with two birds there on 11th, and Nimmo's Pier (Co.Galway) on 9th; while an adult and a first-winter in Limerick (Co.Limerick) on 6th were followed by two adults there the following day. On 11th the Belfast waterworks bird was again seen in Co.Antrim.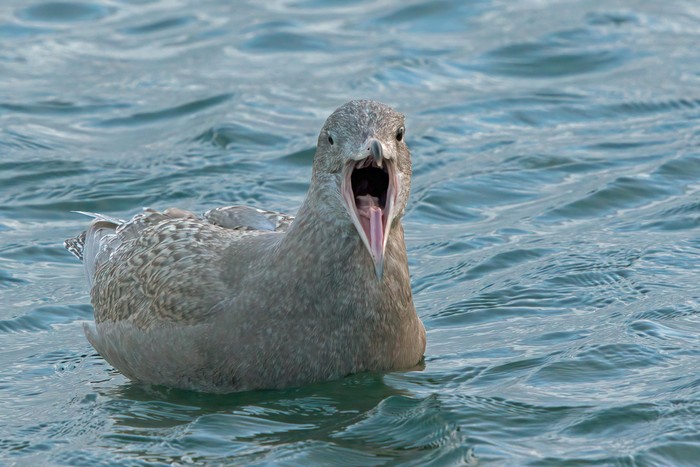 White-wingers remained a thing in recent days, with decent numbers of both Glaucous and Iceland Gulls again logged – some 40 individuals of the former species, and around 60 of the latter. Single site peak counts of either species failed to pass three birds – Orkney took the laurels with four Glaucous Gulls on Papa Westray on 10th, while in Shetland, Fair Isle scored three on 5th, and Foula and Unst landed three apiece on 6th; and five Iceland Gulls were noted in Scrabster harbour (Highland) on 10th.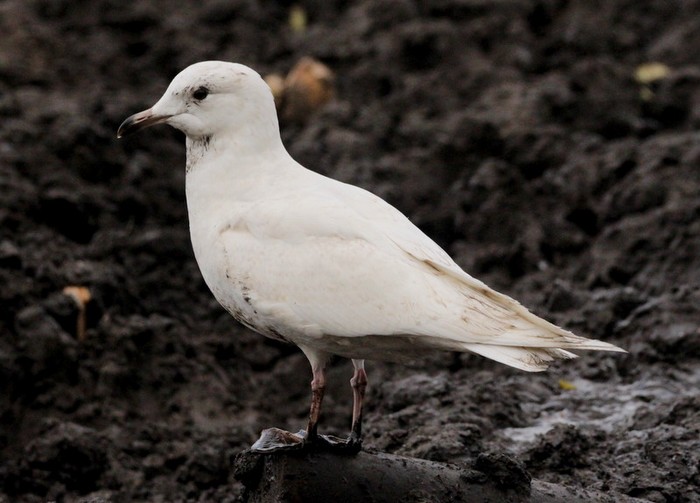 Kumlien's Gulls meanwhile were limited to a third-winter bird in Doncaster (South Yorkshire) at Lakeside on 7th, and the probable juvenile bird still present on the Ogmore estuary (Glamorgan) until 8th.
For a while it looked like our sole Rough-legged Buzzard this week was to be one reported over Edenfield (Lancashire) on 5th. That changed with news that the recent Orford Ness (Suffolk) juvenile was still present there on 9th while, on 10th, another bird was seen in Kent over Sittingbourne.
We closed last week's Round Up with an exhortation to birders to go find some new Yellow-browed Warblers and, sure enough, you obliged – birds came out of the woodwork in a Portsmouth (Hampshire) garden on 8th-10th; in Kent in Sittingbourne on 6th-8th; on Tresco (Scilly) on 7th; and in an Askern (South Yorkshire) garden on 9th.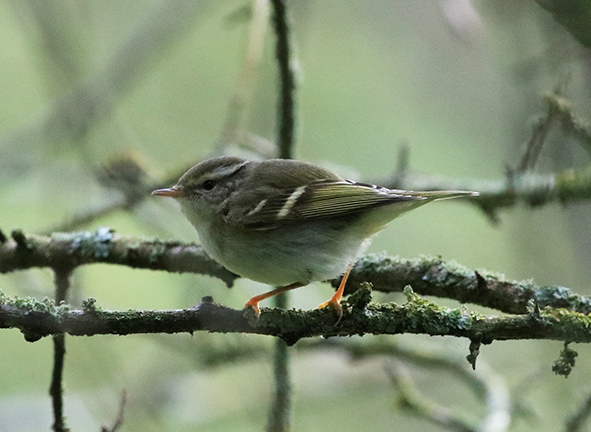 London's wintering birds remained at Beddington sewage farm on 5th and Tottenham Marshes on 6th-9th. In Surrey, the individual remained at Molesey Heath on 5th-11th. Buckinghamshire's bird was still to be seen at Watermead Lake on 6th. In Cornwall, birds remained at Helston on 7th and Hayle on 9th. A final bird was seen again at Bidston Hill (Wirral) on 9th.
Yet another new Dusky Warbler popped up this week – found at Nunnery Lakes NR (Norfolk) on 9th. Settled individuals remained at Ainsdale NNR (Merseyside) on 7th-11th still, and at Minster Marshes (Kent) on 9th.
A handful of Great Grey Shrikes were logged in recent days – individuals at Pentrosta Mire NR (Pembrokeshire) on 6th; Thursley Common NNR (Surrey) on 8th-9th; on Ocknell Plain (Hampshire) on 9th; still at Backwater reservoir (Angus) on 10th; and in Hampshire at Bransbury Common on 10th.
Our Waxwings lately had the decency to feature some modest flocks – 18 birds seen on 9th-10th in Dunfermline (Fife); on 10th a dozen were seen in Highland at Mains of Garten, and a single bird was nearby at Boat of Garten; also on 10th two were reported from Glasgow (Clyde) and two were reported from a Carlingford (Co.Louth) garden. The week ended with eight birds over Washington WWT (Co.Durham) on 11th, three still at Boat of Garten, and two over Arminghall (Norfolk).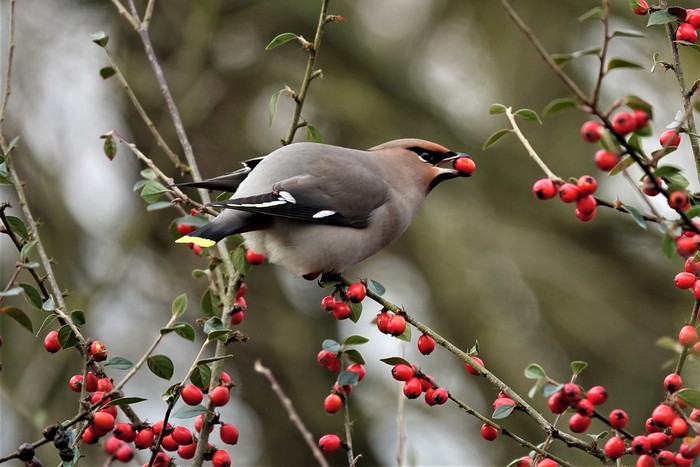 In Northumberland, the Eastern Yellow Wagtail was still to be seen at Prestwick Carr on 5th-10th.
In Norfolk, the Eastern Black Redstart was still present at Snettisham RSPB on 10th.
Down in Cornwall, a Richard's Pipit was found on The Lizard at Mullion on 7th-9th; the Halstow Marshes (Kent) bird was again seen there on 10th.
Both of our settled Rose-coloured Starlings remained reliable daily birds at Amlwch (Anglesey) until 11th and on Portland (Dorset) until 11th also.
We finish the passerines in Surrey, where the Rustic Bunting and the pair of Little Buntings remained around Thursley Common NNR on 5th-11th – a daily presence in the news interrupted only by Unst (Shetland) stalwart Brydon Thomason's sightings of the wintering Little Bunting at Baltasound on 5th-8th – a decent reward for perseverance making the world's smallest and wettest snowman…
Crazy! Turn volume up and listen for the 'tic' call... With little but a few corners of last night snow remaining, making a wee snowman with the bairns, and the wintering Little Bunting pops in! pic.twitter.com/qIcyFrROpY

— Brydon Thomason (@shetlandnature) January 8, 2021
I'm not sure we've ever kicked off our further afield bird news in Poland but, this week, that's exactly what we're going to do – as, in recent days, the country's roster of rarities sported two mouth-watering birds – the lingering Azure Tit still present in its favoured garden at Michalowice-Wies on 5th-8th; and a Baikal Teal found at Jamnik Ponds on 9th-11th. If accepted, the latter would be a national first.
Male Baikal Teal, Anas formosa photographed at Barycz Valley, Jamnik Ponds, photo by Adam Kuznia - the 1st record for Poland if accepted as wild pic.twitter.com/n7Ab2wsI6R

— Tarsiger (@TarsigerTeam) January 9, 2021
Austria, meanwhile, gave us a glimpse of what, one day, might just happen in Britain – a wintering Siberian Rubythroat in a garden at Bernhardsthal on 8th-10th. A male Pine Bunting added further lustre, seen at Teichgraben on 9th-10th.
In Germany, the settled Pygmy Cormorant remained at Dubbelausee on 7th-9th; and the first-winter female White-headed Duck remained at Ausgleichsweiher on 7th-10th.
Holland's Brunnich's Guillemot remained on Zealand at Vrouwenpolder on 5th-10th.
In Sweden an Eastern Yellow Wagtail was still to be found at Trelleborg on 5th; Denmark's Stejneger's Scoter remained on Sjælland at Hove Strand on 9th; and three Pine Buntings were found in Norway at Ganndal on 11th.
Moving further afield for the balance of our weekly news, in Iceland a White-winged Scoter was seen off Reykjavik on 6th-9th; a sibiricus Siberian Northern Grey Shrike was seen in Minsk (Belarus) on 9th; the Bataleur was again seen in Israel at Gal On on 8th; and in the Azores, two Double-crested Cormorants on Faial on 9th were a timely reminder to us all to give the local Great Cormorants a second glance…
The Canary Islands also gave us a wishful heads-up, with an Allen's Gallinule on Tenerife on 11th. Could one ever make it to a warm, British or Irish wetland without exhausting itself beyond recovery in the process?
Finally, keeping it far afield but closing the week's news in some style, Turkey's first and the Western Palearctic's fourth Streak-throated Swallow was found at Milleyha on 11th.
Streak-throated Swallow, Petrochelidon fluvicola photographed at Milleyha, Hatay, photo by Orhan Gül - the 1st record for Turkey and 4th for Western Palearctic pic.twitter.com/QBch1uMGer

— Tarsiger (@TarsigerTeam) January 11, 2021
Making a return while lockdown continues is our occasional repository of other bits'n'pieces of general interest. It's a bit like that drawer in the kitchen you shove all the interesting and useful things that'll come in handy one day, honest. Old envelopes to use for shopping lists, random batteries, those elastic bands that supermarkets insist on lashing spring onions together with…
Also making a return this week is the Birders Pub Quiz, the always entertaining brainchild of my erstwhile Round Up writer, Mark Golley, and fellow Norfolk regulars Ashley Saunders and Nick Acheson. Starting this evening (Tuesday 12th at 7:45pm), you'll find all you need to know about how to join in on Mark's Twitter feed, @vaasetter. This week featuring special guest Yolobirder…
Such larks need balancing with something a little more serious. In terms of wanton destruction of ancient woodlands and other pockets of remaining decent habitat left in England, little is more pressingly serious than the ongoing HS2 project. While Chris Packham's Parliament petition to challenge the legislation behind HS2 has sailed past, in recent days, the 100,000 signatories required to get Parliament to consider it for debate, the petition remains live until 17th June 2021. Please consider taking a moment to add your name to it – the more signatories, the clearer public sentiment may be for MPs who're insensitive to such fluffy, 'newt-bothering' matters.
Which may seem a trifle harsh, but given this is written in the same week that the British government has sanctioned the use of neonicotinoid pesticides by British sugar beet growers, following intense lobbying pressure by the National Farmers Union, I think we can be forgiven for assuming this government is out of touch with those of us who care about little things like biodiversity, the provision of public goods, public health…
Professor Dave Goulson has written a clear and unequivocal piece that explores the issues without – pun intended – sugaring the pill. It's worth a read.
The coming week, perhaps surprisingly given the time of year, features some glittering historic rarities that at least allow us some wistful, misty-eyed reminiscence if not much precedent for what might be found in the week to come. Who could forget the Chinese Pond Heron found in Kent on 17th January 2014, or the elegant Snowy Egret that wandered around Argyll & Bute and Ayrshire in the winter period of 2001/02, and turned up on Arran on 13th January 2002?
Britain's second and first records of their respective kinds… The week also features the discovery of Britain's second Canvasback, at Wissington Beet Factory (Norfolk) on 18th January 1997, hot on the heels of Britain's first in Kent in December 1996. That was the start of an intense flurry of records that left us with seven on the books by the end of 2002 and, after that, nothing…
While the recent cold snap may have done for any delicate herons or egrets, ducks are made of sterner stuff generally, and it's to ducks that we look for the coming week's speculative kicks. While a Canvasback might be a leap too far – though why not, one's overdue - a Lesser Scaup feels entirely doable on a local lake or reservoir…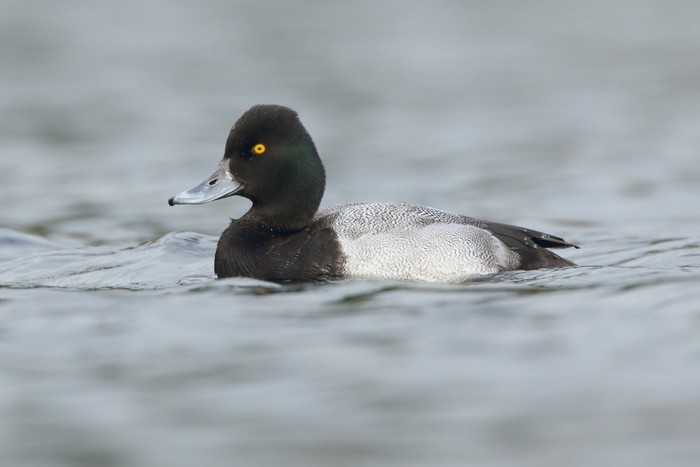 Jon Dunn
12 January 2021
Many thanks to all this week's contributors for your photos and videos
Share this story
Tweet