Weekly birding round-up: 8 - 14 Sept 2020
The week at a glance
Lundy's good run continues with Devon's third Sora
Co.Donegal and Co.Down both score a Black-browed Albatross
Yorkshire's fourth Franklin's Gull is a welcome discovery
Britain's largest ever flock of Blue-winged Teals is found in the Western Isles
A mass arrival of Buff-breasted Sandpipers piles into western Britain and Ireland
And the Semipalmated Plover lingers a little while in Orkney
The steady stream of westerlies piling in off the Atlantic this week always promised to deliver handsomely from the USA – and, while Ireland and western Britain in particular seemed knee-deep in Buff-breasted Sandpipers, we were hoping for something a little rarer than those regular, dainty waders.
Granted, what made landfall in Devon wasn't a bright wood warbler, but still… our autumn's American rarity account was firmly opened.
Sora
Lundy, Devon's answer to Scilly, has already enjoyed one mega bird this autumn in the form of the frustratingly brief Bridled Tern recently, a bird that had no sooner been found by Lundy warden Dean Jones than it was gone, leaving nothing but a memory seared in its wake.
Happily, the next rarity to be added to Lundy's roster was rather more obliging this week when it was discovered on 12th…
So obliging, indeed, that the Sora in question was caught, and provided some gripping in-the-hand images to accompany the record. Dean's excellent recent run of finding rarities continued apace and, bizarrely, this bird had some parallels with the Bridled Tern he'd found in August. That bird was the first to be seen in Devon since a dead bird (or, more accurately, a bit of a dead bird) was found back in 1977.
Meanwhile, Devon's last Sora was a dead bird found on 17th October 2016 at Exminster Marshes RSPB. It seems if you want an extant rarity found in Devon, Dean Jones is your man. I've not got the time or patience to look to see what other Devonian megas were last picked up dead on arrival, but the wise money would be trotting along to a bookies in Exeter and placing a wager on him picking out the next one of their kind alive and well sometime in the not too distant future…
Britain boasts a mere 20 accepted records to the end of 2018, so this latest Sora is a find of the highest calibre. That said, many of the 15 individuals that have been seen post-1950 have settled in for reasonably long stays, allowing plenty of time and opportunity for those so inclined to come and pay their respects to one of these overripe banana-billed beauties. For example, it'll only be Devon birders of a more recent pressing that still need Sora for their county list, courtesy of the county's last living example, the bird that spent 79 days tucked in the damp surroundings of Newton Abbot's Stover CP in early 2000.
As autumn individuals go, this one is an early bird – our earliest prior September record being one on St Mary's (Scilly) found on 23rd September 2005. Hopefully this is a good omen of some more Nearctic treats on our way in the weeks to come – and, with the exhausted but not emaciated Lundy bird released into an area of the island with plenty of cover, fresh water and invertebrates, we can hope it might hang around a while to see them dropping in. It was certainly still alive and kicking on 13th, being seen that afternoon, but wasn't seen on 14th.
Black-browed Albatross
Ireland was dominating the week's seabird proceedings (or at least, the confirmed ones) with a fine double record of Black-browed Albatross on 9th – one seen in the mid-morning heading south-west off Bloody Foreland (Co.Donegal) and then, in the early evening, one noted motoring south past Copeland Island (Co.Down).
You'd be forgiven for thinking, given how productive Irish vantage points can be for seawatching, that the country as a whole would be knee-deep in past records of this consummate ocean wanderer, but there's just 11 accepted birds on the books to the end of 2017 – none of which were seen from Co.Donegal or Co.Down.
All of which dry statistical fodder masks the juicier matter here of how many birds were involved – the two counties being on opposite coasts of Ireland. The time lag between the sightings allows ample time for an albatross to motor around the north coast, but given the first bird was heading south-west towards the open Atlantic, one wonders if it really would have doubled back on itself like that…
Franklin's Gull
First found on 11th in West Yorkshire at Thornton, an adult Franklin's Gull initially played hard to get, relocating to a Bradford rooftop later in the day. On 12th, it had relocated to Redcar Tarn, and was rather more dependable thereafter, lingering there through 13th-14th.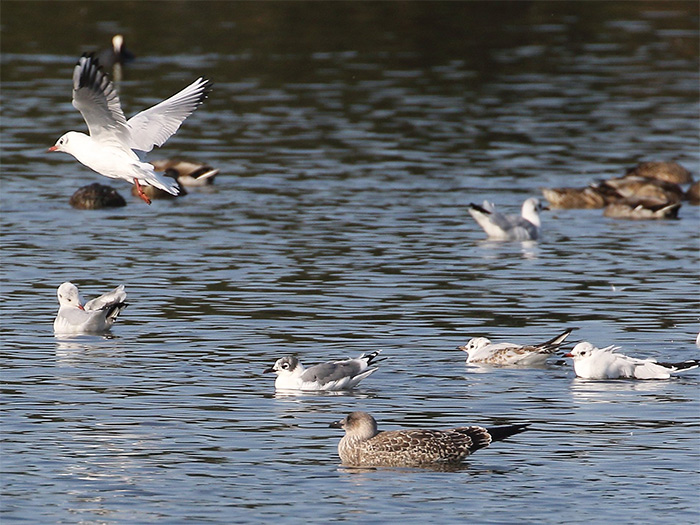 While the 80 accepted Franklin's Gulls to the end of 2018 tell a tale of a species that's very nearly annual in Britain – and one that's been recorded in a great many inland as well as coastal English counties – that's not quite the whole story from a Yorkshire perspective. There are a mere four previous records, presumed to involve just three birds and, since a second-winter bird seen on 13th November 1996 at Tophill Low reservoir, there's not been another for getting on for a quarter of a century.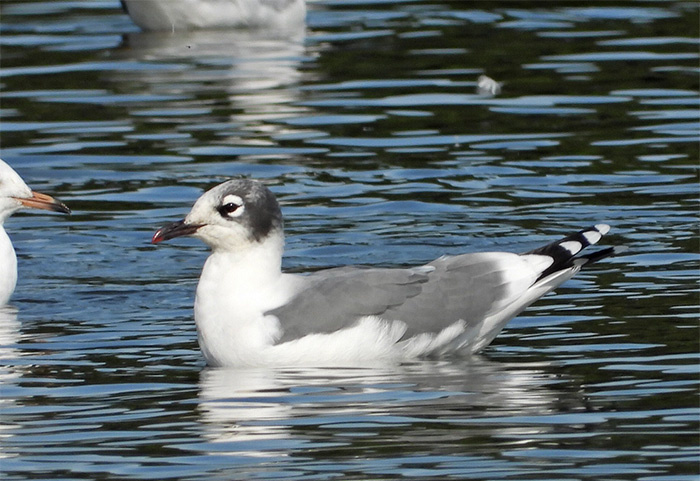 In a county with as many birders as Yorkshire, that's an absence that will have been keenly felt, and this latest bird will have been a welcome local tick for some.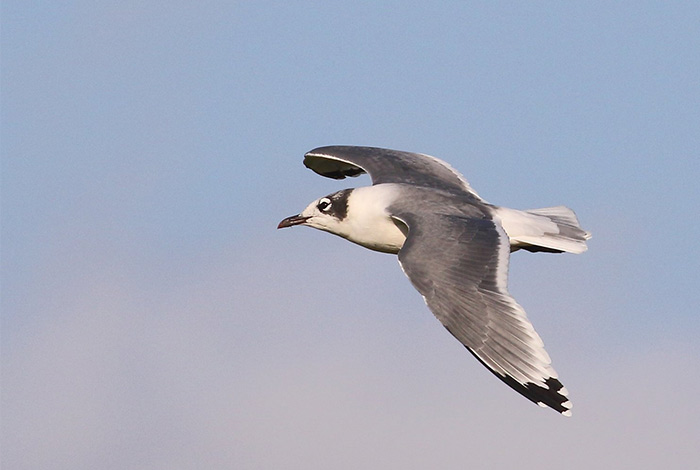 Blue-winged Teals
We'd not usually be elevating a Blue-winged Teal to the giddy stratosphere of the headlines but, this week, we can't possibly ignore Britain's largest ever assemblage of them – nothing less than an actual flock of five birds found on Barra at Eoligarry on 8th.
Local birders initially went hoping to see what had been reported as Shovelers - as a local island scarcity of some substance in their own right, they would have been gladly enough received had that been what was actually on the waters of Eoligarry… But, instead, what Bruce Taylor found before him was considerably rarer and slimmer of bill – a flock of five wary and skittish Blue-winged Teals, the largest ever flock to be seen in Britain, comfortably outgunning the groups of three seen in 2009 on South Uist (Western Isles) and in 2013 at Boultham Mere (Lincolnshire), and matching the Irish record of five birds present on Achill Island (Co.Mayo) on 18th-26th September 2010.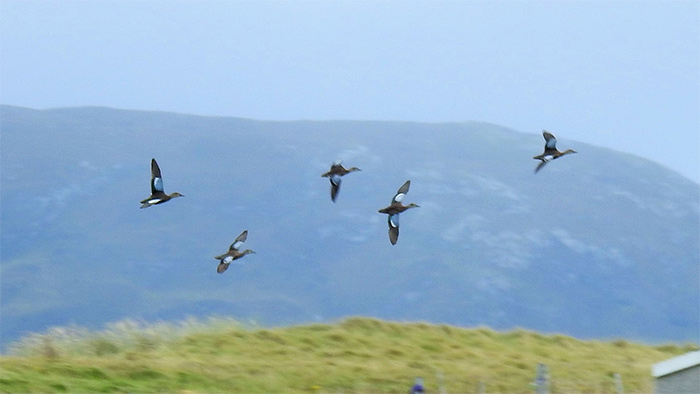 These Barra birds weren't quite as settled as that Irish flock, and had no sooner had their identities resolved than they were heading off to the north. That wasn't quite the end of the tale though, as two elusive individuals were once more present at Eoligarry on 10th and again on 13th.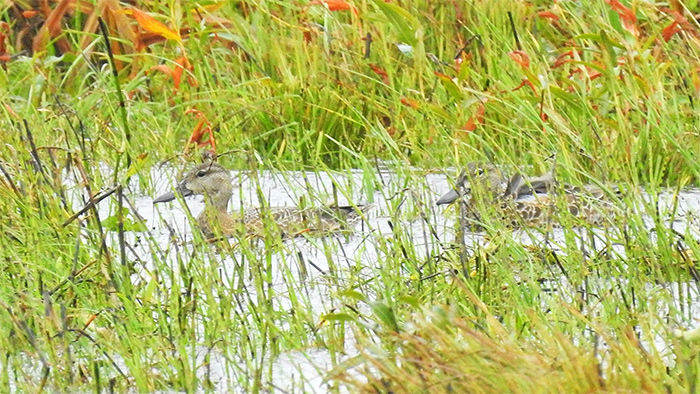 Buff-breasted Sandpipers
If we're elevating Blue-winged Teal to the headlines on the basis of numbers, it would be churlish in the extreme this week not to extend the same courtesy to Buff-breasted Sandpipers as they really did enjoy a bit of a moment in recent days. Granted, they're no BB rarity, but still… it's hard to argue with at least 32 birds recorded in Britain and Ireland this week, and maybe even a touch more than that.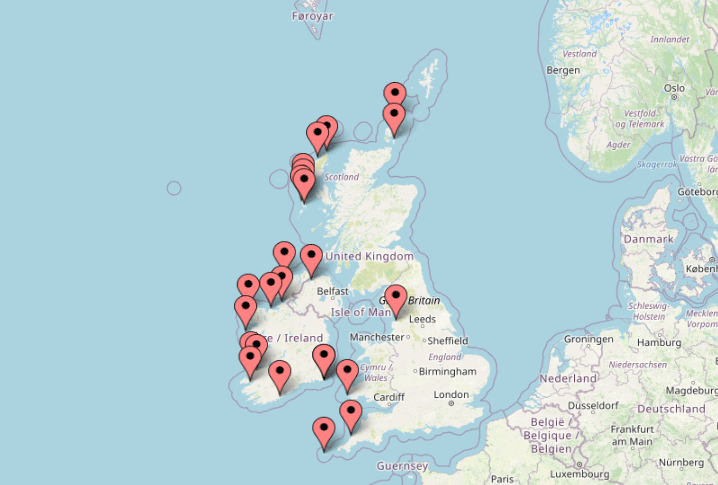 A little over half those – 18 birds – were logged in Ireland, with some Irish birders enjoying welcome self-found ticks, and others finding multiple birds. Three birds were seen on Bloody Foreland (Co.Donegal) on 9th; three were on The Mullet (Co.Mayo) on 10th-11th, with two still present on 12th-13th; and two were found on Loop Head (Co.Clare) on 14th.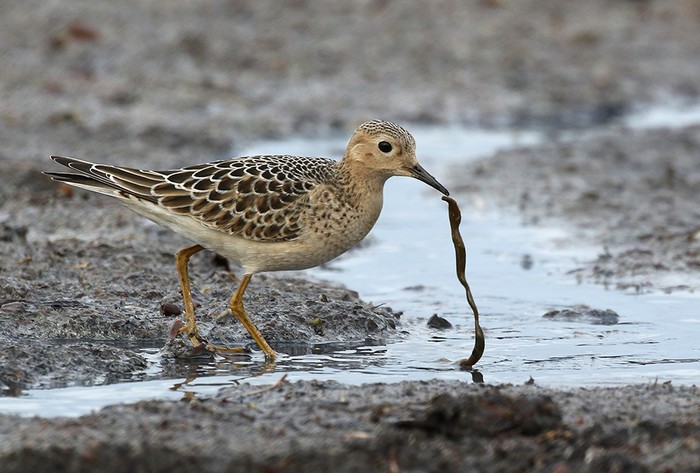 From a British perspective, the Western Isles were busiest – two birds at least being seen on South Uist on 8th, with another logged coming in off the sea there on 11th; one or two were present on Lewis on 9th; while two were seen on North Uist on 12th-14th. Elsewhere on 12th duos were noted on Bryher (Scilly) and at Marloes Mere (Pembrokeshire), the latter remaining until 14th, and the Bryher collective rising to three birds on 13th.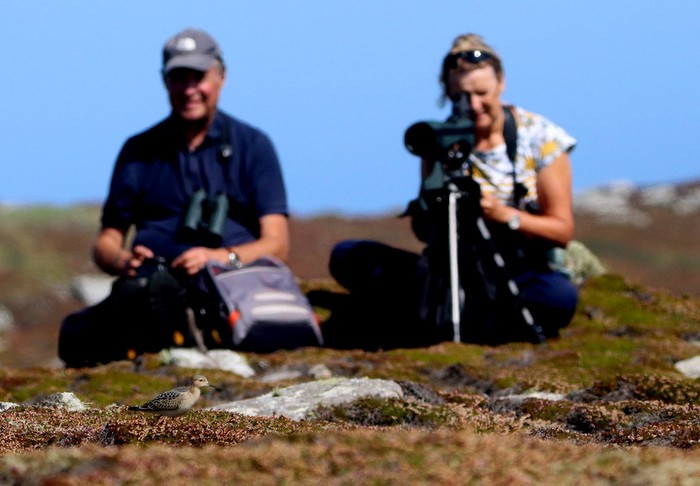 More, surely, will emerge from the woodwork in the days to come, but for now this was an excellent week for British and Irish birders with an eye for a dainty Nearctic shorebird…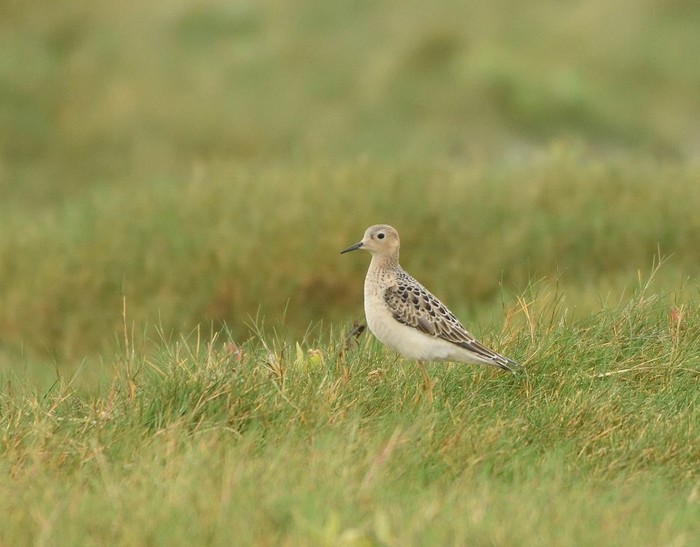 Semipalmated Plover
…And speaking of which, the prior week's stand-out shorebird, the Semipalmated Plover picked out of the accompanying Ringed Plovers by the keen eye of Dante Shepherd on North Ronaldsay (Orkney), remained on the island until 10th, though it was somewhat less than straightforward, being seen only intermittently there. Come what may, it's a timely reminder to pay more attention to Ringed Plovers…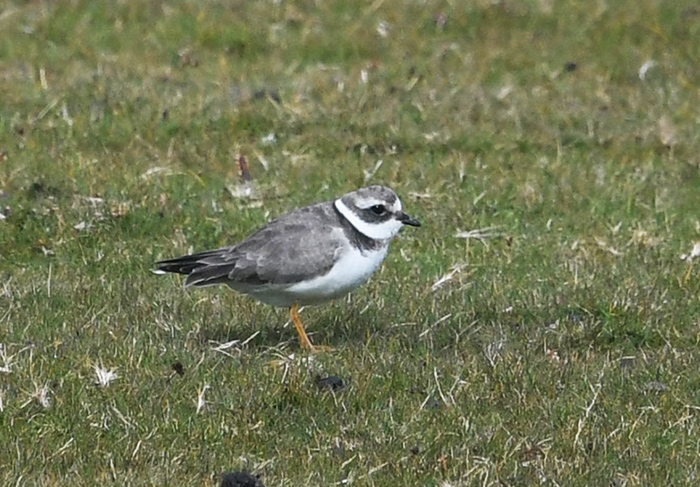 My heart goes out to Simon Mitchell this week… Monday 14th dawned in Shetland feeling warm and humid, with a thick shroud of fog laid firmly across the northern isles. Stepping outside the back door with mug of coffee in hand first thing, before settling down to a day of Round Up writing, I dared to muse it felt… well, maybe scarce, if not rare out there. Perhaps Simon had the same train of thought when he boarded the ferry to Fetlar…
If my morning was rudely interrupted by his message on the local Shetland Rare Birds whatsapp group, that's a fraction of how shaken he would have been feeling in the wake of "an all black petrel 10-20% larger than the… 20 or so Fulmars between Unst and Fetlar." His view was cut short as the flock headed south away from the ferry as it disturbed them passing the west flank of Uyea, and were lost from sight in the enveloping fog.
While he didn't get a decent look at the face, Simon concluded that he couldn't think of anything but White-chinned Petrel. Unfortunately, there was no further sign of the bird – Simon was looking from Fetlar once he made landfall, and yearning eyes were being cast seawards from Whalsay and Yell too, but to no avail.
If it was a White-chinned Petrel, one would have to assume it's probably the selfsame bird that headed north over Orkney on 25th May. That occurrence was remarkable enough in the Northern Hemisphere, so two birds would surely stretch the bounds of probability gaspingly thin. And if it was the same individual, that leads to the queasy speculation of where it's been in the meantime. Has it spent the summer entirely at sea off northern Scotland… or has it been making landfall somewhere…
Oof.
It's impossible to put oneself in Simon's shoes - one doesn't know whether to extend congratulations or commiserations under the circumstances. Maybe a bit of both…
We're used to a regular supply of sightings of Fea's / Desertas Petrels from Irish and south-west English vantage points at this stage in the year, but they're a considerably scarcer commodity in Scottish waters. While Ireland was enjoying Black-browed Albatross(es) on 9th, Dumfries & Galloway was scoring what, if accepted, would be a county first Fea's / Desertas Petrel off Corsewall Point in the early afternoon.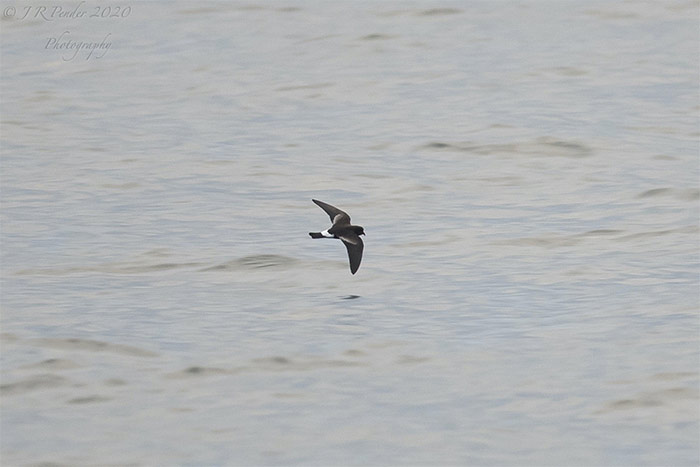 The 9th was proving to be a busy day for Scottish sea-watchers – the largest single site total of the overall weekly haul of some 100 Leach's Petrels was notched up from North Uist (Western Isles) on that day, with a final score of 30 birds logged there.
Just one Wilson's Petrel was seen this week, on 14th, from a Scilly pelagic.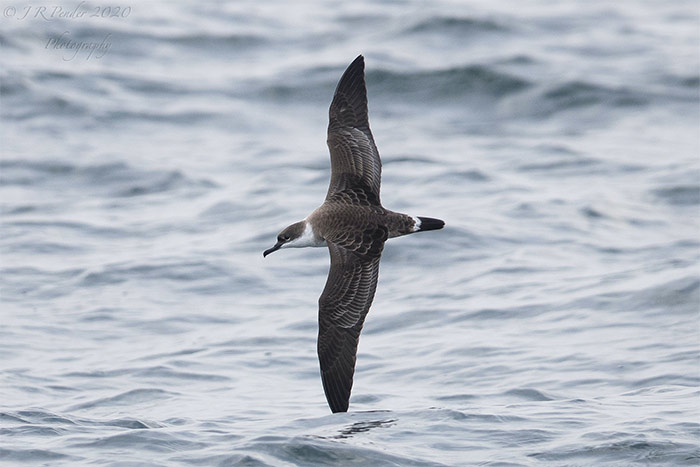 Large shearwaters continued to be something of a late summer afterthought as we proceed firmly into the autumn period – just two Cory's Shearwaters were seen, from Flamborough (East Yorkshire) on 9th and in Aberlady Bay (Lothian) on 13th; while Great Shearwater numbers took a significant tumble from the 90 birds recorded nationally during the prior week. This week just seven individuals of the latter species were noted – two from Kilcummin Head (Co.Mayo) on 9th; Orcadian sightings came in the form of single birds seen at sea off Hoy on 9th and passing North Ronaldsay on 10th; one was noted from Pendennis Point (Cornwall) on 11th; and two were seen from the Scilly pelagic on 14th.
Numbers of Balearic Shearwaters too continued to remain fairly modest – around 170 birds in all being logged during the week, of which eight seen from Downderry (Cornwall) on 9th were the highest single site tally until 120 were seen from a boat in Lyme Bay (Devon) on 13th.
Of the skuas, some 50 Pomarine Skuas were logged in recent days, with Kilcummin Head (Co.Mayo) accounting for the lion's share of those with 22 birds seen on 9th. Long-tailed Skuas were less numerous, with around 20 birds in all noted –for the most part single birds, but duos were seen from North Ronaldsay (Orkney) on 10th and off the Ullapool-Stornoway ferry (Highland/Western Isles) on 12th, and the week's highest count of five birds was logged from Whitburn CP (Co.Durham) on 12th.
The pace of Glossy Ibis sightings picked up considerably this week, with further signs of a small influx, not least in Pembrokeshire where, on 10th, a flock of seven birds was seen – two of which were seen there the following day. They'd been preceded by single birds found at Kidwelly Quay (Carmarthenshire) on 9th-13th and Chard reservoir (Somerset) on 9th, the latter bird being seen again there on 12th-13th also. More distant birds were found in the north on Islay (Argyll & Bute) on 11th-14th and, in the west, at Camas Bridge (Co.Tipperary) on 11th-13th. On 13th another was seen on Harper's Island (Co.Cork), while additional British sightings came from Burnham Overy (Norfolk) and St Aidan's RSPB (West Yorkshire), and a probable bird was seen over Chelford (Cheshire) that day also. On 14th one was found in Lincolnshire at Middlemarsh Wetlands, while one was seen in Dorset at Lytchett Fields RSPB; another in Norfolk at Holme Dunes NWT, Stiffkey and Titchwell RSPB; and yet one more in Gwynedd in the evening at Porthmadog.
Our regular stalwarts, meanwhile, remained at Dungeness (Kent) on 8th-14th and Newport Wetlands RSPB (Gwent) on 8th-12th, and again at Fremington Pill (Devon) on 12th-14th.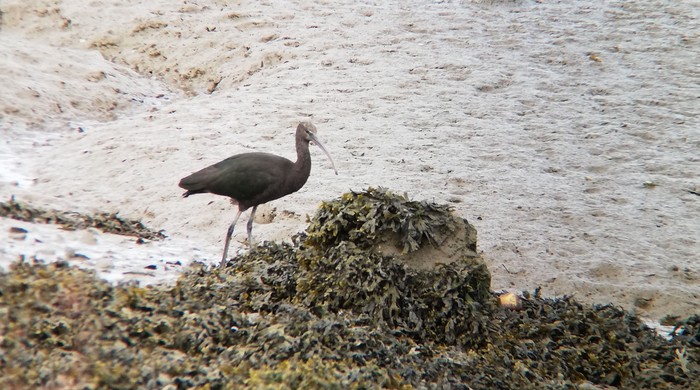 The recent juvenile Purple Herons remained in Somerset at Durleigh reservoir on 8th-13th.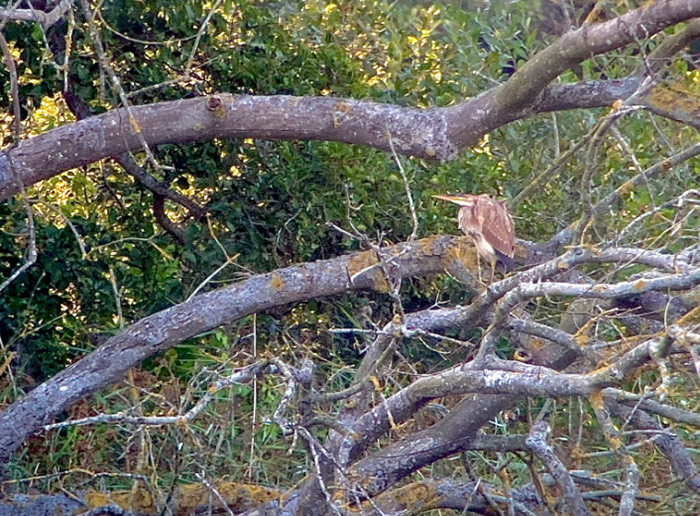 On 14th a Night Heron was found in a Glamorgan garden near Burry Green.
I think we're coming to a point where Common Cranes, once a Norfolk exclusive but now a regular and more widespread breeding species, are going to follow in the long-legged footsteps of the likes of Spoonbill and Great White Egret in these columns – 100 birds were reported this week, including double figure counts from Ouse Washes RSPB where 48 birds were noted on 12th, Hickling Broad NWT (Norfolk) where 24 birds roosted at Stubb Mill on 13th, and Loch of Strathbeg RSPB (Aberdeenshire) where 11 birds lingered on 8th-13th. It's maybe time to gracefully retire them from the weekly Round Up… not least because we will (hopefully) shortly have our hands full of counting the many hundreds of inbound Yellow-browed Warblers…
Our only Spotted Crakes this week were the long-staying birds in Ayrshire at Doonfoot on 8th-12th and at Burton Mere Wetlands RSPB (Cheshire) again on 13th-14th.
Once more, we have honkers and quackers in the rarity duckpond this week – albeit not many of either once we discount the fabulous fall of Blue-winged Teals from the news.
Still, it's nice to see numbers of interesting wildfowl picking up a little. We'll kick off with the week's sole goose of interest, a possible adult Grey-bellied Brant seen on 8th at Strangford Lough (Co.Down).
A drake Ring-necked Duck on Burray (Orkney) on 12th marks the species' return to the news after an absence of some months; it or another was seen on the Orcadian Mainland at Loch of Ayre on 13th-14th while on 14th it – or perhaps the original bird – was again seen on Burray. Two bird theory, anyone?
Our regular in these columns, however, was still very much present in Highland this week – the Black Duck again reported from Strontian on 9th-13th.
<!—Section Title -->
We've already touched on the largesse of Buff-breasted Sandpipers enjoyed in recent days in the headlines, but those Nearctic lovelies were far from alone in the news lately – they had an ample supporting cast of compatriot sandpipers…
Belated news from the preceding week came of two Semipalmated Sandpipers seen on 7th on Colonsay (Argyll & Bute) – it turned out these, and the lingering juvenile on the Hayle estuary (Cornwall), still present this week until 13th, were the vanguard of a decent arrival of this ever-popular wader. Two more Scottish juveniles were noted this week on Lewis (Western Isles) on 8th-12th and the tidal island of Danna (Argyll & Bute) on 8th-14th. Irish birds, meanwhile, were found on 9th at The Gearagh (Co.Cork) and Blennerville (Co.Kerry), and on 13th at Rosscarbery (Co.Cork).
The recent White-rumped Sandpiper remained this week at Blanket Nook (Co.Donegal) on 8th.
Fresh Baird's Sandpipers were found at Timoleague (Co.Cork) on 8th, Fanad Head (Co.Donegal) on 9th, on the Hayle estuary (Cornwall) on 11th-14th, on North Uist (Western Isles) on 13th-14th, and at Dornoch (Highland) on 14th; while the recent bird remained on North Ronaldsay (Orkney) on 8th-14th, joined there on 12th by a Pectoral Sandpiper.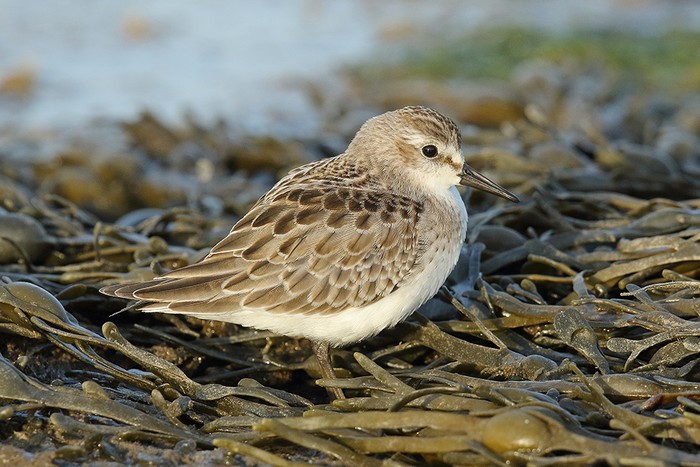 The latter species also continued to have a big moment this week, not least at Tacumshin (Co.Wexford) where numbers peaked at six individuals on 9th, with five still present on 10th-14th. Some 40 birds were logged in Britain and Ireland this week, with duos seen at Worth Marsh (Kent) again on 9th-13th, in Co.Kerry at Kilshannig on 10th-14th, and in Dorset at Swineham on 14th. One found on Fair Isle (Shetland) on 10th-14th, and joined by a second bird on the island on the latter date, was almost the only Nearctic wader newly arrived in Shetland as a whole all week, speaking volumes about how the westerlies were largely a spent, or at least unproductive force by the time they reached the far north.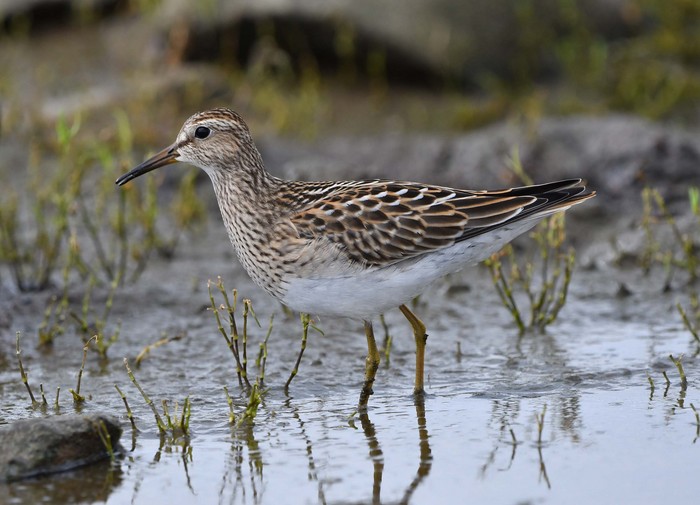 Instead, Shetland birders mostly had to content themselves with the lingering adult American Golden Plover still present on Yell until 14th, on which latter date a further juvenile bird was seen in South Nesting on Mainland; while in Kent the recent adult continued to lob back and forth across the Swale between Sheppey and Oare Marshes KWT until 14th.
This is why I love birding. I spent most of last week walking the west coast of Shetland looking for American waders with not much luck......today I picked up this juvenile American Golden Plover on call just a stones throw from my house on the east coast of Shetland ?? pic.twitter.com/8YIIIKpm8a

— Kristofer Wilson (@Carmond_K) September 14, 2020
An unconfirmed report of two Kentish Plovers on Capel Fleet (Kent) failed to materialise into anything more concrete.
Just a handful of Dotterels were found this week – single birds on Lewis (Western Isles) on 8th and 13th, at White Nothe (Dorset) on 9th-11th, and on St Mary's (Scilly) on 11th-14th.
The Spotted Sandpiper remained on St Mary's (Scilly) on 8th-14th; another possible bird was seen at Crowdy reservoir (Cornwall) on 8th.
The adult Long-billed Dowitcher was again seen this week at Anthorn (Cumbria) on 8th-14th.
The recent Temminck's Stint remained in South Yorkshire at Old Moor RSPB on 8th-13th; another was found at Donna Nook (Lincolnshire) on 11th; and on 14th one more was discovered at Tacumshin (Co.Wexford).
Two juvenile Black-winged Stilts remained to be seen at Steart WWT (Somerset) on 11th also.
A handful of Grey Phalaropes were noted in recent days, for the most part in Scotland, where single birds were seen at Corsewall Point (Dumfries & Galloway) on 9th, North Uist (Western Isles) on 12th and off Unst (Shetland) on 13th, with a further possible bird reported from Mull (Argyll & Bute) on 9th; the exception to that Scottish theme coming in the form of single birds seen from Scilly pelagics on 12th and 13th, and one found at Tacumshin (Co.Wexford) on 14th.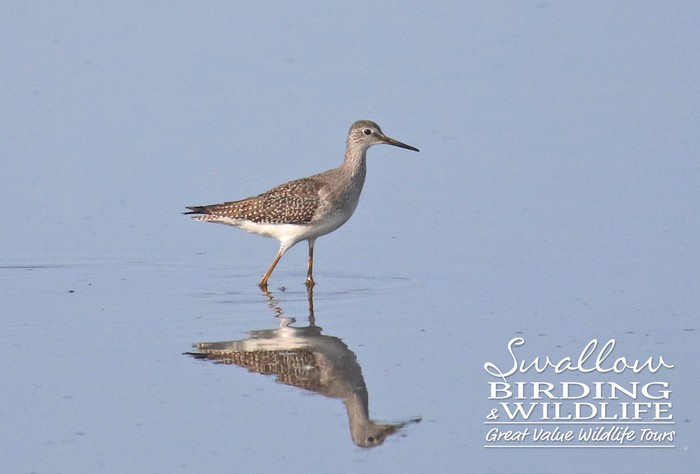 We bring the shorebirds to a close this week where we began, with a Nearctic flavour – a juvenile Lesser Yellowlegs found on 13th-14th on the Bann estuary (Co.Derry), quickly followed by another in Norfolk at Runham on 14th.
Numbers of Sabine's Gulls fell away this week, barely creeping into double figures. Most popular of them all was the lingering juvenile bird in Cheshire at Hale on 8th-14th. In Scotland, one remained at Ullapool (Highland) on 8th-13th; one was seen from Strathy Point (Highland) on 9th; single birds were seen on 9th, 11th and 12th from South Uist (Western Isles); and, on 13th, one was seen from Rasscarel (Dumfries & Galloway). One was noted from Borth (Ceredigion) on 10th; while one was seen from the Scillonian on 11th, and one at Gwithian (Cornwall) on 13th. Irish sightings came from Copeland Island (Co.Down) on 8th and Kilcummin Head (Co.Mayo) on 9th.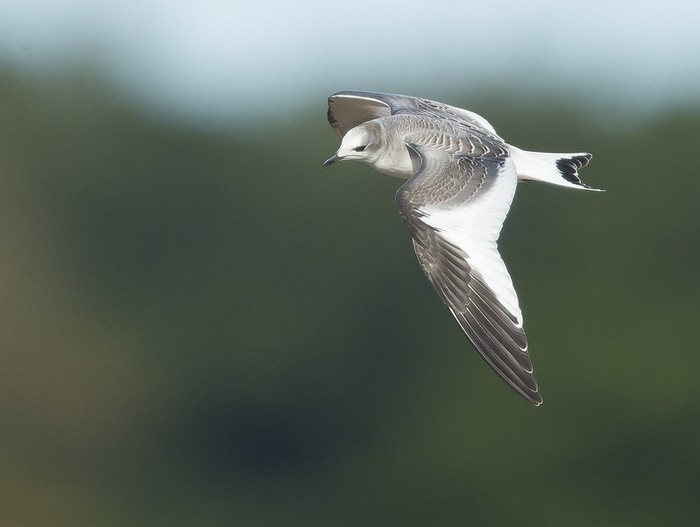 The week was a good one for Bonaparte's Gull records, with the two recent regulars – the adults at Oare Marshes KWT (Kent) still on 8th-13th and Islay (Argyll & Bute) still on 9th-10th – augmented by Irish birds seen at Long Strand (Co.Cork) on 11th and Loghill (Co.Limerick) on 12th.
An adult Ring-billed Gull was to be seen at the reliable Nimmo's Pier (Co.Galway) on 13th.
The adult Glaucous Gull (or Glaucous x Herring Gull hybrid) was still present in Ullapool (Highland) on 12th-13th.
Finally, an Iceland Gull was seen on 13th at Farrihy (Co.Clare).
We'll kick off the raptors with the continuing good news from the Crowden area of Derbyshire - the young Lammergeier remained alive and well there until 14th at least.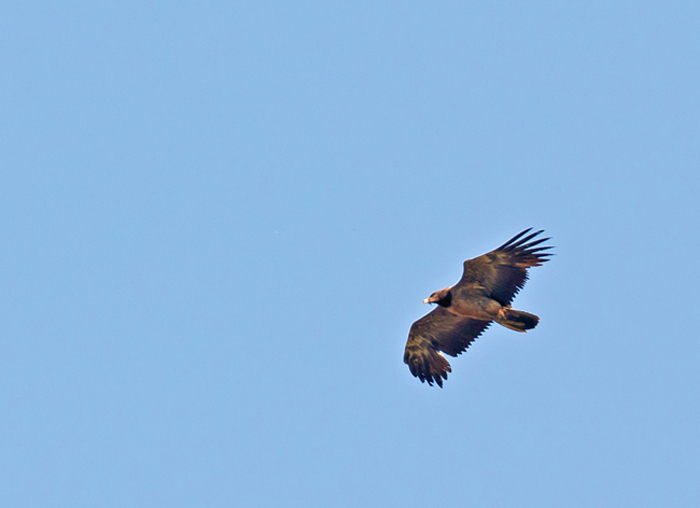 Further south, the juvenile Pallid Harrier last seen on Thorney Island (West Sussex) on 1st was back there again this week on 10th-14th. Another juvenile, or a Montagu's Harrier was seen heading west past Abbotsbury (Dorset) on 8th.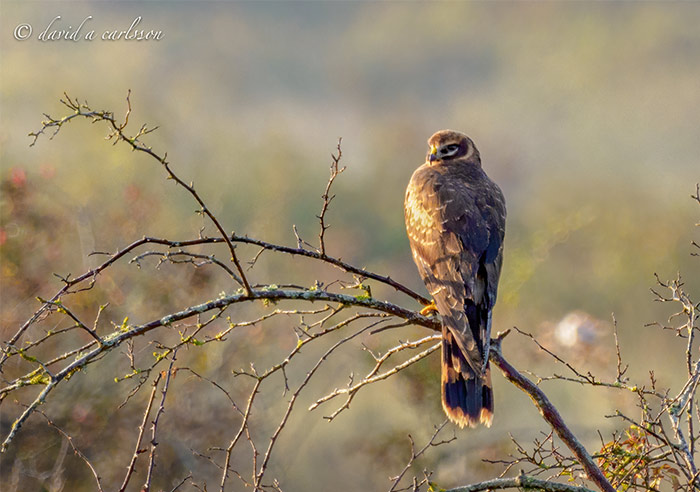 Equally transitory was the juvenile Red-footed Falcon seen passing through Ditchling Beacon (East Sussex) on 11th; another sighting came from the county at Pett Level on 14th.
One or two Black Kites were seen in west Cornwall on 12th – a sighting from Polgigga in the early afternoon followed, mid-afternoon, by another at Sennen Cove. On 13th Cornish sightings came from Porthgwarra and near St Buryan.
Snedge, the female Snowy Owl, was again seen on St Kilda (Western Isles) on 10th.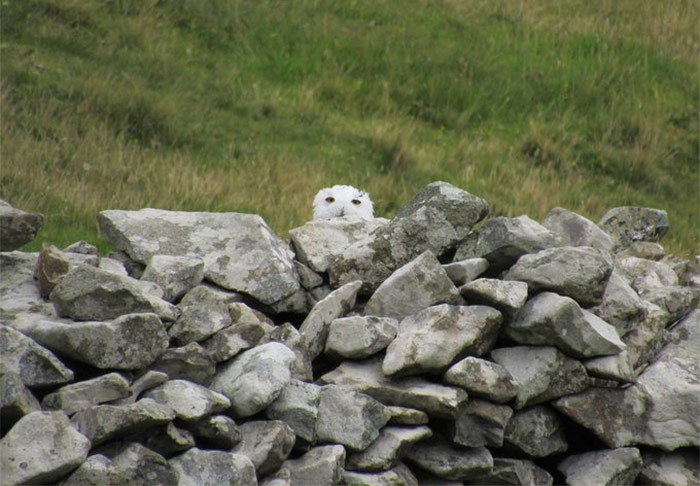 For the second week of September, it felt pretty peaceful on the whole where passerines were concerned, though a sprinkling of decent warblers did much to keep the old pulse ticking over.
Starting in Scilly, a Western Bonelli's Warbler was found on Bryher on 9th-10th, followed by a further bird on Portland (Dorset) on 11th.
A little further east along the English south coast, an Aquatic Warbler was proving elusive at Hook-with-Warsash (Hampshire) on 11th.
The last of Shetland's influx of Greenish Warblers remained tucked into the lush cover of Norwick on Unst on 8th-9th still; another was found on 13th at Mizen Head (Co.Cork).
The week's Icterine Warblers were headed by one that remained at Porthgwarra (Cornwall) on 9th-11th, and joined on 13th in the news by further birds at Porth Joke (Cornwall) and on St Agnes (Scilly); while three Melodious Warblers were noted in recent days, one trapped and ringed on Skokholm on 10th-14th and one on Skomer (Pembrokeshire) on 14th, and another on St Mary's (Scilly) on 10th.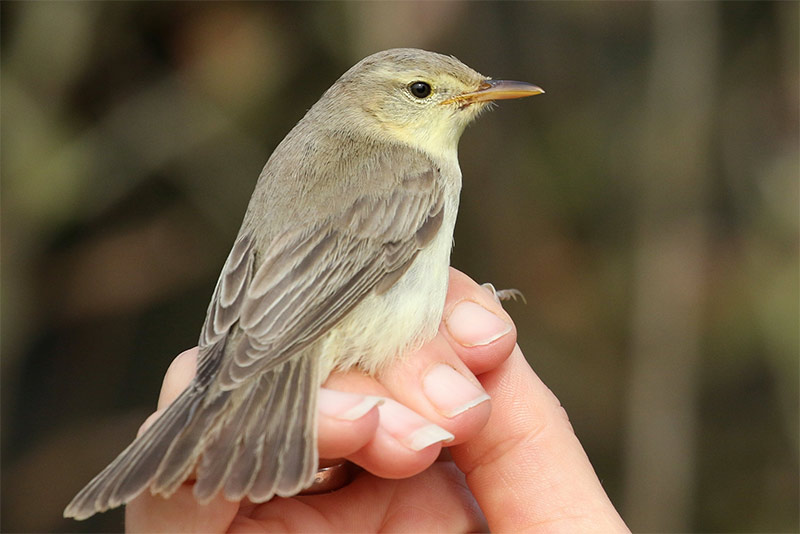 A Marsh Warbler was trapped and ringed inland at Stanford reservoir (Northamptonshire) on 10th.
Barred Warblers were in decidedly short supply in recent days, with a mere handful of birds logged nationally – at Lowestoft (Suffolk) on 8th; Spurn (East Yorkshire) on 8th-14th; Worth Marsh (Kent) on 8th-10th; Unst (Shetland) on 9th; Boyton (Suffolk) on 11th; and Pool of Virkie (Shetland) again on 13th, with one more found that day on Papa Westray (Orkney).
A possible Subalpine Warbler sp was seen frustratingly briefly at Brean Down (Somerset) on 12th.
A couple of teasers from Essex finish off the warblers for the week - an unconfirmed report of a Yellow-browed Warbler seen in a Chelmsford (Essex) garden on 13th and, on 14th, a possible Booted Warbler at The Naze briefly in the morning but not subsequently.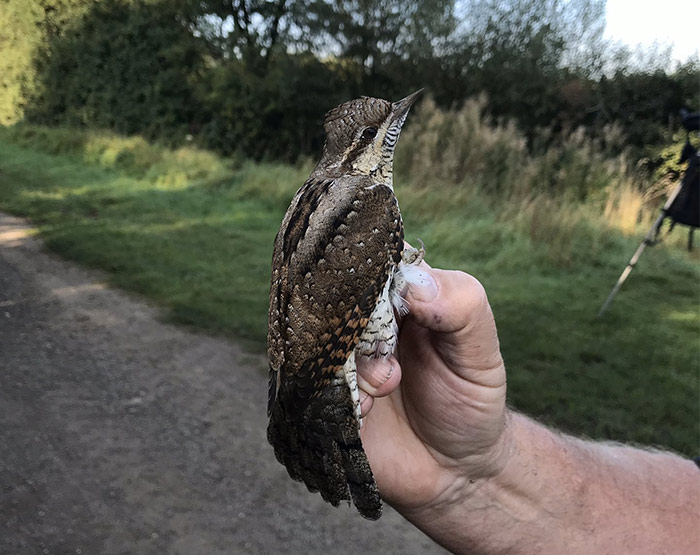 Around 40 Wrynecks found this week were down almost by half on the numbers of the preceding week, but were still present in enough numbers to give anyone working a local patch grounds for wild optimism that they might just stumble across one. The vast majority of those seen were single birds, though Bardsey (Gwynedd) had two birds on 8th rising to three present on the island on 9th; and two were reported from Tide Mills (East Sussex) on 8th.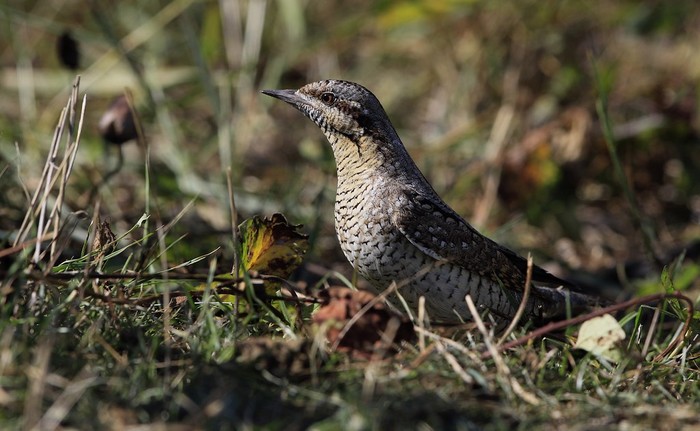 A juvenile Woodchat Shrike was a solid find on Yell (Shetland) on 8th-13th – a really good local rarity, in fact. They're much more anticipated further south in the likes of Scilly and there, this week, another probable bird proved elusive on Gugh on 9th. A further confirmed bird was found on 14th at Grimston (East Yorkshire).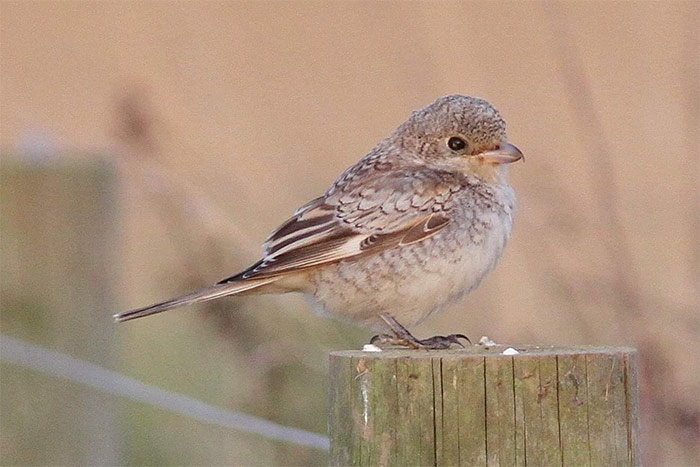 Modest numbers of Red-backed Shrikes were again logged this week. Two remained at Waxham (Norfolk) on 8th-9th; the adult male was still at Sutton Park (West Midlands) on 8th-14th; one lingered at Bawdsey (Suffolk) until 9th; the recent bird at Marshfield (Gloucestershire) was still present on 8th; and in Ireland one was still present at Kilmichael Point (Co.Wexford) on 8th-9th. New birds were found on Unst (Shetland) on 8th-12th; at Marloes Mere (Pembrokeshire) on 10th; and on Lundy (Devon) on 12th. On 14th birds were found at Cemlyn (Anglesey), Flamborough (East Yorkshire), Thorney Island (West Sussex) and Great Saltee Island (Co.Wexford).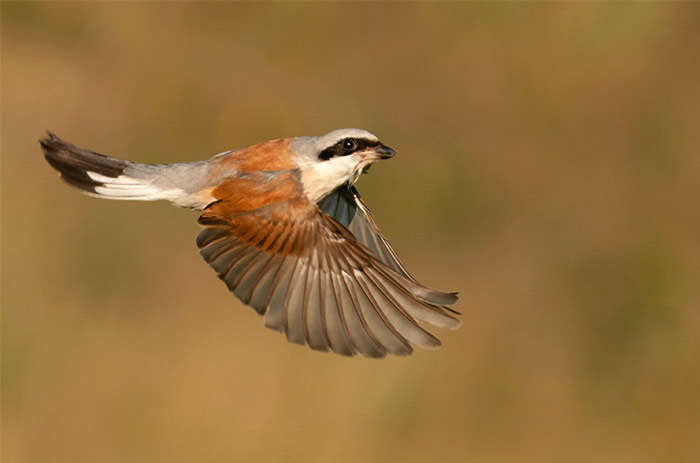 The recent Hoopoe remained in a Reigate (Surrey) garden on 8th; another was found in Lancaster (Lancashire) on 9th.
Two recent Shetland Citrine Wagtails remained present this week – the birds on Fair Isle on 8th-14th and at the bottom of the Swinister Burn on Mainland on 8th-9th.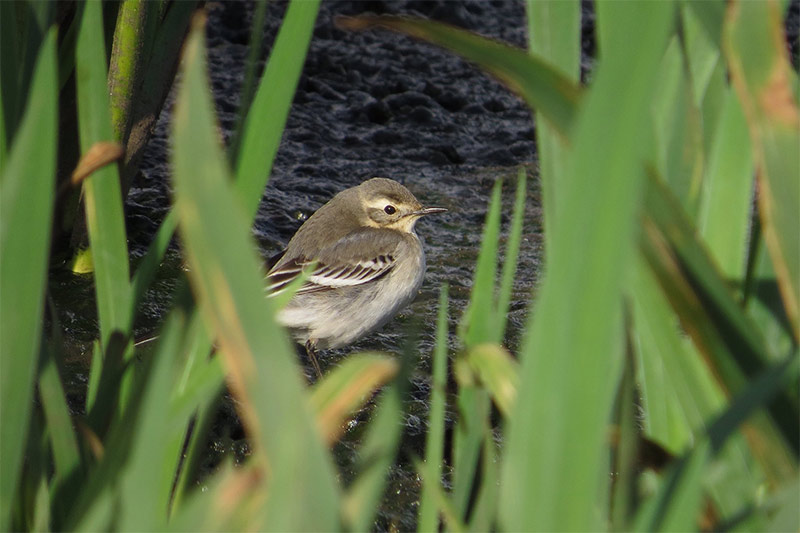 A possible Grey-headed Wagtail was on St Mary's (Scilly) meanwhile on 8th; a Blue-headed Wagtail was at Wykeham South Lake (North Yorkshire) on 8th also, with another possible bird logged in London at Totteridge Valley on 9th.
A Red-throated Pipit passed overhead at St David's Head (Pembrokeshire) on 10th. On 13th, a Tawny Pipit was reported from Porthgwarra (Cornwall).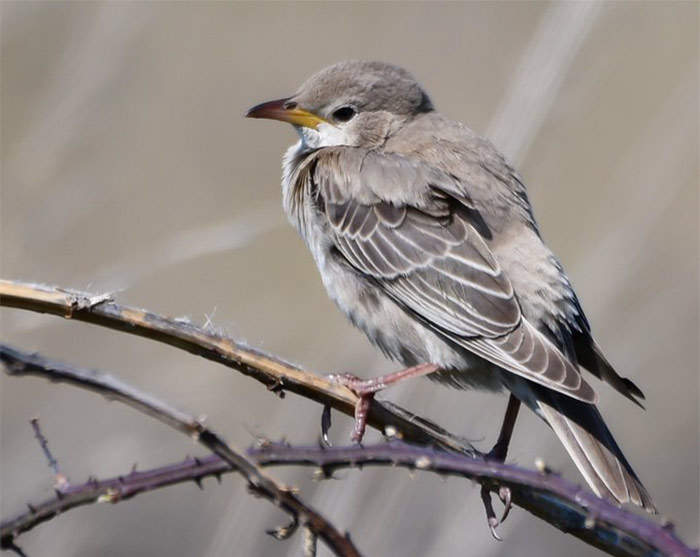 Two island Rose-coloured Starlings remained present this week, at Bull Bay (Anglesey) on 8th-12th and Fair Isle (Shetland) on 9th-14th respectively. Further new island birds were found on Islay (Argyll & Bute) on 8th-9th and Bryher (Scilly) on 12th-13th, while almost-an-island Portland (Dorset) added one more on 13th.
A Red-breasted Flycatcher was on Isle of May (Fife) on 14th.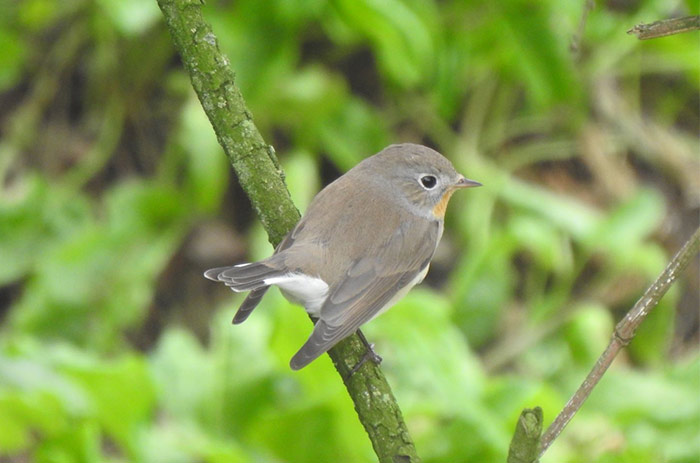 A mere seven Common Rosefinches spoke volumes of how little bird traffic we were getting from an easterly vector this week. One on Out Skerries (Shetland) lingered on 8th-9th and was their best bird of the week; also in Shetland one remained on Fair Isle on 8th-9th, another flew over the Citrine Wagtail in the Swinister Burn on Mainland on 8th; and on 14th birds were found at Sumburgh and on Unst on 14th. A further bird was seen on South Uist (Western Isles) on 10th, while one was found on 14th on Tiree (Argyll & Bute).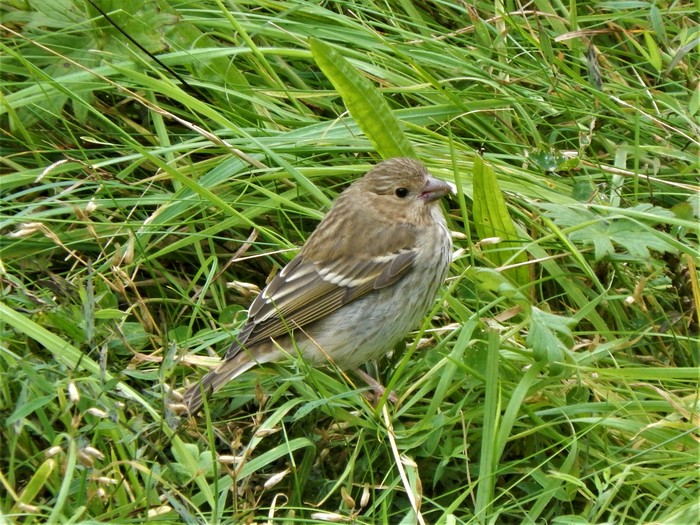 A Serin at Beacon Ponds NR (East Yorkshire) on 14th adds a small dash of variety at this stage...
…and we conclude once again with Ortolan Buntings - birds logged this week at Nanjizal Valley (Cornwall) on 9th; on 10th at Wallington (London) and Spurn (East Yorkshire); on 9th and 10th on Portland (Dorset); on 13th at Coverack (Cornwall); and on 14th over Polgigga (Cornwall).
Yet another first for the Western Palearctic this year heads up the overseas news – and we head to Cape Verde for it where, on Ilha do Sal off the west coast of Africa, a juvenile Preuss's Cliff Swallow was found on 13th.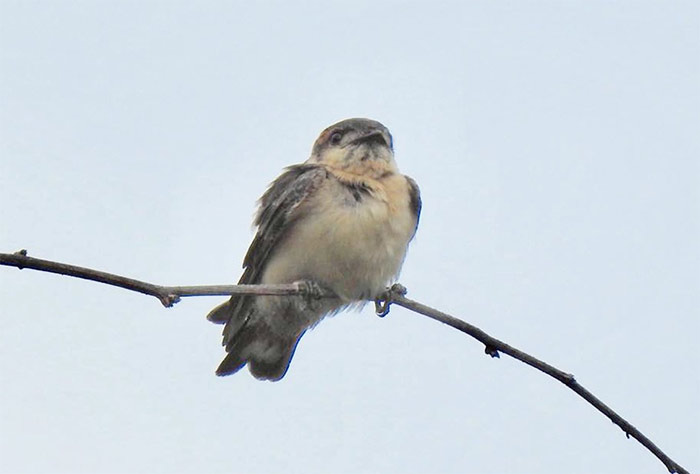 Potentially the Western Palearctic's first Bay-backed Shrike - assuming a hybrid can be ruled out – was found on 10th in Kuwait at Jahra East Outfall.
Much closer to home, Holland's fourth ever Western Rufous Bush Chat was trapped and ringed on Flevoland on 13th, and remained present there the following day. How long do we have to wait for a British example?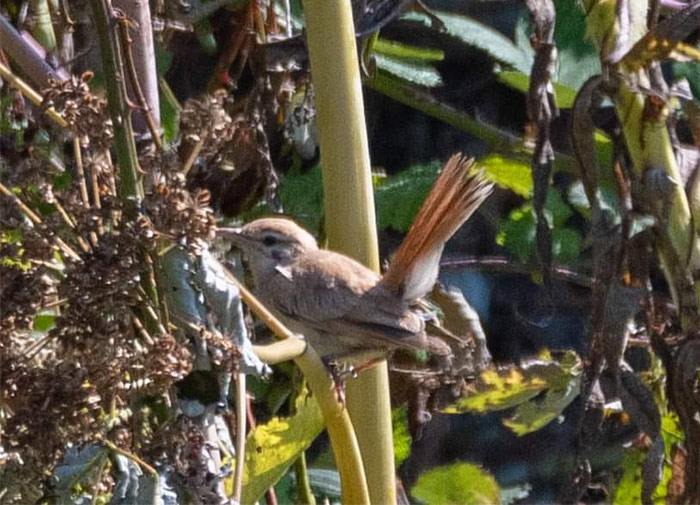 Holland's week was further gilded by the continuing presence of a Black-winged Kite, still present for its 22nd day at Margraten on 11th; and a juvenile Black-winged Pratincole lingering at Camperduin on 9th-13th.
Two Pygmy Cormorants remained in Germany this week at Gunzstausee Kettershausen on 9th.
A Brown Booby was seen in Denmark on 12th flying west past Bornholm.
In France, a Lesser Flamingo was found at Gaze du Marteau on 11th-12th.
Finally, in Spain an Elegant Tern was again seen from Playa de Montijo on 8th.
The coming week appears, looking at the charts, to be something of a game of two halves where Britain and Ireland's concerned – the northern half of the region looking set for northerlies and westerlies, and the southern half for a more enticing spell of easterlies.
That, then, feels like it might augur birds of either an eastern or western persuasion, though I'm not convinced those easterlies owe their origins far enough away to be really useful to us…
Realistically, even if they're not brand new arrivals, there should still be some more Nearctic waders to be found in the days to come – we can't have uncovered all of the tasty sandpipers that arrived last week, surely.
But hey. We don't come to the sharp, pointy bit of the year without daring to dream big, and this week marks the 30th anniversary of the finding of one of the great rarities of the late 20th century – the sumptuous Yellow-throated Vireo memorably found in Kenidjack Valley (Cornwall) on 20th September 1990 by Andrew Birch. That bird went on to be a crowd-pleaser for those who made the journey west for it during its week-long stay– but of course it hasn't been followed by another subsequently. Another would be extremely well-received, to say the very least…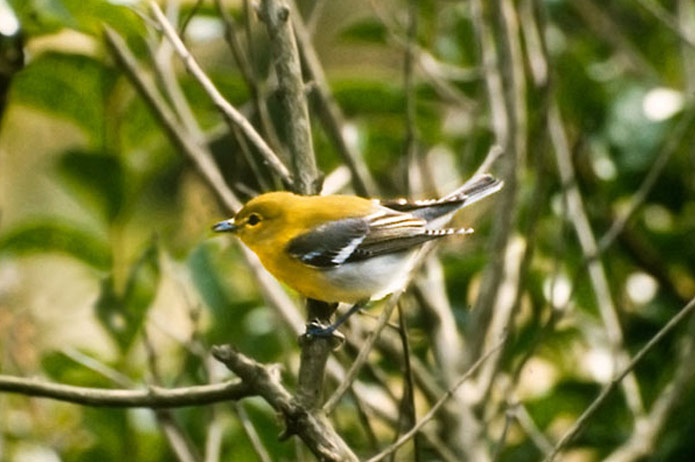 Jon Dunn
15 September 2020
Many thanks to all this week's contributors for your photos and videos
Share this story
Tweet