Weekly birding round-up: 25 - 31 Aug 2020
The week at a glance
Anglesey scores an early Isabelline Wheatear
Devon brings a brief Bridled Tern
And in Cornwall a fleeting Brown Booby is seen
Storm Ellen had no sooner done her worst than Storm Francis came a-knockin' on our doors from deep in the heart of the Atlantic, with wind speeds approaching 80mph and buckets of rain – which surely meant, this week, more promising sea-watching conditions…
…and, as that system passed through, surely we'd be seeing some more migrants pulled across the North Sea on Francis's coat tails?
Isabelline Wheatear
If you were to pick a month to find an Isabelline Wheatear, August wouldn't have been it. Even September, if you were of a betting inclination, would have felt like a longer shot as these elegant wheatears are traditionally a thing of later in autumn proceedings.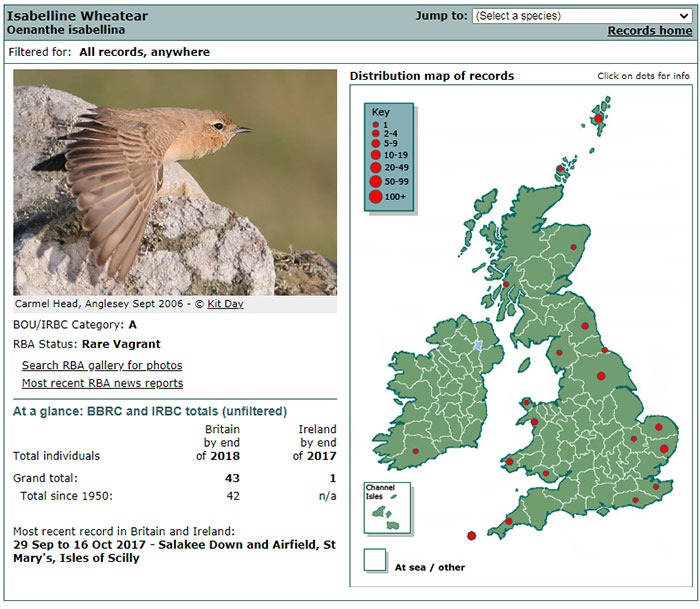 Of the 43 accepted British records to date, only a dozen hail from September, and most of those from the closing days of the month. Cast your eyes to October and that's where the Issy Wheatear action is all to be had, with 26 birds having been found in Octobers past to the end of 2018. September though? Not so much.
Indeed, our earliest accepted example to date was a bird found in Shetland on Fetlar on 14th September 2001 – this individual, and one way back on 16th September 1980 at Bamburgh (Suffolk), were decidedly early birds, bettered only by one that crept in on 10th September last year on Bardsey (Gwynedd). One wouldn't, with the best will in the world, have expected one to pitch down in Britain almost a fortnight earlier, in the closing days of August.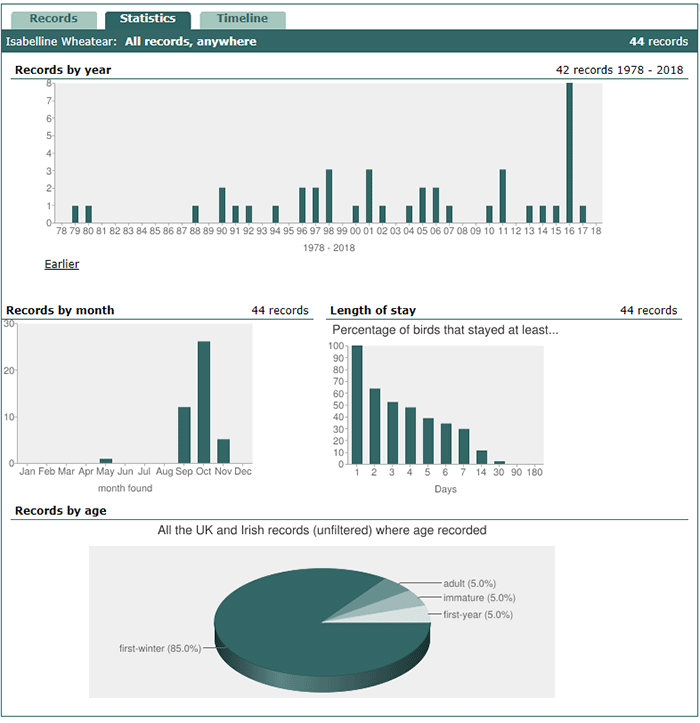 Nor, and with the greatest of respect to north Wales, would we necessarily have called Anglesey as the likely recipient of such largesse. Granted the island does have a past bird, one present for two days in late September 2006 at Mynachdy, and yes that last early bird in 2019 was in Gwynedd, but eastern coastal counties of England have rather more form – Suffolk and Yorkshire boasting five past birds apiece, with Norfolk hot on their heels with four records.
But that's the thing with rare birds, isn't it. We can try to predict their whims and vagaries – and heaven knows, I do with blithe optimism and a track record that rivals the Today program's racing tips – but they've a startling habit of doing the unexpected.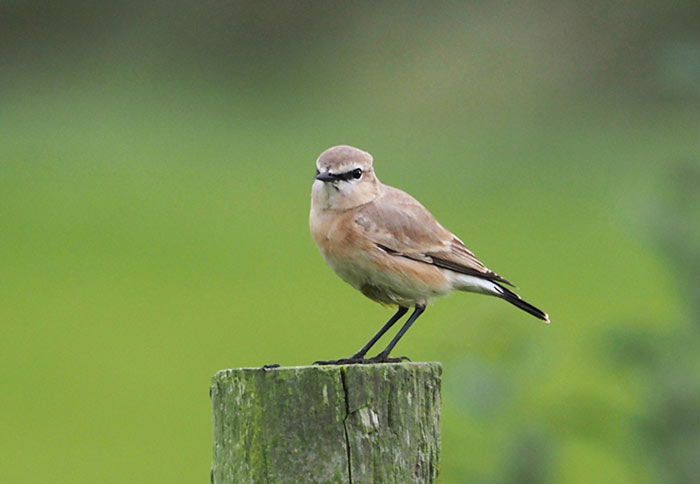 An Isabelline Wheatear, found on 30th at near Mynachdy Farm by Mark Sutton, definitely falls into that category. Quite apart from the early date, the startling proximity to Anglesey's last record just adds an additional air of surrealism to a fabulous start to the north Welsh autumn.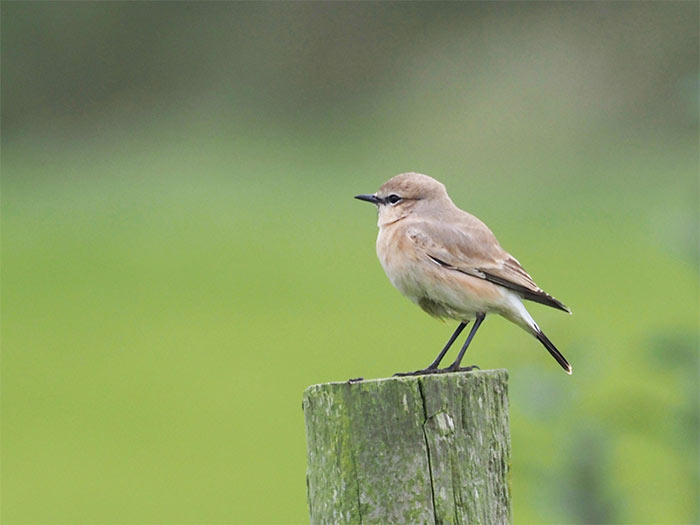 Bridled Tern
Much of this past summer and early autumn has been punctuated by the here today, gone tomorrow wanderings of the lonesome Sooty Tern that's worked its way back and forth around the coastline of north-west, north-east, and eastern Britain. It's been a frequently frustrating and occasionally joyous bird, popping up where we least expect it but then, all too often, powering away along the coast to who knows where.
Terns do that, don't they? They can't all be like Forster's Terns that, once they turn up here, have a pleasant habit of showing resolute site fidelity.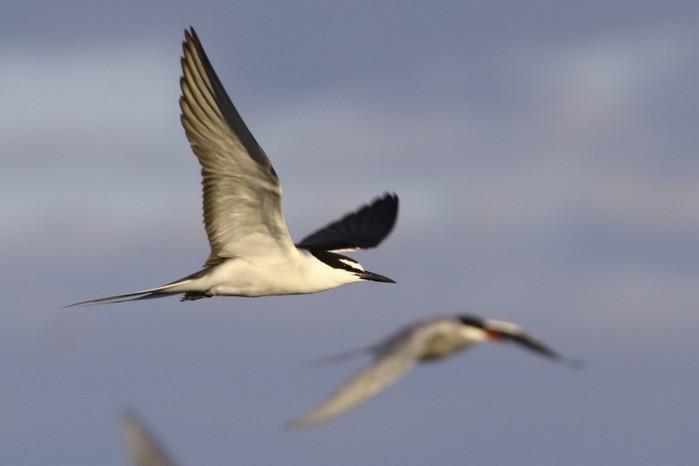 Alas, some of the biggest news this week was sticking to the usual script, and wasn't hanging around, or offering itself up at more than just the initial site where it was found – this being on Lundy (Devon) where, on 26th, Lundy warden Dean Jones had no sooner seen off the latest batch of visitors than he was treated to a remarkable double-bill – an adult Sabine's Gull and, right beside it, a Bridled Tern…
Unfortunately for Dean, and for the rest of us, it flew off shortly after he'd found it, heading south-east… but as we know, it wasn't found on the Devon or Somerset coasts thereafter.
If accepted, this will come to be Lundy – and Devon's – second record of Bridled Tern - and the first living bird, the previous record relating to a 'fairly fresh' wing found on the island on 22nd April 1977.
Brown Booby
There's not a great deal more we can say about yet another Brown Booby reported this week – where once the record would have caused downright consternation and, even now, mutterings of young Gannet from the cynical, fresh from a succession of proven birds, not least in Cornwall, in the space of the last year or so, such a jaundiced response is just churlish.
One was seen, then, this week in the evening of 27th in flight over the rocks at Pendeen (Cornwall). Fair play.
Emphatically, this was another good week on the seabird front, as we'd very much have expected. Expectations are one thing, of course, but reality can be very different – so those who set off on a pelagic off Co.Cork on 29th will have had their dreams come abundantly true judging by the images of the Fea's / Desertas Petrel they found some 40 nautical miles off Mizen Head.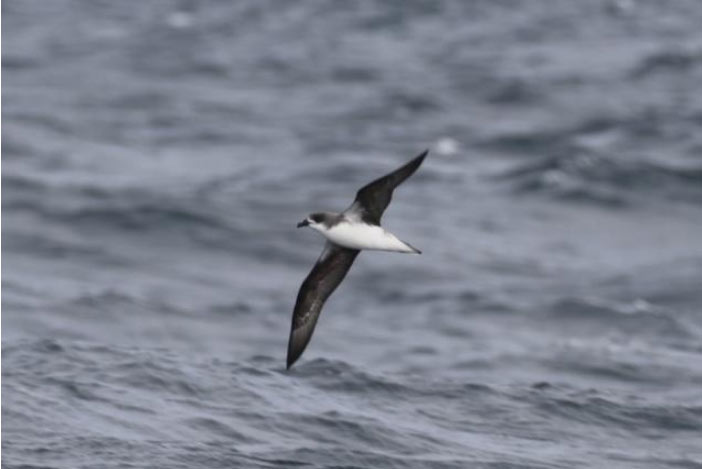 Not the only one of its type this week either – another was seen on 25th from Berry Head (Devon) in the morning with it, or another, logged off Porthgwarra (Cornwall) later in the afternoon; and another was seen heading north past North Ronaldsay (Orkney) on 30th.
We dipped a tentative toe into the murky waters of seabird taxonomy with the recent Cornish Band-rumped Petrel sp - and if anyone fancies a full immersion this week, we've just the thing for you. Pull on a survival suit, make sure your EPIRB is fully charged, and settle down for an orthodoxy-challenging, thoroughly-researched and, as you'd expect from Anthony McGeehan, beautifully-written study of the Zino's / Fea's / Desertas Petrel complex. Maybe, just maybe, it's not as complicated as we've been led to believe…
Yeah, right.
(As you'll see, the whole situation is fiendishly complicated and, for the layperson, mired in both impenetrable language and science and an (un)healthy degree of birding politics. Anthony cuts through that - it's juicy and enjoyable stuff.)
Speaking of which, so too was the curious shearwater seen off Scilly this week on 27th – showing characters of both Cory's and a tantalising hint of Scopoli's, I'm loving the Scopory's label Scilly Pelagics dubbed it with.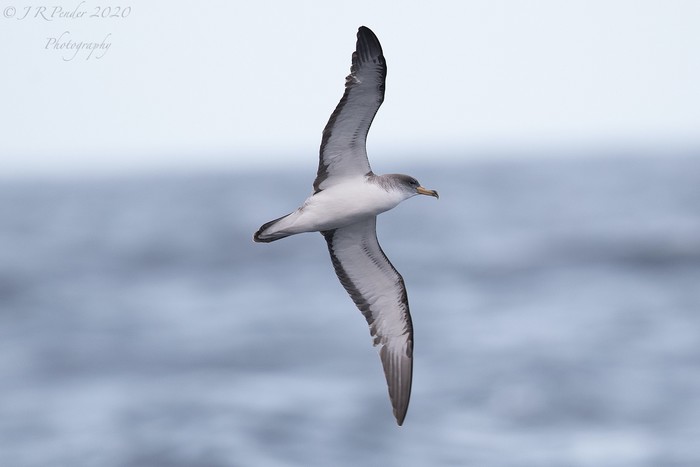 Wilson's Petrels enjoyed another strong week's showing, with some 20 birds in all tallied. Pendeen (Cornwall) notched up two on 25th and three on 26th; Bridges of Ross (Co.Clare) three on 25th and a single bird on 26th; Brandon Point (Co.Kerry) a singleton on 25th; and Porthgwarra a single bird on 27th. The Scilly pelagics proved ever-reliable, with nine birds logged during the course of the week.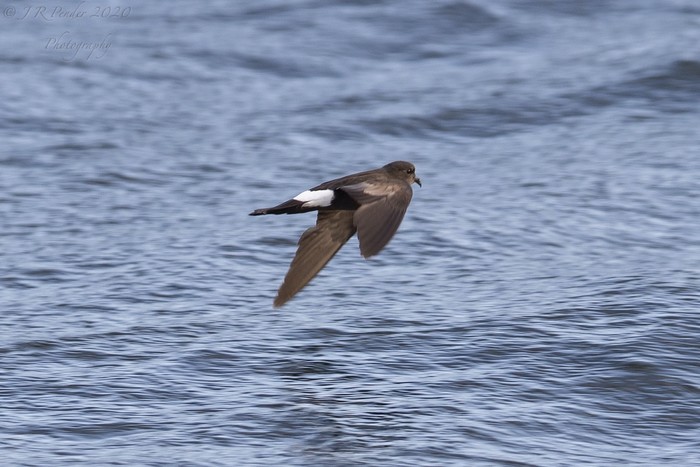 Around 40 Leach's Petrels were seen in recent days, half of which came from Bridges of Ross (Co.Clare) on 25th, where 20 birds provided some distraction from the Wilson's-fest.
Returning to the shearwaters now, 30 or so Cory's Shearwaters were a modest return for the week, of which those present on the Scilly pelagic of 27th had the lion's share, with 16 birds tallied. Great Shearwaters meanwhile were more numerous, with a shade over 130 birds recorded – again, those on the Scilly pelagic were blessed with the week's biggest haul, with 42 birds logged. Special mention has to be made of the individual seen passing Tarbat Ness (Highland) on 25th – as we've said before in these quarters, they're a much rarer beast altogether north of the border.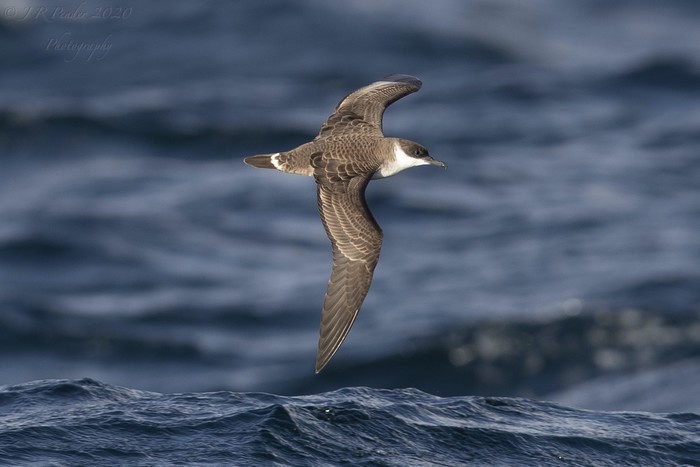 Balearic Shearwaters continued to tick along quietly, with 125 birds logged in recent days – Pendeen (Cornwall) getting the largest single site count of a dozen off there on 25th, just pipping Portland (Dorset) to the post, where 11 were logged on 27th and 28th.
Anyone who's been seawatching this past week hardly needs telling, but skuas were having a bit of a moment lately, with some monstrous tallies of both Pomarine and Long-tailed alike. Inevitably, with both, there will have been some duplication of records as determined birds motored along well-watched stretches of coast, so the weekly scores of some 180 Pomarine Skuas and 620 Long-tailed Skuas are approximate only. Particular mention has to be made of the latter species – some sites on the east coast enjoying hordes of them in recent days, none more so than Spurn (East Yorkshire) where eight on 25th rose to 23 birds on 26th, and was emphatically surpassed on 29th with a final score of 37 individuals.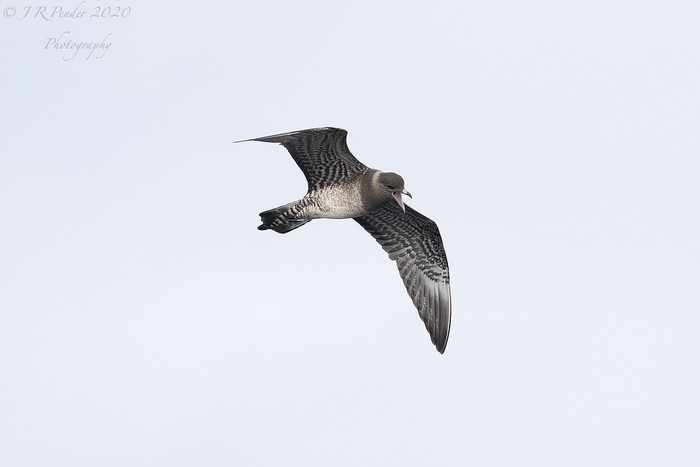 A wintery note was struck on 30th with a White-billed Diver seen passing Islay (Argyll & Bute) and, on 31st, another was seen off the east coast, from Newbiggin (Northumberland), with one that day also in Dunnet Bay (Highland).
We can't leave the seabirds without one last mystery this week – a possible albatross sp seen from Hartlepool Headland (Cleveland) on 26th. In this year, of all years, almost anything feels possible, so consigning it to a putative Black-browed seems almost presumptuous…
Two of our recent Glossy Ibises remained this week and kick off the regular long-legged beasties – these being the individuals at Dungeness (Kent) bird still on 26th-31st, and the Newport Wetlands RSPB (Gwent) bird still on 26th-31st; a further bird was found on the Somerset Levels at Catcott Lows NR on 31st. No news from Ireland until 30th when the Youghal (Co.Cork) bird was once more seen, presumably as Irish birders had better things to do – like seawatch, and look for newly arrived Nearctic waders…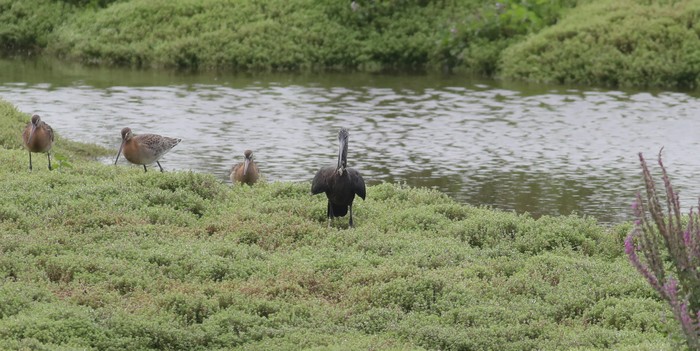 The recent juvenile Purple Herons were still present in Kent at Swale NNR on 26th, and in Somerset at Durleigh reservoir on 26th- 31st. Another bird was seen in flight in Norfolk at Ormesby Little Broad on 25th; and an adult was present at Shapwick Heath NNR (Somerset) on 30th.
The juvenile Night Heron was again seen at Dinton Pastures CP (Berkshire) on 26th; on 27th an adult was found in Barnstaple (Devon), with another possible bird that day at Leighton Moss RSPB (Lancashire).
Where Common Cranes were concerned this week sightings seemed to be largely all about scattered duos. Two birds were noted at the following sites – at Thorne Moors NNR (South Yorkshire) on 25th; at Otmoor RSPB (Oxfordshire) still on 26th; in 27th in Highland at Fortrose and Nigg; and on 27th-28th at Morayscairn (Moray). Back in South Yorkshire five birds bucked the trend at Hatfield Moors NNR on 29th and, in Cambridgeshire, 31 birds were present at Ouse Washes RSPB on 30th with three at March Farmers on 31st.
Burton Mere Wetlands RSPB (Cheshire) held onto two Spotted Crakes on 26th, with one bird at least still present on 27th-30th; one remained at Doonfoot (Ayrshire) on 26th-31st; and further birds were found this week at Seamer (North Yorkshire) on 25th, and Botany Marshes RSPB (Suffolk) on 28th-31st.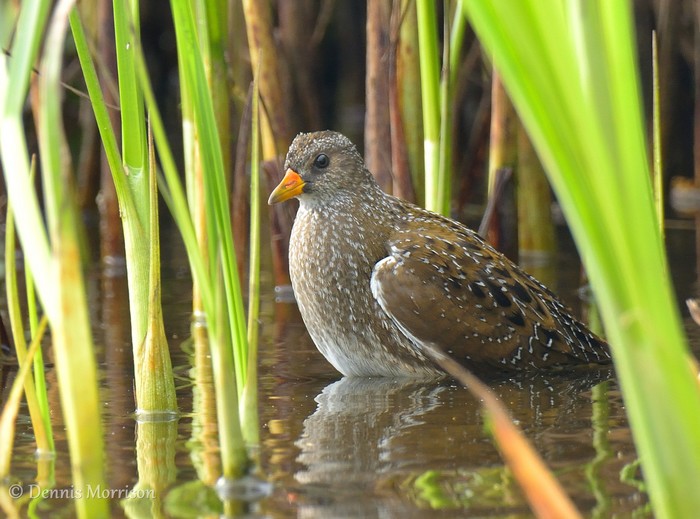 A Corncrake was a great inland find at Belvide reservoir (Staffordshire) on 27th; another was reportedly heard at Bradwell-on-Sea (Essex) on 28th.
Once more this week, it falls to Highland's resident, stalwart drake Black Duck at Stronian to represent the quackers – he was still there on 29th-31st.
That is all.
<!—Section Title -->
As we expected, in the wake of persistent westerlies at this time of year, there was the hint of a Nearctic flavour to our newly arrived waders this week. Give it a week or two and we should, all being well, be in the midst of a full-blown smorgasbord…
A couple of American Golden Plovers served a timely reminder this week to start paying gathering Golden Plover flocks more attention – birds being found in recent days on Yell (Shetland) on 29th-31st, and at Mizen Head (Co.Cork) on 29th.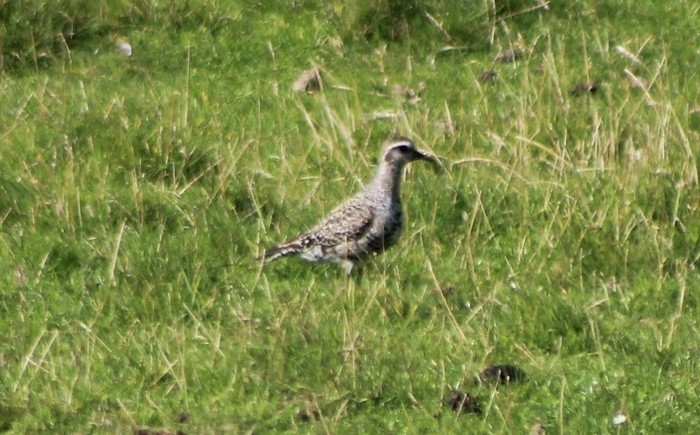 Short coastal turf makes for family-friendly walks and prime habitat now for Buff-breasted Sandpipers - this week marked a noticeable arrival of them, birds being seen on St Mary's (Scilly) on 27th-28th; Tacumshin (Co.Wexford) on 28th-30th, with two birds present on 29th; one at The Cull (Co.Wexford) on 29th; and another on 29th at Ballycotton (Co.Cork).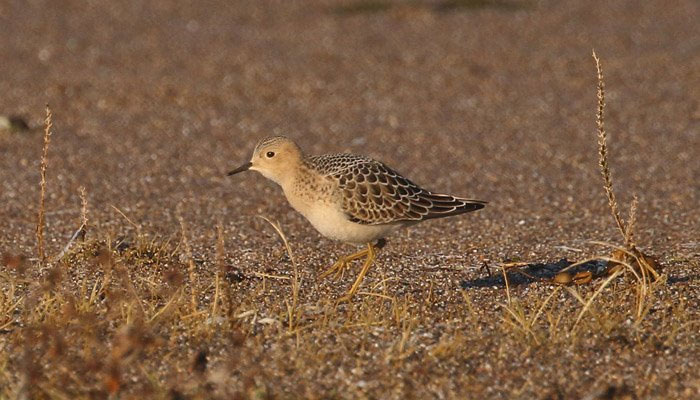 Pectoral Sandpipers were having a quiet week, with records limited to a flyover bird at Sandy Point (Hampshire) on 25th, one on 28th at Spurn (East Yorkshire), and one on 30th over Farmoor reservoir (Oxfordshire).
A juvenile Spotted Sandpiper was found on St Mary's (Scilly) on 30th.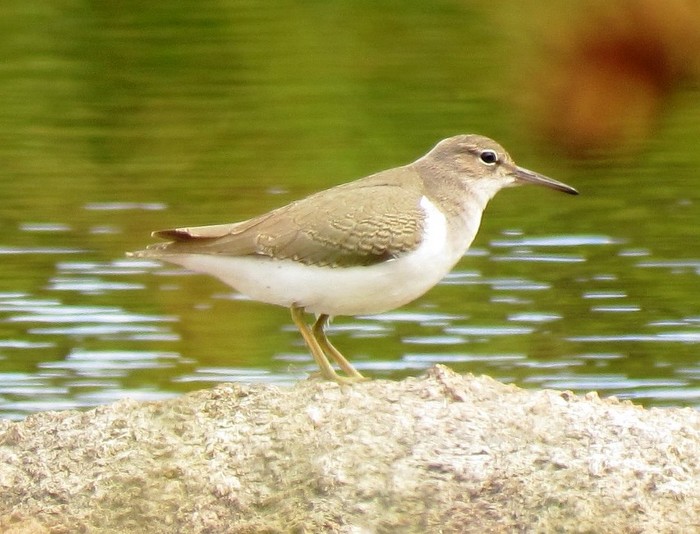 Newly arrived Lesser Yellowlegs were found at Tacumshin (Co.Wexford) on 28th-29th and Cahore Marsh (Co.Wexford) on 30th.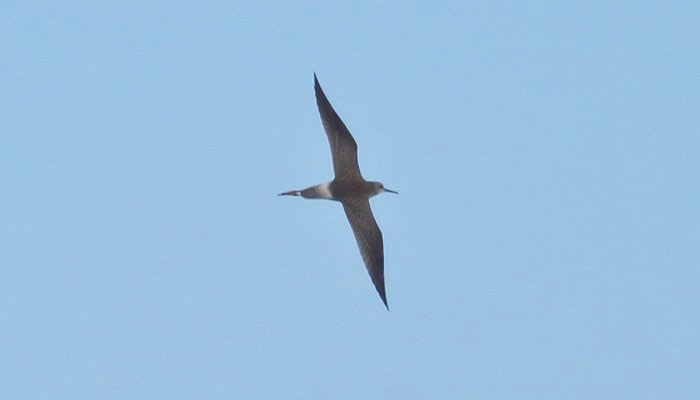 The Long-billed Dowitcher was once more seen in Cumbria at Port Carlisle on 27th and Old Anthorn on 31st.
Mobile Dotterels were again notable this week – birds being logged over Portland (Dorset) on 26th and Reculver (Kent) on 27th; and heard only at Ventnor Downs (Isle of Wight) on 27th, Worth Marsh (Kent) on 28th, and Leaden Hall (Hampshire) on 29th. Another bird was reported from Rhos Dirion (Powys) on 29th, while one was recorded passing over March (Cambridgeshire) that night. On 30th single birds were found at Sancreed (Cornwall) and Skomer (Pembrokeshire); on 31st, singletons were noted at Sancreed still and Porthgwarra (Cornwall), Garreg Lwyd (Carmarthenshire) and Hatfield Moors NNR (South Yorkshire).
The two adult Black-winged Stilts and two of their recently fledged young remained at Steart WWT (Somerset) on 26th-28th; and two juvenile birds at least remained there until 31st.
The Temminck's Stint lingered at Frampton Marsh RSPB (Lincolnshire) on 26th-27th; another was seen on 25th at Cliffe Pools RSPB (Kent). On 31st further birds were found on Tresco (Scilly) and at Cantley beet factory (Norfolk).
Modest numbers of Grey Phalarope were logged this week – one from Severn Beach (Gloucestershire) on 25th; two from Trevose Head (Cornwall) on 25th followed by one bird off there on 26th; one from Start Point (Devon) on 25th; one from St Agnes Head (Cornwall) on 26th; and three from Pendeen (Cornwall) on 26th. On 30th a Scilly pelagic picked up a further sighting, while another was in Thurlestone Bay (Devon). On 31st one passed Kilnsea (East Yorkshire).
Sabine's Gulls continued to have a strong presence in the news in recent days – almost 90 birds in all being logged over the course of the week. Most were transitory birds, of course – though one lingered at Ullapool (Highland) on 25th-29th – and some sites enjoyed notable single-day tallies. Seven birds were seen from Brandon Point (Co.Kerry) on 25th, and eight that day from Bridges of Ross (Co.Clare); Pendeen (Cornwall) scored nine on 26th; and Strumble Head (Pembrokeshire) broke into double figures on 26th with 10 birds seen.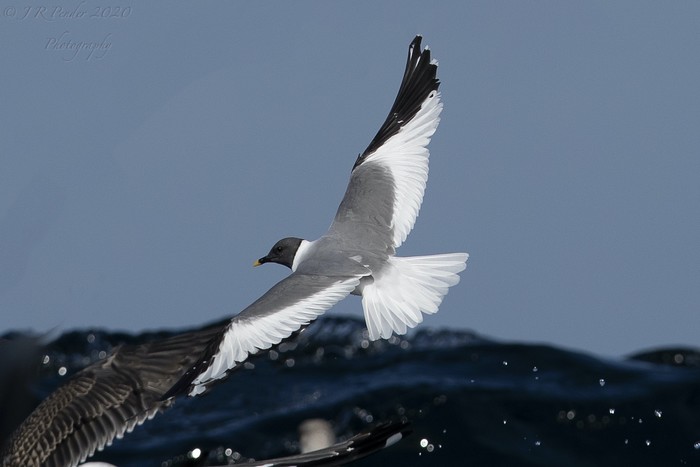 The adult Bonaparte's Gull remained in Kent at Oare Marshes KWT on 26th-28th; another adult was present on Islay (Argyll & Bute) on 28th-30th at Loch Gruinart RSPB; and the second-winter bird was still on the Add estuary (Argyll & Bute) on 25th.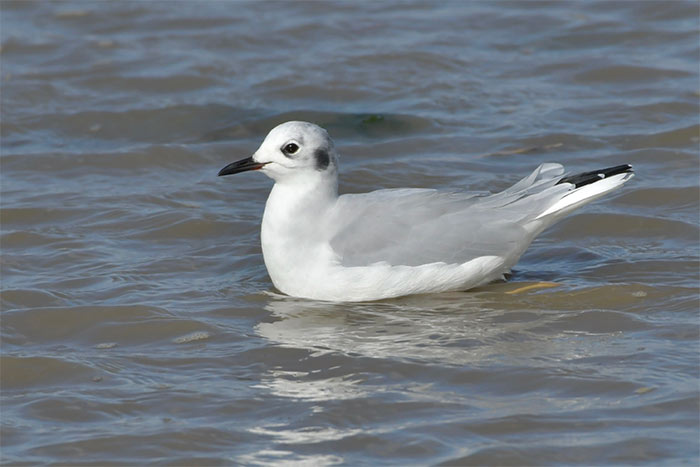 A third-winter Glaucous Gull was noted at Castletown Bearhaven (Co.Cork) on 25th; a second-winter at Tarbat Ness (Highland) on 26th; and an immature bird on North Uist (Western Isles) on 27th.
A little variety came in the form of an adult Iceland Gull on the Lossie estuary (Moray) on 27th, and another on South Uist (Western Isles) on 31st.
The recent Irish Gull-billed Tern remained at The Gearagh (Co.Cork) on 25th; and one was seen at Lady's Island Lake (Co.Wexford) on 31st.
A White-winged Black Tern was an excellent Orkney find on Burray on 31st.
Finally, the good recent showing of Caspian Terns continued this week with one reported in Lincolnshire passing Huttoft Bank on 30th.
Scoring highly for tenacity as well as sheer star presence, the young Lammergeier remained this week in the Crowden area of Derbyshire until 31st.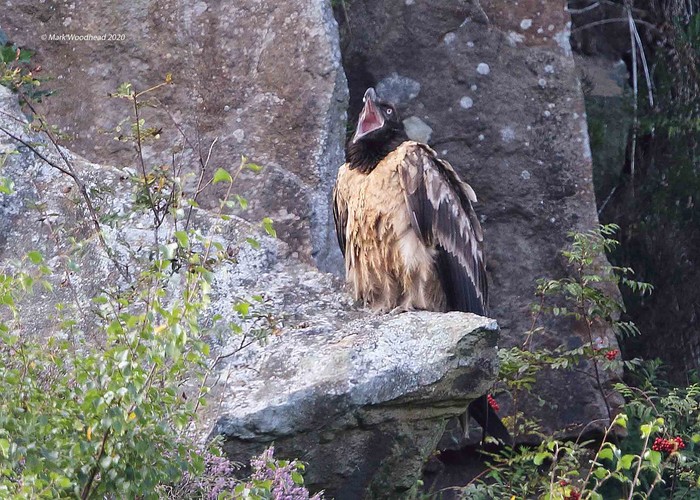 Heralding, hopefully, a good autumn for the species, a juvenile Pallid Harrier was found on 31st on Thorney Island (West Sussex).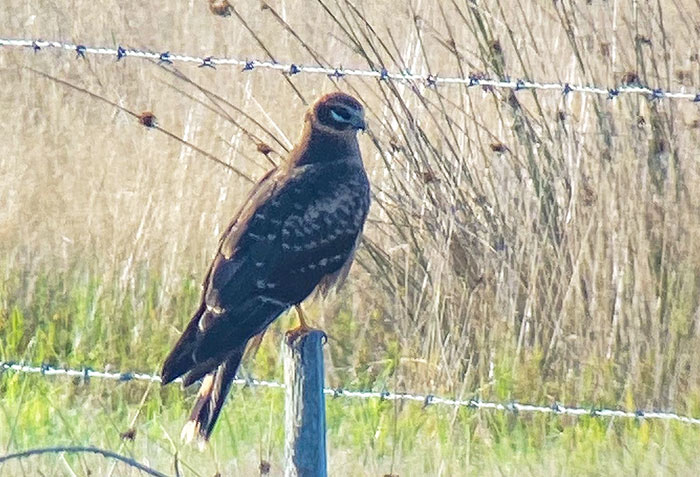 A Black Kite headed inland over Nanjizal Valley (Cornwall) on 30th and maybe accounted for that seen the following day at Porthgwarra; another two were seen on 31st on St Mary's (Scilly), lending some credence to the mainland Cornish birds being two separate individuals in a small arrival in the region.
Further variety came in the form of a possible Montagu's Harrier in Kent at Bough Beech reservoir on 26th; and a Rough-legged Buzzard reported from the Orkney mainland at Mull Head on 26th also.
Absent from the news for months, we finish with the female Snowy Owl still resident on St Kilda (Western Isles) on 31st.
A certain early rare wheatear aside, once again the warblers made the early running in the week's scarce and rare passerines. Pick of the bunch was the Booted Warbler found in Co.Durham at Whitburn CP on 29th-30th.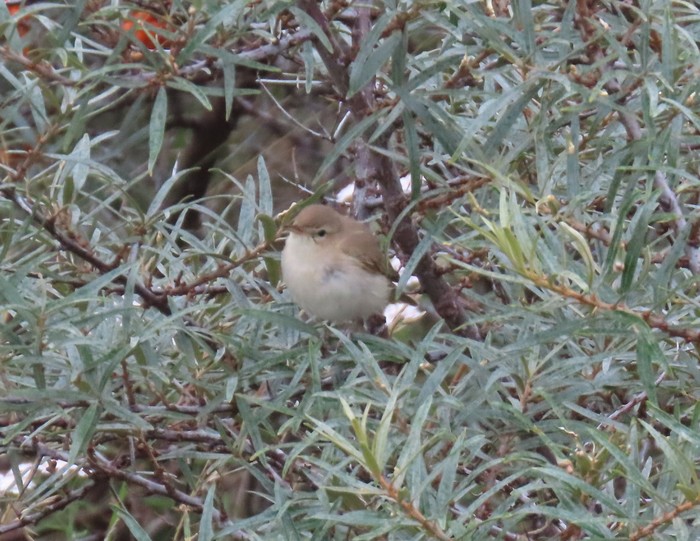 A Subalpine Warbler sp was found on North Ronaldsay (Orkney) on 30th and, on 31st, the news we'd all been waiting for – the first Yellow-browed Warbler of this migration period and, surely, one of the earliest ever autumnal records for Britain? Autumn is now, officially, under way.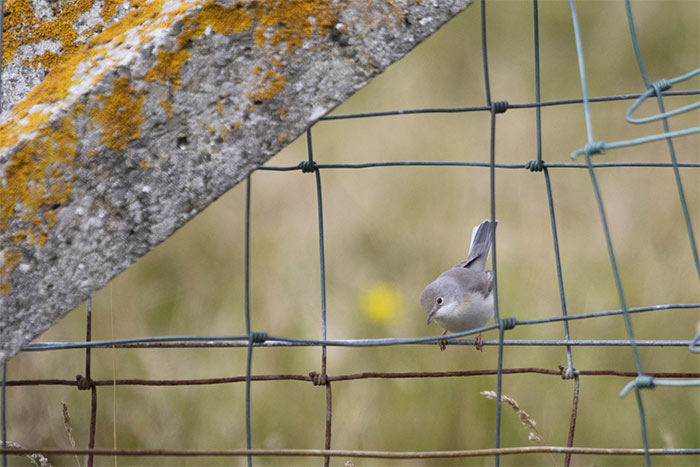 Yellow-browed Warbler in Ancum Willows although highly elusive! Earliest ever North Ron record and first UK August record!

— North Ronaldsay Bird Observatory (@NRonBirdObs) August 31, 2020
Greenish Warblers finally paused and caught their breath a little after a frenetic showing in recent weeks – which isn't to say, however, that there weren't new birds to be seen… Just not quite as many as of late. The week began with two recent Shetland birds still present – the individuals at Burrafirth on Unst, and on Yell, both on 25th. Two more Scottish mainland birds were found on 26th – one at St Abb's Head (Borders), and Highland's second-ever record, found at Tarbat Ness by incomparable rarity-finders Bob Swann and Peter Stronach. On 30th Shetland added one more to its recent good run, at Setter Marsh; and further English birds were found at East Hills (Norfolk) and Newbiggin (Northumberland). The latter bird remained on 31st, when final individuals for the week were found at Horsey and Thornham (Norfolk), and Flamborough (East Yorkshire).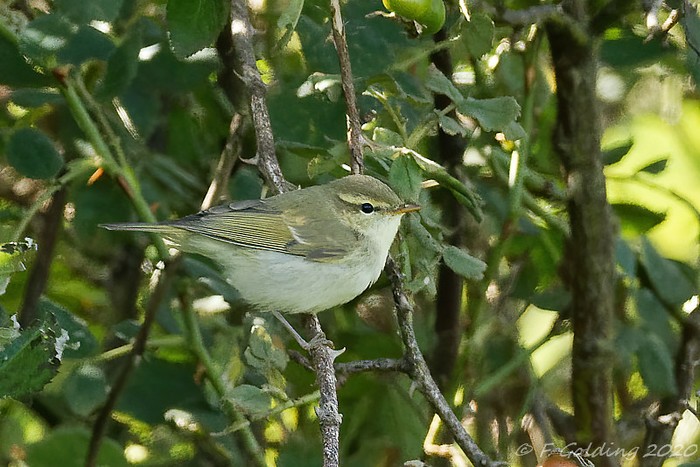 Fair Isle (Shetland) delivered an Arctic Warbler on 31st.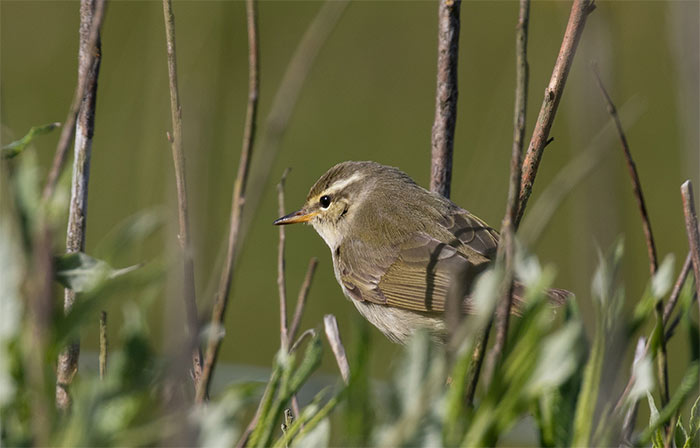 A Blyth's Reed Warbler was found in the evening of 30th on the Shetland mainland at Rerwick.
Back on Unst, a Marsh Warbler was seen on 28th, while on the Shetland mainland another was present at Quendale on 30th-31st; another was trapped and ringed inland at Belvide reservoir (Staffordshire) on 31st.
Icterine Warblers remained in relatively short supply this week – in Shetland, birds were seen on Fetlar on 25th, at Hestingott on 26th and 31st, and on Whalsay on 30th; one lingered on Spurn (East Yorkshire) on 28th-29th and one was trapped and ringed at adjacent Kilnsea on 30th. On 31st a Kentish bird was found in Leysdown-on-Sea, with another in Lincolnshire at Donna Nook.
A Melodious Warbler was seen on The Lizard (Cornwall) on 28th-29th; another was found on Lundy (Devon) on 31st.
Barred Warblers were very much the preserve of the northern isles this week, albeit in fairly modest numbers. Orkney had the best of it, with a peak count of three on North Ronaldsay on 27th, while Stronsay enjoyed a bird on 25th and Papa Westray another on 27th. Shetland, meanwhile, had single individuals on 27th on Fair Isle, Foula, and at Sumburgh; on 28th at Hestingott; on 29th at Pool of Virkie; and on 30th on Whalsay. On 30th some British mainland birds filtered through – singles at Spurn and Stone Creek (East Yorkshire), and Blakeney Point (Norfolk); while on Orkney, Papa Westray's tally rose to two birds that day. Norfolk enjoyed a small fall on 31st, with two on Blakeney Point and another at Burnham Overy Dunes; and one was noted at Easington (East Yorkshire).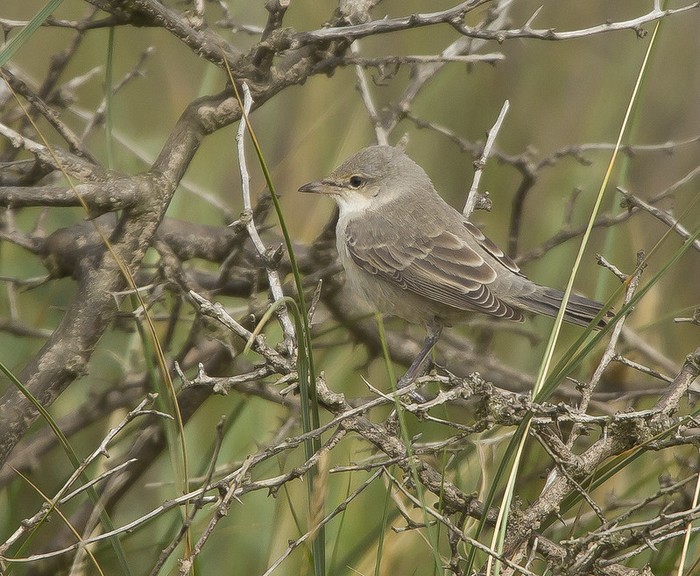 Norfolk's small purple patch on 31st continued in the form of a Bluethroat on Blakeney Point.
An adult female Woodchat Shrike was a welcome additional bonus for pelagic-bound birders on Scilly on St Mary's on 28th; another juvenile bird was found at Wembury (Devon) on 29th-30th.
A handful of Red-backed Shrikes were noted during the course of the week – one remained on Spurn (East Yorkshire) on 26th-30th, joined by a second bird on 30th; Fair Isle (Shetland) held one on 26th-27th; one was hunting the lush depths of the Swinister Burn on Shetland mainland on 26th; a bird lingered at Gunton Warren (Suffolk) on 28th-29th; an adult male was deservedly popular inland at Sutton Park NNR (West Midlands) on 29th-31st; and on 31st one was seen at Abbot's Cliff (Kent), one in Wiltshire at Russley Downs, one more in Norfolk at Waxham, and another at Porth Joke (Cornwall). A further probable bird was on Bryher (Scilly) on 30th.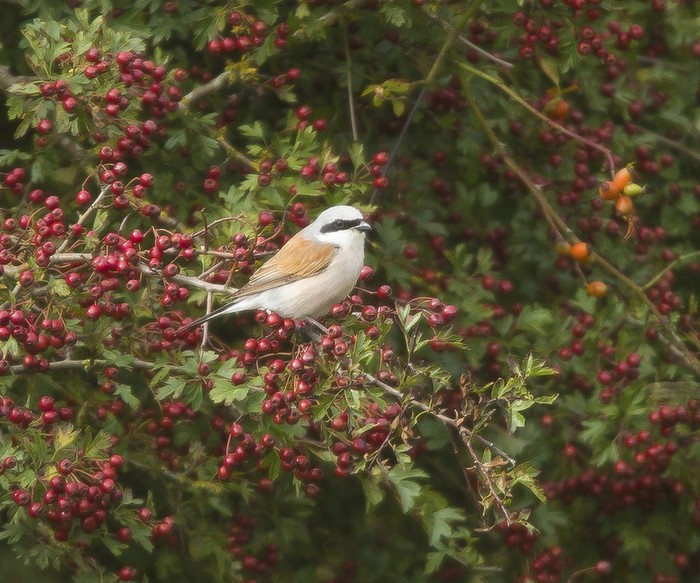 Wrynecks had another decent week, with some 30 birds in all noted in recent days, mostly as we'd expect from the east and south coasts, but not exclusively – outliers were found at Stanford reservoir (Northamptonshire) on 27th, on Bardsey (Gwynedd) on 28th and, on 31st, in Greater Manchester at Horwich Moors, in Derbyshire at Markham Vale and, in Wiltshire, on Salisbury Plain at SPTA East.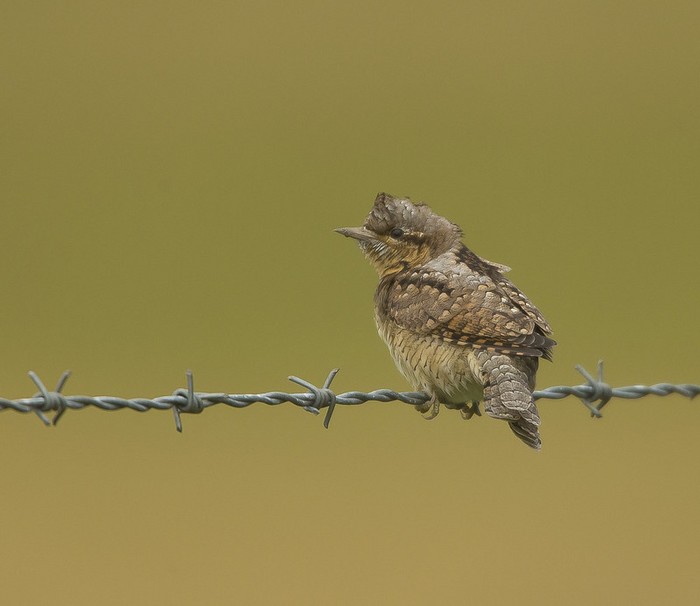 Two recent Hoopoes lingered – one on the Isle of Wight at Niton on 26th still, and one in Cornwall at Coverack on 26th again also. One was found in an area near Poole (Dorset) with no general public access on 25th; a more accessible bird was seen at Belhaven (Lothian) on 26th-27th; and another Scottish individual was seen in flight on 30th near Drumoak (Aberdeenshire).
Citrine Wagtails continued to put in a good showing in recent days, with fresh arrivals almost daily. One remained on Bardsey (Gwynedd) on 26th-28th, augmented by birds seen on 25th at Cley (Norfolk); a different bird at Titchwell RSPB (Norfolk) on 26th; an adult on Sanday (Orkney) on 26th-29th; one on Tresco (Scilly) on 26th-30th; a bird on Skokholm (Pembrokeshire) on 27th; a bird passed over Nanjizal Valley (Cornwall) on 30th; and one was found at Sumburgh (Shetland) on 31st.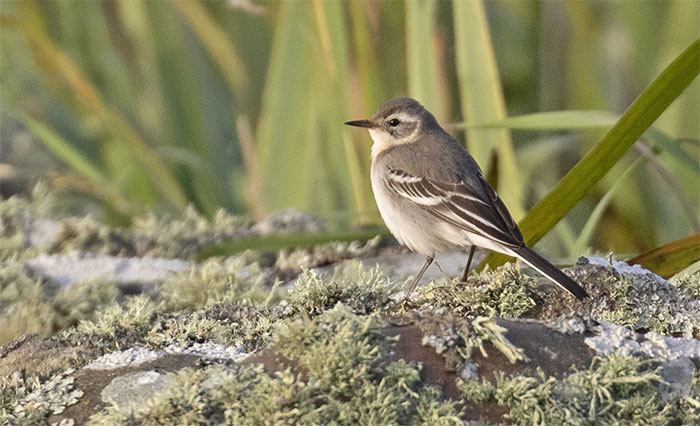 A Blue-headed Wagtail was seen on 30th at Arlington reservoir (East Sussex); and another on 31st at South Huish Marsh (Devon).
Fair Isle (Shetland) enjoyed its second Thrush Nightingale of the autumn on 28th. A mainland sprosser would be popular in the coming week or two…
Fair Isle also had another Rose-coloured Starling to show for itself this week on 28th-31st; further birds were seen at Northwick Warth (Gloucestershire) again on 26th, on Unst (Shetland) on 26th-30th, and at Measham (Leicestershire) on 28th-30th.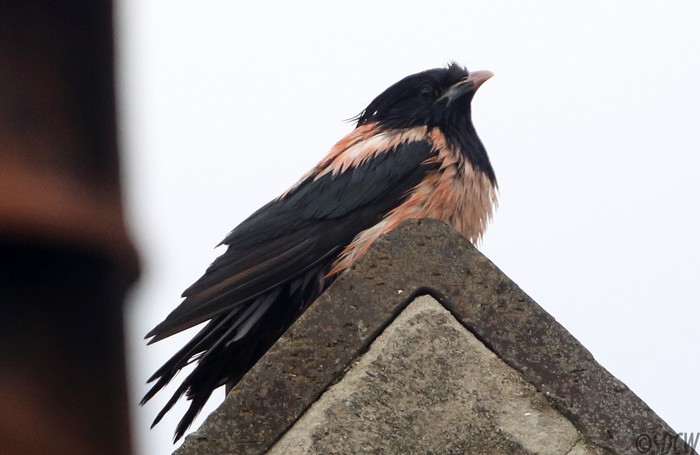 Sure enough, Common Rosefinch numbers began to pick up a little this week – not least on North Ronaldsay (Orkney), where three birds were hanging around on 27th-30th. Adjacent Fair Isle (Shetland) had one to show for itself on 27th, rising to two on 30th-31st; while another was on Out Skerries on 30th, and two in the Swinister Burn on Mainland on 31st. A bird made a brief appearance on the Scottish mainland at Cotehill Loch (Aberdeenshire) on 28th; and on 30th one had made it deep to the west to Great Saltee Island (Co.Wexford).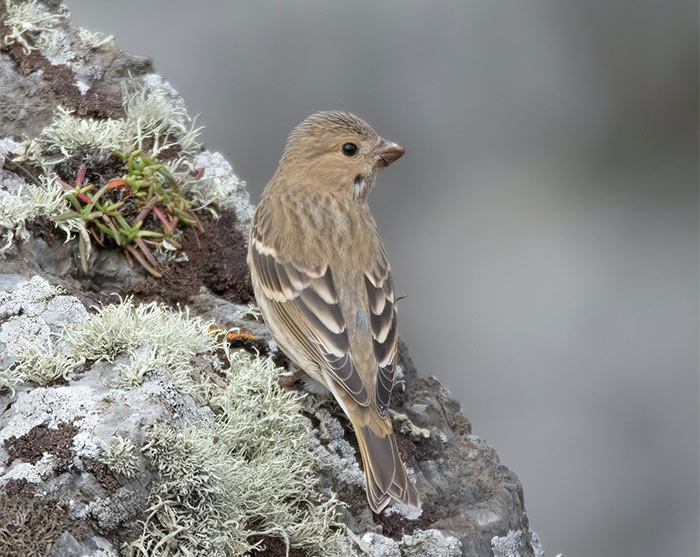 Fair Isle also sported a juvenile Two-barred Crossbill on 26th, while the carmine male remained on Mull (Argyll & Bute) on 26th-28th.
Finally, Dorset gives us a couple of migrant Ortolan Buntings - one recorded at night over Stoborough on 26th, and another over Stanpit Marsh on 29th; while one more was noted flying over Coverack (Cornwall) on 30th.
We start the week's overseas news in Spain, where the year's remarkable seabird season just kept rolling on. Go back a few years and the Brown Booby noted from Burela on 29th would have been much more remarkable news, but as we know that's no longer the case with this species. Elsewhere on 29th, however, one of the most incredible seawatches ever was unfolding…
Galicia's Estaca de Bares marks the most northerly point of the Spanish mainland, jutting like a finger pointing into the mid-Atlantic. As a seawatching vantage point it has pedigree, but on 29th, while hosting a group of seasoned seawatchers with, in their number, many with experience of Atlantic and Southern Ocean tubenoses, it excelled itself when Dutch birder Rinse van der Vliet found a bulky, chocolate-brown petrel with a striking flight flying past the headland. The observers present feel that Great-winged Petrel, in the light of what they saw, is the only reasonable and realistic identification for what they had on their hands – if accepted, that would be a Western Palearctic first.
Amidst a host of hundreds of commoner skuas two South Polar Skuas further gilded the lily that day, but Estaca de Bares wasn't quite done yet. Mid-morning on the following day, the shout went up from Guillermo Rodriguez for an albatross and, as optics were trained upon the bird, the penny swiftly dropped that this was no Black-browed - those dedicated seawatchers had scored an Atlantic Yellow-nosed Albatross.
Meanwhile in France, this week, the biggest news was a sub-adult Black-browed Albatross seen Brignogan-Plage on 28th. Further news concerned the lingering Pied-billed Grebe still present at Rocheserviere on 26th-29th, and a Pygmy Cormorant again at Rosieres-aux-Salines on 25th.
In Holland, the leucopsis Amur Wagtail remained at Rockanje on 31st.
Moving north, a Dalmatian Pelican had made it to Sweden on 29th, being seen there at Hjalmaren.
Iceland gave us an American Herring Gull at Porlakshofn on 28th.
Finally, much further afield still, a Crested Honey Buzzard was seen in Turkey at Subasi on 27th – the fourth national record.
Well now, folks, here we go – the first week of September stretches out ahead of us and, while it may be purely psychological, that feels like a corner turned and the start of 'proper' autumn.
That said, we've already had a terrific early run of passerines in the last couple of weeks, allied with the anticipated first stirrings of wader passage and the continuing delights of 2020's loopy seabird season.
(Speaking of which, this week marks the anniversary of the discovery of the ultimately ill-fated, exhausted Red-footed Booby on the beach of St Leonard's-on-Sea (East Sussex) on 4th September 2016. One tends to think it's only a matter of time before we get another…)
http://www.rarebirdalert.co.uk/v2/Content/First_for_Britain_Red_footed_Booby_in_Sussex.aspx?s_id=100366138
Such rarefied fare aside, the coming week remains prime territory for all of those things. Whichever way the wind's blowing, we're in with a fighting chance of something half-decent – and the tantalising prospect of something truly outstanding.
Realistic prospects, then – the coming week is historically solid for the Baird's / Semipalmated / White-rumped Sandpiper triumvirate; and Greenish Warblers are starting to hand the baton over to Arctic Warblers… a classic and attainable self-found prize for anyone birding on the east coast at this time of year.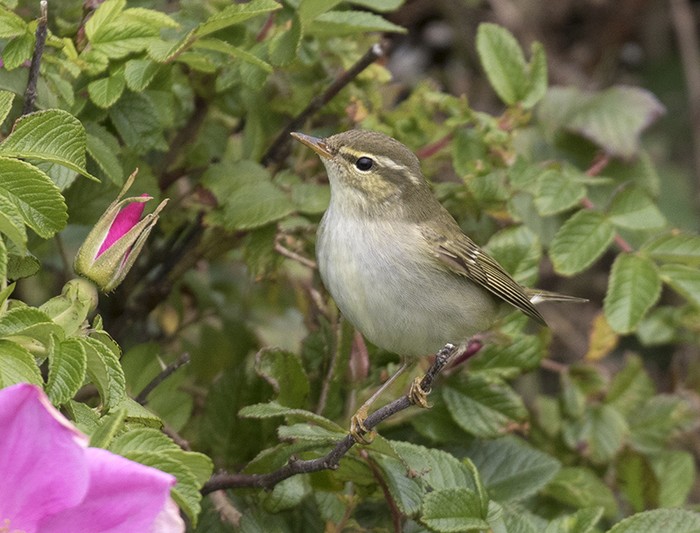 Jon Dunn
1 September2020
Many thanks to all this week's contributors for your photos and videos
Share this story
Tweet