Weekly birding round-up: 4 - 10 Aug 2020
The week at a glance
Lothian continues the summer seabird craziness with a lingering Scopoli's Shearwater
While East Yorkshire opens the autumn migrant account with a Collared Flycatcher
And the Lammergeier lingers in northern England
The hottest week of the year so far and, for much of it, the quietest week of bird news 2020 has dished up yet. We have, to be fair though, been rather spoiled.
That all changed as the week drew to a close, with a fall of early migrants along the south and east coasts and, in Scotland, yet another mega seabird…
Scopoli's Shearwater
The week was done and dusted, the Rarity Round Up put to bed and sent to RBA Towers, and your own correspondent had put himself to bed too by the time the last, and the biggest, rarity news of the week announced itself a shade before 11pm on 10th. The moral of which being, while a writer can blithely swan off to get some much needed beauty sleep, those at the RBA coalface never rest…
So what news greeted me, and many another birder, first thing in the morning of 11th? Ah… that would be that the Cory's Shearwater that had spent much of 9th and all of 10th hanging around on the water off South Queensferry in the shadow of the magnificent Forth Bridge was, in fact, not a Cory's after all.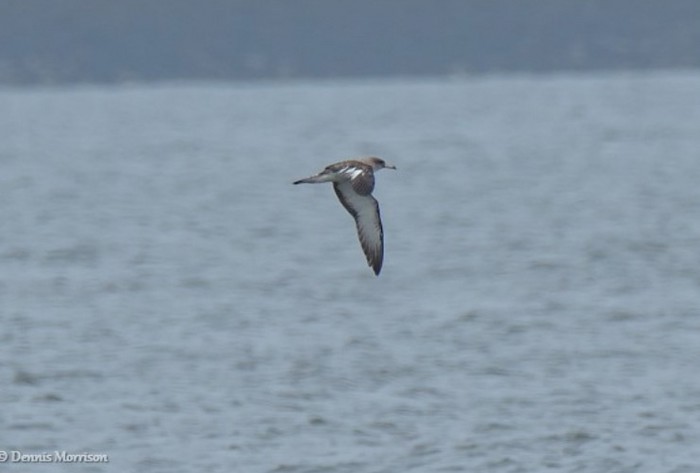 Remember, at this juncture, that a lingering Cory's Shearwater is a damn fine Scottish bird in its own right. What it's not, however, is a Scopoli's Shearwater, but that's what this particular bird appears to be.
They've flirted with British birders for years now. We've a litany of possible and probable sightings that stretch back to the early years of the current century when, in the wake of Britain's first confirmed bird seen a few miles south of St Mary's (Scilly) on 2nd August 2004, further putative examples were seen from Scilly, Cornwall, Norfolk and East Yorkshire. Actually nailing one down, to one's own satisfaction let alone that of BBRC, was always going to be challenging. In their account of Britain's first record, Ashley Fisher and Bob Flood provided wise words of caution and inspiration in equal measure…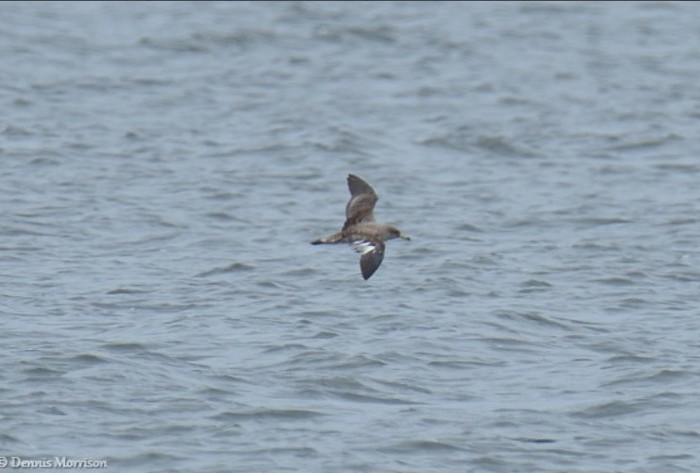 As a nation's birders already knew from the recent Yelkouan Shearwater experience off Portland (Dorset), even a bird lingering on the water for a day or two can be far from a straightforward prospect.
A Scopoli's Shearwater should be a dainty, more elegant bird than its bulky, brutish Cory's counterpart and, crucially, should have a distinctively different underwing too – with long, extensive dark-bordered white fingers on the primaries that extend noticeably out beyond the underwing coverts. As Ashley and Bob warned in their BB paper, the precise pattern of that white in the outer primaries is crucial – hence birds seen off Scilly that were convincing candidates for Scopoli's remain prudently parked in the probable category. At the time of writing I've yet to see photos of the underwing of the Lothian bird…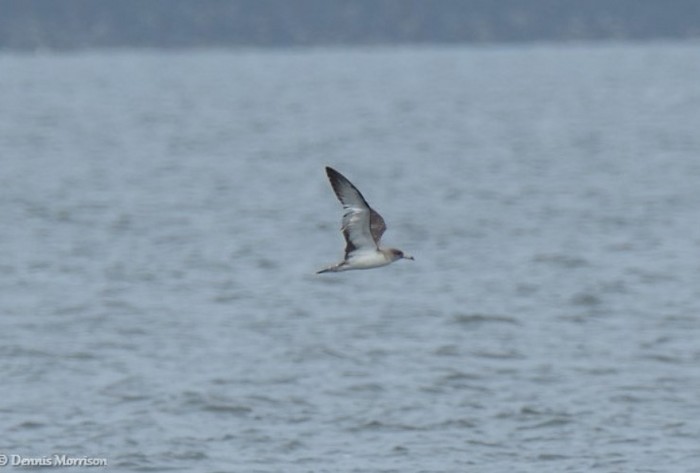 However, also at the time of writing in the opening hours of a new week on 11th, this latest Scopoli's Shearwater candidate is nowhere to be seen. That said, the Forth is a big place, and there will be eyes peeled for it now with a fresh sense of urgency. The story of Scotland's first Scopoli's Shearwater, and Britain's mad seabird summer as a whole, may not be over just yet…
Collared Flycatcher
Little did we know it, first thing in the morning on 10th when East Yorkshire's latest Collared Flycatcher, a first-winter female, was trapped and ringed at Spurn, but East Yorkshire was set fair that day for a peach of an early autumn fall – a day that would also feature Greenish and Icterine Warblers, and a dusting of Red-backed Shrikes.
That, though, was still to come as the day unfolded.
All we need to know at breakfast time on 10th was that the Spurn faithful had struck again with the first properly rare passerine of the autumn. Fair to say, at this point, autumn is officially underway.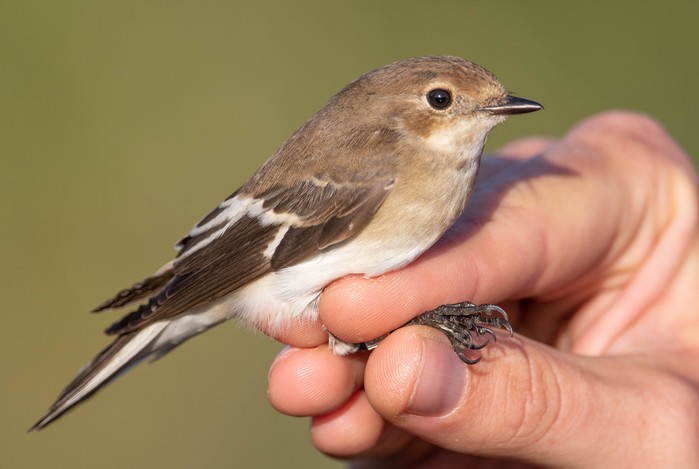 Britain's pushing on towards the half century mark for accepted records of Collared Flycatcher, with 48 birds on the books to the end of 2018. Of the three that Yorkshire contributes to that number, one hailed from Filey (North Yorkshire) and the balance were both at Spurn, in 2010 and 2013 respectively. Nearby Easington, meanwhile, adds the county's most recent bird, on 11th May 2019. Spurn proper, however, has some history with them and this bird completes the hat-trick.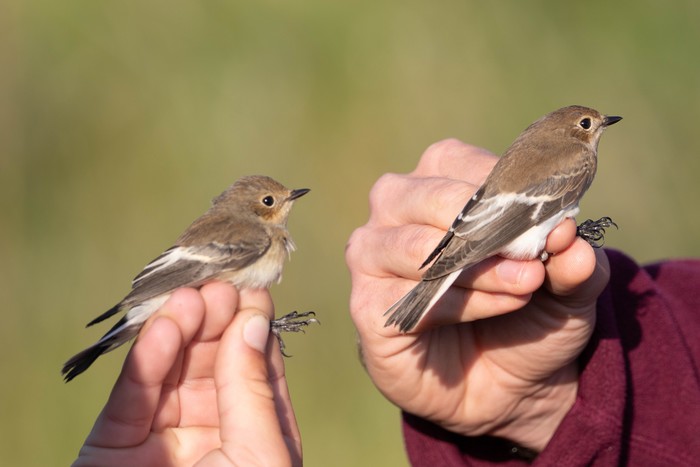 It's a species that's been turning up with increasing frequency since the turn of the century, becoming almost annual in the past decade, five of which years involved at least two birds. The anticipated Semi-collared Flycatcher hasn't been found, just yet, but it's surely only a matter of time…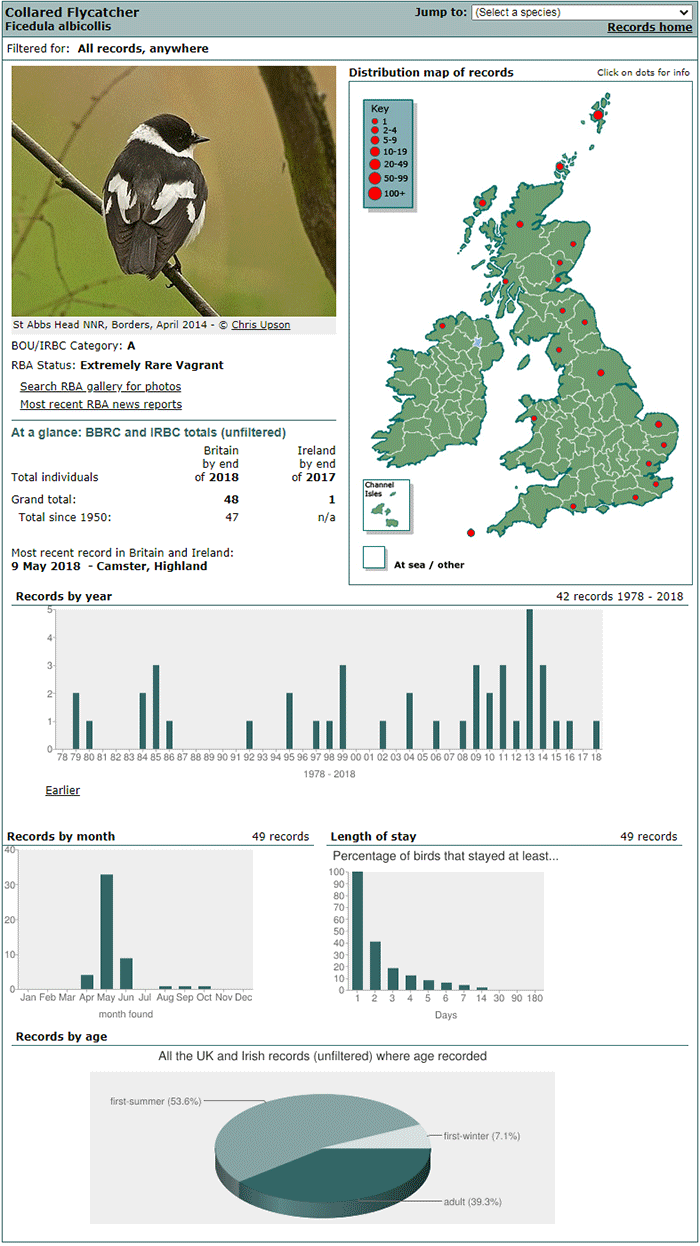 Lammergeier
With the inglorious grouse shooting season nearly upon us in northern England, and 2020's Hen Harrier Day fresh in our minds, the lingering young Lammergeier in the Crowden area of Derbyshire throughout this week is in twofold danger – partly of inadvertently ingesting poisoned bait left out by those 'bad apples' of the otherwise blameless gamekeeping community…
…and partly of becoming repatriated back to the alpine regions of mainland Europe. The press release issued by Peak District National Park is something of a considered gem both in what it does and what it doesn't, quite, say.
That, in the same breath, the Chief Executive of Peak District National Park identifies the ongoing, illegal persecution of raptors in the area but also thanks, amongst others, landowners, gamekeepers and land managers – three 'custodians of our protected landscapes' who all, at one point or another, have all at a national level supplied convictions for wildlife crime from amongst their numbers - is bleakly ironic.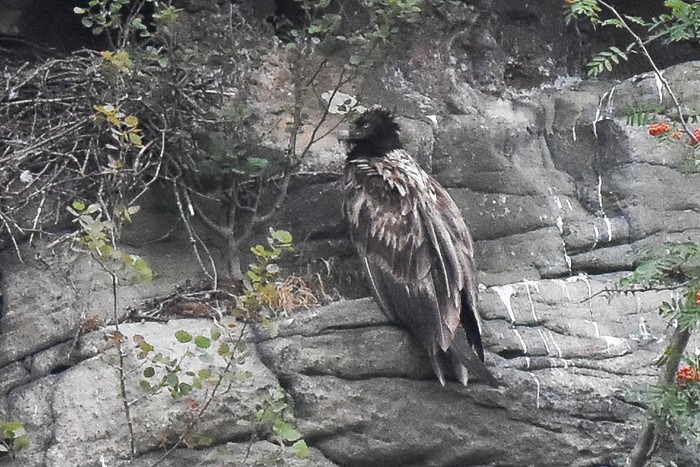 That the press release concludes by suggesting that the Lammergeier may need human intervention to remove it from northern England to ensure its welfare 'in our changeable weather conditions' is pretty disingenuous. The Chief Executive, of course, needs to keep all of the Peak District National Park's stakeholders happy, and is stopping just short of saying that it's statistically only a matter of time before some grisly, illegal mishap befalls the bird.
That though, is surely the damning truth of the matter…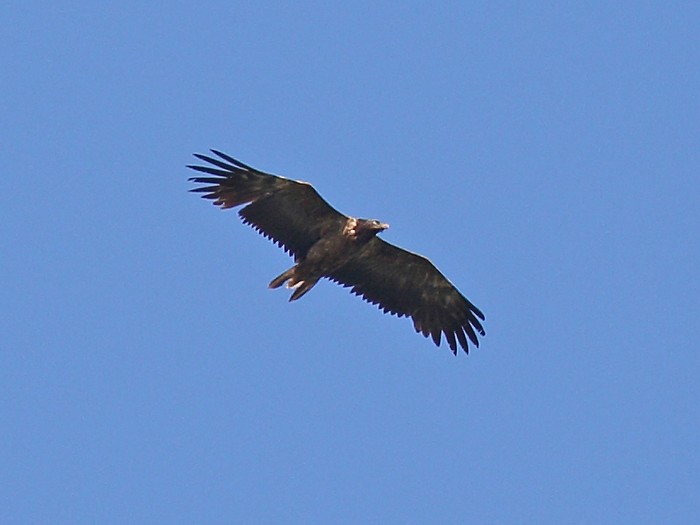 In the wake of the prior week's Zino's Petrel off Scilly, almost anything was, even in this most marvellous of years for rare seabirds, bound to feel like something of an anti-climax. Try telling that, though, to the lucky finder of the the Fea's / Desertas Petrel that hove into view off Galley Head (Co.Cork) in the morning of 5th. While specific identity of these petrels, from a land-based seawatch, may remain an elusive chimaera there's simply no denying their star quality and the immense rush of adrenaline seeing one in Irish or British waters will always engender.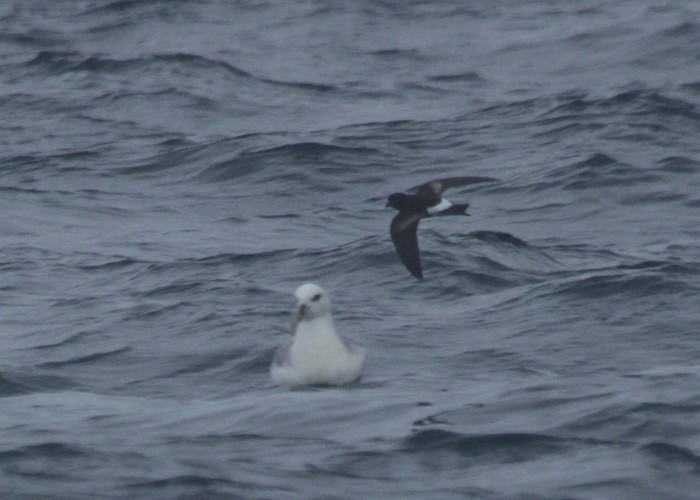 Scilly, while not scaling the giddy heights of the week before, was still maintaining a steady presence in the news this week, with good hauls of Wilson's Petrels coming from the pelagics – half a dozen apiece on 6th and 7th, and a single bird on 8th. They're completely anticipated fare down there – but off Shetland, Wilson's Petrel is a much bigger deal indeed. Two seen 36 nautical miles northwest of Ramna Stacks by an intrepid party of local birders on 10th is locally mega news.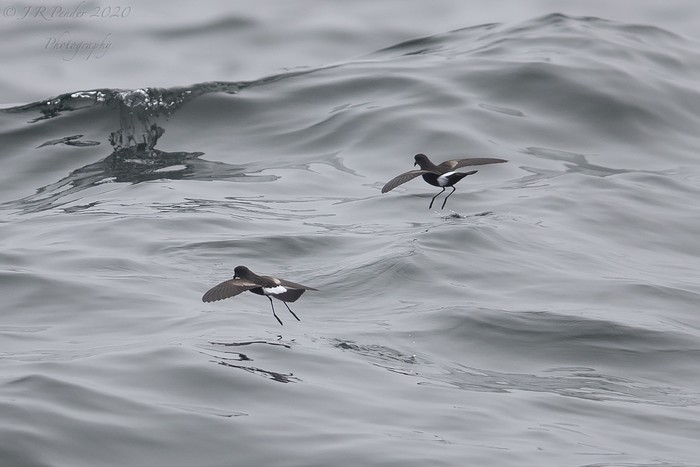 Three Leach's Petrels were trapped and ringed on Fair Isle (Shetland) on 8th, with a truly staggering 308 Storm Petrels. No Swinhoe's Petrel - yet…
125 Balearic Shearwaters were a modest return on recent days – our peak count coming off the Devon coast on 5th, when 47 birds were logged from Berry Head.
Their larger, scarcer counterparts were still ticking over nicely – around 75 Cory's Shearwaters being noted across the week, with some double figure tallies made in Cornwall and Co.Cork. Porthgwarra (Cornwall) returned 13 birds on 5th; while, on 4th, 12 birds were seen from Seven Heads and 15 from Cape Clear (Co.Cork).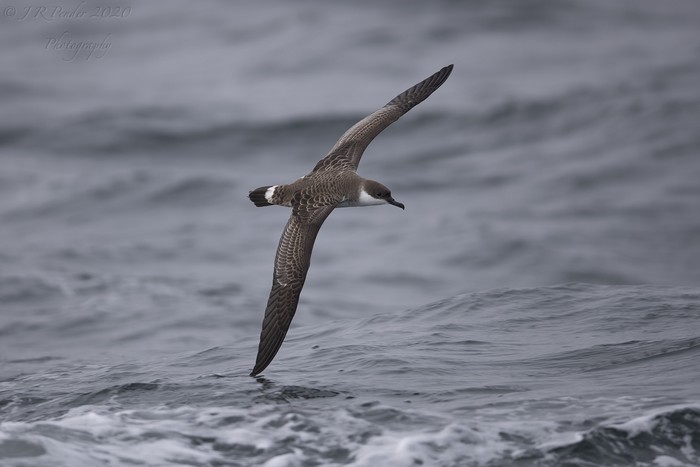 A Scilly pelagic on 6th gave our week's highest score of Great Shearwaters, 16 birds; with 13 seen from Porthgwarra (Cornwall) on 5th running Scilly a close second. Some 50 birds in all were tallied across the region this week.
Pomarine Skuas were picking up a little more this week – with some 30 birds in all being noted, of which all were wandering singletons bar duos seen from Galley Head (Co.Cork) on 4th, Seven Heads (Co.Cork) on 4th, and Porthgwarra (Cornwall) on 5th; and quartets logged off Cruden Bay (Aberdeenshire) and Inverness (Highland) on 10th.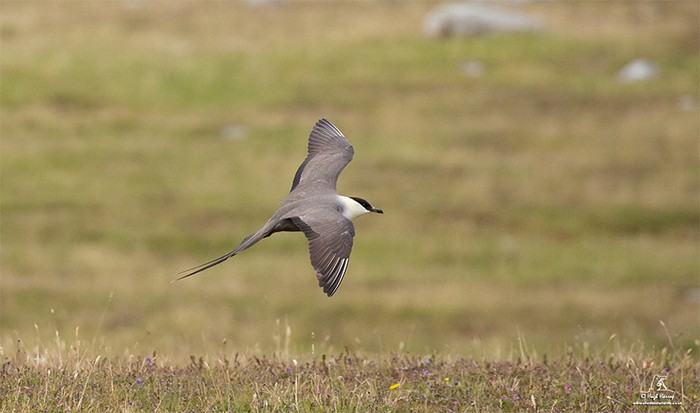 In Shetland, the lingering adult Long-tailed Skua was back bothering the local Arctic Skuas at Dalsetter on 9th-10th.
Before we leave Shetland, we close with an unseasonal sighting of a White-billed Diver in the traditional wintering site of South Nesting Bay on 9th-10th.
Starting our weekly wade through the long-legged beasties again this week is the settled Glossy Ibis, still happily resident at Newport Wetlands RSPB (Gwent) on 7th-10th; another was seen in Kent at Dungeness on 9th-10th.
Of the scarce herons, a Night Heron was heard only over Sizewell (Suffolk) in the evening of 6th, with a juvenile bird found at Dinton Pastures CP (Berkshire) on 8th…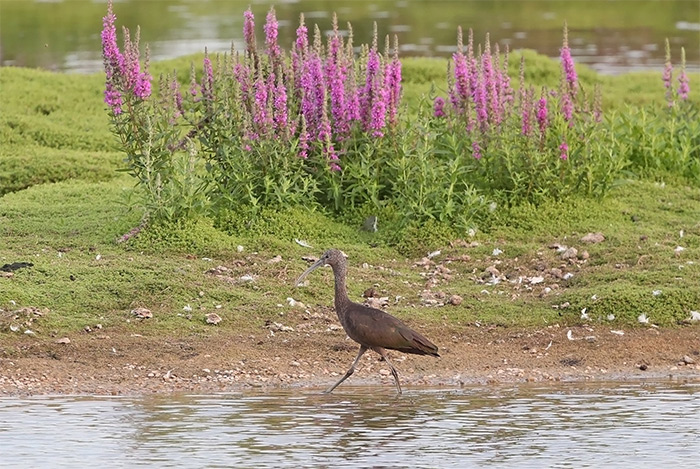 …and Purple Herons were seen on 4th at Hornsea Mere (East Yorkshire), on 6th-9th at Durleigh reservoir (Somerset), and on 9th at Burton and Parkgate Marshes (Cheshire).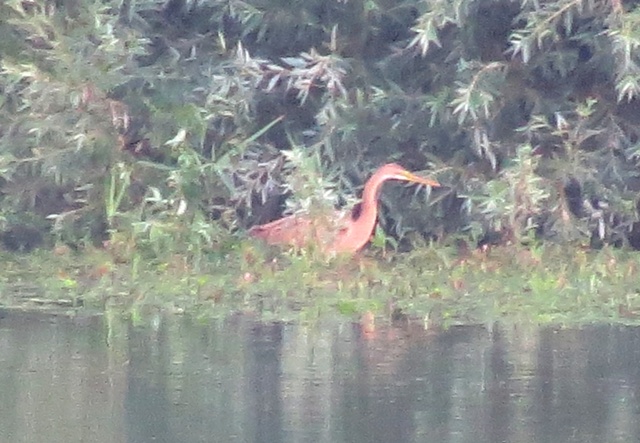 Away from Norfolk, Common Cranes were logged in Cambridgeshire at Ouse Washes RSPB on 4th, where three birds were seen, on 5th at Nene Washes RSPB, where a single bird was noted, and over March on 10th where two birds were seen; at Lakenheath Fen RSPB (Suffolk) between 4th-7th, with numbers seen there varying between two and five birds; two birds were seen in Shetland at Bixter on 8th; and three over College Lake (Buckinghamshire) on 9th.
It's coming to that balmy time of year where Spotted Crakes turn up on muddy freshwater margins – always a fine surprise. One was found this week Grove Ferry NR (Kent) on 7th; a further, elusive probable was seen on 8th-9th at Netherfield Lagoons (Nottinghamshire); and a final bird was reported as having been heard on 10th at Ladywalk NR (Warwickshire).
It was almost a second consecutive blank week on the rarity duckpond but for the stalwart Black Duck seen once more on his favourite stamping and breeding ground at Strontian (Highland) – with a couple of his Mallard hybrid offspring for good measure on 8th.
Scarce fare came in the form of a drake Surf Scoter in the traditional summer site of the immense scoter flocks off Blackdog (Aberdeenshire) on 9th.
<!—Section Title -->
For the second week running, Pacific Golden Plovers featured highly in the weekly wader sightings. One was seen in Suffolk on 7th on the Blyth estuary; and, on 8th-10th, another was present in Northumberland at Boulmer. A further probable was noted flying west over Hollowell reservoir (Northamptonshire) on 9th.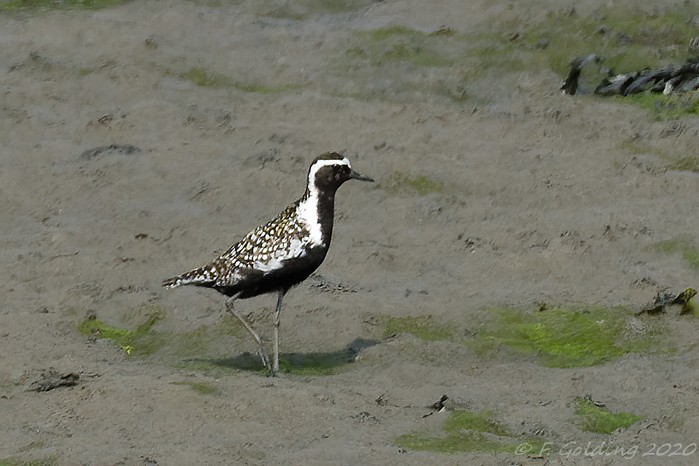 Northumberland was enjoying a good week already by that point, having hosted a White-rumped Sandpiper at Druridge Pools NR on 5th; the bird was reported again on 7th, but not seen subsequently.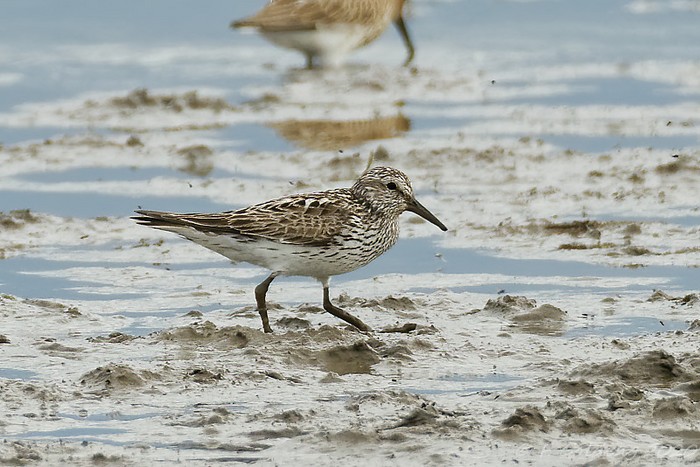 A Pectoral Sandpiper was reported on 4th in East Yorkshire at Thornwick Pools; confirmed birds were seen on 7th on the Lune estuary (Lancashire) and, on 8th, on Lough Neagh (Co.Antrim). On 9th-10th an adult was again seen at Kilnsea Wetlands (East Yorkshire).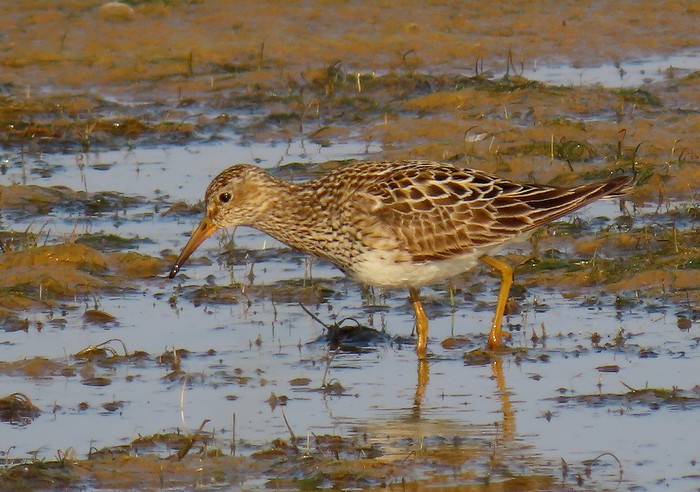 Spotted Sandpipers are real Jekyll and Hydes – young birds being a case in subtle distinction from Common Sandpipers and adult birds… well, adult birds are the full 101 Dalmatians polka dot drop dead gorgeous. Birds were found this week at Castle Espie WWT (Co.Down) on 7th-10th and, on 8th-10th in Cornwall at Drift reservoir.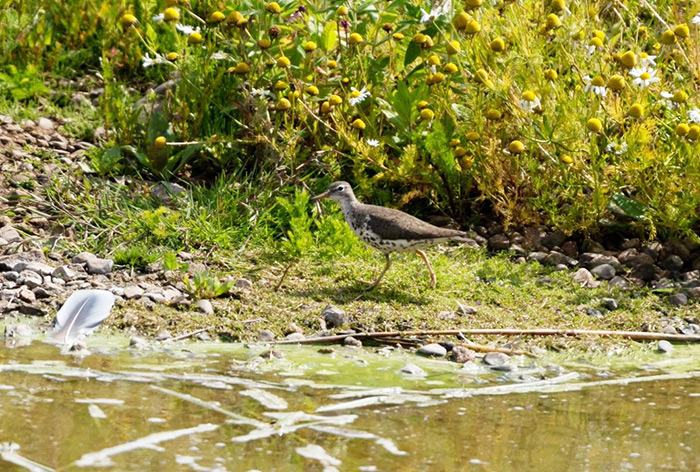 The Long-billed Dowitcher was once again seen in Lancashire at Martin Mere WWT on 7th; with another sighting on 7th from Cumbria at Anthorn.
In North Yorkshire, the Lesser Yellowlegs was once more seen at Nosterfield LNR on 10th.
A Temminck's Stint made a brief appearance at Snettisham RSPB (Norfolk) on 9th; another was found well inland on 10th at Amwell NR (Hertfordshire).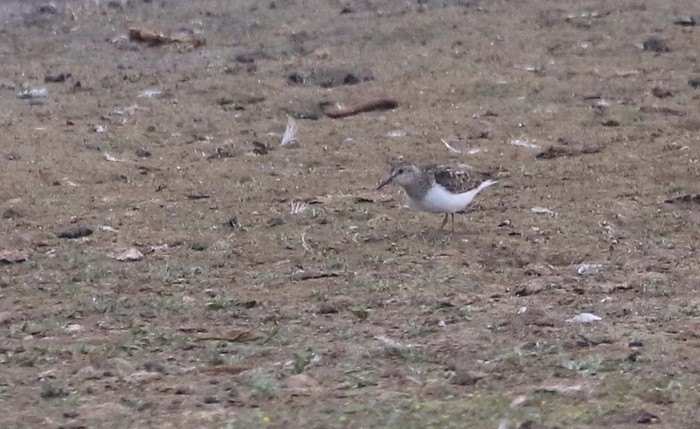 A trip of five Dotterels made a fleeting visit to Davidstow airfield (Cornwall) on 8th – a site that will, in the weeks to come, surely be graced by a Buff-breasted Sandpiper or an American Golden Plover or two…
Finally, we return to Somerset where, at Steart WWT, after days when just one chick or none at all were seen, the full family of three young Black-winged Stilts and their parents were once more confirmed as present on 6th-7th, with both parents at the very least still present to 10th. In Kent, the stolid male bird was still hanging out at Dungeness on 5th.
Surely one of the most popular birds available this week, the Gull-billed Tern last seen in Suffolk at Alton Water on 29th was back there again on 4th-10th. Whilst annual in Britain, they're typically one day birds – or rather, they're feast or famine birds as, if it's not a one day stay, they seem to settle down for a good while and can rack up residencies that stretch into double figures. For Suffolk birders, they've always hitherto been fleeting, transitory one day birds, blink and you miss them… and, with Suffolk's last accepted record being back in June 2005 this, the county's 10th record, was always going to be popular with county birders as well as those from further afield.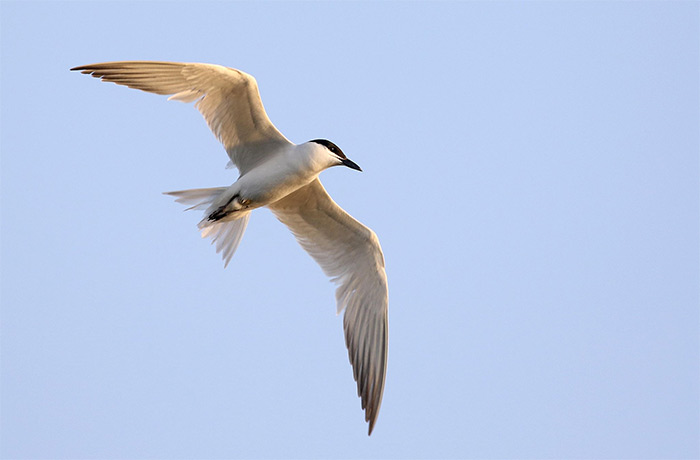 The prior week closed with a Caspian Tern found on Inny Strand (Co.Kerry) – this bird opened the current week, still being present there on 4th. Further birds were seen on 4th in Wales on the Gann estuary (Pembrokeshire); on 8th, heading north over Cotswold Water Park (Gloucestershire); and, on 9th, at Hickling Broad NWT (Norfolk).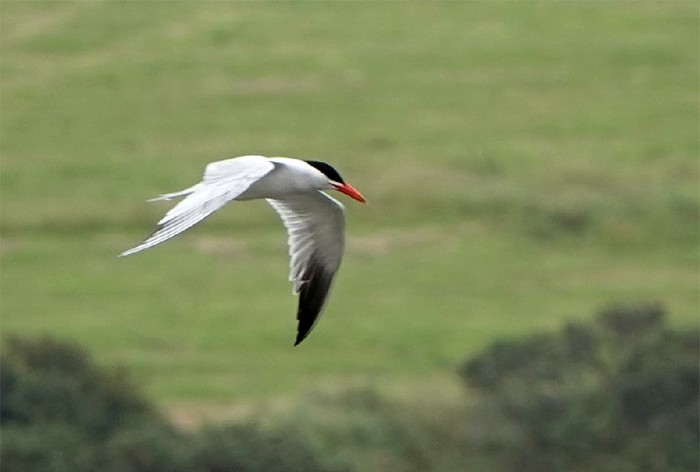 An adult White-winged Black Tern was found on 10th at Beacon Ponds NR (East Yorkshire).
Long absent from the news, back in Ireland the resident Forster's Tern was once again seen at Soldier's Point (Co.Louth) on 8th.
A probable Sooty Tern was seen drifting south off Whitburn CP (Co.Durham) in the early morning of 9th.
Where gulls were concerned it was fairly quiet – two of our recent Bonaparte's Gulls being the best of the slim pickings. The adult was still present at Oare Marshes KWT (Kent) on 4th-10th; and the first-summer bird was once more seen on the Add estuary (Argyll & Bute) on 6th.
Three Sabine's Gulls were noted this week, at all points of the compass – one was seen in Co.Waterford off Ram Head on 5th; another was seen from Afon Wen (Gwynedd) on 7th; and our final bird was at sea 34 miles east of the Isle of May (Fife) on 8th.
The week drew to a close with a Ring-billed Gull discovered at Slimbridge WWT (Gloucestershire) in the afternoon of 10th.
We finish with a single white-winger – a juvenile Iceland Gull seen at Boarhills (Fife) on 8th.
White-tailed Eagle sightings these days in England may, for the most part, owe their origins to the Isle of Wight reintroduction project – but, as we'll recall from the days of lockdown when untagged birds were being logged from the windows of the fortunate few, that's not always the case. This week, apart from confirmed Isle of Wight wanderers, a possible bird was seen at Sandwich Bay (Kent) on 7th and another was noted on 10th in Hampshire over Bishop's Waltham.
A possible Black Kite was seen in Cornwall over the A30 at Blackwater on 9th although, as events elsewhere in Cornwall and Kent that day prove, Marsh Harriers and Red Kites remain traps for the unwary. On 10th a confirmed Black Kite was seen in Cornwall at Skewjack, heading towards Sennen.
As we said last week, autumn is now underway, at least where some passerines are concerned. Those first signs of movement continued into the present week, with a little more variety thrown in for good measure.
The week began with a couple of Melodious Warblers trapped and ringed on 4th – one apiece at Nanjizal Valley (Cornwall) and Portland (Dorset), the latter bird remaining there the following day. A probable was seen on St Mary's (Scilly) on 6th, and another was present at Land's End (Cornwall) on 8th, preceded there on 7th by an Icterine Warbler. More Melodious were forthcoming on 10th – one was trapped and ringed on North Ronaldsay (Orkney); and one was found at Beachy Head (East Sussex).
Further Icterine Warblers were found on 9th at Easington (East Yorkshire) and Blakeney Point (Norfolk); the Easington bird remaining there on 10th, and joined in the newsfeed by further birds at North Foreland (Kent), Kilnsea and Spurn (East Yorkshire), and Flamborough (East Yorkshire).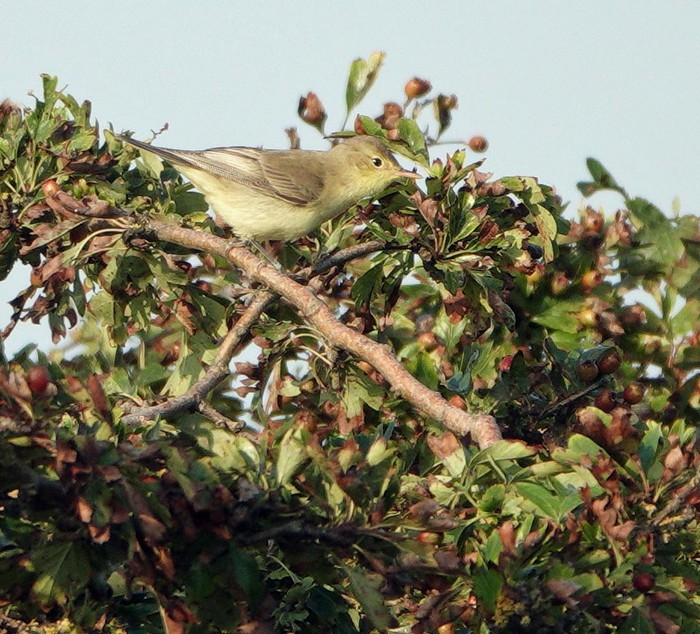 Flamborough was, as we'll shortly see, enjoying a small fall on 10th, pick of which was a Greenish Warbler that day; Spurn wasn't having too shabby a day either, as we know, and this was further gilded by a Greenish Warbler as the afternoon wore on. One more was belatedly reported as having been heard in song on 9th at Beachy Head (East Sussex) – with a Monarch seen flying by as well. Somebody was having a good day…
After a Cory's Shearwater @FlamboroughBird this morning, passerine migrants started to arrive. This Greenish Warbler, 8 Pied Flycatchers, Whinchat and a scattering of Willow Warblers provided entertainment. Two Red-backed Shrikes and an Icterine Warbler also made landfall. pic.twitter.com/2Eb7mxdAPy

— Craig Thomas (@CraigCThomas1) August 10, 2020
Fair Isle (Shetland) meanwhile notched up two Barred Warblers on 10th, with another that day on Shetland on Unst, and further birds on North Ronaldsay (Orkney) and Isle of May (Fife).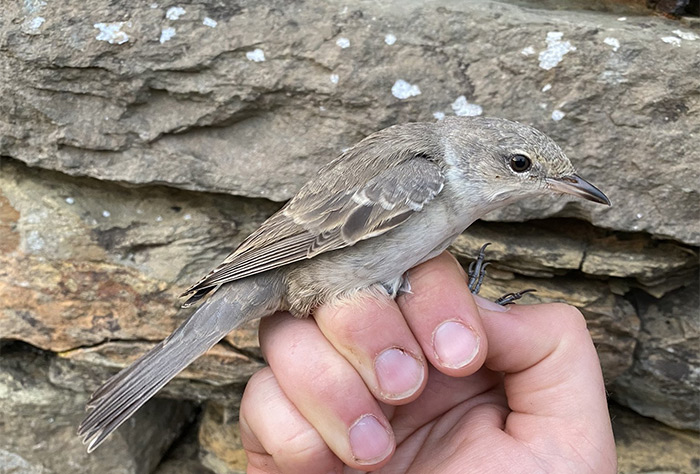 What could say autumn more than an early Citrine Wagtail like the bird seen in Hampshire at Hook-with-Warsash on 8th? (Or the further possible bird heard in Kent on 10th at Oare Marshes KWT).
Ah yes. A Wryneck like the one found at Radipole Lake RSPB (Dorset) on 7th; or the Red-backed Shrikes on 7th on The Lizard (Cornwall) and the Orkney Mainland at Finstown and, on 10th in East Yorkshire at Thornwick Bay, Flamborough, and Spurn, the latter site boasting two females. A further Red-backed Shrike was found way down the eastern seaboard, near Titchwell RSPB (Norfolk) on 10th.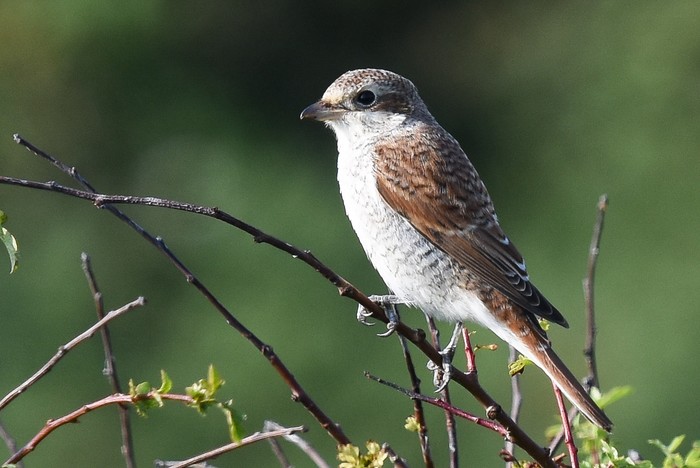 Orkney also supplied a Bee-eater this week over North Ronaldsay on 7th.
Hoopoes were reported on 7th, heard only at Nailsea (Somerset); and, on 8th, at Niton Undercliff (Isle of Wight).
A Red-rumped Swallow added a little more colour on 8th at Nailsworth (Gloucestershire).
A bird trapped and ringed at Nanjizal Valley (Cornwall) on 9th proved to be the year's first Thrush Nightingale.
Another early autumnal note came from Spurn on 9th where a Common Rosefinch was found.
A scatter of Rose-coloured Starlings wrap up the week's domestic bird news – one in a Corsham garden on 4th-7th was a good Wiltshire bird; another lingered on 4th-7th on Orkney at Orphir Bay; one was seen on Unst (Shetland) on 6th-7th; Dorset enjoyed a bird on 8th at Ferrybridge in the early afternoon and Wyke Regis in the evening; and on 10th further individuals were found in Angus at Brechin, Cumbria at Ravenglass, and Suffolk at Knodishall.
The week's overseas news keeps up the recent stellar performance of the Western Palearctic as a whole where extraordinary seabirds are concerned – this time, it was the turn of the Azores to shape the news, with their first and the Western Palearctic's second Flesh-footed Shearwater photographed off Pico on 7th. If there, then why not off Scilly…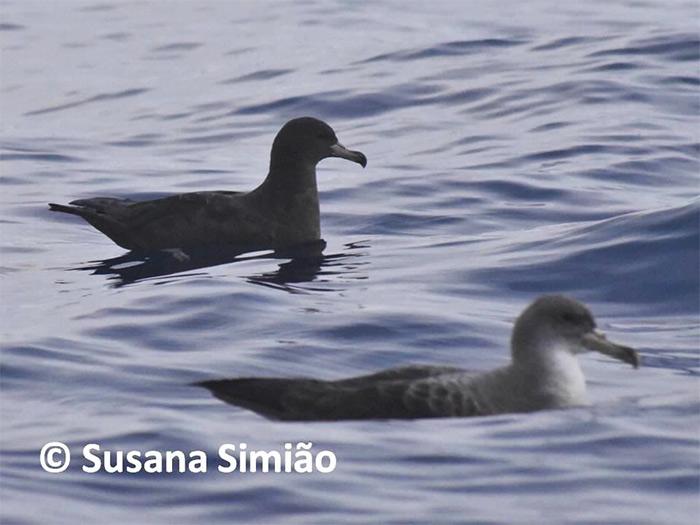 Meanwhile, the first Western Palearctic breeding of White-tailed Tropicbirds was confirmed this week at Ilhéu de Cima, Fogo (Cape Verde).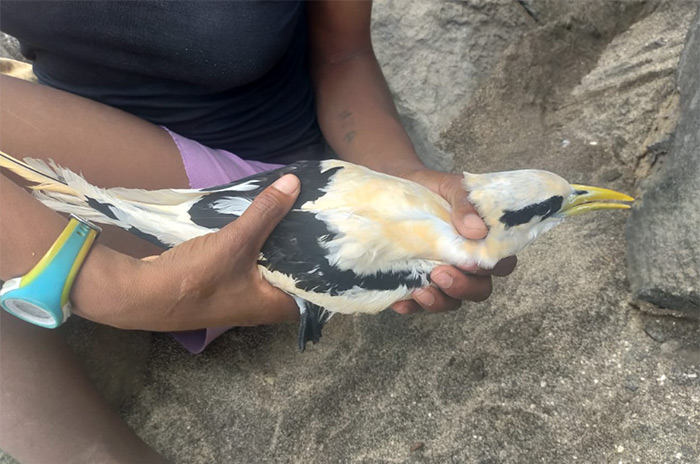 Keeping the news far afield for now, Israel enjoyed a Bateleur on Mount Yoseifun on 4th; and a Senegal Thick-knee remained at Kfar Ruppin on 5th.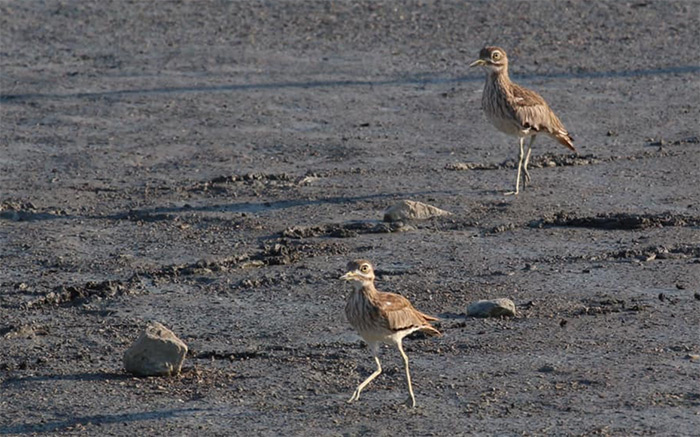 In Ukraine, a male Amur Falcon was seen at Dnipro on 4th – a national first.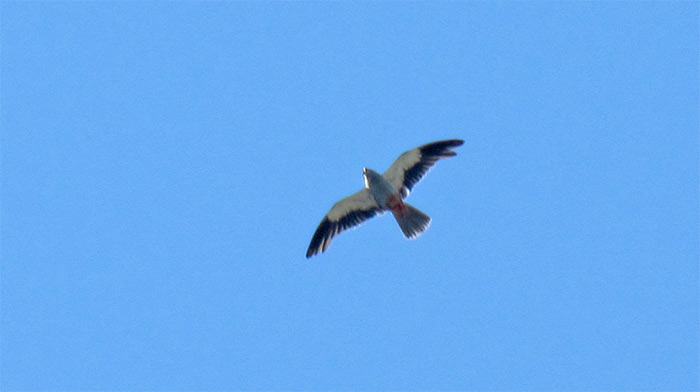 Sweeping closer to home, Pygmy Cormorant sightings came from Germany at Deponielachen Gaschwitz on 4th and Mariannenaue on 5th-6th.
The recent Booted Eagle remained in Belgium at Baasrode on 5th.
In Sweden, the recent Black-winged Kite was once more seen at Gerum on 5th also.
Finally, we finish in southern France where the settled White-rumped Swift remained at Minerve on 4th-7th; and a Sharp-tailed Sandpiper was found on 9th-10th at Ambon.
Although the week just gone ended with a flourish, we know in our hearts that August can be quiet…
We shouldn't, then, expect too much of the week to come. Granted, a second consecutive week that showed stirrings of movement amongst the passerines tells us that autumn is warming up a touch, but we're some weeks away yet from the sharp, pointy bit of the year.
All that said, let's not be too hasty in writing off mid-August. It may be generally quiet, but it's also got some quiet potential should the planets align.
It does, after all, boast a first for Britain to its name – this being the retrospectively identified Olive-tree Warbler found at Boddam (Shetland) on 16th August 2006.
Such rarified fare, of course, doesn't happen every year. What is a dead cert in the coming days are more decent waders - White-rumped Sandpiper must surely be on every local patchworker's radar if they've a muddy scrape to check, and Baird's Sandpiper is becoming a distinct possibility too.
Stilt and Least Sandpipers each boast half a dozen past records apiece for the coming week, so offer some inspiration of a rarer kind still and, if we're really aiming high, what about taking inspiration from France this week and wishing for a Sharp-tailed Sandpiper? August is the prime month for them - with just 28 post-1950 British records and nine Irish records on the books, one of these rufous-crowned beauties will always be popular if found.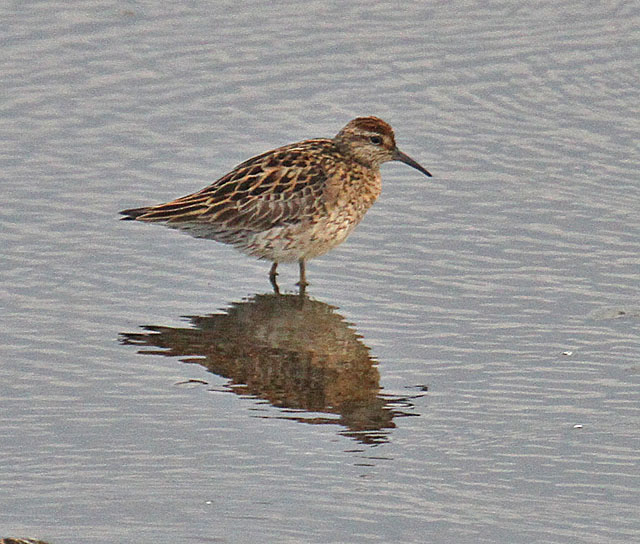 Jon Dunn
11 August 2020
Many thanks to all this week's contributors for your photos and videos
Share this story
Tweet