Weekly birding round-up: 28 Jul - 3 Aug 2020
The week at a glance
A Scilly pelagic serves up a Zino's Petrel
Cornwall enjoys a pair of Brown Boobies
The Lammergeier lingers in northern England
And the recent Sooty Tern stops for a while in Northumberland
Generally, this was another peaceful week, with much of the country baking hot in another stultifying spell of summer weather – including, on 31st, the third-hottest day ever on the UK record.
Rarities in the news were at a premium – but then again, there were some premium rarities amongst them.
Zino's Petrel
Oh 2020… you're going down in history for all the wrong human reasons, but we're not going to forget you in a hurry when we talk of exceptional seabirds.
The already glittering roll-call of rare and downright giga seabirds was further augmented this week under the auspices of the superb pelagics operating out of the Isles of Scilly. If this sounds like an advertorial for them, well… I guess it is, a bit, because there's really no better way to dramatically shorten the odds of seeing something extraordinary in British waters than to join one of these excellent excursions.
At the very least, you're going to stand a chance of a Wilson's Petrel or two. Or three, or four, or… in the case of the pelagic of 30th, half a dozen birds. That, and some large shearwaters, would make for a good few hours out on the water in anybody's book.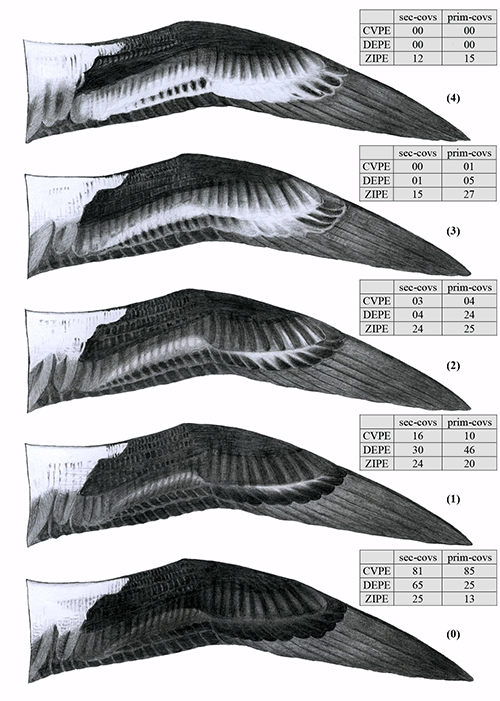 That, however, wasn't the whole story on 30th off Scilly. The jewel in the crown, the one everyone hopes for, is a Fea's-type Petrel - once an utterly mythical seabird rarity, latterly rather more anticipated on an annual basis, but one that continues to confound now what we once, in our innocence, called Soft-plumaged Petrel has split three ways - Fea's, Desertas and Zino's Petrels now all recognised as good species in their own respective rights.
Conventional wisdom would have it that the first two, at least, are indistinguishable in the field – an orthodoxy that seabird gurus Bob Flood and Ashley Fisher are keen to change with their CSI approach to seabird identification. We enjoyed an insight into that last August, with the discovery on 23rd August 2019, and subsequent analysis, of a probable Desertas Petrel off Scilly.
The plate from their seminal Pterodroma Petrels that accompanied that Finders-in-the-Field account was particularly fascinating, providing a scorecard for the underwings of the three species. A putative Zino's Petrel should, for starters, be a more delicate, narrow-winged bird than its close cousins – but for a rarity committee, that sort of qualification can be tricky to define or assess. Hard plumage characteristics are more compelling – and the pattern of the primary and secondary coverts illustrated in Pterodroma Petrels seems to be a crucial key to unlock the birds in the field.
Back to the pelagic on 30th – news came of a Zino's Petrel candidate three miles south-west of Bishop's Rock and, once Zac Hinchcliffe's photo of the bird was posted online, we had what looks every inch Britain's first Zino's Petrel - check out the extent of the white along those narrow delicate wings. Oof…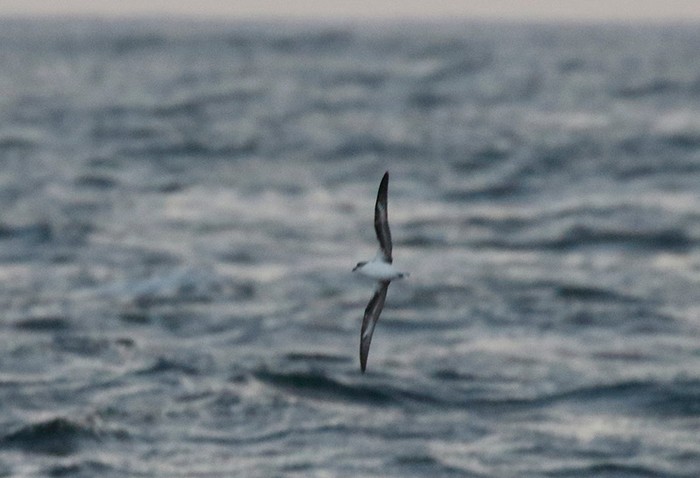 Small wonder Zac described the moment as an out of body experience. If he and his wife Danni, and everyone one else on the boat that day, aren't still walking on air, I'd be very much surprised.
So, what next, 2020?
Brown Boobies
It's telling of the quality of the week's top bird that a report of a pair of adult Brown Boobies seen passing St Levan (Cornwall) on 2nd should be relegated to second place in the week's headlines.
Go back a year, and that would have been earth-shaking news. After a summer of sightings from Cornwall to Kent… and with two adult birds already logged in Ireland and Irish waters respectively so far this year, and another seen in the English Channel for good measure, further records this summer seemed almost inevitable.
One certainly wouldn't bet against another making landfall and being twitchable in the south-west before the summer is out. Their sudden wandering ways speak of a species that's in a state of flux and change – whether these recent European summer sightings become a regular, annual thing, or a relatively brief flash in the pan, remains to be seen.
Lammergeier
After being intensively twitched in the past couple of weeks, our newly-settled Lammergeier in the north of England got itchy feet this week, with daily reports filtering in from all over Derbyshire, but certainty about which were definitely the bird and which were wishful thinking being as elusive as the bird itself.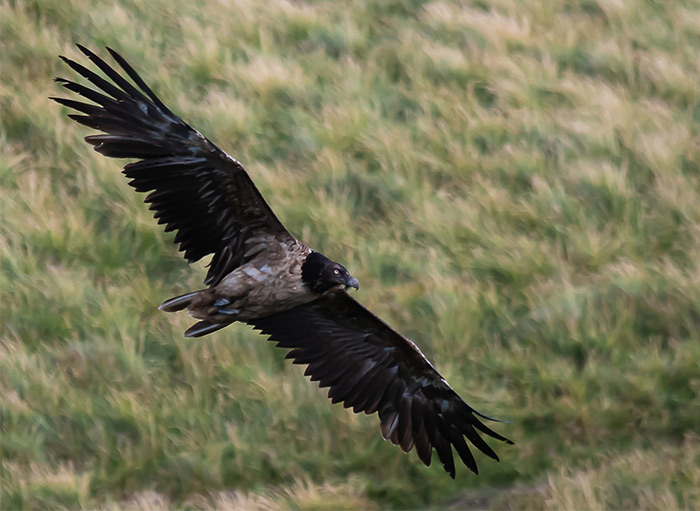 That is, until 1st, when it was found just east of Crowden (Derbyshire) – seen in flight and perched on a handy cliff – and there it remained on 2nd and into 3rd, viewable from the side of Holme Moss Road – a welcome upgrade for those who hitherto hadn't relished the long schlep to see it at its former haunt.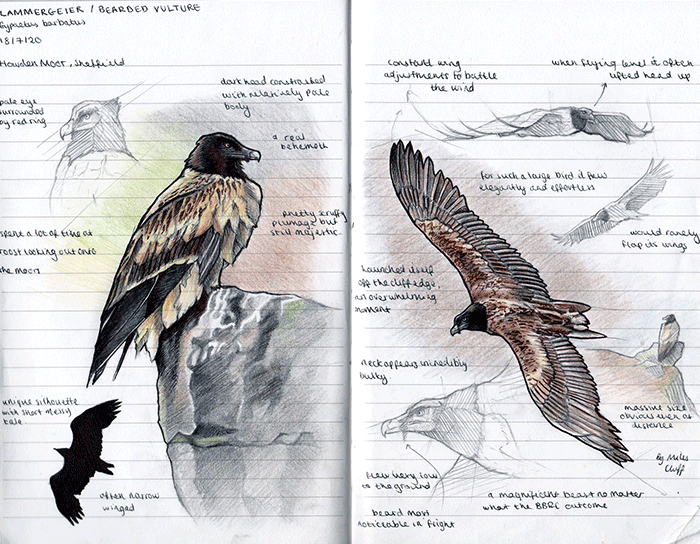 For anyone who's seen it, we're now into an adjudication waiting game familiar to anyone who made the effort with the 2016 Dalmatian Pelican - the second-guessing speculation will be endless in the months to come. Me? I'd go and see it while it's still available if that was remotely feasible. Worst case is you'll get to see a truly spectacular, wild-born bird flying free in the wild, and that's no bad thing.
And in the meantime? Jose Tavares, the director of Vulture Conservation Foundation, has written to Derbyshire Wildlife Trust to express his profound concerns about the Lammergeier's safety while it continues to haunt the grouse moor dominated British uplands, with their dismal history of raptor and wildlife persecution…
Sooty Tern
The Sooty Tern seen recently along the English North Sea coast from Suffolk in the south to Northumberland in the north has already displayed something of a thing for Kittiwakes - not for this bird the allure of a breeding tern colony, oh no. When it made a brief pit-stop in Suffolk on 8th July, it was the Kittiwakes offshore from Sizewell it chose to hang out with.
Last week saw it back in Northumbrian waters on 25th July, seen passing St Mary's Island… given its wandering ways, we could have been forgiven for expecting it next somewhere hundreds of miles away, but the allure of the local Kittiwakes' company was clearly too strong for it…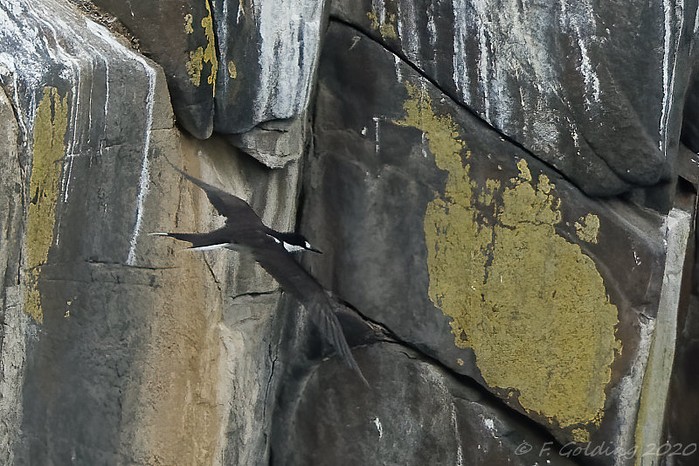 On 28th a sighting of a probable bird off Dunstanburgh Castle fired a warning shot across our bows; followed, shortly, by a confirmed sighting in the early evening off Embleton. Later that evening, it reappeared again – now on the cliff at Howick with the Kittiwakes.
The following day it was back with the Kittiwakes off Cullernose Point in the afternoon for a few hours, rendering it almost twitchable. And then, of course, it flew off north and hasn't been seen since. Where next for this restless bird?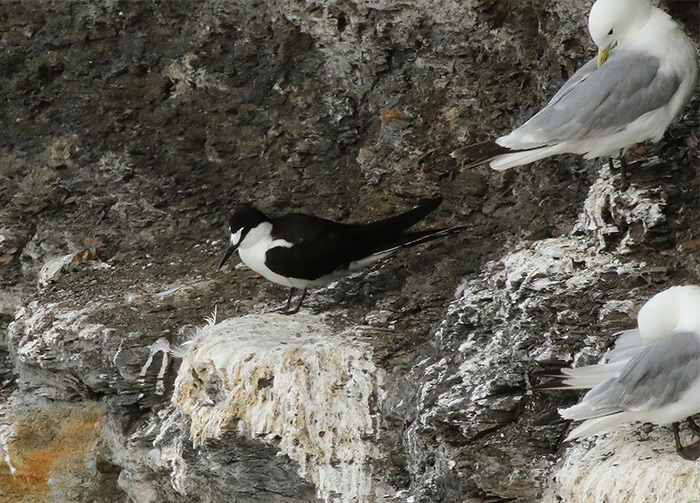 We enjoyed variety, if not a great deal of volume, amongst our seabirds this week. In the headlines but for the lack of absolute certainty surrounding the record, we'll kick things off with the unconfirmed report of a Black-browed Albatross seen from Handa Island (Highland) on 29th.
We already know about our half dozen Wilson's Petrels this week, playing second fiddle to the Zino's Petrel off Scilly on 30th; another possible Wilson's was seen on a pelagic in Mount's Bay (Cornwall) on 1st.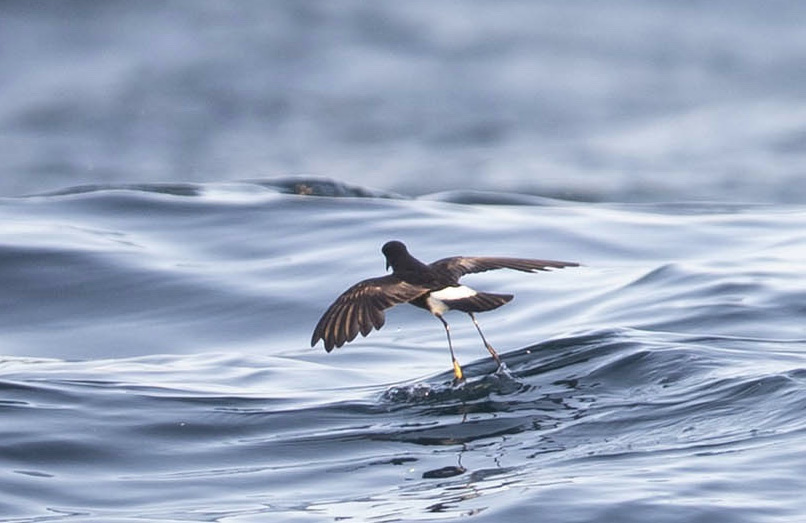 Leach's Petrels, meanwhile, were represented by further Scottish ringing records – two birds trapped and ringed at Collieston (Aberdeenshire) on 29th, and another on Unst (Shetland) on 30th.
Some 20 Cory's Shearwaters were a modest return on the week, with the peak single site counts being five birds seen from Seven Heads (Co.Cork) on 1st, and three from that Scilly pelagic on 30th. Scottish records are always more notable than those from the usual south-west quarters, and this week provided a number – single birds seen from Dalgety Bay (Fife) on 29th, Hound Point (Lothian) on 29th also, and from Isle of May (Fife) on 30th.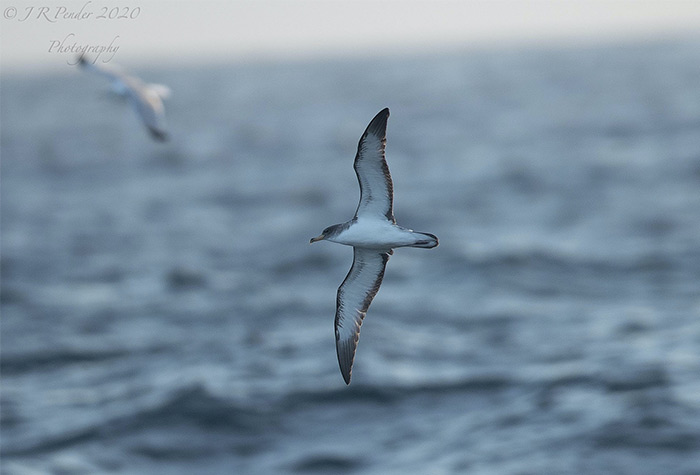 Great Shearwaters meanwhile were less numerous still, barely scrambling into double figures nationwide. One was seen from Melmore Head (Co.Donegal) on 28th; single birds were noted on 29th from Sea Palling and Hemsby (Norfolk) and Flamborough (East Yorkshire); one was seen from the Scilly pelagic on 30th; while on 30th duos were logged in Co.Cork from Ballycotton and Galley Head. On 31st two more were seen from Porthgwarra (Cornwall).
Around 60 Balearic Shearwaters were, once more, a paltry showing in recent days – peak count from land being five seen from The Lizard (Cornwall) on 31st and, at sea, 40 from a pelagic into Lyme Bay (Devon) on 2nd.
Settled Long-tailed Skuas remained on the hill at Dalsetter (Shetland) all week until 3rd and, on North Ronaldsay (Orkney), still on 30th where three birds were still to be seen. Seawatching in Ireland yielded single birds from Melmore Head (Co.Donegal) on 28th and, on 30th, from Galley Head (Co.Cork).
Seawatching was the source of the trickle of Pomarine Skuas this week – these being single birds logged from Strumble Head (Pembrokeshire) on 28th; Hopton-on-Sea (Norfolk) on 29th; Galley Head (Co.Cork) on 30th; and Embo and Brora (Highland) on 1st. Two birds were seen from Portland early on 1st; with another two noted off Annagh Head (Co.Mayo) on 2nd. Another was off Dawlish Warren NNR (Devon) on 2nd; and on 3rd, single birds were seen from Sennen Cove (Cornwall) and Holkham (Norfolk).
Kicking off our long-legged beasties again this week is the settled Glossy Ibis still present at Newport Wetlands RSPB (Gwent) on 29th-1st.
Purple Herons were having something of a quiet renaissance in the news in recent days, with a succession of sightings – one again in North Yorkshire, fleetingly, at Wykeham South Lake on 29th; and then a flurry from Norfolk where a juvenile was seen on 30th at Burnham Norton and Holkham Pines and, on 31st, at Titchwell RSPB.
A possible Night Heron was seen in flight over Guildford (Surrey) on 28th; another was on the River Yeo near Barnstaple (Devon) on 31st.
Sightings of Common Cranes outwith Norfolk were reduced to just four birds seen in flight over Black Boy Meadow (Suffolk) on 1st; one in Lincolnshire at Willow Tree Fen LWT on 2nd; and three on 2nd in Suffolk at Lakenheath Fen RSPB, rising to five there on 3rd.
A Spotted Crake put in a brief appearance at Frampton Pools (Gloucstershire) in the evening of 3rd.
Duck all this week. So let's move on swiftly to…
<!—Section Title -->
…wader weekly, where we'd plenty of variety and quality to distract us once again.
One of the classic rare waders to have on the radar at this point in the year, an adult Pacific Golden Plover was a quality find at Derrybeg (Co.Donegal) on 28th-1st. Or was it just one bird? There was the tantalising possibility that there may be more than one bird present on 1st…
A Pectoral Sandpiper remained on Druridge Pools NR (Northumberland) on 28th; another was noted over Kilnsea Wetlands (East Yorkshire) and, latterly, on the Humber on 31st; and, on 3rd, one was seen at Cresswell Pond NWT (Northumberland).
Down in Kent, the adult Lesser Yellowlegs remained settled at Oare Marshes KWT for another week, being seen there until 1st; the first-summer bird was once again seen in North Yorkshire at Nosterfield LNR on 1st-3rd; while a probable bird was reported, with a Wood Sandpiper, in the late afternoon of 30th on the scrape at Cuckmere Haven (East Sussex), but wasn't seen again subsequently.
The same elusive fate befell the possible Solitary Sandpiper reported from Lodmoor RSPB (Dorset) on 28th – with no further sign of it there latterly, it's another one that slips through our fingers.
Sightings of Long-billed Dowitchers this week were confined to Lancashire – from Marshside RSPB still on 28th-29th, and Martin Mere WWT on 30th and 3rd.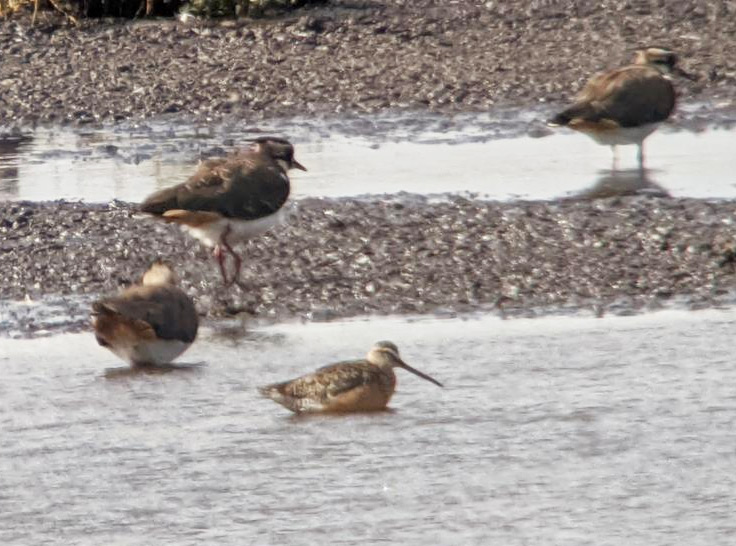 In Somerset, at Steart WWT, the breeding pair of Black-winged Stilts remained present until 3rd, with two of their brood seen again on 28th and one still extant at least on 3rd. In Kent, meanwhile, at Dungeness the male bird was still present on 29th-3rd.
A probable Dotterel was heard over Bonchurch (Isle of Wight) on 1st.
A Temminck's Stint was found on 2nd at East Lea at Filey (North Yorkshire).
A male Red-necked Phalarope showed well on Fair Isle (Shetland) on 29th; on 1st, another bird was found at Kilnsea Wetlands (East Yorkshire).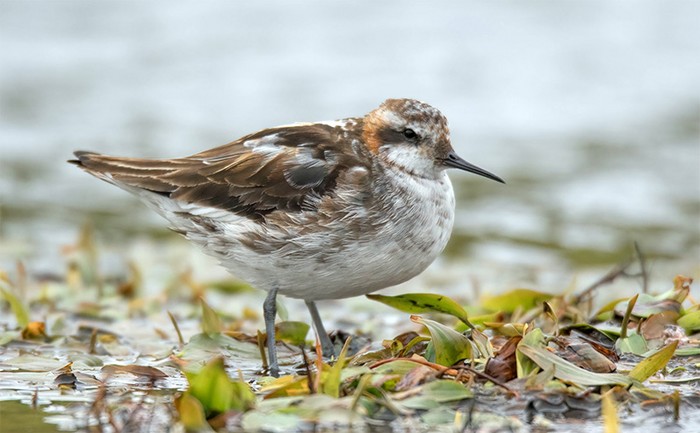 Finally, on 28th Strumble Head (Pembrokeshire) scored a Grey Phalarope. More of them, surely, to come on seawatches and pelagics in the weeks to come…
Gull-billed Terns had a bit of a moment this week, with several sightings made of this particularly dapper species – in Co.Wexford, the recent bird was again seen at Tacumshin and Lady's Island Lake on 28th-31st; another was seen in Suffolk at Alton Water on 29th; on 2nd, a bird put in a brief appearance at Seaton Snook (Cleveland); and, in the evening of 3rd, another fleeting sighting was made at Snettisham RSPB (Norfolk).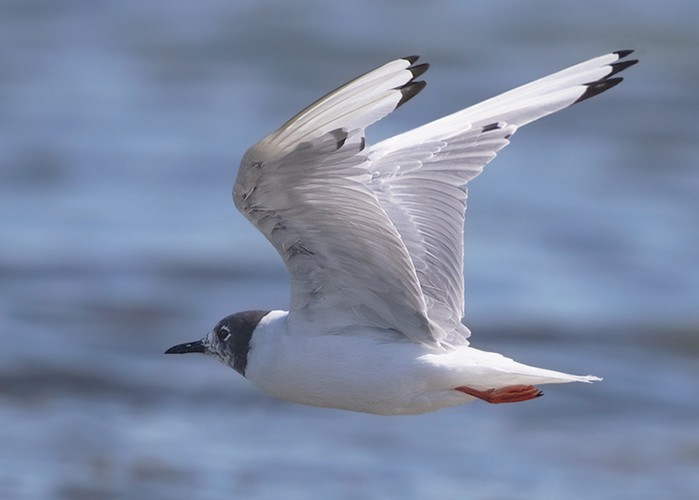 Caspian Terns too were cropping up here and there in recent days. The recent Hampshire bird was once more noted from Fishlake Meadows HIWWT on 28th, and presumably also accounts for the bird a little way along the south coast at Stanpit Marsh (Dorset) on 28th. Further sightings came on 30th in the northwest, with a bird seen at Arnside Marsh (Cumbria) and Lunt Meadows LWT and Leighton Moss RSPB (Lancashire). In the evening of 3rd, a final bird was found in Ireland, on Inny Strand (Co.Kerry).
The best of the gulls this week were two adult Bonaparte's Gulls - one where we'd expect it, still hanging out at Oare Marshes KWT (Kent) on 28th-3rd; and the other in the Western Isles on Berneray on 31st.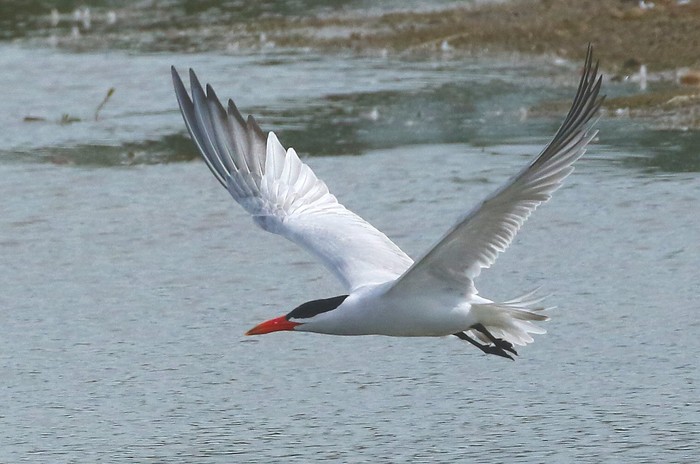 Absent from the Irish news for I don't know how long, an adult Ring-billed Gull brought unseasonal variety to proceedings this week, being seen at Nimmo's Pier (Co.Galway) on 2nd.
A Sabine's Gull appeared on the sea off Bardsey (Gwynedd) on 3rd.
White wingers this week numbered just a handful of birds - Glaucous Gulls on Fair Isle (Shetland) still until 2nd and at Tacumshin (Co.Wexford) on 30th; and an Iceland Gull at Blennerville (Co.Kerry) on 30th.
The warm weather brought a small fresh flurry of Red-footed Falcons this week – always a welcome overhead sight wherever they may be found. On 31st three birds turned up – a first-summer male in the early morning at Kingsdown (Kent); another male later that morning at Bromeswell (Suffolk); and a female in the evening at Grove Ferry NNR (Kent).
Black Kites added a further continental flavour – a possible on 31st at Stanford reservoir (Northamptonshire) was joined that day in the news by one on St Mary's (Scilly); a probable bird was seen on 1st at Earlswood (Warwickshire); and two were seen passing over Wheldrake Ings (North Yorkshire) on 2nd.
A female Montagu's Harrier was noted in Buckinghamshire at Rowsham on 31st; a possible male was seen in Norfolk near Fakenham on 3rd.
Last but far from least, a White-tailed Eagle was reported from Suffolk at Broadwater Warren RSPB on 30th; on 1st, further sightings came from Derwent reservoir (Northumberland) and Rutland Water (Leicestershire); and, on 2nd, at Roydon Common NWT (Norfolk) followed on 3rd by sightings from Burnham Thorpe and Wighton – this latter bird, at least, being one of the released individuals from the Isle of Wight reintroduction scheme.
For all we began this week's round up bemoaning the general quietness of the week just gone, there were a couple of stirrings amongst the passerines that could only be the first green shoots of autumn…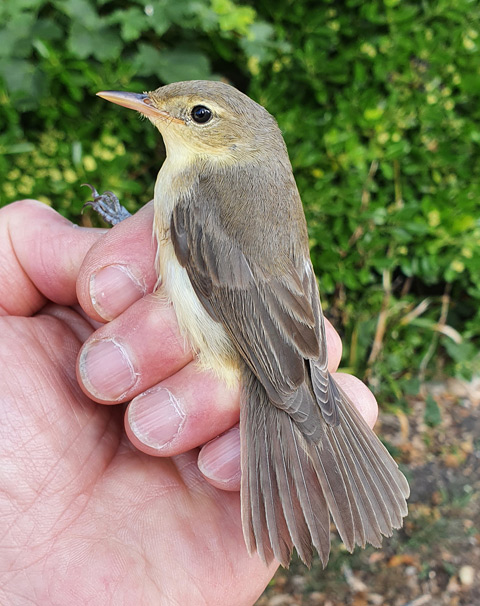 A good starting point for this were Melodious Warblers - a possible bird on St Martin's (Scilly) on 30th; one on Bardsey (Gwynedd) on 30th also; a bird trapped and ringed on Lundy (Devon) on 31st; and on 2nd, one at Porthgwarra (Cornwall) and another trapped and ringed, at Portland (Dorset).
An Icterine Warbler was found on 2nd in Devon on Prawle Point on 2nd-3rd.
A Marsh Warbler was trapped and ringed in Kent at Shuart on 3rd.
A male Red-backed Shrike was found at Prescot reservoir (Lancashire) on 29th; another bird was reported from Brimham Moor (North Yorkshire) on 2nd.
A small arrival of Hoopoes added further interest this week – birds being found on 31st on Sanday (Orkney) and on 2nd in Norfolk at Wighton.
A Bee-eater didn't linger for long at Rattray Head (Aberdeenshire) on 3rd.
Lastly, a handful of Rose-coloured Starlings provided a lingering taste of summer – birds this week being found at East Challow (Oxfordshire) still on 28th; at Fordingbridge (Hampshire) on 28th also; on 29th at Milford Haven (Pembrokeshire) and, on 29th-30th, at Cemaes Bay (Anglesey); and, on 30th-3rd, at Llyn Trawsfynydd (Gwynedd). A further unconfirmed report came of a juvenile bird briefly on 2nd in gardens at Chiswick (London).
We'll start this week's slim overseas pickings in France where, in the south, the White-rumped Swift remained at Minerve on 28th-3rd; at St Brevin, the recent Greater Sand Plover was also still present on 28th-2nd; and, on 3rd, a Western Swamphen was found at Donges.
Belgian birders were blessed with a Booted Eagle at Baasrode on 28th-3rd.
In Holland, meanwhile, 10 Greater Flamingos weren't getting any closer to the Kent or Suffolk coast, being seen in Friesland at Zwarte Haan on 30th; there were 11 birds present there on 2nd.
In Sweden, the recent Black-winged Kite at Gerum was again reported on 28th-2nd; Germany's settled Eastern Imperial Eagle remained at Randowbruch Zehnebeck this week on 29th-1st; two Pygmy Cormorants at Gunzstausee Kettershausen on 2nd rose to three birds there on 3rd; and a Great Black-headed Gull was seen at Salzweise Ladebow on 2nd.
In Poland, meanwhile, the Great Black-headed Gull remained at Siemianowka reservoir on 2nd also.
A Demoiselle Crane was present at Seewinkel in Austria on 30th.
Finally, in Spain, an Elegant Tern was again seen in the Ebro Delta NP at Barra del Trabucador on 29th, and a Blue-cheeked Bee-eater was found at Camaries on 3rd.
Clearly, the coming week remains absolute prime time for decent seabirds and waders – and, with a glance at the forecast, either could be on the cards in the days to come, with the wind veering throughout the week from strongly off the Atlantic to some easterlies as the week wears on.
The week is also, traditionally, a good one for something that, at one time, was so anticipated and numerous at this point in the year that the BBRC dropped it altogether between 1983 and 2015 – and that is, of course, Aquatic Warbler.
They've become a proper rarity all over again, and the days of simply popping down to Marazion to year tick one are but a fading memory as sepia-toned as the birds themselves. That doesn't change the fact that August was the prime time for them and, their diminished world population notwithstanding, it's still going to be the best month in which to come across one somewhere on the south or east coast…
Jon Dunn
4 August 2020
Many thanks to all this week's contributors for your photos and videos
Share this story
Tweet