Weekly birding round-up: 7 - 13 Jul 2020
The week at a glance
Suffolk starts the week with a bang and a Sooty Tern
Dorset scores a lingering Yelkouan Shearwater
And Co.Wicklow lands a Brown Booby as the week closes
Oh, and there was Lammergeier in Derbyshire and South Yorkshire
What a deliciously mad, crazy seabirdy summer this is turning out to be. Unintentional tern puns aside, the week's otherwise fairly quiet bird news was turned on its head (okay, I'll stop now) by a transitory tern in Suffolk, a showy shearwater in Dorset, and a beautiful booby in Co.Wicklow.
(Note to self – must find a bookie who'll take a wager on a tropicbird being found in the next few weeks. It seems written in the stars at this point…)
Sooty Tern
First found mid-morning in Suffolk flying through Minsmere RSPB on 8th, the county's fourth Sooty Tern was strictly a bird for those able to react quickly and get themselves down to the coast in short order – relocated a short while later around the offshore rigs at Sizewell, it hung around them for just an hour before heading off south.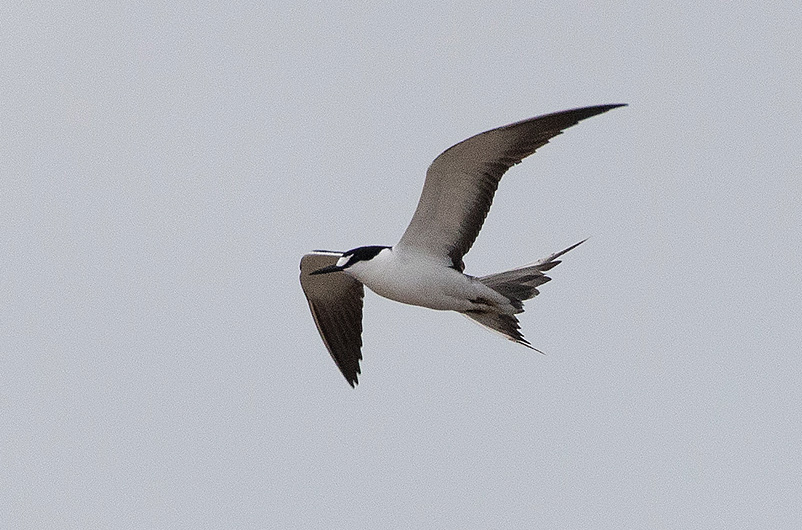 Was this the bird last seen on 14th June at Cemlyn Bay (Anglesey)? If so, it's made its way, one way or another, unseen around the British coast in the meantime.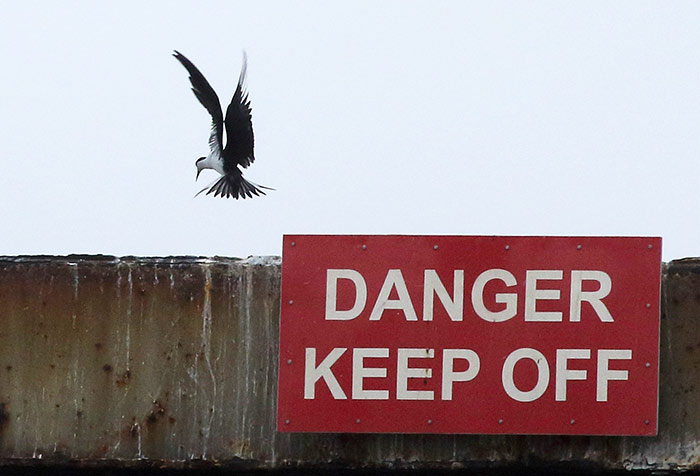 To say it's the fourth ever record of the species in Suffolk is to downplay the significance of this latest Sooty Tern for Suffolk birders – the last accepted record being way back on 3rd August 1976, a highlight of that baking hot summer at Minsmere. A shade over four decades is a long time to wait for another bird, so this was destined to be a popular bird for those quick enough out of the blocks.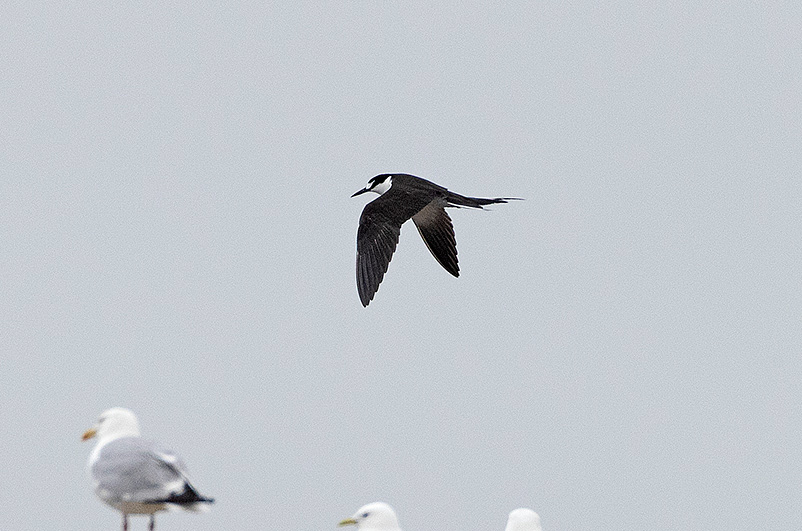 Yelkouan Shearwater
As any connoisseur of the dark delight that's seawatching can readily attest, it can be an extraordinarily frustrating way to while away hours of one's life – hours of unremitting not-quite-boredom alleviated only by the distractions of weather-induced discomfort, and cramp. And for what rewards? The possibility, of course, of the seabird of one's dreams appearing over the horizon and making everything that went before all worthwhile.
The reality, sadly, is that anyone who has succumbed to the pleasures of extended seawatches will have a grisly array of stories of birds that got away, birds that were seen fleetingly, perhaps not quite as well as one would like, or birds that stretch the credibility of others to breaking point. "X, in British waters? Yeah, right…"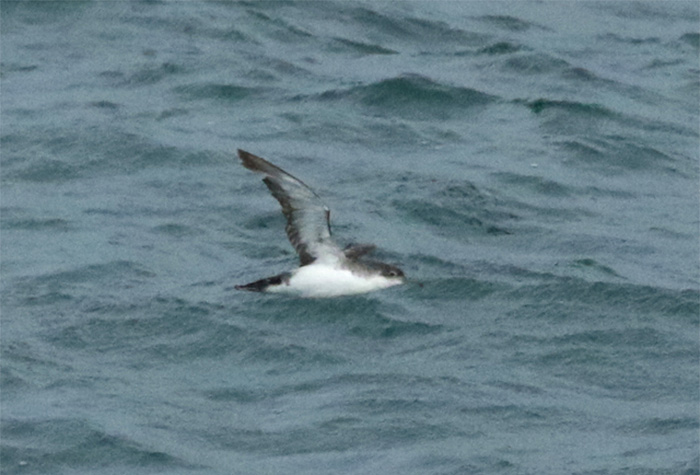 Who, after all, would have believed the Orcadian White-chinned Petrel were it not for the photos that accompanied that remarkable find earlier this strangest of summers?
Neither fleeting, nor un-photographed was a bird first found off Portland (Dorset) this week on 7th – a probable Yelkouan Shearwater - and, staggeringly, it was still present all day on 8th, and on 9th too, allowing a steady pilgrimage of birders to head to the Dorset coast. A twitchable rare shearwater? Whatever next, 2020…
Or was it just one bird? A two bird theory began to coalesce online as photos from the field emerged. Or were there, in fact, three birds amongst the gathering throng of Balearic and Manx Shearwaters? Confusion reigned. This, being seawatching, meant that the bird (or birds) in question wasn't quite as easy to sort out after all in blustery viewing conditions with changeable light on the choppy sea for added giggles.
What seems unequivocal is that there was at least one bird that fits the Yelkouan Shearwater bill nicely – those changeable light conditions, varying between bright glaring sunshine and overcast gloom, not only making observers' life difficult but also perhaps that of camera equipment. Was the same bird's underwing really varying so much depending on the light? Could that encouraging dark axillary bar on the underwing in some images really diminish so much in others, depending on the brightness prevailing at the time? For observers on the Dorset coast, this was proving to be a steep in-the-field learning curve…
For now, the Portland Bird Observatory take on this is that there's one bird involved – and, whether, they're right or wrong about that, with that bird sticking around for three days, birders prepared to put the time and effort in stood a hitherto unprecedented chance to see a Yelkouan Shearwater in British waters – to date, we've just the one accepted record, that owing to Devon and Berry Head on 29th July 2008.
Which isn't to say there haven't been others down the years… Remember those grisly stories of birds that got away? Some have never been submitted, safe in the knowledge that rare seabirds without photos traditionally get a rough passage with BBRC. Others, with notes, have stepped into the ring… but emerged with bloodied noses.
Great excitement with the feeding frenzy Yelkouan/Menorcan Shearwater at Portland. Love the photos by @debbyseamist. For interest, my field notes & RGM rough sketches of one of the same from Cley in August 2011, called by RGM & myself. It didn't get past BBRC. No pix, no record. pic.twitter.com/1WZr2DAqd2

— TheWhiteFalcon (@Vaasetter) July 8, 2020
Brown Booby
You've just gotta love summer 2020 – it's the season that just keeps on giving. With two top notch seabirds under our belt for another week, Co.Wicklow only went and provided a hat-trick with a screamer into the top corner of the net – a Brown Booby on the beach at Greystones in the mid-afternoon of 13th.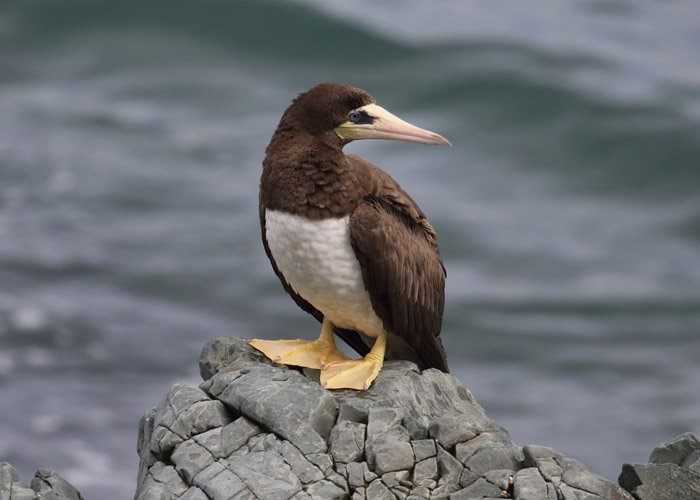 (Funny that the previous week should have featured possible examples of both this species and Yelkouan Shearwater…)
Last year was, of course, notable for the arrival of several Brown Boobies in Britain and Europe as a whole. Ireland, doubtless to the chagrin of Irish birders – cos they don't keep Irish and British lists, as a rule – missed out on that largesse. To date, Brown Booby was but a pipe-dream – with one at-sea record from August 2016, a bird that spent a couple of days on a fishing boat a couple of miles offshore from Dingle (Co.Kerry), and one tideline corpse from Owenahincha (Co.Cork) on 2nd January 2016.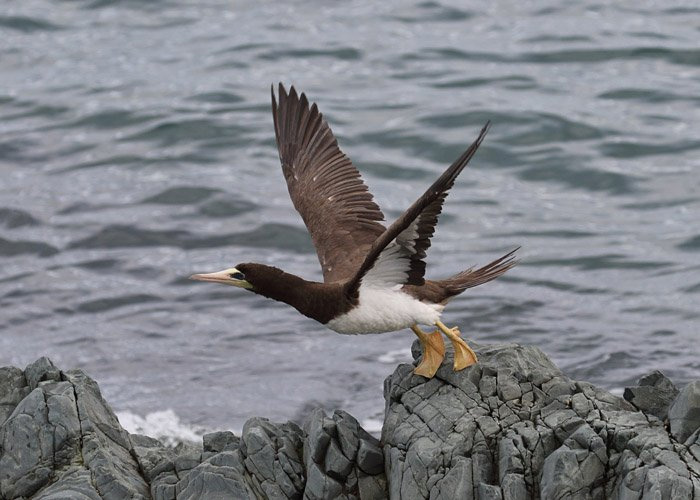 This week's bird was also on a beach, but happily still had a vital spark flaring within, remaining extant and tickable into the evening of 13th.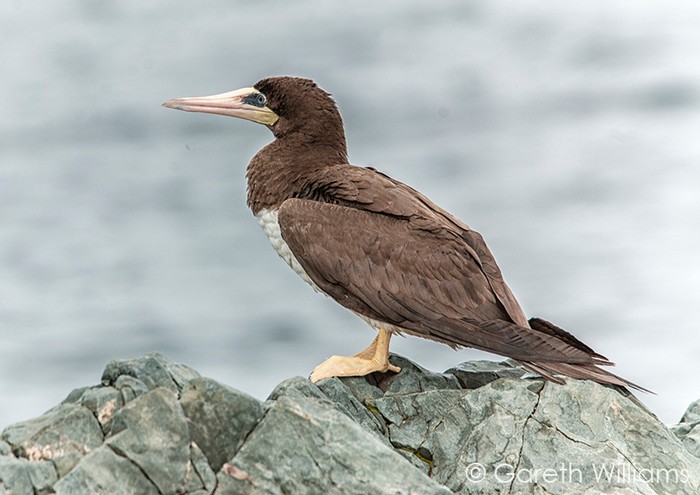 Which begs the question – with half of July and the halcyon seawatching days of August still to come, whatever next on the seabird front from this remarkable year?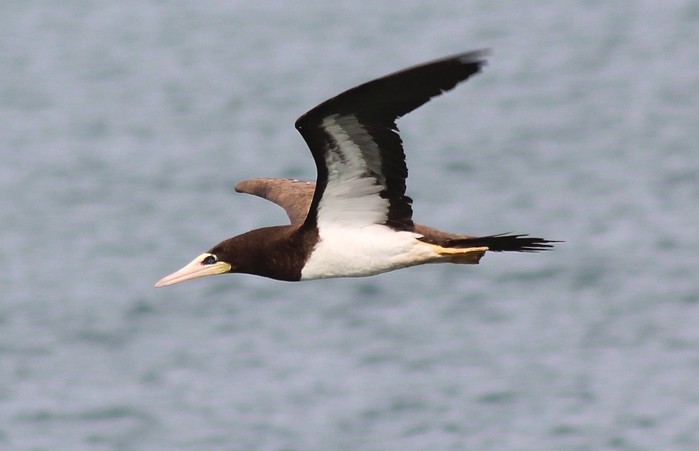 Lammergeier
It's all very well saying that the wandering young Lammergeier in northern England is destined for Category E of the British list, being as it's (probably) one of the offspring of the introduced Alpine population that's currently considered not yet self-sustaining, but there's just no denying the star appeal of one of these big charismatic beauties, and the magnetic draw they hold for birders. Anyone who spent a day or two or three on Dartmoor in the early summer of 2016 could attest to how many birders there were, coming and going, scouring the skies, mostly in hope rather than with any great measure of success…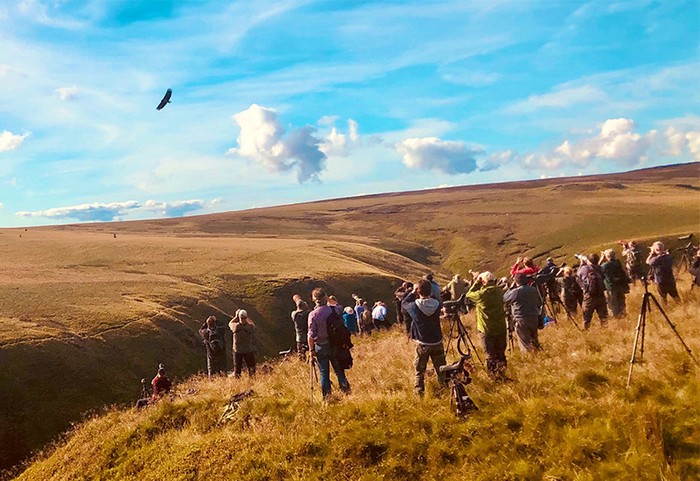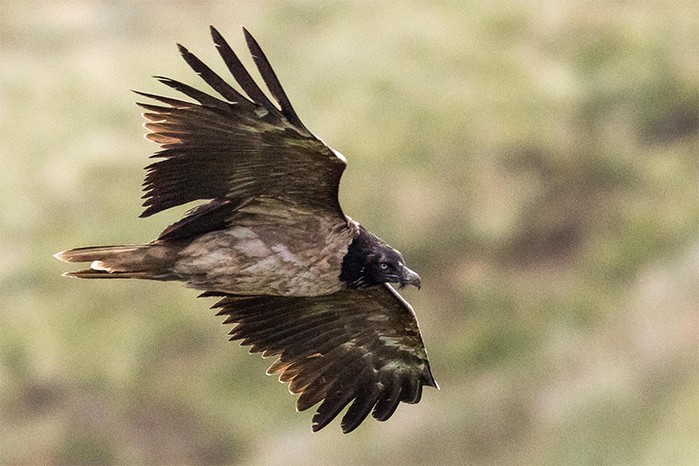 Our recently arrived juvenile continued its wandering ways at the start of the week, being seen at various locales in Derbyshire on 7th and then, on 8th, over Margery Hill (South Yorkshire). Matters got considerably more exciting from 10th onwards as the bird's favoured roosting site was pinned down – necessitating more than the usual amount of personal effort expended at the average twitch, as there was a half-decent hike involved across the uplands of South Yorkshire in order to see it at its favoured cliff-side haunt near Howden reservoir.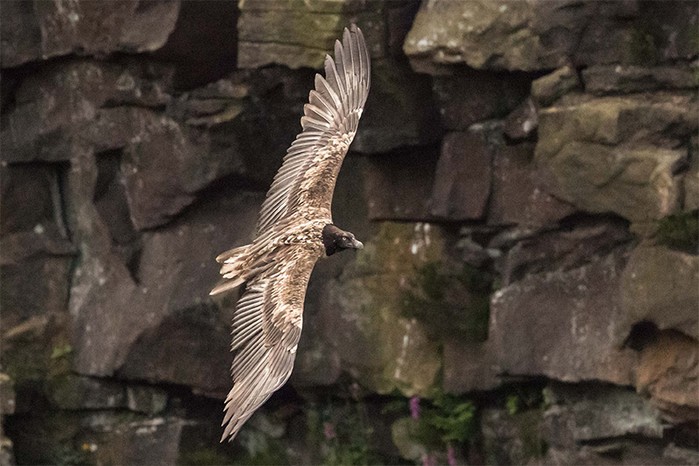 The views that ensued there until 13th were nothing short of marvellous and, listing pedantry aside, for some this bird is deservedly bird of the summer thus far.
Given the events of recent weeks, I'm quietly confident that something sensational is going to be found on one of the Scilly pelagics in the weeks to come. For now, however, things were starting to tick over nicely in the far southwest this week, with a Wilson's Petrel off there on 7th followed by a tally of three birds on 9th, and one more on 13th.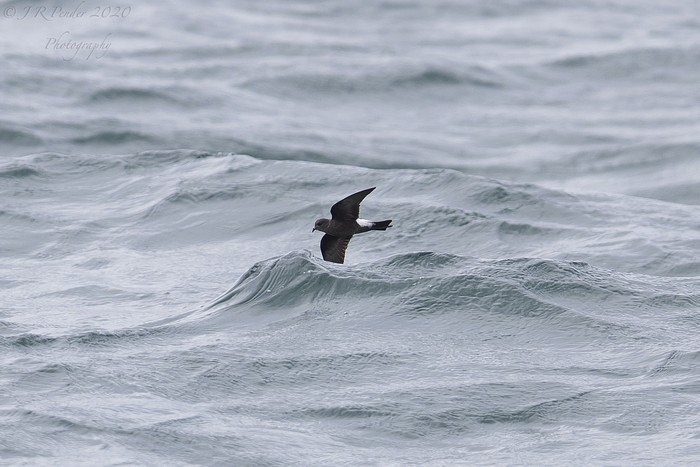 Two Leach's Petrels were trapped and ringed on Fair Isle (Shetland) on 10th. No sign of the ultimate petrel-ringing prize… yet.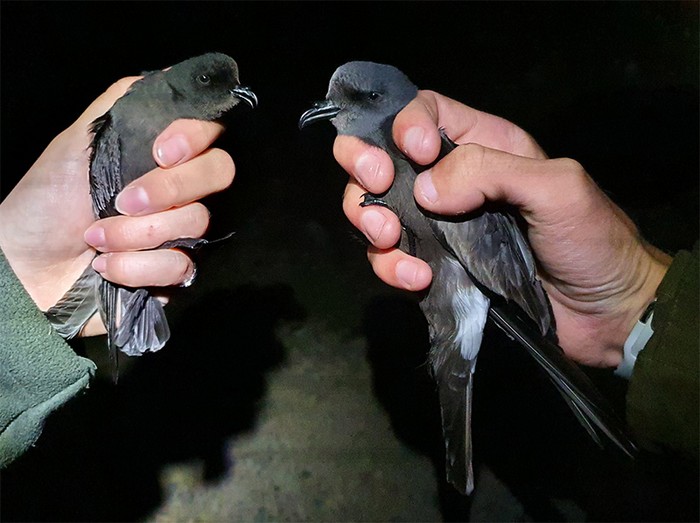 Large shearwaters were starting to become a possibility too – the first Great Shearwaters being noted from Start Point (Devon) on 8th, where two birds were noted, and off The Lizard (Cornwall) on 9th.
Single Cory's Shearwaters popped up off Helvick Head (Co.Waterford) on 7th and then, on 9th, a bird was tracked heading north up the English coast – being seen early in the morning from Barmston (East Yorkshire), and then at various vantage points between Filey and Scarborough (North Yorkshire), Cowbar Nab (Cleveland) and Seaham (Co.Durham).
Balearic Shearwaters weren't seen in the four-figure numbers of the preceding week, but were still a reasonable presence off the southwest coast, with some 700 birds logged over the course of recent days – peak count being 100 birds in Thurlestone Bay (Devon) on 10th.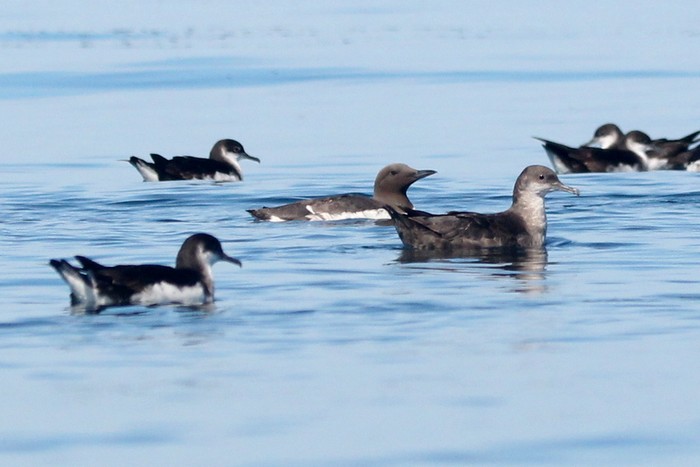 Skuas continued to be picked up from coastal watchpoints this week – around 30 Pomarine Skuas were, for the most part, single birds, with three seen from Hartlepool Headland (Cleveland) on 9th the highest single site tally. Long-tailed Skuas, meanwhile, were restricted to two birds seen from St Kilda (Western Isles) on 7th and a single bird off Porthgwarra (Cornwall) on 9th.
Fittingly, the seabirds held one final small (well, not so small…) surprise for us this week – a Black-browed Albatross reported from near Howick (Northumberland) in the evening of 13th. Presumably that's the returning North Sea bird last seen, on this side of the water, at Bempton Cliffs RSPB during the prior week. We'll see if it gets pinned down in the days to come…
Highlight of our weekly long-legged beasties this week was the adult Night Heron bouncing around the county interstice near Potton (Bedfordshire) and Gamlingay (Cambridgeshire) on 11th. One was seen on 12th at Natland on Cumbria's River Kent; and a probable bird flew over Wicken Fen NT (Cambridgeshire) on 13th.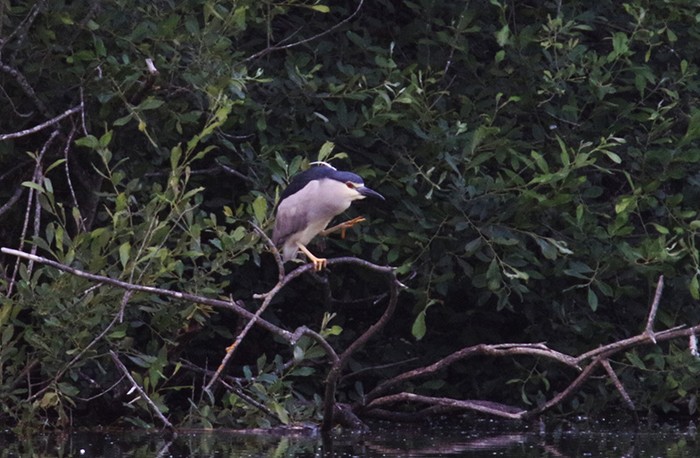 In Worcestershire the adult Glossy Ibis was again noted at Lower Moor Meadows on 10th.
Our only wandering Common Cranes reported this week were two seen over Northampton (Northamptonshire) on 7th.
Lastly, in Gloucestershire, the Spotted Crake was to be heard singing at Splatt Bridge on 8th-10th; and a Corncrake was heard singing near Aldbrough St John (North Yorkshire) on 12th.
Who knew there were so many competing methods for measuring plasticity? An idle moment with Google reveals a number of ways of judging the plasticity of a given sample, including the marvellously named Pfefferkorn Method. What, we wonder, would we name an equivalent methodology for judging the likely wildness of a given duck?
Something that ranges from the automatic feel-good factor of a winter Green-winged Teal to the equally spontaneous ick feel of a summer Cinnamon Teal. In between which, somewhere on the scale, we slot in the likes of Baikal Teal, Bufflehead and our old favourite, Hooded Merganser, and factor in, somehow, an element of baffling, random inconsistency.
Quite frankly, if the drake Cinnamon Teal seen on Lewis (Western Isles) between 13th May – 16th June 2004 couldn't make the grade for Category A on the British, one ought never to do so. That bird turned up with a decent supporting cast of other birds of Nearctic origin – as, indeed, did the equally ill-fated Wood Duck on Shetland in spring 2009. Neither found favour with the authorities. While, of course, the drake Hooded Merganser on Unst (Shetland) in spring 2006 was absolutely fine.
All of which preamble is a long way of saying that, in an otherwise very peaceful week on the rarity duckpond, the drake Cinnamon Teal present in Cambridgeshire on Isleham Washes on 7th-13th is presumably doomed to go nowhere fast. Still, never say never. Dalmatian Pelican…
The balance of our quacker news this week comes from Scotland. The drake King Eider was again seen at Burghead Bay (Moray) on 9th.
In Shetland, a drake Surf Scoter was discovered lurking around the mussel lines in Laxfirth Voe on 7th, having been present in the area for some days beforehand.
Last of all, on 13th a Ring-necked Duck was found on Loch of Skene (Aberdeenshire), and the drake remained on Lough Beg (Co.Derry) on 13th also.
<!—Section Title -->
Top of the shorebird news this week has to be the happy event in Somerset where, at Steart WWT, a pair of Black-winged Stilts hatched two young this week on 9th, with the family still intact there on 12th and the adults at least still present on 13th. There's many a slip twixt hatch and fledge, so we wish the young birds all the best in the days and weeks to come. At Dungeness (Kent) meanwhile, the lonely male continued his residency until 13th. Will news emerge of more breeding pairs in the days to come?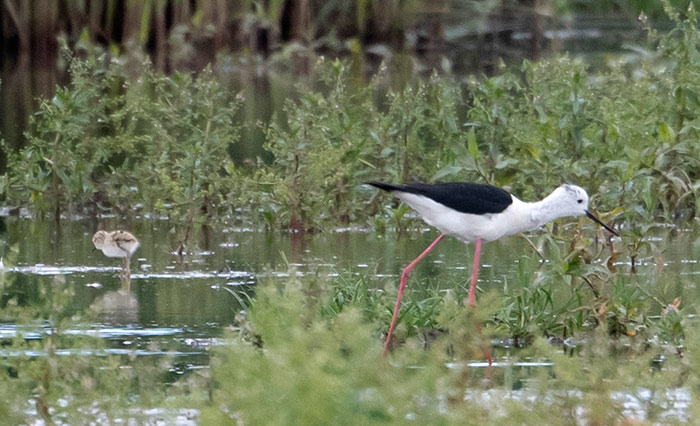 Moving onto vagrants rather than recent colonists, recent days had a pleasingly Nearctic flavour. Starting in Scotland, the recent Semipalmated Sandpiper remained at Dornoch Point on 7th.
A White-rumped Sandpiper was found in Ireland at Kilcoole (Co.Wicklow) on 11th; while a Pectoral Sandpiper was found on 10th at Tacumshin (Co.Wexford).
Another Pectoral Sandpiper was discovered in 10th at Boldon Flats NR (Co.Durham), while on 12th further birds were seen at The Cull (Co.Wexford) and displaying on North Ronaldsay (Orkney); and on 13th a final bird was found at Cley NWT (Norfolk), while the North Ron bird remained present that day also.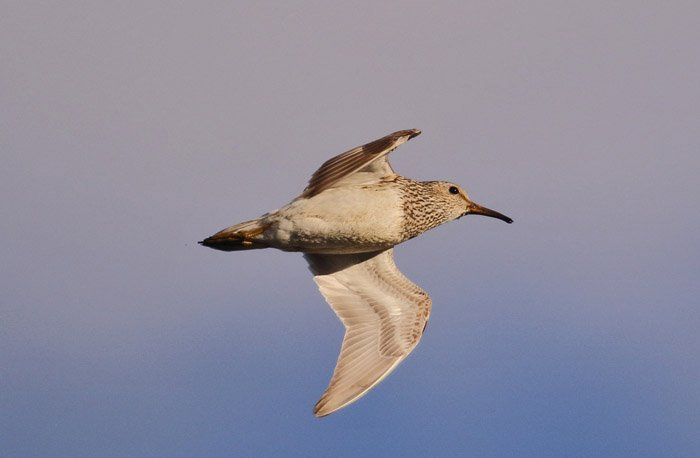 Northern England struck twice on 10th, for a Long-billed Dowitcher was found on the opposite coast to Co.Durham, at Port Carlisle (Cumbria), remaining there until 13th.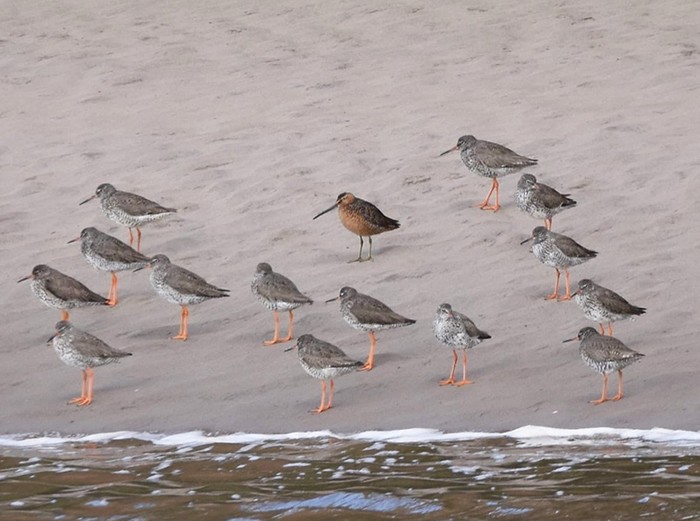 The first-summer Lesser Yellowlegs was still to be seen at Nosterfield LNR (North Yorkshire) on 7th-8th; an adult bird, found near Wells (Norfolk) at North Point Pools on 11th presumably was the selfsame bird seen the following day at Oare Marshes KWT (Kent), remaining at the latter site on 13th.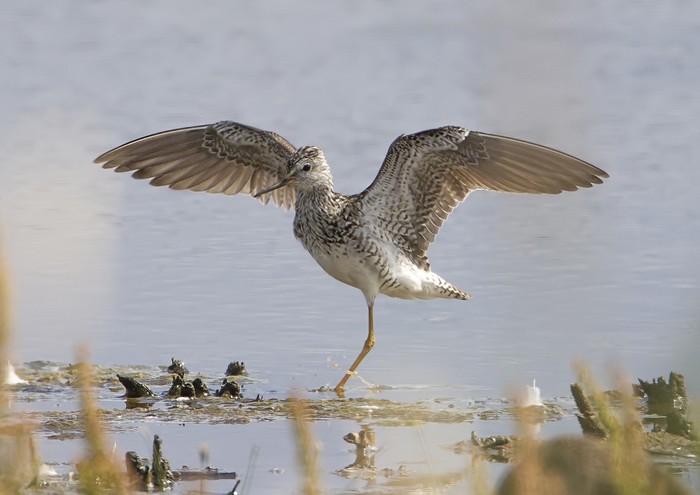 A Temminck's Stint was seen at Warden (Northumberland) on 11th-12th.
Back in Ireland, the recent Pacific Golden Plover remained settled at Doonbeg (Co.Clare) on 7th-11th.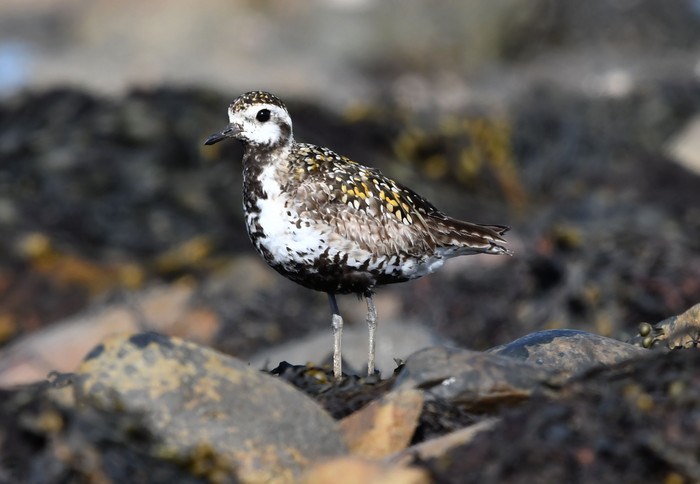 Finally, a Red-necked Phalarope was found in Nottinghamshire at Misson on 10th-11th.
Our recent trio of Bonaparte's Gulls all remained all present and correct this week – starting in Kent, the faithful adult bird was showing well at times at Oare Marshes KWT on 7th-13th; and the first-summers remained on the Add estuary (Argyll & Bute) on 7th-12th and at Annagassan (Co.Louth) on 7th-13th.
Just one Sabine's Gull was seen – a first-summer off St Kilda (Western Isles) on 7th.
Glaucous Gulls hung on in there, with three or four birds noted this week – one on North Uist (Western Isles) on 7th and it, or another, on the island on 13th; another on Moray's Lossie estuary on 8th and, in Lincolnshire, the stalwart first-summer bird still present at Pyewipe on 8th-9th.
10th was marked by the discovery of a couple of Caspian Terns - one seen heading over Minsmere RSPB (Suffolk) and the other at Frampton Marsh RSPB, the latter individual still present on 11th-12th.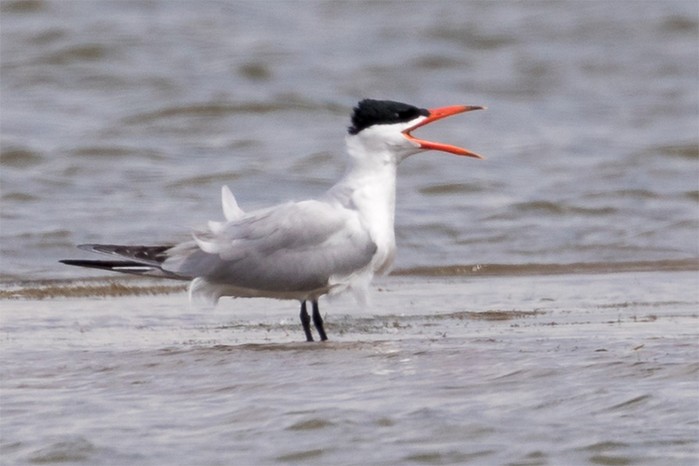 A possible adult Forster's Tern was seen flying past Old Nab (North Yorkshire) on 10th – if only one would settle down somewhere in Britain, it would doubtless prove popular, years having elapsed since one was readily available. Those of us of a particular vintage will remember the days when it was merely a formality to drop into the Ythan estuary (Aberdeenshire) whilst killing time waiting for the overnight ferry to Shetland to collect both Forster's Tern and King Eider in one fell swoop… Happy days.
Away from Derbyshire/Sounth Yorkshire the raptor news pales by comparison this week – the best of which was a male Red-footed Falcon near Redmires reservoir (South Yorkshire).
A White-tailed Eagle was seen in Lothian at Hopes reservoir on 11th, whilst another was reported that day from Abergavenny (Gwent).
In Aberdeenshire, an unconfirmed report of a Rough-legged Buzzard came from Rattray Head on 10th – a most unseasonal sighting.
Absent from the news for much of the week, it transpired on 12th that the recent Lesser Grey Shrike in Shetland was still present in the Bigton area after all, and it remained there on 13th.
Another shrike of note was found on 13th – a Woodchat Shrike at Dunfanaghy (Co.Donegal). This not, of course, the biggest news coming out of Ireland that day…
Our only Red-backed Shrike this week was one present at St Ann's Head (Pembrokeshire) on 11th.
Back in Shetland, the south Mainland also turned up a Great Reed Warbler, trapped and ringed in a Scousburgh garden on 11th. Was this the bird heard some weeks back at Asta in the central Mainland?
The settled Iberian Chiffchaff was again heard at Minsmere RSPB (Suffolk) on 7th-12th.
Our passerines section generally was starting to look pretty denuded this week, with just occasional flashes of colour and variety in the news. One such flew over Goss Moor (Cornwall) on 11th – a passing Bee-eater - with another heard over Dolgarrog (Conwy) on 12th.
On 9th a Hoopoe was reported from Stiffkey (Norfolk); another was seen on 10th at Ashey (Isle of Wight).
Rose-coloured Starlings, meanwhile, continued to be a lingering presence all over parts of Britain and Ireland – striking birds such as these will continue to draw the eye of even non-birders, and we're surely due for more garden finds in the weeks to come, even if the birds in question aren't freshly in off the Continent. Some 20 birds in all were seen this week, of which Lewis (Western Isles) remained an early focal point, with four birds still present at the north end of the island on 7th, with two seen that day on North Uist also.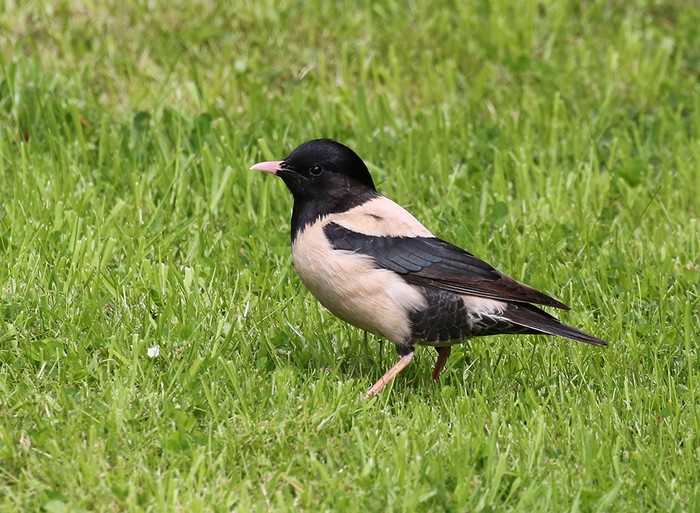 A possible male Italian Sparrow was seen in Gills (Highland) on 10th-11th.
A late Common Rosefinch was seen on Fair Isle (Shetland) on 11th.
And last, but always not least, a mobile and elusive Serin at Beachy Head (East Sussex) on 7th was followed by the recent male seen once more in Suffolk at Landguard NR on 9th.
Scandinavia provides us with a varied and decent suite of birds to kick off the overseas news this week – starting in Finland, the stunning male Pied Bush-chat remained at Eurajoki on 7th-12th.
Denmark, meanwhile, landed a Zitting Cisticola at Grenen on 9th.
In Sweden, the recent Black-winged Kite remained at Tanumshede on 7th; and in Norway, the male Red-headed Bunting was still to be found at Rost on 12th.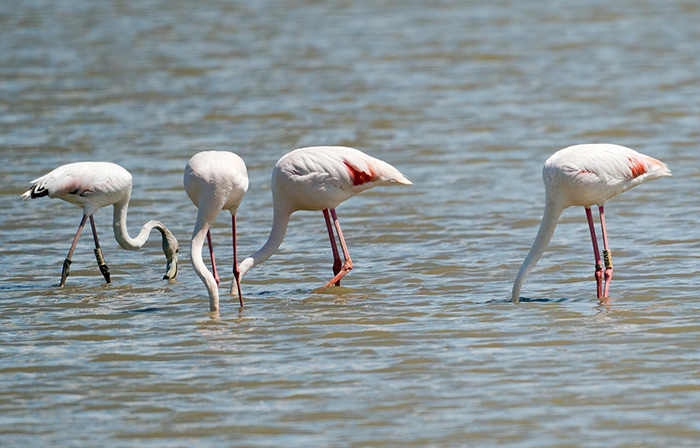 In Holland the week closed with a Lesser Spotted Eagle seen flying south over Balloerveld in the evening of 13th. Prior to that, the lingering leucopsis Amur Wagtail remained at Rockanje on 11th-12th still, whilst a flock of seven Greater Flamingos at IJdoorn on 11th-13th provided us with some food for thought – two of them were betraying the length of their wanderings, bearing a Spanish ring.
In Spain itself, the recent Seebohm's Wheatear was still present at Bohoyo on 7th.
Finally, a country that doesn't feature often in these parts – Switzerland, where a Western Swamphen, seen at Reserve Naturelle Creux de Terre on 8th-11th would be, if accepted, the third national record.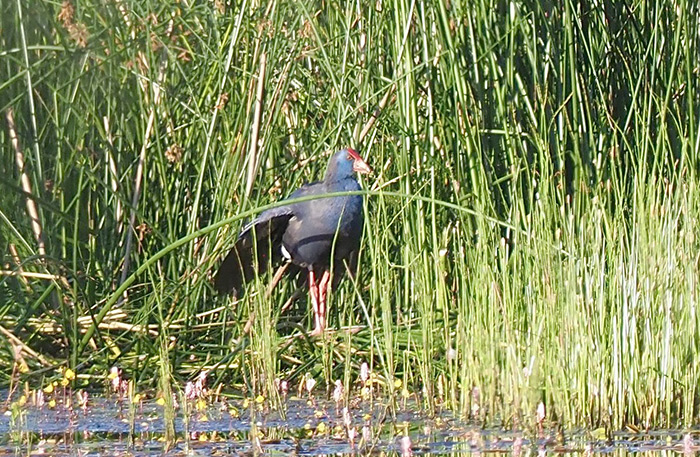 From now until sometime in August, we're going to be beating a familiar drum here in the predictive proceedings – it's all shorebirds and seabirds for the foreseeable. Which isn't to say the coming week doesn't have its fair share of historic passerines of note – any week that features the likes of a Blue-cheeked Bee-eater or a Brown-headed Cowbird is sufficient to warn us not to write off the possibility of something from leftfield in the days to come.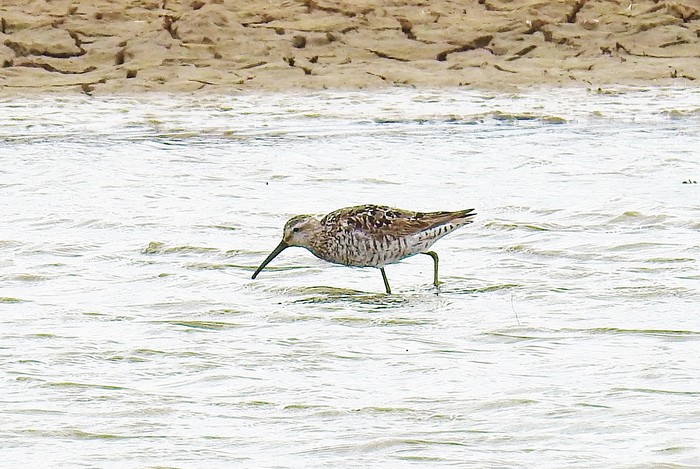 But waders. It's firmly time to start paying extra attention to your local estuary, wetland or tidal creek and have half an eye peeled for a Nearctic wader. We're well into double figures for past White-rumped Sandpipers from the coming week, and rarer sandpiper options are certainly available – half a dozen prior Semipalmated Sandpipers give cautious grounds for some optimism, with past Stilt Sandpipers and Least Sandpipers hot on their heels, with three historic records apiece. Either of the latter would be a welcome bird at this stage in the year.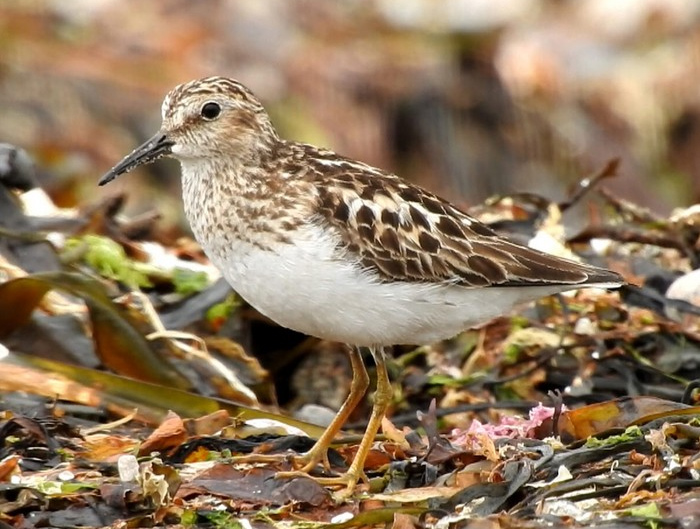 Jon Dunn
14th July 2020
Many thanks to all this week's contributors for your photos and videos
Share this story
Tweet