Weekly birding round-up: 14 - 20 Apr 2020
The week at a glance
Co.Cork collars Ireland's latest Collared Pratincole
Gwynedd finally gets us an Iberian Chiffchaff
And on Scilly, the male Lesser Kestrel racks up another week
The spring continued to unfold nicely this past week, with more warblers arriving by the day – ditches and reedbeds will be starting to pulse with morning chatter and song from now on.
Terns too were beginning to move - Black Terns being a classic April bird over inland freshwater bodies and, if you're fortunate to find yourself living in a river valley between two lakes or reservoirs, you might just be in pole position to score some on your house list in the week to come…
Collared Pratincole
For the second consecutive week, Ireland was making much of the running where spring passage was concerned. Last week it was a Western Sandpiper in Co.Wexford and, this week, it was Co.Cork's turn to produce the alliterative goods – a Collared Pratincole at The Gearagh on 18th-19th.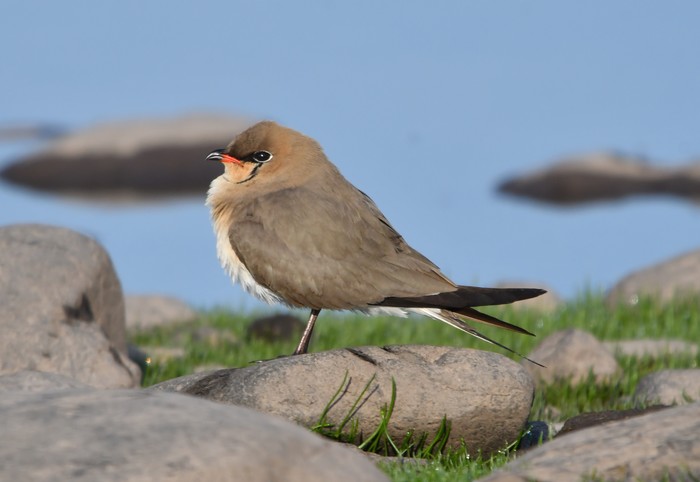 Saying that this was a first record for Co.Cork is understating just what a superb bird this is in an Irish context and, doubtless, that'll be the cause of some frustration for some Irish birders. Ireland's first was way back when, on the Bann estuary (Co.Derry) on 13th-14th October 1970. A long wait ensued for the next bird – an adult seen on The Mullet (Co.Mayo) on 5th-9th June 2007 followed, on 24th October that year, by an adult near Ballyconneely (Co.Galway) – the suspicion being that these may have been one and the same bird. Easing the pressure somewhat was the bird found last year at Lough Swilly (Co.Donegal) on 22nd-23rd July…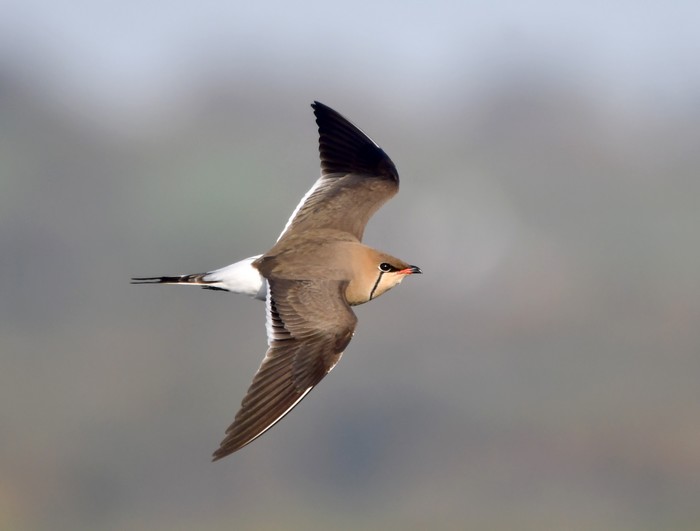 Putting this into some context for British birders, who've almost 100 Collared Pratincoles on the books to date and may be forgiven for feeling rather blasé about them, the species is rarer in Ireland than Western Sandpiper. It's that good.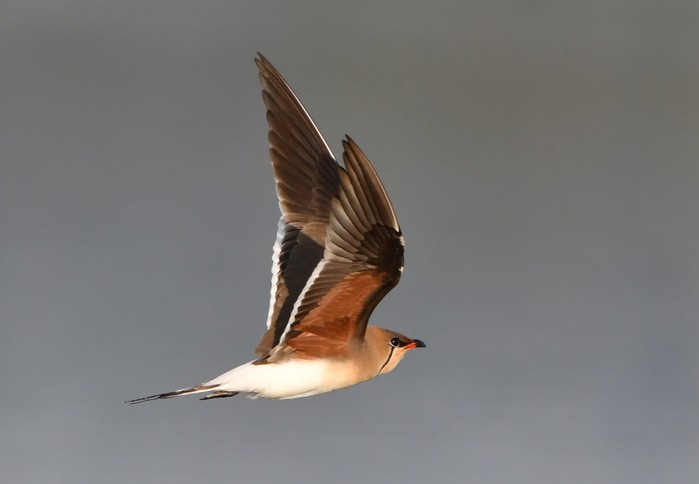 Iberian Chiffchaff
What have Iberian Chiffchaff and Pacific Golden Plover got in common? You'd be forgiven for thinking not a lot, at first glance, but you're not herding words about birds for the RBA Rarity Round Up – because, from where I'm sitting, they've one striking feature they share. Both species are now pretty much a formality at the right time of year, but their typical arrival dates span weeks on end. Making them the bane of the lucky dip for your's truly that's predicting the coming week's rarity to watch out for.
So I've spent the past few weeks confidently, then with an increasing note of desperation, saying one is surely imminent. Finally, we can take that stuck record off and change our tune because – joy! – one turned up and was heard unequivocally in song at Rhiw (Gwynedd) on 15th – a county first.
Like eagerly anticipated buses, there'll be dozens of the damn things now...
Lesser Kestrel
I just cannot bring myself to relegate the fine male Lesser Kestrel on St Mary's (Scilly) to the main body of the Round Up though, as the weeks rack up and more and more rarities arrive to supplant it, that's surely going to be only a matter of time. Still, for now, just know it spent another week happily enjoying the local Scillonian hospitality.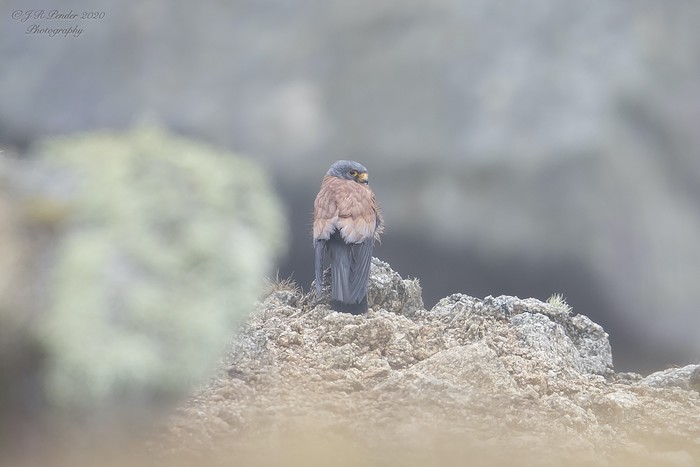 Modest returns for another week where seabirds were concerned, as we might expect in the current period. Our only White-billed Divers were Orcadian this week, in the form of the semi-resident individual still hanging around off Papa Westray on 16th and one seen from North Ronaldsay on 19th.
Two Balearic Shearwaters were reported off St Mary's (Scilly) on 14th.
A hint of spring skua passage in the English Channel came this week with a couple of Pomarine Skua records on 15th – single birds noted off Portland (Dorset) and Splash Point (East Sussex), with another off Portland on 19th. More to follow…
Bossing the long-legged beasty news this week were wandering Common Cranes - these magnificent birds were very much on the move, and very much on my mind whilst I was working outside. Turns out my neighbours, two fields away from me, have a chicken that sounds freakishly like a Common Crane bugle when it's doing the laid-an-egg song and dance. Every single day I've caught myself looking to the sky and then realising what's going on…
If I've not been adding Common Crane to my lockdown list, plenty of others this week have been. Here in Shetland, a party of four birds arrived in Quendale on 15th, remained in the south mainland on 16th, had split by 17th when two were seen over Quendale again, and had bounced back to three birds there on 18th. Elsewhere, on 14th two were seen in East Yorkshire at Lissett, while a single bird remained at Idle Valley NR (Nottinghamshire) on 14th-15th.
A mobile pair were bouncing around North Yorkshire on 15th – seen at Filey and Scarborough before, in the evening, passing over Cayton. On 15th also, a quartet of birds were noted in Lincolnshire at Norton Disney. Single, widely separated eastern birds were logged on 16th in Suffolk at Coddenham and Bothal Pond in Northumberland; while in the northwest four possible birds in Cheshire at Denhall Quay resolved themselves into a confirmed foursome over Rixton. Two were seen on 17th at Gibraltar Point NNR (Lincolnshire); while two at Burton Fleming (East Yorkshire) on 17th had doubled to four birds there the following day. Another was seen on 18th at Stainton (South Yorkshire). On 19th the birds came thick and fast again – two in Northumberland over Weetslade CP; three over Flamborough (East Yorkshire); North Yorkshire accounting for three over Foxholes, Seamer, then Scarborough and then, later, a singleton overhead at the latter location; one over Kilnsea (East Yorkshire); a mighty 14 birds in Cambridgeshire at Oxlode; and seven birds over Eastbridge (Suffolk).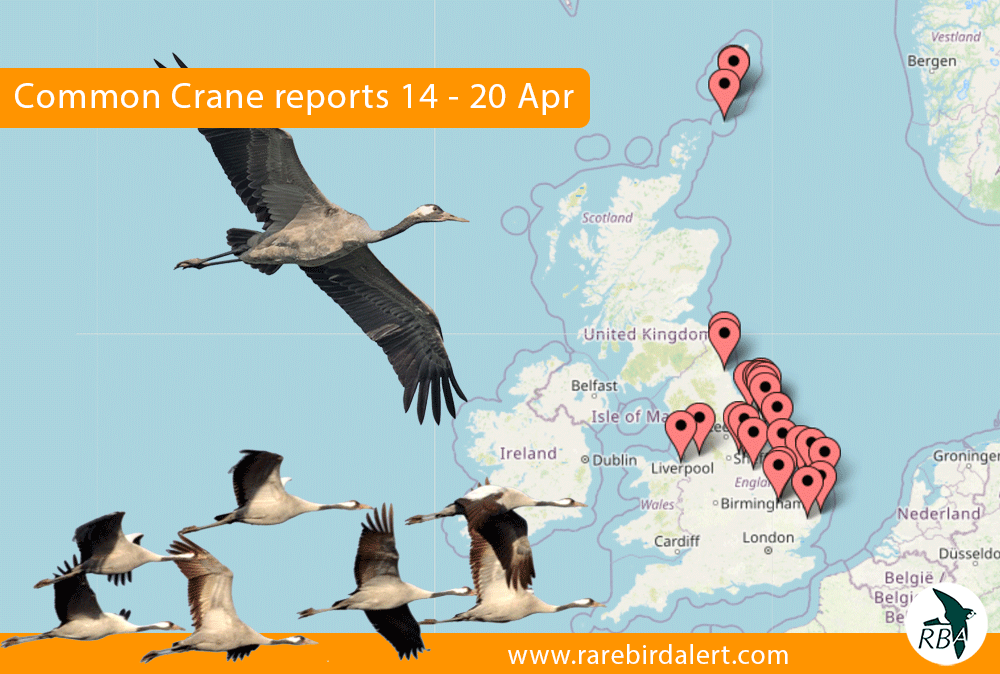 Back down in Suffolk, an adult Purple Heron was found at Southwold on 16th.
On 19th two Night Herons were found – one on St Mary's (Scilly), and the other at Dibden (Hampshire).
If last week was marked by singing Spotted Crakes, this week they were followed by the welcome sound of the first rasping Corncrakes - two heard on Tiree(Argyll & Bute) on 15th; while a further migrant had made it to Tory Island (Co.Donegal) on 15th also.
Top of the class once again this week was the young drake Steller's Eider, still reassuringly present on Papa Westray (Orkney) on 16th.
Orkney was very much where it was all at this week where Green-winged Teals were concerned – birds were seen on Papa Westray on 16th, Loch of Bosquoy on the Orcadian mainland on 15th-16th, and on North Ronaldsay still on 15th. One remained on the Scottish mainland at Loch of Kinnordy RSPB (Angus) on 17th-19th.
Up in Shetland, the presumed hybrid Green-winged x Eurasian Teal continued to provide colour at Pool of Virkie on 15th-18th.
An unconfirmed report came on 19th of an American Wigeon at Flixton GPs (Suffolk).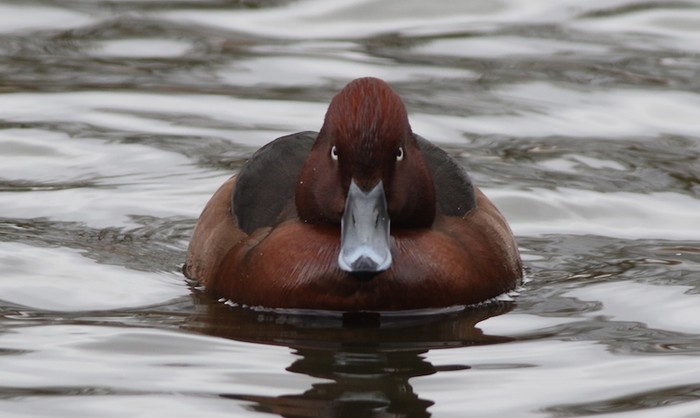 Two recent drake Ring-necked Ducks were still to the fore this week – the Bedfordshire bird again at Priory CP on 17th, and one at The Cuilc (Perth & Kinross) on 15th still. Two were noted on Tiree (Argyll & Bute) on 15th also; and a final drake was found in North Yorkshire at Malham Tarn on 18th.
In East Yorkshire, the recent Black Brant remained present at Kilnsea on 15th-18th.
And finally, in Kent a female Bufflehead was seen in Nickoll's Quarry at Folkestone on 19th, an appropriately maritime location for a bird whose provenance, given the proven wandering escape potential, needs to be taken with a generous pinch of salt…
<!—Section Title -->
More green shoots of spring came this week in the form of more Dotterels on the move towards their northern upland breeding quarters – two were seen at Kete (Pembrokeshire) on 14th; two at Rossendale (Lancashire) on 16th; two more at Grimston (East Yorkshire) on 17th; and four in Cambridgeshire at Landbeach on 18th – one of which remained there on 19th, whilst a trip of five birds was found on the latter date at Mereclough (Lancashire).
Two Black-winged Stilts pitched down at Dungeness (Kent) on 16th at Denge Marsh; another was seen recently at Kingfishers Bridge NR (Cambridgeshire).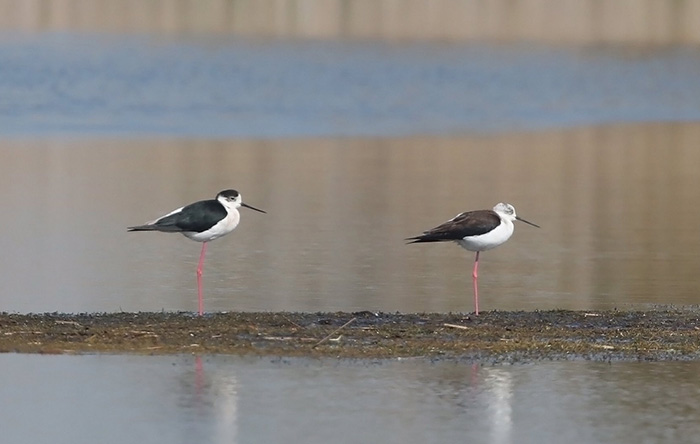 They might fairly be anticipated at this time of year, but finding a wayward spring Pectoral Sandpiper will always be a significantly bigger thrill. One was discovered this week on 18th-19th at Frodsham Marsh.
In the headlines but for the fleetingness of the encounter, what may well have been our wandering, westbound, first-winter American Herring Gull was logged over Salakee on St Mary's (Scilly) on 15th – frustratingly for all concerned, relegated to the realms of 'possible'.
White-wingers, however, were still very much a thing this week, albeit their numbers are dwindling somewhat. Cornwall held at least two Glaucous Gulls, maybe more, as sightings came from various locales as the week wore on – but certainly there was an adult and at least one juvenile involved. The only other English bird was that in Lincolnshire at Pyewipe still on 14th-15th.
Otherwise it was all about Scotland for the Glaucous Gulls - in Highland, birds were seen at Scrabster still on 14th and on Skye on 14th-15th; one was present on Lewis (Western Isles) on 14th, while North Uist accounted for two birds on 18th; one was seen on Tiree (Argyll & Bute) on 15th and 19th; and one remained on Yell (Shetland) on 15th-18th, with a sighting on 19th from Unst also.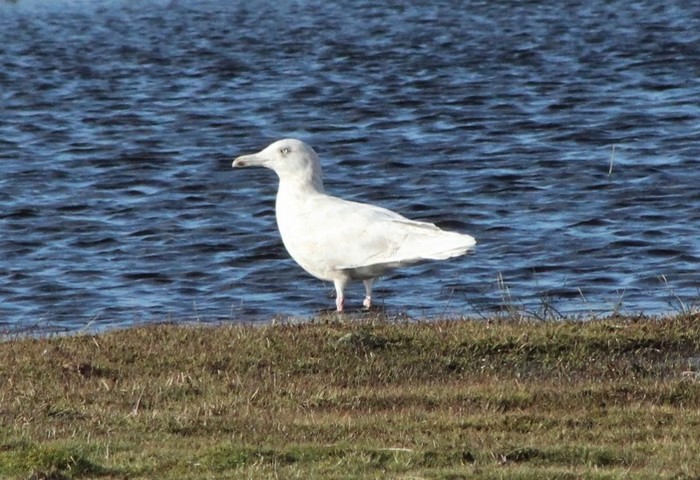 That Yell site – Cullivoe – also continued to be attractive to Iceland Gulls for another week, with one present there still on 15th-18th, with two birds again present on 16th-18th. Elsewhere in Shetland numbers were quietly massing in the south mainland – four were seen at Sumburgh Head on 17th with one at nearby Scatness, while on 16th a bird was seen a little to the south on Fair Isle.
One on Skye (Highland) on 14th-17th was surpassed by a count of three there on 15th; another was seen in Highland at Dunnet Bay on 14th. Further Scottish sightings came from Huntly (Aberdeenshire) on 15th and on the sea near Inverbervie (Aberdeenshire) on 16th; from Kilrenny Mill (Fife) on 17th; North Ronaldsay (Orkney) on 18th; and Tiree (Argyll & Bute) on 19th.
In England, one remained at Big Waters NR (Northumberland) on 14th-19th; London records came from Putney Bridge on 15th and Battersea Park on 19th; on 16th, birds were seen at Shoreham-by-Sea (West Sussex) and Churn Clough reservoir (Lancashire); and Cornish sightings came from St Ives on 17th, Newlyn again on 18th, and St Just on 19th.
The most prominent feature of recent weeks, wandering White-tailed Eagles, were still popping up here and there around England and, hence, in our newsfeeds in the early part of the week just gone. Satellite data suggests some – but perhaps not all – of these sightings relate to the Isle of Wight reintroduction scheme birds. I'm not alone in hoping their wandering ways don't end up with their paths crossing those of our country fraternity who still bear anything with a hooked beak ill-will… Plenty of lost Red Kites, Hen Harriers and Buzzards bear silent witness to the ongoing risk to their kind.
White-tailed Eagle sightings this week came, on 14th, from Northamptonshire where a confirmed Isle of Wight bird was noted at Irthlingborough Lakes and Barnwell; followed, on 15th, by a spate of records countrywide – in Kent, at Pegwell Bay and Ramsgate; in Suffolk, at Bungay, Stowupland and Pipps Ford, with the latter site retaining a bird on 16th; at Clent Hills (Worcestershire); at Halesown (West Midlands); at Hardingstone (Northamptonshire); in Dorset at Poole Harbour, Weymouth and Wyke Regis; in Devon at Colaton Raleigh; and in Lothian at Haddington. On 16th, back in Suffolk, further sightings came from Baylham and Woodbridge; and one was seen over a March garden in Cambridgeshire. Finally, on 17th, one was reported over Thrapston GPs (Northamptonshire); and, on 19th, birds were noted at West Deeping (Lincolnshire) and Werrington (Cambridgeshire).
A Black Kite was reported from London at Hornchurch on 15th, whilst another was seen that day in Norfolk at Briston. On 16th Whitstable (Kent) scored a further bird, while a final probable was noted on Portland (Dorset) on 19th.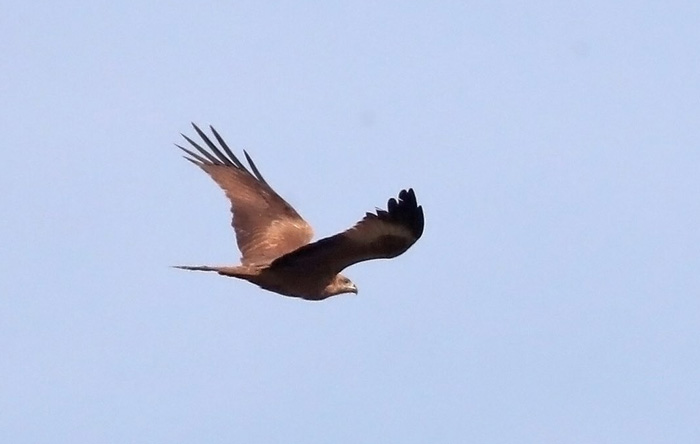 The north Kent coast was having a good day on 16th, for a female Montagu's Harrier was logged then at Oare Marshes KWT; this may have accounted for the female seen on 19th at Conyer also.
Back in Norfolk, a Rough-legged Buzzard was seen on 15th at Stiffkey Fen; and another report came from the county on 19th at Brampton.
Keeping tabs of just how many Short-toed Treecreepers Dungeness (Kent) has racked up so far this spring is a tricky thing to do. Could it just be one bird that's skulking around patches of cover on the shingle? Or two birds? Or even, with another sighting this week on 14th at the Observatory, a third bird now clocking in? Certainly the Obs are considering them three separate birds.
Finally, this week, the long-anticipated first confirmed Iberian Chiffchaff of the spring crossed the finishing line, as we've noted in the headlines. Similarly, after the previous week's possible Subalpine Warbler sp on Scilly, this week provided two more definitive articles – male Eastern Subalpine Warblers found on Ramsey (Pembrokeshire) on 16th and then, on 18th, one haunting gardens in Sandwick (Shetland) that ended up in a mistnet.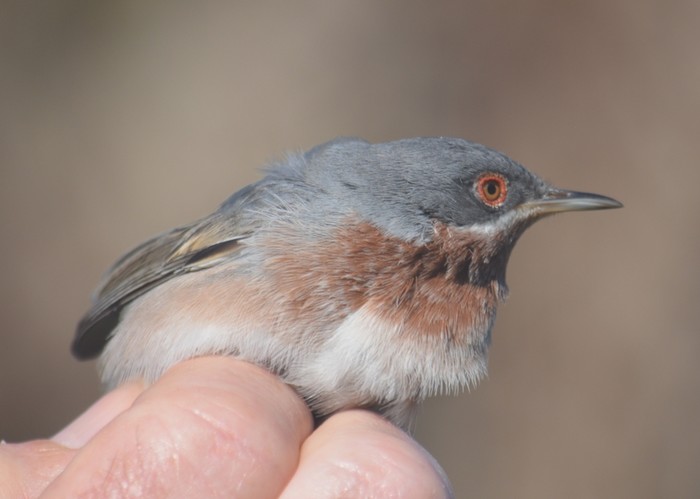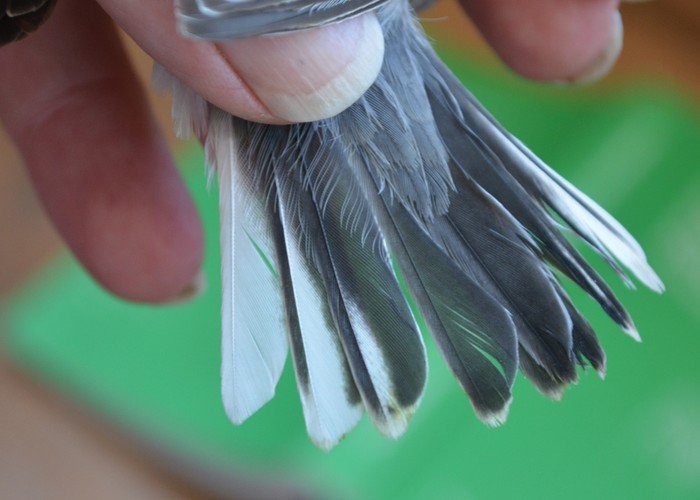 Absent from the news for some weeks now, a final warbler of note this week was the Yellow-browed Warbler found in gardens at Patrington (East Yorkshire).
More of the usual, highly anticipated spring fare came in the form of further Hoopoes in recent days – birds were found on 13th-19th in a garden at Climping (West Sussex); on 14th on Hayling Island (Hampshire); on 15th at West Wickham (London); on 15th-19th on Foulness Island (Essex); on 16th at Midleton (Co.Cork), and reported from Yell (Shetland); on 17th flying through Piddinghoe (East Sussex), and reported from a garden in Wem (Shropshire); and on 17th in a garden at Ingatestone (Essex) and at Kilnsea (East Yorkshire). On 19th a fresh flush of reports came from St Agnes (Scilly), Pendeen and Marazion (Cornwall), Portland (Dorset), Arundel (West Sussex), and Tide Mills (East Sussex). Another had been seen recently in Dorset near Portesham.
Piddinghoe was having a good day on 17th, as it also scored a Red-rumped Swallow that day; another was seen on 17th on Great Ormes Head (Conwy). On 18th one was logged at Dungeness (Kent); and on 19th, West Sussex logged two sightings, at Selsey Bill and Bracklesham Bay; and another was seen in Pembrokeshire at Heathfield GP.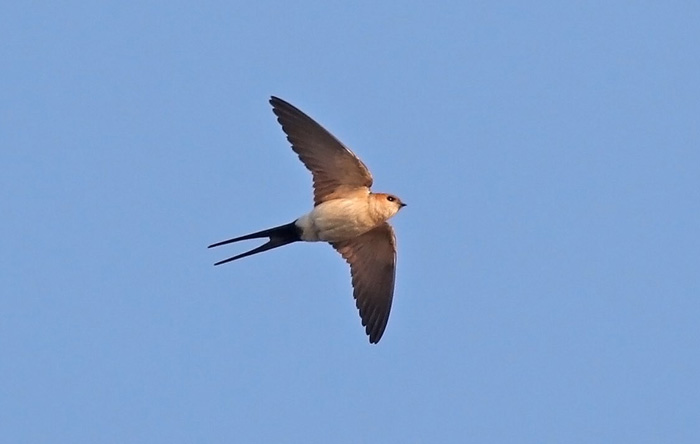 More southern colour came from Devon where, on 15th, a Bee-eater was seen near Barnstaple; another was reported from an undisclosed site in Derbyshire on 18th.
In Orkney a Bluethroat was found on South Ronaldsay on 19th.
More subtle – well, compared to the former species, what isn't? – but nonetheless a welcome sign of migration being well under way, were a small arrival of Wrynecks this week – individuals found at Great Ayton (North Yorkshire) on 14th; on 15th on Bardsey (Gwynedd) and at Wilton (Cleveland); on 17th at St Just (Cornwall); on 18th at Normanby (Lincolnshire); and on 19th in Cley (Norfolk), with another reported that day briefly in a Polegate (East Sussex) garden.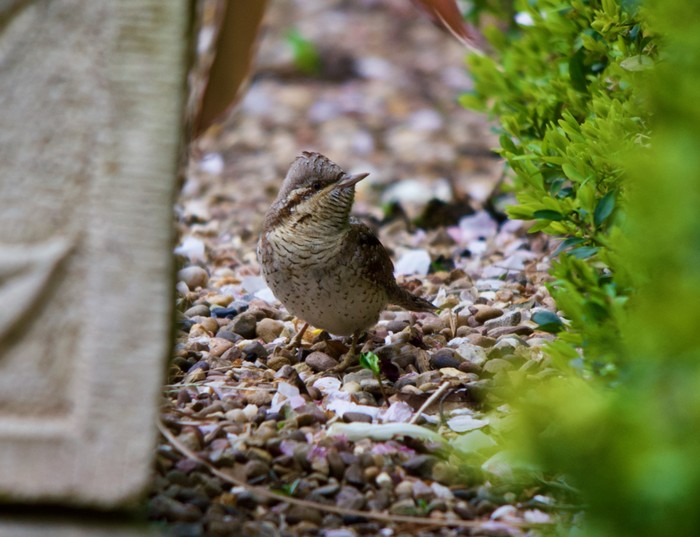 An Alpine Swift was seen over Far Ings NR (Lincolnshire) on 19th.
A late arrival, just as the week was drawing to an end, was a female Citrine Wagtail found in the evening of 20th at Siddick Pools NR (Cumbria). That's a species we strongly associate with autumn but, down the years, one that is found occasionally in spring too.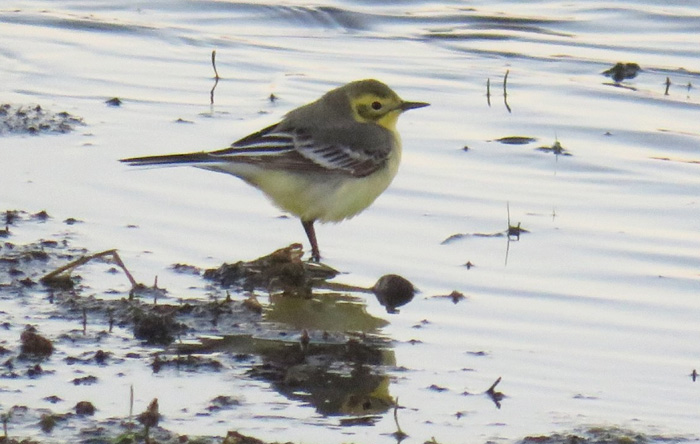 A handful of Blue-headed Wagtails were seen this week, surely the vanguard of more to come soon – the bird still at Toft Newton reservoir (Lincolnshire) on 17th, and another male on 16th at Sker Point (Glamorgan); then, on 19th, further birds at March (Cambridgeshire) and Aldcliffe Marsh (Lancashire).
Sticking with Lincolnshire for a moment longer, the Richard's Pipit was once more seen in the Anderby / Huttoft area on 14th and once more on 20th.
If aforesaid pipit provides a hint of late autumn, lingering winter notes came again this week in the form of some Waxwings - around 60 birds in all seen in recent days. 11 were noted in Inverness (Highland) on 14th; a flock of 21 birds in Dunblane (Forth) still on 14th dropped to 15 birds by 16th-18th; one passed over Toab (Shetland) on 16th; and a flock of some 30 birds were seen back in Inverness on 17th. On 19th a final single bird was seen in a garden in Kilmartin (Argyll & Bute).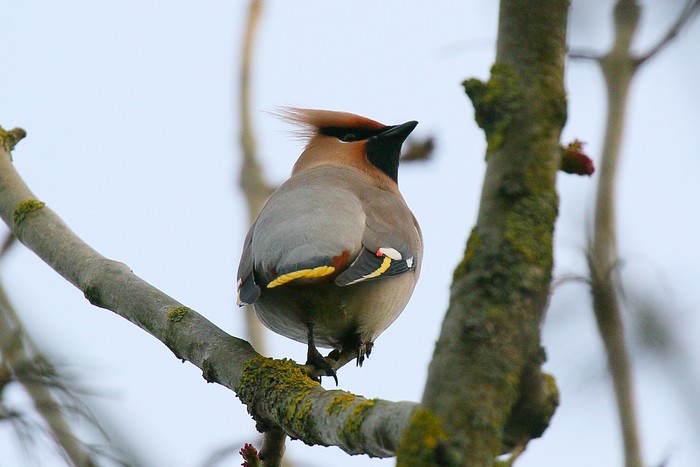 A Great Grey Shrike was reported from Llanidloes (Powys) on 15th-16th.
Last but not least, some south coast Serins were noted in the course of the week – on 16th at Portland (Dorset) and Shoreham-by-Sea (West Sussex); on 17th at Porthgwarra (Cornwall); and, on 19th, on St Mary's (Scilly).
Overseas news was, once again, dominated by migrating raptors – and we have to start for a second consecutive week with Black-winged Kites, not least because they continue to flirt with the English Channel – one was seen on Alderney in the Channel Islands on 16th, while on Guernsey on 19th the American Royal Tern remained present.
Further afield, another was present in Sweden on 15th at Helsingborg – with Sweden also scoring a flyby Black Scoter off Domsten on 15th, and a Wilson's Snipe near Vendel on 18th-19th.
Denmark, meanwhile, was all about the eagles this week – getting an Eastern Imperial Eagle over Elmelund on 15th and, if that weren't big enough news, a satellite-tagged Bonelli's Eagle on Mors on 17th-19th.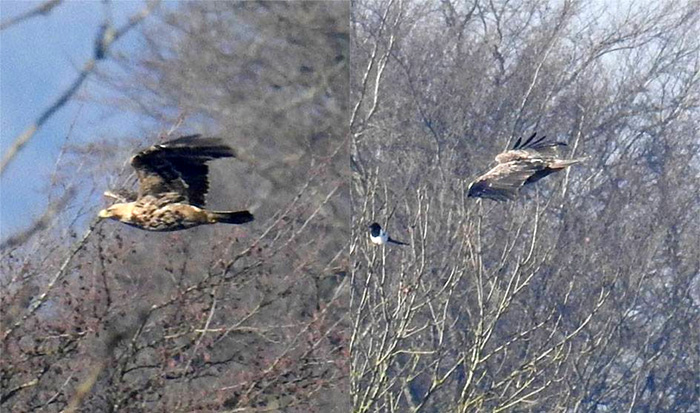 This had been preceded, on 16th, by a tagged Bonelli's Eagle logged over Bruges (Belgium) and Ijzendijke (Holland) – the fifth Dutch record, following hot on the heels of another this year in March. This prior 2020 record wasn't seen, and is known only from its GPS data – a very modern bird record indeed.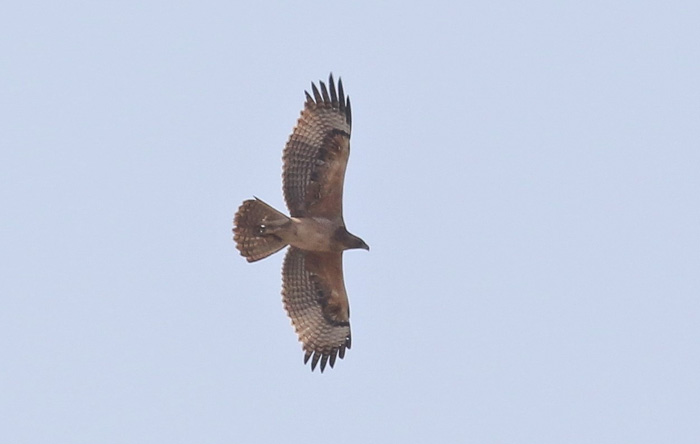 Sticking with the wandering eagle theme, France got an Eastern Imperial Eagle at Les Sainfraigniers on 16th.
Back in Belgium, a Citril Finch was trapped and ringed at Verviers on 17th.
Further afield, in Israel the recent Three-banded Plover was again seen at Ma'ayan Tzvi fish ponds on 17th.
Sightings of the previous three week's star of the show, Large Tortoiseshells, dried up this week. With at least one of those insects having been seen paying close attention to a hedgerow of Wych Elms, eyes should be kept peeled in the coming weeks for the tell-tale larval webs formed by their caterpillars… Only one insect on the wing was reported this week – in a wood at Peterborough (Cambridgeshire) on 15th.
I'm sure I'm not alone in doing a lot of my wildlife-watching vicariously at the moment – apart from whatever we can see from our homes, or on our daily walks, we all are. The internet is, more than ever, proving a lifeline in this regard, a window into the world beyond my immediate horizons.
Twitter of course has immediacy on its side – so, besides being my go-to place at 8pm on Tuesdays for the weekly birders pub quiz run by Ashley Saunders @Oriole_Ashley, Nick Acheson@themarshtit and Mark Golley @Vaasetter, it's also providing real time wildlife updates from folk out taking a walk. This week, my Twitter feed seems to have burst into bloom as people are stumbling across Early Purple and Green-winged Orchids. Of course, I have a bit of thing about orchids…
…but I like some variety in my online wanderings, and in recent days I've been rediscovering the joy of natural history blogs. Sure, they don't have the short, intense dopamine hit of a good tweet – but the chance to learn about something in more than 280 characters is welcome.
An old favourite blog of mine, North Downs and Beyond, written by Steve Gale, is as entertaining as ever and is currently hosting a British community of #BWKM0 birders. #BWKM0? No, me neither – but as Steve explains, it's birdwatching at zero kilometres. In other words, from home. The concept was born in Covid-19 stricken, locked down Italy, and Steve's blog is now the focal point for dozens of birders in Britain working hard on their garden lists as the spring unfolds. It's great to hear about the garden ticks, the triumphs, and the tribulations of birds missed.
Speaking of which, another blog was brought to my attention by Judd Hunt in recent days. Judd, of course, is better known for his sheer animal magnetism where top birds is concerned rather than his blog-finding abilities – he has Britain's first Siberian Accentor to his credit, after all – but this week he came up trumps with a heads-up directing me to Julian Thomas's superb Birding Tales blog. For birders of a certain vintage, this is a glorious trip down a twitching memory lane with many a yarn of high octane birding escapades, superb rarities, some crushing dips, and some good humour too – I particularly enjoyed the mechanical interlude in the Shetland Black-browed Albatross twitch tale.
It's not all birds out there in the blogosphere, so my final recommendation this week is to James Lowen's colourful and varied blog – a smorgasbord of birds (well, he is a birder, after all), moths, reptiles, wildflowers, dragonflies… pretty much everything is grist to his mill. Even micro moths, though for now I draw the line at them, tussling as I still am with the shades of grey involved in learning to identify lichen… James is currently working on a moth book that promises to be every bit as wonderful as his blog so, until that comes rolling hot off the printing presses, you've plenty of vicarious wildlife thrills to be going at in a blog archive that stretches back years.
If you've any more wildlife blog recommendations, please let us know…
If we were to pick a stand-out bird that the coming week offers promise aplenty for, it's surely Red-rumped Swallow - traditionally the third week of April is a strong one for them and, with a number arriving in the closing days of the week just gone, they're very much on our radar. Also, endearingly, a species that could conceivably turn up pretty much anywhere that hirundines gather, including inland.
That said, the coming week feels like it might be a bit rarer than that – with Shetland being wafted by warm south-easterlies as I write in the closing hours of daylight on 20th, it's hard to shake the feeling that something decent might be waiting in the wings – though, of course, in current circumstances that's going to be moot for all bar the fortunate finder. Historically, the male Cretzschmar's Bunting found on Fair Isle on 27th April 2014 gives a taste of just how rare that could be.
There's an attainable middle ground to be struck beyond the cosmopolitan possibilities of the former species and the mega rarity of the latter – and this week, I think Black Stork fits the bill nicely. Rare enough to offer a juicy thrill for the finder, but regular enough and with a wide enough spread of past records to suggest that one could, if the gods smiled on us, soar overhead almost anywhere in Britain or Ireland.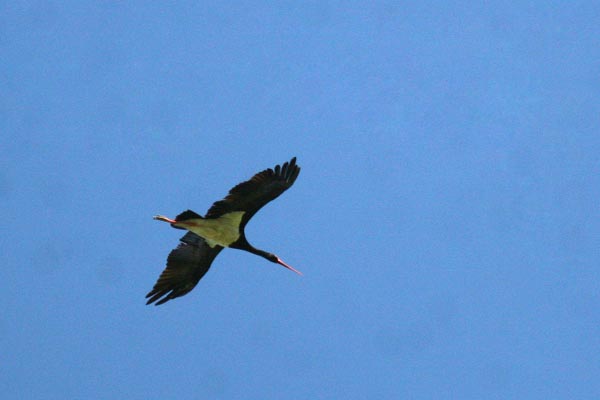 Jon Dunn
21 April 2020
Many thanks to all this week's contributors for your photos and videos
Share this story
Tweet