Weekly birding round-up: 10 - 16 Mar 2020
The week at a glance
A Lesser Kestrel is uncovered on Scilly
Devon lands a Killdeer on Lundy
Devon's adult Ross's Gull relocates and remains
While in the north, Shetland's Tengmalm's Owl is still present
Another week ticks by and we're gradually turning winter over into the first glimmers of spring. The vanguard of Sand Martins and Wheatears are arriving on our shores, and the first Cuckoo has been heard in song.
I suspect a lot of us will be spending rather more time at home than usual in the weeks to come, birders and non-birders alike. It'll be interesting to see, with more eyes glancing out of windows, whether any interesting birds are picked up, be they southern migrants or Nearctic passerines making their way north after a winter on the wrong side of the pond.
But that's speculation for the future. It's time to take a moment and look at the week just gone – a week with a mouth-watering quartet of headline birds.
Lesser Kestrel
If we had to pick a vagrant to turn up in early March – and, for fun, we do every week in The Week to Come - Lesser Kestrel wouldn't have been particularly high on the list of possibilities.
With a mere 20 accepted British records to date, of which just 11 have been since 1950, we've a pattern of occurrence that shows a peak later in the spring, in May. All of which said, there are a couple of past records dating to March, and even one from February.
And of those earlier records, it's striking that the February record and one of the March birds were both on Scilly, in 1926 and 1891 respectively. Scilly's only subsequent record was a May bird within living memory, on St Mary's on 13th-21st May 2002. The moral of the story, such as there can be one, being that if there were to be an early bird, it would probably be found on Scilly.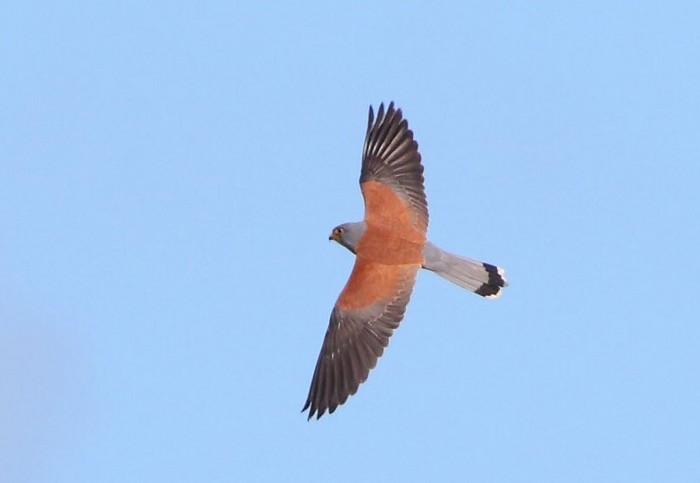 To which point in the narrative, step forward Ashley Fisher on 15th – he identified a cracking male Lesser Kestrel that had been photographed on 14th by a visitor and, potentially, had been around for up to nine days beforehand. The views and photos that followed were utterly sublime, and the bird obligingly hung around still on 16th – the fourth record for Scilly, the second in living memory, and the islands' spring account off to a very solid start indeed.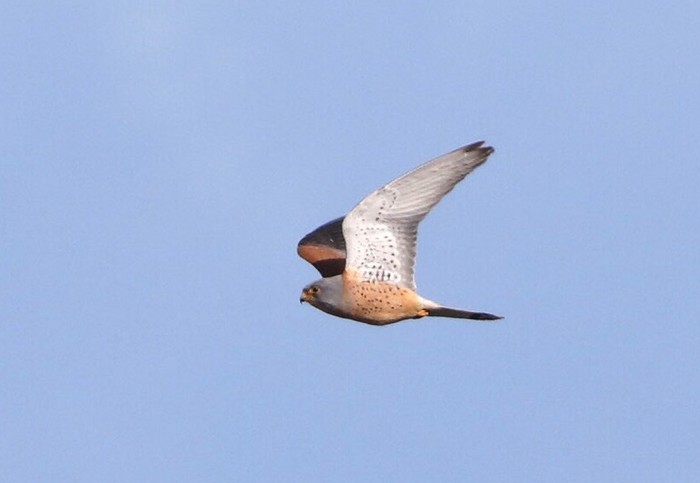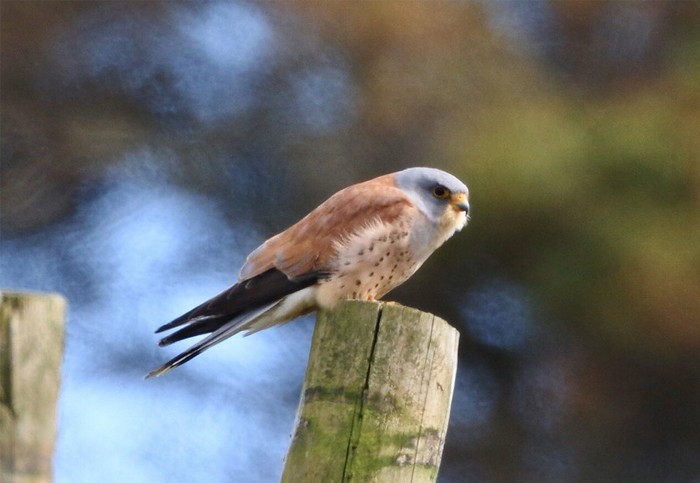 Killdeer
Many, many years ago, back in the day, when I was young, fancy-free and twitching like an utter loon, I paid more than I care to remember to join a charter to Lundy (Devon). Not a boat charter and that, for those familiar with the limited transport facilities on that tiny island, means it couldn't have been the chequebook birders' favourite – a light aircraft. Nope. We hired a helicopter.
Which seems utterly mad, with hindsight, and probably was. Partly because I could ill afford it, and not least when one considers what the bird in question actually was – a Rose-breasted Grosbeak. Which we didn't, in the end, actually see. I think it came at the end of a particularly quiet week of slogging the Cornish valleys and finding bobbins for ourselves… but really, what were we thinking?
This shameful episode of youthful exuberance and dipping is related only because of the news that broke at the end of the week just gone. Good news – there was a Killdeer on Lundy on 16th. Bad news – the next sailing of the MS Oldenburg isn't until 31st March.
So if you want to try for a bird that's not monstrously rare in a national context, you know what you need to do…
My advice, for what it's worth, is that the bird isn't going to hang around. Devon's had three previous birds, the last in 2002, and they've all been one day birds. The helicopter can take a rain check after all.
Ross's Gull
As we hopefully forecast at the close of last week, the pretty pink adult Ross's Gull, found on 9th at South Huish Marsh, proved this week not to be a one day bird after all.
Though, as the week began, that wasn't how it was looking – with no sign of the bird on the first couple of days, it seemed like it had done a flit. And, in a sense, it had – as, when it was re-found on 12th, it had relocated along the coast to the Plym estuary.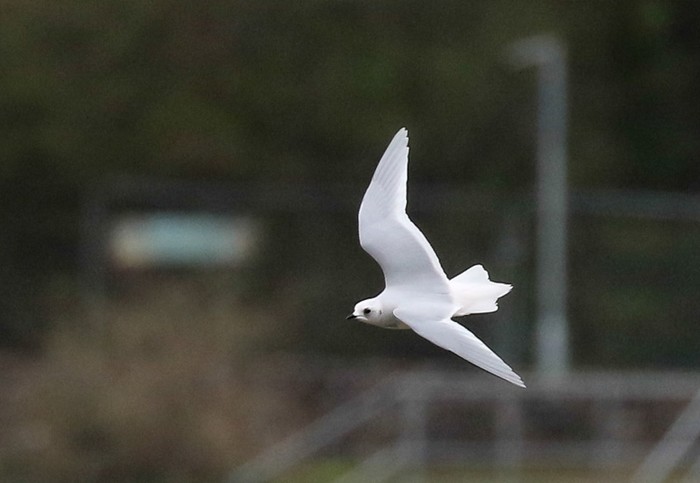 And there it remained until 16th at least – putting the county's sixth bird onto eight days in Devon and counting…
Tengmalm's Owl
The week began in Shetland with the longest staying mega on currently on our books, the Tengmalm's Owl first seen in the Lyndsey Lea plantation at Kergord back in December 2019, still present in Lea Gardens on 10th-13th.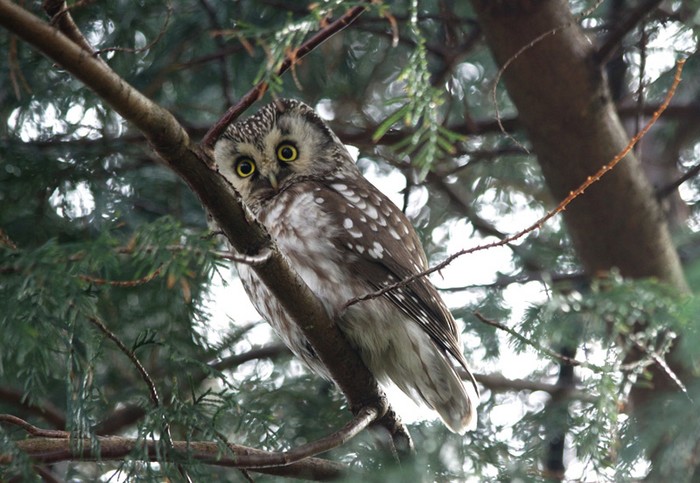 Skipping a beat on 14th, on 15th the bird was reported once more – and it had relocated back over the hill to Kergord, and was back in the corner of the Lyndsey lea it had previously favoured when last there.
We'll see how long it remains there before it moves again – one suspects these moves are probably as much to do with the prevailing wind direction as anything, and reflect a heartfelt desire to have an un-buffeted daytime roost site.
If the previous week was a quiet one for seabirds, this week was proper Sargasso Sea territory, with almost nothing of note to report.
We'll start up in Shetland where, on 13th, a White-billed Diver was once more seen in the traditional wintering quarters of South Nesting Bay. Another bird was reported from Coverack (Cornwall) on 13th also.
Sticking with Cornwall, Falmouth Bay was again the weekly hotspot for Pomarine Skuas, with four birds seen there on 11th, and one still present on 15th.
Just one of the recent handful of Glossy Ibises was noted throughout the week just gone – the individual still present at Newport Wetlands RSPB (Gwent) until 14th – until 15th, when one was seen again at Rye Harbour NR (East Sussex).
If they were in increasingly short supply, the same couldn't be said for non-Norfolk Common Cranes, not least in Suffolk where birds with itchy feet were cropping up all over the shop. Two birds at Lakenheath Fen RSPB on 10th had reduced to one on 12th. On 13th, two were seen over Cavenham Heath; three were over Carlton Marshes SWT; and four over Worlingham Marshes. Ever reliable Cambridgeshire provided sightings of a bird at Wicken Fen NT on 11th and two there on 14th, two at Woodwalton Fen NNR on 13th, 16 at Nene Washes RSPB on 14th, and two over Stow-cum-Quy on 15th. One was seen passing over Chew Valley Lake (Somerset) on 14th. In the north, on 11th, two were logged over Filey (North Yorkshire) and Flamborough (East Yorkshire), and the adult remained on 12th in Northumberland at Hartburn. On 16th, a mobile pair were tracked through East Sussex.
Starting our dabble in the rarity duckpond again this week with The Goose Formerly Known As Canada, a hutchinsii Richardson's Cackling Goose remained on Lewis (Western Isles) on 11th-14th; a probable interior Todd's Canada Goose was seen on Foula (Shetland) on 10th, and the interior bird was still present in Lancashire in 12th-14th and 16th; it or another was seen up the coast at Rockliffe Marsh (Cumbria) on 15th.
Hanging around the same Lancashire haunts, the possible adult Grey-bellied Brant was still lurking near and about Banks Marsh on 13th-16th.
A Black Brant was logged in Norfolk at Stiffkey on 13th; while another was still present at Spurn (East Yorkshire) on 16th.
The white morph Snow Goose remained this week on North Uist (Western Isles) on 13th.
Pick of the settled dabbling ducks, the first-winter drake Blue-winged Teal remained settled at Man Sands (Devon) on 10th-16th.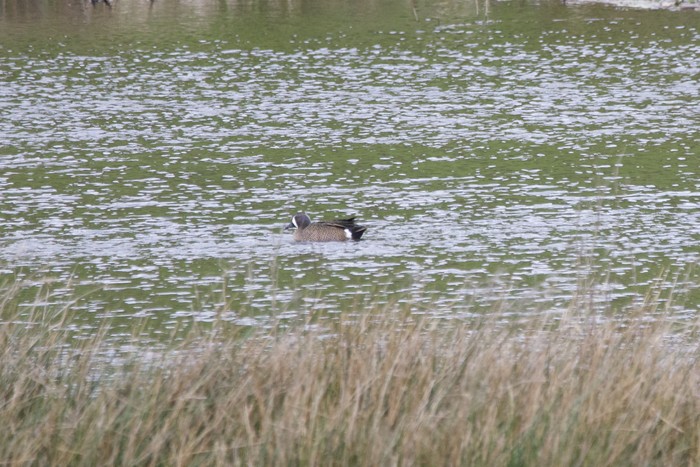 In Highland the drake Black Duck remained at Strontian on 10th-13th.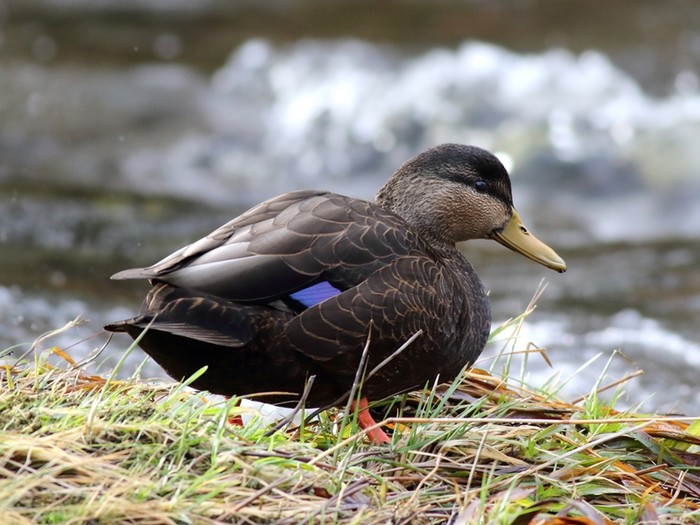 We did well for American Wigeons this week, with a handful of settled drakes to go at in Britain and Ireland. In Northumberland, one remained at Grindon Lough on 10th-14th; Scottish birds were seen again at Loch Eye (Highland) on 13th-15th and Fedderate reservoir (Aberdeenshire) on 14th; and, in Ireland, the first-winter drake remained at East Coast NR (Co.Wicklow) on 11th-16th.
Green-winged Teals, meanwhile, took a bit of a hammering with just seven birds logged in the course of recent days – one remained at East Coast NR on 11th-16th, while in Shropshire the recent bird at Wall Farm NR was still present on 10th-11th; on 14th, one was noted on Achill Island (Co.Mayo); on 15th, the bird on North Ronaldsay (Orkney) was reported once more, and a new bird was an excellent south coast find at Powderham (Devon) on 15th-16th; and, on 16th, a bird was seen at Marshside RSPB (Lancashire), with another at Bubwith Ings (East Yorkshire).
Achill Island also accounted for the drake Lesser Scaup once more on there on 14th, while the female remained this week at Stithians reservoir on 11th-16th.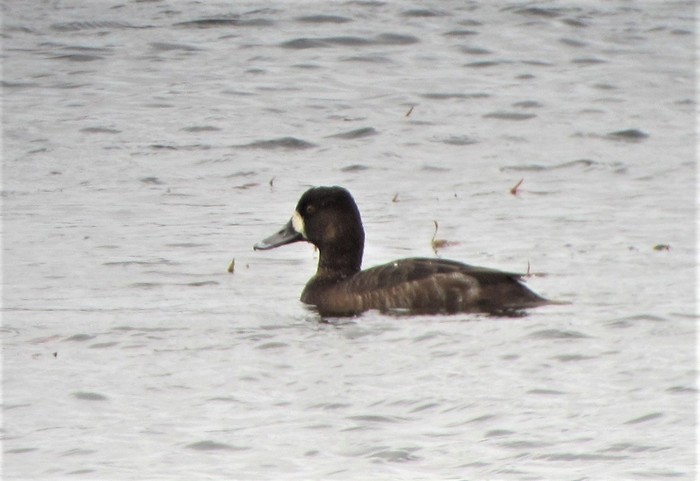 The two recent drake Ferruginous Ducks remained in Wolverhampton (West Midlands) on 10th-14th and at Blashford Lakes HWT (Hampshire) on 11th-13th.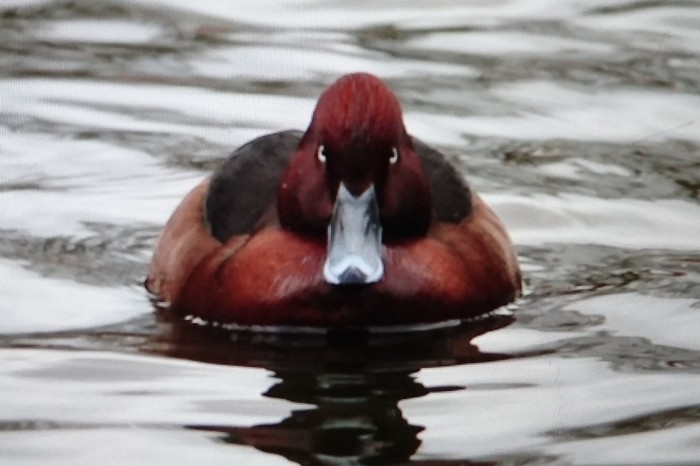 Numbers of Ring-necked Ducks took a little dip this week, though 18 birds noted across the region remains a healthy total. Small flocks lasted in the form of the quartet still settled at Upper Tamar Lake on the Devon / Cornwall border on 10th-14th, and three females still on Lough Atarriff (Co.Cork) on 10th-14th.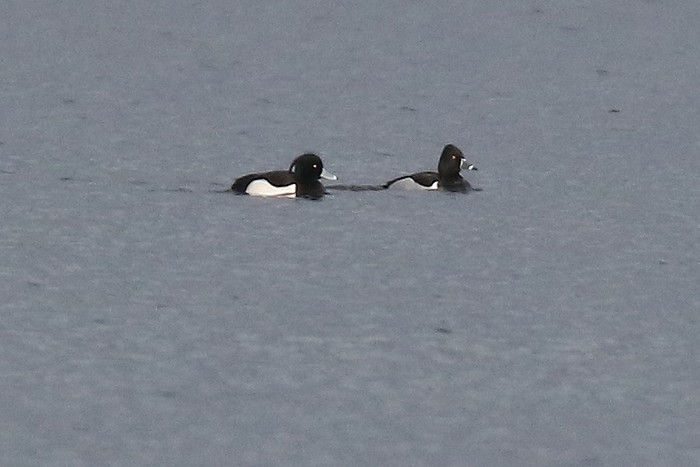 In Northumberland, the drake Black Scoter reared his colourful head again this week at Goswick on 14th-16th; whilst up the coast in Lothian, the drake White-winged Scoter was still being seen daily off Fisherrow and Musselburgh until 16th.
Surf Scoter sightings were well scattered around the region this week – starting in Lothian, the regular drake was seen daily in the same waters as his rarer brethren; one was again seen from Embo (Highland) on 12th-14th; another was once more off Coolsiva Quay (Co.Clare) on 14th; on 14th-16th, another drake was found in Devon off Teignmouth; and, on 16th, a drake was off Cromane (Co.Kerry).
A drake King Eider was found from the traditional site at Nairn (Highland) on 13th-16th.
On 16th, a drake Hooded Merganser was found on Dosthill Lake (Staffordshire). We'll wait to see what transpires with it… They have some form, after all.
Finally, our honorary waterbird, the male Pied-billed Grebe remained at Loch Feorlin (Argyll & Bute) on 12th-14th.
<!—Section Title -->
Waders continued to be, unsurprisingly at this juncture, in fairly short supply this week. Cream of the crop was the Kentish Plover still in Somerset on Stert Island on 10th-16th.
The main feature of recent weeks continued to be a lingering presence in England and Ireland - Long-billed Dowitchers remained in England at Bowling Green Marsh RSPB (Devon) on 11th-15th; and in Ireland at Kilcoole (Co.Wicklow) on 10th-16th and Tacumshin (Co.Wexford) on 14th-16th.
Finally, the first-winter Lesser Yellowlegs remained at Nosterfield LNR (North Yorkshire) on 10th-16th.
If things were fairly peaceful in other quarters, gulls continued to be a wonderful diversion in all shapes and sizes this week.
Somerset provided, if not the rarest of gulls, then certainly one of the more unusual offerings available – a first-winter Laughing Gull at Chew Valley Lake on 10th-16th being an excellent find. Only the 7th county record, previous birds have been sporadic, from the first in 1980 to the most recent sighting on 1st May 2012. The last two records have been one-day birds, so this one being a lingerer will have been a welcome sight for Somerset birders.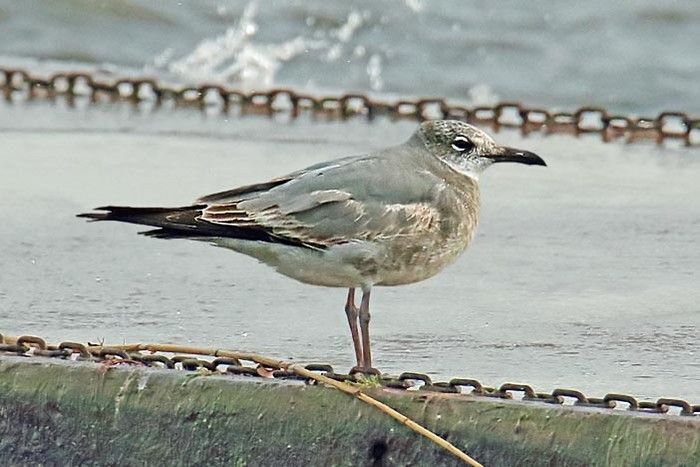 Lingering quality remained in Ireland – the adult Bonaparte's Gull still present at Kilmore Quay (Co.Wexford) on 13th-16th, and the first-winter American Herring Gull still in Sligo (Co.Sligo) on 10th-15th.
Ireland also supplied the lion's share of Ring-billed Gull sightings once more – at Tralee Bay Wetlands Centre still on 10th-15th; in Belfast (Co.Antrim) still on 11th and 16th; in Cork (Co.Cork) at the Lough again on 11th-12th and at Cuskinny Marsh NR on 13th-15th, and at The Gearagh on 15th; at Carrickfergus (Co.Antrim) again on 13th-16th; and in Sligo (Co.Sligo) on 13th-15th still. English sightings came in the form of the regular recent bird in Cornwall at Hayle Estuary RSPB on 11th-16th, and a brief sighting in Somerset at Porlock on 14th followed by one at Cheddar reservoir on 15th.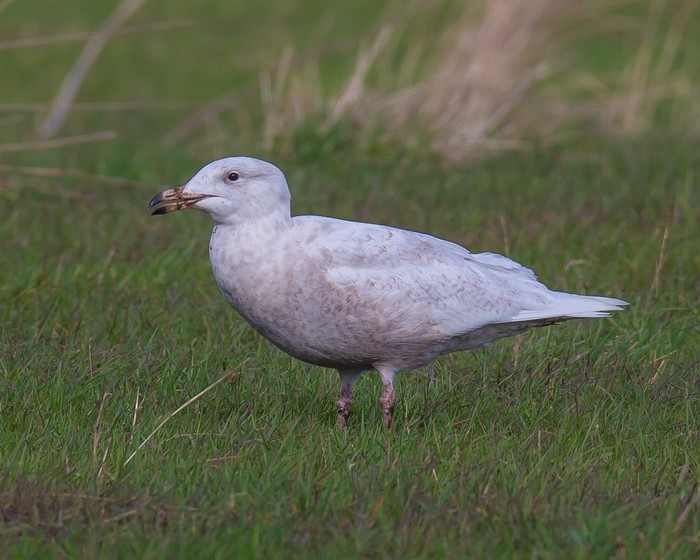 White wingers continued to be a steady presence nationwide – some 40 Glaucous Gulls and 50 Iceland Gulls being logged, with peak counts, respectively, of seven birds of the former species on North Uist (Western Isles) on 12th and seven birds of the latter at Killybegs (Co.Donegal) on 13th.
A smattering of Kumlien's Gulls were reported again this week – adult birds still at Mousehole (Cornwall) on 10th, and in Co.Kerry at Blennerville on 10th-11th and Tralee Bay Wetlands Centre on 14th, with two birds (an adult and a near-adult) at the latter site on 15th, and an adult in Dingle harbour on 15th also; and the juvenile again at Port Talbot (Glamorgan) on 12th-15th; and an additional juvenile was found in Co.Wexford at Lady's Island Lake on 10th. An adult bird was seen passing Polgigga (Cornwall) on 16th.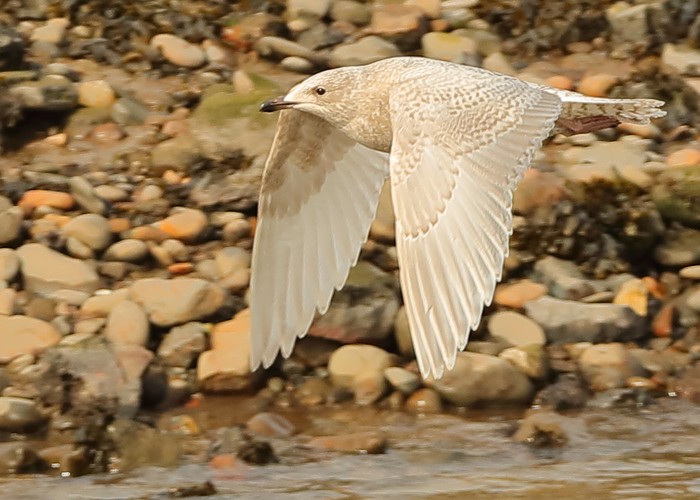 Finally, the adult Forster's Tern once more seen in Co.Galway at Kinvarra on 14th.
A possible white Gyr reported from Hoy on Orkney on 13th failed, unfortunately, to coalesce into anything more concrete in the days that followed. Given the area such a mobile and capable bird has there to lose itself in, that may well be the last that's seen of it.
That possibility's made all the starker by the sporadic recent sightings of a considerably bigger beast altogether – the White-tailed Eagle that's been seen, back and forth, in Shetland in recent weeks was now to be found on Fair Isle on 12th-13th.
In Norfolk, the juvenile Rough-legged Buzzard continued to be seen at Wells on 10th-16th; a further possible bird was noted in Essex at Great Dunmow on 13th; and a wholly unconfirmed report came of another bird at Chillenden (Kent) on 16th.
Things stayed pretty much as we were for another week where passerines were concerned – which isn't, of course, to say that there isn't some genuine quality out there… Any week in March that features not one but two lingering Black-throated Thrushes is, after all, a good one.
Said thrushes remained in Grimsby (Lincolnshire) until 16th and behind the pay wall of Whipsnade Zoo (Bedfordshire) until 14th at least.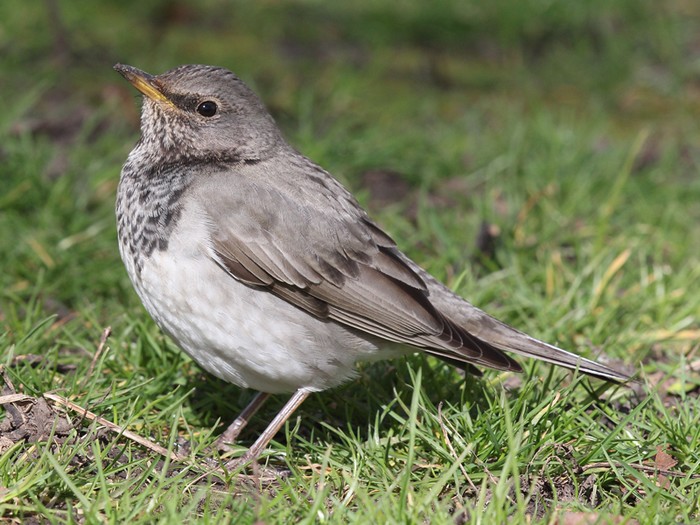 In Cheshire, the wintering maurus Siberian Stonechat remained at Ashton's Flash on 10th-15th.
The male Penduline Tit was seen again at Radipole Lake RSPB (Dorset) on 13th-16th.
In London the Yellow-browed Warbler remained at Mitcham on 13th-16th, while other recently seen birds have dropped off the radar now.
Our second Black-bellied Dipper of recent weeks was found in Buckinghamshire at High Wycombe on 13th-16th.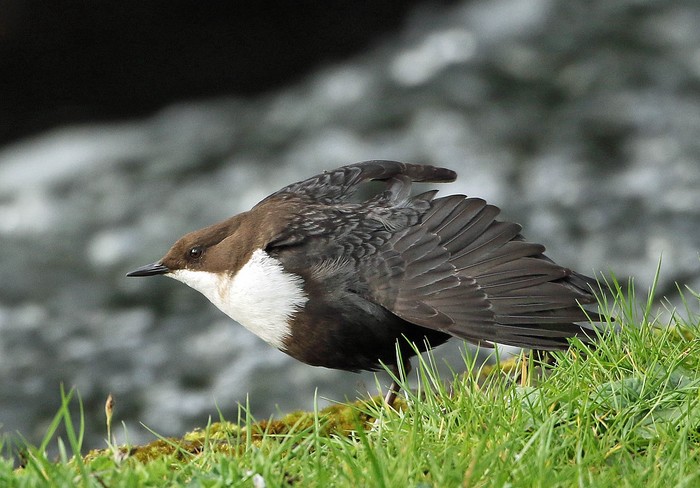 The Richard's Pipit was again seen in East Yorkshire at Flamborough on 10th-14th.
Great Grey Shrikes remained a strong feature of the late winter period, with some 20 birds in all recorded over the course of the week. With four Welsh and three Scottish birds logged, and the English balance scattered widely from Northumberland to Hampshire, and Gloucesterhire to Norfolk, there was something for everyone out there.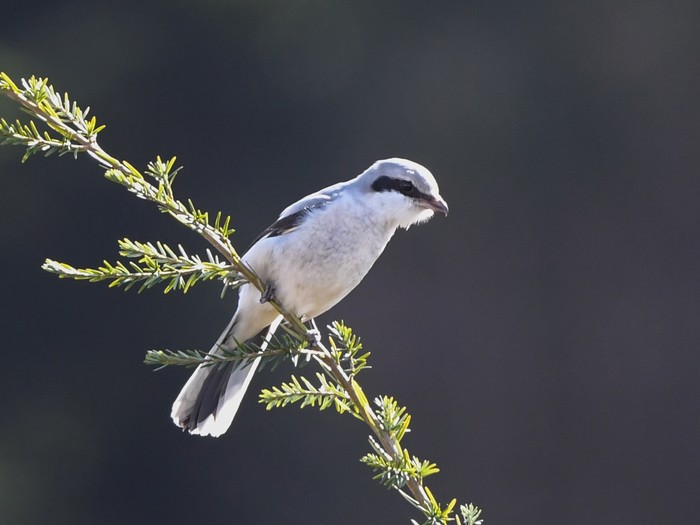 Numbers of Waxwings, meanwhile, took a bit a nosedive, with around 200 birds in all logged. No sizeable flocks were seen this week, the best of them being 30 birds noted in Aberdeen (Aberdeenshire) on 16th – the same day that, for London, an excellent flock of seven birds was seen in Croydon.
A possible Hoopoe was seen on St Mary's (Scilly) on 15th.
On Anglesey the first-winter Rose-coloured Starling remained at Llanfachraeth on 10th-16th; a new first-winter bird was found on 16th at East Brent (Somerset).
Finally, a Serin was reported from Storrington in West Sussex on 16th.
Top of the week's overseas news are a couple of birds so far flung as to be of interest perhaps to only the keenest of WP birders – an Asian Red-rumped Swallow found on 14th in Egypt at Sharm El Sheikh; and a Golden Nightjar seen on 13th in Morocco at Errachidia.
Much closer to home, two species continued to taunt us from across the English Channel. Belgium's Pygmy Cormorant remained settled in Parc Domaine du Val Duchesse on 11th-15th – surely one of these days one will finally be found at Dungeness or Minsmere? – and, in France, Wallcreepers remained on 10th at Coutances and Dinan.
Holland's meena Rufous Turtle Dove was still comfortably ensconced in Friesland at Sneek on 11th; and a Franklin's Gull was found on 16th at Benthuizerplas.
In Germany the drake Black Scoter remained at Bulk on 15th, while another sighting that day came from Schonberger Strand. A Sociable Lapwing was seen on 15th at Memmingen – worth noting, at this juncture, that Britain's last bird was almost 12 years ago on St Mary's (Scilly) in October 2008. While the species is, historically, an autumn bird for us, there is a small spike in historic records in April and, at the tail end of a winter that's seen a few birds logged in Western Europe, we might hold a slim hope that one may pitch down in coming weeks…
Austria, meanwhile, got a Great Black-headed Gull at Hohenau on 15th-16th.
In Sweden, the wintering Eastern Yellow Wagtail at Gislovslage remained there on 11th, now the proud owner of a (sub)specific identity – it's been confirmed to be a male form taivana or Green-headed Eastern Yellow Wagtail. Not a mouthful at all.
And, in the Canary Islands, the Eastern Yellow Wagtail remained on Fuerteventura on 15th, with another Bar-tailed Lark logged on Tenerife on 10th, and a vetula Cape Gull was on Fuerteventura on 15th.
Dare we start day-dreaming yet about the possibilities of early spring overshoots? A Lesser Kestrel on Scilly in recent days suggests we might just…
As does a glance at the previous records for the coming, third week of March. Given a fair following wind, all sorts of southern exotica starts to make an appearance here, albeit in modest numbers.
Interesting things like Sardinian Warbler, Great Spotted Cuckoo and Scops Owl have been found in the coming days on (or, in the case of said owl, just off) the south coast.
But, as I suspect a number of us may be keeping it local in days to come, let's think about an attainable species that could turn up just about anywhere if we're lucky. Something mobile. With numbers of Sand Martins swelling daily now, there's a good chance many of us will be wandering out to a nearby fresh water body to clock our first of the year. And who knows, maybe something a little rarer will be nailing insects there too… The coming week sports 14 historic records of Alpine Swift, with records as far north as Yorkshire and Co.Louth.
Failing that, there's always gulls. There are always gulls…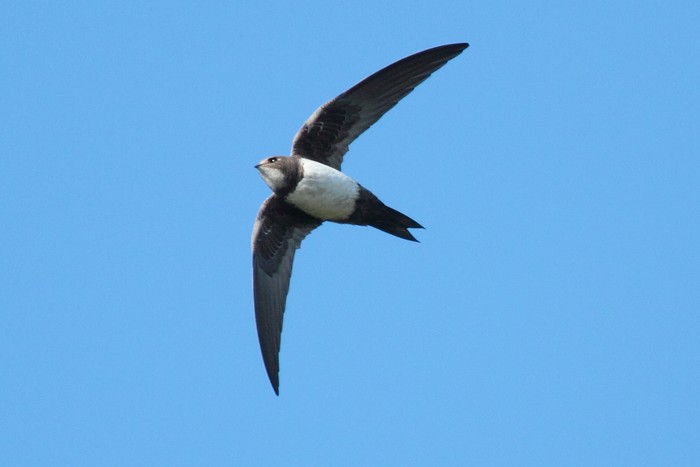 Jon Dunn
17 March 2020
Many thanks to all this week's contributors for your photos and videos
Share this story
Tweet