Weekly birding round-up: 25 Feb - 2 Mar 2020
The week at a glance
Shetland's second recent Tengmalm's Owl is still there…
While Co.Sligo lands its third American Herring Gull
Another week, another storm, this one Storm Jorge, named courtesy of the Spanish meteorological service and about as welcome in these quarters as an outbreak of Spanish influenza.
While, once again, we weren't exactly short of rain, the decent birds on the other hand seemed to be drying up…
Tengmalm's Owl
After what must have been rather a frustrating week for would-be Tengmalm's Owl twitchers, either local or from further afield, news emerged as dusk was falling on 2nd that threw some light on the situation in Shetland as it currently stands.
Not seen this week in the Lyndsey Lea plantation, scores of bootprints in the muddy woodland floor bore testimony to how diligently the owl had been looked for. But of the owl itself, no sign. If anyone was going to relocate it, it would of course be Phil "Teng-Man" Harris, local Tengmalm's Owl finder extraordinaire. Sure enough, it was Phil who broke the news on 2nd that the bird had, as we suggested it might be tempted to do so, relocated over the hill to the dense cover of Lea Gardens.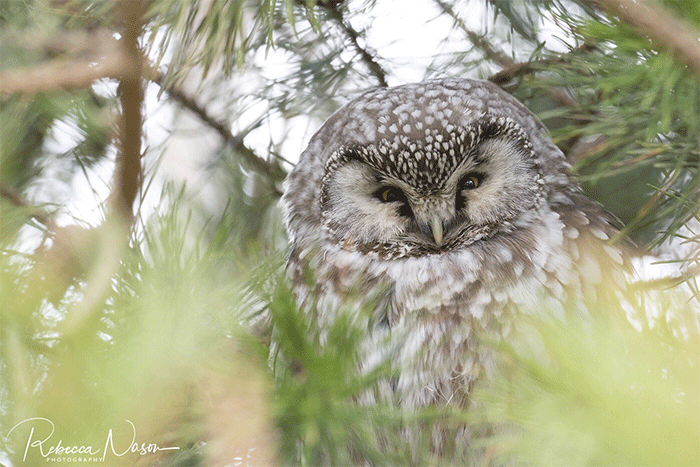 That was the good news. The bad news was that, at the time of writing, there was no access to the garden.
Further information reveals a new twist in the Tengmalm's tale. As luck would have it, the bird was trapped and ringed on 14th February during a Long-eared Owl winter roost project – providing some data that proves, once and for all, that this bird is remarkably Shetland's second Tengmalm's Owl in the space of a year. Aged as a first winter, all of its flight feathers were fresh, and of the same generation – in other words, a different bird to that found earlier in 2019. Shades of Orkney in years gone by there… Shetland's waited over a hundred years for another Tengmalm's Owl and, like the proverbial bus, two come along more or less at once.
It just remains to be seen now what happens next. Access to Lea Gardens is, quite rightly, at the discretion of the owners. We may not hear much more of the bird… or it may relocate once more. We'll wait and see.
American Herring Gulls
Another week passed and another American Herring Gull was found, once more in Ireland, where the local birders continue to take full advantage of being just that little bit closer to the eastern seaboard of the USA than the rest of us.
The last bird to be found, at Castletown Bearhaven (Co.Cork), hasn't gone anywhere in the meantime, and was duly reported as all present and correct there still on 27th-28th. Coinciding with that confirmation was the breaking news of the week's second bird – another first-winter, a new individual, this time in Sligo harbour (Co.Sligo), also seen on 27th-28th.
This, the third record for Co.Sligo, is also the third confirmed bird notched up in February 2020 for Britain and Ireland as a whole – though keen students of these charismatic bin bag botherers needn't despair, as the coming weeks aren't bad for the species either. Keep scanning those gulls. There should be more out there…
Highlight for birders in Cornwall this week must be the White-billed Diver found on the sea off Cape Cornwall on 27th. Sightings of this northern species are, understandably, thin on the ground that far south so this will have been a good local bird. Another possible bird was noted on 26th off Whitburn CP (Co.Durham).
In Co.Cork the adult Pacific Diver meanwhile remained in Crookhaven harbour on 27th-1st.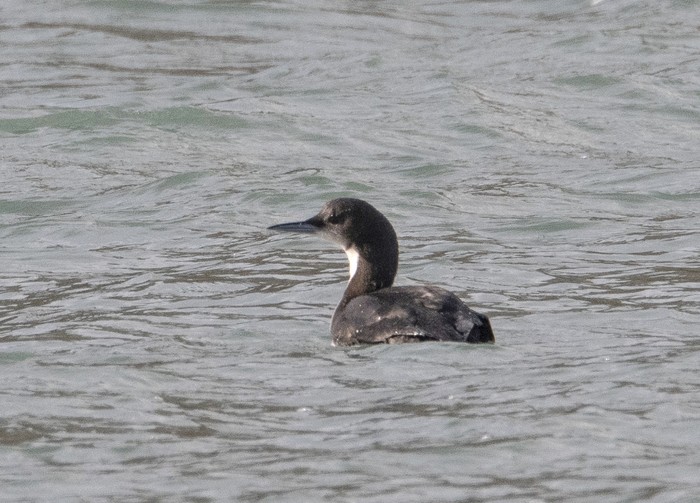 Cornwall's Falmouth Bay area held onto a Pomarine Skua on 27th-1st; further sightings came from Rinsey Head (Cornwall) on 26th and off Mundesley (Norfolk) on 29th. On 1st another was seen in Devon at Dawlish Warren NNR.
Two Little Auks were logged on 29th – one off Druridge Bay (Northumberland) and the other from Rosemarkie (Highland).
Finally, a Balearic Shearwater was seen on 25th from Chapel Point (Lincolnshire).
Our interesting long-legged beasties were once more almost the exclusive preserve of Glossy Ibises. Three familiar faces cropped up again in recent days – birds still present at Fremington Pill (Devon) on 25th-1st, Pilmore (Co.Cork) on 26th-1st, and at Newport Wetlands RSPB (Gwent) on 26th-29th. A further Irish sighting came from Co.Kildare on 28th at Castledermot.
Our non-Norfolk Common Crane were few and far between this week, with just two birds reported from reliable Cambridgeshire at Ouse Fen RSPB on 29th, and four still at Goole Fields (East Yorkshire) on 28th. On 1st Suffolk got a look in, with two birds noted over Santon Downham and at Lakenheath Fen RSPB. On 2nd, the adult bird was again seen in Northumberland at Hartburn, and one was logged over Wareham (Dorset).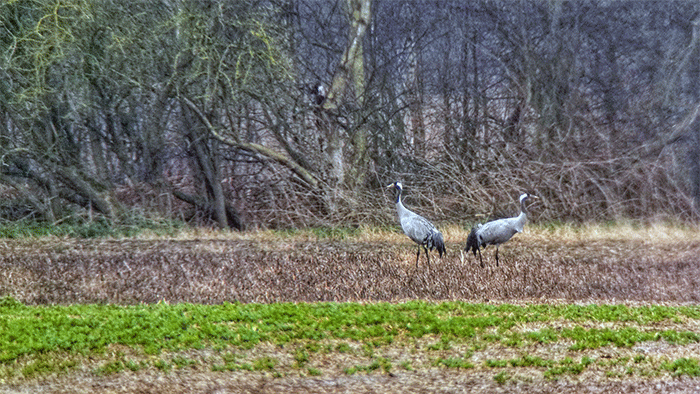 Starting the honkers and quackers with The Goose Formerly Known As Canada, the hutchinsii Richardson's Cackling Goose remained on Islay (Argyll & Bute) on 25th-26th, with another probable candidate reported from Lewis (Western Isles) on 26th. An interior Todd's Canada Goose was seen in Lancashire at Burscough on 1st and Marshside RSPB on 2nd.
The Black Brant in Suffolk was again seen at Falkenham Marsh on 29th-2nd, with an Essex sighting coming on 26th on the Blackwater estuary. Another bird was reported in Norfolk at Holkham on 28th.
The possible Grey-bellied Brant was once more seen in Lancashire on 2nd at Marshside RSPB.
A blue morph Snow Goose was seen on Walney (Cumbria) on 29th.
In Devon, the Blue-winged Teal remained settled at Man Sands on 26th-2nd, becoming more resplendent with every passing day.
The first-winter drake American Wigeon was still to be seen at East Coast NR (Co.Wicklow) on 25th-1st; while a drake was once more present at at Grindon Lough (Northumberland) on 26th-2nd; and the drake remained in Co.Donegal on 2nd at Culdaff.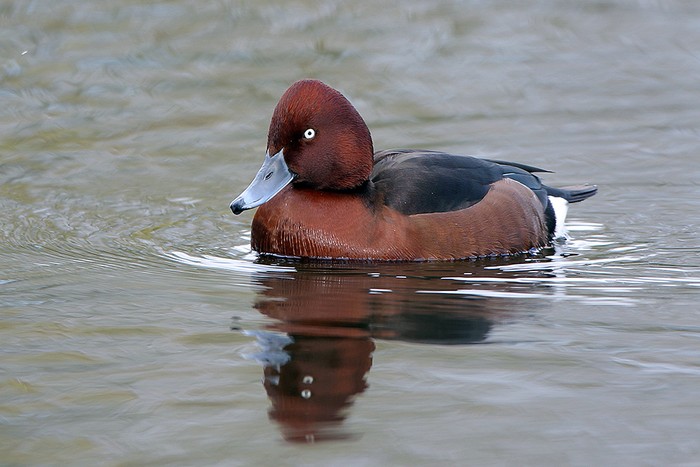 Green-winged Teals had another strong week, with 10 birds logged across the region, most of which we knew about already. Birds remained, then, on Islay (Argyll & Bute) on 25th; at North Cave Wetlands YWT (East Yorkshire) on 25th-2nd; at Minsmere RSPB (Suffolk) on 25th-2nd; at East Coast NR (Co.Wicklow) on 25th-2nd; at Llanengan (Gwynedd) on 25th-2nd; on South Uist (Western Isles) on 25th; at Blennerville (Co.Kerry) on 27th; North Ronaldsay (Orkney) still on 1st; and at Breydon Water (Norfolk) again on 1st. On 2nd one was found at Rescobie (Angus).
Numbers of Ring-necked Ducks held firm, with 20 birds in all logged during the week. Multiple single site counts came in the form of the quartet still settled at Upper Tamar Lake on the Devon / Cornwall border on 25th-29th, and the trio still on Lough Atarriff (Co.Cork) on 27th-1st.
A drake Ferruginous Duck was a fine find in Wolverhampton (West Midlands) on 27th-2nd, while the regular drake was again seen at Blashford Lakes HWT (Hampshire) on 1st.
Our recent widely scattered trio of Lesser Scaups were still on offer this week – I've said it before, but it's hard to remember the point when the species had a Canvasback-esque mystique about it, so regular are they nowadays. Birds remained at Portmore Lough RSPB (Co.Antrim) on 26th, on Stithians reservoir (Cornwall) on 27th-1st, and on Loch Ryan (Dumfries & Galloway) on 29th.
Scottish seaducks continued to provide the starriest quality in the wildfowl firmament this week – the juvenile drake Steller's Eider still being on Papa Westray (Orkney) on 25th, and the drake White-winged Scoter still in the waters off Musselburgh (Lothian) on 25th-2nd.
Those Lothian waters also harboured two Surf Scoters on 25th-26th, with the regular drake at least remaining there until 2nd; and a further drake was seen from Embo (Highland) on 28th and 1st.
<!—Section Title -->
Mostly the usual suspects to report once more this week where waders were concerned. Starting with our excellent complement of wintering Long-billed Dowitchers, in the northwest sightings came from Burton Mere Wetlands RSPB (Cheshire) on 25th, and Martin Mere WWT (Lancashire) again on 26th-27th; while in Devon the bird was again seen at Bowling Green Marsh RSPB on 28th-1st. One remained in Ireland at Tacumshin (Co.Wexford) on 25th-1st.
The first-winter Lesser Yellowlegs remained at Nosterfield LNR (North Yorkshire) on 26th-2nd, and was joined in the news by the re-emergence of the bird in Co.Derry at Lough Beg again on 25th.
Sticking with Co.Derry, a single storm-blown Grey Phalarope was seen on 26th at Lough Foyle.
An first-winter Bonaparte's Gull was reported on 25th from Landguard NR (Suffolk), but wasn't subsequently seen again; the adult remained, however, in Ireland at Kilmore Quay (Co.Wexford) on 28th.
Ring-billed Gulls remained almost exclusively an Irish preserve this week, with all but the Cornish bird, still at Hayle Estuary RSPB on 25th-1st, being seen there. Birds were seen in Cork (Co.Cork) on 25th-1st; at Tralee Bay Wetlands Centre (Co.Kerry) on 25th-2nd; Blackrock (Co.Louth) on 27th-2nd; on 28th in Sligo (Co.Sligo) and on 28th-1st in Bray (Co.Wicklow); and on 29th in Belfast (Co.Antrim) still. On 1st one was found in Dingle (Co.Kerry) and one again at Black Rock Strand; one 2nd, one was seen in Co.Cork at Cuskinny Marsh NR.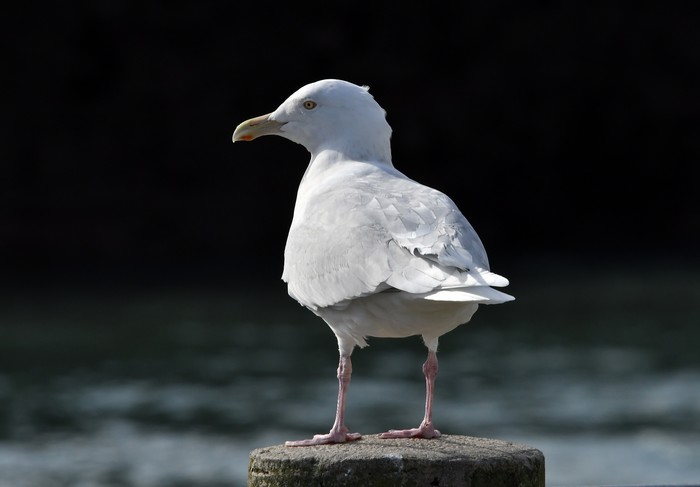 Numbers of white-wingers did nothing remarkable for another week, with around 60 apiece of both species once more noted scattered across the region. As usual, most of these were single bird, with just a handful of sites recording multiples, of which the peak counts were three Glaucous Gulls on North Ronaldsay (Orkney) on 27th and three on North Uist (Western Isles) on 1st; and 10 Iceland Gulls at ever reliable Killybegs (Co.Donegal) on 1st.
The two recent Kumlien's Gulls in Cheshire and Glamorgan remained throughout much of the current week at, respectively, Sandbach Flashes until 29th and Port Talbot until 2nd. On 1st another was seen briefly at Hayle Estuary RSPB (Cornwall); and another adult was present on 2nd at Tralee Bay Wetlands Centre (Co.Kerry).
A probable Gyr reported on 26th in Devon at Croyde would, had the record only firmed up a little, have comfortably made the headlines this week.
As it stood, the most concrete southerly raptor of note was the wandering White-tailed Eagle in Hampshire – seen at Slufters Inclosure on 25th, Blashford Lakes HWT on 26th and 1st, and Ashurst on 29th. Birders looking hopefully (but in vain) for the Tengmalm's Owl in Shetland in the Kergord area on 27th found another White-tailed Eagle, this one being seen there again the following day too – presumably the bird seen last week in the south mainland.
While said owl evaded us until the very close of play on 2nd, it nevertheless turns out Shetland has, unbeknown to us all, been harbouring not one but two rare owls in recent months – this week, on 25th, the female Snowy Owl was once more seen on the summit of Ronas Hill in the north mainland. I wonder if anyone could possibly get lucky enough to see both in the space of one day…
Finally, to wintering Rough-legged Buzzards - and just the Chetney Marshes (Kent) individual remaining site faithful out of all the recent settled birds, still to be seen there on 25th. Elsewhere, itinerant birds were noted in Norfolk at Swanton Novers on 25th and outside Acle on 26th, and Spartylea (Northumberland) on 27th; with another possible bird reported on 27th at Sutton Gault (Cambridgeshire).
Both of our main pair of wintering Eastern Yellow Wagtails remained available early this week, with no news from Suffolk to augment them – at Sedgeford (Norfolk) still on 25th-1st, and at Prestwick Carr (Northumberland) still on 26th.
Hampshire's Hoopoe remained at Badminston GPs on 25th-26th.
Dorset supplied another sighting of one of the two recent Penduline Tits at Lodmoor RSPB again on 28th and once more on 2nd.
The overwintering first-winter Black-throated Thrush remained in Grimsby (Lincolnshire) on 25th-2nd – no news from Whipsnade Zoo (Bedfordshire) not necessarily meaning our other recent bird has gone. Time alone will tell…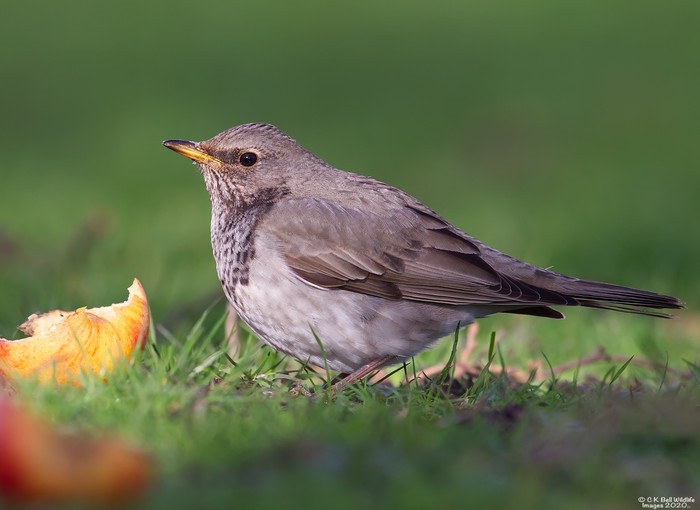 In Cheshire, the maurus Siberian Stonechat remained present at Ashton's Flash on 25th-2nd.
London's Yellow-browed Warbler was still to be seen at Mitcham on 25th-2nd; another probable was heard only at Veryan (Cornwall) on 1st; and on 1st the Wiltshire bird was again seen at Westbury sewage works.
A Black-bellied Dipper was a fresh face at Sywell CP (Northamptonshire) on 29th-2nd, none the worse the wear for a Sparrowhawk attack on 1st.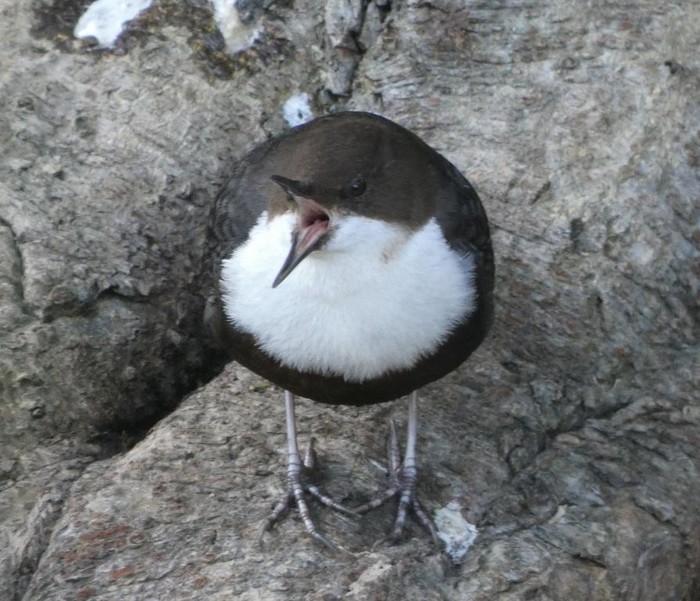 Numbers of Waxwings continued to fall away this week, with a modest 200 birds in all noted, of which the peak count were small flocks of 40 birds in Aboyne (Aberdeenshire) on 27th and over Hollybed Common (Worcestershire) on 1st.
Fifteen Great Grey Shrikes, however, were a good count by recent measures. Scottish sightings came from Backwater reservoir (Angus) again on 28th-1st, and Broubster (Highland) once more on 25th. Welsh birds were logged at Llyn Brenig (Conwy) on 25th still, in Garwnant Forest (Glamorgan) on 26th-2nd still and, on 1st-2nd, at Plumstone Mountain (Pembrokeshire) again. English sightings, meanwhile, came from Fincham (Norfolk) still on 25th-2nd, Frensham Common (Surrey) still on 25th-2nd, Cannock Chase (Staffordshire) still on 25th-1st, Holm Hill (Hampshire) still on 25th-2nd, Croydon Hill (Somerset) still on 26th-2nd, Kirkharle (Northumberland) still on 26th-1st, Crabtree Hill (Gloucestershire) again on 27th-2nd, Sound (Cheshire) on 28th, Hatfield Moors NNR (South Yorkshire) still on 29th-2nd, Morden Bog (Dorset) on 1st-2nd, and Brogborough Hill (Bedfordshire) again on 1st.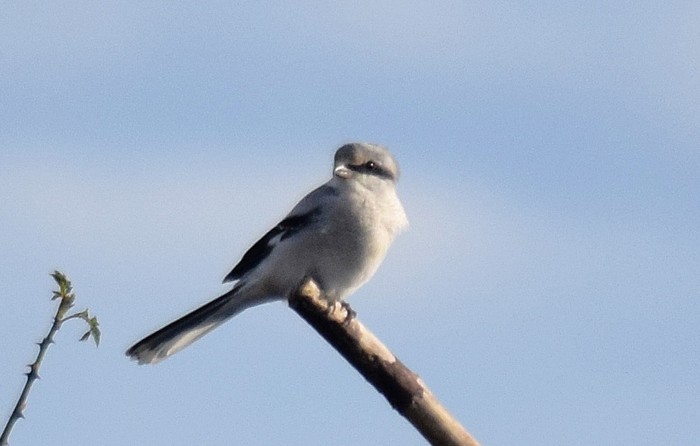 The week's passerines draw to a close with some variety, for a change. In Wales, a Rose-coloured Starling was present on Anglesey at Llanfachraeth on 26th-2nd; and, in Ireland, a female Two-barred Crossbill was present at Lough Gay Bog (Co.Limerick) on 26th.
The Canary Islands roared to the top of the overseas news this week with a flurry of new birds to augment the settled rarities still present in the isles. Of those, the Abyssinian Roller was still present on Gran Canaria on 25th-2nd, the Laughing Gull still on Gran Canaria on 29th, and the recently found Lesser Crested Tern still on Lanzarote on 25th.
Added to that already glowing list this week were, on 27th a White-crowned Black Wheatear on Tenerife, and a probable Pale Crag Martin on Fuerteventura; a Tristram's Warbler on Gran Canaria on 28th; a Seebohm's Wheatear on Fuerteventura on 29th; and a Bar-tailed Lark on Tenerife on 29th also. Not bad going at all.
Mainland Spain was busyish also – the Thayer's Gull again seen at Lago on 26th, and a Bonaparte's Gull in Madrid on 29th, preceded in the news on 25th by a Lesser Flamingo at Laguna de Fuente de Piedra.
In the cold north, Scandinavia had plenty going on too. Starting in Finland, two Azure Tits were seen at Porvoo on 28th.
Sweden's two notable wagtails remained available – the Eastern Yellow Wagtail was still present at Gislovslage on 26th-2nd, while the Masked Wagtail was again reported from Falkenburg on 26th-2nd also; and, on 2nd, the orientalis Oriental Turtle Dove was again seen at Kristinehamn.
Denmark, meanwhile, supplied a Pacific Diver on 26th and a Stejneger's Scoter on 27th, both at Sandflugtsplantagen.
In Iceland, an American Herring Gull was seen at Stykkisholmur on 29th.
Back in mainland Europe, the meena Rufous Turtle Dove remained in Friesland (Holland) at Sneek on 25th-2nd and, in Belgium, the resident Pygmy Cormorant remained in Parc Domaine du Val Duchesse on 27th.
In Austria an adult Great Black-headed Gull was found at Bregenzerachmundung on 26th; in Germany the Black Scoter was once again seen from Bulk on 1st.
Another Rufous Turtle Dove was present in Switzerland at Sulgen on 29th-2nd.
On Guernsey the American Royal Tern was once more noted on 26th-2nd.
We conclude by moving much further afield once more. In Kuwait, the Brown Shrike was seen again at Jahra Pools on 27th; in Azerbaijan the Siberian White Crane was seen in Shirvan NP on 1st; and offshore in Cape Verde, a Dwarf Bittern was present on Santiago on 24th-25th.
And that's us, finally, into the first week of March and, if we're feeling wildly optimistic, it's almost spring.
Well. Kinda.
While we're tiptoeing into the time of year when, with a fair following wind, the likes of a Great Spotted Cuckoo or an Alpine Swift is just about possible, the odds continue to favour yet more gulls – specifically, American Herring and Bonaparte's.
Which is all very well, but we've been promising gulls for weeks now. Statistics, for what they're worth, say that the coming week is a banger for a Gyr, with 19 records to date. Let's take our optimistic cue from them, then…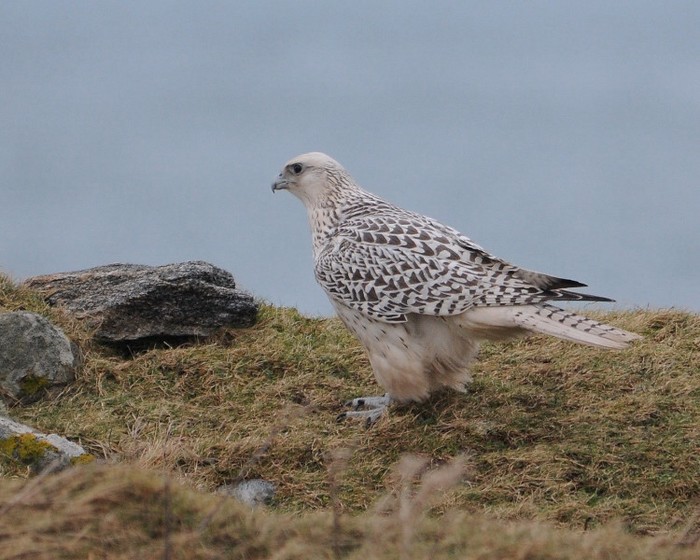 Jon Dunn
3 March 2020
Many thanks to all this week's contributors for your photos and videos
Share this story
Tweet