Weekly birding round-up: 23 - 29 Oct
The week at a glance
Steller's Eider on the Orkney Isles is the first British record in a generation
A Two-barred Greenish Warbler in County Cork - the first Irish record
The Lesser Kestrel remains in East Yorkshire although the identification is debated
Steller's Eider on the Orkney Isles is the first British record in a generation
The highlight of the week was the discovery by Sandra Atherton and Don Otter of a juvenile Steller's Eider on the Orkney Isles on Westray on 29th where most unexpectedly the bird was associating with Tufted Ducks on the freshwater Loch of Swartmill. With no records anywhere in Britain since the female at Hopeman, Moray on 16th-18th November 2000 - itself the first live bird since 1983 - this will prove alluring to many. The island of Westray has history with this species with a male present intermittently between there and Papa Westray between 25th October 1974 and 1st July 1982 although it did not attract the attention it deserved due to the similarly long-stay of a male on South Uist, Western Isles from 1972 until 1983. Steller's Eider is categorised as vulnerable by BirdLife International due to a rapid population reduction including notably in the population closest to our shores in the Baltic Sea in Estonia so it seems unlikely to become any more regular here.
Two-barred Greenish Warbler in County Cork - the first Irish record
Persistence certainly paid off for birdfinders on Dursey Island, County Cork with a Two-barred Greenish Warbler located there on 26th representing the first Irish record. Since the first Western Palearctic record on Gugh, Isles of Scilly on 22nd-27th October 1987 there has now been a total of 20 records in the region with eight of these within the last four years, and a total of nine in Britain. It seems likely that this increase is in part a result of the elucidation of the characteristics of Two-barred Greenish Warbler after the taxonomy was reappraised but also as part of a general increase in Siberian passerines arriving in Europe.
The Lesser Kestrel remains in East Yorkshire although the identification is debated.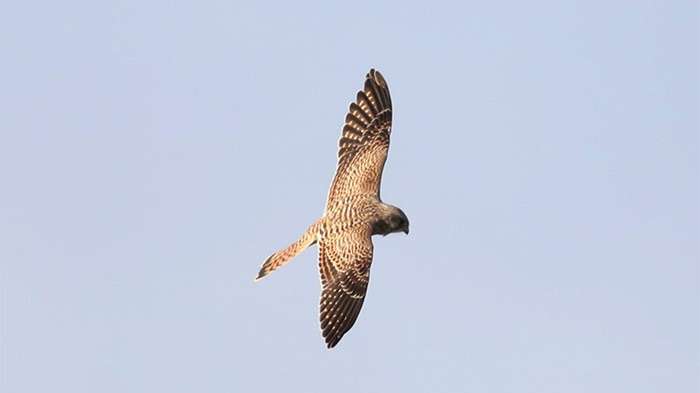 One of last week's star finds was the Lesser Kestrel at Fraisthorpe, East Yorkshire. Photographed on 22nd by Kevin Groocock as a Common Kestrel but when the extreme close-up photographs were published online were flagged-up for consideration as a Lesser Kestrel by John Judge and then approved as such by consensus.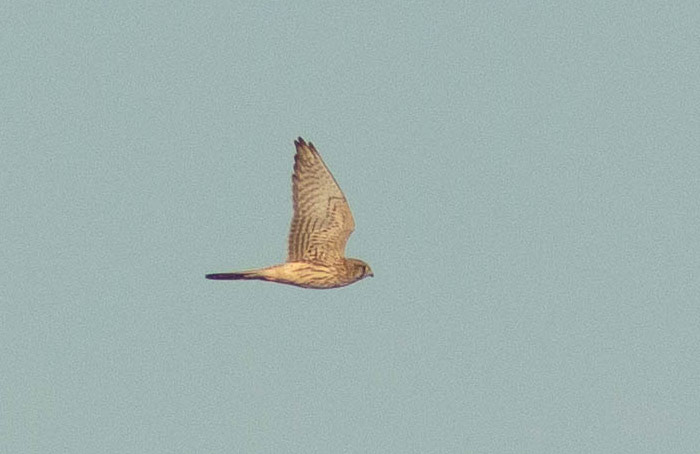 On 23rd what was considered to be the same juvenile kestrel was located - based upon its pale claws - but further photographs included in-flight photos that seemed to contradict the identification as Lesser Kestrel as the tip of the longest primary 'P10' fell level with the tip of 'P7' as in Common Kestrel (but not Lesser Kestrel) and confusion reigned. Any suggestion that an accidentally photographed Lesser Kestrel had been replaced overnight by an atypical (although not unprecedented) white-clawed Common Kestrel stretches credulity but later critical examination by Yorkshire raptor aficionado Jack Ashton-Booth highlighted that all photographs showed the same bird. Jack demonstrated this on his blog and detailed why he felt the bird was a Lesser Kestrel after all. With renewed interest the bird was confirmed as still present on 29th when further photographs again demonstrated the short outer primary which remains unexplained: is such a wing formula really possible on a late autumn Lesser Kestrel?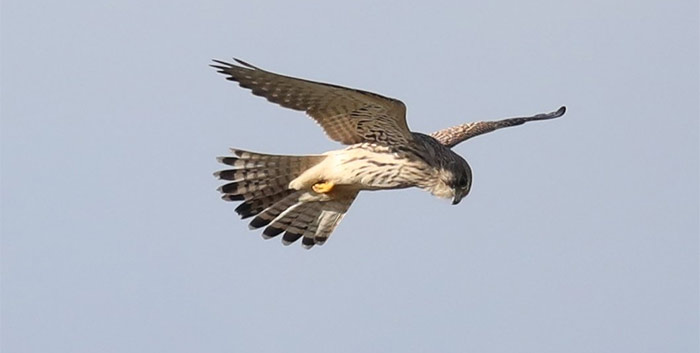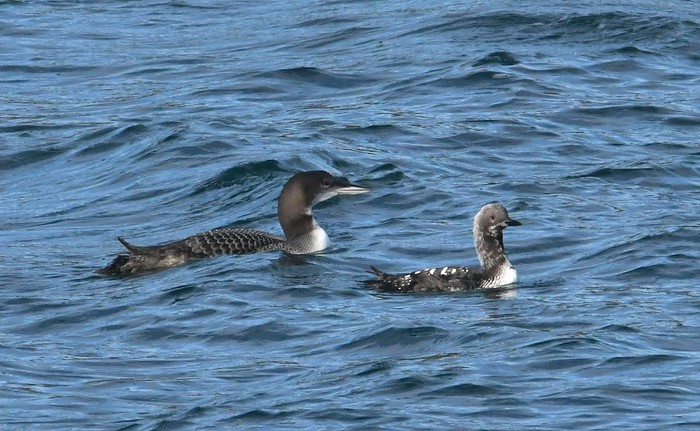 The regular adult Pacific Diver was still at Crookhaven, County Cork on 24th, with White-billed Divers noted heading north at Whitburn, County Durham on 29th and on the Orkney Isles at North Ronaldsay on 27th and at Papa Westray where four passed Mull Head on 28th and five again there the following day.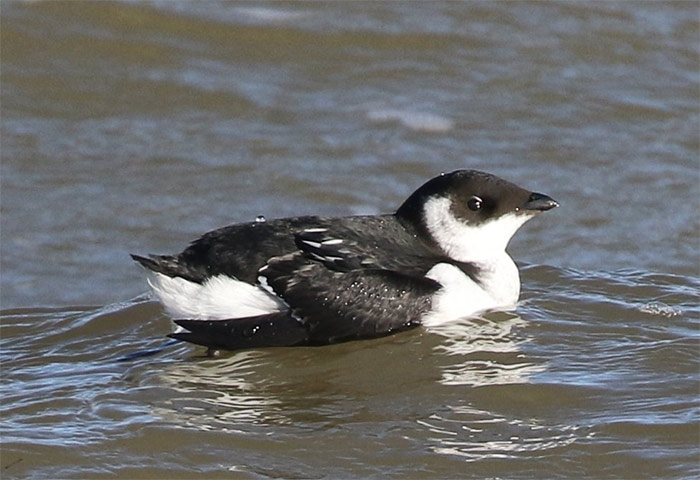 Little Auk stole the show with a total of 58 logged between 23rd-28th all on North Sea coasts except singles at Folkestone, Kent on 23rd and Berry Head, Devon on 26th, followed on 29th by at least 383 including 113 passing Whitburn, County Durham, 102 from Flamborough Head, East Yorkshire, 61 off North Ronaldsay, Orkney Isles and 59 passing Newbiggin, Northumberland. A Cory's Shearwater was unexpected at St Ives,Cornwall on 26th with more routine passage involving 18 Balearic Shearwaters, excepting one at Ventnor, Isle of Wight on 25th all in the southwest and including nine passing Berry Head, Devon on 25th, 11 Leach's Petrels including two passing both St Mary's, Isles of Scilly on 25th and Mousehole, Cornwall on 26th, and singles at Milford-on-Sea, Hampshire on 26th and Cullernose Point, Northumberland on 29th. Only one Long-tailed Skua was noted, a juvenile from Milford-on-Sea, Hampshire on 26th, but 104 Pomarine Skuas included 12 past Berry Head on 25th and 21 north at Flamborough Head on 29th.
Long-staying Glossy Ibises were again noted in both Devon - at Isley Marsh on 27th - and Goldcliff, Gwent on 29th, whilst a candidate Snowy Egret in Penzance, Cornwall on 23rd-24th unfortunately proved to be just an atypical Little Egret.
Notable geese comprised at least three vagrant adult Snow Geese with single white morph individuals with Pink-footed Geese in Clyde at Libberton until 24th and with Greylag Geese on North Uist, Western Isles until at least 27th, and a blue morph with Pink-footed Geese at Montrose Basin on 26th and perhaps the same at Loch of Skene, Aberdeenshire on 27th. Seventeen wintering Taiga Bean Geese were counted at Fannyside Lochs, Clyde on 27th with a Tundra Bean Goose at Flamborough Head, East Yorkshire on 27th and five unidentified Bean Geese reported over-flying four counties during the week.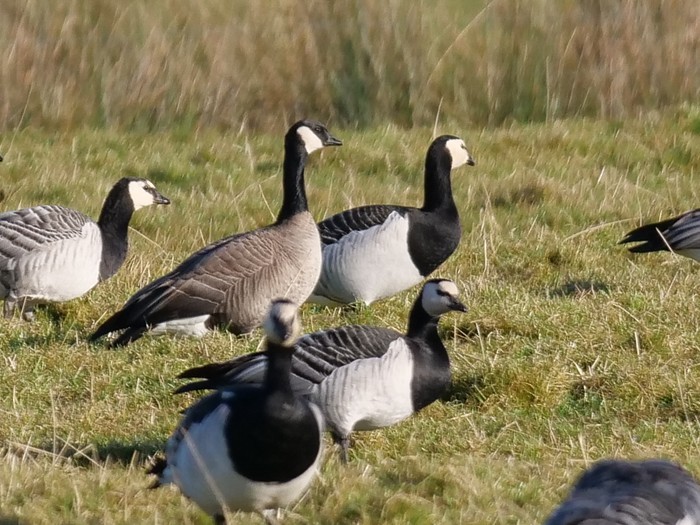 Richardson's Cackling Geese were with Barnacle Geese in Dumfries and Galloway at Mersehead on 24th and up to two on Islay, Argyll, whilst Todd's Canada Geese were still on Islay on 25th and on Tiree, Argyll on 28th. Single adult Black Brants accompanied Dark-bellied Brent Geese at Seasalter, Kent on 29th and on The Fleet at Ferrybridge, Dorset throughout.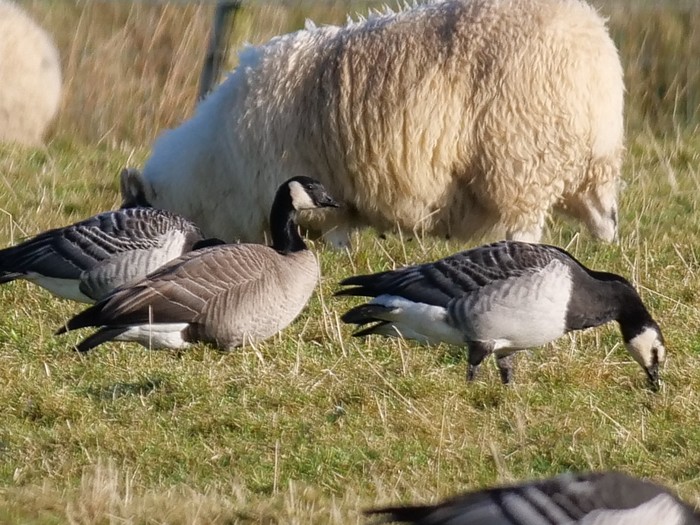 Dabbling ducks included the long-staying male Black Duck still in Highland at Strontian on 23rd, adult male American Wigeons in Highland at Loch Eye on 25th and Inverness on 25th-28th, on Westray, Orkney Isles on 26th, on Banks Marsh, Lancashire on 26th-29th and at Gortahork, County Donegal on 27th, whilst male Green-winged Teals were in County Wicklow at Kicoole on 23rd-28th, on Islay until 26th, North Ronaldsay, Orkney Isles throughout, and in East Yorkshire at North Cave until 28th and at Blacktoft Sands on 27th-28th.
Diving duck news was headlined by a curious late report that a male Canvasback had been picked-up dead on 19th October at sea nine miles north of Westgate-on-Sea, Kent following a collision with a wind turbine, otherwise an adult male Lesser Scaup was identified at Chew Valley Lake, Somerset on 25th-26th and Ring-necked Ducks were on Tresco, Isles of Scilly on 24th, Abberton Reservoir, Essex again on 27th, Tiree, Argyll until 28th and at both Longham Lakes, Dorset and Barra, Western Isles throughout. Rare scoters were the adult male White-winged Scoter back again in Lothian in the Firth of Forth at Musselburgh Lagoons on 25th-28th; previously documented here intermittently from 24th March 2018 but presumably the same bird that was accidentally photographed at the same location on 26th December 2013. A Surf Scoter again accompanied the White-winged Scoter at Musselburgh Lagoons until 29th with two Surf Scoters together in Dunnet Bay, Highland on 27th and one remaining there the following day. The Black Scoter in Northumberland remained off Goswick until 27th having first been seen in the county on 14th April 2011 (and remarkably photographed at Komagvær, Varanger, Finnmark, Norway on 11th-14th July 2019). Three Hooded Mergansers this week were all escaped birds with one still in London on King George V Reservoir where photographs showed at least two different birds had been present in recent weeks and included one with a deformed upper mandible, a metal-ringed adult male at Rutland Water, Leicestershire on 27th-28th and the lingering yellow-ringed adult male in Ipswich, Suffolk on 28th having first been reported there on 18th July.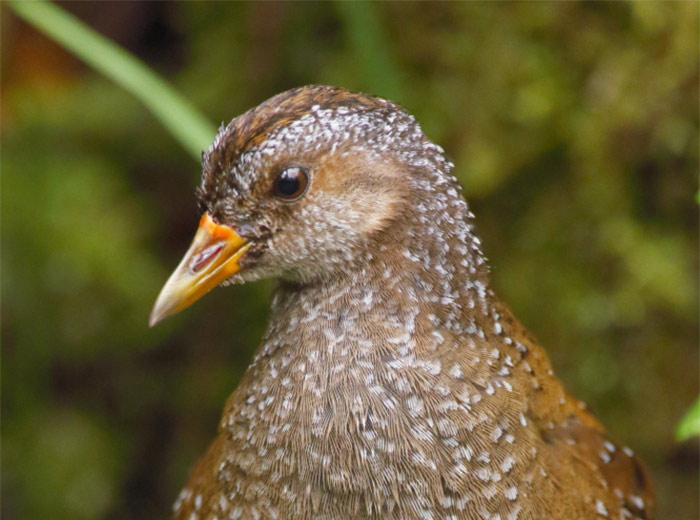 Up to two Spotted Crakes remained at Lower Moors, St Mary's, Isles of Scilly until 27th.
<!—Section Title -->
The headline wader as a brief Upland Sandpiper in Cornwall on The Lizard at Windmill Farm on 24th although it could not be relocated. Otherwise, the first-winter Short-billed Dowitcher remained at Dundalk, County Louth throughout and Long-billed Dowitchers were at both Cresswell Pond, Northumberland on 26th-29th and on Tiree, Argyll again on 28th.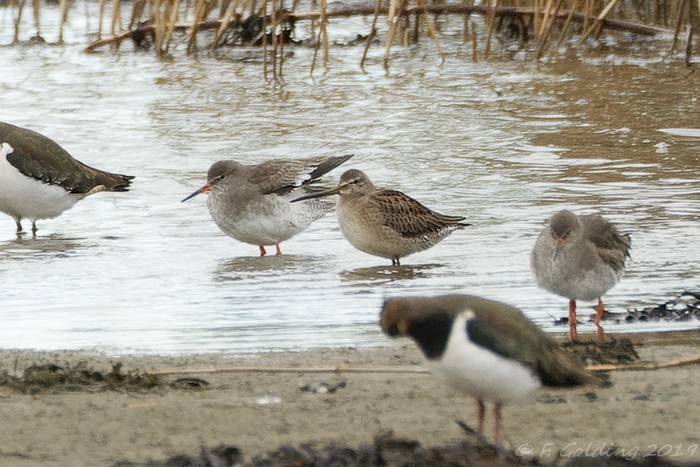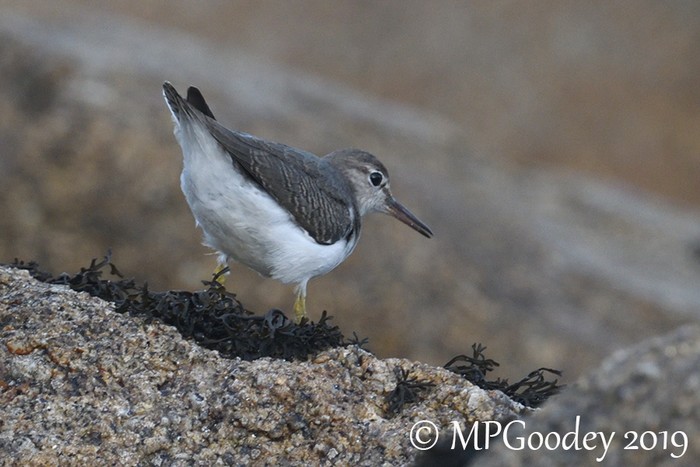 A Spotted Sandpiper was on St Mary's, Isles of Scilly on 23rd-24th, Lesser Yellowlegs were at Ardivachar Point, South Uist, Western Isles on 24th-25th and Wrafton, Devon on 29th, American Golden Plovers were singles at Banks Marsh, Lancashire on 26th-27th, on Teesside, Cleveland until 28th, in County Cork at Cork Harbour on 24th-26th, Ballycotton on 26th and Clonakilty on 28th, with two together at Myroe Levels, County Londonderry on 26th and in Bannow Bay, County Wexford on 24th with one still at the latter on 27th.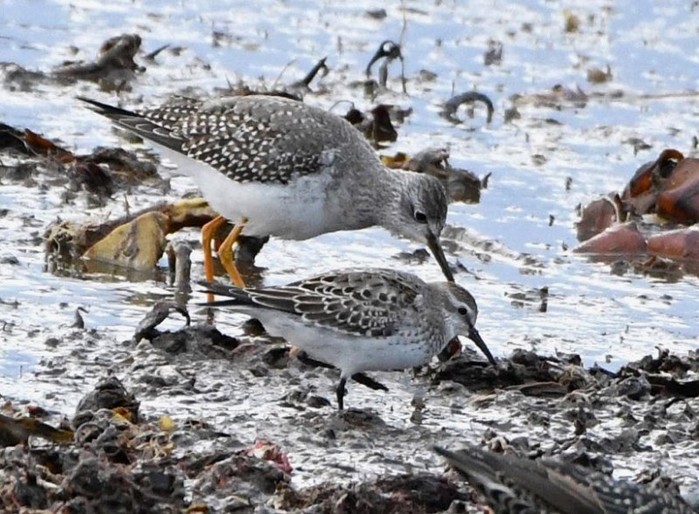 22 White-rumped Sandpipers comprised up to two still in Ayrshire at Fail until 24th, one in County Cork at Ballycotton until 26th, seven in both County Londonderry at Myroe Levels and on the Western Isles at Ardivachar, South Uist, and singles on Inishmore, County Galway until 27th, in County Kerry at Cashen on 25th-29th, Annagh, County Mayo until 26th, Lancashire at Banks Marsh on 26th-28th and well inland again at Rutland Water, Leicestershire on 28th.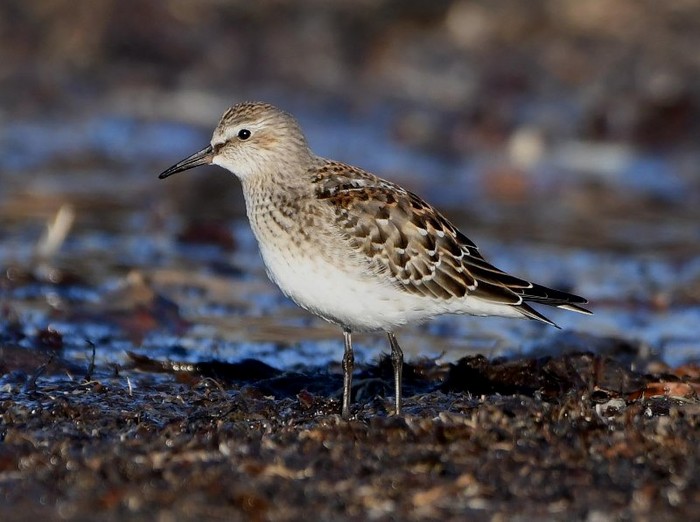 Tardy Sabine's Gulls were noted from the bows of the Scillonian III on 25th (3) and 26th, passing Pendeen Watch, Cornwall and Berry Head, Devon on 26th, Mudeford Quay, Dorset on 28th and Whitburn, County Durham on 29th. An adult Ring-billed Gull at Blackrock, County Louth on 29th was a regular bird but new first-winters were welcome at Belderra, County Mayo on 26th and Ballycotton, County Cork on 29th. Northern gulls comprised seven each of Glaucous Gull (including singles at Bardsey Island, Gwynedd on 24th and Perranuthnoe, Cornwall on 24th) and Iceland Gull (most notable of which was a juvenile at Spurn on 29th) and a surprise adult Kumlien's Gull photographed flying west over Woolston Eyes, Cheshire on 28th. The American Black Tern remained at Longham Lakes, Dorset until 27th with another reported flying south past Seaburn, County Durham on 26th. In County Galway the Forster's Tern at Kinvarra on 24th was presumably the regular bird back in Galway Bay for another winter having first been seen there on 26th November 2003.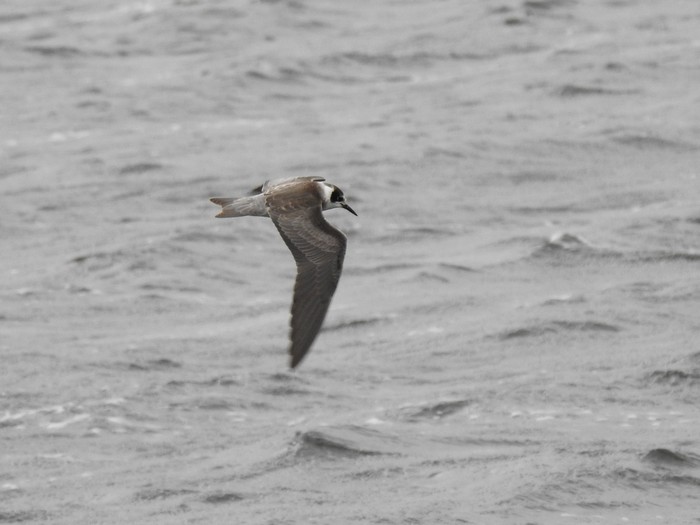 The only scarce raptors in the period were a Honey Buzzard over Cot Valley, Cornwall on 23rd and Rough-legged Buzzards at Wells, Norfolk on 27th and at Eldernell, Cambridgeshire again on 28th. The long-staying adult female Snowy Owl was still on St Kilda, Western Isles on 25th.
A Bee-eater was in Hawkwell, Essex on 23rd, Hoopoes were on South Ronaldsay, Orkney Isles on 23rd, Needham Market, Suffolk on 24th, Fennel's Bay, County Cork and Elkesley, Nottinghamshire on 27th, and Holbeach, Lincolnshire on 29th. Late Wrynecks remained in Dorset at Portland Bill until 27th, a Pagham Harbour, West Sussex on 27th, and on 29th at both Gibraltar Point, Lincolnshire and Ventnor Downs, Isle of Wight.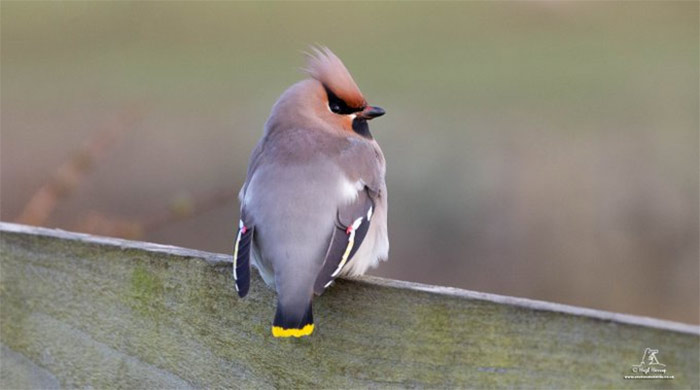 Short-toed Larks were at Cley, Norfolk on 23rd, Tory Island, County Donegal on 23rd-29th and St Agnes, Isles of Scilly on 27th whilst Shorelarks were at Spurn (up to three), Holy Island, Northumberland on 25th, two at Swalecliffe, Kent on 28th, Dungeness, Kent on 29th, and two or three on the Suffolk coast. A Red-rumped Swallow reappeared in Norfolk at Hunstanton on 27th. A total of 145 Waxwings included on the Isles of Scilly one on St Agnes on 23rd and another on Tresco until 24th, 15 at Willaston, Cheshire on 25th, 10 flying over Stanford Reservoir, Northamptonshire on 27th, and on the Western Isles up to 42 on Lewis in Stornoway.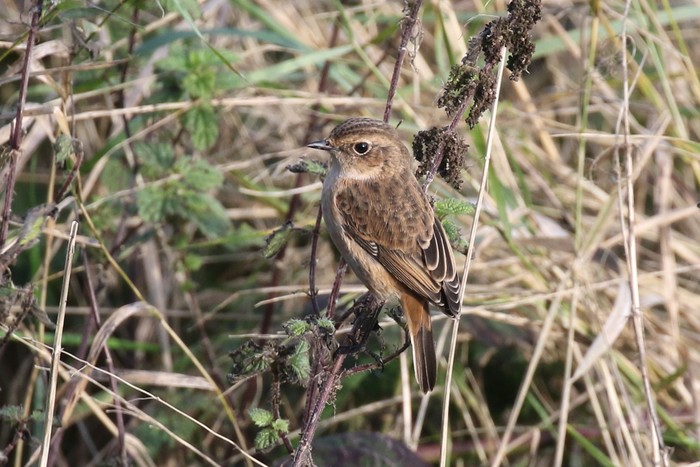 On the Shetland Isles a Swainson's Thrush made a brief visit to a garden in Lerwick on 27th. Three Eastern Stonechats were present during the week with a female at Whitburn until 24th appearing to be a Stejneger's Stonechat, and others still at Sandwick, Shetland Isles on 28th and at Easington, East Yorkshire on 29th.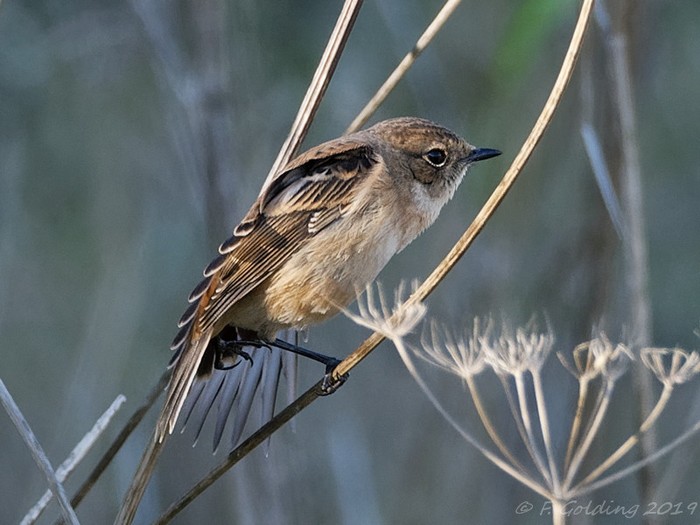 The only rare wheatear was the lingering Isabelline Wheatear still on Tresco, Isles of Scilly whilst nearby the Blue Rock Thrush remained on St Mary's between The Garrison and Peninnis Head until at least 28th.p>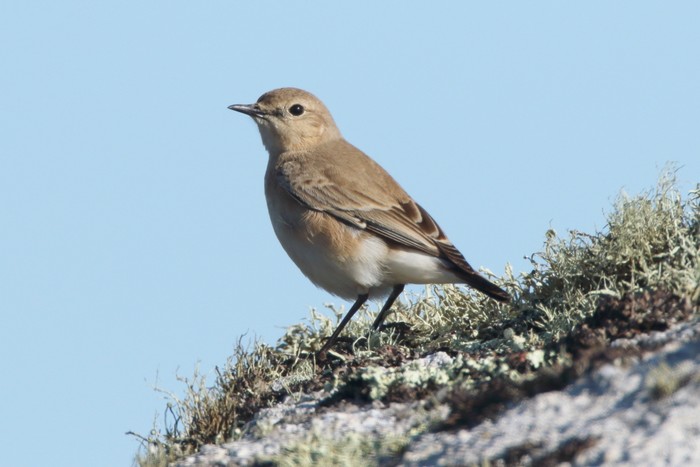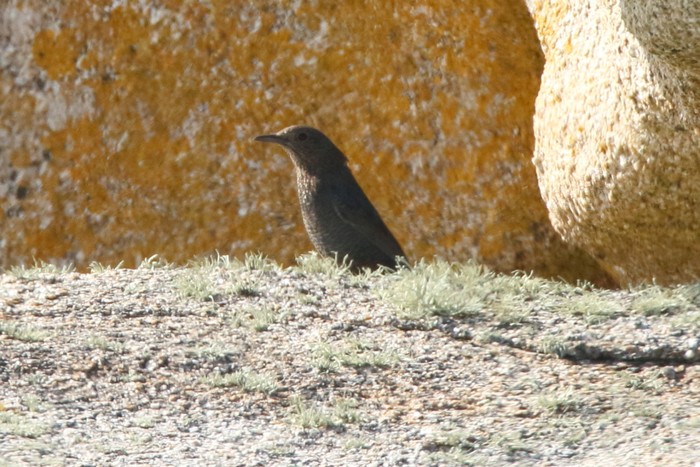 An American Buff-bellied Pipit was notable at Sennen, Cornwall on 23rd as were Red-throated Pipits in Essex at The Naze on 23rd and on St Mary's, Isles of Scilly on 25th. Richard's Pipits were at Great Ormes Head Conwy, Porthgwarra Cornwall, Longtown Cumbria, Alkborough Flats Lincolnshire and Morston Norfolk on 23rd, in Cornwall at both Rinsey Head and Sennen on 24th, Overstrand, Norfolk on 27th, St Agnes, Isles of Scilly on 28th, and both South Stack, Anglesey and Waxham, Norfolk on 29th. The Citrine Wagtail remained on the St Mary's, Isles of Scilly until 23rd and yet another Eastern Yellow Wagtail was sound-recorded as it flew over Budle Bay, Northumberland on 26th.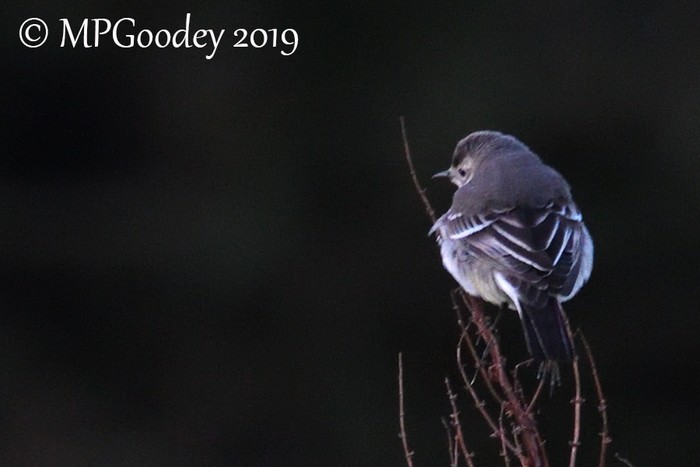 Notable warblers were single Radde's Warblers on the Isle of May, Fife on 23rd-24th, in Suffolk at Southwold on 29th, and trapped and ringed well inland at Newbury Common, Berkshire on 24th - emulating that trapped at Priory County Park, Bedfordshire on 12th October 1991. Blyth's Reed Warblers were identified on St Mary's, Isles of Scilly on 23rd-24th and at Porth Eilian, Anglesey on 27th with Barred Warblers on Tory Island, County Londonderry and Musselburgh Lagoons, Lothian on 27th and in North Yorkshire both inland at Long Preston Deeps on 27th and at Filey the following day.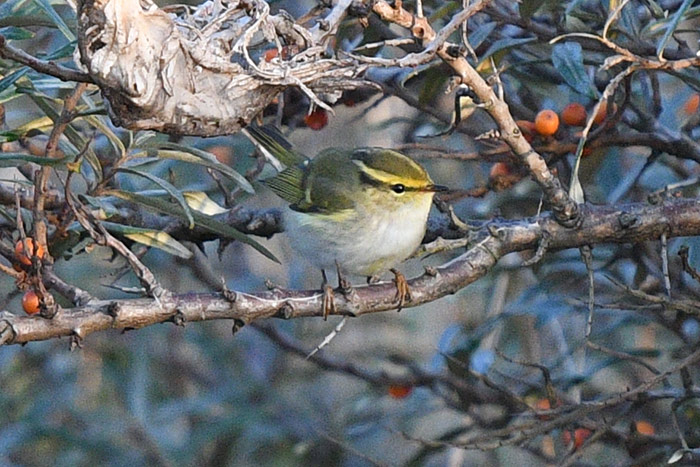 Seven Pallas's Warblers comprised singles in Norfolk at Thornham Point on 24th-25th and Waxham throughout, on St Agnes, Isles of Scilly on 24th, Kearney, County Down on 27th, and then on 29th at The Naze, Essex, at Swalecliffe, Kent and at Spurn, East Yorkshire. Late news released from Wiltshire concerned an unidentified Booted Warbler or Sykes's Warbler trapped and ringed on Salisbury Plain on 19th October. Red-breasted Flycatchers were at Hoswick, Shetland Isles on 23rd-24th, Barra, Western Isles throughout, North Ronaldsay, Orkney Isles on 26th, Land's End, Cornwall on 27th-29th, and on the Isles of Scilly on Tresco until 26th and on St Agnes on 26th-28th.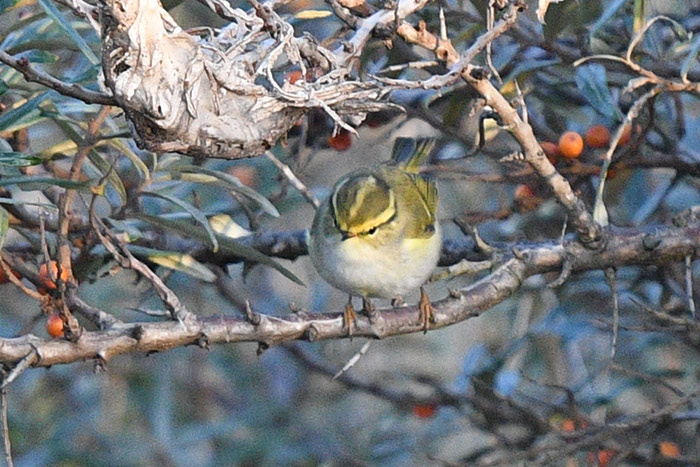 Exiting Red-backed Shrikes were at Hoswick, Shetland Isles until 26th, St Agnes, Isles of Scilly until 27th and in Lincolnshire at Saltfleetby Theddlethorpe on 29th, whilst incoming Great Grey Shrikes totalled 12 and included one at Stockhill, Somerset on 23rd, a returning adult at Cannock Chase, Staffordshire from 27th, and in Kent singles at Langdon Cliffs on 28th and South Foreland on 28th-29th.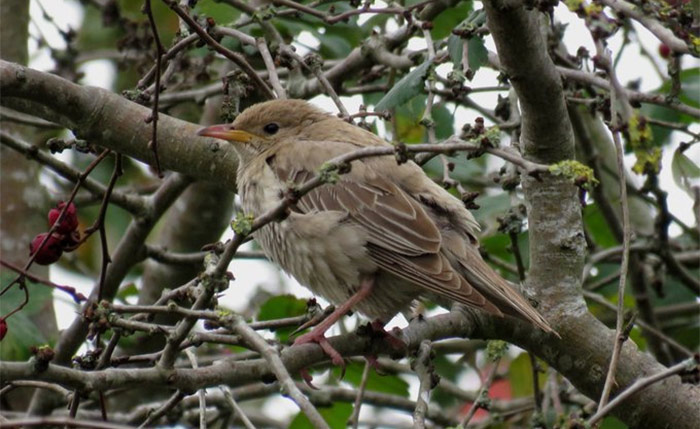 Rose-coloured Starlings were in Penzance, Cornwall on 27th, Bedlington, Northumberland until 28th, Calcot, Berkshire from at least 25th-28th and in flight at Elton Reservoir, Greater Manchester on 29th. A Red-eyed Vireo hung-on at Cape Clear, County Cork until 24th. A Northern Long-tailed Tit - the nominate form caudatus - was noted at Upton Marshes, Norfolk on 27th.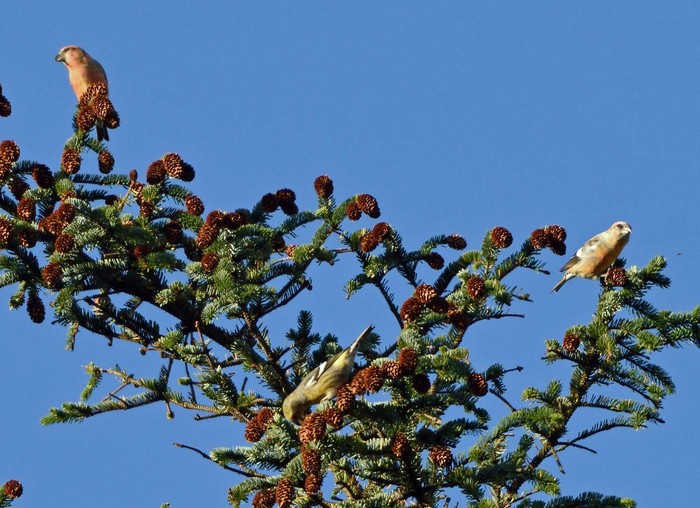 Amongst the finches a flock of up to seven Two-barred Crossbills in Langass Woods, North Uist, Western Isles on 28th-29th was presumably a legacy of the record influx to the Shetland Isles between 4th July and 4th September but was still most unexpected. On the Shetland Isles this week Hornemann's Arctic Redpolls remained on Fair Isle until 24th with another briefly in Lerwick on 28th when a Coues's Arctic Redpoll was on Unst. In the deep south Serins were noted at Kingsdown, Kent on 25th, Exeter, Devon on 27th and St Mary's, Isles of Scilly on 28th. Rustic Buntings were on Tresco, Isles of Scilly on 27th-28th and in Cornwall briefly at both Nanjizal and Porthgwarra on 28th. The Little Bunting remained at Spurn, East Yorkshire until 28th, at Nanjizal, Cornwall and Lundy, Devon on 23rd, and Porth Mear, Cornwall and St Agnes, Isles of Scilly on 28th. Of the 69 Lapland Buntings reported most notable were at Barton-on-Sea, Hampshire on 23rd, five on Sanday, Orkney Isles on 26th, on Oronsay, Isle of Skye, Highland on 28th and four at Dale, Pembrokeshire on 29th.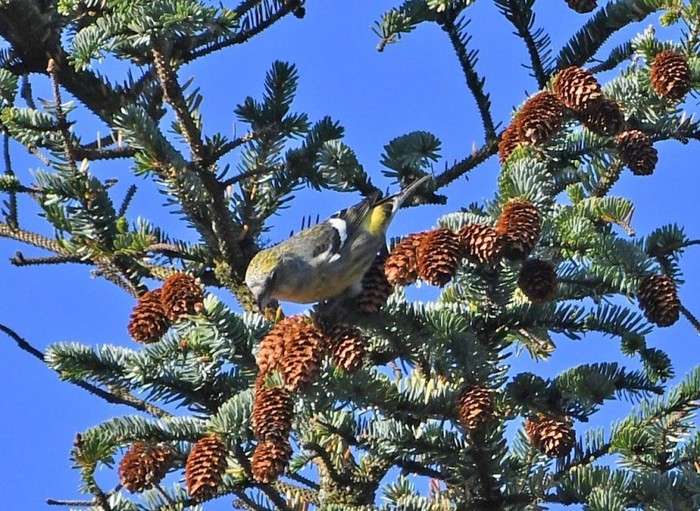 With the benefit of hindsight the male Siberian Rubythroat discovered by a civilian in a garden in St Albans, Hertfordshire on 24th was too good to be true. After being initially located the Rubythroat was promptly apprehended by the homeowners cat and taken into care where, after provisionally being given a clean bill of health, a plan was hatched to publically release the bird the following day at nearby Tyttenhanger. However, scrutiny of the available photographs online suggested there was an issue with the primaries and further photographs were provided and proved that both the primaries and secondaries had been neatly cut whilst in previous confinement.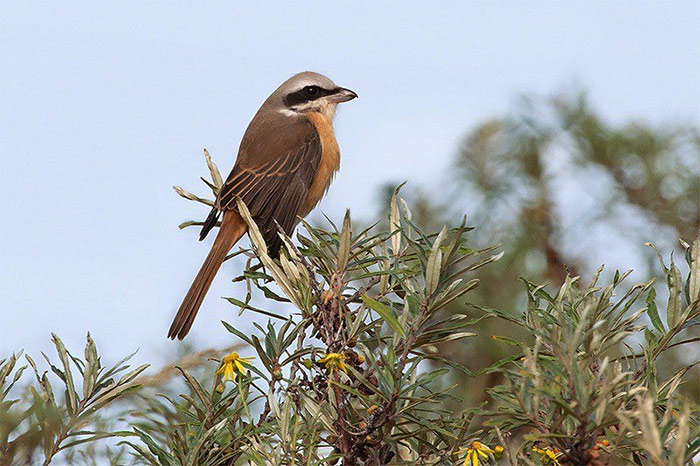 An adult male Brown Shrike in Belgium at West Flanders at Knokke-Heist at Heist-aan-Zee on 25th-29th was doubly notable as it was a Philippine Brown Shrike (subspecies lucionensis) similar to earlier Brown Shrikes in Europe in Sweden at Landsort, Södermanland on 5th October 2019 and at Ballyferriter, County Kerry, Ireland on 22nd November-10th December. Also from the far east was an Eastern Crowned Warbler in Sweden on Oland on 24th; the first national record and the thirteenth for the Western Palearctic with all bar one of these being since 2002 and this the eighth this decade.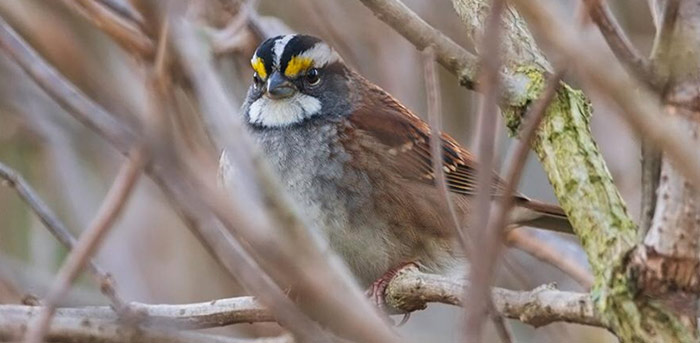 In the Netherlands a Dusky Thrush was on Vlieland on 25th-28th with a well received White-throated Sparrow in West Flanders at Maasvlakte on 27th-29th. In France in Morbihan a Red-eyed Vireo was at Hoedic on 24th with the Rose-breasted Grosbeak still at Saint-Pierre-Quiberon at Portivy on 25th, and in Finistere an Upland Sandpiper still on Ouessant on 26th. Another incredible season closed on the Azores where on Corvo Common Yellowthroat and Semipalmated Plover were present on 24th and an American Bittern was found on 26th, with an American Buff-bellied Pipit on nearby Flores on 28th.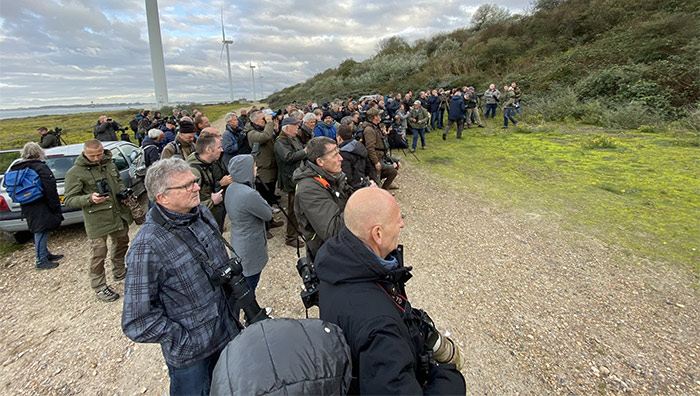 Exciting news from Denmark was of six Pine Grosbeaks at Skagen on 27th increasing to 11 the following day with many others noted in coastal Norway including in Hordaland where the largest ever influx of the species included 158 in Bergen on 29th October. The previous highest total of Pine Grosbeaks in Hordaland was in 2012 when one also reached the Shetland Isles on 1st November, so this has to be the hot prediction for a mega-alert this coming week. The predicted light easterlies across the North Sea that may aid the arrival of a Pine Grosbeak here should certainly bring more Pallas's Warblers and maybe another Eastern Crowned Warbler (as two of the four records were found on 30th October), along with Pied, Isabelline or Desert Wheatears and perhaps an Asian Desert Warbler given that five of the ten autumn records of the latter in Britain falling in this period, and a twitchable record is so long overdue.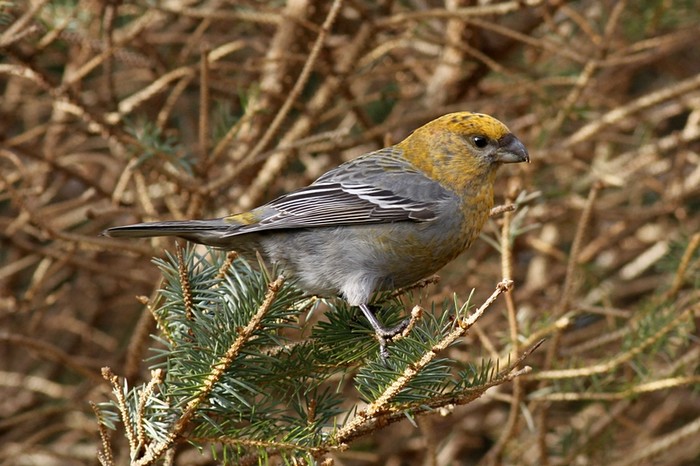 Chris Batty
30 October 2019
Many thanks to all contributors for their photos and videos this week.
Share this story
Tweet