Weekly birding round-up: 4 - 10 Sept
The week at a glance
Our latest Brown Booby hangs on for a while in Cornwall
Gwynedd hits the headlines with a Isabelline Wheatear
While Fife scores a Collared Flycatcher
And a fine spell of sea-watching delivers a probable Swinhoe's Petrel in Cheshire
Very much a week of two halves, the past week, starting with fine conditions for visible petrel and skua passage, and ending with the eastern side of the country being kissed by easterly winds, with predictable consequences. It's very early days yet but, on the basis of this week, autumn 2019 is off to a solid start…
Brown Booby
We start the headlines in Cornwall – where else? – this week as the continuing presence of the first-summer Brown Booby on The Lizard at Kynance Cove demands nothing less than star billing.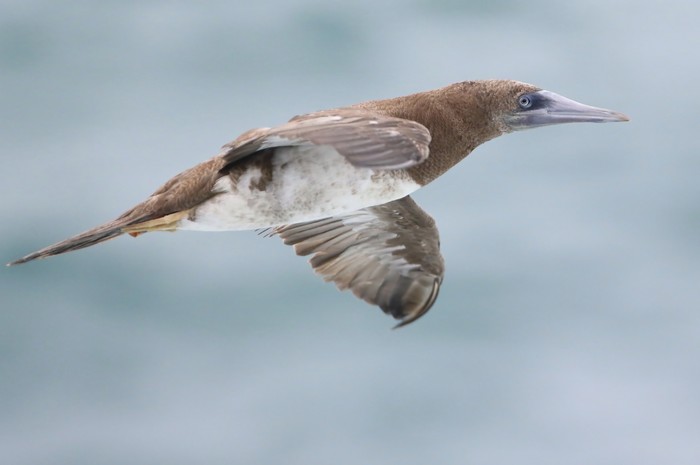 Present and seen fairly readily until 6th this was the bird that finally allowed more or less anyone so inclined to put that firm inky tick in the box next to Brown Booby on their lists. It'll be interesting to see if this recent arrival really is part of an ongoing, developing trend or whether it's more of a Siberian Accentor-style flash in the pan – but that's one for the years to come.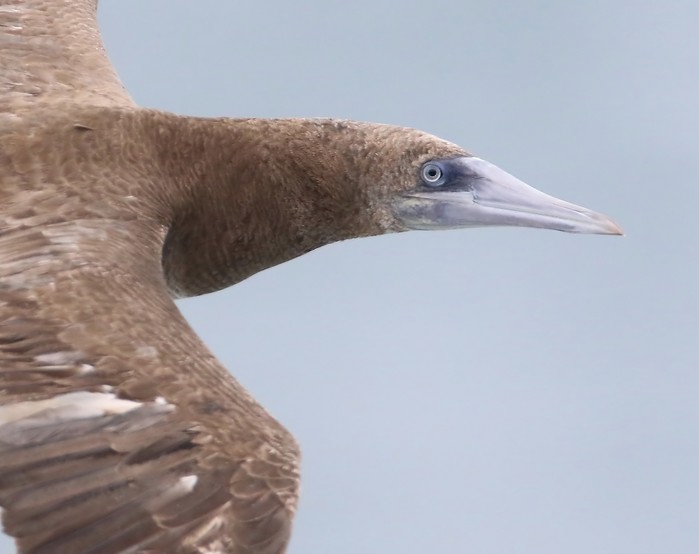 Back here, now, in the present, the seemingly settled bird stopped playing ball on 7th, and was nowhere to be seen for most of the day with only the most fleeting of appearances made in the afternoon and, after that, nothing.
Is that the end of the story for 2019? We'll see…
Isabelline Wheatear
Late to the party on 10th, but testament to the easterlies that were brushing up into Britain from the continent, Bardsey (Gwynedd) struck wheatear gold that afternoon with a cracking Isabelline Wheatear.
The species is one that's come to be almost annual since the first latterday bird back in Norfolk in 1977. It stuttered a little in the 1980s, with an eight year hiatus, but after 1988 seemed to find its feet and the records started to tick along nicely with just the odd blank year between then and the current day, and over 40 accepted birds now residing on the record books.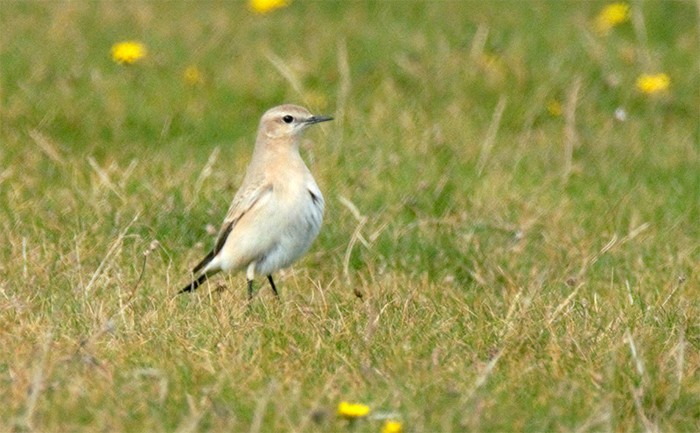 All that said, it's lost none of its allure – and this bird is just a little bit more special for Bardsey as it completes the island's hat-trick for Isabelline Wheatears following previous records in 1997 and 2002. Gwynedd birders could be forgiven for hoping the next one is on the mainland…
Collared Flycatcher
Having turned up more or less annually since the turn of the century, and sometimes with several records in any given year, one could be forgiven for thinking that Collared Flycatchers aren't as rare in Britain as they in fact actually are – but them stats don't lie: we've just 47 accepted records to the end of 2017. Which, to put that into some sort of perspective, is some 10 less examples than we've currently got on the books for Pallas's Grasshopper Warbler, a species that we instinctively think of as proper rare.
Fife, meanwhile, boasts just the one previous bird – a first-summer male that stuck around for a few days ten years ago on 16th-19th May 2009 in Denburn Woods. Given the Isle of May's excellent track record for turning up quality birds it's perhaps a little surprising that it hadn't too already enjoyed a Collared Flycatcher - but no surprise whatsoever that it was on here that a magnificently wing-panelled bird was trapped and ringed this week on 8th.
Another possible, but frustratingly elusive, candidate was seen fleetingly on 8th at Spurn (East Yorkshire).
Swinhoe's Petrel
We began the headlines with a top drawer seabird, and we finish them with one too.
Probably.
The hundreds of Leach's Petrels on the move this week would have been reason enough to get yourself to a north-westerly vantage point, hunker down, and enjoy the show. Hand on heart, though, one wouldn't perhaps have been holding out for a much rarer petrel still – in the right place, at the right time, nowadays the likes of a Wilson's is now almost anticipated as a possibility, but Swinhoe's Petrel?
That's a different kettle of petrels altogether.
Our nine prior British and Irish birds on the record books include birds being trapped on no fewer than 14 occasions – these involving some duplication as returning birds to Tynemouth (Northumberland) and Fair Isle (Shetland) re-emerged from the darkness around the ringers' nets in subsequent years after their first appearances. In a nutshell, just two in-the-field records have been accepted to date – off Bridges of Ross (Co.Clare) on 15th August 1985, and at sea off St Mary's (Scilly) on 21st July 2005.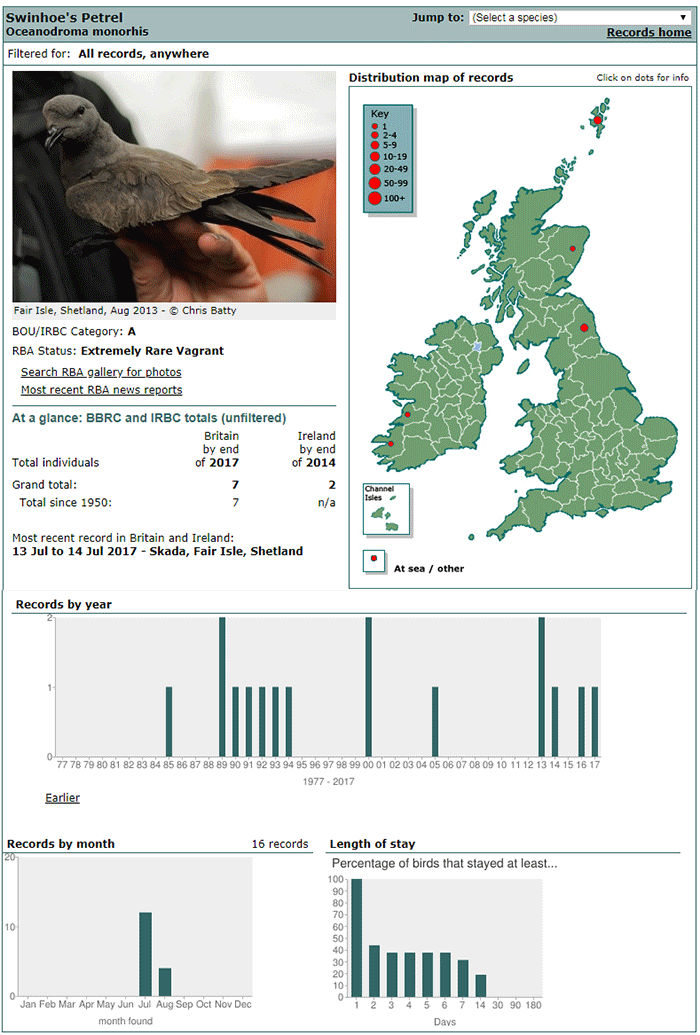 Imagine, then, the adrenalin rush that accompanies seeing a dark-rumped petrel flying past you on the Cheshire coast. The stuff of dreams, right there. Nightmares too, as we've already discussed this past summer when considering the circumstances of other extraordinary seabird sightings – seeing something out of the ordinary is one thing, but proving it beyond doubt is something else.
News of a possible Swinhoe's Petrel flying west past Leasowe gunsite (Cheshire) in the early evening of 6th was arresting enough. Better still, the bird was picked up again almost an hour later at Meols. So far, so good, but was it definitely a Swinhoe's? While the observers weren't getting quite enough to nail the identity – the possibility of the mythical dark-rumped Leach's Petrel or, at the very least, a 'ghost-rumped', worn example of the same doubtless being in their minds – someone else present on the Cheshire coast that evening was having no such problems nailing the bird…
That someone being the Peregrine that inconsiderately proceeded to kill the bird in question before subsequently, as night fell, abandoning the corpse on a sandbank.
Ouch.
Whatever will come of the record, apart from a place in the halls of birding legend when sea-watchers gather and swap tales of glory days of the past, and the ones that got away?
As Bob Flood recently reminded us in his piece about the probable Desertas Petrel off Scilly in August, there is no evidence that dark-rumped Leach's Petrels frequent the Atlantic. It's worth revisiting his paper in British Birds where his CSI approach to seabird appraisal concluded that "the occurrence of Leach's Storm-petrel O. leucorhoa with an entirely dark rump has yet to be proven [and]; a 'small, all-dark' storm-petrel is almost certainly a Swinhoe's
The paper also examines past field records of dark- and ghost-rumped birds seen in the Atlantic and neighbouring sea areas. There aren't many and, whatever the bird in Cheshire was this week, statistically at least it was genuinely rare.
We've already touched upon the presence of one or two Leach's Petrels off British and Irish coasts this week, but such was the extent of the event that we'll kick off the seabirds section with them, relegating rarer fare to second-billing…
The week began then with around 275 Leach's Petrels tallied off north-west British and Irish coasts – double figure counts came from several sites, with notable figures being logged off Hilbre Island (Cheshire) where 32 birds were seen, Bridges of Ross (Co.Clare) with 32 birds also, and Ramore Head (Co.Antrim) where 42 birds were noted.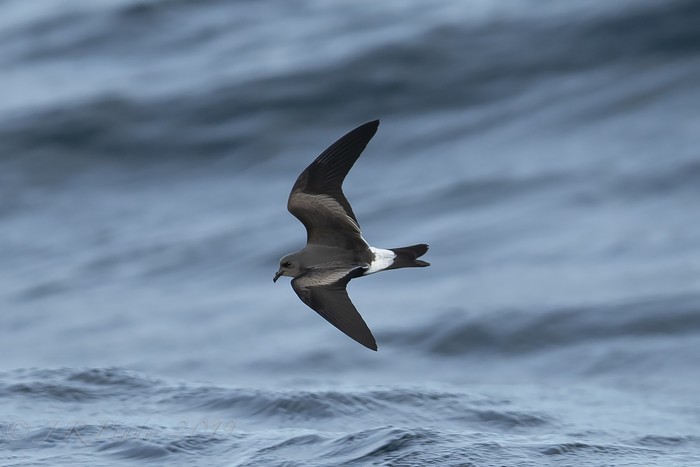 Some 60 more were seen on 5th; and then, on 6th, numbers picked up once more with around 100 noted nationally, followed by some 50 more on 7th, and a trickle more on the final days of the week. All told, a magnificent seabird event for those who bore witness.
Seawatchers in Co.Clare and Cornwall enjoyed a little rarer variety too - Wilson's Petrels were found on 4th off Bridges of Ross and Pendeen respectively, with a further Cornish sighting made off The Lizard on 6th. Late news came in of a further bird seen on 4th passing Loop Head (Co.Clare) also.
Birders on the English east coast weren't completely deprived of goodies this week, with pick of the bunch undoubtedly being the Fea's / Desertas / Zino's Petrel logged in North Yorkshire heading north in the morning of 7th, seen passing Hunmanby Gap and Filey Brigg.
While Leach's Petrels were two a penny, Balearic Shearwaters were becoming a much scarcer commodity this week, with only some 95 birds in all tallied over recent days of which 35 noted from Portland (Dorset) on 7th represent the lion's share of records.
Around 170 Pomarine Skuas were noted in Britain and Ireland during the week, a significant uplift on the preceding week, and while many sea-watching locales scored more than one bird, none of them could surpass the 55 seen on 6th from Kilcummin Head (Co.Mayo).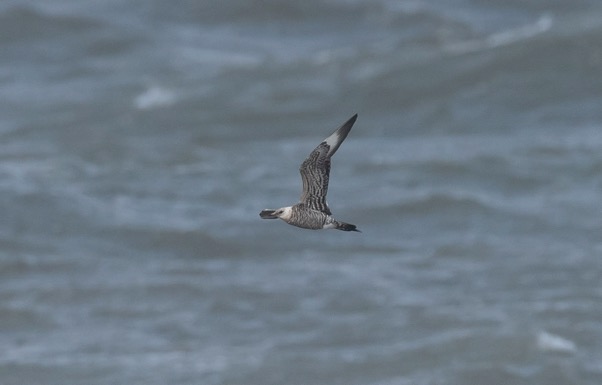 A movement of that many Poms always felt likely to have a few Long-tailed Skuas bound up in it, and so it proved – around 50 birds in all were logged this week, with Ireland again dominating the news. Six birds were seen from Kilcummin Head on 6th; and 14 were noted from Bridges of Ross (Co.Clare) on 4th. English single site peak counts were trios noted from Sheppey (Kent) on 5th and Cley (Norfolk) on 7th.
Finally, a Little Auk was seen again off North Ronaldsay (Orkney) on 4th – perhaps the same bird seen from there as the previous week closed on 4th? – and another was noted off Ramore Head (Co.Antrim) on 4th also.
Quiet times indeed where our long-legged beasties were concerned, with a couple of Glossy Ibis topping the news – these being the regular bird still present at Newport Wetlands NNR (Gwent) on 4th-8th, and another familiar, intermittent face once more at Fremington Pill (Devon) on 6th.
Scottish sightings of Common Cranes start in the very north this week on Shetland where a duo remained settled on Mainland in the Sandwick area until 10th; while in Aberdeenshire two remained at Loch of Strathbeg RSPB on 4th. In Northumberland one was still at Whittle Dene reservoirs on 4th-6th; and then in North Yorkshire sightings came from Nosterfield NR on 7th and Wheldrake Ings YWT on 8th. Six birds remained in South Yorkshire at Thorne Moors NNR on 4th-5th with three still there on 10th; and one probable was reported in Derbyshire at Drakelow Wildfowl Reserve on 5th, with the same bird seen further west at Branston GPs (Derbyshire/Staffordshire) also on 5th; while in the very south nine were seen passing over Dungeness (Kent) on 7th. On 10th a further report of a single bird came from Northumberland at Otterburn.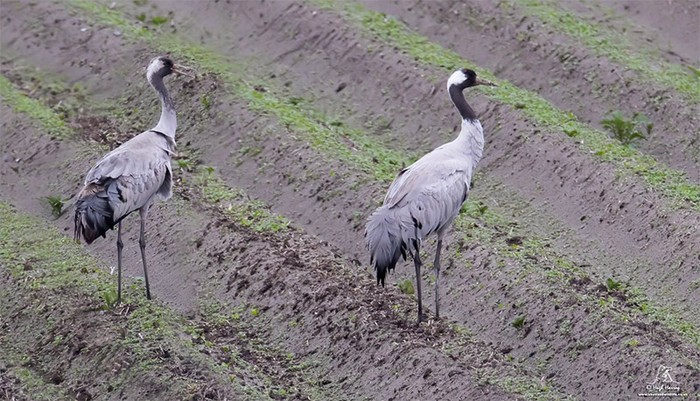 Finally, a Spotted Crake was found at Blacktoft Sands RSPB (East Yorkshire) on 9th.
If it was quiet times amongst the long-legged beasties this week it was absolutely deathly amongst the honkers and quackers though, in the form of the Red-breasted Goose that arrived with some 1,000 Pink-footed Geese at Marshside RSPB (Lancashire) on 8th, we did at least have not only something new but an interesting goose at that – the first we've had in these columns for weeks.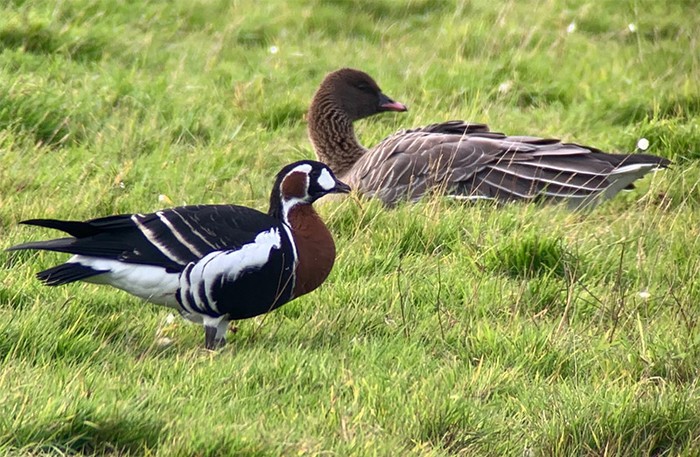 Besides that, though, we went entire days this week without a whisper about any rare wildfowl – the exception to this dearth of news being the drake Black Duck once more seen at Strontian (Highland) on 7th.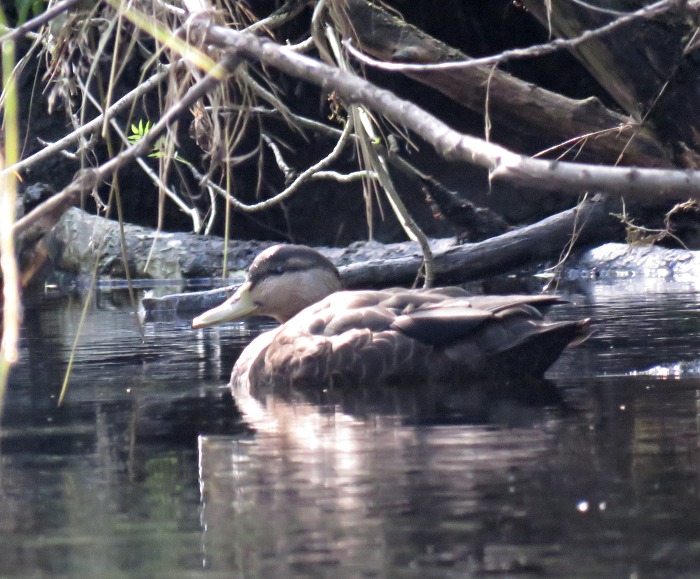 As the week drew to a close, some Surf Scoters emerged into the news feeds – a drake noted at Inch (Co.Kerry) and a female once more off Musselburgh (Lothian) on 9th.
Finally, on 10th, a Ring-necked Duck drake was found at Loch of Skene (Aberdeenshire).
<!—Section Title -->
Happily, at this point in the year we can always rely upon shorebirds to provide colour and variety, and this week proved to be no exception with a good scatter of new arrivals to report upon.
Pick of the bunch was found late in the week – a Wilson's Phalarope in Co.Wexford at Tacumshin on 8th-10th. After a spell of them turning up in Co.Wexford more or less biennially in the first decade of the 2000s, this latest sighting represents the first for the county since one seen at Tacumshin in autumn 2010.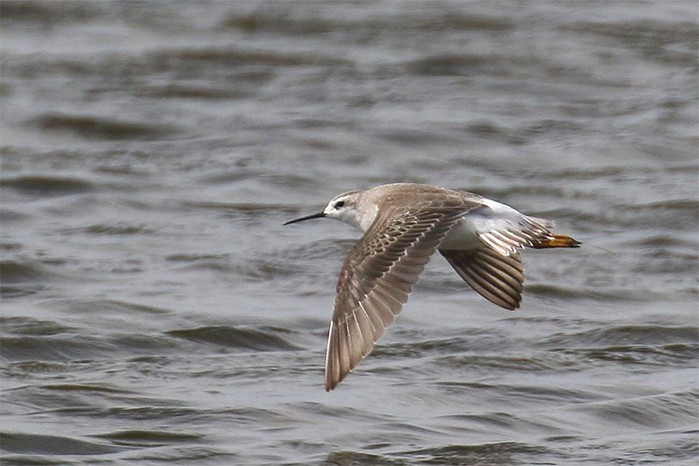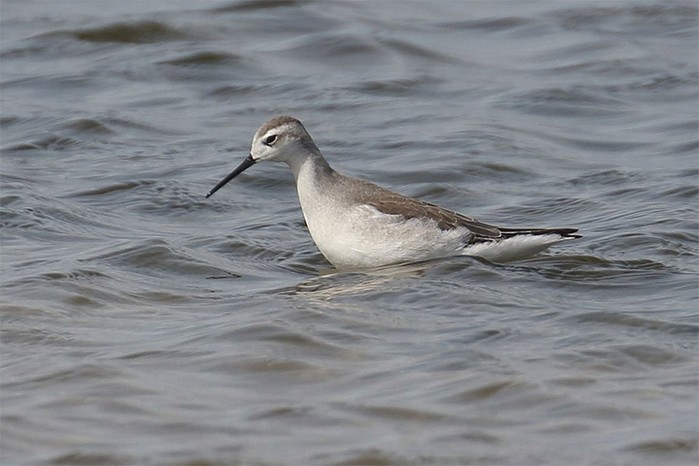 More Nearctic colour came in the form of adult American Golden Plovers, with the individual still present until 10th on Yell (Shetland) augmented this week by further birds found in Kent at Oare Marshes KWT on 7th-9th and intermittently on the other side of the Swale on Sheppey on 8th-10th; at Ferriter's Cove (Co.Kerry) on 8th-10th; on Sanday (Orkney) on 9th; and at Davidstow airfield (Cornwall) and on South Uist (Western Isles) on 10th.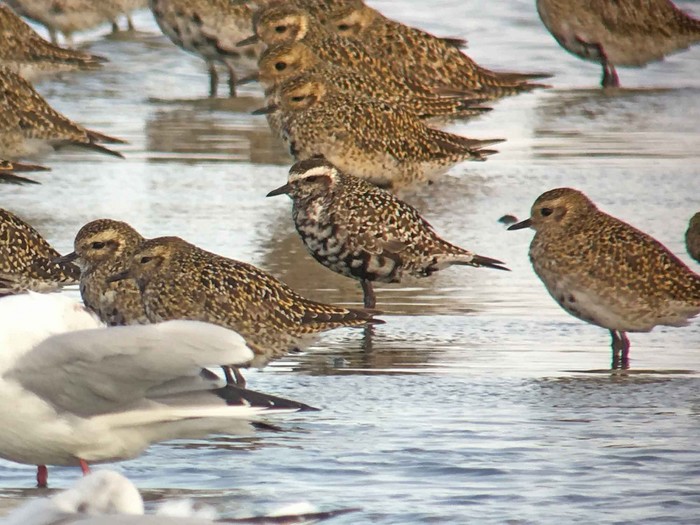 A probable Pacific Golden Plover flew over Minsmere RSPB (Suffolk) on 9th, though American Goldie couldn't be entirely discounted.
Tacumshin (Co.Wexford) featured prominently during the week with further lingerers and new arrivals alike. A Semipalmated Sandpiper remained there on 4th-10th, while another was still to be seen in Gwent at Newport Wetlands NNR on 4th-5th and birds were found late on 10th at Carrahane Strand and Cromane Point (Co.Kerry); a Baird's Sandpiper was present still on 4th, while another was seen on Tiree (Argyll & Bute) on 7th; and no fewer than five Pectoral Sandpipers arrived at Tacumshin on 5th, dropping to three birds there on 6th-7th, one still on 8th-9th, and two again on 10th.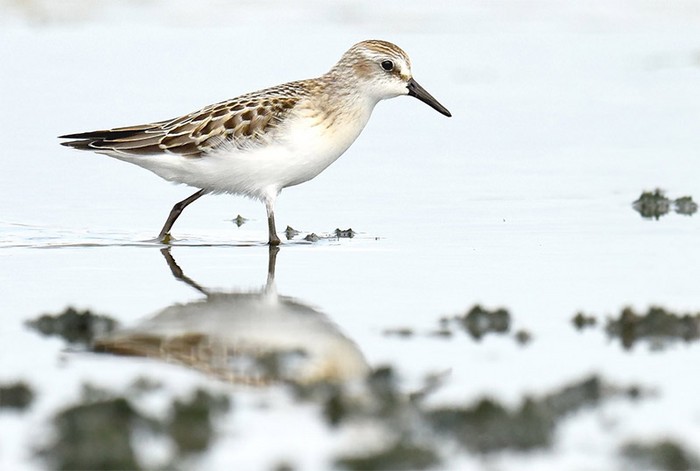 Further Pectoral Sandpipers were found this week on Islay (Argyll & Bute) on 4th; Corsewall Point (Dumfries & Galloway) on 5th; on South Uist (Western Isles) still on 6th-10th; at Inishkea North (Co.Mayo) on 7th; and at Baron's Haugh RSPB (Clyde) on 8th-10th.
That predominantly Scottish flavour was reflected with new White-rumped Sandpipers - these being birds found at Ardvule Point on South Uist (Western Isles) on 5th-6th and Loch of Strathbeg RSPB (Aberdeenshire) on 6th and again on 10th; while the adult bird remained in East Yorkshire at Kilnsea Wetlands on 4th-10th.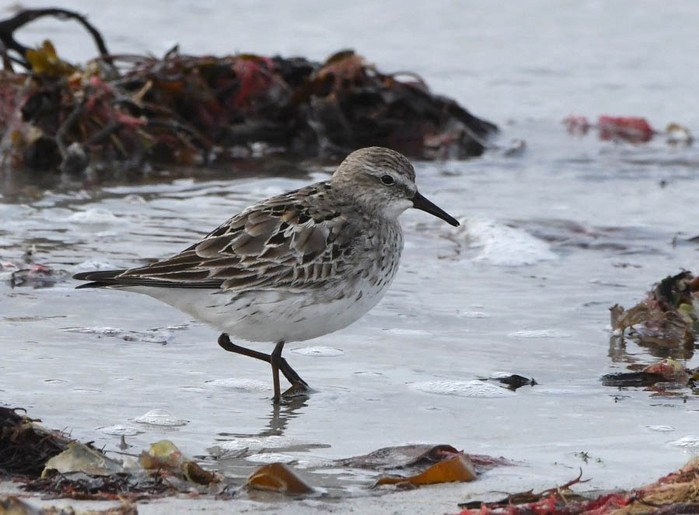 In Cornwall the adult Buff-breasted Sandpiper remained at Davidstow airfield (Cornwall) on 4th-10th – there will be, surely, more of them found nationally in the coming week, and the Cornish bird was joined by a juvenile individual on 10th – while in Lincolnshire the adult Long-billed Dowitcher was again reported from Frampton Marsh RSPB on 5th.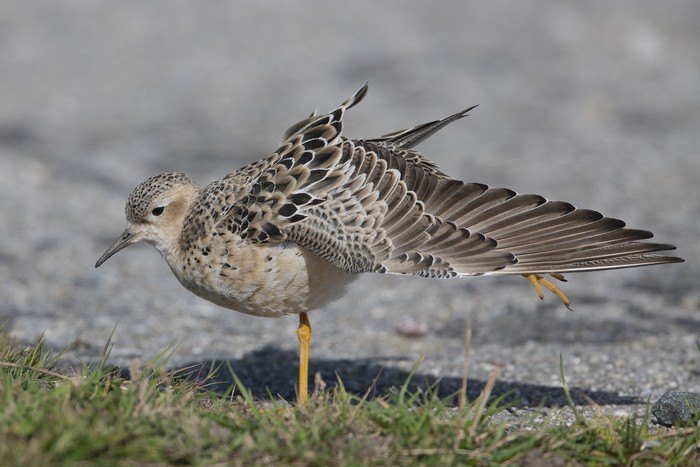 More Nearctic arrivals still came in the elegant form of a Lesser Yellowlegs in Pembroke at Castle Pond (Pembrokeshire) on 6th-10th, and the subtle form of a Hudsonian Whimbrel on St Kilda (Western Isles) on 7th-9th.
Kilnsea Wetlands also retained the recent Dotterel on 4th-5th, with further birds found this week on 7th at St Catherine's Point (Isle of Wight) and Inishkea North (Co.Mayo) and, on 10th, at Donna Nook (Lincolnshire). Two were seen on 10th also at Aberdaron (Gwynedd).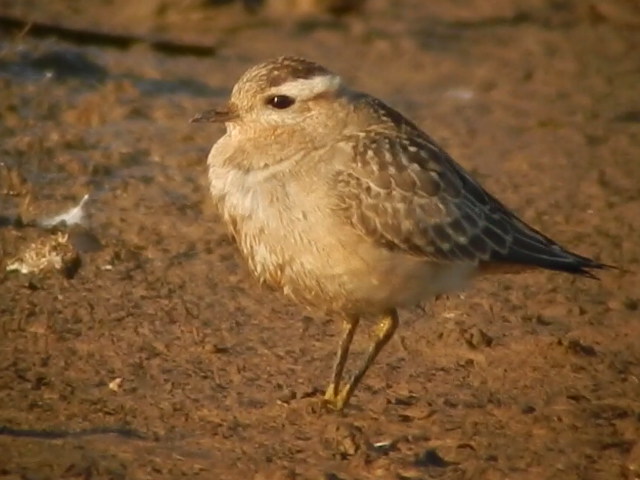 In Nottinghamshire the Black-winged Stilt remained at Idle Valley NR on 4th-7th.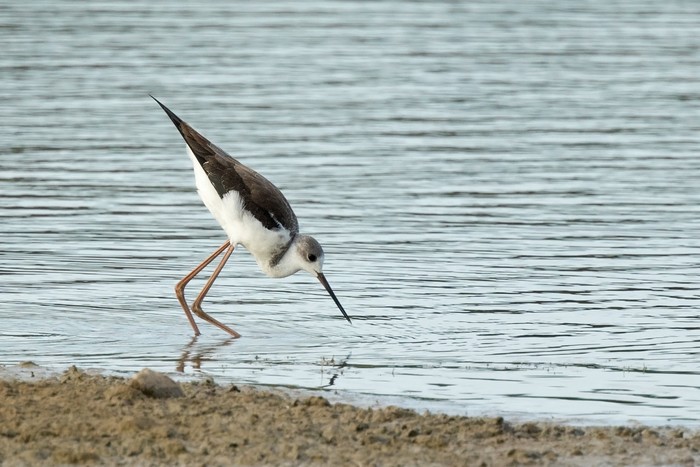 The juvenile Kentish Plover was seen again on 7th on Hayling Island (Hampshire).
Finally, returning to phalaropes to bookend this week's shorebirds section, a Red-necked Phalarope was found at Minsmere RSPB (Suffolk) on 8th; and mirroring the scarcer petrels and skuas, good numbers of Grey Phalaropes were logged in the early half of the week – around 80 birds in all were tallied, including a remarkable daily total of 27 seen from Bridges of Ross (Co.Clare) on 4th.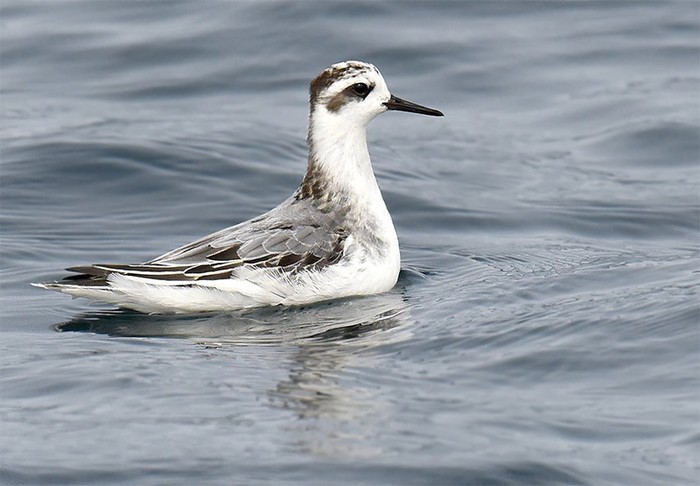 As with Grey Phalaropes, so with Sabine's Gulls lately, with another tremendous showing this week for fans of this lovely Larid.
The preceding week's tally of 40 birds was already good going, but was overshadowed this week by no fewer than 80 individuals logged in Britain and Ireland. Most of these records had a predictably westerly bias, though lone birds seen from North Ronaldsay (Orkney) on 5th, Reculver (Kent) on 7th and Havergate Island (Suffolk) on 8th extended their range north and east respectively. Once again, Irish vantage points enjoyed the best of the show – 12 were seen from Kilcummin Head (Co.Mayo) on 4th, and 13 were logged from Ramore Head (Co.Antrim) on 4th also.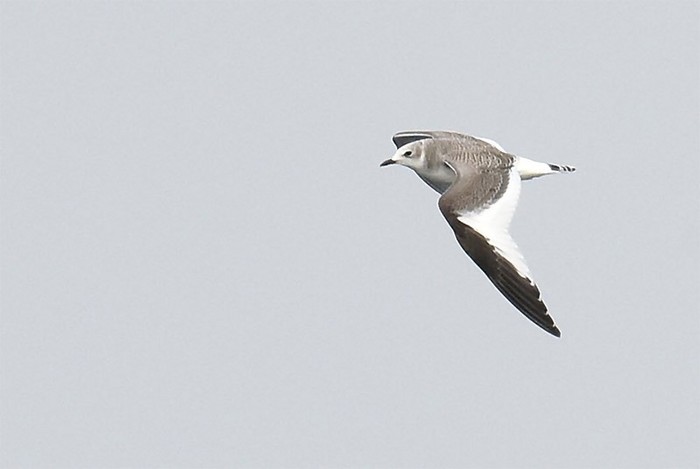 In Kent the adult Bonaparte's Gull remained at Oare Marshes KWT 4th, and the Liscannor (Co.Clare) bird was seen again on 10th.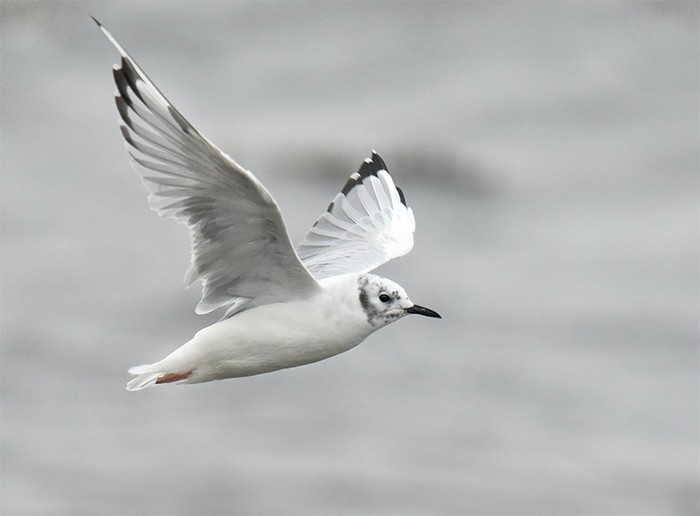 An Iceland Gull was present on Barra (Western Isles) on 9th-10th; with another noted in Ireland at Grey Point (Co.Down) on 6th, while an adult Ring-billed Gull was present at Blennerville (Co.Kerry) on 9th.
Ireland also provided the week's only notable tern – the Forster's Tern at Dundalk Docks (Co.Louth) on 5th and again on 10th at Soldier's Point.
A juvenile Montagu's Harrier at Pendle Hill (Lancashire) on 8th was in danger of being the only representative of its kind reported this week, but was bolstered by the discovery of another juvenile at Beachy Head (East Sussex) on 9th.
A couple of unconfirmed reports Rough-legged Buzzards on 7th were perhaps a hint of things to come – one was seen at Alyth (Perth & Kinross), while the other that day was a possible at Oare Marshes KWT (Kent).
A Black Kite was found on 10th over Rhossili (Glamorgan); another Glamorgan sighting came from Lavernock Point; and another possible bird was seen in Glamorgan that day over Porthcawl. The Lavernock bird was an escapee bearing jesses… what then do we make of the other Glamorgan sightings?
A White-tailed Eagle was seen on Orkney at Hoy on 8th.
Lastly, out on the Western Isles the female Snowy Owl remained on St Kilda on 5th-9th.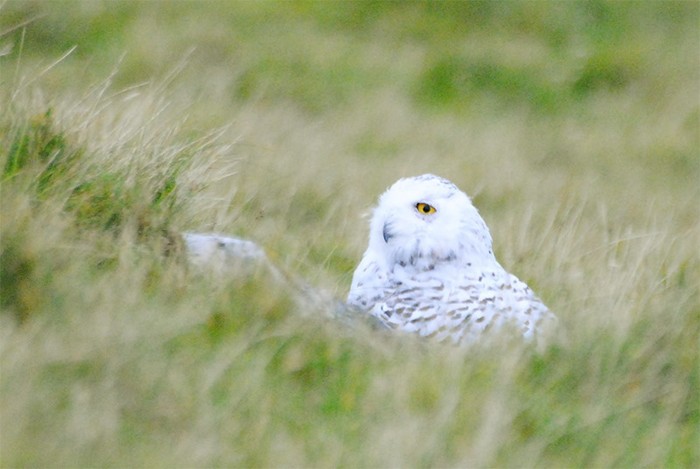 In Lancashire the adult female Eastern Black-eared Wheatear remained on the sea wall at Fluke Hall throughout the week with the exceptional photographs posted online allowing Pied Wheatear to be eliminated and the identity confirmed.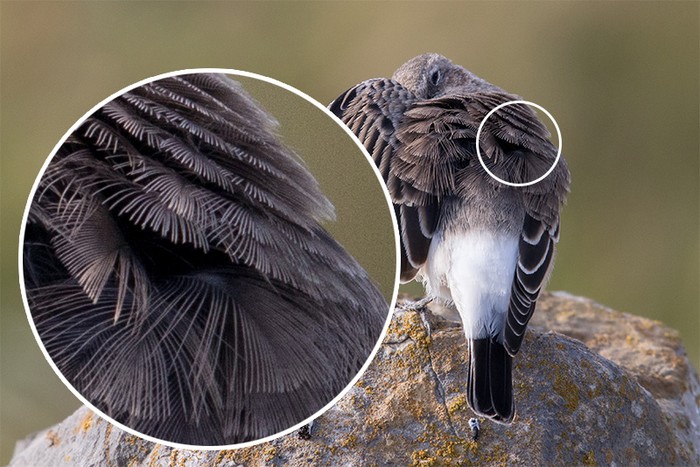 A male Bluethroat brightened up 8th-10th at Hook-with-Warsash LNR (Hampshire); another was on Unst (Shetland) on 10th.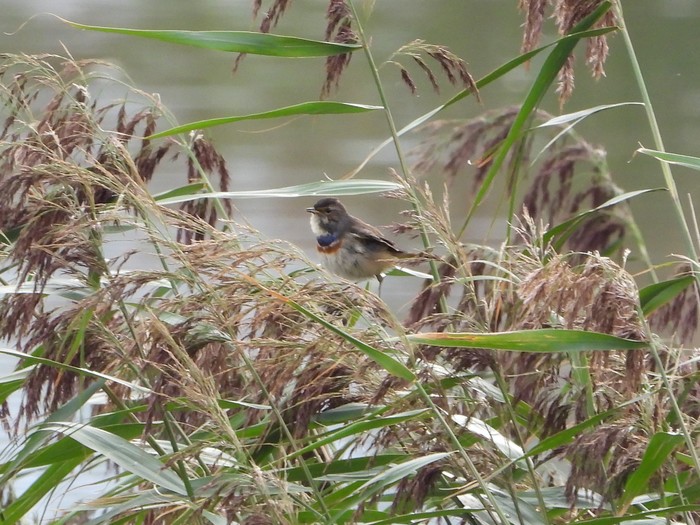 It's coming to the time when we can expect plenty more of their ilk, so the Citrine Wagtails seen on Unst (Shetland) still on 4th, Papa Westray (Orkney) on 6th, and on 7th at Minsmere RSPB (Suffolk) and Lady's Island Lake (Co.Wexford) are surely just the vanguard of the autumn arrivals. A further probable bird flew over Salthouse (Norfolk) in the evening of 9th.
Ditto the Richard's Pipit present on Ramsey (Pembrokeshire) on 8th…
And so to the warblers, where the lingering Western Bonelli's Warbler at Uwchmynydd (Gwynedd) remained on 4th-5th but wasn't seen thereafter; another possible bird was heard only on St Mary's (Scilly) on 8th, while a Bonelli's Warbler sp was found on adjacent Tresco on 9th.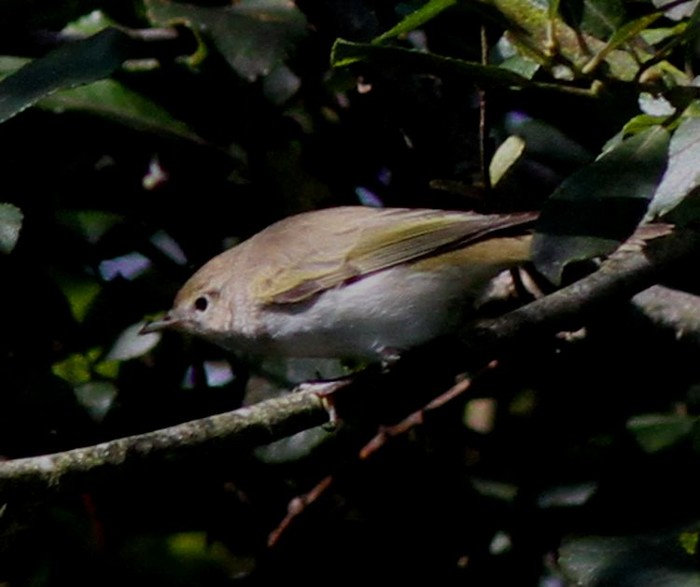 Across the water in Cornwall another Aquatic Warbler was trapped and ringed at Nanjizal Valley on 7th. A probable Booted Warbler was found at nearby Land's End on 7th also.
A Melodious Warbler was reported from adjacent Polgigga on 8th; Icterine Warblers remained thin on the ground for another week, with birds seen only on Cape Clear (Co.Cork) on 5th, Boulmer (Northumberland) on 8th-9th, and Flamborough (East Yorkshire) and Fair Isle (Shetland) on 9th; while one or the other species was seen in Wells Woods (Norfolk) on 8th but eluded a specific identity being determined.
Equally unobliging, an elusive male Subalpine Warbler sp was found on South Uist (Western Isles) on 7th-9th.
The Greenish Warbler remained in Cleveland on the edge of Hunley Hall golf course on 4th; another was found on 10th in Aberdeenshire at Girdle Ness.
Barred Warbler sightings came, back and forth, from Fair Isle (Shetland) on 4th-8th still; and elsewhere in Shetland on Fetlar on 5th and Unst on 7th. East Yorkshire provided sightings on 8th-10th from Kilnsea and Spurn, and on 9th at Flamborough; and one was seen on North Ronaldsay (Orkney) on 8th-10th, joined by a second bird on the latter date. Fair Isle picked up the pace on 8th with three birds noted there; one was trapped that day in Dunkirk (Cambridgeshire). On 10th one was found on Holy Island (Northumberland), with others at Barns Ness (Lothian) and Papa Westray (Orkney).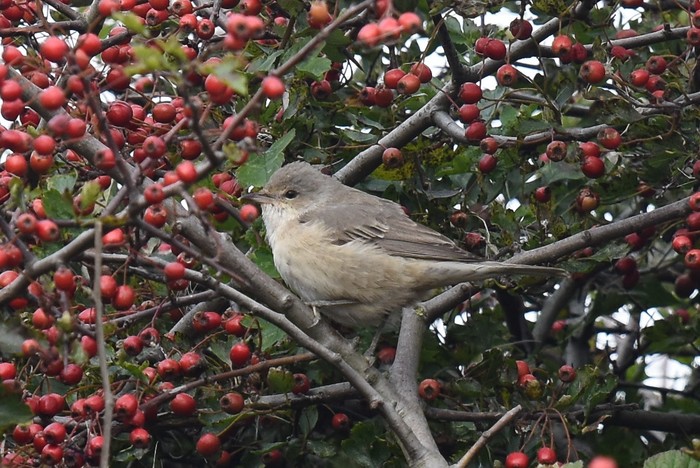 Kilnsea also provided another Marsh Warbler, trapped and ringed there on 7th and still present there the following day; and followed in quick succession by a Blyth's Reed Warbler trapped and ringed there on 9th. Another Marsh Warbler was found on 10th on North Ronaldsay, while another Blyth's Reed Warbler was found on 9th-10th on Blakeney Point (Norfolk).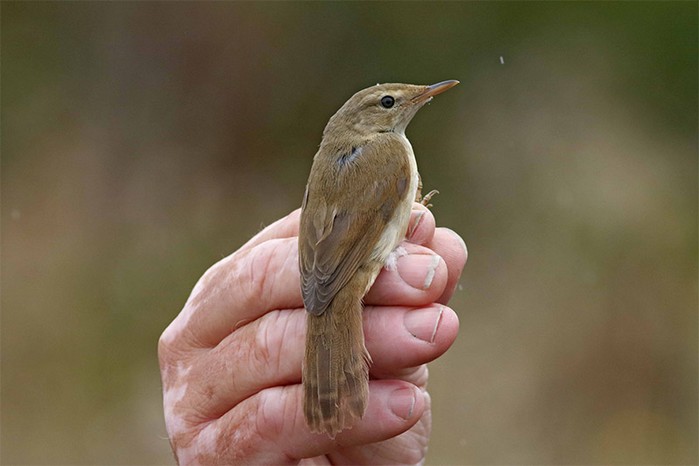 The week's warblers conclude with some of the most welcome warbler news of all – our first Yellow-browed Warbler of the autumn had arrived, at Scatness (Shetland) on 9th – always a firm favourite for all they're getting commoner by the year.
Three Hoopoe were seen this week – these being the Cornish bird at Millbrook still on 4th-5th;another noted flying across the A127 near Basildon (Essex) on 8th; and one on 10th in Norfolk at Halvergate.
Wryneck numbers were down by around half on the preceding week, with around 30 birds in all logged nationally. While most of these were found at typically coastal locations, a few notable exceptions continued to give succour to local patch workers – birds found this week, for example, at Barnes WWT (London) on 5th-7th, Belvide reservoir (Staffordshire) on 7th, and Lake Farm CP (London) on 10th. Three on Fair Isle (Shetland) on 8th were the largest single site tally.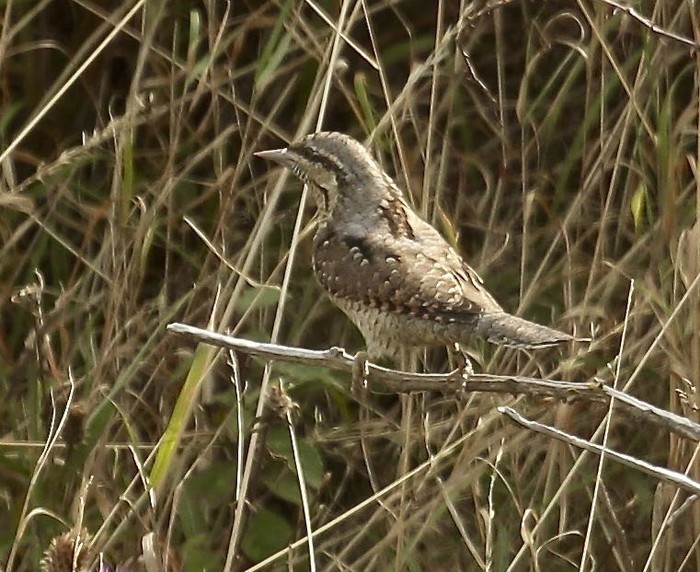 The latter half of the week featured a modest arrival of Red-backed Shrikes, with birds found on Skokholm (Pembrokeshire) on 6th-7th; on North Ronaldsay (Orkney) on 7th and 10th; on Cape Clear (Co.Cork) on 7th-9th; on 8th on St Mary's (Scilly) and further north at Loftus (Cleveland); and on 8th-9th at St Neot (Cornwall) and Holland Haven (Essex). On 10th another was found at Filey (North Yorkshire), one more was on Sanday (Orkney), and another was seen on Fair Isle (Shetland).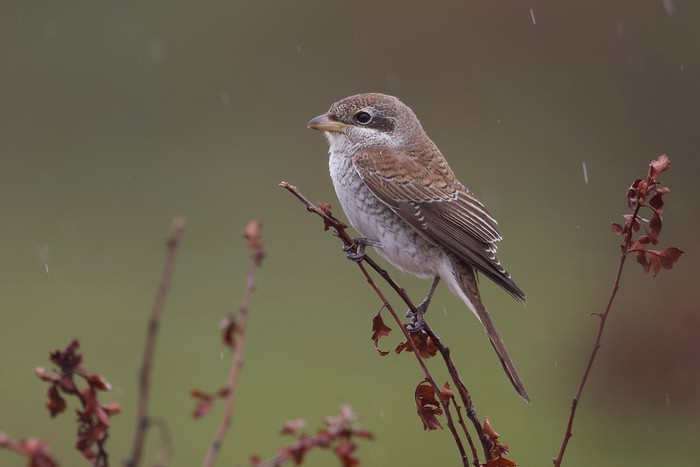 The Cape Clear individual shared the site with the settled juvenile Woodchat Shrike still present there until 9th. Another Woodchat was found on Papa Westray on 10th.
The adult Rose-coloured Starling was still to be found on North Uist (Western Isles) on 4th; a juvenile was found on Anglesey at St Rhwydrus Church on 9th-10th.
More wandering Chough action came to light this week – one at Maidens (Ayrshire) on 6th supplanted in our attention by two juveniles, ringed on Anglesey, that had apparently been at Settle (North Yorkshire) for a week before formally emerging in the news on 6th-10th. A first record for Yorkshire – and with a county list as large as theirs, how often does that happen nowadays?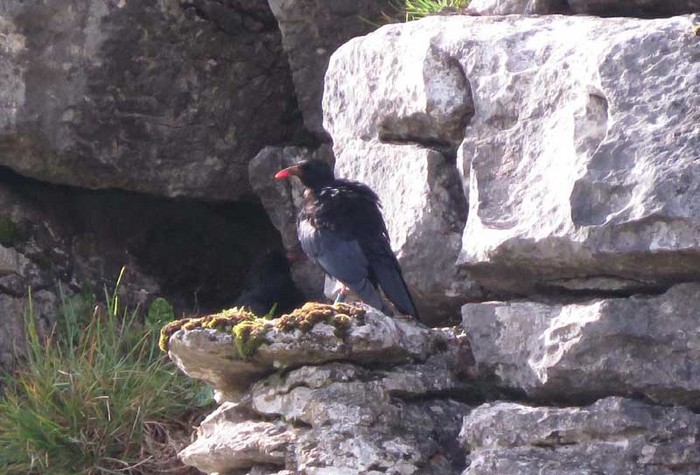 Shetland once more dominated sightings of Common Rosefinches, and nowhere more so than on Unst where four birds were logged on 7th. Further sightings in the archipelago came from Fair Isle on 5th-9th, with two birds present there on 8th; and Whalsay on 8th. Elsewhere, birds were found in Orkney on Westray on 5th; North Ronaldsay on 8th and 10th, with two birds there on the last date; and two were on Sanday on 10th. More sightings came from Cape Clear (Co.Cork) on 7th; and Holy Island (Northumberland) on 8th-10th. One was present on Isle of May (Fife) on 8th-9th, being trapped and ringed on the first date.
Fair Isle (Shetland) made sure another week didn't pass by without a Two-barred Crossbill - a juvenile being seen on there on 4th.
Ortolan Buntings were found this week near the SAFC Academy in Sunderland (Co.Durham) on 7th and on Portland (Dorset) on 8th; and heard passing over Chafford Hundred (Essex) in the early hours of 9th.
In Devon, the male Black-headed Bunting remained on Lundy until 5th.
And we finish in the north where, on Fair Isle (Shetland), a Little Bunting was found on 8th; and another was turned up on North Ronaldsay (Orkney) on 10th.
This week, and this week only, we start our overseas news much, much further overseas than usual. With our minds firmly fixed on Brown Boobies, it's worth noting in the context of recent British and WP sightings that one was seen this week way, way north in Newfoundland (United States) on 7th in the harbour of St John's. Yet more evidence of a changing behavioural pattern in the species that may augur well for further British and Irish sightings in the future – though if this is all a manifestation of changing sea temperatures, that consequence may be less happy than we might selfishly at first assume.
Another Brown Booby, closer to home, was seen this week again off Estace de Bares on 4th. Sticking with Spain, a Brown-necked Raven was found on 4th also at Cape Palos.
In France the Elegant Tern remained at Le Grau-du-Roi on 4th-5th.
Closer to home, a Booted Warbler was seen on Guernsey (Channel Islands) on 8th, swiftly followed by a male Pallid Harrier on there the following day.
A Stejneger's Scoter was found in Estonia at Poosaspea on 6th.
On 8th the juvenile Great Black-headed Gull remained in Poland at Libiaz.
On 9th one of the more keenly anticipated blockers on the British list turned up – in Germany, at Ottelmannshausen – in the chunky form of a Bimaculated Lark.
A Tennessee Warbler was found on Iceland at Reykjanesviti on 8th-10th.
In Israel, the White-throated Bee-eater remained in Eilat on 5th while, at sea off Eilat on 6th, a Swinhoe's Petrel was seen. A sighting that rather neatly brings us almost back to where we began the round up in Cheshire on the evening of 6th…
The coming week looks set to feature a conveyor belt of westerlies of one hue or another so, much as I'd love to think something fabulous from the east was going to crop up – in a year that's already featured a Tengmalm's Owl, this coming week is the anniversary of the Hawk Owl that graced Lerwick and Bressay (Shetland) in September 1983 – we have to, reluctantly, follow the odds.
One would have to think the coming week will involve more Nearctic waders than the week just gone. Not added Pectoral or Buff-breasted Sandpiper to your self-found list yet? Get out there this weekend…
And if we were to aim for the stars? It's the right time for American wood warblers on the move to get blown off course, as both news from Iceland this week and past records of Northern Waterthrush, Black-and-white, Blackburnian and Yellow Warblers for the coming week in Britain and Ireland all attest.
Any of them would be welcome and, while an accessible Blackburnian would rock the British or Irish birding worlds, who'd turn their nose up at another glowing coal of a Yellow Warbler?
Not me.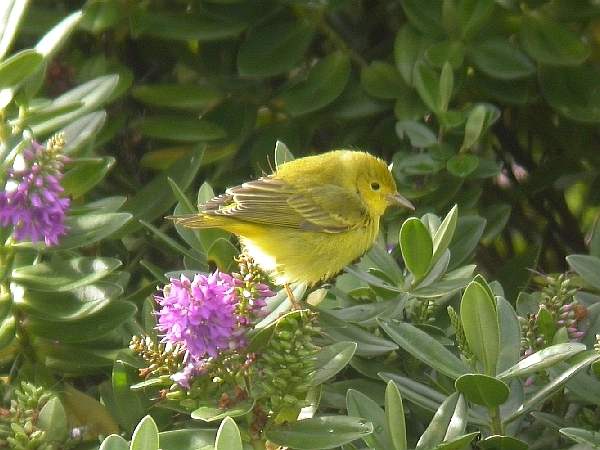 Jon Dunn
11 September 2019
Many thanks to all contributors for their photos and videos this week.
Share this story
Tweet