Weekly birding round-up: 10 - 16 Apr
The week at a glance
Shetland's Tengmalm's Owl emerges from the woodwork again. And again.
While Shetland also lands a spring Red-flanked Bluetail
Kent and Conwy score Iberian Chiffchaffs
And the Great Spotted Cuckoo extends its stay on the Isle of Wight
Mid April, and it's been another cold week. Blue skies, but a chilly one. Spring migration is happening, but we're still not seeing a heap of it here – or at least, not a lot of rarity action. Unless, of course, you happened to be in Shetland, in which case there were fireworks once more…
Tengmalm's Owl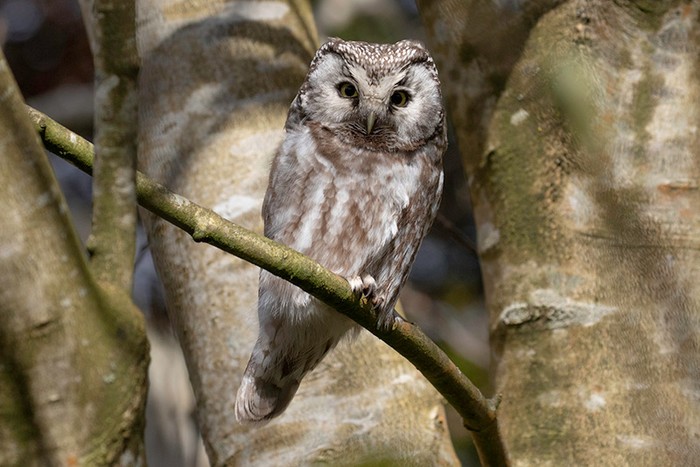 Guess who's back here again? Yes, nailed on hot favourite for bird of the year, the Tengmalm's Owl last seen in Shetland's Lea Gardens on 2nd March was re-found there this week on 10th. Given the amount of tree cover in the area – by Shetland standards, the environs of Tresta are practically an Atlantic rainforest – it's probably been there all along, just waiting for someone to bob in for a look and cross its path.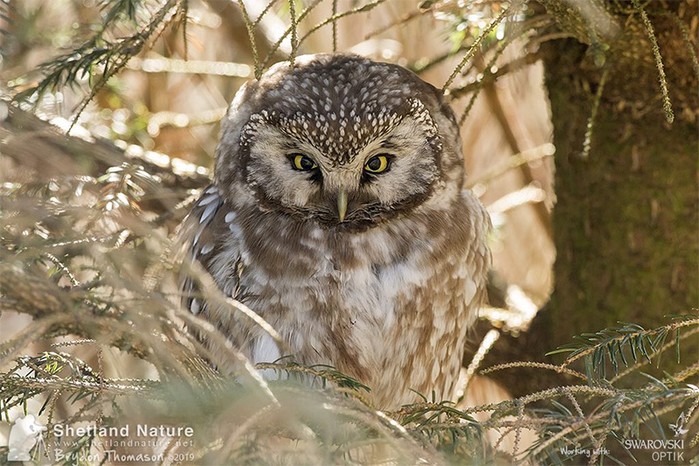 That person was Phil Harris this week and, happily for those who'd either been unable to make it earlier this year, or who'd baulked at the prospect of twitching Shetland in late winter, managed access was arranged for the coming days.
Better yet, it proved to be no flash in the pan, being seen on subsequent days until 13th, at which point it appears to have done something nobody entirely expected...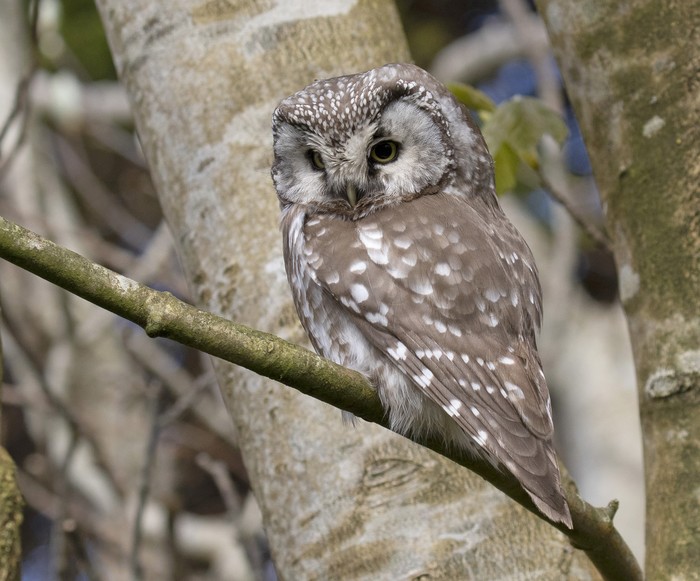 …which was move. What was presumably the same bird upped sticks and decamped more than a few miles to the north-east, being found in the morning of 14th at Valyie on Unst, where it showed well throughout the day, but not thereafter. Had it kept on going that night? If this truly is the last we see of it, what an incredibly welcome and, at times, confiding bird this has been. When will we see its kind again on our shores, I wonder? The long wait for a Hawk Owl, meanwhile, goes on.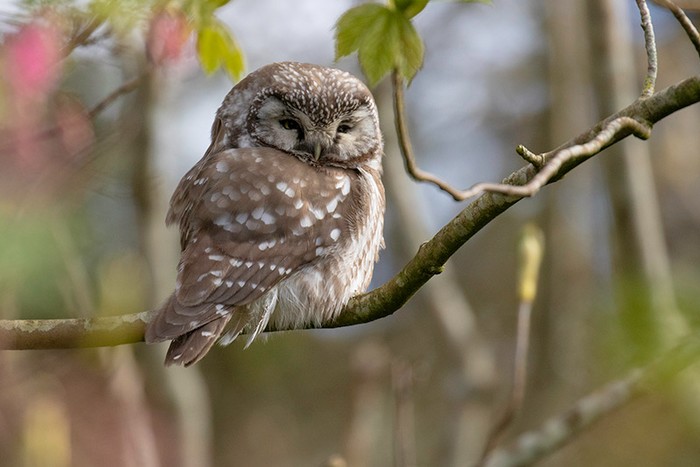 Red-flanked Bluetail
At the risk of sounding like a Fast Show pastiche, aren't Red-flanked Bluetails brilliant? They've travelled a journey in the past three decades from achingly rare and the stuff of dreams to annual staple and, to be honest, still the stuff of dreams.
Because it's a terminally jaded birder who doesn't love seeing one of these gorgeous little chats, let alone finding one for themselves. And nowadays, the latter prospect feels just about attainable for anyone visiting the east coast in autumn in suitable conditions. We've come a really long way from the anxious wait for dawn at Winspit (Dorset) on 31st October 1993.
April has produced some quality birds not least with reappearance of the Tresta Tengmalm's but also this Red-flanked Bluetail found by Rob Brookes at Burrafirth, Unst on 12th. Breaking the usual trend for autumn this bird follows spring records on Fetlar, Skerries and Fair Isle. pic.twitter.com/Sq645rDDVT

— Nature in Shetland (@NatureInShet) April 15, 2019
Finding one in spring, however, is a different kettle of bluetails altogether. Of 185 accepted records nationally to the end of 2016, we've just four records from Aprils past. What a pleasant surprise then to hear of the Red-flanked Bluetail at Burrafirth on Unst (Shetland) on 12th. As they get more commonplace in autumns, I guess it stands to reason that they're going to be found more often in spring, finds that will for a long time to come retain the genuine shock of the totally unexpected for the fortunate finders.
Iberian Chiffchaffs
Rather like the aforementioned Red-flanked Bluetail, Iberian Chiffchaff has moved from drop-everything rarity to more or less anticipated annual arrival on these shores. Good god, they've even bred here. Still, the arrival of one in Kent this week was a welcome chink of light in an otherwise fairly quiet week in English birding terms.
Found singing in the morning of 16th at Monks Wall NR, this follows a couple of candidates earlier in the month – not least the bird trapped and ringed on Portland (Dorset) on 1st, which time and DNA will presumably prove one way or another. Portland, of course, was the setting for the bird that was the first of its kind in the UK for many of us, the long-stayer at Verne Common on 25th April – 8th July 1999.
Wales, meanwhile, was the setting for the UK's first breeding record for the species, a pair that reared seven young somewhere on The Gower (Glamorgan) in 2015. Which leads us, rather neatly, to the bird singing in Conwy near Penmachno on 16th. With 52 accepted British records to date, it's fair to assume there will be more British records before spring 2019 is out. And what of Ireland? Surely due another someday soon.
Great Spotted Cuckoo
With a stay that shows no sign of ending any time soon, I should perhaps be relegating the settled Great Spotted Cuckoo at Ventnor on the Isle of Wight to the ranks of the general Round Up. But I just can't bring myself to do it – it's such a damn funky beast it deserves to stay up in the headlines. I bet there are a few birders out there who've eventually cracked and made the short sea crossing to go and see it…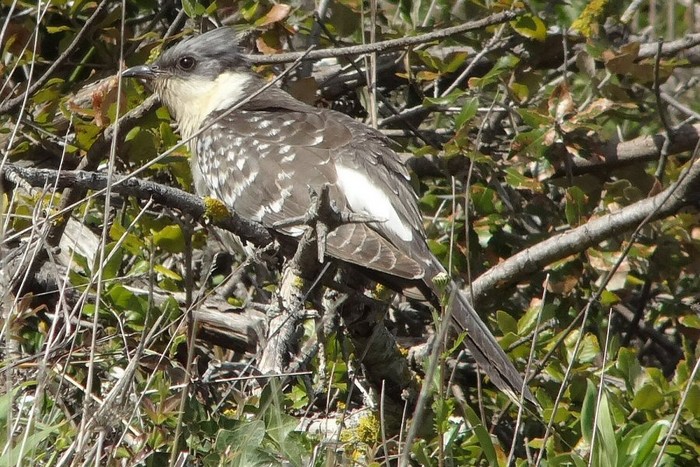 Still present there on 14th, at this rate it threatens the longest staying record of recent times, the 35 day bird that took up residency on Portland (Dorset) on 13th May – 16th June 2016. The longest stayer of all time, a 69 day bird at Stithians reservoir (Cornwall) in 1968, remains a way off yet…
Seabird news was dominated once more this week by the now expected annual spring occurrence of White-billed Divers off the coast of Scotland. Portsoy (Aberdeenshire) once more was the locus mirabilis with six birds logged off there on 11th, but Cullen (Moray) was giving it a run for its money with four birds noted there on 14th and three still present on 16th. Further Moray sightings comprised duos off Burghead on 11th and Lossiemouth on 14th, with four off Burghead on 16th; and one was reported from Nairn (Highland) on 11th. Bucking all of this Scottish largesse, a single bird was seen between Cleggan and Inishbofin (Co.Galway) on 10th.
A Pomarine Skua was noted off Tarbat Ness (Highland) in the morning of 15th; four more were logged in Highland on 16th in Sinclair's Bay.
Starting once more with Glossy Ibises, sightings rose into double figures once more in Britain and Ireland this week. Starting in the latter country, Co.Wexford was where it was all going on – on 10th one was seen over Churchtown, followed by a bird at Lady's Island Lake; two were at Nethertown on 11th; one remained at Rosslare on 12th-13th; and two were present at Tacumshin on 12th-13th.
Settled birds remain at a handful of English and Welsh sites – at Marazion RSPB (Cornwall) on 10th-16th; Fishlake Meadows HIWWT (Hampshire) on 10th-16th; at Shapwick Heath NNR (Somerset) on 11th; and at Newport Wetlands NNR (Gwent) on 10th-13th. Further sightings this week came from over Tytherington (Gloucestershire) on 11th, and at Camber Sands (East Sussex) on 12th-16th.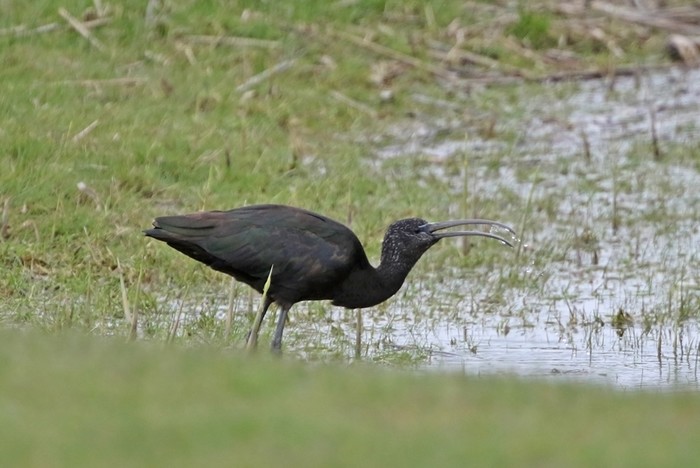 I'm very much looking forward to the time when wandering wild White Storks aren't confusing matters with those pioneering/feral ones from closer to home. Or should that be the other way around? If wild ones were as genuinely rare as wild Great Bustards the decision to largely ignore the species would be so much simpler. As it is, though… this week there were some White Storks again. (A point at which it is tempting to move on to other things, but what the heck. Have it). One was wandering around the Kent coast on 10th; a green-ringed bird was seen at Minsmere RSPB (Suffolk) on 11th; London got in on the action on 12th, with a possible seen over King George V reservoir and then a bird at Rainham Marshes RSPB; on 13th one was seen over the Brede Valley in East Sussex; on 14th one passed over Winchester (Hampshire); and on 15th one flew over Addlestone (Surrey). As the week drew to a close, London provided sightings again from Rainham Marshes RSPB again, as well as over Wanstead, Wood Green and Finchley. At least some of those must be wild.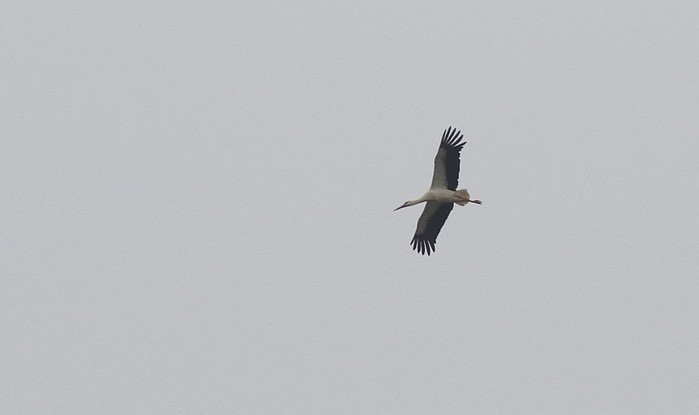 Around 300 Cattle Egrets were again logged nationwide. I think once this year's breeding season is over they're going to follow Great White Egrets and Spoonbills into the happy hinterland that's not in the weekly round up. And this is, of course, good news. Our highest tally this week came from their Somerset stronghold at Sharpham Park where 86 birds were noted on 10th.
A fresh face provided some variety on 15th – a Purple Heron seen at West Rise Marsh in East Sussex; while on 16th a Night Heron was on St Mary's (Scilly).
Wandering Common Cranes were once more a feature this week, from Dungeness in the south – where a bird remained on 10th-16th – to Yesnaby on the Orkney mainland on 13th-16th in the north. Quiet for a while, we had another high count this week from March Farmers (Cambridgeshire) where 22 birds were noted on 13th.
A Spotted Crake at Shalford Water Meadows (Surrey) on 10th was followed by a more settled and obliging individual at Potteric Carr YWT (South Yorkshire) on 11th-16th, and another at Saltholme RSPB (Cleveland) on 16th.
The passing of winter was marked by more than just the sudden disappearance of Waxwings this week – blink later on and you'll miss them – as our honkers and quackers began to mark the changing seasons. Particularly so with the geese, as there were precious few scarcities or rarities reported this week.
Quickly then… the possible Grey-bellied Brant candidate remained at Marshside RSPB (Lancashire) on 11th-15th; and a Black Brant was kicking around the Kilnsea Wetlands and Spurn area on 12th-16th.
Our only example of The Goose Formerly Known As Canada was again the small Canada-type still present on Barra (Western Isles) on 10th-12th.
Three American Wigeons were seen this week – the drake still present at Rutland Water (Leicestershire) on 10th-12th, another drake at the National Wetlands Centre WWT in Carmarthenshire on 13th-16th, and one at Leighton Moss RSPB (Lancashire) as the week closed on 16th.
In Highland the drake Blue-winged Teal was still present at Mellon Charles on 10th-16th, and the drake Black Duck was still at Strontian on 10th-16th.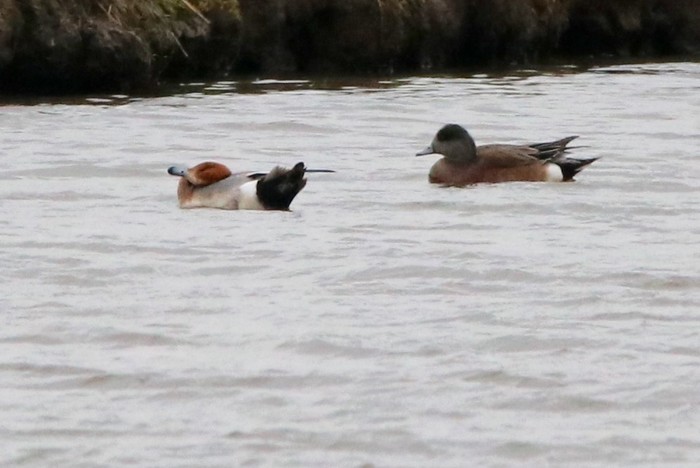 Numbers of Green-winged Teals remained steadfast with some 10 again noted nationally this week, but there were some new arrivals to be had amongst the diving ducks…
Starting in Orkney, a drake Lesser Scaup was found on Bea Loch on Sanday on 10th-14th; while the young drake remained at Blagdon Lake (Somerset) on 10th-16th also.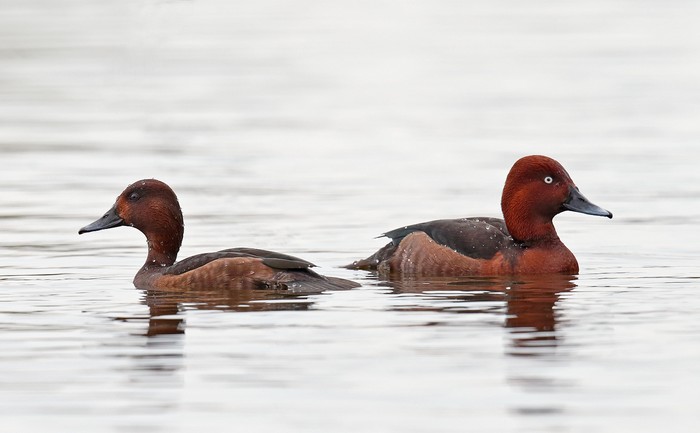 Two Ferruginous Ducks were fresh in at Attenborough (Nottinghamshire) on 10th-16th, while another drake was to be seen on 13th-16th at Silverlink Park LNR (Northumberland).
Ring-necked Ducks meanwhile crept back into double figures once more nationally, with the three birds on Devon's Slapton Ley still on 10th-13th again the highest single site tally.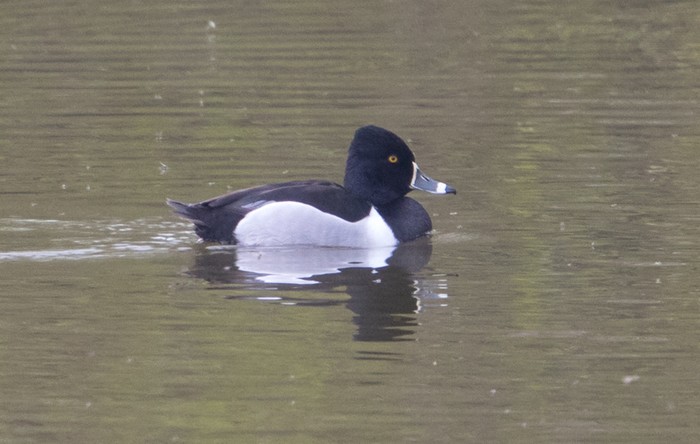 Back to Scotland, where the King Eider remained at Nairn (Highland) on 10th-16th, and two Surf Scoters were still to be seen, minus their rarer brethren, off Musselburgh (Lothian) on 11th-16th.
We conclude the section with both our regular honorary waterfowl, the adult Pied-billed Grebes, still present on Loch of Spiggie (Shetland) again on 11th-13th and Loch Feorlin (Argyll & Bute) on 13th.
We kick off our scamper through the week's shorebirds with the return of an absent friend – the Temminck's Stint seen once again in Cornwall at Chapel Amble on 10th-13th.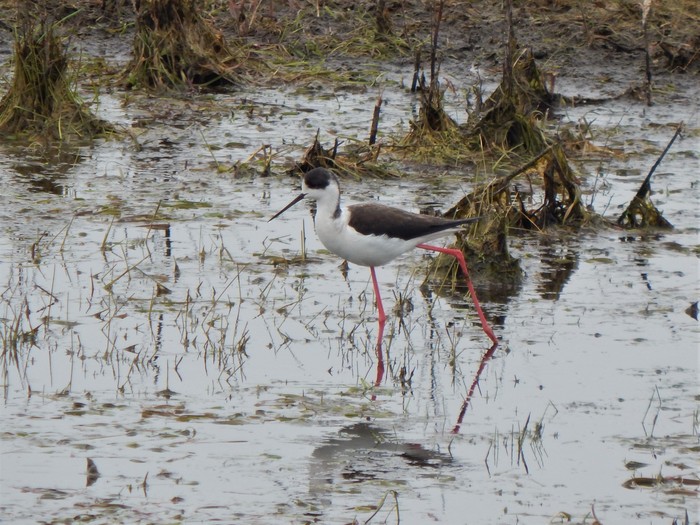 Temminck's Stints should feel like a spring herald, though of course this overwintering bird has completely bucked the trend. More traditional spring fodder came in the most pleasing of packages this week – more Kentish Plovers, hot on the heels of the prior week's bird in Kent, this time a female seen at Cuckmere Haven (East Sussex) on 14th, and a male at Havergate Island RSPB (Suffolk) on 16th; and the welcome return of the first of the year's Black-winged Stilts, a pair of birds present at Vange Marsh RSPB (Essex) on 12th-13th, and one further north in Argyll & Bute at Heylipol on 16th. Here's to plenty more pairs in the coming weeks…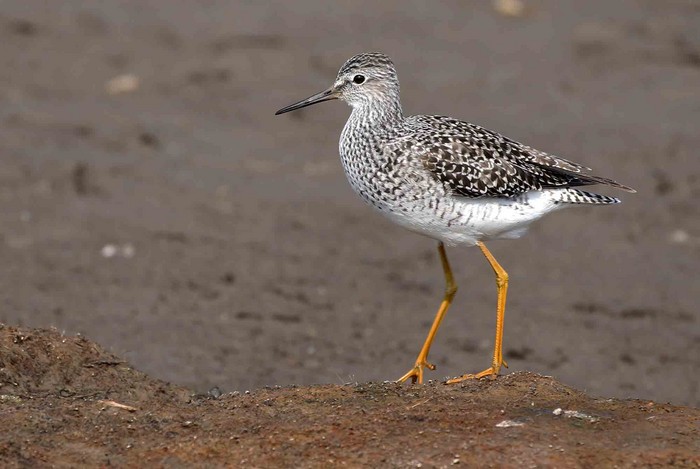 More lingering quality from the winter just gone remained on offer across the region. In England, the Lesser Yellowlegs was still to be found picking its way around Lodmoor RSPB (Dorset) daily on 10th-16th; and the Long-billed Dowitcher was still to be seen at Frampton Marsh RSPB (Lincolnshire) on 10th-16th.
Finally, in Ireland, the Spotted Sandpiper was seen once more at Ferrybank (Co.Wexford) again on 13th-15th.
Bonaparte's Gulls aren't the rarest of the larids, with some 230 prior British examples, but inland records are a rather different story. Take Oxfordshire – the county waited until 2000 for its first record, and to date boasts only four birds seen, the last of which was an adult at Farmoor reservoir on 11th-18th April 2009.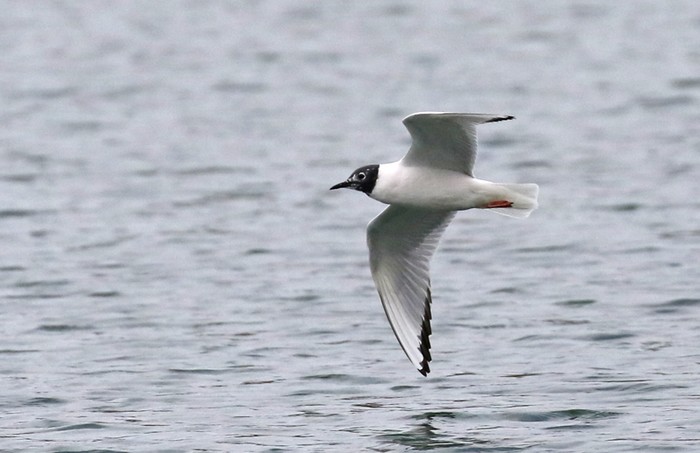 In fact, all of Oxfordshire's Bonaparte's Gulls have been spring birds at Farmoor, a coincidental bit of site fidelity that was broken this week by the county's fifth record, an adult bird in the perhaps more unlikely surroundings of Blenheim Palace on 12th-16th – a magnificent and surely rather unexpected find.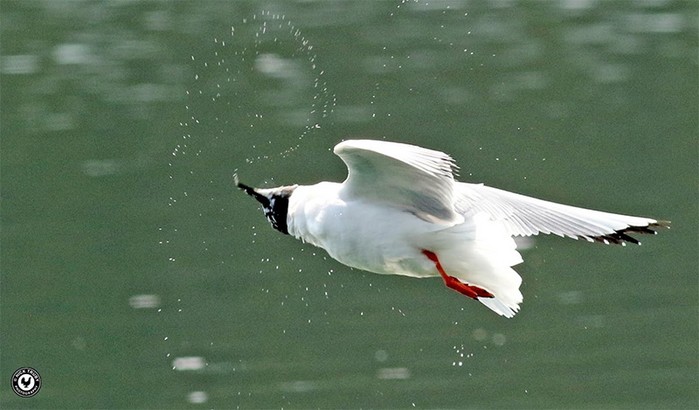 We've just the one Ring-billed Gull reported this week – surely there were still one or two others lurking out there? – at Cashen (Co.Kerry) on 10th.
White-wingers continued their spring thaw, with dwindling numbers of both Iceland and Glaucous Gulls - around 20 examples of each respectively were noted nationally. Just one Kumlien's Gull was noted during the week – the second-winter at Great Livermere Lake (Suffolk) on 14th.
The past few weeks and months have been good ones for English sightings of White-tailed Eagle, and that trend continued this week with a slew of fresh records – one was tracked through East Anglia on 11th, being seen in Suffolk at Blythburgh, Reydon, Covehithe and Oulton Broad, and latterly in Norfolk at Winterton in the afternoon; on 12th a bird was logged at Wooler (Northumberland); and on 13th one was seen well inland passing over Upton Warren NR (Worcestershire).
This week's Black Kites were restricted to a couple of south-easterly sightings on 10th, at Capel (Surrey) and Wakehurst Place (West Sussex), and a further bird on 15th over Colchester (Essex) before, on 16th, a small flurry of action – one over West Bergholt (Essex) and another in East Yorkshire around Easington and Sammy's Point.
In Norfolk, the juvenile Rough-legged Buzzard remained at Weeting Heath NWT on 10th, with a further sighting at Sculthorpe Moor NR on 12th again, followed by a probable there the next day. On 13th one was seen once more on Orford Ness (Suffolk).
A white Gyr was reported from Fanad Head (Co.Donegal) on 15th.
On 11th and again on 16th a Snowy Owl was seen on Holyhead Mountain (Anglesey).
The door for spring migrants remains propped ajar for another week, not yet flung fully wide open, but with just enough hints of what's to come with a fair following wind to keep our hopes alive.
Perhaps the perfect example of that this week was the handful of Blue-headed Wagtails reported – on 12th, Farmoor reservoir (Oxfordshire) may not have had another Bonaparte's Gull, but it did sport one of these colourful wagtails; while that day another was seen in North Yorkshire at Scorton GPs; on 14th a bird was logged on St Agnes (Scilly); and on 16th one made it north to Letham Pools (Fife), with a possible that day back on Scilly on St Mary's.
A possible Eastern Yellow Wagtail was seen on St Mary's (Scilly) in the afternoon of 16th.
The Winterton (Norfolk) Hoopoe remained there for another week, present until 15th, while another was seen in Hertfordshire on 12th at Bishop's Storton. Three further birds were reported on 13th at Rocester (Staffordshire), on 14th at Nethy Bridge (Highland), and on 15th at Yatton (Herefordshire). One was present on St Mary's (Scilly) on 16th.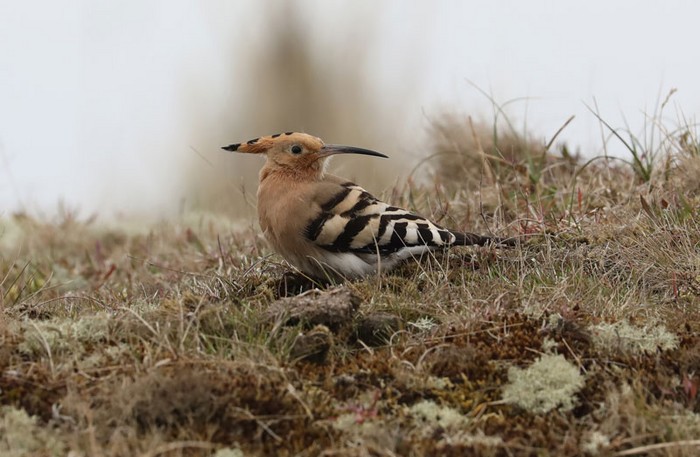 A trio of fresh Red-rumped Swallows provided colour the breadth of southern England, from Marazion RSPB (Cornwall) on 13th-14th to Stodmarsh NNR (Kent) on 14th-15th, via Portland Bill (Dorset) on 12th. On 15th one made it a little further north, being seen briefly at Lamby Lake (Glamorgan).
Wrynecks were found this week at Whale Chine (Isle of Wight) on 13th and on the The Lizard (Cornwall) on 16th.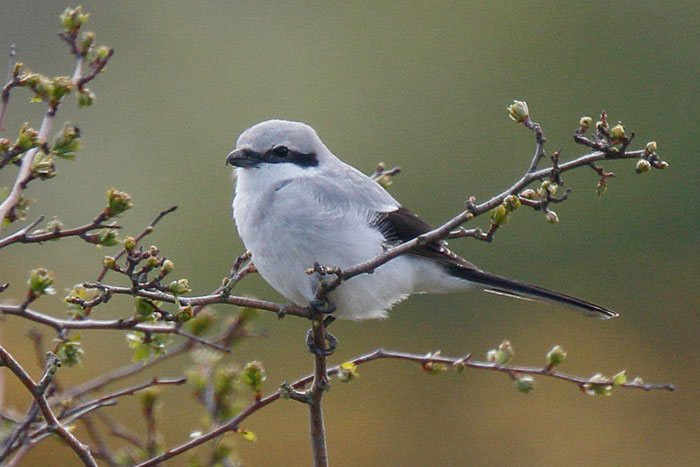 The male Pallas's Warbler at Coverack (Cornwall) was still singing there on 11th-12th; Yellow-browed Warblers remained at Helston (Cornwall) on 11th-13th and once more at West Molesey (Surrey) on 12th.
Quiet for much of the week, the singing Savi's Warbler was once more heard from at Minsmere RSPB (Suffolk) on 16th.
A possible eastern stonechat sp was discovered in the evening of 16th at Land's End (Cornwall). One to watch in the coming days, perhaps.
On 13th a Bluethroat was seen, briefly, on Fair Isle (Shetland).
11 Great Grey Shrikes were seen this week – once more a mix of established wintering birds still on station, and some migrant action too. The week kicked off with sightings at Wisley (Surrey) on 10th and Morston (Norfolk) on 10th-16th; settled birds remained at Hanging Houghton (Northamptonshire) on 10th-15th, Chorley (Lancashire) on 10th-16th, Emsworthy Mire DWT (Devon) on 10th-11th, and Llyn Brenig (Denbighshire) on 10th-12th; a recent arrival was still on Fair Isle (Shetland) on 11th; further sightings came from Swinsty reservoir (North Yorkshire) on 11th-12th and, in Suffolk, a possible at Elveden on 11th was followed by sightings from Blackheath on 12th-14th and Blyford on 14th. On 15th-16th another was seen at Fen Drayton Lakes RSPB (Cambridgeshire), and one was reported on 15th near Southrepps Common (Norfolk).
The wandering Pied Crow was on the move again this week, relocating many miles to the west from its former recent East Sussex haunts. This week it turned up at Cot Valley (Cornwall) on 10th, and remained lobbing around the Land's End area until 14th. Where will those itchy feet take it next? And is anybody taking it seriously?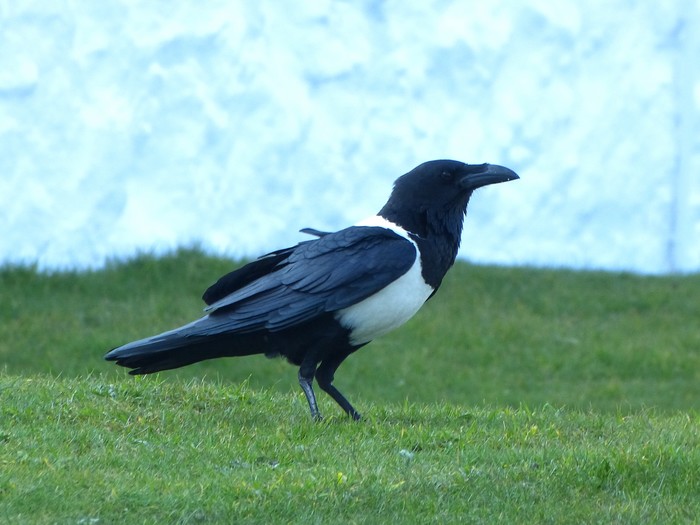 Sure enough at this point in the year's proceedings, Waxwings have suddenly become a scarce commodity. Scarce enough, indeed, to stop reporting generalities and get down to specifics – this week, these being solely six birds in Inverness (Highland) on 11th; some 13 birds at Longbenton (Northumberland) on 14th; on 15th, five birds at Cley (Norfolk) and some 15 in the Abernethy Forest (Highland); and on 16th 24 birds present in the Findhorn Valley (Highland).
An exilipes Coue's Arctic Redpoll in a Lincolnshire garden in Lincoln on 10th had been present there for the previous 16 days – quite the garden tick, that one.
Shetland's modest burst of migrant activity at the start of the week ushered in another Common Rosefinch, at Hoswick on 10th.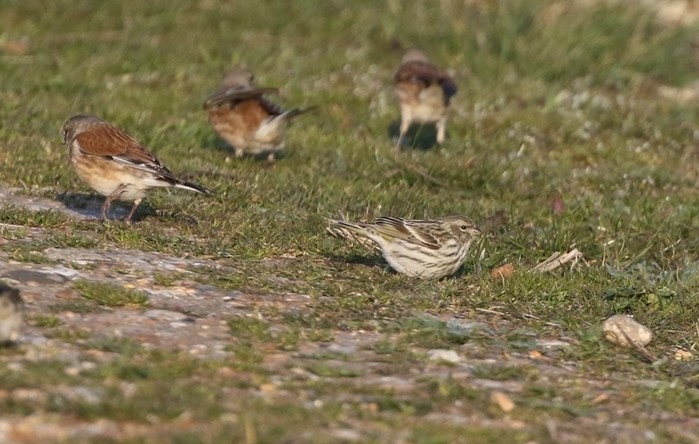 A singing Serin on Portland (Dorset) on 10th was followed by more or less daily sightings elsewhere – at Winspit (Dorset) on 11th; Dungeness (Kent) on 12th; on 13th at Middle Hope (Somerset); in Ashford (Kent) on 14th; and on 16th at North Foreland (Kent).
Finally, a report of a Little Bunting at Nunnery Lakes NR (Norfolk) on 10th was followed by one seen in Oxfordshire (the county having a good spell this week) at Pinkhill NR on 13th.
For a little while this week I dared to think that the Wageningen Nutcracker in Holland might have finally moved on… and then, on 14th-15th, there it was again, and I realised that perhaps nobody's bothering to look for it or report it now it's been there for such a long time. Other Dutch news was unusually thin on the ground compared to recent months – though further sightings of Black-shouldered Kite, at Dronten and Zwolle on 14th, continues northern Europe's recent run of good form for the species. A promising run extended, on 13th, by another bird seen in Poland at Markowice, the seventh Polish record.
On the wistful subject of birds we'd like to see in the UK sometime soon, and absent from the news for a little while, the
Pygmy Cormorant
was again seen in Belgium at Parc Domaine du Val Duchesse on 14th.
In Germany this week the Black-browed Albatross remained at Sylt on 10th-13th. Further down the English Channel, the American Royal Tern remained stationed on Guernsey on 12th.
A well-photographed and sound-recorded Wilson's Snipe at Tierpp on 14th-16th was a national first for Sweden – listening to that and committing it to memory is surely compulsory for any of us fortunate enough to live within earshot of regularly displaying Common Snipe…
More food for thought came from France this week where the recent male Ruppell's Warbler was followed, on 12th, by a first-summer male bird at Toulon. Yes please. Naturally, I find it hard to muster such unbridled enthusiasm for the drake Hooded Merganser seen at Ambon on 11th, for all it was un-ringed. Our French trip concludes this week at Sainte-Martin-la-Garenne where, on 12th-15th, a Sociable Plover was to be seen.
If I hanker for another British Ruppell's Warbler, I think I'd give a minor organ for another Blue-cheeked Bee-eater. One was seen this week in Spain at Medina Sedonia on 11th; while on 13th a Tristram's Warbler was found at L'Albufera de Valencia, the first record for mainland Spain.
Portugal scored a Steppe Eagle at Castro Verde on 13th-14th.
Before we head much further afield, Romania served up a couple of decent buntings this week – a Pine Bunting present on 13th for its seventh day at Sfantu Gheorghe, and joined there by a Little Bunting trapped and ringed on 13th also.
On the subject of birds that have been present a little while, we heard this week about a Belted Kingfisher present on Iceland's River Varma on 10th… for its 144th day.
On the Canary Islands the Dwarf Bittern remained in residency on Fuerteventura on 13th.
Finally, a Bateleur was seen north of Eilat (Israel) on 10th.
I'm tentatively starting to find a little form on the prediction front this year, though perhaps last week's white Gyr wasn't an entirely outrageous bit of prognostication. So, to the coming week…
A week in which, if the weather forecasters are to be believed, it's going to be scorchio this Easter weekend. That's music to the ears of supermarkets selling beer and barbecues, bad news for Easter eggs in the boots of hot cars, and potentially excellent news for birders.
Surely all of these easterly winds, backing around into the south, will deliver something or other a touch more exciting than a Blue-headed Wagtail? (No offence, Blue-headed Wagtails, but, y'know…)
I fancy something with a faintly south-easterly flavour. Maybe a Little Bittern, a Marsh Sandpiper, more Black-winged Stilts…
Or, if we're going passerine and long shot, maybe a Calandra Lark on one of the islands, or an early Black-headed Bunting? We're just starting to get to the point when spring could, finally, hot up in the birding stakes as well as in terms of the mercury rising.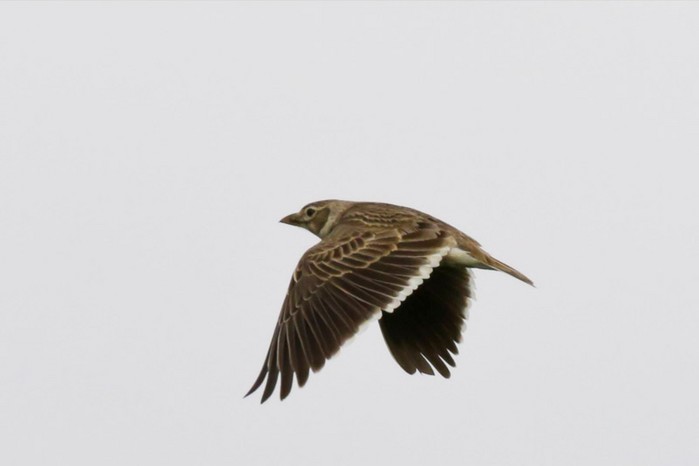 Jon Dunn
17 April 2019
Share this story
Tweet