Weekly birding round-up: 27 Mar - 3 Apr
The week at a glance
The Great Spotted Cuckoo remains a fixture on the Isle of Wight
The week began with a high pressure system anchored firmly over the south of Britain, meaning a spell of fine weather for most of the country with the only storms on the radar being those raging in Westminster and the more febrile of the national papers.
Predicting what's happening with Brexit makes anticipating the coming week's headline birds look like a walk in the park – more of which in due course as we look to colder weather in the coming week.
Time now for some classic escapism with the past week's Rarity Round Up, a week that saw the welcome return of BST – the lengthening days of Birding Summer Time are back with us once more.
Great Spotted Cuckoo
They say that one swallow does not a summer make, but the writers of natural history aphorisms are strangely silent on the subject of Great Spotted Cuckoos and spring. As far as I can see, any spring that features a showy, long-staying Great Spotted Cuckoo is absolutely made, end of.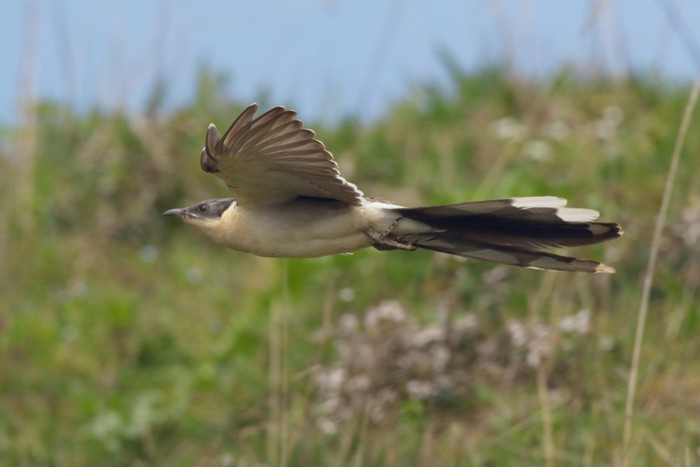 Present since 21st March, said colourful cuckoo extended its residency at Ventnor (Isle of Wight) this week right through to 2nd, gorging itself silly on the local Brown-tail Moth caterpillars.
The only fly in the ointment, really, was the bird's location – and that's only insofar as it wasn't completely convenient and easy to get to for mainland British birders. I know, getting to the Isle of Wight isn't exactly a moon shot, but all the same – there's an element of hassle that a quick spin down to, say, Dunge doesn't entail.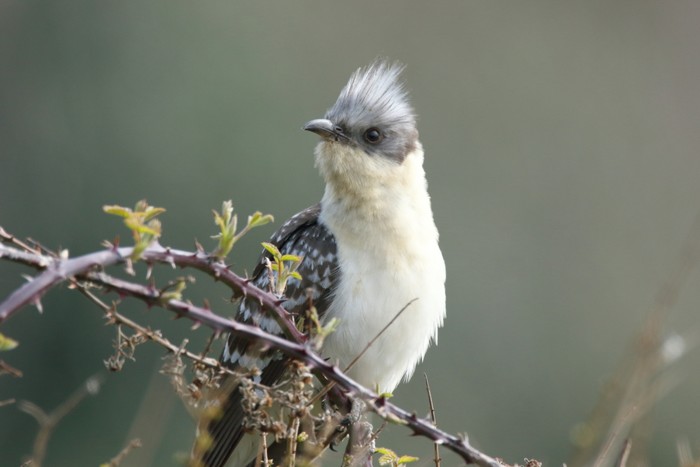 Then again, it's a good excuse for a day out in extremely pleasant surroundings. It's all good, isn't it? Unless you happen to be a juicy caterpillar.
And this was not, of course, the only capacity in which the Isle of Wight featured in the birding news this week, as we heard the news that Natural England has issued a licence for the reintroduction of White-tailed Eagles back onto the island – said to be the last place in England in which they formerly bred, way back in 1780.
As we might have reasonably expected at this time of year, a relatively quiet week on the seabird front has just concluded. We'll start with the wintering adult Pacific Diver in Co.Cork's Crookhaven again on 28th before moving onto the now expected rising numbers of early spring White-billed Divers...
Portsoy (Aberdeenshire) will doubtless host more before the coming weeks are out, but for the days just gone could boast two birds there on 31st. Elsewhere that day six were logged off Papa Westray (Orkney), and a single was on Little Loch Broom (Highland). On 2nd three birds were present off Cullen (Moray).
A Balearic Shearwater was seen passing Bempton Cliffs RSPB (East Yorkshire) on 31st.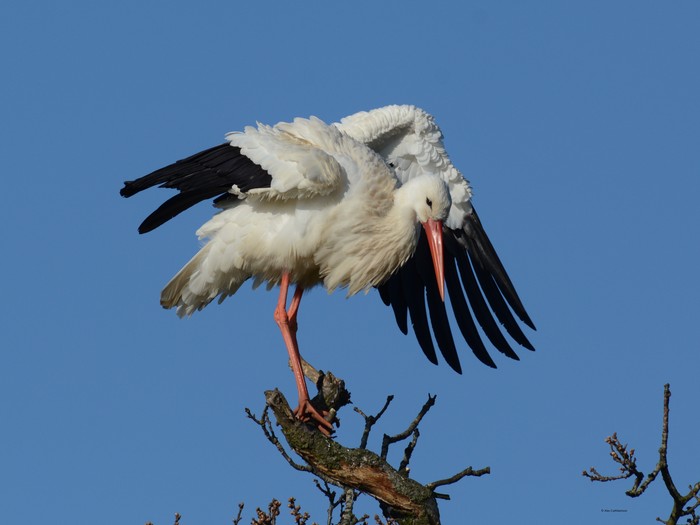 Argh. White Storks… It's easy for your own correspondent to be sniffy about them in the long months of winter when I can reasonably assume that most records now relate to some sort of human intervention, but in spring… yeah, some of them, surely, must relate to wild birds.
Maybe.
Wandering birds were seen over various sites in Warwickshire and Northamptonshire on 27th and 28th; 29th heralded sightings from Gloucestershire, Hertfordshire and Kent. On 30th more wanderers popped up in Northamptonshire (again), East Sussex (a county completely tainted by the reintroduction program for the species) and Cheshire – the latter county finally getting a semi-settled bird at Burton Mere Wetlands RSPB on 30th-31st. The final day of March featured one of the oddest records of the past week, a White Stork found in a garden in Lanreath (Cornwall).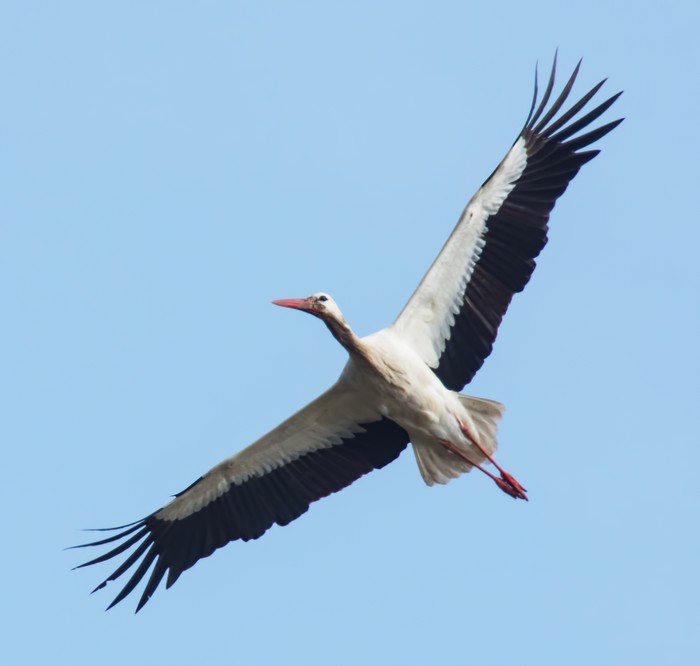 Speaking of good long-legged garden birds, my absolute favourite bird record this week has to be the Night Heron that Martin Sutherland recorded passing over his Sandwich Bay garden just after midnight early on 31st. (Technology opening up exciting new possibilities for keen birders to work on their garden lists. Oh, and enabling citizen science, obviously). Another bird was recorded intermittently on St Mary's (Scilly) on 27th-31st and, on 2nd, a possible bird was seen back in Kent near Hythe.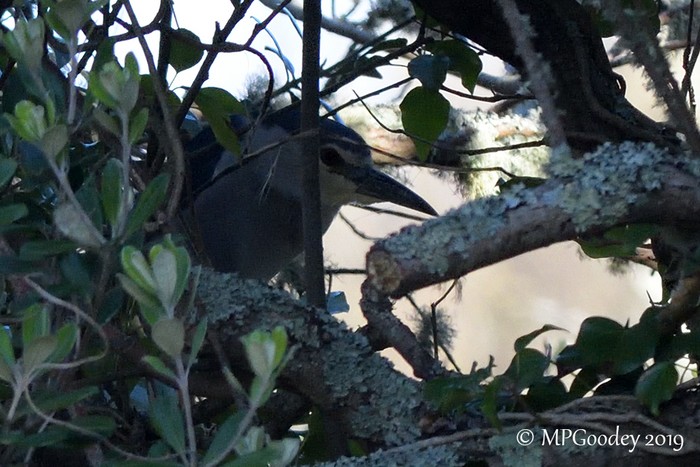 What to say about Cattle Egrets? There were, once more, an absolute load of them recorded again this week, auguring well for a breeding season of serious consolidation. If around 400 birds are being seen in any given week at the moment, there will undoubtedly be others that are going quietly unnoticed. The unmissable peak count from a single site came once more from Sharpham (Somerset) on 28th with at least 110 birds noted there that day, followed by Walmsley Sanctuary CBWPS (Cornwall) on 30th with a modest(!) tally of 68 birds.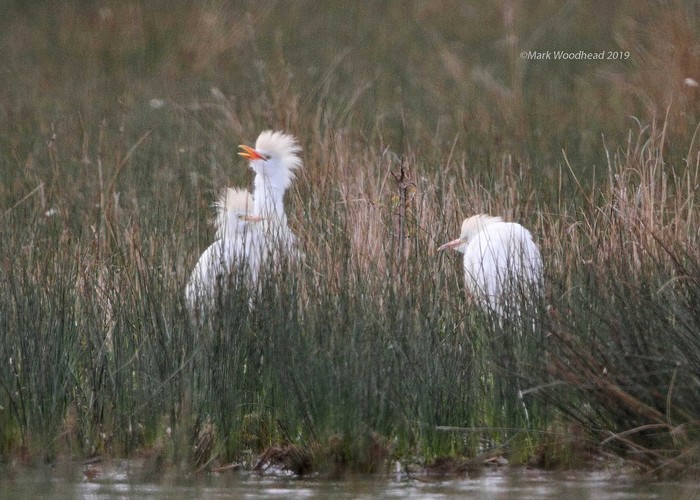 Glossy Ibises continued to hang around – one can only hope they're going to follow in other long-legged beasty footsteps and breed one of these days. For now though, not getting ahead of ourselves, three birds remained in Ireland at Clonakilty (Co.Cork) on 31st-1st, with three also in Co.Cork at Garryvoe on 2nd; one remained in Wales at Newport Wetlands NNR (Gwent) on 27th-1st; and, in England, one remained on the Somerset Levels at Shapwick Heath NNR and Ham Wall RSPB on 27th-1st; one was still at Marazion RSPB (Cornwall) on 27th-2nd; another remained in Hampshire at Fishlake Meadows HIWWT on 27th-2nd; and one remained in the Cuckmere Haven (East Sussex) area on 27th-1st. On 1st one was noted in Cornwall at Tregarthen.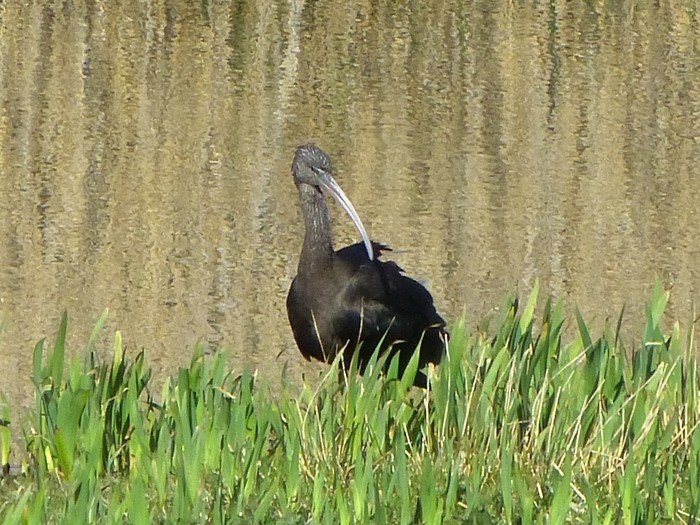 Finally, Common Cranes were doing the wanderings this week with singles, duos and trios seen from the south coast up to Highland in the north. The week's stand-out record, however, was from Wales where, at Abergwili (Carmarthenshire) on 28th, a party of some 20 birds passed over in the evening.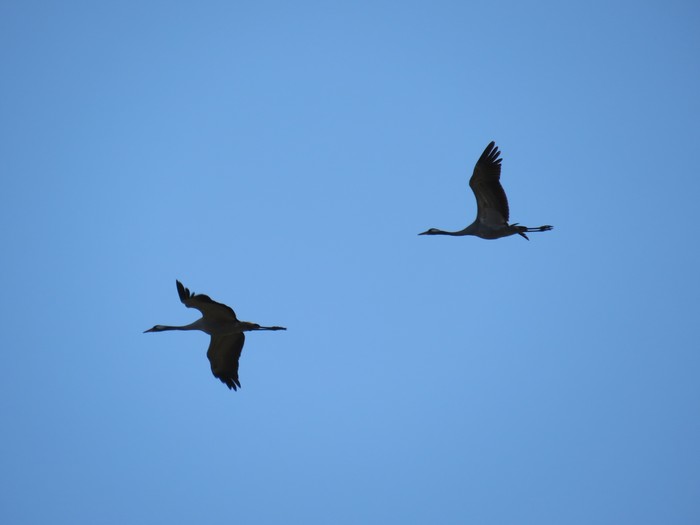 Co.Wexford was where all the Snow Goose action was happening this week – whichever flavour you fancied, there was something on offer to suit all tastes. A blue morph a Lady's Island Lake on 29th-31st was complemented by the white morph still present at Tacumshin on 30th.
Black Brants were logged this week at Spurn (East Yorkshire) still on 27th-28th, Farlington Marshes (Hampshire) on 27th, and Roa Island (Cumbria) on 31st-1st.
The possible Grey-bellied Brant was still present at Lurgangreen (Co.Louth) on 31st; with another possible candidate lobbing around the Marshside RSPB area (Lancashire) on 30th-1st.
The latter area also played host to a canadensis Atlantic Canada Goose on 30th-1st. Further examples of The Goose Formerly Known As Canada comprised two presumed interior Todd's Canada Geese trapped and ringed on Co.Mayo's Inishkea Islands on 30th; the small Canada-type still present on Barra (Western Isles) on 28th-1st; and a hutchinsii Richardson's Cackling Goose on North Uist joined, on 2nd, by a second fresh bird, with a small Canada-type still there also.
Ducks served up a decent variety this week, with a bit of just about everything, including some seasoning of uncertainty and mild controversy - Wood Duck at Acaster Malbis (North Yorkshire) on 27th, anyone? If that's too hard to swallow, at least the possible drake White-winged Scoter seen in Gruinard Bay (Highland) on 31st has the virtue of not being a favourite ornamental ducky with the captive wildfowlists…
On safer ground, the drake Black Scoter remained off Rossbeigh (Co.Kerry) on 29th, while the faithful drake Surf Scoter was still present off Musselburgh (Lothian) on 28th-1st.
Sticking with sea duck, the female King Eider was again seen at Ynyslas (Ceredigion) on 31st, while a drake was seen on 31st-2nd at Nairn (Highland).
Staying in Highland for a moment, the drake Blue-winged Teal was still on offer at Mellon Charles on 27th-2nd; and the drake Black Duck was getting ready to further dilute the local Mallard gene pool at Strontian on 29th-31st.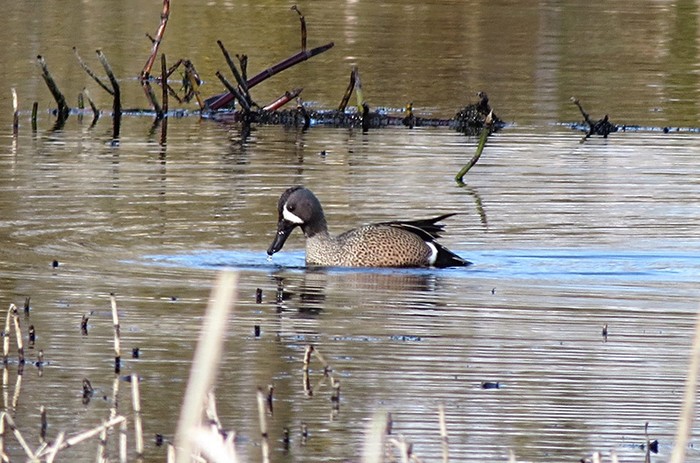 The female American Wigeon remained at Grimley (Worcestershire) on 27th; drakes were seen at Rutland Water (Leicestershire) again on 28th-2nd, on North Uist (Western Isles) on 28th-1st, and in Highland again at Loch Watten on 1st.
Numbers of Green-winged Teals just made double figures nationally, with 10 birds in all logged over the course of the week, with a roughly 50/50 split between English and Scottish sightings. Almost all involved birds we were already familiar with from previous weeks, though one in Ingrebourne Valley on 29th was a notable London record.
The drake Ferruginous Duck remained at Alvecote Pools (Staffordshire) on 27th-28th; the first-winter drake Lesser Scaup was still to be seen at Blagdon Lake (Somerset) on 27th-2nd.
Ring-necked Ducks aren't what they were a few weeks ago – we're down to just 10 birds seen this week, with the only single site multiple count coming from Slapton Ley (Devon), where two drakes remained on 31st and three birds were again noted on 1st-2nd.
We finish up with our regular honorary waterfowl, the adult Pied-billed Grebes both still present in Scotland this week, one apiece at Loch of Spiggie (Shetland) on 28th-29th and Loch Feorlin (Argyll & Bute) on 30th-2nd.
I honestly could have simply changed the dates in the last Shorebirds section I wrote a month ago – literally nothing's changed in the intervening weeks.
We'll kick off in Ireland, where both recent Spotted Sandpipers were reported once more this week – at Killongford (Co.Waterford) still on 27th-1st and at Ferrybank (Co.Wexford) again on 30th-2nd.
Moving across the water to Cornwall, the wintering Temminck's Stint remained present at Chapel Amble on 27th-29th, and the first-winter Lesser Yellowlegs was still at Devoran Quay on 28th-1st; the Dorset individual of the latter species was still to be found at Lodmoor RSPB on 27th-2nd.
Finally, in Lincolnshire, the adult Long-billed Dowitcher remained at Frampton Marsh RSPB on 27th-2nd, starting to take on a blush of brick red summer colour.
Pick of a very quiet period for gulls and terns was the first-winter Bonaparte's Gull present still at Killybegs (Co.Donegal) this week on 30th, sharing the site with five Iceland Gulls and three Glaucous Gulls. The latter two white-wingers were comfortably the largest counts of their respective kinds at any single site this week – numbers of both, nationally, remain a dwindling thing – around 30 individuals of either species were noted around Britain and Ireland.
The second-winter Kumlien's Gull was again seen in Suffolk at Mickle Mere SWT on 27th-30th, while a third-winter bird was logged in Co.Antrim on 30th at Waterfoot; an adult was seen at Drift reservoir (Cornwall) on 31st.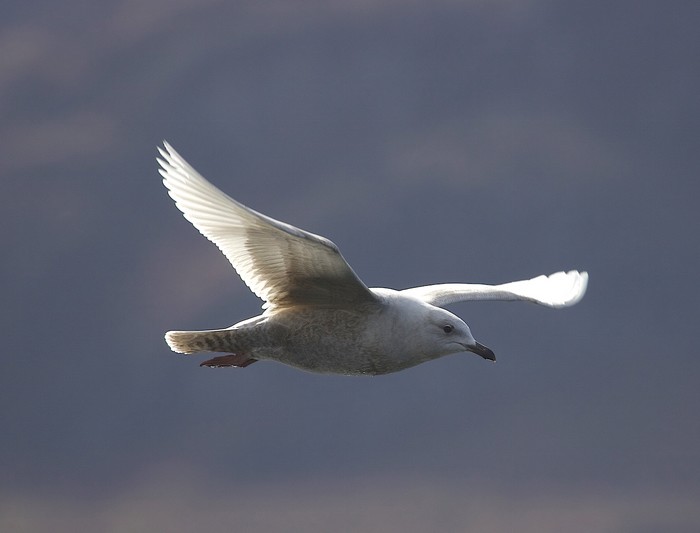 Around half a dozen Ring-billed Gulls were recorded this week – one was in Co.Antrim in Belfast on 27th still, while two birds were again seen at Tralee Bay Wetlands Centre (Co.Kerry) on 28th and back in Co.Antrim an adult was seen again on 31st-2nd at Carrickfergus; and in England, one was at Marazion (Cornwall) on 27th, the adult was once more at Blashford Lakes HWT (Hampshire) on 27th, and the adult was again seen at Newnham (Gloucestershire) on 27th-29th.
It's coming firmly to the time of year when wandering Black Kites are on the agenda. This week proved to be no exception, though certainty was an elusive quantity: possible birds were reported on 27th from a moving car at Fleet (Hampshire) and on 28th over St Mary's (Scilly); and a probable was seen on 30th over Epping Forest (Essex).
A White-tailed Eagle was seen flying east after being flushed at Kelling Heath (Norfolk) on 28th, while a juvenile was reported from Great Walsingham on 31st; an adult bird was noted on North Ronaldsay (Orkney) on 29th; and on 1st one flew over Shadwell (West Yorkshire).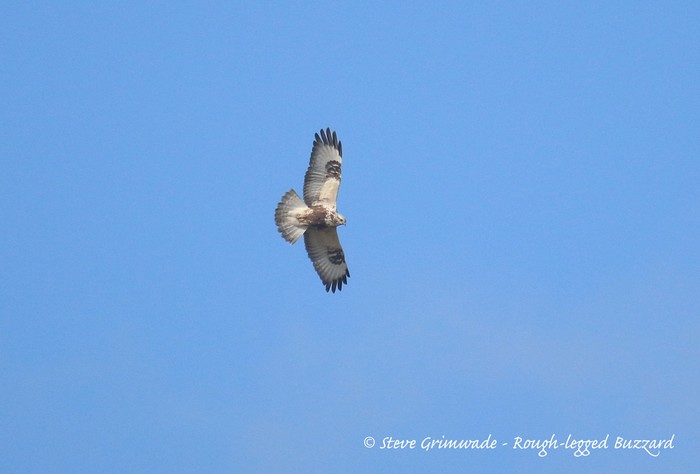 Back in Norfolk, the juvenile Rough-legged Buzzard remained at Weeting Heath NWT on 27th-2nd; another bird was seen again on Scilly on St Martins on 29th-31st; and the individual remained in Cambridgeshire at Farcet Fen on 31st. On 31st in Suffolk one was seen in the early morning at Heveningham and later another sighting came from Brantham; and on 2nd a possible was noted in Kent at Sandwich Bay.
Finally, we're back to Orkney where the male Snowy Owl continued his residency on Eday until 2nd.
Marvellously, the wintering male Pallas's Warbler at Coverack (Cornwall) remained there this week on 28th-30th, the fine warm spring weather prompting him into intermittent bursts of song.
I left you a month ago with weekly tallies of Yellow-browed Warblers regularly climbing into double figures – that's a just a hazy memory now, though birds are still out there – at Westbury (Gloucestershire) still on 30th, at Sidmouth (Devon) on 31st, and at Pen Mill in Yeovil (Somerset) on 1st where two birds remained, one of which was in song.
The emphasis instead is shifting to spring migrants rather than leftover wintering birds…
A probable Iberian Chiffchaff was trapped and ringed on Portland (Dorset) on 1st – in the absence of any audible clues, we'll doubtless get DNA confirmation of that one in due course. An unconfirmed report of another bird came from Seaton GPs (Kent) on 27th.
At Minsmere RSPB (Suffolk) meanwhile a Savi's Warbler was heard in song in the morning of 2nd.
That springtime feeling was being reinforced with a small scatter of Red-rumped Swallows this week – single birds being found at Mizen Head (Co.Cork) on 27th, Trevose Head (Cornwall) on 31st, and at Dawlish Warren NNR (Devon) on 2nd – and a more generous helping of Hoopoes: birds were seen this week at Portland (Dorset) still on 27th-29th, Lansdown (Somerset) and Galley Head (Co.Cork) on 29th, and at Child Okeford (Dorset) on 30th.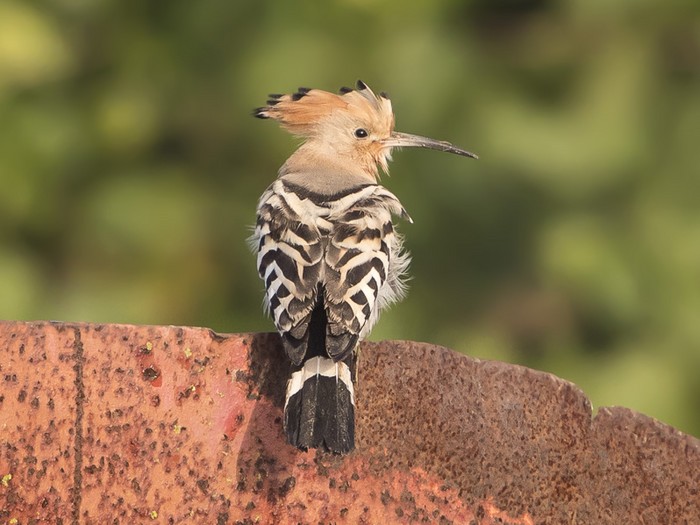 More colour still came in what is, I think, the first male Bluethroat of the year – seen on 31st at Flamborough (East Yorkshire).
Less gaudy but always a welcome sight, a Wryneck was found, trapped and ringed in a Dorset garden at Forston on 1st.
A flyover Richard's Pipit was noted in Cornwall at Rinsey Head on 2nd.
Reminders that winter wasn't that far behind us after all were still present, however, here and there. Wintering Great Grey Shrikes remained in Ashdown Forest (East Sussex) on 27th-2nd; at Hanging Houghton (Northamptonshire) on 27th-2nd; in Wareham Forest (Dorset) on 27th still; in Dalby Forest (North Yorkshire) on 27th-28th; Clumber Park (Nottinghamshire) on 28th-31st still; at Chat Moss (Greater Manchester) on 30th-1st; at Warton Crag (Lancashire) on 29th; and, in Wales, at Plumstone Mountain (Pembrokeshire) on 27th and in Ceredigion at Tregaron Bog on 28th and Cors Caron NNR again on 31st-1st.
A Pied Crow was a brief sighting in East Sussex at Wincheslea Beach on 30th before flying off; the story didn't quite end there, however, as presumably the same bird was seen again in the afternoon of 2nd at Seaford. And then it flew off.
Waxwings remained a modest thing this week, with around 200 birds in all seen nationally. Any day now and they'll be but a distant memory…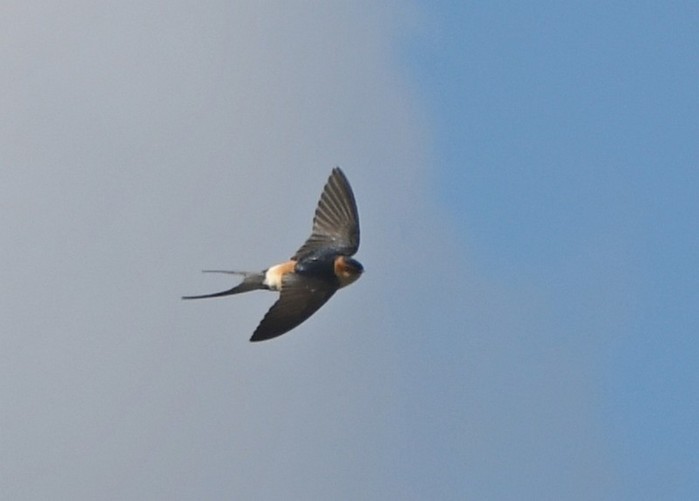 Moving into the finches, lingering frosty hints of winter came in the form of a couple of exilipes Coue's Arctic Redpolls seen this week – at Thorne Moors NNR (South Yorkshire) on 27th, and at Sculthorpe Moor NR (Norfolk) again on 1st.
The perfect summery counterpoint to those would be Serins, and we've a quartet to report this week – on 27th over Cley (Norfolk); on 28th at Skewjack (Cornwall); and on 29th at Dungeness (Kent) and Gibraltar Point NNR (Lincolnshire).
Our final passerine this week is a pleasing riddle – a male crossbill that shows characters suggestive of Two-barred Crossbill and, to some eyes, Common Crossbill too, present still in Cannock Chase (Staffordshire) on 30th-1st. We're all too well aware of the pitfalls posed by wing-barred Common Crossbills and this particular bird remains divisive, with opinions stated unequivocally for either species option and, for added spice, for a hybrid between the two.
Holland remained where it was all happening this week. And oh boy, was it all happening. It was like an Episode of Eastenders over there. (Or Goede tijden, slechte tijden if you want the Dutch equivalent). Cliffhangers, running stories, controversies – Holland had it all, and more besides.
Starting at Wageningen, the Nutcracker remained on 28th-1st. So far, so good…
Breaking news on 27th of a male Indigo Bunting present since 18th at Purmerend was briefly eye-catching until, on 30th, it emerged that it was ringed and had presumably escaped from captivity. Rather like the dodgy American Kestrel at Windesheim on 30th also.
That raptor didn't make the grade. But sightings of Black-shouldered Kite on 31st at Slenaken and Overijssel seem beyond reproach; while, in Germany, one was seen at Altenmedingen on 29th.
Moving north into Sweden, the Eastern Imperial Eagle remained at Skurup on 28th-29th.
In Belgium the Pygmy Cormorant was still present at Parc Domaine du Val Duchesse on 31st.
In Poland, a Sociable Plover was found at Spytkowice on 30th.
News from France concerned a male Ruppell's Warbler at Saint-Maries-de-la-Mer on 31st-2nd. Another one of those bad boys would be welcomed in Britain anytime soon.
In Spain, the American Coot was still to be seen at Lagao de Cospeito on 30th, while the Thayer's Gull was seen again on 30th at Lago fish farm.
A Brown-necked Raven was found in Italy on 28th-29th at Lampedusa on Sicily.
On Cyprus, an ocularis East Siberian Wagtail was present in the Phassouri reedbeds on 30th.
Israel got its first Brown Shrike at fabled Eilat on 27th.
Finally, out on the Canary Islands, the resident Dwarf Bittern was still present on Fuerteventura on 29th.
Well, I left you in the closing days of winter, spent some time chasing hummingbirds in South America, and came back to find that, with only a few notable exceptions, most of the rarities I'd last written about in late February were still present and correct at the back end of March.
Also, nobody has fixed Brexit. Whoever saw that not being sorted out?
Thank god for birds. A welcome distraction from the hollow shouting factory that's current British politics. While I wouldn't pretend to know what's going to happen next on that particular front, I am prepared to make a few wild stabs in the dark on possible birds for the coming week…
With one Great Spotted Cuckoo already firmly under our belts, we remain in prime time for the species – one on the British mainland would be deservedly popular. Even the faintest waft of a southerly could bring us a much stronger flier still – the coming week is a peach for an overshooting Alpine Swift, with almost 30 historic records to back that up.
If we're to shoot for the stars, in a year that's already a classic for rare owl action, we're now coming into the hot zone for Scops Owls - the coming week boasts eight previous records and, with one of those coming from as far north as Shetland, it's a species that could conceivably be found pretty much anywhere if the gods smile on us.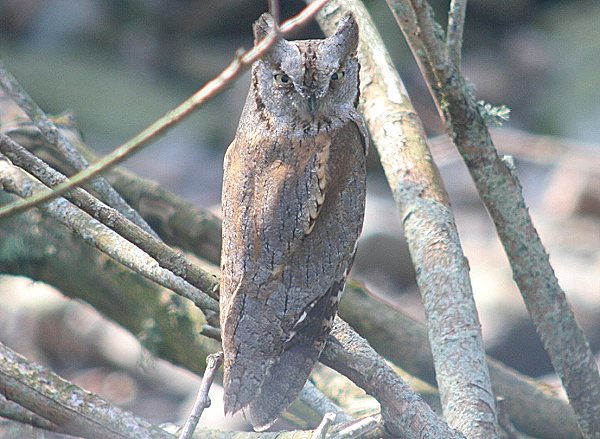 Problem is, of course, that all of this wishful thinking tends to rely upon helpful southerlies. The forecast for at least the start of the coming week is for a return of winds from a colder northerly vector altogether. All's not lost, though. I could just go a nice Ross's Gull, me.
Jon Dunn
3 April 2019
Share this story
Tweet