Weekly birding round-up: 27 Feb - 5 Mar
The week at a glance
Shetland delivers a long overdue Tengmalm's Owl
And Co.Cork serves an indecently early Great Spotted Cuckoo
A week headlined by a Tengmalm's Owl can hardly qualify as a quiet period, but in terms of new discoveries in the world of rarities, there isn't much to write about. But, we'll give it a go...
The new review period heralded the end of the record-breaking winter warmth, and we returned to business as usual weather-wise. Wednesday felt like the last day of summer (albeit in February), before an increasingly powerful Jet Stream brought weather fronts and low pressure to our shores – wind, rain and Storm Freya followed – summer was over.
Tengmalm's Owl
Having relocated to Lea Gardens, Tresta on Monday 25th February, the Shetland Tengmalm's Owl settled down at its new site and, for a few days at least, became a reliable twitch. It showed daily between the start of this review period and 2nd March, but has subsequently gone AWOL again.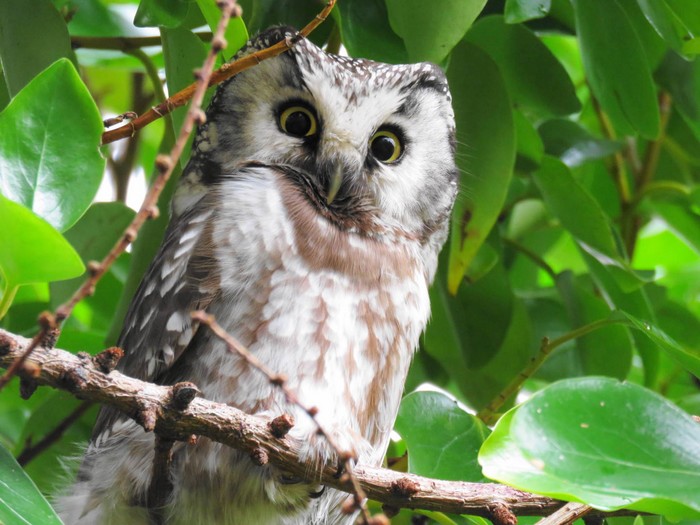 At its original garden in Bixter the owl had frustrated and delighted in equal measure. More often than not, the joy of connecting during one of the Tengmalm's intermittent visits was counterbalanced by the puzzle of working out which centimetre2 of the bird observers were looking at through a tangle of vegetation. Some got lucky, some had the nous to bring illumination, but many had to make do with a bit of head...or wing.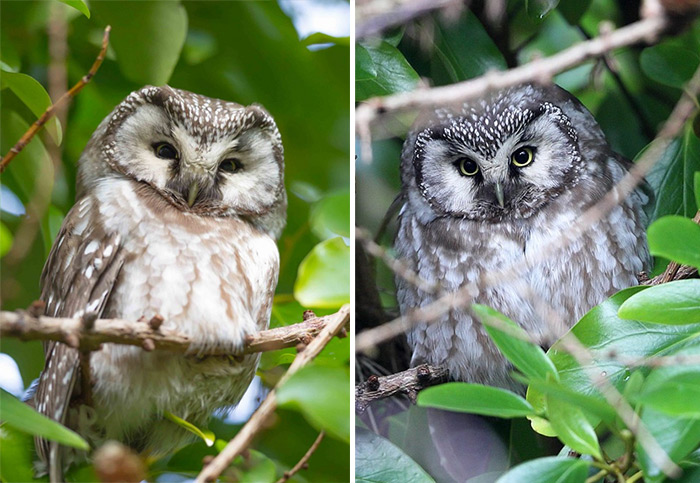 But at Lea Gardens, not only did the star attraction decide to quit its day on/day off routine, it also started to play ball with views. For those who haven't connected with the owl (myself included), the grip factor ramped up to maximum volume this week – viewing-friendly daytime roosting spots and dusk performances were, for six days anyway, a daily fixture.
Despite its disappearance from Lea Gardens, it is hard to believe the Tengmalm's has left Shetland. Sensible money would be on it being back in the original Bixter garden, but has this area been searched? As alluded to above, it was good at hiding. Early in the bird's stay, Lea Gardens was checked as a likely alternative during its days away from Bixter, but searches drew a blank. Therefore there must be other so-far-undiscovered day-roosting sites. But with most keen beans having now scored the Mega-owl, the necessary army of searchers are unavailable for the reconnaissance mission. With the various items of bad publicity that have emanated from the owl twitch, one wonders if local enthusiasm for relocating the owl will be limited, and if it will be allowed to quietly fade away...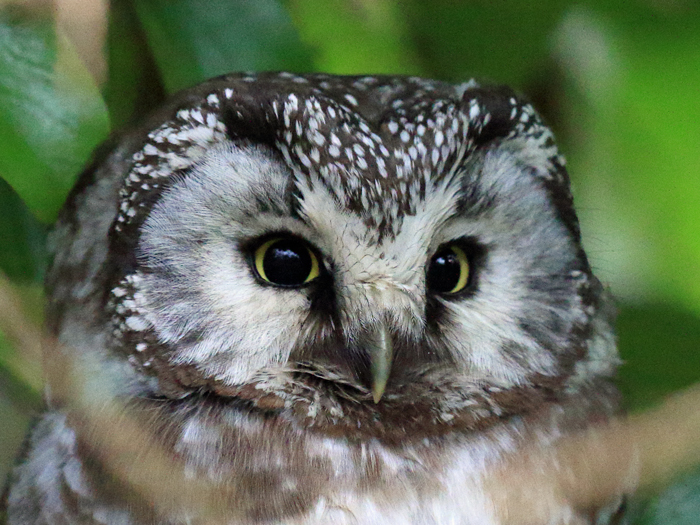 Shetland Support Acts
A generous array of also-rans gave owl twitchers the opportunity to turn a quick smash and grab into a multiple day clean-up mission. The long-staying Pied-billed Grebe at Loch of Spiggie, a White-billed Diver at Kirkabister, Common Rosefinch at Cunningsburgh, Tundra Bean Geese at Sandwick and Iceland and Glaucous Gulls at Lerwick all created a fine weekend package.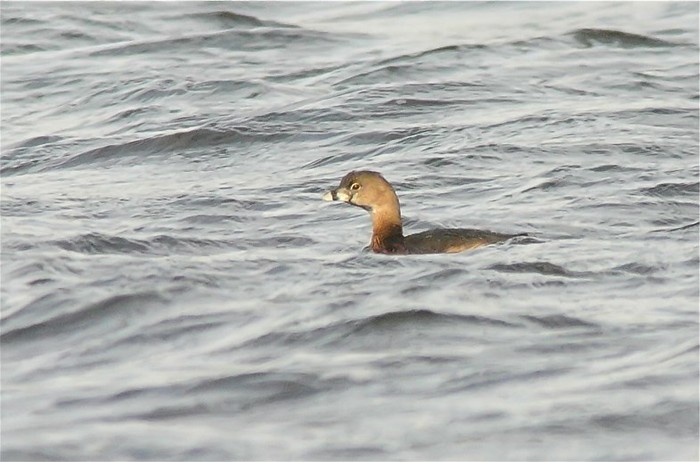 Four White-billed Divers were logged off remote Scottish islands; two in Shetland – the aforementioned Tengmalm's twitch add-on and another in Bluemull Sound, a long-stayer off Barra (Western Isles) and another off Papa Westray (Orkney). At least three off Findlater Castle (Aberdeenshire) on 5th March heralded the beginning of the now annual spring spectacle of birds staging along the Aberdeenshire coastline. A peak count of 24 last spring (in early April) hints that the 2019 party has only just begun.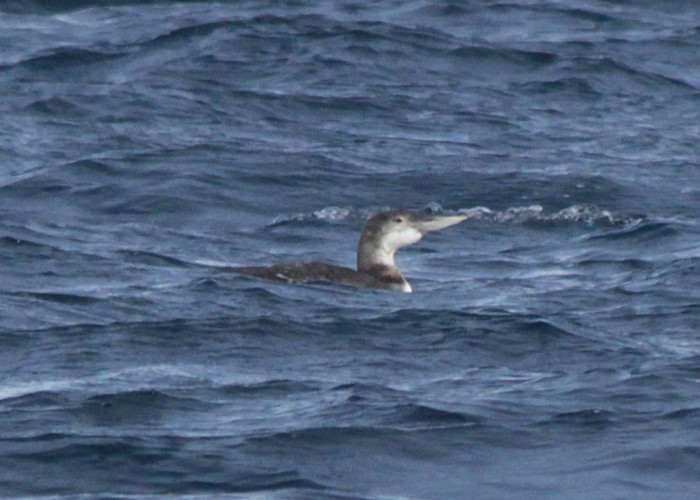 Just one Balearic Shearwater was recorded, off Lizard Point (Cornwall) on 1st March, whilst four Sooty Shearwaters included a lingering bird off Newbiggin (Northumberland). Pomarine Skuas were noted off Lizard Point (Cornwall) and Dawlish Warren NNR (Devon).
No matter how predictable and ever-present Glossy Ibises become, it is hard to believe that a double-figure flock will ever cease to be a sensational sight in Britain and Ireland. So a flock of 13 at Clogheen Marsh (Co Cork) takes the award for birds of the week in this category. But lets not forget the loners; singles were recorded in Cornwall, Devon, East Sussex, Essex, Gwent and Somerset.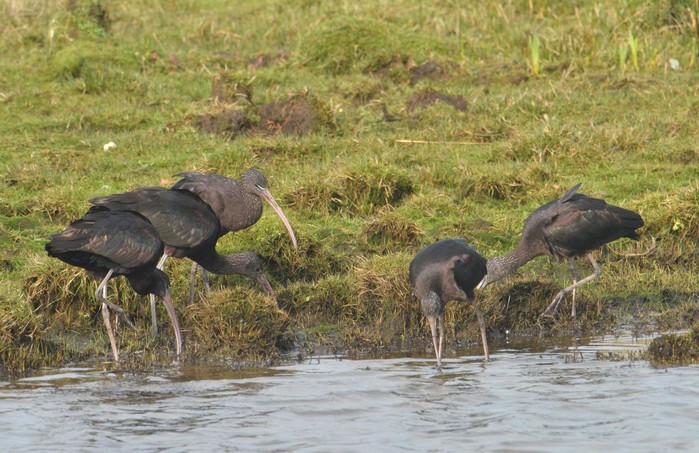 Approximately 410 Cattle Egrets were reported during the week, including a whopping flock of 83 at Wadebridge (Cornwall).
Islay continued to host a Richardson's Cackling Goose until at least 28th whilst the Canada Goose remained on Barra (Western Isles) and a Black Brant continued its stay at Walney Island (Cumbria). Another Brant reappeared in Poole Harbour on 5th March. A lone Snow Goose at Ballyhealy (Co Wexford) is in the 'could be wild/might not be wild' category, but it would take someone prone to blind faith to make a case that the Red-breasted Goose at Bassenthwaite Lake is a vagrant attached to wandering Solway Barnacles, rather than an escapee oddity amongst feral stock. A couple of Lesser White-fronted Geese at Llyn Traffwll (Anglesey) were equally uninspiring.
As an illustration of their early northward movement, the only Taiga Bean Geese were recorded in Scotland (three in Aberdeenshire and two in Highland), whilst Tundra Beans were logged in West Yorkshire, Shetland and Suffolk.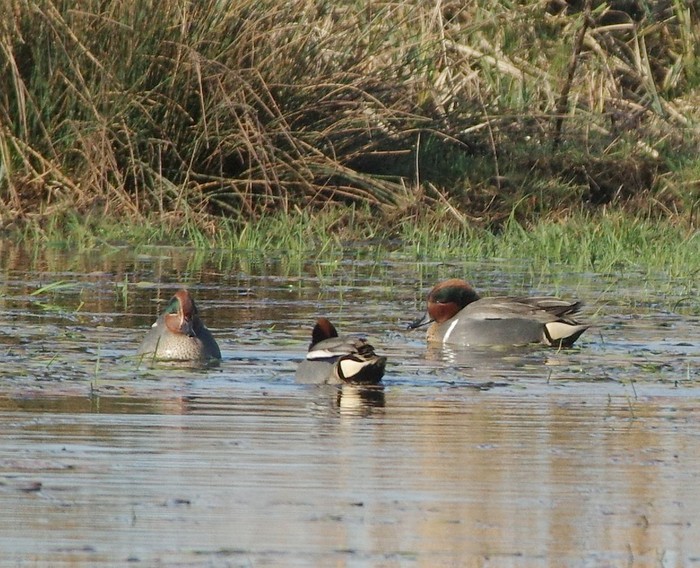 American Wigeons were few and far between – just three long-stayers remained in Highland, Northumberland and Worcestershire. Ring-necked Ducks put on a better show, with 13 recorded across 11 counties (all singles bar a trio on Tiree (Argyll), whilst single drake Green-winged Teals were reported in eight counties.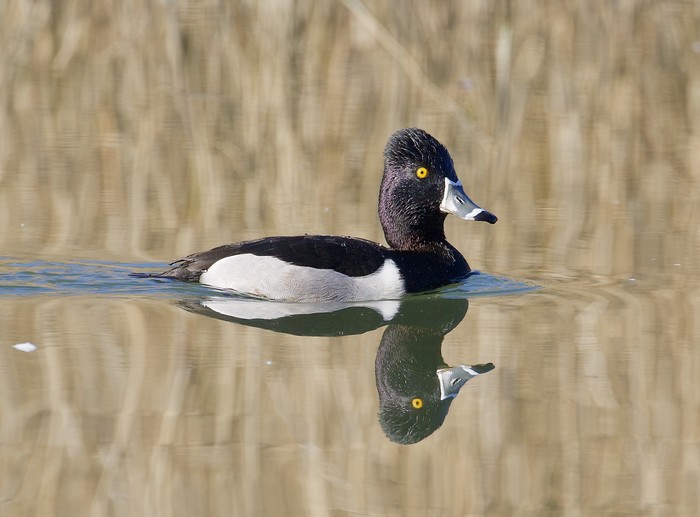 Notable seaducks were almost non-existent, but a couple of Surf Scoters remained off the Co Meath shoreline, whilst a lone drake lingered off Musselburgh (Lothian). Perhaps last week's unseasonal sunshine caused birders to pack their 'scopes away for the summer?! You'd be forgiven for thinking that after reading this week's wildfowl scores on the doors.
<!—Section Title -->
The wintering Temminck's Stint remained faithful to Chapel Amble (Cornwall). The ever-present Long-billed Dowitcher was still at Frampton Marsh RSPB (Lincolnshire), a Spotted Sandpipers remained at Ferrybank (Co Wexford) and Dungarvan (Co Waterford) and Lesser Yellowlegs lingered at Devoran Quay (Cornwall) and Lodmoor RSPB (Dorset).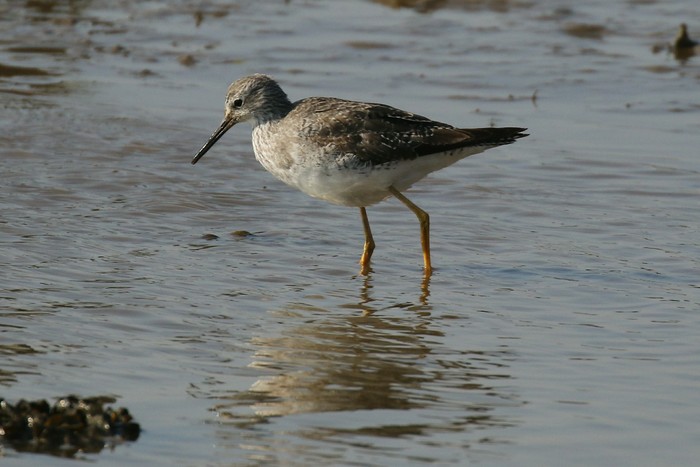 Little Ringed Plovers can hardly be accused of exploiting the southerly airflow – just seven individuals were reported this week, far from remarkable for this time of year.
The Irish Forster's Tern just made it into this week's review period – still present at its Galway winter retreat on 27th February. That was it tern-wise, and it wasn't much better when it came to gulls. Eight Ring-billed Gulls (in Cornwall, Co Antrim Co Dublin, Co Kerry [2], Co Louth, Lothian and Somerset) was a mediocre showing and Kumlien's Gulls in Cornwall, Co Donegal, Co Limerick, Leicestershire and Warwickshire were the pick of the white-wingers.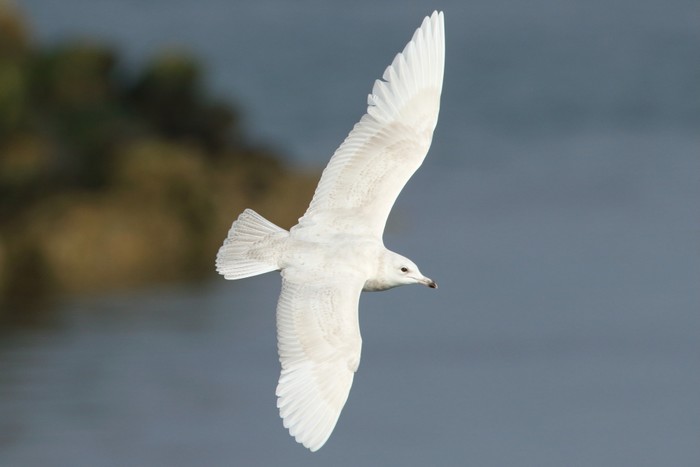 Rough-legged Buzzards remained in Cambridgeshire, Kent, Northumberland, Norfolk and North Yorkshire.
Stars amongst the passerines were lingering male Penduline Tits at Crossness LNR (London) and Lodmoor RSPB (Dorset). Appearances were typically intermittent at both sites, but patient birders were eventually rewarded with excellent views, particularly in Dorset.
A Red-rumped Swallow arrived on St Mary's (Isles of Scilly) on the final day of the last review period, and the following day it was joined by a second bird. The duo was still present on 1st March, with one lingering until 4th March. There's no denying that these swallows are early arrivals, but given the unusual southerly airflow it is surprising that overshoots have been so thin on the ground. With the inevitable arrival of Freya, the rumpers are no doubt cursing their pioneering spirit.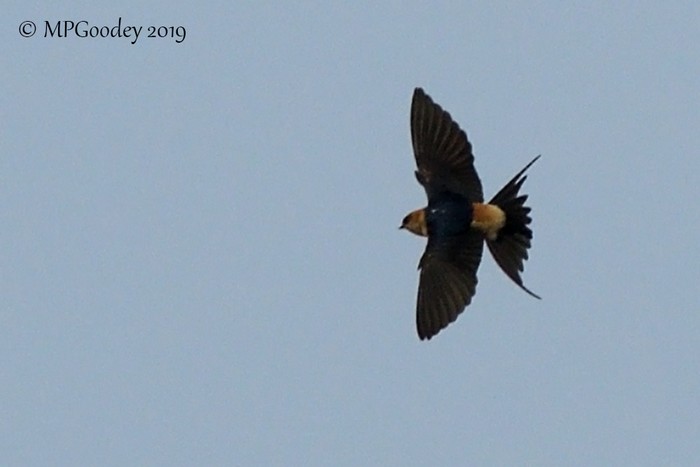 Despite wintering Hoopoes featuring in recent weeks, a bird at Walywyn's Castle (Pembrokeshire) on 1st March really did feel like it had been swept along by the unseasonal southerlies earlier in the week.
The lingering Pallas's Warbler at Coverack (Cornwall), a total of 10 Yellow-browed Warblers across seven counties, Richard's Pipit at Tacumshin (Co Wexford) and Little Buntings at Weybourne (Norfolk) and Long Strand (Co Cork) gave an eastern flavour to the period. Meanwhile a Rose-coloured Starling was still at Llandudno (Conwy) until 27th February.
In Norfolk the large, peculiar-looking Coues's Arctic Redpoll remained faithful to the feeders at Sculthorpe Moor NR, whilst another was recorded at Baltasound (Unst, Shetland).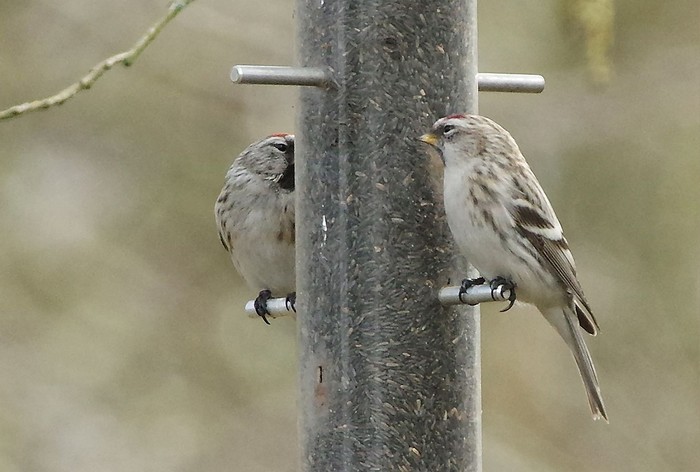 A total of 10 Great Grey Shrikes, 46 Shorelarks and a measly four Lapland Buntings were logged during the week. Waxwing numbers dwindled, but at least 244 were logged during the week.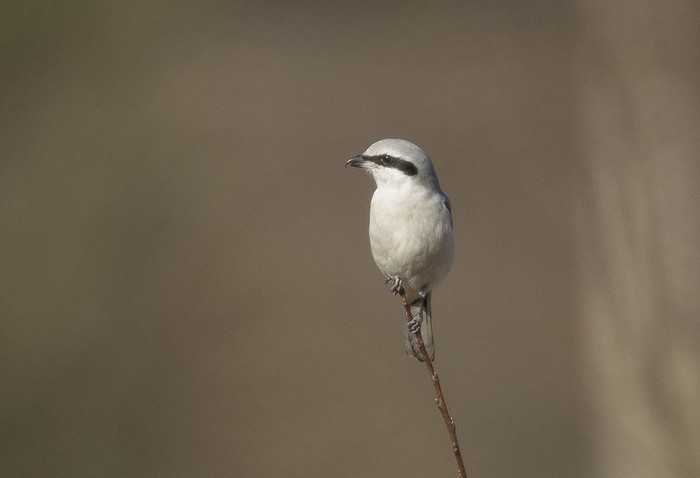 House Martins, Swallows, Sand Martins and Wheatears began to arrive in decent numbers, but a Swift in Cornwall on 28th February was exceptionally early.
The Western Palaearctic highlight of the week just about sneaked into this review period – a Lesser Moorhen - photographed on Sal (Cape Verde Islands) on 5th March, representing the first record for the archipelago. Tarsiger lists three previous Western P records of this African species. The first dates back to 1895, when one was collected in Madeira (although it was originally identified as a Black Crake). A Subsequent claim in Egypt in 1997 is now believed to have been a Common Moorhen, but records in Spain in 2000 and 2003 are believed to be genuine.
Lesser Moorhen, Gallinula angulata photographed at Sal by Uwe Thom - the 1st record for Cape Verde and 4th for Western Palearctic pic.twitter.com/Ns7kvSjj7B

— Tarsiger (@TarsigerTeam) March 5, 2019
Otherwise it was largely 'as you were' elsewhere in the Western P. The near continent continued to host Pygmy Cormorant (Belgium) and Nutcracker, Western Rufous Turtle Dove and Little Bustard (Netherlands), whilst a Forster's Tern arrived in France. Further afield, the Dwarf Bittern remained on Fuerteventura (Canary Islands), a Stejneger's Scoter was in Skane (Sweden) and an American Coot lingered in Spain.
Unsettled weather conditions are set to continue through next week. Low pressure is forecast to dominate – a couple of ridges of high pressure may offer a few brief interludes of pleasantness, but more weather fronts will soon follow.
It is difficult to know how this translates into the bird world. Hopefully the Tengmalm's Owl will resurface, but one or two new birds to write about wouldn't go amiss. The week in question has produced four Killdeers (remarkably, two of which were in Cambridgeshire, seventeen years apart). A more extravagant option would be an Evening Grosbeak – the 1980 Nethy Bridge bird was discovered on 10th March.
An Alpine Swift or Great Spotted Cuckoo will have to fight the weather if it is to make landfall up here, but Bonaparte's Gulls should battle through regardless. And failing all that, the Spurn Tengmalm's Owl was discovered on 6th March 1983...
Stuart Piner
6 March 2019
Share this story
Tweet