Weekly birding round-up: 20 - 26 Feb
The week at a glance
Shetland's Tengmalm's Owl teases and, mostly, delivers
Another week of ridiculously fine weather has just ended – with record-breaking February temperatures recorded all over the shop. Spring had fairly sprung, though the southerlies failed to deliver the requested gallinule to the south coast. Instead, much attention remained focused in the north, where a certain small owl remained (more or less) in residence…
Tengmalm's Owl
The week began with no sign of the newly discovered Tengmalm's Owl in Jackie and Erik Moar's Shetland garden on Wednesday 20th – but perhaps that wasn't entirely surprising as, while the rest of the UK might have been enjoying a pleasant day, Shetland was enduring something more seasonally typical, particularly this far north – a day of blustery winds and heavy rain.
Then, on 21st, the news a nation's twitchers were waiting for, with bated breath – the owl was back, roosting deep in the spruce shelter belt that flanks the Moars' garden. Game on! And for those birders who'd rolled the dice for Thursday, euphoria.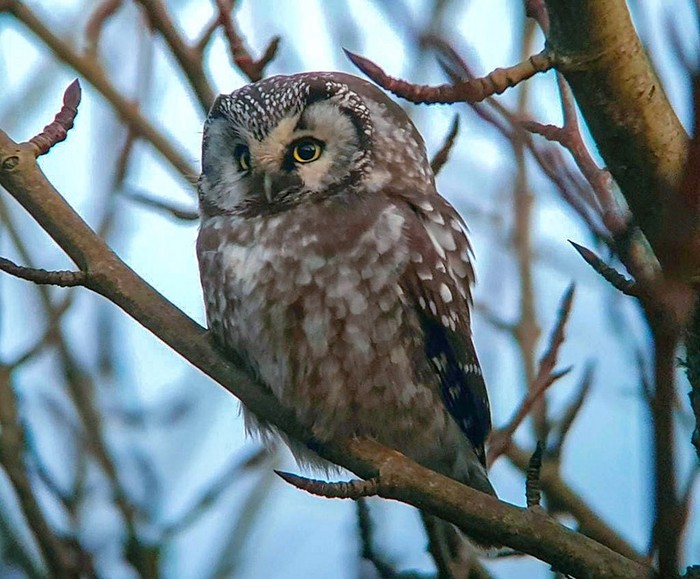 It has to be said, however, that Tengmalm's Owl is a species that's hardly a stranger to controversy. From various goings on in Orkney over the years to the infamously suppressed Spurn bird in 1983, such a small owl has generated more than its fair share of upsets. Sadly that continued this week, with birders-unknown spotlighting the owl in the middle of the night on Thursday and then again in the evening of 23rd. This was against the express wishes of the Moars, and certainly appeared to have an adverse effect on the owl's behaviour for, on both 22nd and 24th, days of settled weather, there was no sign of the owl in their garden.
Coincidence? Well, maybe. The internet was quick to light up with birders defending the spotlighting of owls as perfectly acceptable and in no way prejudicial to their welfare. Then again, whether or not that's the case, that wasn't really the point – the homeowners' wishes should have been respected. One up and coming twitcher suggested that highlighting this regrettable behaviour was, in itself, not doing birders any favours with the wider world – but I beg to differ. We need to keep our house in order and call this stuff out – birding, and particularly chasing rarities, often depends on the goodwill of landowners and homeowners – and we need to put that, and birds' welfare, ahead of our own desire for unimpeded, brilliant views of a given bird.
Certainly, birders arriving on the Friday and Sunday weren't feeling particularly happy about anything which might have banjaxed their chances of seeing the owl. The internet sages attempted to rationalise all of this this by saying that the bird had a day on / day off routine – a theory that was, later in the week, happily scotched when the bird was re-found a mile or so away from the garden in which it had received such attention – discovered in the afternoon of 25th by über Shetland rarity finder Michael McKee in the well-vegetated surroundings of Tresta, it was seen well that day, even devouring a Ringed Plover it had stashed in a tree. And then, on the morning of 26th, there it was again. Showing for two consecutive days, after all – and perhaps more birders will now have the confidence to make the long trek north for this.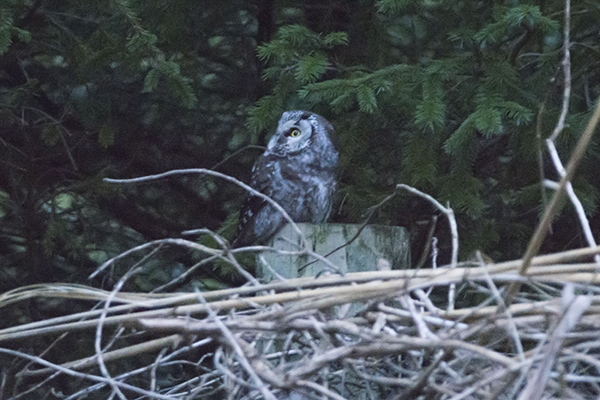 There's something of a once-in-a-British-birder's-lifetime feeling about this charismatic little owl. For sure, during the hours of daylight in Shetland there was a considerable feel-good factor about it, and visiting birders were donating generously to a collection bucket, providing welcome income for the Wastview Day Centre Hansel Fund.
Spotlighting bump in the road aside, this surely is already a strong contender for bird of the year, combining immense, mythical rarity with drop-dead gorgeous good looks and abundant character. Now where's that Hawk Owl?
With no Pacific Divers reported from Cornwall or Co.Cork this week, our main seabird excitement was confined to Orkney where, off Papa Westray on 24th, two White-billed Divers were again noted.
Glossy Ibises continued to go from strength to strength this week. We start in Ireland where the flock of 13 birds remained at Clonakilty (Co.Cork) on 24th-25th; and in Co.Wexford, single birds were once more present at Rosslare on 22nd-25th and Cahore Marsh on 23rd-24th.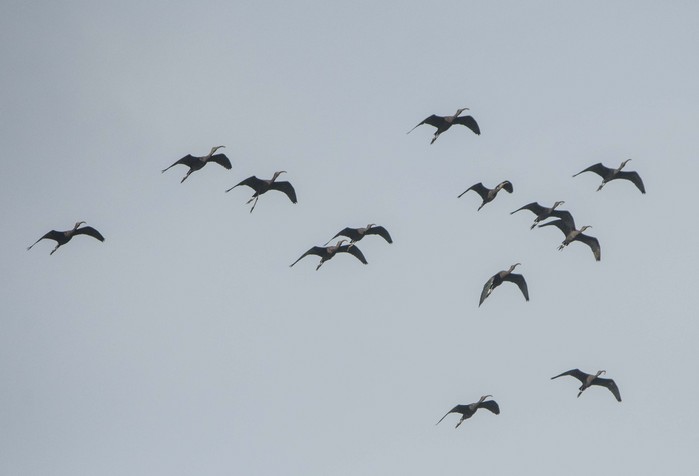 Briefly stopping by Wales, where the singleton remained at Newport Wetlands NNR (Gwent) still on 20th-26th, we head to England where fresh sightings were to be had this week. Starting on St Mary's (Scilly), one was again seen there on 22nd-24th; in Cornwall, Marazion RSPB held a bird on 20th-26th still; and in Devon, the Fremington bird was again seen on 21st-23rd, while on 23rd-24th sightings came from Exton Marsh and Paignton. One passed over Bury St Edmunds (Suffolk) on 23rd; Norfolk records came on 20th over Hickling Broad, on 21st at Breydon Water, and on 21st-22nd at Halvergate. One settled on 22nd-24th at Ripple (Worcestershire); and then, on 25th, single birds were popping up like mushrooms – seen in Hampshire at Hayling Island and Titchfield Haven NNR; in Bedfordshire at Houghton Regis and Houghton Brook Pools; in Gloucestershire at Slimbridge WWT; and in Dorset at Lodmoor RSPB. On 26th a probable bird was seen in flight over Wilton Estate near Salisbury (Wiltshire).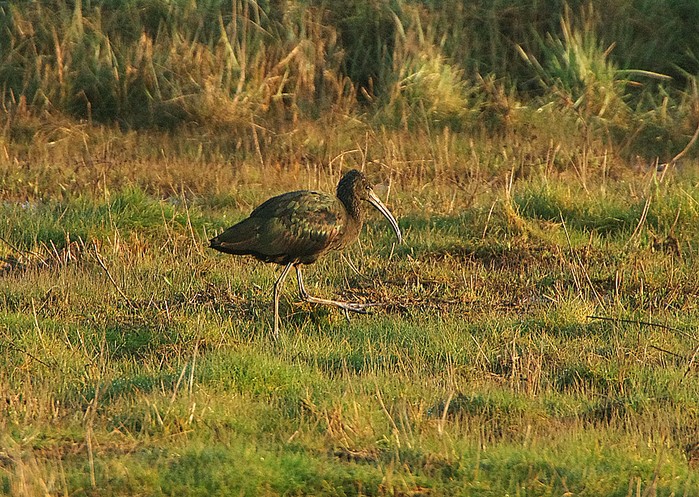 No change where Cattle Egrets were concerned this week, which is to say there were loads of them all over the place – around 150 birds were logged on 20th alone, and some 280 were noted as the week wore on. The honours for our peak single site count passed back to Cornwall where, on 23rd, 70 birds were seen at Walmsley Sanctuary. Somerset would need to up its game…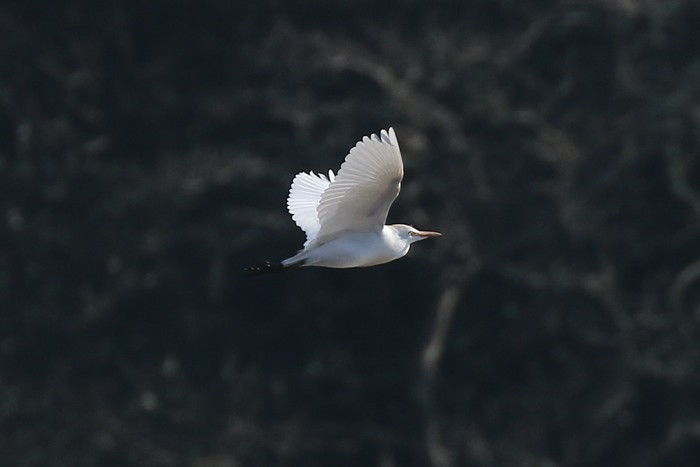 Common Cranes, away from Norfolk, had a quite week than of late, with the peak count from even the previously reliable Nene Washes (Cambridgeshire) only managing 11 birds on 23rd. The wintering bird in the north remained in Northumberland at Wark on 21st-23rd, and West Learmouth on 24th-26th; and duos were noted on 22nd at Knaith (Lincolnshire) and Joist Fen (Suffolk); on 26th, one was seen in Suffolk at Barton Mills, and another at Lurgangreen (Co.Louth).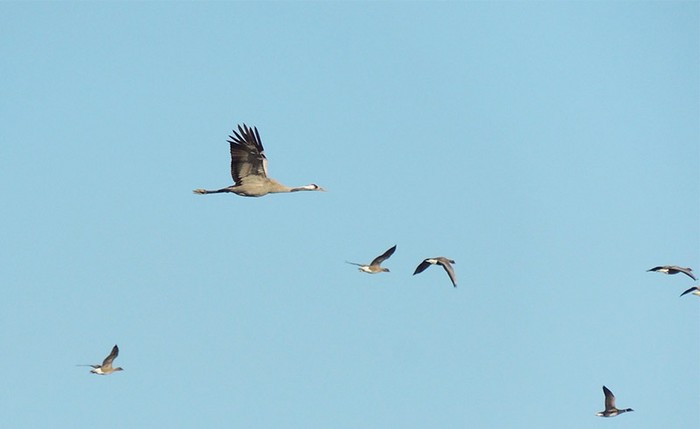 As usual at this time of year, The Goose Formerly Known As Canada leads the charge into our weekly look at the rare honkers and quackers. Islay (Argyll & Bute) had it all going on, with plenty of variety on offer – the interior Todd's Canada Goose still present on 20th-24th; the hutchinsii Richardson's Cackling Geese again on 21st-24th; and a small Canada-type on 24th. Elsewhere, a pair of possible Todd's Canada Geese were noted on 22nd at Harpsdale (Highland), and a small Canada-type was still present on Barra (Western Isles) on 24th.
The white Snow Goose remained at Tacumshin (Co.Wexford) on 22nd-26th, while the intermediate morph was still present at Munlochy Bay (Highland) on 22nd.
A possible Grey-bellied Brants was found this week in Co.Louth at Lurgangreen on 24th-26th.
Black Brants, meanwhile, were seen at King's Fleet (Suffolk) still on 21st; at Goldhanger (Essex) on 21st; on Walney (Cumbria) again on 21st; and at Lurgangreen (Co.Louth) on 23rd. On 26th one was seen in Essex at Althorne.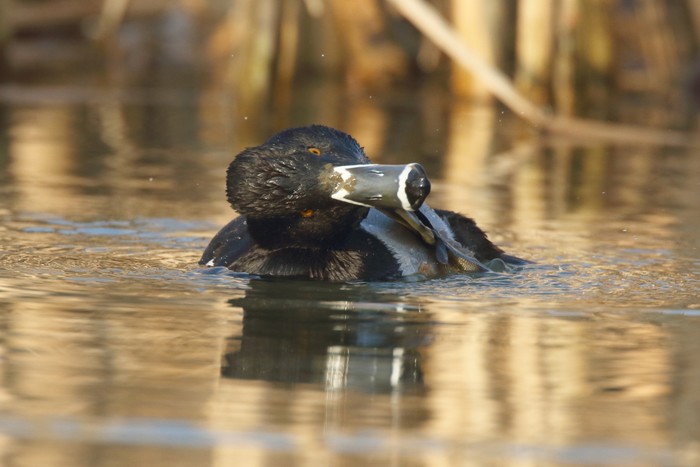 Our weekly drake Black Scoter was once more back in Ireland at Rossbeigh (Co.Kerry) on 23rd still, which if recent form is anything to go by should mean that the Northumberland individual is seen again in the coming week…
Two drake Surf Scoters remained off St Andrews (Fife) again this week on 20th, while the regular drake was still of Musselburgh (Lothian) on 20th and again on 25th-26th. Irish sightings came in the form of a drake and a female still off Gormanstown (Co.Meath) on 23rd, a female noted at Murvagh (Co.Donegal) on 21st, and a bird off Ben Head (Co.Meath) again on 25th.
Ireland once more edged our weekly tally of 23 Ring-necked Ducks, with the return to the daily news of the flock of eight birds still on Lough Morne (Co.Monaghan) on 21st-24th, and a further four single birds noted elsewhere. Britain's 11 birds comprised settled individuals with just one new bird – a drake on Loch of Skene (Aberdeenshire) on 20th-21st.
The regular drake Ferruginous Duck emerged from the woodwork once more at Blashford Lakes HWT (Hampshire) on 23rd.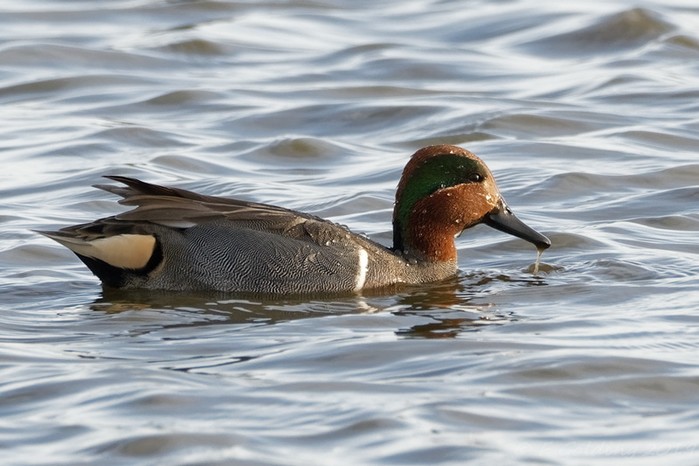 American Wigeons remained in short supply, with just the female still at Grimley (Worcestershire) on 20th-26th and drakes again in Ireland at Lough Beg (Co.Derry) on 21st and Tain Links (Highland) on 25th-26th.
Numbers of Green-winged Teals stayed fairly constant, just about making it into double figures nationally again. In Scotland, one remained on North Ronaldsay (Orkney) on 21st-26th; the Caerlaverock WWT (Dumfries & Galloway) individual was still present on 20th-26th; one remained on Islay at Loch Gruinart RSPB (Argyll & Bute) on 20th-22nd; the Western Isles held a bird on Benbecula on 23rd and on North Uist on 26th; one remained at Loch Flemington (Highland) on 21st; and one was seen in Aberdeenshire at Auchlossan on 23rd-24th. All this Scottish monopoly was broken by one again at Druridge Pools NR (Northumberland) on 21st-26th, at Saltholme RSPB (Cleveland) on 20th, a sighting from Kilnsea (East Yorkshire) again on 24th and Easington on 26th; at Frampton Marsh RSPB (Lincolnshire) on 25th-26th; and in Suffolk on 26th at Somerlayton Marsh and Herringfleet Marsh.
All of which brings us back to Shetland where our regular honorary waterfowl the adult Pied-billed Grebe at Loch of Spiggie on 21st-26th had probably never felt more popular, as Tengmalm's Owl admirers added it to a daily circuit that included white-winged gulls and the long-staying Common Rosefinch, more of which in due course. Absent from the news for a while, the other long-staying Scottish Pied-billed Grebe at Loch Feorlin (Argyll & Bute) was seen again on 20th.
<!—Section Title -->
Not a great deal of change to report upon amongst our shorebirds for yet another week. Starting in Cornwall, the wintering Temminck's Stint remained settled at Chapel Amble on 21st-26th, while the first-winter Lesser Yellowlegs remained at Devoran Quay on 22nd-26th; the Dorset individual of the latter was still at Lodmoor RSPB on 20th-26th.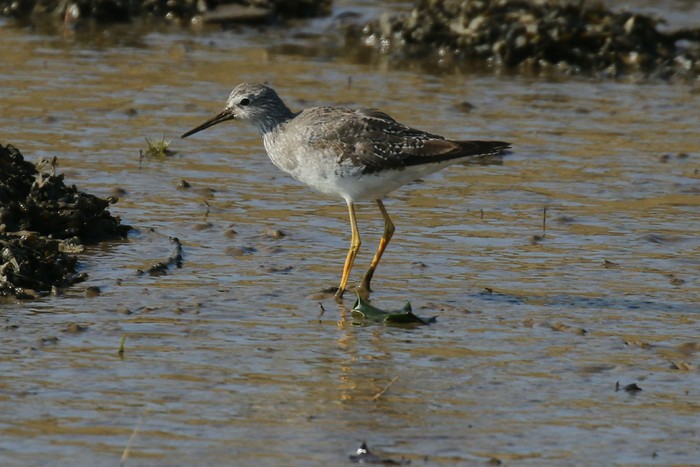 Meanwhile, up in Lincolnshire, the adult Long-billed Dowitcher remained at Frampton Marsh RSPB on 20th-26th.
Finally, in Ireland, both recent first-winter Spotted Sandpipers were reported intermittently – at Killongford (Co.Waterford) still on 20th and again on 26th, and at Ferrybank (Co.Wexford) once more on 24th-25th.
Our gulls were headed once more this week by a Bonaparte's Gull - a brief adult in the evening of 20th at Kilmore Quay (Co.Wexford).
There were slimmer pickings to be had than of late amongst the Ring-billed Gulls, with just half a dozen birds reported this week. Two English birds were noted, at Blashford Lakes HWT (Hampshire) again on 20th-21st, and at Hayle Estuary RSPB once more on 22nd and 25th; in Scotland one was again at Strathclyde Loch (Clyde) on 23rd; and, in Ireland, birds were logged again at Tralee Bay Wetlands Centre (Co.Kerry) on 21st-23rd, Blackrock (Co.Louth) on 23rd, and Sandymount (Co.Dublin) on 24th. On 26th an adult bird was reported from Draycote Water (Warwickshire).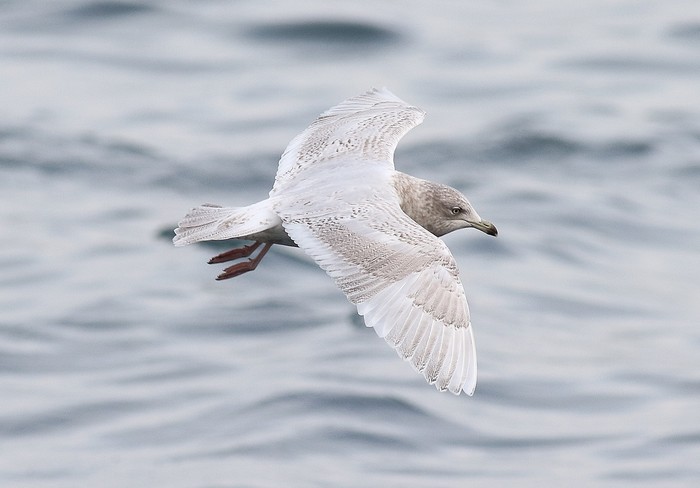 Kumlien's Gulls meanwhile held their own, with nine birds in all seen. English birds came in the form of an adult at Ogston reservoir (Derbyshire) on 21st-23rd, an adult at Draycote Water(Warwickshire) on 24th, and the second-winter again at Lackford Lakes SWT (Suffolk) on 24th-26th. A second-winter was reported from Scatness (Shetland) on 20th-21st, and a juvenile was noted on the Isle of May (Fife) on 20th; a near-adult was in Lerwick (Shetland) on 23rd. Finally, in Ireland, a juvenile was seen at Cashen (Co.Kerry) on 20th, another juvenile was noted at Killybegs (Co.Donegal) on 21st, and the second-winter remained in Limerick (Co.Limerick) on 23rd-25th; another bird was seen on Belfast Lough (Co.Derry) on 23rd.
Numbers of Iceland Gulls remained fairly true for another week, with a modest increase in numbers noted compared with the preceding weeks, up to around 50 birds in the past week, with a peak count coming from Lerwick's Shetland Catch on 21st-24th with five birds present in the immediate area. Glaucous Gulls, however, took a bit of a tumble with just 25 or so birds seen nationwide.
With no strange eagles to exercise us this week, our only element of mild uncertainty comes in the form of two Black Kites reported on 22nd from Kilkhampton (Cornwall); and a further reported bird at Rowhill NR on the Hampshire / Surrey intersection on 26th, apparently present there for a few days.
Eagle-wise, a White-tailed Eagle reported in North Yorkshire on 21st at Fadmoor may have accounted for the immature bird seen the following day at Bransdale NT.
While the weather may have been warming up, some of our recent Rough-legged Buzzards weren't in a hurry to move on just yet. The two birds seen lately in Kent continued to haunt the Chetney Marshes area on 20th-25th; one was again seen in Suffolk at Orford Ness on 21st-23rd; and the adult remained in Cambridgeshire at Thorney Toll until 25th, with the juvenile again on 25th at Farcet Fen. Other sightings this week came from Clippseby (Norfolk) on 20th and Debden (Essex) on 23rd, and, on 26th, on St Martins (Scilly).
The previous week's early Red-rumped Swallow remained at Cwm Ivy (Glamorgan) on 20th-24th; a further Welsh sighting came on 22nd at Bosherton Lily Ponds (Pembrokeshire). The week ended with a further new bird on St Mary's (Scilly) on 26th.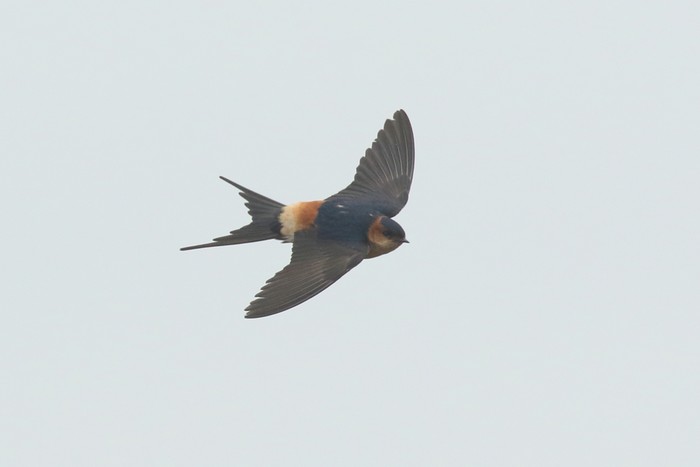 More colourful vanguards of spring were noted this week in Ireland, where Hoopoes were found on 24th-25th at Ballydehob (Co.Cork) and Annestown (Co.Waterford).
The wintering Blyth's Reed Warbler, overwhelmed by how cooperative it had been in the preceding week, returned to its skulking ways at Leigh (Greater Manchester), being reported only on 23rd-25th.
The recent Pallas's Warbler at Fishburn (Co.Durham) was seen on 20th-21st, but not thereafter; the Cornish bird at Coverack remained there on 20th-26th, sharing the site on the latter date with two Yellow-browed Warblers.
Numbers of Yellow-browed Warblers began to dry up this week, perhaps convinced by the rising temperatures that it was time to move on. Still, 13 reports in late February isn't bad at all. Gloucestershire held onto birds at Wesbury sewage works on 20th-26th and Cotswold Water Park on 20th-25th; Cornwall provided sightings in Penryn on 21st and, on 24th, Penzance and Newquay, the latter bird still present on 26th, the same day the two birds were noted at Coverack; one was seen in Hertfordshire at Apsley on 21st-26th; one remained at Eastleigh (Hampshire) on 25th, and one was seen that day at Southernhay (Devon). At least one remained in Ireland at Dungarvan (Co.Waterford) on 21st-24th, with two noted there again on 23rd; and a final Irish sighting came from Westfields Marsh in Co.Limerick on 23rd-25th.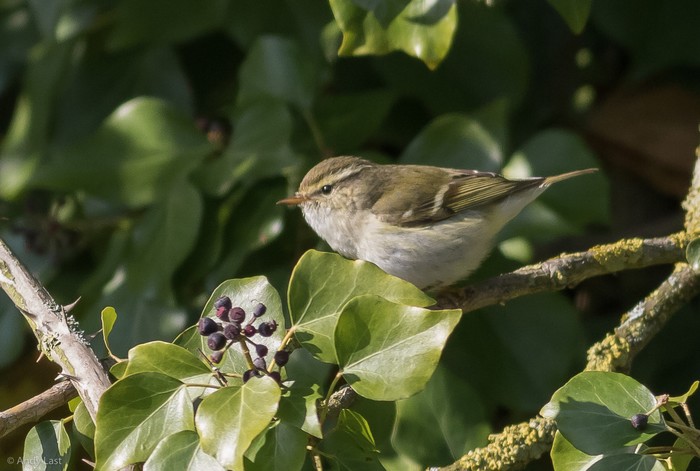 Both of the recent male Penduline Tits remained in the current week – at Lodmoor RSPB (Dorset) again on 23rd-26th, and in London at Crossness LNR still on 20th-24th.
In Somerset, the wintering Richard's Pipit remained at Kingston Seymour on 23rd, while a westerly outlier was found that day also at Tacumshin (Co.Wexford), the latter remaining until 26th; another was reported on 25th at Trevose Head (Cornwall).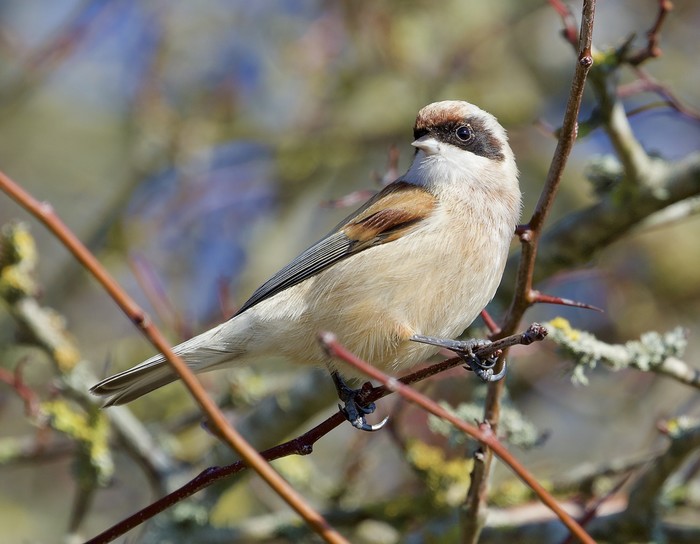 Unlike Yellow-browed Warblers, Great Grey Shrikes weren't going to let a little warm weather dislodge them – we still had plenty of wintering birds to go at this week. Starting in the south, birds remained in Wareham Forest (Dorset) on 20th-22nd, Crab Tree Bog (Hampshire) on 20th-26th and Black Gutter Bottom on 25th, Ashdown Forest (East Sussex) on 20th-26th, Thetford Forest on the Norfolk / Suffolk border on 24th-26th, Clumber Park (Nottinghamshire) on 20th-26th, Hanging Houghton (Northamptonshire) on 20th-22nd, and in North Yorkshire in Dalby Forest on 20th-25th and Langdale Forest on 21st still. The Scottish individual remained at Lochindorb (Highland) on 21st-23rd; and in Wales one was still to be seen in Garwnant Forest (Glamorgan) on 22nd-23rd. Further Welsh sightings came from Plumstone Mountain (Pembrokeshire) on 22nd-26th and Cors Caron (Ceredigion) on 23rd-25th. On 26th one was reported from Venus Pool NR (Shropshire).
The Pied Crow at Flamborough (East Yorkshire) put in another appearance there on 24th and again on 26th.
The heat was definitely turning up on our wintering Waxwings, and their numbers were dwindling by the day as they left for cooler climes. Around 240 were noted this week, down by perhaps a quarter on recent weeks.
The first-winter Rose-coloured Starling remained this week in Llandudno (Conwy) on 20th-23rd.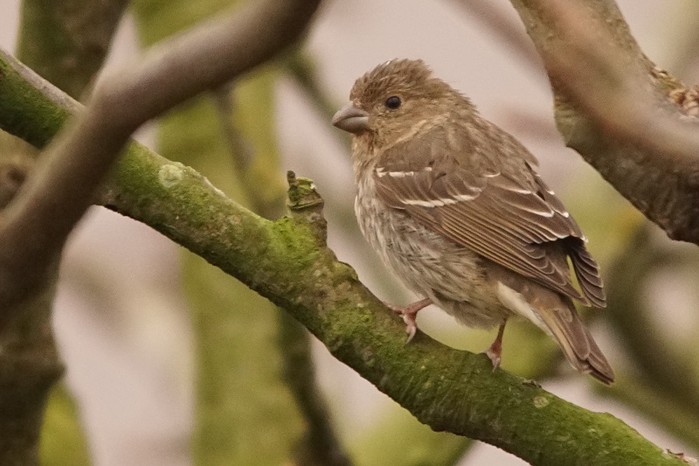 In Norfolk the recent Little Bunting was lingering at Weybourne Camp still on 20th-24th, while the exilipes Coue's Arctic Redpoll was still present at Sculthorpe Moor NR until 26th, joined there by a second individual on 24th.
Finally, in Shetland, the Common Rosefinch was seen pretty much daily at Cunningsburgh until 26th.
Holland was still the place to be for long-staying rarities, with the usual suspects all present and correct this week. These being the Nutcracker still at Wageningen on 20th-24th; the meena Western Rufous Turtle Dove still at Limmen on 20th-25th; the Little Bustard at De Zilk still on 20th-26th; and the male Black-throated Thrush still at Coevorden on 20th-23rd.
Not a million miles away, the long-staying Pygmy Cormorant was still present at Parc Domaine du Val Duchesse on 21st-23rd and, on 26th, at nearby Woulwe-Saint-Pierre; and, in France, a Forster's Tern was seen in Normandy on 20th-21st at Houlgate.
The Oriental Turtle Dove was again seen in Sweden at Gullbrandstorp on 25th. A female Black-throated Thrush was seen on 25th at Bjorkviks Kyra.
In Spain, the American Coot was still to be seen at Lagao de Cospeito on 24th-25th, and an adult American Herring Gull was seen on 20th at Muxia Lires fish farm in Galicia.
On Cape Verde the African Crake remained in residence at Sal on 26th.
Finally to the Canary Islands, where the recent Lesser Crested Tern on Lanzarote remained on offer on 21st, and the now ubiquitous Dwarf Bittern was still present on Fuerteventura on 20th-25th.
Damn. No Allen's Gallinule this past week. Whoever saw that not happening? I even had a text from my erstwhile Rarity Round Up colleague Mark Golley at the start of the week describing it as a "shoe in". And so it should have been! Maybe it'll limp in, late and predictably moribund, in the coming week…
Alternatively, the first few days of March offers a smorgasbord of possibilities. Maybe a late winter warmer – it's a good week for Gyr Falcons… Something from the south – an early Alpine Swift wouldn't go amiss. A westerly option could be a decent gull, or maybe a northward-bound displaced wader…