Weekly birding round-up: 13 - 19 Feb
The week at a glance
Shetland delivers a long overdue Tengmalm's Owl
And Co.Cork serves an indecently early Great Spotted Cuckoo
Winter? What winter? We could be forgiven for thinking spring was well under way this week with some frankly ridiculously lovely, sunny days, warm air sweeping up from the south and, with it, the first appreciable spring migrant overshoots.
With more of the same due in the coming week, hopes will be riding high for some more southern gems in the days ahead. But what of the past week? It's time to banish the winter blues with a dose of early spring colour. And we're not talking daffodils here.
Southern migrants were not, however, the biggest news this week…
Tengmalm's Owl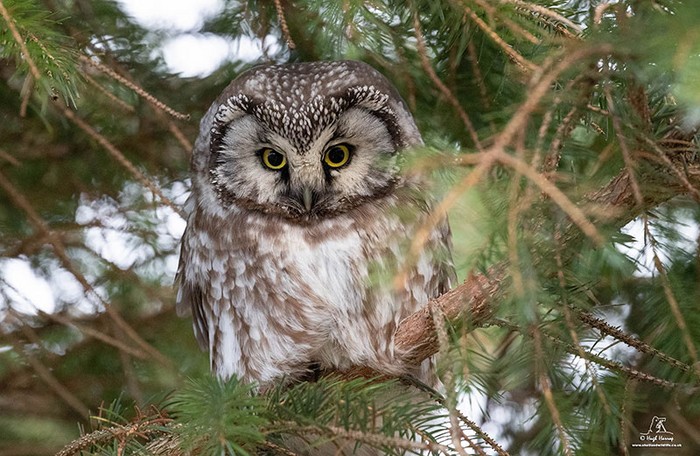 The ink is barely dry on the full story of the Orcadian Tengmalm's Owl last autumn – an absolutely fabulous find, sadly both a brief, transitory bird and one that, even if it had stuck around, was simply never going to be a workable twitch, no matter what folk might have hoped to the contrary. Copinsay, the island it was seen on, was off-bounds due to the high potential for disturbance to pupping Grey Seals.
At the time, we mused on Orkney's incredible magnetism for the species – the archipelago has enjoyed an extraordinary run of birds, with fully six of the past eight British records since 1950 being discovered there. I think I may have wondered aloud why Shetland hadn't had one… our last was waaaay back in 1912, found on 23rd January on Unst, promptly caught, and kept in captivity until 19th February. At which point I'm not entirely clear what happened to it, but the abrupt end suggests it probably died, one way or another. The early 1900s were a particularly stuffy time in Britain, and Shetland was no exception, as the many historic bird specimens of Shetland origin attest.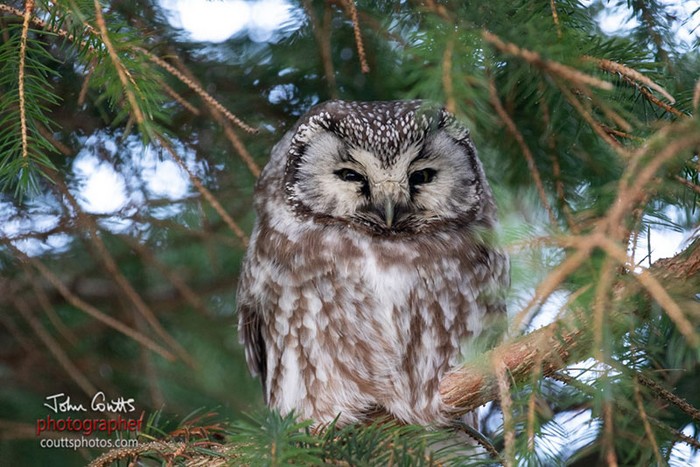 Fast forward to mid-morning on 19th February 2019, and your own correspondent sitting diligently working on this week's Rarity Round Up. It'd been a pretty good week, all told, with some decent birds to report on. And then all hell broke loose with the shocking news that Erik Moar had opened his curtains first thing in the morning to find a Tengmalm's Owl roosting in a spruce a few feet from his window at Tumblin, on the west side of Shetland mainland. His wife, Jackie, posted a photo on Facebook – where it was noticed by local birder John Coutts, amongst others. A little while later, once the record had been confirmed by John, his father and top Scottish birder Dennis, and local birder Hugh Harrop, the news was released.
Time to fire up the Quattro.
Statistically, they're far from the rarest bird on the British list. Then again, there's arguably no species with such resonance and pain attached to it, in the wake of the infamously suppressed and long-staying bird at Spurn (East Yorkshire) in early 1983. This latest individual was always going to be a popular bird, though just how popular it proves to be remains, at the time of writing, to be seen. It couldn't really be in a less convenient place in Britain for anyone wanting to react quickly and twitch it – we'll see, in the coming days if many from the British mainland get a chance to scratch that Tengmalm's Owl itch…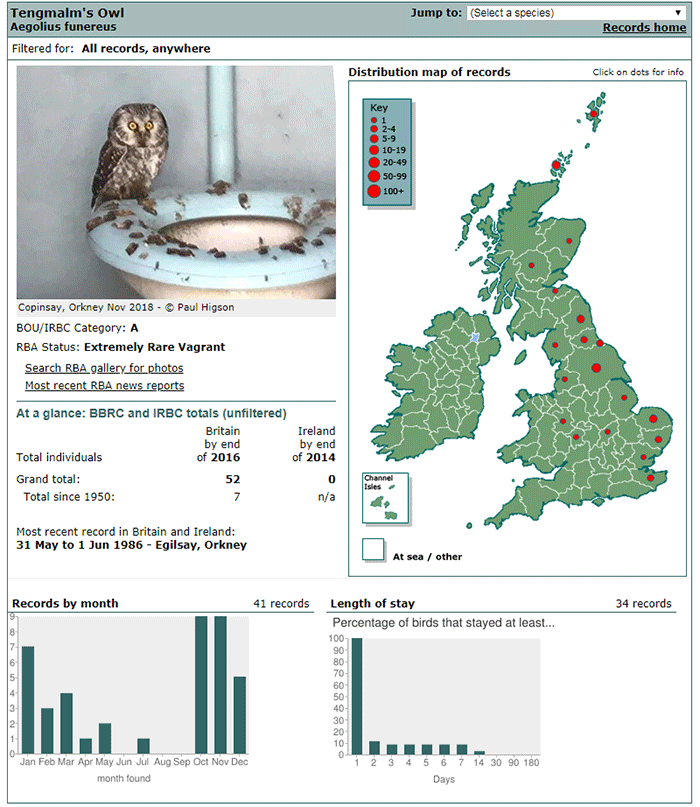 Those quick off the mark made it to Shetland by the late afternoon, in time to see the bird perking up after a day spent, for the most part, fast asleep and blissfully unaware of all the fuss it was generating. As light faded it flew off to the north. The following day dawned windy and with heavy rain showers, and no sign of the bird in the tree in which it had roosted the day before.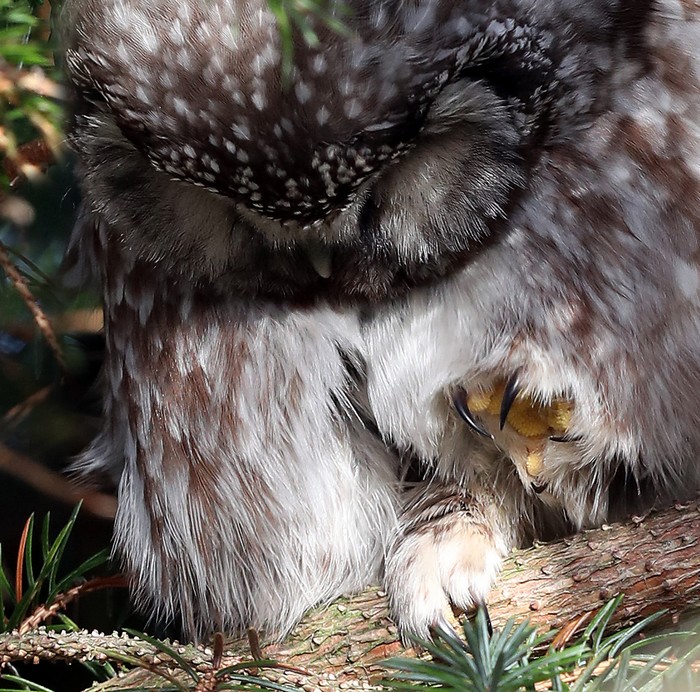 The superlatives – especially 'stunning' – get hauled out by the bucketful for a bird like this. But then again – maybe they should. Those Shetland birders I met on-site on Tuesday afternoon all agreed that we could hardly believe what we were seeing. Tengmalm's Owl is the stuff of British birding myth. This was exactly the sort of moment that I craved when I moved to Shetland, and it's the calibre of bird that induces people to drop everything to come here too.
For now, it remains to be seen whether the bird is re-found in the days to come – the general area features a few gardens with ample cover for the bird to roost in, and one would assume that it's probably been doing just that for some time before its chance discovery on 19th.
Here's hoping this isn't the end of the latest chapter in the British Tengmalm's Owl story…
Well! Didn't think I'd be looking at one of these today when I was packing my socks this morning. Thanks to Dan Pointon for some sharp driving from the airport & apols to Mrs C for leaving you at the airport to sort our car out. I'll make it up to you. #blockerlocker pic.twitter.com/jgPutggKAE

— Allan Conlin (@AllanConlin) February 19, 2019
Great Spotted Cuckoo
It's about a month before I thought I might be writing about a Great Spotted Cuckoo in these columns, but there you go – with birding in Britain and Ireland, you really never can tell. One week we're reporting on fairly standard winter duckage, the next week an albatross has been thrown in off the stormy Atlantic and then, before you know it, there's a Great Spotted Cuckoo seen in Co.Cork.
In February.
Crazy days. That said, while the bulk of Britain and Ireland's 60 or so Great Spotted Cuckoos to date have been found in March and April, a February bird isn't wholly without precedent – there are four records from the month (plus one apiece from Alderney and Guernsey which, y'know, are practically in France anyway, and certainly usually qualify for our 'Further afield' section of proceedings). This week's bird, seen on 15th February at Ballycroneen (Co.Cork) is the equal earliest ever with another Co.Cork bird, seen on 15th February 2009 at Ringaskiddy.
Both of the balance of our other February records come from a little later in the month, and both were found in Devon. With another bout of southerlies due in the coming days, this species is surely on the radar for optimistic birders in southern Britain and Ireland in the week to come.
Really quiet times this week once more after the prior week's little flurry of seabird excitement – our seabirds section is headlined once more by the adult Pacific Diver at Crookhaven (Co.Cork) on 13th-19th still; while the White-billed Diver was again seen off Barra (Western Isles) on 18th.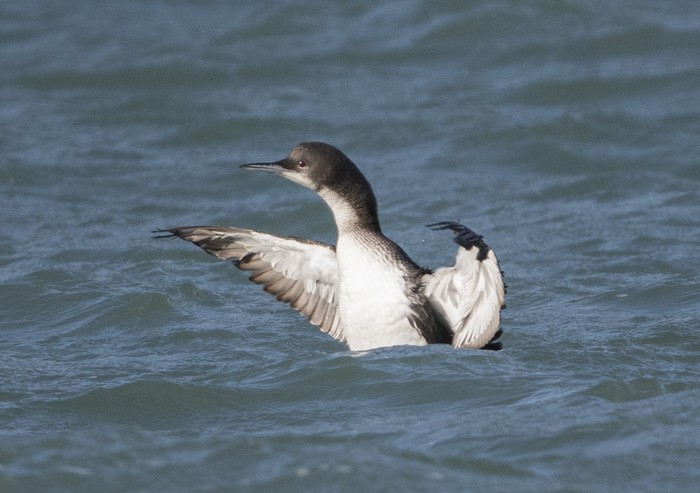 With no skuas or shearwaters of note reported, that just leaves us with a single Little Auk seen in the harbour at Amble (Northumberland) on 17th. And that's our seabird lot for another week.
Once more, Glossy Ibises form the vanguard of our weekly offering of long-legged beasties, with some recent regulars augmented by some presumably new arrivals. In Ireland, the flock of 13 birds remained at Clonakilty (Co.Cork) on 13th-17th, with a dozen there still on 18th; and single birds were still to be seen in Co.Wexford at Cahore Marsh on 16th-17th and Rosslare on 17th; one was present on 18th at Portmore Lough RSPB (Co.Antrim).
Four were again seen on St Mary's (Scilly) on 14th, with at least one still present on 17th and two there on 19th; over in Cornwall, one remained at Helston on 14th-16th, joined by a second bird on 16th; and four were seen at Marazion on 16th, with one still at the latter site on 18th-19th; on 19th a further Cornish sighting came from Hayle. In Devon, the Fremington bird was seen again there on 16th-19th, while on 16th-19th one was seen at Bowling Green Marsh RSPB. One was found in Dorset at Arne RSPB on 15th and again on 17th. Newport Wetlands NNR (Gwent) held onto its bird on 14th-19th, while on 16th single birds were seen over Eaton Ford (Cambridgeshire), and at Ripple (Worcestershire) and Overstone (Northamptonshire). On 19th one was seen in Norfolk over Cockley Cley; while in the evening one was present in Suffolk at Hazlewood Marshes SWT.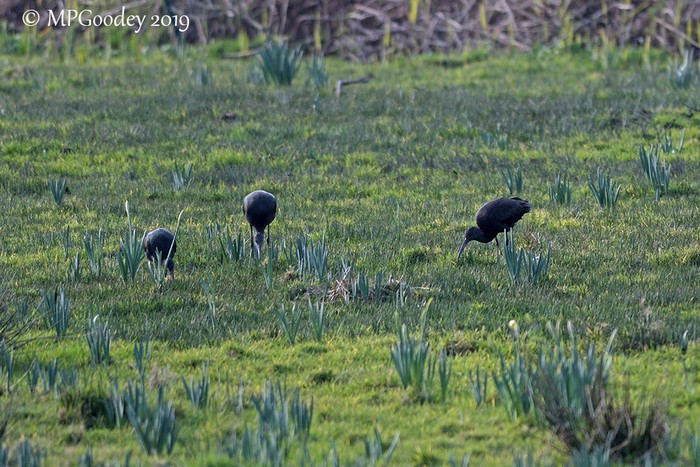 Cattle Egret numbers bounced back again this week, with around 340 birds reported, including a couple of chunky flocks in the southwest – 68 were logged at Walton (Somerset) on 16th, and 58 were seen in Cornwall at Wadebridge on 18th. It's safe to assume that love will soon be in the air for many of this species as it continues to consolidate its status as a British breeding bird – was there ever a faster ascension from notable rarity to resident breeding bird?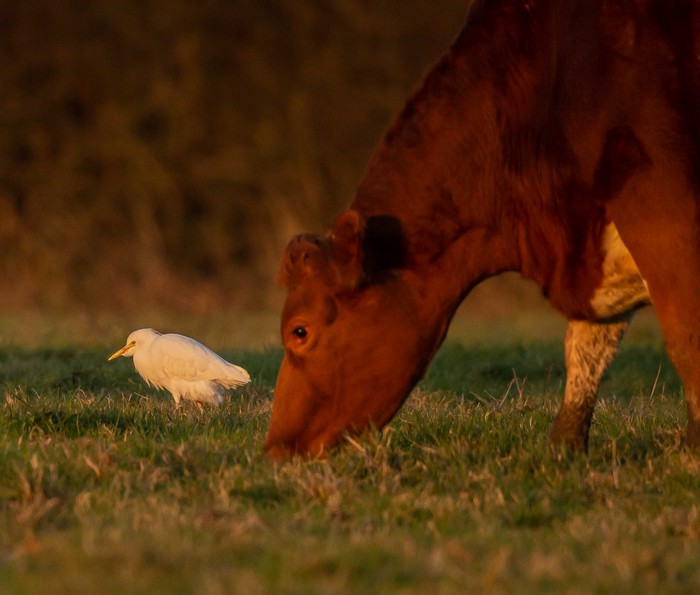 (In a coincidental aside, birds were seen on two of my former inland local patches during the past week – in the otherwise unremarkable surroundings of Yetminster (Dorset) and Brabourne (Kent). If they're turning up in those random fields, they could be just about anywhere nowadays. Surely a self-find and/or patch tick in waiting for many a British birder in the next year or two. Maybe one will even make it to Whalsay…)
And all that without the helping hand of man intervening. The same cannot, of course, be said for White Storks with the now well-rehearsed doubts cast on all future records of the species thanks to the introduction project in Sussex… Perhaps just as well that the unconfirmed report this week of one at Martinshaw Wood (Leicestershire) on 15th was just that, unconfirmed, and we needn't wonder anew at where it might have come from.
Cambridgeshire didn't have quite the monopoly it's enjoyed of late on non-Norfolk Common Cranes this week, though the flock of 44 on the Nene Washes were still present and correct on 15th. Elsewhere, two were noted at Newport Wetlands NNR (Gwent) on 15th; one was seen in Cornwall at St Columb Major on 16th; and in the north, one was seen over Warkworth (Northumberland) on 15th while the wintering bird was again present at Coldstream (Borders) on 16th-17th and Wark (Northumberland) on 18th-19th.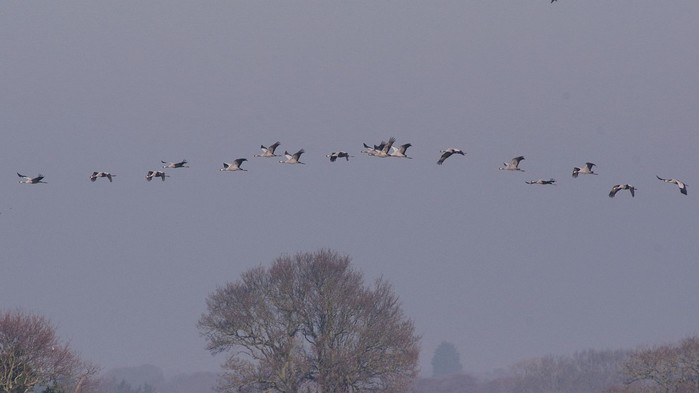 Whilst some of our honkers and quackers were fading into late winter obscurity this week, the same charge couldn't be made of The Goose Formerly Known As Canada, with Lancashire augmenting the usual flavours with something a little different – a canadensis Atlantic Canada Goose seen at Hesketh Out Marsh RSPB on 13th and Marshside RSPB on 16th-17th. The interior Todd's Canada Goose on Islay (Argyll & Bute) remained there on 13th, while hutchinsii Richardson's Cackling Geese were still present on Islay on 15th-18th and North Uist (Western Isles) on 14th-17th. Small Canada-types remained on North Uist on 14th-17th and Barra (Western Isles) on 16th-18th.
The white Snow Goose notched up another week at Tacumshin (Co.Wexford) on 13th-18th. The intermediate morph was once more seen at Munlochy Bay (Highland) on 17th.
Black Brants were well-represented again this week – adult birds were logged at Dublin (Co.Dublin) on 15th; on Walney (Cumbria) again on 15th-18th; in Poole Harbour (Dorset) on 17th; at Holkham (Norfolk) again on 17th; and in Suffolk at King's Fleet once more on 17th-19th.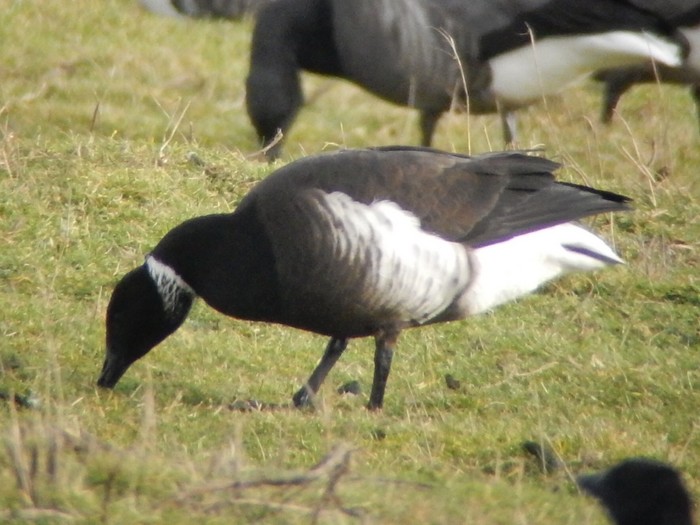 Pick of the ducks was a drake Black Scoter, back in Northumberland this week once more, seen on this occasion off Bamburgh on 16th.
Surf Scoters were in shorter supply than of late – one was off Gormanstown (Co.Meath) again on 14th, with two there once more on 17th; and the two drakes were still present off St Andrews (Fife) on 14th-18th also, with at least one of them still there on 19th.
While multiple weekly records of Lesser Scaup are a thing of the recent past now, Ring-necked Ducks definitely remain a feature of the late winter. Nineteen birds were tallied nationally this week, comprising fifteen in Britain and four birds in Ireland – with almost all of these being single birds, one wonders if there were still rather more present overall in the absence of any small Irish flocks being reported. (Three birds remained this week on Tiree (Argyll & Bute) on 19th). I still fancy there are birds to be found in Ireland and Britain alike, lurking unseen amongst otherwise unfancied Tufted Ducks.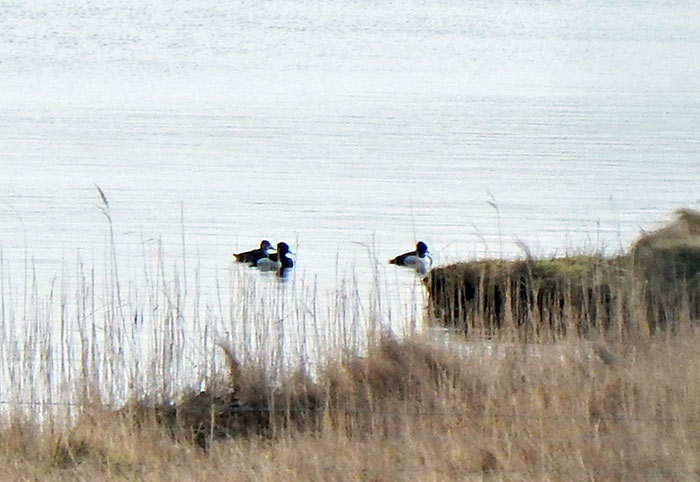 Absent entirely from the news for a little while, a possible Lesser Scaup (or a hybrid) was reported from Branston Park (Lincolnshire) on 17th.
American Wigeon sightings dried up a little more again this week, with just the female still at Grimley (Worcestershire) on 13th-18th and a drake seen at Ballyallia Lake (Co.Clare) on 14th-15th.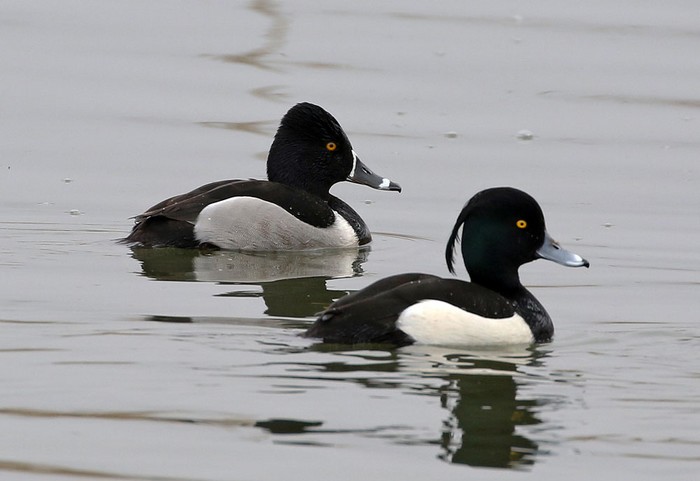 Meanwhile, Green-winged Teals nudged back into double figures nationwide once more. Scotland was again their heartland – birds were seen on North Ronaldsay (Orkney) again on 13th-18th; Caerlaverock WWT (Dumfries & Galloway) again on 13th-19th; at Loch Flemington (Highland) still on 14th; on the Western Isles on Benbecula on 17th; and on Islay (Argyll & Bute) again on 17th-19th. English birds had a northerly distribution too, with sightings this week from Druridge Pools NR (Northumberland) still on 13th-19th; Kilnsea Wetlands (East Yorkshire) again on 13th; and Saltholme RSPB on 15th and Dorman's Pool (Cleveland) on 15th-19th.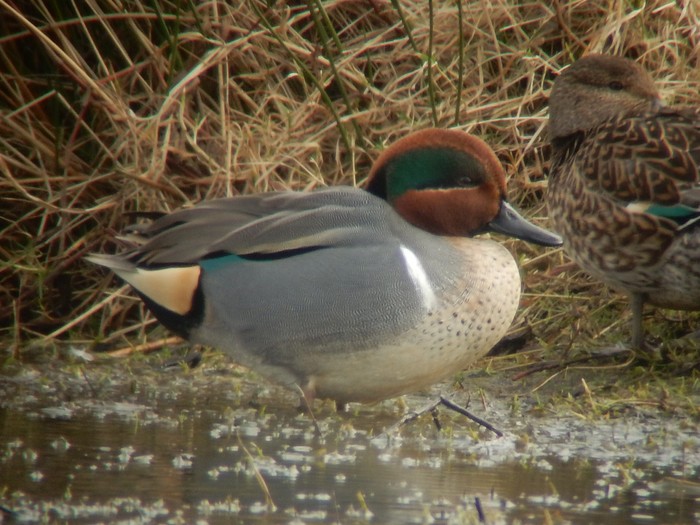 Unseen for weeks now, the drake Black Duck was once more noted at Strontian (Highland) on 18th.
We finish in Shetland where our regular honorary waterfowl the adult Pied-billed Grebe was still kicking around the Loch of Spiggie on 16th.
Our Shorebirds section was, predictably, looking increasingly sparse this week. We'll start in Cornwall where the Temminck's Stint was still present at Chapel Amble on 13th-18th and, at this rate, will still be around when the rest of its kind start arriving on migration in a few weeks' time…
Over to Ireland, both recent first-winter Spotted Sandpipers remained in Co.Wexford and Co.Waterford, at Ferrybank on 16th-17th and Killongford on 15th-18th respectively.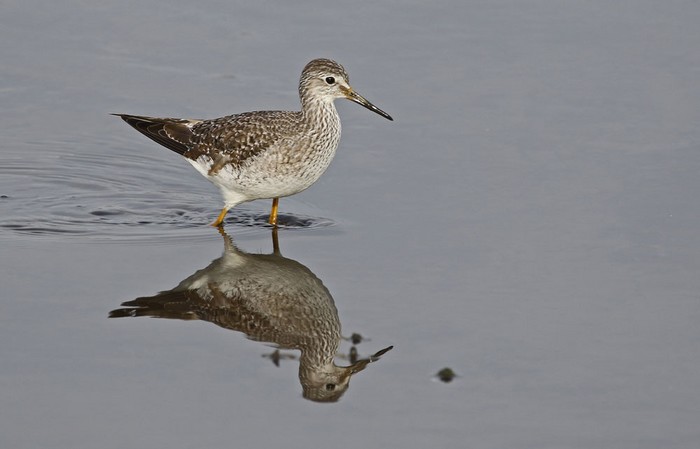 In Dorset, the first-winter Lesser Yellowlegs was still to be seen at Lodmoor RSPB on 14th-19th.
Finally, in Lincolnshire, the adult Long-billed Dowitcher remained at Frampton Marsh RSPB on 13th-19th.
I may have predicted last week that we were on for another American Herring Gull, but I didn't, hand-on-heart, anticipate that it might be close to home in Shetland. While the jury's still out on a third calendar-year bird seen in Lerwick on 17th-18th it doesn't (quite) make it up into the headlines but, if confirmed, this would be Shetland's long-anticipated first record of the species.
That excitement aside, it falls to Ring-billed Gulls to make up the main body of our Larid news this week – and to Ireland in particular to supply the bulk of our records. One remained at Tralee Bay Wetlands Centre (Co.Kerry) on 13th-17th; two birds were in Limerick (Co.Limerick) on 16th, with one bird still present on 17th; adults remained in Carrickfergus (Co.Antrim) on 16th-17th, Blackrock (Co.Louth) on 17th, and Drimnagh (Co.Dublin) on 17th; a further adult was noted at Kildavin (Co.Carlow) on 17th; and a first-winter was seen at Kilshannig (Co.Kerry) on 17th also; on 19th two adults were present at Sandymount Strand (Co.Dublin). In Scotland, the adult bird was once more seen at Strathclyde Loch on 16th-19th, with another adult seen in Lothian at Fisherrow on 17th. English sightings came from Cornwall's Hayle Estuary RSPB on 16th-17th and Helston on 14th-16th still; and, in Hampshire, from the delightful surrounds of the Tidpit pig fields on 16th and Blashford Lakes HWT on 16th-17th.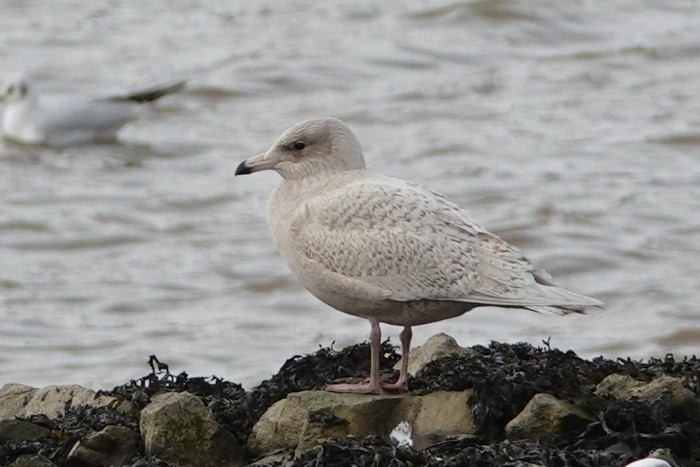 Kumlien's Gulls were still out there amongst their commoner brethren to reward the keen-eyed for another week. Birds were noted at Lackford Lakes SWT (Suffolk) still on 14th-18th; Pugneys CP (West Yorkshire) again on 16th; and in Limerick (Co.Limerick) again on 16th-18th. Additional new birds were seen at Helston Loe Pool (Cornwall) on 13th; Drift reservoir (Cornwall) on 14th; and Mousehole (Cornwall) on 17th –with all of those sightings relating to adult birds, was there some duplication involved? Another adult was seen on St Agnes (Scilly) on 18th.
Around 40 birds apiece of our commoner white-wingers, Iceland and Glaucous Gulls were noted nationwide this week – most related to ones or twos, with just three Iceland Gulls in Lerwick (Shetland) and three Glaucous Gulls present at Draycote Water (Warwickshire) on 14th bucking that trend.
If I thought that this week's Great Spotted Cuckoo was a little on the early side, it's way too soon to be having reports of possible Booted Eagles - that's usually the preserve of midsummer. Then again, a few early overshoots this week could, conceivably, include one in their number – though I think we all remain slightly jaded about the species in Britain for now. A possible pale morph was seen this week from a moving vehicle in the late morning of 16th at Bradwell Woods (Staffordshire). At which point we should probably also throw in the report of an eagle sp at Leighton Moss RSPB (Lancashire) on 15th.
Moving onto more concrete news, Cambridgeshire was still the place to be for Rough-legged Buzzards this week, with the juvenile again at Holme Fen NNR on 13th-18th, and the adult once more at Thorney Toll on 16th. Sightings from Norfolk were more numerous, if less predictable – birds were seen at Choseley again on 14th; Haddiscoe once more on 14th, with two birds reported there on 17th; at Titchwell RSPB on 14th; at Brancaster on 16th; at Egmere on 17th; and near Oxborough on 18th. At least one bird remained in the Chetney Marshes area of Kent on 13th-16th, with two there once more on 16th-19th. One was again seen in Northumberland at Plenmeller Common on 18th-19th. Finally, we've an unconfirmed report of one to the west at Fawley (Hampshire) on 15th.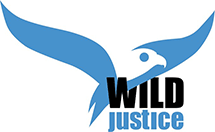 Last, but by no means least, a convincing candidate for a second calendar year grey morph Gyr Falcon was photographed screaming through Westing on Unst (Shetland) on 15th by David Cooper. Yet more reward for his long hours in the field.
I say lastly, but there's one final snippet of raptor-related news I'd like to drop in here. A new, not-for-profit organisation, Wild Justice, has been set up in the past week, by well-known conservationists Mark Avery, Ruth Tungay and Chris Packham, to take legal cases on behalf of wildlife against public bodies where they are failing to protect species and/or habitats. Which cases they will be fighting will be revealed in the coming weeks and months, but in the meantime Wild Justice has a newsletter you can sign up for to keep abreast of news. I wholeheartedly commend what they're doing, and hope others will support them too. Our Hen Harriers, our peat uplands, our invertebrates and our dwindling populations of wildflowers to name but a few all need all the help they can get. Now, perhaps more, than ever. wildjustice.org.uk
Though nowhere near as rare as the Great Spotted Cuckoo in Co.Cork this week, a Red-rumped Swallow seen at Cwm Ivy (Glamorgan) on 16th-19th was every bit as early. We'd not be expecting to see one of these little beauties for a few weeks yet… then again, the day on which it was found was truly remarkable for the early scale and reach of hirundines penetrating British airspace – in a completely unprecedented record, four House Martins were even found on 16th as far north as Trondra (Shetland).
More early spring colour came in the form of a Hoopoe found in Camborne (Cornwall).
The wintering Blyth's Reed Warbler became downright reliable and obliging this week, being seen daily until 19th at Leigh (Greater Manchester). The Pallas's Warbler over in Fishburn (Co.Durham) also remained until 19th, whilst the individual down at Coverack (Cornwall) was present until 18th.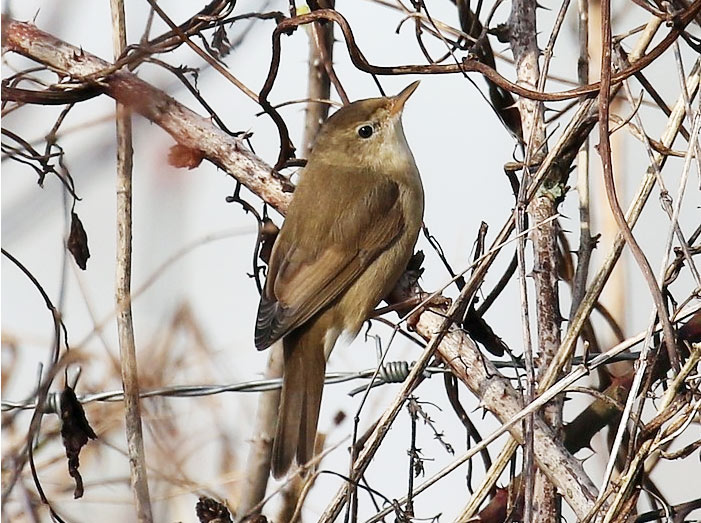 14 Yellow-browed Warblers maintained a presence for the species in Britain and Ireland, with duos noted at two sites – in Co.Waterford, last week's singleton at Dungarven was joined there by a second bird on 13th; and two were seen again in Helston (Cornwall) on 14th. Just how many have overwintered nationwide?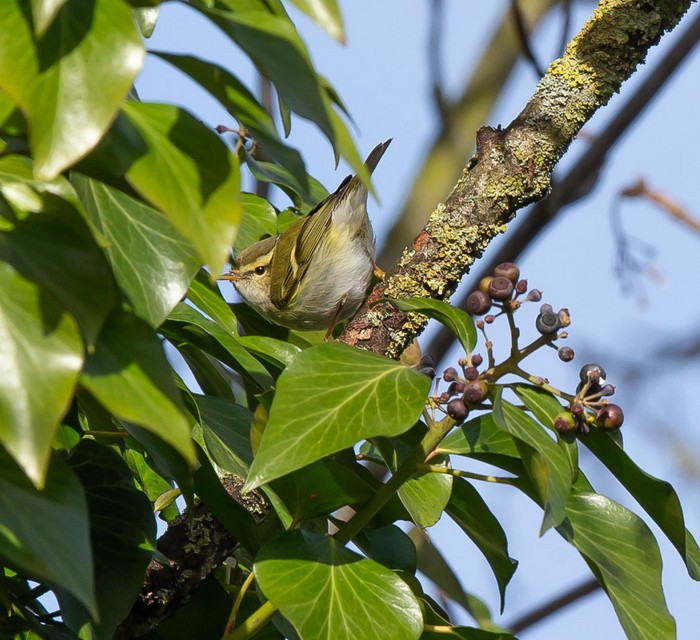 The previous week's Penduline Tit was seen once more at Lodmoor RSPB (Dorset) on 15th and again on 18th-19th; on 18th-19th another male bird was found in London at Crossness LNR.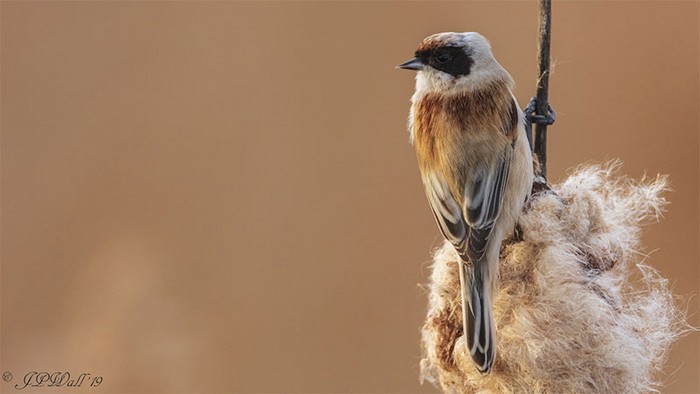 In Somerset, the wintering Richard's Pipit remained at Kingston Seymour on 13th-14th; on 19th, one was found inland in the county at Butleigh Moor.
A decent scatter of Great Grey Shrikes remained on their wintering stations for another week, with a smidgen of new faces found too. Starting in Highland, birds were noted at Nethy Bridge still on 15th, and at Lochindorb on 16th-19th; North Yorkshire sightings came from Gunnerside still on 15th and Langdale Forest on 15th-18th; one remained at Hanging Houghton (Northamptonshire) on 13th-19th; on 15th new birds were found at Hollowell reservoir (Northamptonshire) and in Thetford Forest (Suffolk), with another on 16th at Bedford Aerodrome; one remained in Ashdown Forest (East Sussex) on 15th-17th; and on 16th the recent bird was again seen in Garwnant Forest (Glamorgan). On 19th one cropped up again in Wareham Forest (Dorset), while the Crab Tree Bog bird was again seen in Hampshire that day also; and a new bird was found near Durham (Co.Durham).
The Pied Crow at Flamborough (East Yorkshire) resurfaced once more there on 13th-18th.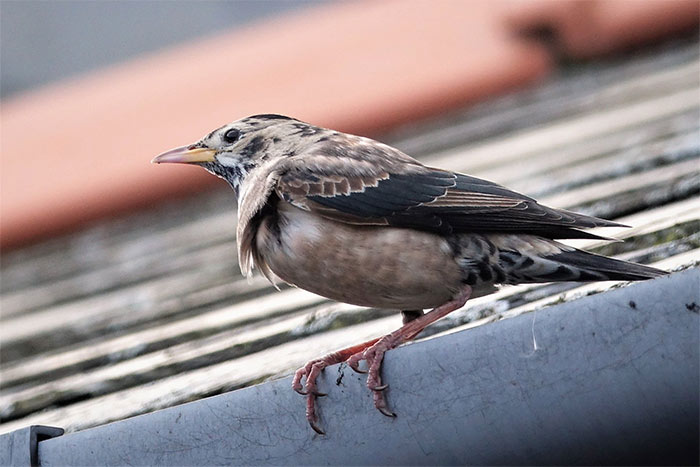 Waxwings appeared to hold fairly steady for another week, with somewhere in the region of 350 birds once more noted nationwide as the days passed.
The first-winter Rose-coloured Starling was still present this week in Llandudno (Conwy) on 14th-19th.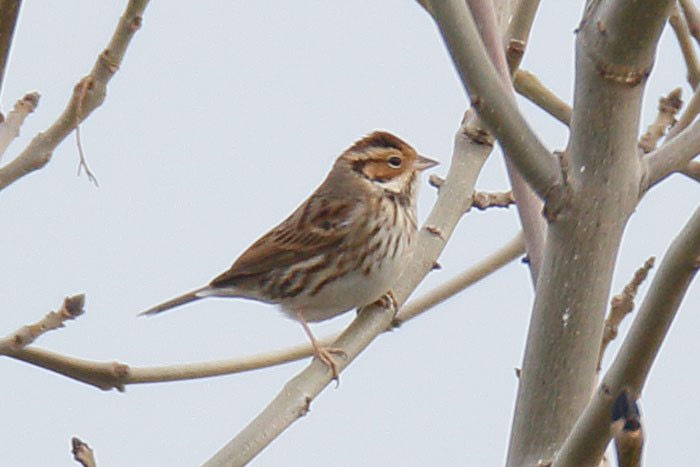 Absent from the news for a week, the recent Little Bunting was again seen at Weybourne Camp (Norfolk) on 13th-16th. The county also sported a final wintery flourish in the form of an exilipes Coue's Arctic Redpoll seen at Sculthorpe Moor NR on 17th-19th.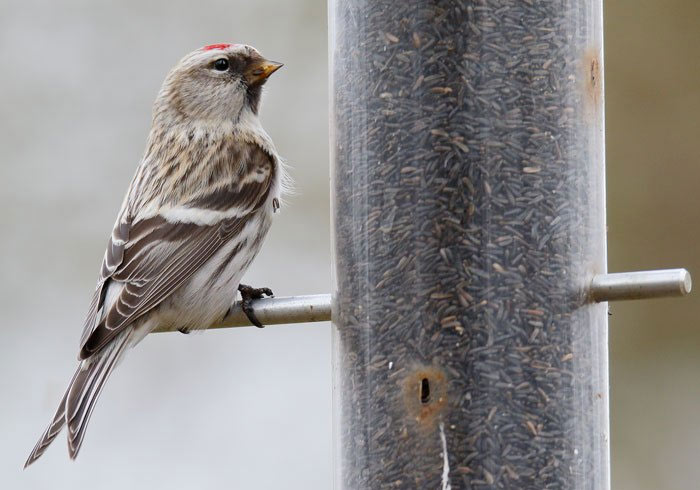 Holland was, for another week, the place to be overseas with a mouth-watering array of rarities just a short hop, skip and a jump from Britain. Not that we can complain, this past week, but still… it's hard not to feel a little envious of the long-staying Nutcracker still at Wageningen on 14th-18th, the settled meena Western Rufous Turtle Dove still at Limmen on 14th-18th, and recently arrived Little Bustard at De Zilk still on 14th-18th and male Black-throated Thrush still at Coevorden on 16th-18th.
Envious eyes could also cast to France where, at Dinan on 13th, the Wallcreeper was still available.
In Sweden the Oriental Turtle Dove was still to be found at Gullbrandstorp on 14th-18th.
Portugal's Green Heron was still present at Quinta do Lago on 18th; the Steppe Grey Shrike was seen again at Ebro Delta NP on 17th.
Heading offshore, on Guernsey the American Royal Tern was once more logged on 13th.
Further out to sea still, the Canary Islands' rarity roster included the Dwarf Bittern still on Fuerteventura on 17th-19th, the Lesser Crested Tern on Lanzarote still on 17th also, and an Isabelline Wheatear on Tenerife on 14th-15th, the latter only the second record for the islands. Fresh blood arrived on Lanzarote on 18th-19th in the sandy form of a Bar-tailed Lark - the fourth for the Canaries.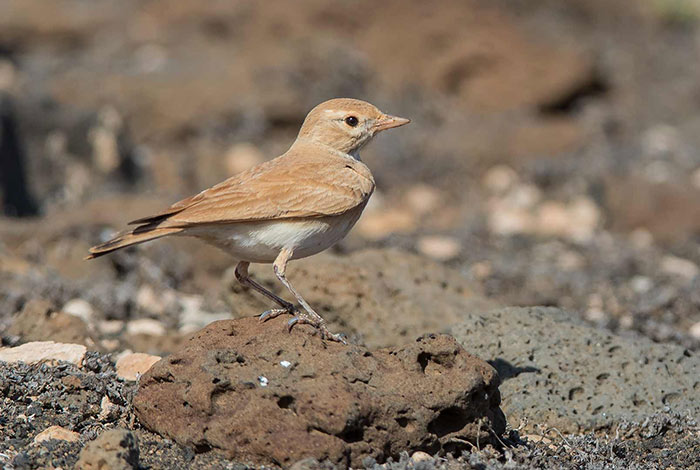 On Cape Verde, the African Crake was noted once more on 18th.
Finally, out on the Azores, the Pied-billed Grebe was once more seen on Sao Miguel on 15th, and the Green Heron remained on Sao Jorge on 16th.
We're forecast another really strong spell of southerlies sweeping up into Britain and Ireland again in the coming week, apparently due to hit us around about the weekend. In other words, at prime birding time.
This past week, that spelled a Great Spotted Cuckoo, and who's to say we might not score another one of those… Statistically, another Red-rumped Swallow or two may be in the offing, carried along with commoner north-bound hirundines.
But dare we aim a little higher? Perhaps a lost Baillon's Crake or, whisper it, the long-awaited Allen's Gallinule with enough vital spark to be seen, if only briefly, in the field. There've been a few found this winter, further afield. Maybe our time is now…
The stuff of dreams, obviously. Eyes peeled for another Great Spotted Cuckoo, people.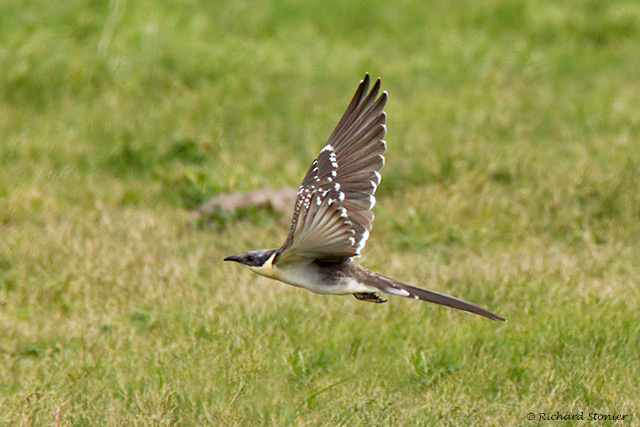 Jon Dunn
20 February 2019
Share this story
Tweet