Weekly birding round-up: 23 - 29 Jan
The week at a glance
An Ivory Gull books into care in Dumfries & Galloway
A fresh Hume's Warbler is seen briefly in Dorset
Greater Manchester's elusive wintering Blyth's Reed Warbler hangs around
And the Eastern Yellow Wagtail remains on Scilly
The weather this past week duly served up another generous helping of precisely what we'd expect around about now, which is to say a starter of westerly gales followed by an icy, snowy blast from the north.
That came as no particular surprise – but did our week's birds hold any surprises amongst their number?
Ivory Gull
Okay, so it wasn't found on the rotting Sperm Whale carcass on Unst (Shetland) that I'd so brazenly predicted it would be, be all the same… I'll take my predictive triumphs where I can find them. Last week's Round Up concluded with a call for an Ivory Gull in the coming days and, happy days, no sooner had the new week begun than there one was, in Stranraer (Dumfries & Galloway) on 23rd.
This was not, then, in northern Scotland at all, and nor was it feasting at the altar of a deceased cetacean. This particular adult bird was found in the unlikely surroundings of a Stranraer garden – imagine that as a garden tick! – and, stranger still, was taken into care, found to be seriously underweight. Given it's a gull, and they're not exactly renowned for their fastidious gourmet tastes, one has to presume that this particular bird was in a pretty poor way to have come to such a sorry pass.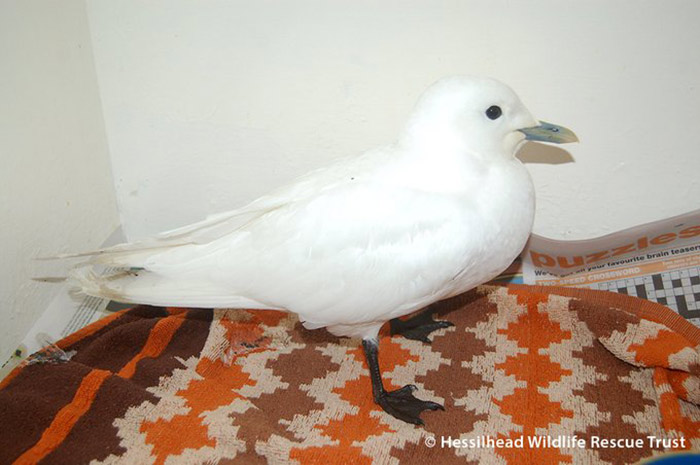 The news in the following days from the Hessilhead Wildlife Rescue seemed promising – the bird was feeding, and appeared more active than hitherto. We're waiting to hear when the bird's fully recovered and is ready for release – an event that will, doubtless, prove popular.
Hume's Warblers
In a week that saw yet more new Yellow-browed Warblers come out of the woodwork, it wasn't entirely surprising that another Hume's Warbler might come to light too. This week's new Hume's Warbler was a tantalisingly brief affair, seen well near Portesham (Dorset) on 25th before flying off west.
A quick glance at the distribution map for past records of the species shows that they've now put in a solid showing along the coastal counties of the eastern and southern seaboards, and have penetrated inland too. However, there remain counties without one to their credit – perhaps that might change before the winter is out. I'm sure we're still in for more Yellow-browed Warblers in the coming days and weeks and, who knows, maybe another Hume's Warbler too.
The individual in East Sussex at Newhaven, meanwhile, remained a reliable prospect this week, being seen there still on 25th-29th.
Blyth's Reed Warbler
If I still can't quite get over the feeling of unreality engendered by a Blyth's Reed Warbler in Leigh at this time of year, heaven knows what birders in the Greater Manchester area must be feeling around now. This pioneering bird was still hanging around there this week, though proving far from easy to see – our sole reports came from 26th and again on 28th. Will it chalk up another new month for the species in February?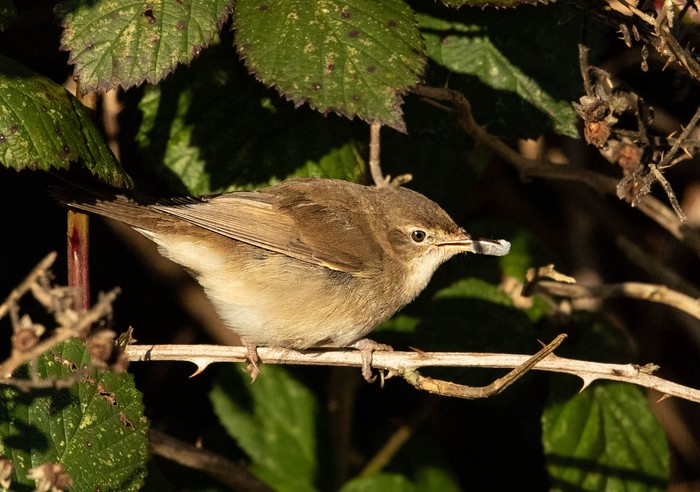 Eastern Yellow Wagtail
The same question might reasonably be asked of the Eastern Yellow Wagtail on St Mary's (Scilly) as, finally, after weeks of sporadic, flighty behaviour and intermittent sightings it settled down into something approaching a routine and reliability – having settled upon a muddy field at Pelistry to call home, it was seen more or less daily this week between 23rd-28th.
Cornwall was carrying our Seabirds section on its broad shoulders again this week, with sightings of Pacific Divers coming from Gerrans Bay still on 24th-26th and Mounts Bay again on 27th-29th.
The White-billed Diver was once again seen from Barra (Western Isles) on 28th; the individual off Housabister (Shetland) was reported again that day also.
Absent from the news for a while, The Lizard chalked up single Balearic Shearwaters on 26th and 28th; and a Pomarine Skua was noted from St Ives on 27th.
A single bird of the latter species was also seen on 27th outside of Cornwall – one was logged from Holme (Norfolk) that day; while a Little Auk was reported from Norfolk's Cley on 26th. Two more Little Auks were seen from the Isle of May (Fife) on 29th.
In a startling break from the recent convention, we're not starting this week's long-legged beasties with Cattle Egrets - though, in a spoiler nobody will be in the least bit surprised to learn, we're still knee deep in them – because we've something a little different to kick things off with…
…namely, a first-winter Night Heron at Ormesby Little Broad (Norfolk) on 27th.
If that weren't exotica enough, we can also count on the burgeoning numbers of Glossy Ibises seen once more around Britain and Ireland this week. Starting in Ireland, the dozen birds were still at Clonakilty (Co.Cork) on 24th-26th; one was seen flying by Ardmore (Co.Waterford) on 24th; a bird remained at Rosslare (Co.Wexford) on 26th; and another was seen that day at Carrowmore Lacken (Co.Mayo).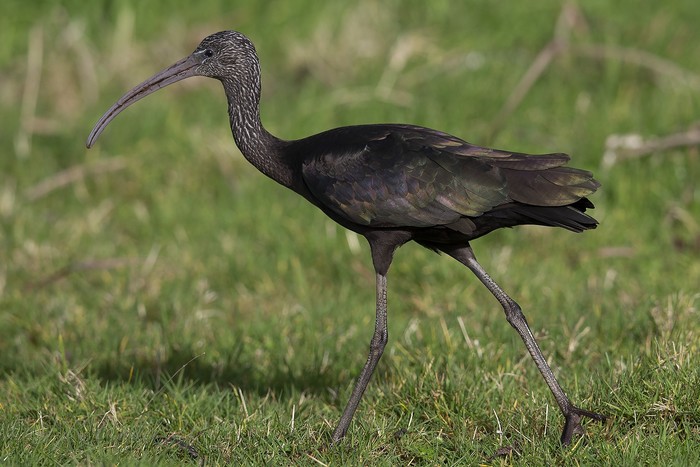 Wales still held one bird at Newport Wetlands NNR (Gwent) on 23rd-26th, while Scilly and Cornwall accounted for the English sightings – the recent octet on St Mary's (Scilly) fragmented this week, with four seen there on 23rd-24th and at least five still on 25th-29th; while in Cornwall birds remained at Newquay on 23rd-29th; Marazion RSPB and Gulval on 23rd still; and further sightings came from Helston on 26th and Coverack on 27th. On 28th three were seen at Drift reservoir, while another was reported from Falmouth on 28th for its second day.
And so to Cattle Egrets - that around 230 birds reported this week felt like a modest tally probably tells us all we need to know about just how much of a fixture they've become. No single site tallies broke the magic century barrier this week, with Somerset's Sharpham Park coming closest with a count of 87 birds on 26th. Away from Somerset, our next highest score was in Cornwall where a flock of 32 were logged at Sladesbridge on 25th.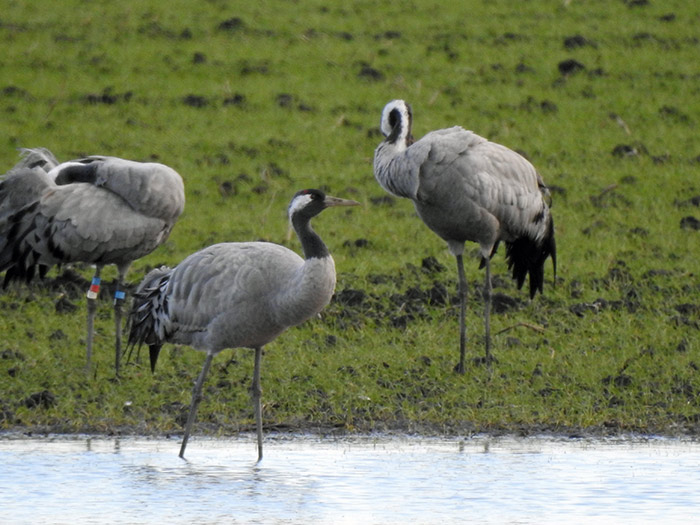 Speaking of decent tallies, our weekly non-Norfolk look at Common Cranes was, once again, dominated by Manea (Cambridgeshire) where 44 birds were seen on 23rd. Singletons remained at Coldstream (Borders) still on 26th-27th and in Dorset at Hartland Moor and Middlebere on 23rd-28th.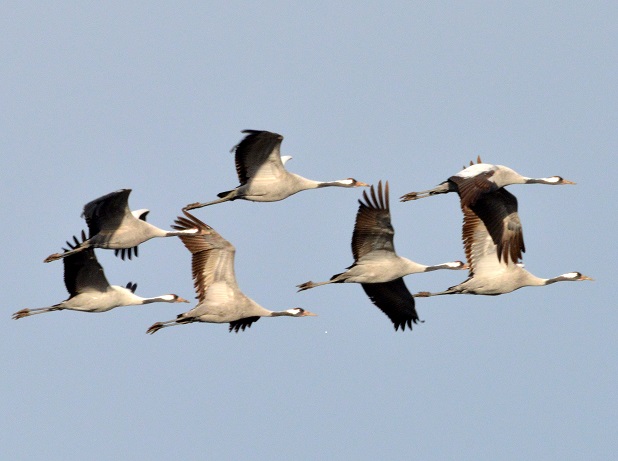 The Goose Formerly Known As Canada rallied a little this week after recent quieter times. On North Uist, at Balranald RSPB (Western Isles) hutchinsii Richardson's Cackling Goose and the small Canada-type of late both remained present on 23rd-25th. The other recent small Canada-type was again logged on Barra (Western Isles) on 29th. Meanwhile, sightings of interior Todd's Canada Goose came from Campfield Marsh RSPB (Cumbria) on 25th and Banks Marsh NNR (Lancashire) on 26th.
To be fair, honkers generally were enjoying something of an uplift – we've two sightings of intermediate morph Snow Goose too this week – at Loch of Skene (Aberdeenshire) on 23rd and Munlochy Bay (Highland) again on 27th.
Black Brants, of course, remained a winter staple. Norfolk sightings came once more from Holkham on 23rd, Burnham Overy Dunes on 26th and Wells on 28th-29th. Suffolk sightings came from Falkenham on 23rd-26th, King's Fleet still on 27th and Felixstowe Ferry on 28th; and one was seen in Hampshire at Eastney on 24th.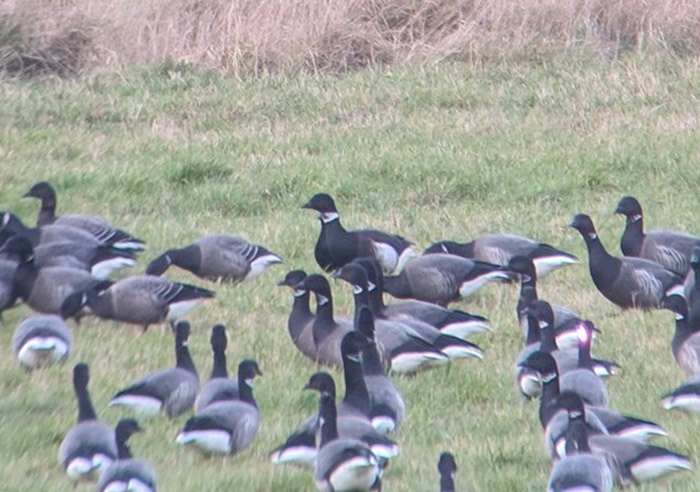 Starting with the rarest of our quackers, the drake Black Scoter was still off the Northumberland coast this week, seen from Goswick, Cocklawburn and Cheswick Sands on 23rd-26th.
Moving, seamlessly, onto Surf Scoters, the usual Scottish suspects remained on station – the two drakes still off St Andrews (Fife) on 24th-28th; and the drake again off Musselburgh (Lothian) on 24th-28th, with a drake seen from Gullane Point again on 24th and 28th also; on 29th the drake was once more noted in Aberlady Bay (Lothian). A Welsh record comes from Black Rock Sands (Gwynedd) on 28th. The rest of our sightings this week came from Ireland – a drake again off Ballyvaughan (Co.Clare) on 25th; and duos off Bremore Point (Co.Dublin) on 26th and Gormanstown (Co.Meath) on 27th.
Ring-necked Ducks remained a notable winter feature nationwide, with some 20 birds in all reported. Ireland maintained its dominance of the records, with two small flocks still present – five birds at Lough Atarriff (Co.ork) on 26th, and three birds once more at Lough Morne (Co.Monaghan) on 26th also. Two birds present at Abberton reservoir (Essex) on 29th included one drake trapped and ringed.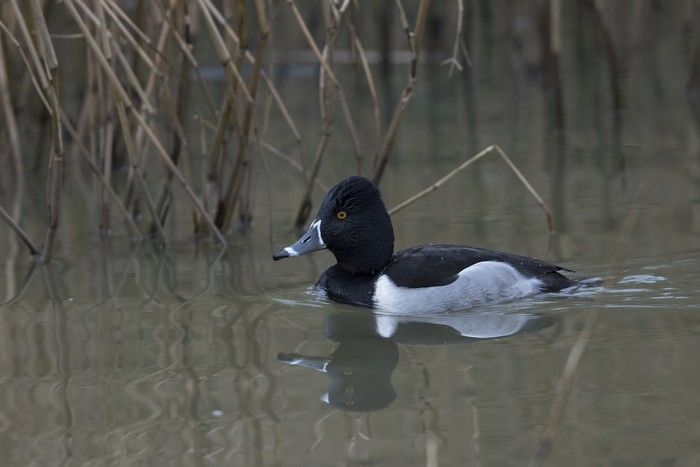 The small surge in Lesser Scaup records the preceding week wasn't built upon this week, with just two birds lingering and still making the news – the drake again on Loch Ryan (Dumfries & Galloway) on 23rd-28th, and the female at Blithfield reservoir (Staffordshire) on 23rd-29th still too.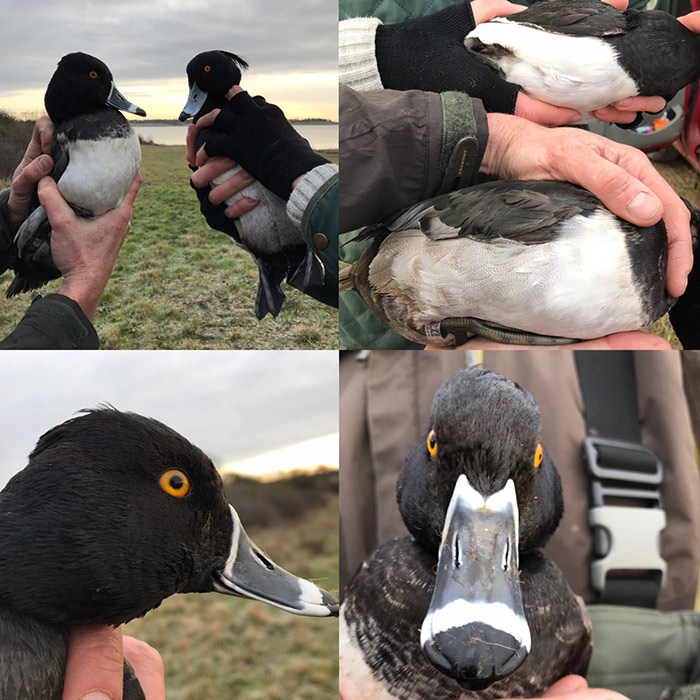 Only one Ferruginous Duck at large in Britain at the moment remains presumed untainted by the suggestion of release or escape now – and that's the drake at Blashford Lakes HWT (Hampshire).
American Wigeons this week comprised familiar faces – the female still at Grimley (Worcestershire) on 23rd-28th, and drakes once more at Tain Links (Highland) on 24th-29th and, in England, at Kirkby on Bain GPs (Lincolnshire) on 23rd-28th, Rutland Water (Leicestershire) on 24th-28th, and Hesketh Out Marsh RSPB (Lancashire) still on 26th. On 29th one was found on Lough Beg (Co.Derry).
Settled individuals accounted for a good proportion of our Green-winged Teals again this week – birds remained on North Uist (Western Isles) on 23rd-26th, Tain Links (Highland) on 24th, North Ronaldsay (Orkney) on 26th, Beacon Ponds NR (East Yorkshire) on 23rd-26th, Wheldrake Ings YWT (North Yorkshire) on 26th, Abberton reservoir (Essex) on 26th, Caerlaverock WWT (Dumfries & Galloway) again on 29th, and in Ireland at Saltmills (Co.Wexford) on 27th. A further report came from Saltholme RSPB (Cleveland) on 27th.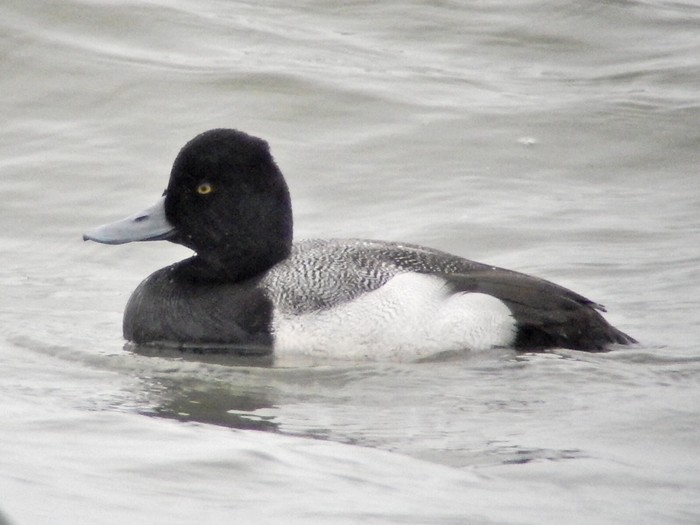 The female King Eider was once more seen at Ynyslas (Ceredigion) on 27th.
Finally, on Shetland, the Pied-billed Grebe made a timely reappearance at Loch of Spiggie on 28th, just in time to join the honkers and quackers as an honorary waterfowl for the Round Up.
There remained nothing new to go at this week on the Shorebirds front – predictably enough at this time of year. We can count ourselves lucky then to have a trio of wintering Nearctic species still on offer in Britain and Ireland…
Starting in Lincolnshire, the adult Long-billed Dowitcher remained at Frampton Marsh RSPB on 25th-26th.
Moving south and west, we find the first winter Lesser Yellowlegs still present at Lodmoor RSPB (Dorset) on 23rd-28th and Devoran Quay (Cornwall) until 25th, while in Cornwall the Temminck's Stint was seen intermittently at Chapel Amble this week on 23rd and 26th-29th.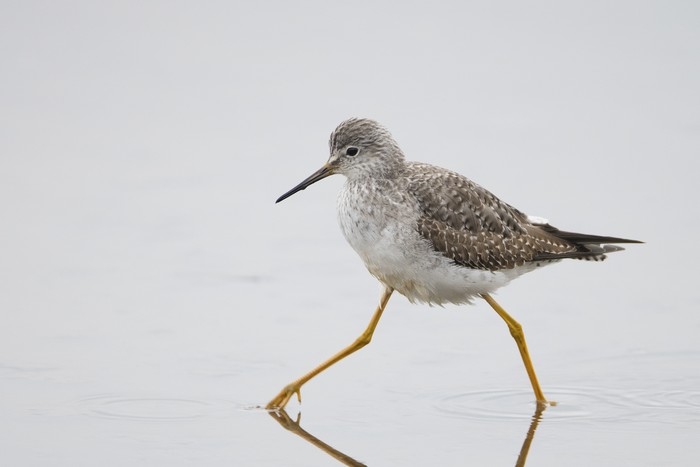 Ireland, meanwhile, still held onto the juvenile Spotted Sandpiper at Ferrybank (Co.Wexford) on 23rd-28th.
Our other gulls, all in the shadow of the headline-grabbing Ivory Gull, are led by the near-adult American Herring Gull still present in Co.Cork at Black Ball harbour, and in London the adult Bonaparte's Gull, still present at Erith on 23rd-25th, but not seen thereafter. Eyes peeled along the coast at Oare Marshes KWT (Kent) for that one, perhaps?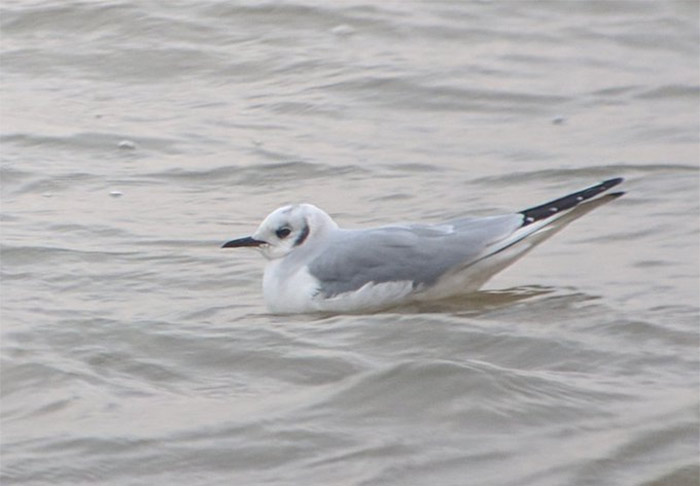 Ireland provided us with a mere duo of adult Ring-billed Gulls this week – at Dundalk (Co.Louth) still on 25th-26th and Tralee Bay Wetlands Centre (Co.Kerry) again on 26th. The recent bird was once again seen in Scotland at Strathclyde Loch (Clyde) on 27th. Wales supplied a probable at Llandegfedd reservoir (Gwent) on 27th, and a further report of one again at Llys-y-Fran reservoir (Pembrokeshire) on 27th also. Another probable sighting came from Blashford Lakes HWT (Hampshire) on 24th.
Numbers of white-wingers rose, but only modestly, this week, amounting to some 40 Iceland Gulls and 35 Glaucous Gulls - lacking the big numbers from Unst the previous week, the latter species comprised mostly single birds bar a couple of duos, a trio at Draycote Water (Warwickshire) on 28th and, in the week's highest single site count, a quartet off Point of Buckquoy (Orkney) on 27th. Our Iceland Gulls were predominantly all singletons too, with duos seen only on Lewis (Western Isles) on 25th and North Uist (Western Isles) on 27th.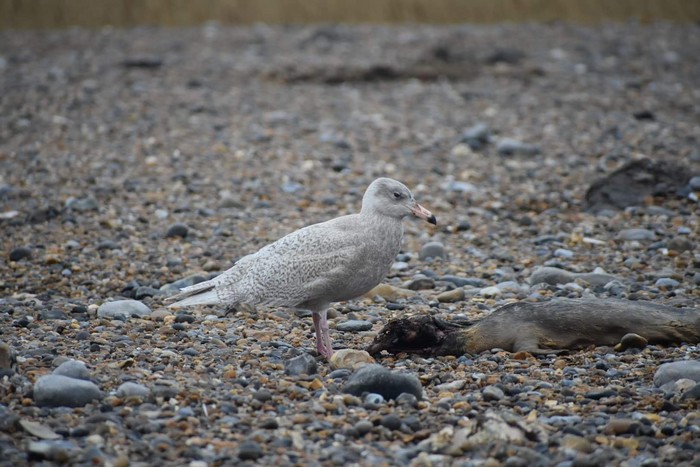 Four adult Kumlien's Gulls rewarded the keen-eyed – individuals at Skelbrooke landfill (South Yorkshire) on 24th; Anglers CP (West Yorkshire) again on 25th-27th; on North Uist (Western Isles) again on 27th; and way south on St Mary's (Scilly) on 27th-29th. A further juvenile was noted on 28th over Pallas Strand (Co.Cork).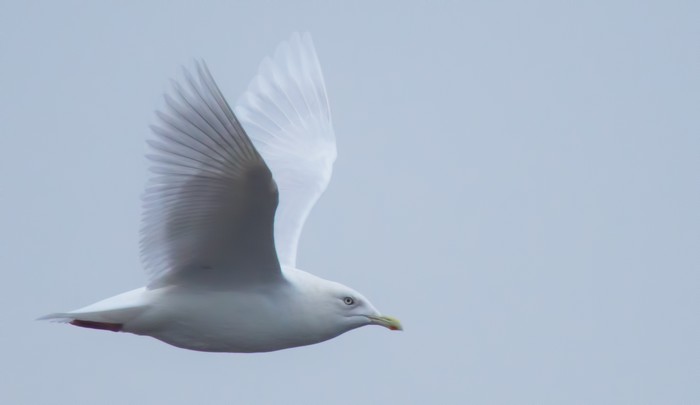 Our contingent of wintering Rough-legged Buzzards ere mostly all still present and correct for another week. Sightings from Norfolk came pretty much daily from Choseley, with further records from Haddiscoe on 23rd-26th again, Berney Marshes RSPB on 25th, and Sculthorpe Moor NR on 26th. Elsewhere, the birds remained at Sleddale (Cleveland / North Yorkshire) on 23rd; Holme Fen NNR (Cambridgeshire) on 23rd-28th; Plenmeller Common (Northumberland) on 23rd-28th; Funton Creek area (Kent) on 24th-29th, with two birds there still on 24th at least; and a further bird was seen, much further west, at Doulting (Somerset) on 27th. On 28th the adult was again seen at Thorney Toll (Cambridgeshire); another was seen at Leasingham (Lincolnshire); and possible birds were logged from Lesbury (Northumberland) and Felixstowe Ferry (Suffolk).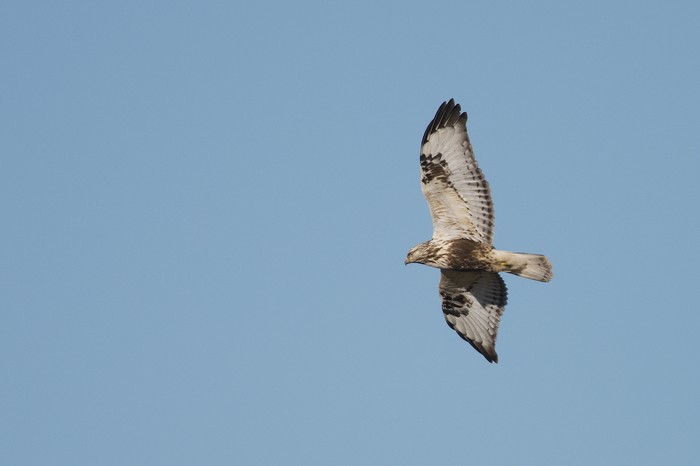 An unconfirmed report of a Black Kite came from Earith (Cambridgeshire) on 27th.
More substantial fare came in the form of the juvenile White-tailed Eagle seen again in Hampshire near West Tytherly on 25th.
We've already touched upon the continued wintering presence of rather a lot of Yellow-browed Warblers this winter, and the recent trend continued apace this week – many familiar faces sticking around, and some new birds being uncovered too. 18 birds were seen this week, with a stand-out new bird found away from the southwest at Amwell NR (Hertfordshire) on 27th, proof positive that these birds probably lurk, undiscovered, all over the shop at present.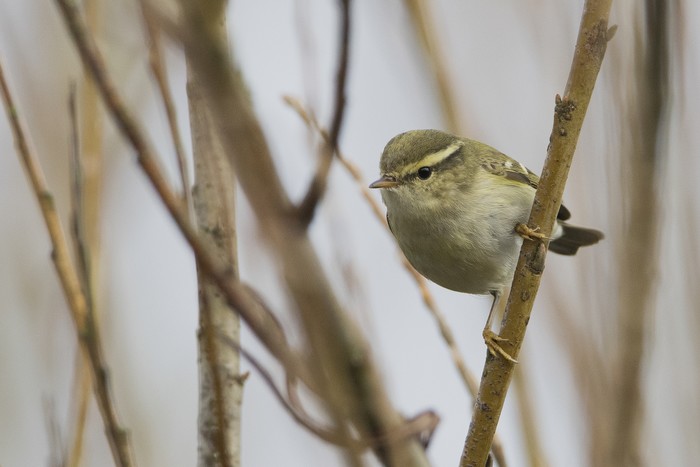 One such lurker this week was at Coverack (Cornwall), on 25th-27th, but Coverack was already on the week's bird news map courtesy of a Pallas's Warbler there on 23rd-26th – a terrific January record.
In Lincolnshire the Dusky Warbler was once again seen at Huttoft Bank on 29th.
In Somerset the Richard's Pipit, unreported for a while now, was once more seen at Kingston Seymour on 23rd.
Kent's recent Penduline Tit was seen once more at Grove Ferry NNR before melting back into the reedbeds. Is it still in the general vicinity?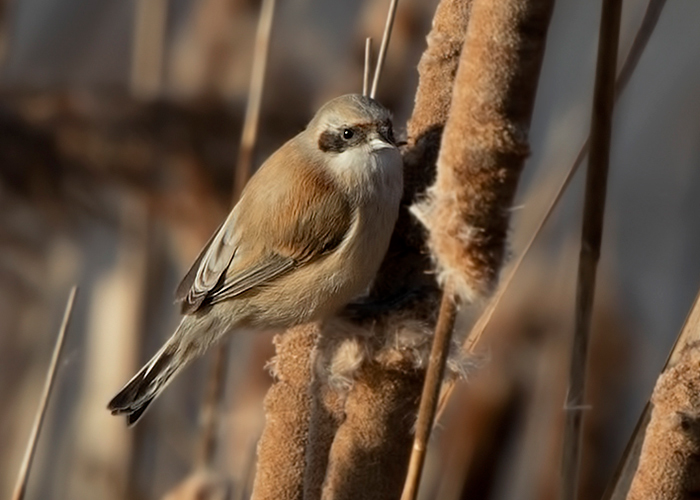 Norfolk provided us with another chance at Black-bellied Dipper on 28th, with one present at Aylsham that morning.
An unconfirmed report of the Desert Wheatear still on St Agnes (Scilly) 'recently' emerged on 28th…
With 16 Great Grey Shrikes noted this week, the species was having something of a renaissance after some quiet weeks beforehand. We're not up into the counts in the twenties that have enriched some weeks in recent winters, but we're heading in the right direction. Birds were logged this week at Langdale Forest (North Yorkshire) still on 23rd; at Hanging Houghton (Northamptonshire) still on 23rd-29th; at Santon Warren (Norfolk) on 23rd-27th; again in Cannock Chase (Staffordshire) on 23rd-27th; in Ashdown Forest (East Sussex) still on 24th-29th; at Leighton Moss RSPB (Lancashire) still on 24th-25th; in Garwnant Forest (Glamorgan) again on 25th-28th; at Grimes Graves (Norfolk) on 25th; in Wareham Forest (Dorset) still on 25th-27th; at Worth Marsh (Kent) on 26th; in Hampshire at Crab Tree Bog on 26th-27th still; at Bwlch y Sarnau (Powys) on 27th; on 28th at Dalby Forest (North Yorkshire) and Llangorse Lake (Powys); and on 29th at Clumber Park (Nottinghamshire) again, and near Grafham (Cambridgeshire). Further reported birds were noted at Crowborough (East Sussex) on 23rd and Basildon (Essex) on 24th.
Waxwing numbers continued to dwindle steadily, with a shade over 400 birds reported nationally. There's a feeling we've seen the peak of them now, barring any major movement in from the Continent in the face of bad weather to come.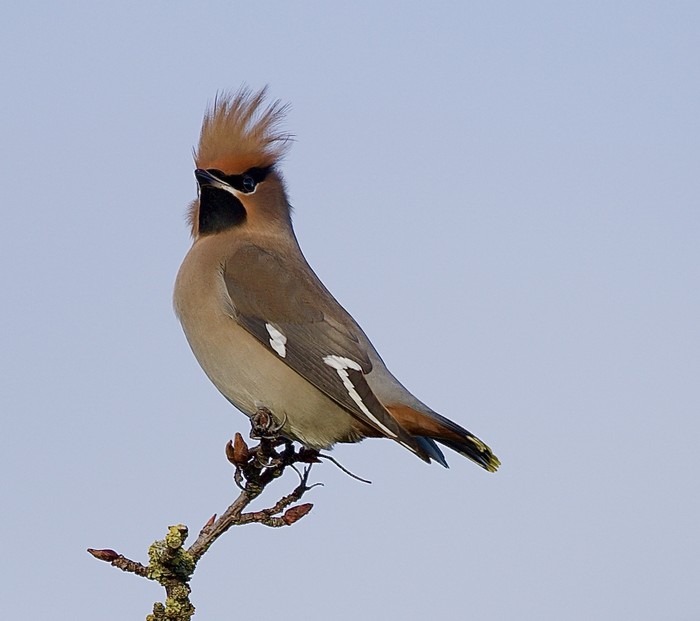 The Pied Crow resurfaced at Flamborough (East Yorkshire) again on 29th.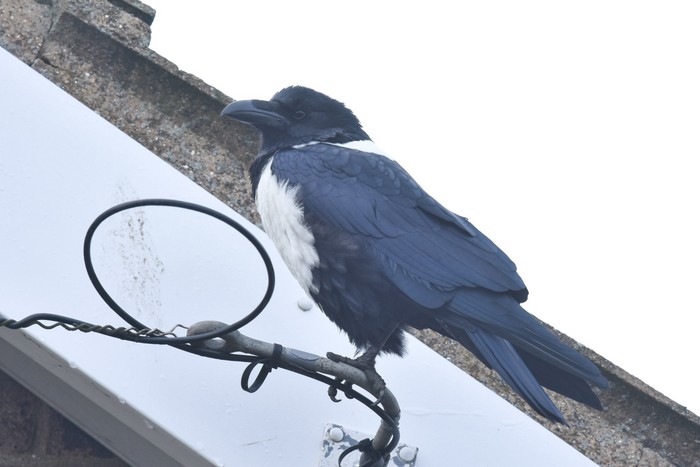 Just two of our recent wintering Rose-coloured Starlings were seen this week – in East Sussex at Seaford still on 23rd-29th, and at Llandudno (Conwy) again on 23rd-29th.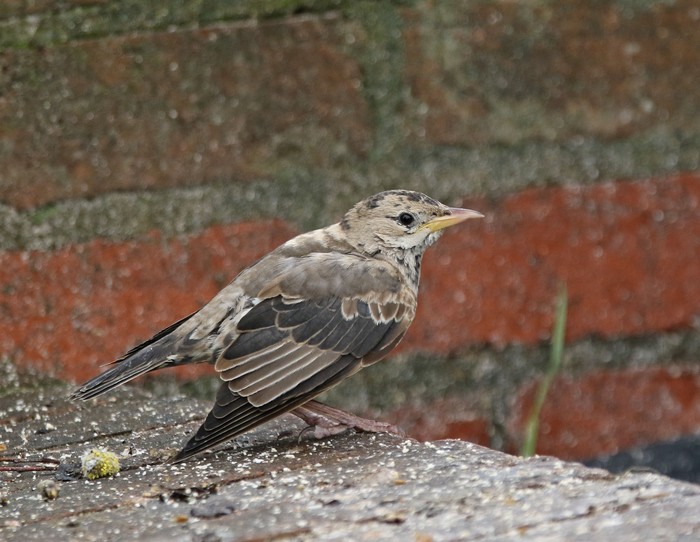 Both of the Serins remained this week in Cornwall at Gulval on 25th-29th. At the other end of the country, the Common Rosefinch was still toughing it out in the frost and snow at Cunningsburgh (Shetland) on 28th-29th.
Three exilipes Coue's Arctic Redpolls were again seen in Wells Woods (Norfolk) on 25th, with at least two still there on 26th-27th. One was seen once more at Hopes reservoir (Lothian) on 27th; and finally, a probable was seen on 29th at Budby (Nottinghamshire).
Nice day out along the coast with @lukenashnature - good to see the 2 Coues's Arctic Redpolls again at Wells, showing v well together at one point. Dartford Warbler still at Holkham this am along with 12 Shorelarks, 60+ Snow Buntings & 2 GW Egrets pic.twitter.com/cxayVgMhqW

— Marcus Nash (@norfolkbirdtour) January 26, 2019
Close to home, we start casting our eye further afield in the nearby environs of Guernsey where, on 23rd and again on 29th, the American Royal Tern was still to be seen.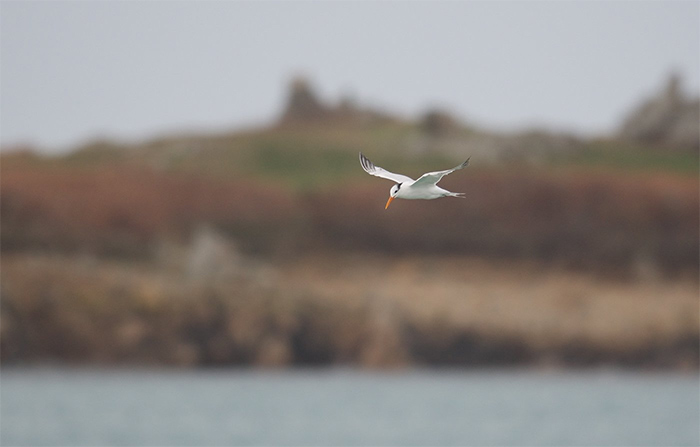 Exercising British birders' minds perhaps a little more was the Nutcracker still in Holland at Wageningen on 23rd-29th – with further food for thought coming in the form of Belgian sightings at Hamme and Zedelgem.
Returning to Holland, a meena Western Rufous Turtle Dove remained at Limmen on 23rd-29th; another Rufous Turtle Dove was in Denmark this week on 23rd at Naestved.
Poland struck the news on 26th with a Great Black-headed Gull at Opole.
Latvia, meanwhile, boasted a fine male Pine Bunting on 25th.
Iceland, whilst enjoying plenty of the white stuff this week, could also bask in the warm glow cast by a White-throated Sparrow, present at Ellioahvammur on 24th-27th.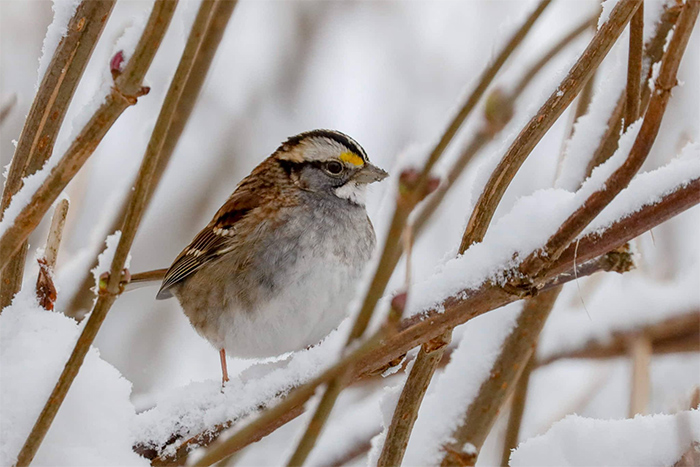 Warmer climes beckon now, and on the Iberian peninsula the Allen's Gallinule was still to be seen at Nerja (Spain) on 23rd; and on 23rd also an Eastern Yellow Wagtail was still present at Leziria Grande – with three birds reported there recently.
Offshore next to the Canary Islands where the Dwarf Bittern remained on Fuerteventura on 24th, and an Allen's Gallinule was also present on the island still at Costa Calma on 24th-25th.
We end up on on Cape Verde where, on 23rd, the African Crake was still present at Sal and, on 24th, a female Bufflehead was also seen.
Well, fair to say that my 2019 predictive tally wasn't too bad in January – both Hume's Warbler and Ivory Gull called and duly obliging. The year can only go downhill from such a strong start!
However, it's one of the utter joys of British and Irish birding that one can never, quite, tell what's around the corner. Who'd have foreseen a January Blyth's Reed Warbler in the north-west, after all?
What then does February hold in store for us and, specifically, in the first week of the month? Rather like January, we're looking at fairly slim pickings where variety is concerned – statistically we're still firmly in scarce and rare duck and gull territory.
A good northerly blast, however, can bring us other things besides white-winged gulls of various shapes and sizes. It's definitely the right time of year for a white Gyrfalcon to turn up. The coming week boasts eight previous records, mostly hailing from Scotland and Ireland – so this is certainly one to have on the radar in the coming days.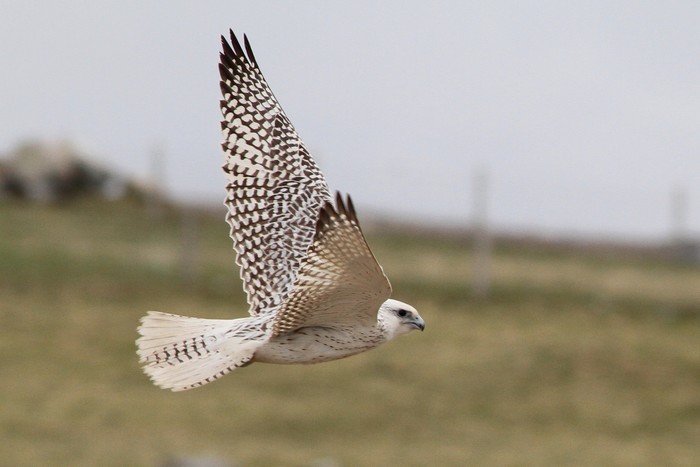 Jon Dunn
30 January 2019
Share this story
Tweet