Weekly birding round-up: 16 - 22 Jan
The week at a glance
Greater Manchester lands a midwinter Blyth's Reed Warbler
The Eastern Yellow Wagtail chalks up another week on Scilly
And the drake Black Scoter is seen once more off the Northumberland coast
Well, that past week was beginning to feel a lot like winter – the classically British sort, with a mixture of hard frosts, some wet bits and some snowy bits too. It has to be said that it was also a classically British birding midwinter week too, which is to say – pretty peaceful, really.
As one who has spent more than his fair share of time enduring travel disruptions lately, the metaphor that springs to mind is that of a holding pattern – many of the recent rarities continued to tootle around their temporary quarters, while one or two new arrivals touched down.
Time then to fasten your lap-belts, put your tray backs in the upright position, and remember the nearest emergency exit may be behind you (said with the peculiar emphasis of the Ryanair recorded message). It's time for a journey through this week's bird news.
Blyth's Reed Warbler
When was the last time a Blyth's Reed Warbler featured as the opening headline in our weekly Rarity Round Up? Was there every such a time? Thing is, these are no ordinary times – this is the middle of winter, and a Blyth's Reed Warbler really has no business being anywhere near Britain, let alone in Greater Manchester.
Frankly, even a bog standard Reed Warbler, as this bird at Hope Carr NR was initially reported as on 20th, is remarkable enough itself in late January. When the identification was reappraised from photographs on 21st, the record became all the more remarkable still.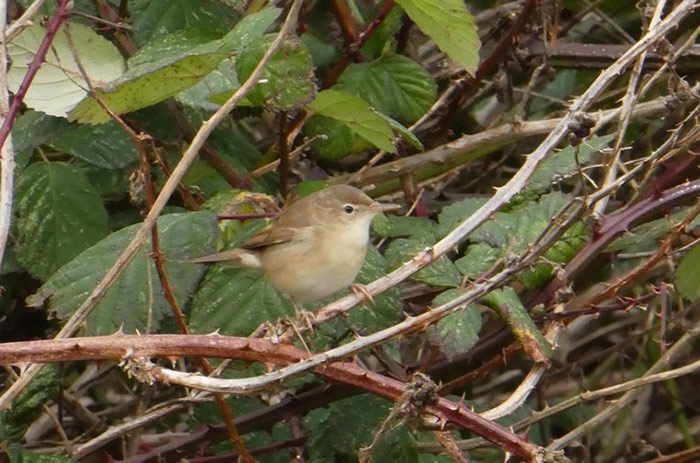 While they've lost the lustre they once enjoyed as an achingly rare bird and are now considered something of an autumn staple – and dropped by the BBRC in 2014, so numerous and regular had they become – once you pass October records dry up, rapidly. Indeed, I'm struggling to find any prior records at all for the period of December-April – making this January bird that little bit more special still, metaphorical turbulence at this time of year.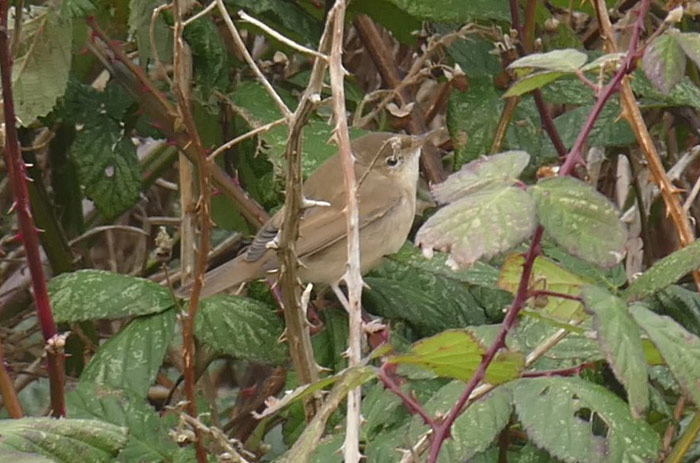 It's presumably been lurking in the area since the autumn, though that long tenure didn't extend to still being anywhere to be seen on 21st. A remarkable bird had vanished as suddenly as it came. Happily, as the week drew to a close on 22nd there it was, being typically Blyth's Reedish – sometimes elusive, occasionally showing well.
Eastern Yellow Wagtail
Scilly's wintering wonder, the Eastern Yellow Wagtail, remained on St Mary's for another week, being noted back and forth on the island between 19th-21st. One, perhaps, to test the nerve of any birders with a gap next to this on their British lists… wait and see if they prove more regular autumn finds in years to come, or roll the dice and head to Scilly now for a bird in the hand – albeit one that's only occasionally cooperative?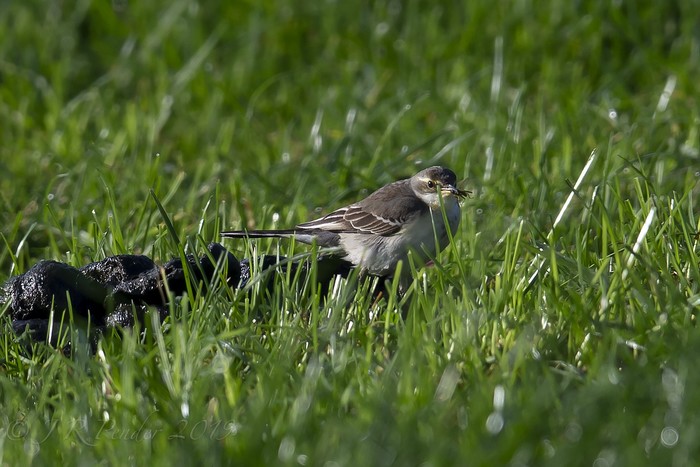 Black Scoter
Last seen in the area on 14th December 2018, this week marked the welcome return of the drake Black Scoter to Northumberland on 18th-22nd, being seen intermittently off Goswick. Where has it been in the meanwhile?
When it was found in early January 2018 off Goswick this heralded the start of a stay in Northumbrian waters that extended, off and on, until 16th April before it did a bunk for the rest of the spring and summer before returning on 9th October. Let's see how long it sticks around this time of asking.
Our week's denuded seabird section stuttered into life with a couple of putative Pacific Divers before we finally got a confirmed sighting. Starting in more unexpected quarters than the usual Cornish or Irish stations, a possible bird was noted on 16th off Filey (North Yorkshire); a probable adult was once more noted in the more anticipated locale of Mounts Bay (Cornwall) on 17th and again on 21st; and finally the adult was again in Cornwall's Gerrans Bay on 18th-21st.
The settled White-billed Diver was once more logged off Barra (Western Isles) on 17th and, on 22nd, one powered past North Ronaldsay (Orkney), proving midwinter sea watching needn't be entirely without reward.
Lastly, we've a single Pomarine Skua seen from The Lizard (Cornwall) on 20th.
With a certain inevitability, the week's sightings of various long-legged beasties was utterly dominated by Cattle Egrets - hundreds of them. Not least of all in Somerset where, on 20th, at least 105 birds were to be seen, easily eclipsing by a substantial margin the next highest tally of 40 at Abbotsbury (Dorset) again on 16th. And to think that, not so very long ago, a flock of 40 birds would have been unimaginable in Britain. Safe to say that those days are gone now, and probably for good. At this rate they'll be following the path charted in previous years by, at first, Little Egrets and, latterly, Great White Egrets from notable rarity to merely local scarcity.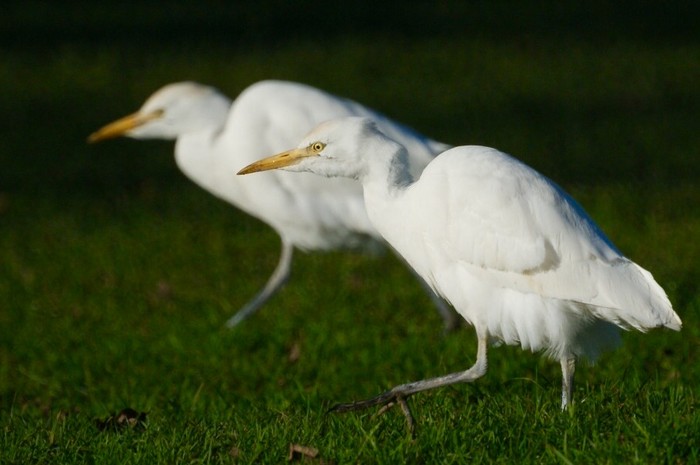 (Come to think of it, I reckon we may have had more Cattle Egrets noted in recent weeks than Great Whites. The former still have the novelty factor that makes them 'feel' rarer, but that may no longer really be the case. We'll keep track of them through the rest of this winter and the coming spring, but there may come a point when they fall from the Round Ups altogether except in extraordinary numbers…)
That's probably not going to happen any time soon where Glossy Ibises are concerned, though we can never say never – this week these prehistoric looking beauties continued to be logged in some numbers in Cornwall, Scilly and Co.Cork alike. Starting in Cornwall, single birds were seen at Newquay on 16th-22nd, Helston Loe Pool on 17th-18th, and in the Penzance area at Marazion RSPB on 17th-22nd and at Gulval on 19th-20th. On Scilly the settled flock of eight birds were seen more or less daily on St Mary's until 22nd; and in Co.Cork the flock of a dozen birds remained at Clonakilty on 16th-20th, with 11 birds still present there on 22nd. Further single birds were seen at Rosslare (Co.Galway) again on 19th-20th, and lobbing around Newport Wetlands NNR (Gwent) on 18th-20th. The semi-resident bird was once more noted at Fremington (Devon) on 21st.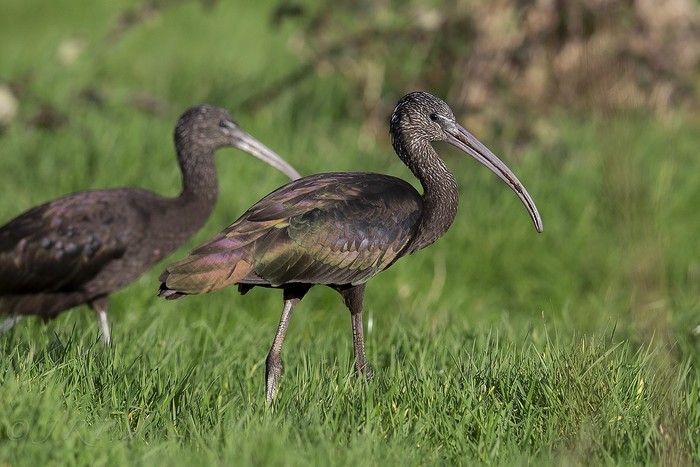 We finish with non-Norfolk Common Cranes - single birds were accounted for by the settled bird at Coldstream (Borders) still on 16th-21st, and in Dorset at Hartland Moor again on 17th, at Middlebere and over Durlston CP and Studland on 20th, and at Hartland Moor on 21st-22nd – but it Cambridgeshire that again gave us our meatiest tally: 48 birds noted at Manea on 19th. A mere two birds were seen in Cambridgeshire at Burwell Fen on 17th. Cheshire came late with a reasonable flock too – nine birds being seen over Middlewich on 21st.
Numbers of interesting examples of The Goose Formerly Known As Canada dwindled somewhat this week, with North Uist's Balranald RSPB (Western Isles) accounting for the bulk of them – the hutchinsii Richardson's Cackling Goose and the small Canada-type of late both being seen there once more on 20th-22nd. Elsewhere, the interior Todd's Canada Goose was once more seen on Tiree (Argyll & Bute) on 17th.
Black Brants meanwhile remained a scattered winter fixture. The putative (or hybrid) example continued to tease birders around Holkham (Norfolk) on 18th-21st; more concrete examples were seen at Bembridge (Isle of Wight) on 17th and Ryde East Sands on 21st, The Naze (Essex) still on 18th, King's Fleet (Suffolk) on 20th, and at Donna Nook (Lincolnshire) again on 20th also. Further sightings materialised on 21st in the form of one again in Dorset's Poole Harbour at Arne RSPB, and another in Suffolk at Falkenham Marsh.
We'll start our quackers with Lesser Scaups, for here there was definitely some fresh interest to be had. Settled birds remained at Blithfield reservoir (Staffordshire) on 16th-21st and Chew Valley Lake (Somerset) on 16th-17th. Did the latter drake relocate to Blashford Lakes HWT (Hampshire) on 20th? It may be tempting to think so, for as the duck flies it's really not that far at all. Then again, the week also sported a drake at Loughrea (Co.Galway) on 20th, and news of a drake present for its 12th day at Loch Ryan (Dumfries & Galloway) on 20th, and still there on 22nd – so perhaps, like Ring-necked Ducks, we're enjoying a mini-influx.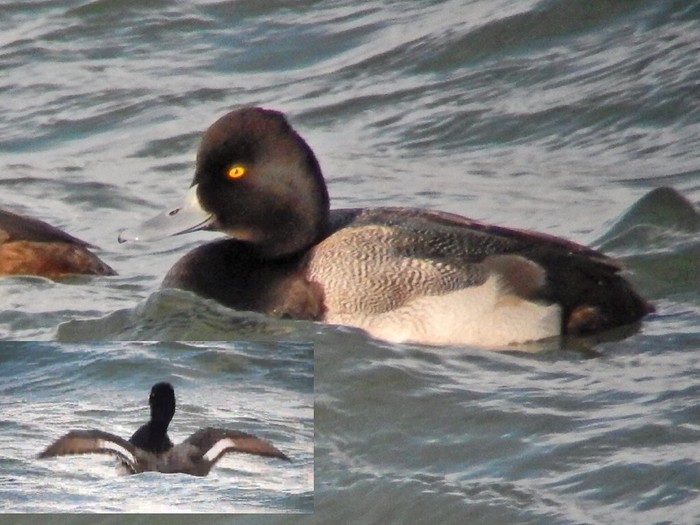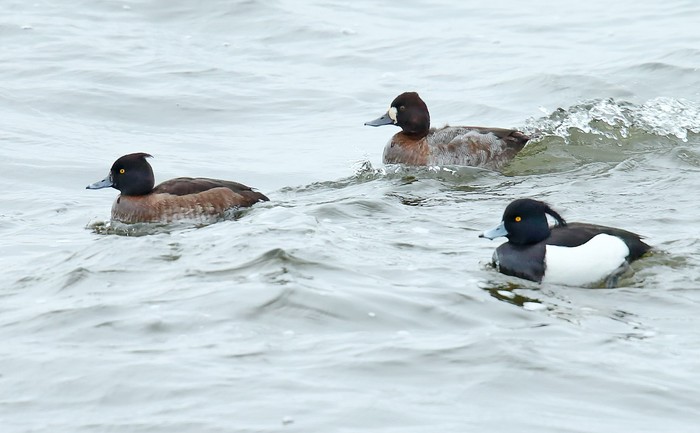 The latter species remained a significant fixture across Britain and Ireland – 19 birds in all were seen, from Benbecula (Western Isles) in the north to Radipole Lake RSPB (Dorset) in the south, and out west into the heart of Ireland too. Most were single birds including yet more new arrivals but, in the absence of any larger flocks our highest tallies of Ring-necked Ducks this week came in the form of the trio still on Tiree (Argyll & Bute) on 17th, a duo on Lough Fern (Co.Donegal) again on 19th, and a duo at Carrowmore Lough (Co.Mayo) on 22nd.
In Hampshire, the juvenile Ferruginous Duck remained at Bedhampton (Hampshire) on 17th while, back at Blashford Lakes HWT on 21st, the adult drake was once more noted.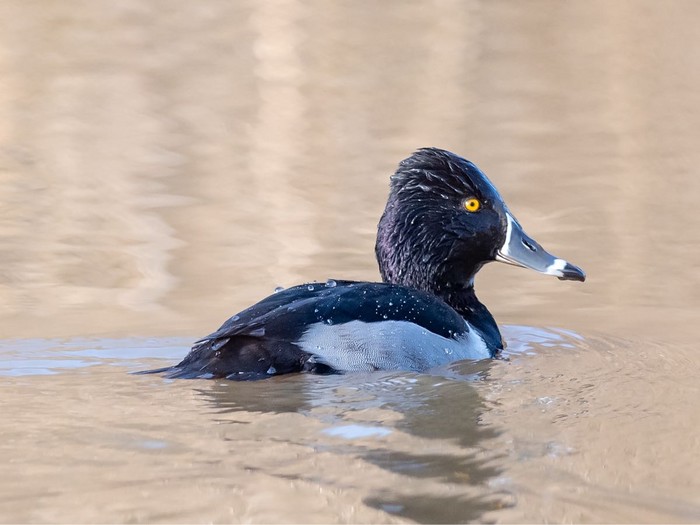 American Wigeons featured in the news at wholly familiar locations once more this week. Starting in the north in Highland, drakes were seen at Tain Links again on 16th-22nd and at Loch Watten again on 18th; the drake was still to be seen at Kirkby on Bain GPs (Lincolnshire) on 16th-22nd; and the drake was reported once more from Rutland Water (Leicestershire) on 20th and again on 22nd. The female, meanwhile, was still present at Grimley (Worcestershire) on 16th-21st.
Scotland put in a good showing for Green-winged Teals again this week – birds remained on North Uist (Western Isles) on 16th, Tiree (Argyll & Bute) still on 17th; and at Tain Links (Highland) once more on 20th-22nd; a further Highland sighting came from Alturlie Bay on 18th; and the irregular regular was once more noted on North Ronaldsay (Orkney) on 21st. Heading south into England, birds were again noted at Dorman's Pool (Cleveland) on 16th, and Kilnsea Wetlands (East Yorkshire) on 16th-17th and Beacon Ponds NR on 22nd; and at Abberton reservoir (Essex) on 20th-21st. Ireland's sole sighting came from Saltmills (Co.Wexford) on 18th.
Surf Scoters, however, were only present in smaller numbers than lately – settled Scottish drakes remained off Musselburgh (Lothian) still until 20th, and St Andrews (Fife), where two birds stayed until 20th at least. Irish birds were seen at Dogs Bay (Co.Galway) on 18th-19th and Laytown (Co.Meath) on 19th.
Finally, the drake Cinammon Teal of unknown origin was still present in Essex at Heybridge GPs on 21st.
Our line-up of interesting shorebirds comprised solely familiar, settled faces once more this week – none more so than that resident adult Long-billed Dowitcher that couldn't think of anywhere it would rather be than Frampton Marsh RSPB (Lincolnshire) almost all week, absent only on 22nd. And who can blame it? Frampton Marsh's star has risen steadily in recent years and it's surely just a matter of time before it lands something truly stellar.
You see? I'm already daydreaming about things to come. It's hard to when the only other interesting waders this week in England beyond the two first-winter Lesser Yellowlegs at Lodmoor RSPB (Dorset) until 21st and Devoran Quay (Cornwall) until 22nd, is Cornwall's lingering Temminck's Stint still lurking at Chapel Amble on 19th-21st..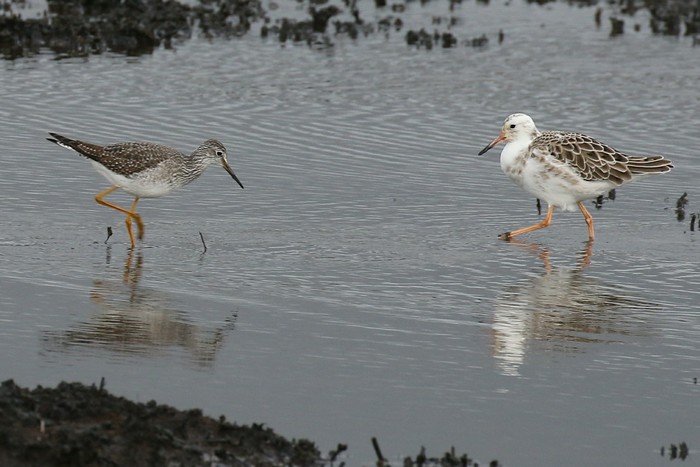 Ireland fared even worse still this week, with just the juvenile Spotted Sandpiper to be seen once more at Ferrybank (Co.Wexford) on 18th-21st.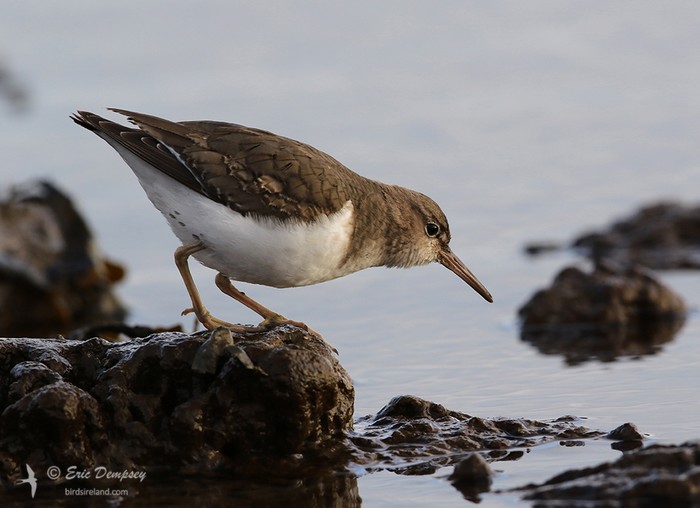 Last week's cracking Irish example of American Herring Gull was still present at Black Ball harbour (Co.Cork) on 20th, sharing the site with a possible Kumlien's Gull that day too for good measure.
However, our most interesting new gull of the week is comfortably the adult Bonaparte's Gull found in London at Earith Quay on 20th by bona fide Bonaparte's Gull magnet Rich Bonser. He's found a handful of these dainty beauties in the UK now, and any rare gull in the city boundaries is always a terrific find, but to pick this out on call as he did is simply a tremendous bit of birding. Still present on 21st-22nd it was by then coming obligingly to bread.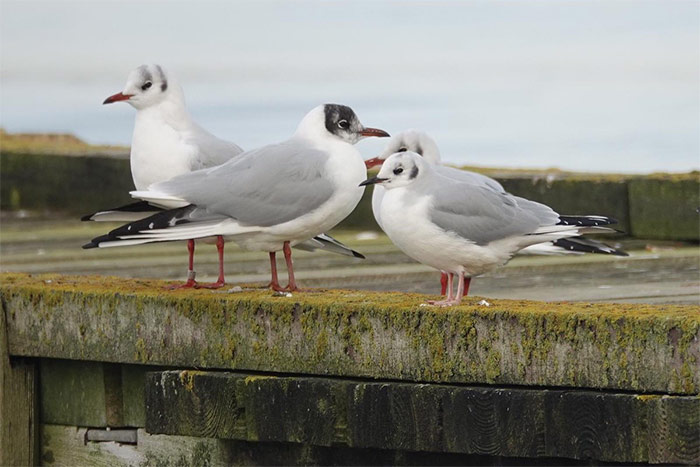 Ring-billed Gulls however remain in strikingly short supply in their usual winter Irish stronghold – this week proving no exception. Our only Irish sightings came from Tralee Bay Wetlands Centre (Co.Kerry) again on 16th-19th, in Sligo (Co.Sligo) still on 17th, and at Kinsale (Co.Cork) on 19th. The adult was once more seen at Strathclyde Loch (Clyde) on 19th, and a further English bird was reported from Eastney (Hampshire) on 17th.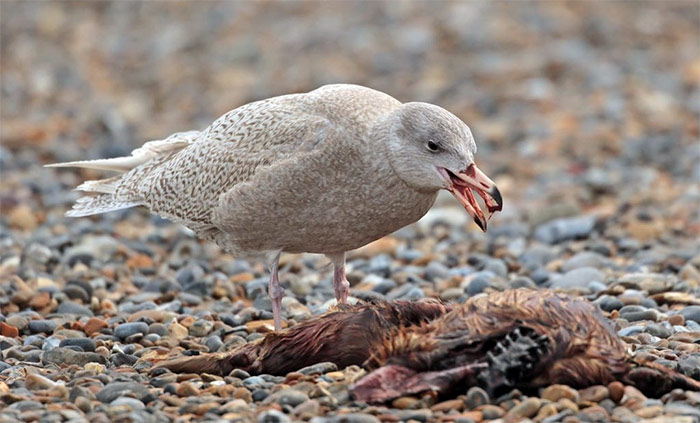 It's an ill wind that blows no good, and the north-westerlies that blustered us out of the week did at least bring some modest increase in numbers of white-wingers – not least on Unst (Shetland) where, on 20th, at least 20 Glaucous Gulls were to be seen. Overall, nationally, around 30 Iceland Gulls and 50 Glaucous Gulls were logged this week, putting Unst's contribution to the national tally into some perspective. First Shetland's northernmost extremity, but surely more will be filtering down into the south in the coming week?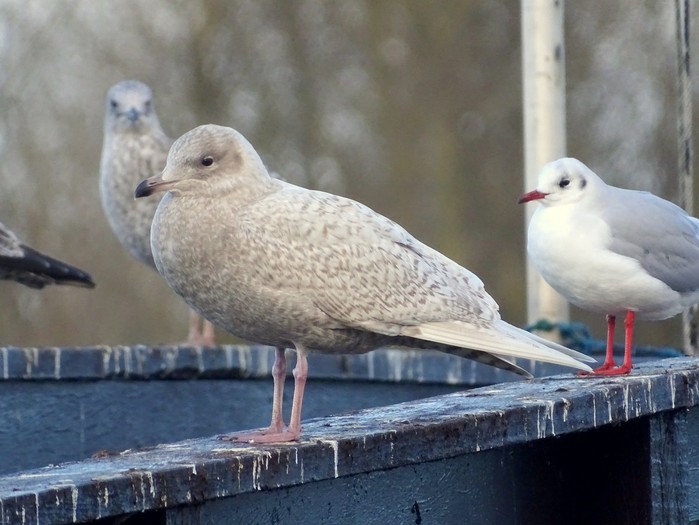 With them, we may yet get some more Kumlien's Gulls coming in off the Atlantic. This week's sightings came in the form of the juvenile still at Pugney's CP (West Yorkshire) on 16th-22nd, and a report of a possible adult and third-winter at Anglers CP (West Yorkshire) on 17th – the latter followed by a confirmed adult bird there on 19th-20th and at Wintersett reservoir on 21st. On 19th Norfolk scored a second-winter individual at Thetford.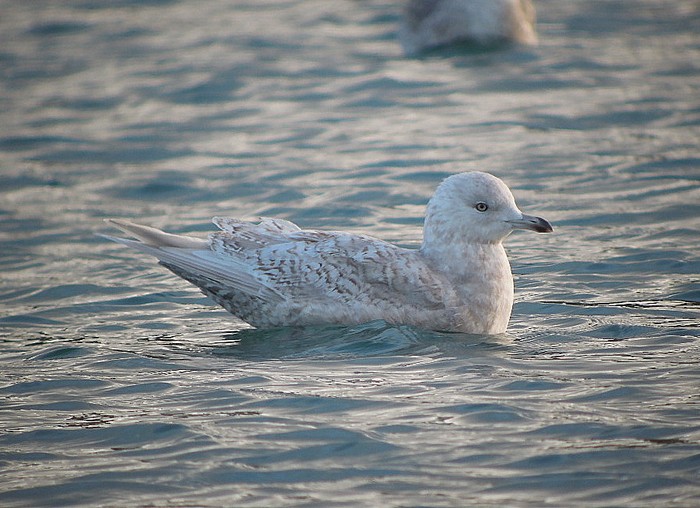 Wintering Rough-legged Buzzards remained popular draws for another week in the east of England. Starting in Kent, daily sightings at Chetney Marshes until 21st were bolstered with confirmation of two birds coming to roost at Funton Creek on 19th and again on 21st; a probable was noted on 18th at Chestfield. Suffolk's sightings came from Orford Ness again and nearby Sudbourne on 17th-19th, and along the coast at Reydon on 17th. In Norfolk, sightings came again at Haddiscoe on 17th-19th; Brancaster on 19th; Choseley Drying Barns on 19th-22nd; Sculthorpe Moor NR on 20th; and Thornham on 21st. A juvenile remained in Cambridgeshire haunting Holme Fen NNR on 17th-22nd, and the adult bird was once more seen at Thorney Toll on 20th. Heading north, on 18th one was seen again on the Cleveland / North Yorkshire border at Sleddale; and a further report came from Nosterfield (North Yorkshire) that day also. On 21st-22nd one was logged in Northumberland at Plenmeller Common.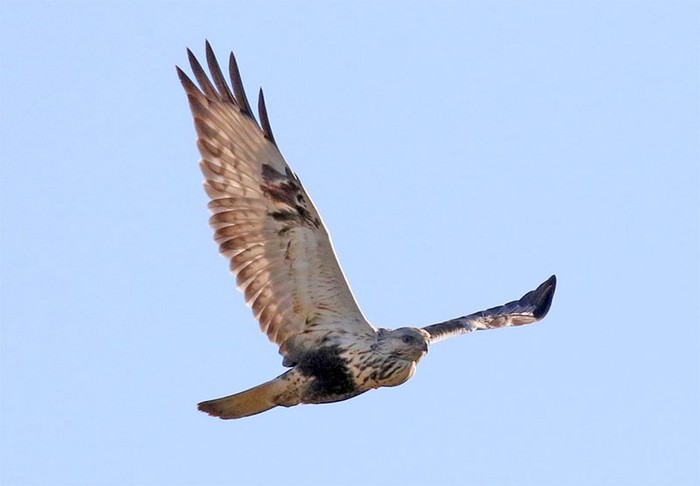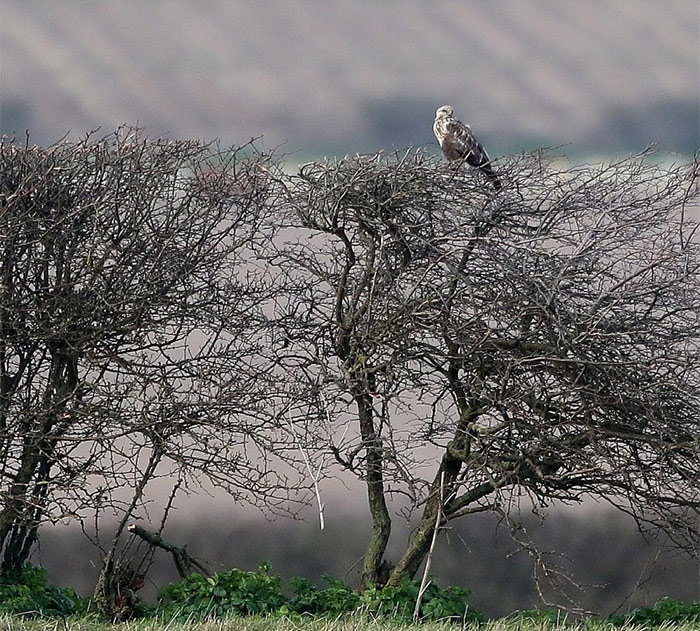 Sticking with North Yorkshire, we finish on 18th at Kirkbymoorside where a White-tailed Eagle was reported in the morning.
One week away from RBA Towers and, in my absence, my recent musings that a Hume's Warbler surely had to be lurking somewhere in southern England proved to be prescient after all – and that bird remained into the current recording period, being seen daily at Newhaven (East Sussex) until 22nd.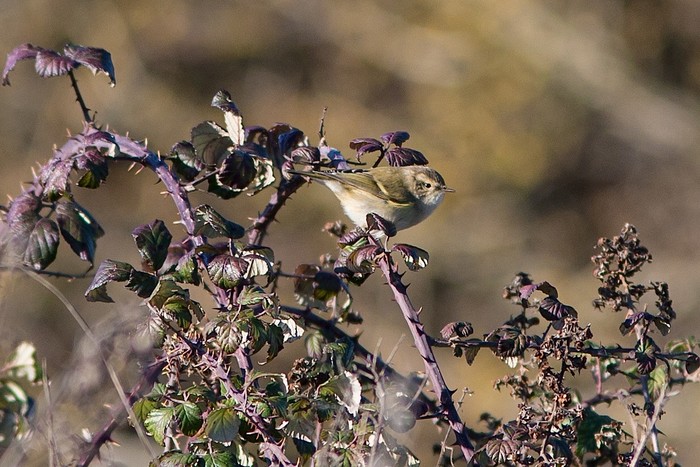 Its commoner cousin, Yellow-browed Warbler, remained a daily fixture too at a variety of sites across southern England from Cornwall as far east as Surrey where, at Moseley Heath, a hardy bird remained until 20th. 20 birds in all were tallied and, as new individuals continued to be unearthed in Cornwall, the suspicion remains that there are probably plenty more out there. It feels a little like the early days in the 1970s and 1980s of Blackcaps tentatively and then increasingly successfully choosing to winter in Britain – though that's an entirely subjective gut feeling by yours truly. We know they're turning up in unprecedented numbers in recent autumns, albeit 2018 proved to be a bit of a duff year… I wonder if anyone's run the data on how many have been recorded in winter months in the past decade or two to see if there really is a trend beginning to develop?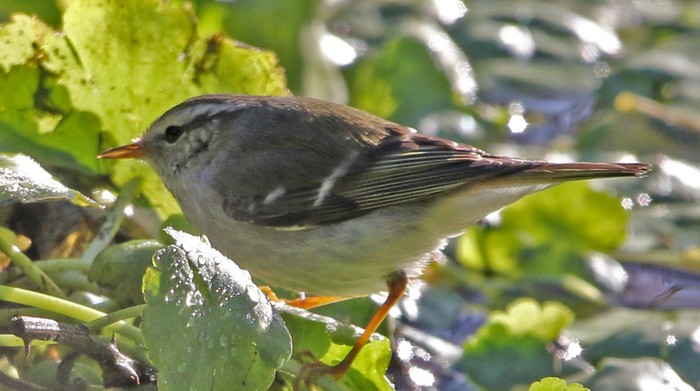 Idle speculation aside, we can finish off the wintering warblers this week with the recent Dusky Warbler still present at Huttoft Bank (Lincolnshire) on 17th-21st.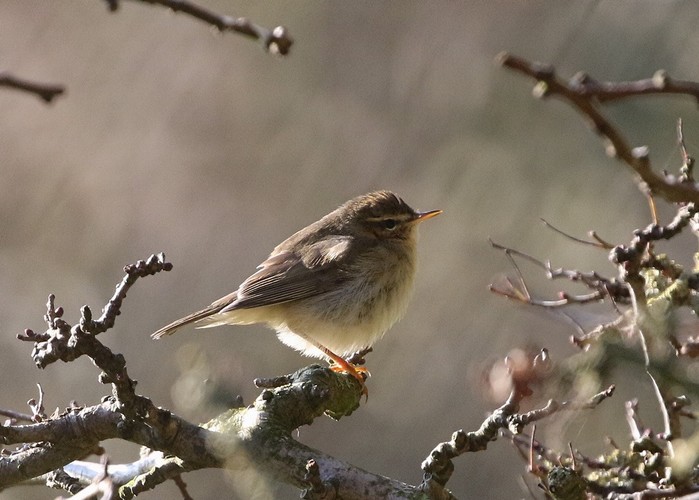 This largesse of warblers aside, the past week proved to be predictably slim pickings where passerines were concerned. Great Grey Shrikes, however, climbed steadily into double figures nayionwide, with the following birds logged – at Cannock Chase (Staffordshire) still on 16th-22nd; in North Yorkshire at Gunnerside on 17th, in the Langdale Forest still on 16th-22nd, and in Dalby Forest on 22nd; at Clun (Shropshire) still on 17th; in Garwnant Forest (Glamorgan) again on 17th-21st; in Ashdown Forest (East Sussex) still on 18th; in Wareham Forest (Dorset) again on 18th-20th; and at Leighton Moss RSPB (Lancashire) once more on 18th-22nd. On 21st a further bird was at Mynydd Llangatwg (Powys), with another at Hanging Houghton (Northamptonshire) on 22nd; also on 22nd one was again seen in Hampshire's New Forest at Black Gutter Bottom, another was in Norfolk near Oxborough, and one was found at Puncheston (Pembrokeshire).
Waxwings too seemed to be melting away, with none of the largish flocks seen of late to be found – in all, some 650 birds were noted nationwide. Perhaps our modest Waxwing winter is petering out.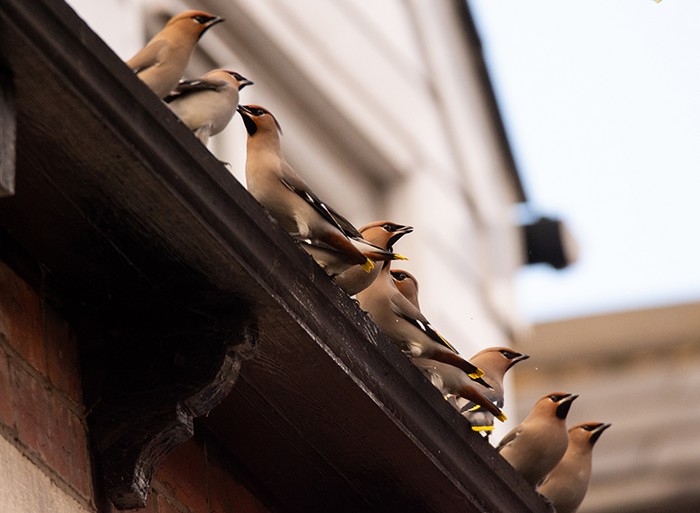 Once again, however, we do have a trio of wintering Rose-coloured Starlings to report upon – not content with hosting the Hume's Warbler, East Sussex could also offer up a Rosy at Seaford on 16th-21st; while previous birds remained at Llandudno (Conwy) on 16th-22nd and in Scarborough (North Yorkshire) on 18th.
Not so very far away from the latter bird, the Pied Crow was still present this week at Flamborough (East Yorkshire) on 21st at least.
Grove Ferry NNR (Kent) landed a fresh Penduline Tit on 21st. While the time of year is all wrong, Grove Ferry has always looked like just the right sort of place for the species to set up shop one summer. Not holding my breath that'll be any time soon, but it's nice to daydream and reminisce about the singing Baillon's Crake there many moons ago.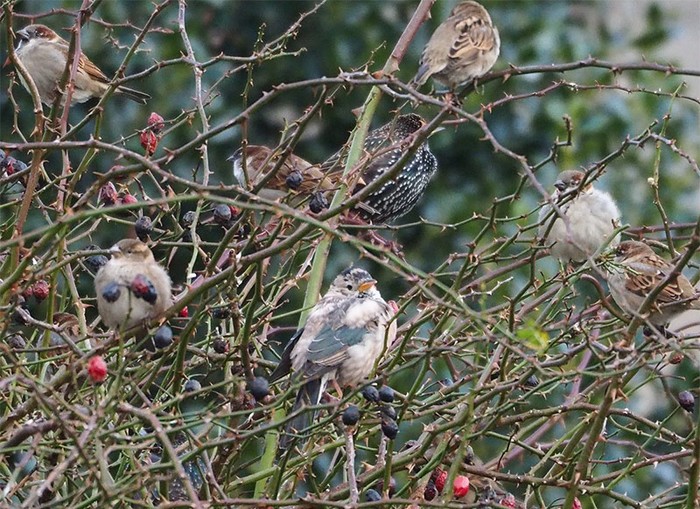 The late (or is that early?) Serin in Cornwall at Gulval on 17th-20th still was joined there by a second individual on 20th.
In a week that saw some dustings of snow here and there, and some decent frosts too, it feels appropriate that we should close the passerines with a suitably Arctic offering – these being exilipes Coue's Arctic Redpolls seen once more at Hopes reservoir (Lothian) on 16th-20th, with two birds noted as present on 16th-17th, and at The Bell near Whiteadder reservoir (Borders) again on 20th.
We'll start our mooch through the further flung offerings this week out in the Canary Islands where Fuerteventura continued to offer enticing winter birding prospects of several kinds... The Dwarf Bittern remained there still on 18th-20th, while Allen's Gallinules were to be found on the island at Costa Calma on 18th-20th and Caleta de Fusta still on 18th. Costa Calma also sported a Red-breasted Flycatcher and two Yellow-browed Warblers on 20th; while Caleta de Fusta had a female Lesser Scaup on 20th also. A Pied Crow remained on Gran Canaria on 21st at Puerto de los Palma.
Returning briefly to Allen's Gallinules, one made it (just) to the Azores this week, being taken into care on Faial on 16th. Photos of a predictably knackered bird in a box marked this, only the 8th record for the Azores.
On Cape Verde on 20th the African Crake was still present at Sal.
Heading way east, in Israel a Crested Honey Buzzard was noted at the Wadi Arabia Border Road on 16th, with four birds logged there the following day.
What we'd assume is the same American Royal Tern that's been wandering in Wales and Scilly lately was back in the Channel Islands this week, being seen on Guernsey on 16th-19th.
While British birders might hope that one wanders back across the English Channel sometime soon, it was said birders who continued to do the wandering this week to Holland where the fabulously confiding Nutcracker at Wageningen remained a potent draw on 16th-21st. A Ross's Goose was seen in the Nationaal Park de Biesboch on 14th-18th; and an Oriental Turtle Dove was found at Limmen on 22nd.
Nearby in Belgium the resident Pygmy Cormorant was still to be found in the Parc Domaine du Val Duchesse on 17th-21st.
Poland provides us with another drake Black Scoter this week, present at Miedzywodzie on 19th.
And finally to Spain where the Steppe Grey Shrike, blissfully unaware that it's set to lose species status (if only for a while) in the latest round of taxonomic grey shrike flux, remained in the Ebro Delta NP on 16th-21st. Yet another wandering Allen's Gallinule was seen at Nerja in Andalucia on 21st-22nd. Spain's biggest news, however, was that of a Brown-necked Raven present on 21st for its 22nd day at Cabo de Palos.
The coming week's weather looks like a fairly typical mixed bag for the final week of January – which is to say, northerlies and north-westerlies interspersed with occasional flourishes of westerlies off the Atlantic. What, then, might that portend for the week to come?
I keep coming back to them but with good reason – birders on the coasts really must fancy their chances of an Ivory or a Ross's Gull round about now – we're sitting smack bang in the middle of prime time for one of either to be found. I might stick my neck out even further and predict where an Ivory Gull will be likely to turn up – the arrival of an enormous, suppurating Sperm Whale carcass on Unst (Shetland) this week is the Arctic scavenger's equivalent of one of those all you can eat buffet deals. Here's hoping it doesn't wash back out to sea, and that the fine aromas emanating from it prove attractive to something rare.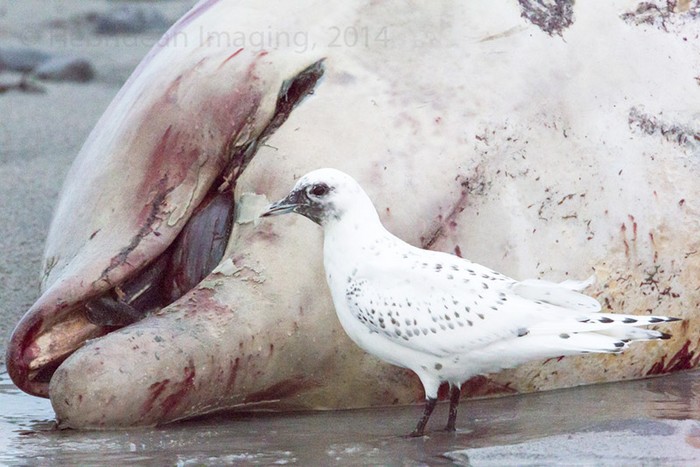 I'd also be devoting a bit of time this coming week to giving the local Tufted Ducks a second glance as, notwithstanding the small influx of Ring-necked Ducks into Britain and Ireland over the past month or so, the discovery of a couple of new Lesser Scaup this past few weeks suggests there may yet be rarer prizes too to be had. One of either could conceivably be found pretty much anywhere but, were I working the odds, I'd suspect one or two may still be going overlooked in Ireland's hidden corners.
Failing all of which, we'll always have Cattle Egrets. In fact, I think we're on the cusp of the point at which any dedicated birder is going to feel pretty hard-changed if one hasn't turned up on their local patch…
Jon Dunn
23 January 2019
Share this story
Tweet